10 Great Side Hustle Ideas That Will Make You Extra $1K/Month
We all need great side hustle ideas in our lives, don't we?
Even if your nine-to-five job pays well, you wouldn't turn down the opportunity for some extra income, would you?
The kind of world we live in today…
I think we can agree that financial independence and security are becoming harder to reach with every day that goes by.
What should we do then?  There is always an extra bill waiting to be paid, an expenditure that came out of nowhere…
Well, I have the solution and it's called a side hustle.
Today, we'll have a look at 10 great side hustle ideas that are awesome on so many levels.
More importantly, they'll increase your earnings without taking all of your spare time!
This post contains affiliate links, you can read my affiliate disclosure.
Great Side Hustles Ideas – 10 Ways To Make Money From Home
First thing first, let's start with a quick clarification:
By all means, there are probably hundreds of ways to make extra cash these days.
But we won't be discussing each of them!
Instead, I would like to introduce you to just a certain type of side hustles.
Basically, we'll be talking about money-making ideas anyone would be able to profit from.  And when I say anyone, I mean anyone!
So, it doesn't matter how old you are, in which part of the world you're currently living, or if you're highly educated.
The opportunities you'll read about doesn't require any previous experience or special skills on your part.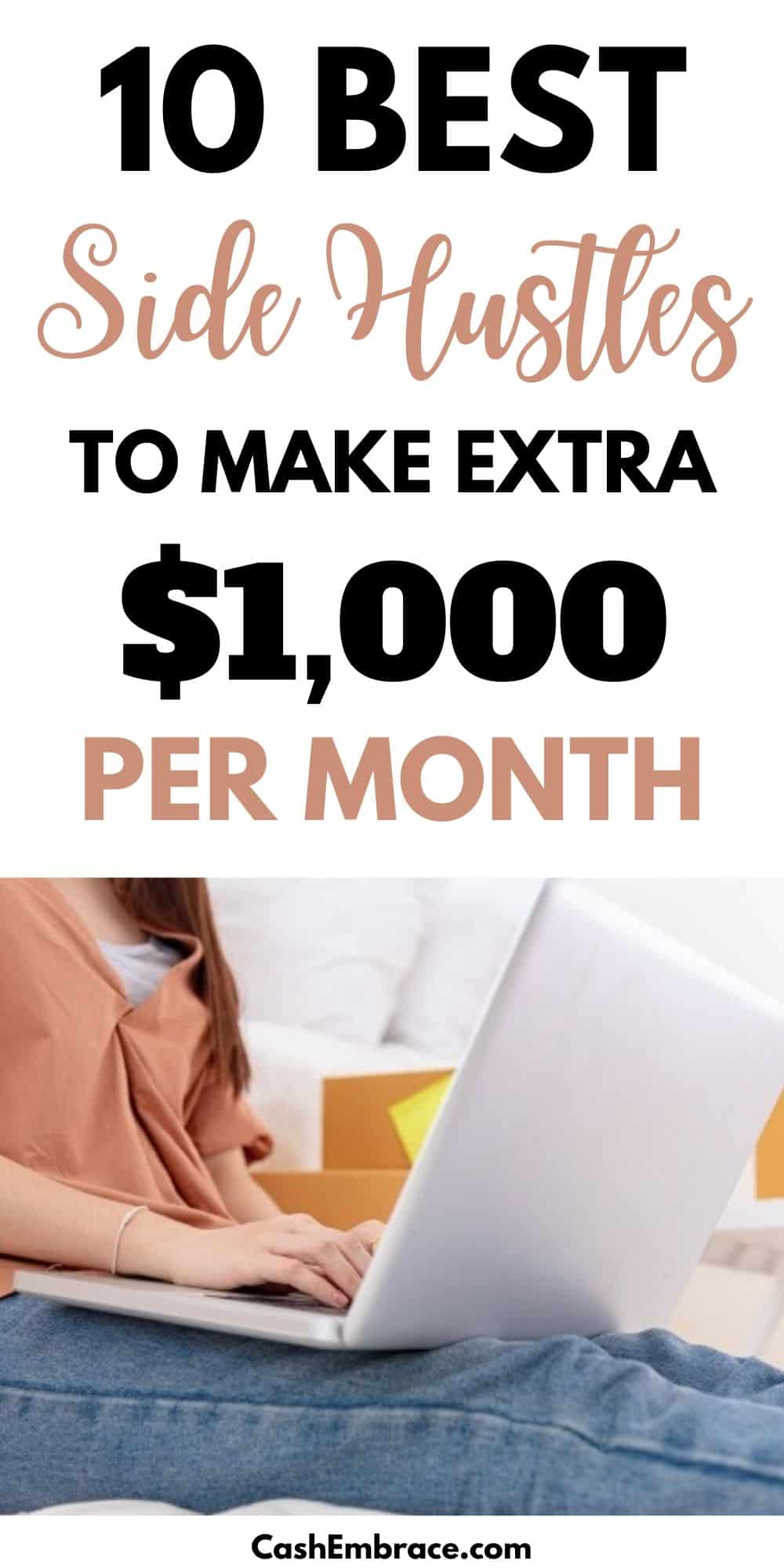 Furthermore, they don't require you to ever leave your home either – you can make them work without taking your pj's off.
Ultimately, these great side hustle ideas can be called great for one specific reason:
Most of them can become a source of a full-time income that will completely replace your current job.
You never know, maybe this article of mine will help you start a brand new lucrative career.
OK, that's enough for an introduction, it's time to begin!
Recommended: The Best Way To Make Money Online
1) Affiliate Marketing
Quite frankly, placing affiliate marketing first on this list is not a coincidence.
On the contrary, there are so many reasons why you should look into this business model and use it to earn from home.
Firstly, it's one of the most popular ways to make money online.  It has been that way for years and I don't see it changing any time soon.
Secondly, everyone can become an affiliate marketer – literally!  All you need to start is the right platform to teach you the basics for free.
Thirdly, you don't even have to create a website to earn affiliate commissions.
No, 12 Minute Affiliate is a perfect example of a program that will allow you to cash in $500/day without owning a blog.
Lastly, affiliate marketing is one of the passive side hustles.
Meaning, using it will pretty much make you money while you sleep!
2) Start A Blog
So unoriginal of me, I know!
In my defense, no list of great side hustle ideas would ever be complete without mentioning blogging as an option.
Just go online and start typing – best side hustles 2018, best side hustles 2019, side hustle ideas 2019…
Or let me save you the time and effort:
Starting a blog is written about in all of them!
Why wouldn't it be?
While it takes time to develop it and make it profitable, the advantages of having a website money-wise are countless.
You can work on it at your pace and monetize the content in so many ways.
More importantly, blogging can be much more than a side hustle – it has the potential to become a lucrative online business.
And the best part?
Well, you can create a blog for a very low cost – or no cost at all if you read my step-by-step guide to starting a money-making blog.
3) Sell Digital Products Online
Personally, I think the idea of selling digital products on the web scares a lot of people.
It might be because they believe that they don't have the skills to create them or maybe they see it as too much work, I don't know.
But here is what I do now:
Currently, there is more than one way to make money online with this side hustle.
If you want to earn by creating and selling digital products online, you can learn how to do that from this article.
In case you want to sell products without creating them, you can find out how to make this happen here.
Keep in mind, this money-making idea might require a bigger start-up investment on your part.
At the same time, the expected earnings are much bigger as well.
Plus, selling your own digital products has an enormous potential to build you a passive income for years!
Related:Digital Marketing Jobs That Pay $60,000/Year
4) Start A Dropshipping Business
Since we're already talking about selling products online…
Do you consider opening an online store one of the great side hustle ideas worth the try these days?
Here is what will change your mind if you don't:
Firstly, having your own dropshipping business will allow you to make money from offering literally any kind of product known under the sun.
Secondly, if you have a physical store, you'll be able to build an online presence and reach buyers from all over the world.
Thirdly, platforms like Shopify will let you start dropshipping for free.
To clarify, Shopify is the industry leader in the field and offers a 14-day free trial.
There is so much more that could be said about dropshipping and how people use this business model to earn 6-figure monthly income.
You won't regret checking the articles below!
Recommended Read About How To Make Money Dropshipping:
​
5) Write And Sell e-Books
Honestly, that's one of my favorite side hustles ideas.
And if you love to write, chances are it will become yours too!
With that being said, if there is a topic you know inside out and you enjoy writing about it, you should turn it into an e-book.
Nowadays, that's easier than ever.  Not to mention, it's definitely profitable!
All you need to make money selling e-books is to get familiar with Kindle Publishing.
It doesn't get any better than that!
Actually, it kind of does:
Because you can also earn a delicious income online from selling e-books on Amazon without creating them yourself.
To find out how to do that, read this article.
6) Get Paid To Do Freelance Writing
Apparently, we're not done talking about your writing abilities and how to turn them into a source of online income!
So, how do you feel about doing some freelance writing on the side?
Believe it or not, it pays better than expected!
One way to get paid to write is to signup for sites like UpWork.
Or you can build a whole freelance writing business and turn your hobby into full-time employment where you get to be your own boss.
Are you interested?  Then I'll suggest you look into this online course.
It will teach you how to start a freelance writing business and scale it to the point where it brings you at least $3,000/month.
Related Read:
7) Make Money Transcribing
OK, now that we covered the freelance writing, let's move on to a similar online job – transcribing.
For those of you who don't know, this is the process of turning audio and video files into a written text.
Furthermore, it's also one of the great side hustle ideas you can make money from in your free time.
Being a transcriber nowadays has a lot of advantages – you can earn more than $1,000/month and you don't need to have any previous experience.
If you ask me, Go Transcript is one of the best and hugely-popular sites that is offering transcription jobs.
Probably because it will provide you with all of the help and support you may need when you're starting out as a transcriber!
8) Get Paid To Proofread Online
Basically, proofreading seems to be one of the most suitable side hustle ideas for moms.
And it's perfectly understandable why:
The job comes with flexible working hours, it doesn't require a degree, and it will make you more than $40,000/year on the side.
How cool is that?
In my opinion, being a proofreader is a kick-ass job and you'll be missing out if you let the opportunity to pass you by.
To get familiar with proofreading, here is a Free Workshop I can't recommend highly enough.
Caitlin Pyle is the lady who created it – and she's also the person behind Proofread Anywhere, the best proofreading training available online.
Long story short, if you have some free time and you're good at catching mistakes, proofreading will be the perfect fit for you!
9) Teach English Online
Alright, the next in line of great side hustle ideas are the tutoring jobs.
Currently, you can secure a job where you'll get to teach English online even if you don't have a degree.
This extra income idea deserves your undivided attention:
You'll be able to earn $20-$25 per hour helping children to learn English while you're sitting in front of your laptop.
Also, it worth mentioning that this side gig doesn't require much more than an Internet connection and a headset!
Related Read:
10) Start YouTube Channel
Last, but not least, let's talk about YouTube, shall we?
More specifically, how you can use this visual search engine to make you money from home.
Normally, you shoot videos, upload them on your newly-created channel, and monetize the content once you've built an audience.
However, that's not the only way to earn on YouTube anymore.
Are you aware of the fact that you can make an income from YouTube without creating your own content?
It may be hard to believe, but it's true!
Using the affiliate marketing business model, you'll be able to earn commissions without becoming a YouTube star.
For more information about how to do that, read this blog post.
My Closing
Needless to say, that's a wrap on this article of 10 great side hustle ideas you should use to earn from home.
As I've previously mentioned, all of them have the potential to become a source of a full-time income.
If you're particularly drawn to one of them, why not turn it into a fresh online career?
There is nothing standing in your way – none of those money-making ideas could ever be put in the category of illegal side hustles.
So, which one do you like the most?
Do you have any questions on this topic?
I always keep an eye on the comments section, so don't be shy!