10 Great Side Hustle Ideas That Will Make You Extra $1K/Month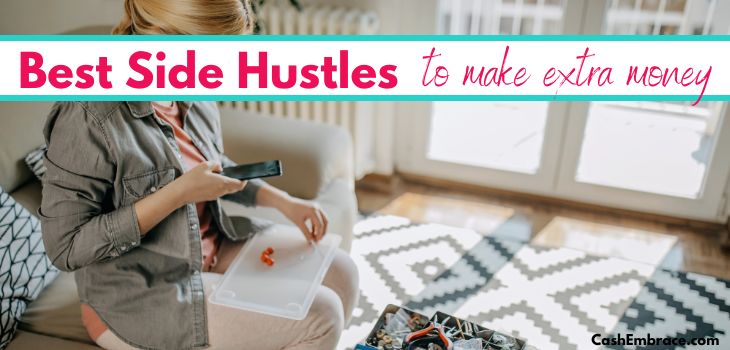 Who doesn't need a list of great side hustle ideas that will make actual money?
Sure, there are hundreds, probably even thousands ways to earn extra money these days.
But if you don't know where to start or what income source works, you might lose lots of time doing the wrong thing.
Since no one wants to do that, I suggest saving your effort for side hustles proven to work.
Today, I'll show you the best side hustle ideas you can start to make at least $1,000 a month.
Furthermore, I'll provide you with an extra list of side hustles to consider, such as unique side hustles and offline side hustles.
Let's get to it, shall we?
This post contains affiliate links – see my affiliate disclosure.
Recommended Read:
Top Side Hustle Ideas Online: 10 Best Side Hustles To Make Money
1) Freelance Writing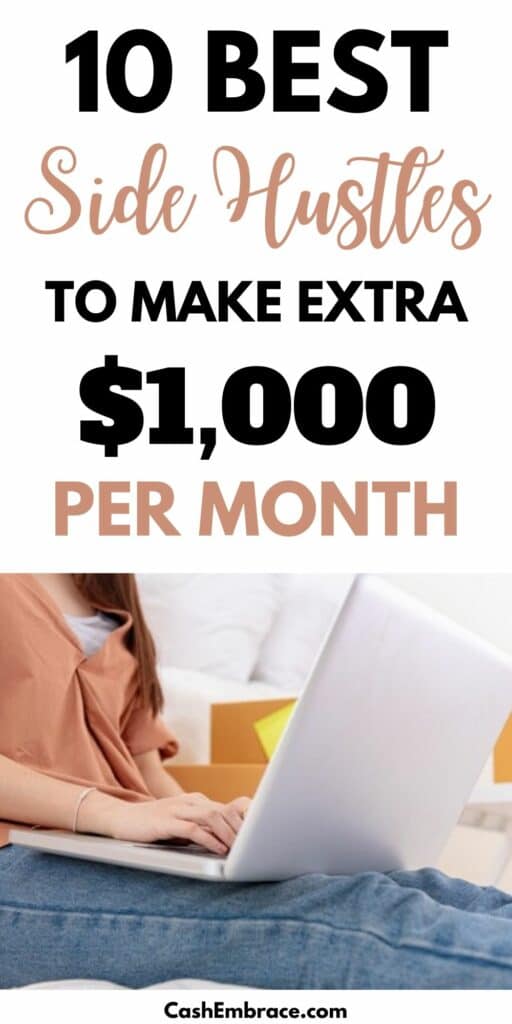 2) Proofreading
Proofreading is one of the hottest and high-paying online jobs you can get at the moment:
Professional proofreaders are some of the busiest workers since each piece of content online goes through a proofreading phase before publishing.
For those who don't know, proofreading is a job that requires correcting grammar, spelling, and punctuation errors in written documents.
Such a career might sound boring to some of you. However, if you have eagle eyes and you want to put them to good use, becoming a proofreader seems like the right move:
The top proofreaders in the industry earn around $105,000 a year.
Feel free to sign up for this Free Proofreading Workshop – Caitlin Pyle is behind it – she is a household name in the proofreading field.
3) Blogging
Blogging combines freelance writing and proofreading activities. Actually, starting a blog and developing it into a money-making business requires much more than that.
Still, owning a site is one of the great side hustle ideas that deserves in-depth consideration:
These days, you can monetize your blog in so many ways.
For instance, you can do affiliate marketing, create digital products to sell, produce sponsored posts, display ads, etc.
While building a profitable blog requires time and effort, you can do it at your own pace and put in the hours when you decide.
BigScoots is the web hosting company I always recommend to my readers – their hosting plans cost a few dollars a month, and the customer service is out of this world.
4) Sell Stock Photos
Many people see selling stock images online as mostly a suitable job for teens, but I'll have to disagree:
Everyone can make money from selling stock photography as long as they have their way around the camera.
Currently, there are plenty of photography jobs that will pay you as much as $100 an hour.
Also, you can find over 30 places that will let you earn more than well once you decide to list your images on them.
Keep in mind that selling feet pics is a popular way for photographers to monetize their skills.
I suggest reading all about FeetFinder and Feetify if posting foot images for sale is a job you would like to do.
5) Scoping Jobs
Next on my list of great side hustle ideas, we have the opportunity of becoming a scopist.
Scoping is a job that requires editing legal documents for court reporters.
To clarify, you don't have to go to college to master scoping as your full-time career.
However, you'll need to go through a professional scoping course to teach you the ins and outs of the job.
The Internet Scoping School is the best training platform you can join, and it does start with a Free Mini Course.
6) Transcription Jobs
What do you think about getting a transcription job?
Is converting audio or video files into text the kind of work you would like to do?
Chances are, most of you wouldn't mind getting paid to transcribe files:
After all, such a job will earn you over $1,000 a month.
GoTranscript hires both beginners and experienced transcribers and offers tons of resources you can use to improve your skills.
7) Teach English Online
Before you move on to the next paragraph of my take on great side hustle ideas, you might want to read what I have to say first:
By all means, not every company hiring English tutors to work online requires a Bachelor's Degree – some of them don't.
Teaching English online to kids and adults pays around $22 an hour.
VIPKID is the most popular platform you can join to start teaching English online.
But if you prefer to keep your options open, here are 35 online platforms that pay people to teach English from home.
8) Become A Voice-Over Artist
Voice-over work is not a job for just celebrities anymore.
On the contrary – anyone with a great-sounding voice can become a voice-over actor.
Male, female, and kid's voices are always in demand for different projects, such as cartoons, video games, commercials, and even TV shows.
Professional voice-over artists make hundreds of dollars an hour.
Find out how to become a voice-over artist if this earning opportunity seems like the right fit for you.
9) Become A Virtual Assitant
Basically, virtual assistants are some of the highest-paid online workers right now:
More often than not, an experienced VA charges around $100 an hour for their services.
You'll have to handle different tasks once you start working as a virtual assistant.
For example, you'll answer emails, schedule conference calls, engage with people on Social Media, create content, etc.
Of course, your job activities will vary depending on the needs of the person or company that will hire you.
10) Manage Social Media
Managing Social Media for clients is another exciting and popular money-making idea these days.
Social Media managers don't deal with anything other than Social Media.
And they earn quite well for the effort:
On average, Social Media assistants make over $4,000 a month.
With that said, the most in-demand Social Media professionals earn nearly $100,000 a year.
More Side Hustles That Pay Well
Sell On Amazon
How many of you still keep old books, DVDs, and similar items you no longer need?
If I have to guess, I'll say that almost everyone has things that only collect dust in the house.
Then why not sell them on Amazon?
Selling stuff you don't need is one of the fastest ways to make money.
When you have a second, have a look at the top things you list for sale online.
Related: 23 Ways To Make Money On Amazon
Offer Services On Fiverr
Generally, Fiverr is one of the largest global platforms that connects buyers and sellers online.
It doesn't matter what kind of skill is your strongest suit:
Nowadays, you can offer almost any type of skill you can think of on Fiverr.
Create a free Fiverr account, list your skills, and be patient until the bookings start to come in!
Sell Crafts On Etsy
Do you consider yourself a creative person? Are your friends jealous of the DIY projects you often make out of nothing?
Great, then selling crafts on Etsy is the perfect side hustle for you.
Listing a product on Etsy costs $0.20. That's all you'll have to pay to showcase your products to millions of potential buyers!
Maybe you're struggling to decide what craft to list as your first product on Etsy. See the most popular crafts you can make and sell for a profit online.
eBook Publishing
eBook Publishing is one of the great side hustle ideas for everyone (in my opinion).
Why do I think that anyone can make money publishing eBooks?
Well, publishing an eBook for sale is easier than ever if you have the right tools.
Such a tool is Sqribble:
Sqribble will help you create a professional and stunning-looking eBook in minutes. More importantly, the tool has the ability to turn an already existing piece of content into a top-notch eBook.
It's worth mentioning that selling eBooks online is one of the best passive income streams you can build nowadays.
Create And Sell An Online Course
Considering we're still on the topic of products you can create to earn passive income, let's continue the conversation with online course creation.
Assuming that you have something you'll be able to teach to other people, creating an online course to sell is a smart business idea.
According to statistics, nearly 42% of learning activities are happening online rights now.
No one in their right mind would dismiss such numbers. And platforms like Udemy will make a great home for your online course.
Participate In Market Research
Are you aware that some companies will pay you around $140 an hour to take part in market research studies?
Respondent happens to be such a company.
Joining Respondent is free of charge.
More importantly, the platform will give you the opportunity to earn $300 per research study.
Become An Online Friend
Without a doubt, becoming an online friend is one of these great side hustle ideas that are more than worth considering:
Being an online pal will pay you up to $50 an hour.
There is nothing weird about this online job:
You don't have to meet with your online friends in person. Instead, you'll mostly engage in conversations with them.
Related: 20 Ways To Make Money Chatting
Offline Side Hustles That Pay Weekly
Work As A DoorDash Driver: DoorDash will pay you between $15-%25 an hour for delivering groceries.
Drive For Uber Or Lyft: Both companies are constantly hiring drivers to work on their own time.
Rent Your Car: Renting your vehicle will earn you over $100 a week.
Do Tasks For TaskRabbit: TaskRabbit will allow you to make up to $2,000 a month.
Offer Cleaning Services: Cleaning houses will earn you at least a couple of hundred dollars a month.
Dog Walking: Going for a walk with someone's pet is a great way to make some money on the side.
Sell Insurance: Primerica hires part-time insurance agents at the moment.
Get A Part-Time Job: You can do many part-time jobs at night.
Unique Side Hustles
Actually, I'm not sure how unique the side hustles you're about the see really are.
With that said, most people see them as unique because their working process is out of the ordinary:
How To Earn An Extra $1
Related Read:
Great Side Hustle Ideas – Frequently Asked Questions
What Is The Highest Paying Side Hustle?
Freelance Writing
Online Tutoring
Selling Stock Images Online
Proofreading
Graphic Design
Managing Social Media
Virtual Assistance
What Is The Easiest Side Hustle?
Test Apps
Take Surveys
Transcribe Videos
Become A Rideshare Driver
Deliver Food Or Groceries
Rent Out A Room
How Do I Side Hustle With No Money?
Sell Old Items
Donate Plasma
Work As A Dog Walker
Sit Houses
Teach Online
Write Content Online
Drive For Lyft Or Uber
My Closing
Needless to say, that's a wrap on this article of the great side hustle ideas you should use to earn from home.
As I've previously mentioned, all of them have the potential to become a source of full-time income.
If you're particularly drawn to one of them, why not turn it into a fresh online career?
There is nothing standing in your way – none of those money-making ideas belong in the category of illegal side hustles.
So, which one do you like the most?
Do you have any questions on this topic?
I always keep an eye on the comments section, so don't be shy!
More Ideas From Cash Embrace You Might Love: