30 Profitable Instagram Business Ideas You Can Start Today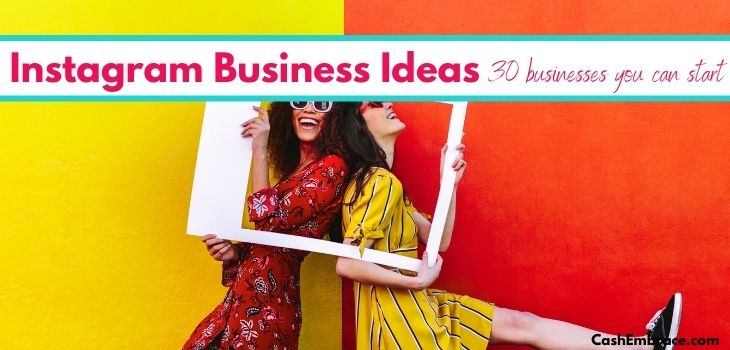 The Instagram business ideas we'll be discussing today will introduce you to fresh ways to make money online.
No more wasting countless hours on the platform without a real return on your time investment!
Chances are, many of you are guilty as charged where spending too much time on Instagram is being concerned.
While there isn't much wrong with stalking your favorite accounts, such activity doesn't do a lot of good for your bank account.
How about we correct that?
Today, we'll talk about how to use Instagram for business, Instagram account ideas to make money, and much more.
This post may contain affiliate links – read my disclosure.
Why You Should Build A Business On Instagram
Unless you've been living under a rock the last couple of years, you already know that Instagram has become a magnet for brands and businesses.
It doesn't take a genius to realize why:
A while back, a "buy" button was introduced to the users, allowing them to shop directly on the platform.
That's all that it took for business owners worldwide to take a second look at Instagram.
Even if they weren't active users before, they had a good reason to become now.
According to the latest statistics, more than 1 billion people are using the app every month.
Spending at least half an hour a day, they actively research products and services.
More importantly, half of those people have visited a website to complete a purchase after seeing a product or service on Instagram.
With that said, I doubt that you need any more convincing:
There is no better time than now to think about building a profitable business on the platform.
Now, I should clarify that today's Instagram business ideas will not focus on helping you market an already existing business.
Instead, you'll discover new business Instagram ideas you can turn into a profitable side hustle or even a full-time gig.
How To Get Started With Instagram For Business
First and foremost, there are a few essential facts you need to know before you begin your journey on Instagram:
Followers Matter – and they matter more than on any other platform.  A huge following is a must, and there is no way around that if you want to succeed.  At some point, you may decide to go for sponsored posts, and you won't secure any if your following is not impressive enough.
Engagement Is Crucial – thousands of followers won't advance your business unless they actively engage with your content.  One of the factors Instagram cares about the most is how engaged your audience is. Subsequently, don't waste your money to buy followers – they will not participate the way you want them!
Hashtags Are Everything – alright, maybe not everything, but they matter quite a lot.  Adding relevant hashtags to your posts is how you'll reach people who are not following you yet.  In addition, they'll boost your brand awareness and the overall performance of your account.
Instagram Account Ideas To Make The Right Impression From The Start
Before we look into the Instagram niche ideas for your future business, let's chat about your profile first.
It goes without saying that you'll need to start an Instagram Business account and not a personal one.
On that note, I wouldn't recommend converting an existing personal account into a business one.
Your previous posts probably have nothing to do with the business you're about to build.
Therefore, they are irrelevant – the same goes for your current following.
What you need are followers that will convert into buyers. And not people you went to school with years ago!
As soon as you sign up for a business account on Instagram, make it as professional-looking as possible.
The whole focus needs to be on your brand and not on you. Likewise, carefully fill your bio and contact information with relevant keywords.
Considering you can't really do that until you pick an idea to develop, I'll get back to the Instagram business tips later.
Best Instagram Business Ideas
So, what are the most profitable Instagram page ideas in 2021?
Ultimately, what's the best business to start on Instagram currently?
Well, there is more than one answer to this question.
To help you make a decision, I'll provide you with plenty of options to choose from:
1) Instagram Influencer
Yes, I'm starting my list of Instagram business ideas with the most obvious choice.
There is no room for originality here:
Becoming an influencer on Instagram has to take the number one spot.
After all, it's too lucrative of an option to be left behind.
It's no secret that the most successful Instagram influencers earn thousands of dollars to advertise products.
If you want to work as a well-paid influencer, you'll have to build a large following first.
Decide what you're passionate about and pour your marketing efforts into a specific niche.
Narrowing down your Instagram content ideas will help you attract a loyal and engaged audience.
Usually, brands favor influencers who have an impressive following – it's a number's game.
Don't forget to engage with your followers – companies care a lot about that too!
2) Instagram Manager
OK, this is one of those Instagram business ideas that require profound knowledge about the inner workings of the platform.
Meaning, if you're just starting on Insta, this position is not for you.
But if you have mastered the app after spending a long time on it, then working as an Instagram manager will be a good fit for you.
What a manager does is handling other Instagram accounts – whether those accounts belong to people or companies.
Some of your tasks will be posting content, answering questions, and working to increase the number of followers.
Basically, doing this job can turn into a lucrative side hustle for you – you can take on as many clients as you wish.
3) Instagram Consultant
I know, consultant and manager on Instagram probably look like the same position to you.
While there are certain similarities, the jobs are actually different.
As I've mentioned already, managers take care of accounts and are actively engaging on the platform.
However, consultants are more of the brain behind the operation:
They create plans and recommendations for businesses that would like to expand their presence on Instagram.
Usually, your work will end once you've provided the plan:
An Instagram consultant rarely puts the plan into action.
4) Online Educator
Moving down the list of Instagram account ideas to make money, let's talk about being an educator.
Naturally, the possibilities here are countless.
Regardless of the field where your expertise is, you'll be able to build a whole Instagram business around it.
Do you have knowledge of a specific topic?
Great, now share it on your account – uploading lessons and short tutorials will both do nicely.
There is an audience for every topic, so just start shooting already!
5) Photographer
By all means, you'll never make lots of money on Instagram until you fully understand the essence of this platform:Instagram is a visual medium.
Therefore, uploading visually-stimulating images is not just recommended – it's a must.
Keeping the visual aspect of Instagram in mind, let's talk about starting a photography business.
Currently, there are a couple of niches you can go into and earn more than well for your photography skills:
Stock Photographer – taking photos of every place you're lucky enough to visit and selling them for profit is a dream for many.  Not that hard to understand why, is it?
Event Photographer – you'll never be out of a job as one.  Even if these days may look otherwise!
Social Media Photographer – probably the most lucrative option.  Arranging and completing photoshoots require professional skill, though.
Product Photographer – every business that sells products wouldn't say no to a professional image that will increase that business's sales enormously.
6) Product Reviewer
Until we're on the subject of products:
How do you feel about working as a product reviewer?Don't rush to dismiss this option – you can earn a full-time income by sharing your opinion of products.
To make this work, you'll have to choose a niche.
Talking about completely different products won't attract the kind of crowd you need to pile up commissions.
Always be honest, and don't forget to mention the downsides of the products you're reviewing as well.
Sponsored posts and affiliate marketing will help you monetize your reviewing skills.
7) Videographer
Transitioning from images to videos seems like the natural thing to do.
For the longest time, Instagram has been all about images.
And then, some more images!
However, that's not the situation anymore.
Considering every other visual platform is currently moving or has moved to video content, Instagram has too.
The platform introduced "Instagram Stories" some time ago, and they were well-received from the users, to say at least.
So, why shouldn't you take advantage of that?In my opinion, the time is right to launch an Instagram business that focuses on videos.
8) Animator
There is a lot you can do on Instagram if you're good with videos.
Since we've just covered the videographer position, the conversation will continue with something similar:
Animation.
Believe it or not, animation more than deserves a place among the most profitable Instagram business ideas.
Let me clarify for those of you who don't know what animation is:
It's a method of manipulating figures in a way that will make them look like moving images.
If animating videos is something you can manage, then you should go for it.
Instagram is a great place to showcase your work once it's ready.
9) Meme Creator
Quite frankly, I doubt that anyone needs me to explain what a meme is.
Regardless of which Social Media you prefer to spend time on, memes are unavoidable.
People enjoy them, and it's easy to see why – the best ones are so much fun.
With that said, to become successful with memes on Instagram, you need an eye for detail and a sense of humor.
Sharing high-quality memes on Instagram will build you a large following faster than expected.
Of course, using the right hashtags will help you get there even faster.
10) Graphic Designer
Graphic design is huge, and it has been gaining a lot of attention in recent years.
Especially on Instagram.
Why not take advantage of that?
Build an impressive portfolio, and don't be shy to share its content on the platform.
It may take a while, but the right clients will find you at some point.
Assuming that you've done a decent job when setting up your profile, they'll be able to ask for your services directly on Instagram.
11) Infographic Designer
The infographic design is one of the most lucrative Instagram business categories.
And there is nothing accidental about that.
While professional graphic designers make good money, the infographic ones earn even better.
That's because they target a specific part of the niche, and that brings the desired customers quite early on.
Make no mistake, creating a high-quality infographic requires a certain amount of skill.
But if yours is already well-developed, showing it on Instagram will make you decent paychecks month after month.
12) Calligrapher
Basically, the calligraphy may sound like a thing from the past to many of you.
However, the field is not as dead as you may think that it is.
Plenty of businesses use calligraphers to add a personal touch to their products.
For instance, calligraphy is used on wedding invitations, welcome signs, name banners, etc.
So, share your skills on Instagram, and don't be surprised when paying customers come knocking at your account!
13) DIY Expert
Jumping into the DIY niche with both feet is highly recommended:
DIY projects are one of the best Instagram business ideas you can pour your efforts into.
If they're a passion of yours, you'll be glad to find out that they're a passion for thousands of other people as well.
Posting DIY tutorials will build you an incredible following fast.
You can monetize your DIY skills through sponsorships and affiliate marketing.
14) Personal Stylist
Up until now, I've mentioned on more than one occasion that Instagram is a visual medium.
What could possibly be more visually stimulating than fashion?
In case you think of fashion as your true calling, Instagram is the perfect place to spread your wings.
Invite the world to witness your style.
Yes, style can't be bought with money.
What cash can buy, though, is your services as a personal stylist.
15) Fitness Instructor
Going to the gym is simply not an option right now, for obvious reasons.
So, if you're a fitness fanatic, now is the best time to start an Instagram business that focuses on that.
If people can't get the necessary fitness instructions from the outside world, they'll be looking for them online.
Produce high-quality fitness videos that bring valuable lessons to the users.
It won't be long until the right fitness tribe finds you!
10 Bigger Instagram Business Ideas – Make More Money On The Platform
OK, I'm separating the remaining ten businesses you can start on Instagram for a very good reason:They have a much bigger income potential than everything we've talked about up until now.
Think about 5 and even 6-figure income monthly, and you'll get the whole picture!
1) eCommerce Seller
When it comes to 6-figure Instagram business ideas, very few can really compete with eCommerce.
Selling your own products on Instagram is now easier than ever.
The whole reason why the platform added the "buy" button is to allow the users to shop directly on it.
To start an eCommerce business on Instagram, you'll need to launch your own online store.
Shopify is the industry leader, and it will provide you with anything you may need to create a highly-profitable online shop.
Plus, it offers a free trial, so you can launch your store today without paying anything at all.
Related Read:
2) Dropshipping
No, an eCommerce seller and a person doing dropshipping are not the same things.
I get where the confusion might be coming from, but you have to realize that these two business models operate differently.
As an eCommerce seller, you'll be offering your own products.
But as a dropshipper, you'll be selling other people's products for a profit.
What the two have in common is Shopify – the platform is preferred for both businesses.
Actually, you can learn everything about dropshipping from this related content:
3) Print-On-Demand Business
Generally, the print-on-demand business is similar to the previous two.
Yes, you'll be selling products online, but you'll take part in the creation process as well.
Meaning, you'll be responsible for coming up with the designs that will be printed on the products you'll be selling.
Some of the best-selling print-on-demand products are coffee mugs, shirts, yoga leggings, and face masks.
Websites like RedBubble and Teespring will take care of the rest of the work.
Once an order has been placed, they'll create the product with your design on it and will ship it to the customer.
Kind of a sweet deal, isn't it?
On top of that, this type of business is one of the most popular Instagram business ideas nowadays.
4) Food Blogger
Food is not just a popular niche on Instagram.
It's mind-blowing how many accounts upload hard-to-resist images of their latest accomplishments in the kitchen.
With that said, if cooking is something you can't live without, sharing your love for the activity on Instagram is a must.
Not to mention, it's a real money-maker.
You'll never have a hard time landing lucrative sponsorships if you start an Instagram food business.
Plus, you can double your income through affiliate marketing every time you recommend a related product.
All you need to begin this journey is to learn how to start a blog.
5) Baking Business
Just like the food one, the baking business on Instagram will attract a wide crowd.
While you can post about anything food-related as a cooking blogger, with baking you'll have to narrow down your Instagram content ideas.
Still, I doubt you'll ever find yourself in a position where you'll be short of baking ideas to share.
Baking is not a micro-niche by all counts – there is a lot you can do as a baker, isn't it?
The methods of monetization are the same as the ones mentioned in the previous paragraph. 
6) Makeup Artist
If makeup is an inseparable part of who you are, then what are you waiting for?Register an account on Instagram and start sharing your makeup skills.
In my opinion, makeup related business it's not just a good Instagram business idea to develop:
It's an excellent one.
Keeping the visual aspect of the platform in mind, I doubt you'll face any setback with monetizing your makeup business.
With that said, it's worth mentioning that you'll face stiff competition in this field.
So, you'll have to constantly work on improving your skills if you want to make a name for yourself as a makeup artist on Instagram.
7) Artist
Where do you stand with painting?
Maybe you've been painting for years, and you have a large body of work already completed?Great, now stop seeing painting as a hobby.
Instead, start looking at your paintings as products you can sell.
Because paintings are selling pretty well on Instagram.
And yours will too – once you decide that they're worth sharing them with the world.
Again, you'll have to use Shopify to create a store to add all of your amazing work.
Take full advantage of the free trial and let the selling begin!
8) Illustrating Business
Moving further down my list of Instagram business ideas, let's talk about illustrating.
I don't have to repeat over and over again that Instagram is a visual platform – you already know that.
In the light of this conversation, how do you think an illustrating business will do on Instagram?
Let me tell you – it will perform better than well.
Of course, building a successful illustrating business will require significant skills on your part.
But if you have them, don't be scared to allow them to earn you money on Instagram.
9) Organizing Business
Life is messy, life is busy – and it gets busier with every year that goes by.
More often than not, people don't have the time to put their home in order anymore.
With a growing list of daily tasks, they quickly realize that something gotta give.
That's where you could potentially come in.
Establishing an organizing business will place you in the position to be the go-to person for everyone who needs to tidy up their home.
As a professional organizer, you'll have to visit your client's home and get rid of the mess.
Post before and after images that demonstrate your skills in the field, and you'll secure client after client.
10) Coaching Business
First and foremost, a coaching business is one of those Instagram business ideas that tend to get overlooked.
Personally, I don't understand why – the income opportunity here is real.
Helping people to achieve their goals is not just admirable activity – it will reflect in your bank account accordingly.
Whether you'll be a life coach or a business one, there is a huge enough list of clients that will gladly pay for your assistance.
And Instagram happens to be a suitable platform to advertise your services and stay in touch with people from all over the world.
5 Unique Instagram Business Ideas That Deserve A Mention
OK, the remaining five Instagram accounts ideas to make money are not exactly unique.
It's more like they're extremely niched down and will require specific skills on your part.
With that said, see if what you have to offer fits the mold:
1) Magician
Are you good with magic?
Is performing tricks in front of a crowd something you have experience with?If yes, how do you feel about doing it in front of the camera?
Posting videos that show you skills as a magician can go a long way on Instagram.
Make sure that the Instagram users will be able to connect with you and book your services for their special events.
2) Comedian
Recently, I've been seeing a lot of comedians on Instagram.
And their comedy talent was not the only thing that amazed me.
No, the number of their following did too.
Believe it or now, comedians are doing better than well on Instagram.
After all, who doesn't like to laugh?So, if performing bits or a stand-up comedy is your thing, maybe you should share it with other people and not just with family and friends.
3) Pet Personality
Is your fondness of pets unmatched?
Maybe that fondness is the reason why you're constantly sharing adorable photos of your pet that people can't seem to get enough of?To take it up a notch, do you sometimes post the thoughts you believe are going through your pet's mind at a specific moment?
Probably you should try it if you haven't already.
These types of posts are easily going viral from what I can see on Instagram.
With no shortage of companies in the pet industry, I doubt that you'll have a hard time landing lucrative sponsorships.
4) Webinar Host
First thing first, hosting webinars is not as complicated as it may sound.
In case there is a specific area where you're more than knowledgeable, why not host a webinar about it?
Instagram will allow you to do that.
Share your expertise on the platform and watch your audience and client list grow by the minute.
5) Live Event Promoter
It's called "Instagram Live" for a reason!
Going live on Instagram will assist you with promoting live events your followers may be interested in.
Subsequently, you can build a whole business around the idea of promoting events.
These days, Instagram is the one platform that will give you the best chance for success at such a business.
Instagram Business Tips To Grow Your Account Faster
Now, my list of Instagram business ideas you can try is over.
But that doesn't mean that we're done for today.
On the contrary, I would like to give a couple of tips that will help you establish your Business account as fast as possible:
Post Daily – nothing will secure your growth on the platform like posting every day will.  Even more, upload content twice a day if you can.  Having more content on Instagram will allow you to reach more people and turn them into followers.  Of course, don't just post for the sake of posting – make sure that you're providing value each time.
Make Your Posts Shoppable – earning money is why you're building a business on Instagram, correct?  The fewer steps you make your readers go through between clicking on your item and buying it, the more sales you'll be able to secure.
Use Hashtags – I mentioned this before, but I have to mention it again.  Adding hashtags is how you'll reach a new audience, so you need to have some within your post.  Research relevant hashtags that make sense for your business and make sure that they're searchable.
Offer Giveaways – the fastest ways to build a following, hands down.  People love free stuff.  But before you give them something for free, ask them to follow you and tag a few of their friends in the comments as well.
Interact With The Users – "post it and forget it" is not going to work on Instagram.  Especially when you're trying to build a profitable business.  The platform appreciates engagement the most, so you'll need to stay connected with your followers.
My Closing
Hopefully, all the Instagram business ideas on this page will inspire you to start building your empire today.
Instagram is changing constantly, so I'll try to update this article every time there is a need for that.
Until then, do you have any questions about today's topic?Maybe you would like to share your own idea for an Instagram business?Please, do so in the comments section below and we'll talk about it further.