Get Paid To Be An Online Friend: Earn Over $50/Hour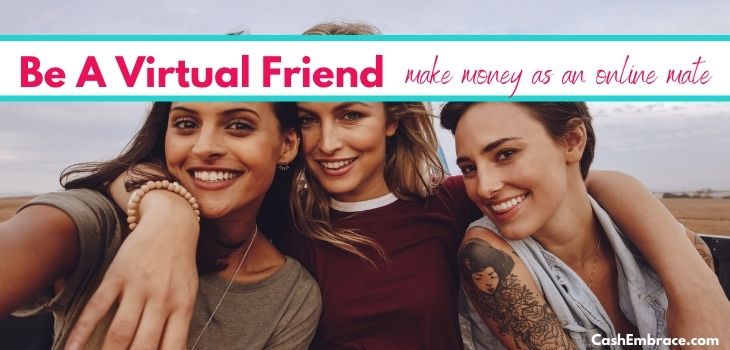 Having qualities that make you a good friend is a gift that keeps on giving to the people close to you.  But did you know that you can get paid to be an online friend?
If you didn't, you're not alone.
Up until recently, I didn't know either that someone has thought of such a money-making opportunity.
Then again, it makes so much sense when you think about it:
For years now, we have been spending almost every waking moment attached to a screen.
Whether that's the screen of a phone or a laptop, it's so not the point.
The kind of world we live in has turned us into hermits who still crave human connection.
And that's what the companies offering online friendship in exchange for money are counting on.
Today, you'll find out how to get paid to talk to lonely people, how to rent a friend online, the virtual friend jobs, and so much more.
Is Being A Virtual Friend Online Safe?
Before I show you how you can get paid to be an online friend, let's discuss the safety of such an activity.
Going back to my early childhood memories, the number one rule I kept hearing over and over again was to never talk to strangers.
My guess would be that each one of you is familiar with this parenting advice too.
But talking with strangers is what the job of an online friend will require you to do!
So, will you be fully protected?
In short, yes – there is nothing to worry about if you decide to give this side hustle a try.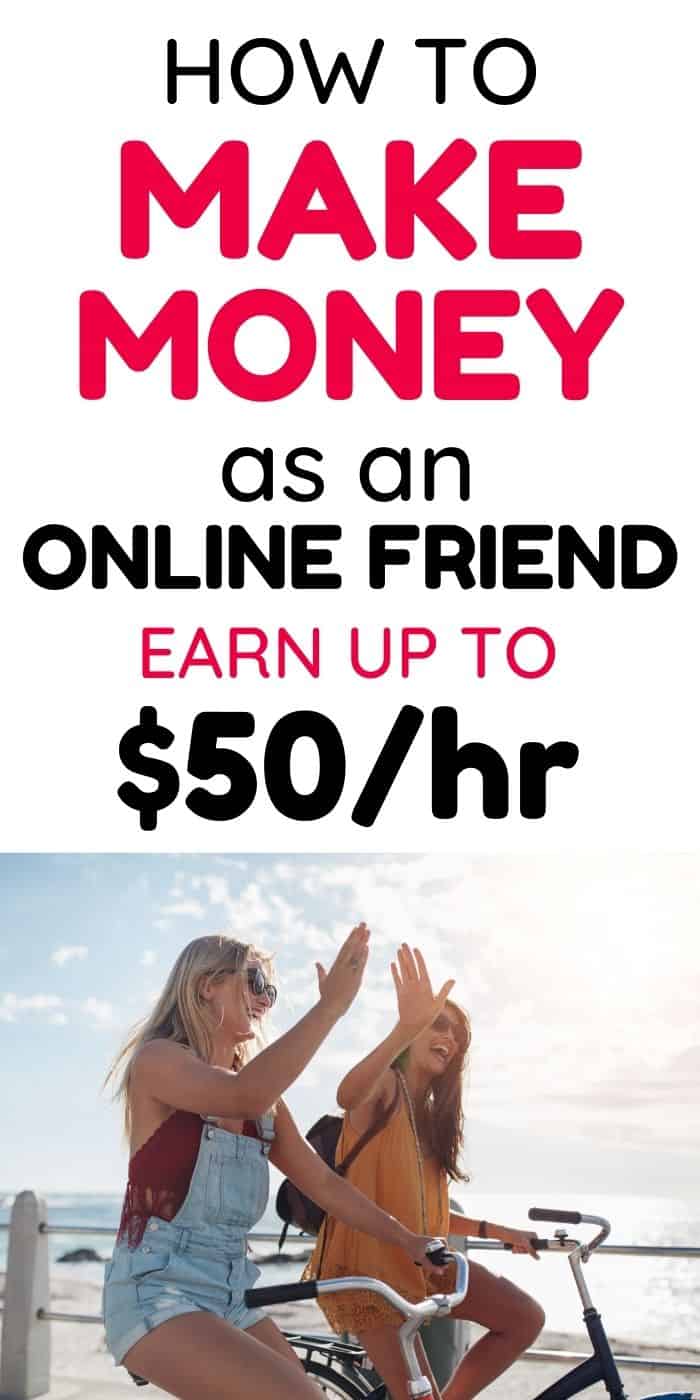 As a virtual friend, you don't have to meet with the people you'll be talking to.  Not unless you choose to do so.
All of your communication will be happening online.
That's not an online dating type of activity where one-on-one meetings are part of the deal!
No, think of it as the get paid to text chat kind of job.
Now that we cleared this out and you can relax, let's start the conversation about how this whole rent a friend online thing is working, shall we?
What Is A Virtual Friend?
Do you have a Facebook page?  Are you on Instagram?
Chances are, most of you have a profile on at least one Social Media network.
Take Facebook, for example.  When you create a Facebook profile, you receive friend requests, and you invite people to become your Facebook friends.
Sure, most of them are people you already know personally.
Sometimes, though, we accepts requests from people we have never met.
Well, both of the categories are now your virtual friends.
Whether you knew the person before or got to know him through Facebook, your interactions with that individual are happening online.
With that said, let's focus on the type of virtual friendship that will make you money:
As a rented online friend, you'll be offering your friendship for a price.
You'll get to interact with the people hiring you in the same way you do with your long-distance friends.
Again, this is an online job – you're not required to meet with the people you're becoming virtual friends with.
Of course, you can arrange meetings if that's what you would like to do.
But you won't get fired if you choose not to!
More Well-Paying Jobs You Might Like:
Who Is Paying For Friends?
Generally, a lot of people have some preconceived notion about the individuals looking for a connection online.
No one is in a position to judge you if you see online dating sites, for example, as a bit creepy.
After all, we have heard horror stories people share after using such a website.
At the same time, a few friends of mine did fall in love and got married after meeting online.
How should you feel about all that?
In my opinion, people will draw their own conclusion depending on their personality and experience.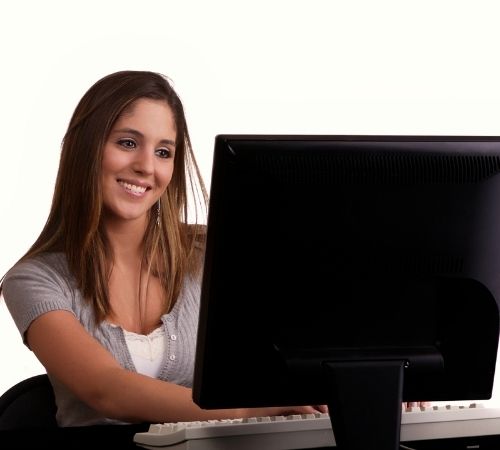 When I started my research about how you can get paid to be an online friend, I was more than curious regarding the customers who are interested in renting friends.
What I was able to discover is that a lot of them are genuinely nice people simply looking for a suitable companion.
Let's not forget, not everyone has the confidence required to constantly meet new people and easily engage in a conversation with strangers.
Also, people often move to a new town where they don't know anybody.  The move doesn't even have to be permanent.
If you're traveling to a foreign country, wouldn't it be nice to have somebody to call who can show you around?
Maybe you're struggling with your new diet, and you need somebody to keep you motivated?
And what if you need to talk to somebody older – to get advice from a person with more life experience?
Sometimes sharing with a stranger is easier than talking to your best friend, isn't that true?
Long story short, the people renting friends usually look for someone they can really talk to if such a person is missing in their immediate circle.
What Does An Online Friend Do?
Well, what do you do as a non-online friend?
You talk, and you try to help if the other person needs a different perspective about a problem or situation that is going on in their life.
Discussing common interests plays a big part in virtual friendship as well.
Whether you enjoy talking about books, politics, or how good Avengers Endgame actually is, you'll find people with whom you have mutual interests.
It's important to note that it's entirely up to you how personal you'll get during the online conversations.
Keep in mind – you don't have to share more than you're comfortable sharing.
Again, you won't be participating in online dating services when you sign up to be a virtual friend.
Working as an online friend is keeping a relationship that has to stay platonic.
Of course, an exception might occur – but it's going to be your call.
Get Paid To Be An Online Friend – The Process Of Becoming A Virtual Friend Online
Contrary to what most people believe, the process of becoming an online friend is not that complicated.
Firstly, you have to choose a company or a website that is offering such services.
Secondly, you'll need to register and create a profile.
Thirdly, you'll go through a testing process.
The testing is no big deal – you won't be judged on your general knowledge, and no one will ask to see a college degree.
Instead, the people testing you are looking for a normal conversation to help them decide if your personality is the right fit for an online friendship.
Once you're approved, I would suggest spending some quality time on building an impressive profile.
You want to get hired as much as possible, right?
Then make sure that your profile is hard to be lost in the crowd.
List everything about yourself that might help you stand out online.
For example, mention if you have a unique talent, knowledge of a foreign language, and extensive experience in a field (sports, music, writing, etc.).
Assuming that you took care of that, it's time to add your payment details.  You'll receive your earnings via PayPal or a bank transfer.
What happens next?
Waiting for your first client who would like you to be their virtual friend!
How Much Can You Get Paid As An Online Friend?
Generally, the amount of money you'll earn as a virtual friend may vary.
Depending on the company you'll choose to work with, you'll get paid a flat rate, or you'll be able to set up your own.
After researching in-depth plenty of websites that will allow you to get paid to be an online friend, I got familiar with the numbers.
If the company lets you set your own rate, you can charge anywhere between $10-$50 per hour.
With that said, the people who find more success with getting paid to talk charge their clients $20-$25 per hour.
That's a reasonable price for your time, especially when you're just starting, in my opinion.
How about we do quick math together?
Let's say that you decide to charge $25 per hour, and you will work four hours a day for five days a week.
You're looking at a side income of $500 per week – or $2,000 per month if you prefer to see it that way.
Personally, I find such earnings more than attractive!
Lucrative Careers You Should Consider:
Websites That Will Help You Make Money Online As A Virtual Friend
OK, I'm not saying that the following websites are the only places that offer people the possibility to rent a friend.
But after careful research, I believe they are the ones you should check out if you want to get paid to be an online friend.
Here they are:
1) Rent A Local Friend
There are a couple of reasons why I'm starting with this site.
Firstly, it's a recommendation that comes from Tripadvisor – and we all know that Tripadvisor is a trusted platform.
Secondly, Rent A Local Friend focuses on connecting people who are traveling with people from the area the former are traveling to.  And that will give you the opportunity to be a virtual friend from every place in the world.
Besides, if your local area is a hot tourist destination, the website will let you register as a travel agent.  How cool is that?
Lastly, Rent a Local Friend will also pay you if you're interested in working as a virtual text friend.
What about the money?
Considering you can set your own rate, expect to earn as much as $120 per day.
On the downside, you have to pay an annual fee of $100 to use the website.
As usual, you decide which person to take on as a client.
Even if you have accepted someone as a virtual friend, but things are going rather weird, you can always end the connection.
2) Rent A Friend
Rent A Friend is considered the best website in the business of virtual friendship.
Probably because it has the most users – over half a million people are registered members.
While the site itself emphasizes the importance of the relationships remaining platonic, most of the time you'll have to meet your new friend in person.
Whether it's a walk in the park or going to the movies, you might have to be a present companion in real-time.
Of course, if you don't want to do that, you can state on your profile that you'll participate only in online meetings.
Speaking of your profile, you better list any skill you have – most of the users prefer virtual friends that can teach them something new.
Expect to earn anywhere between $20-$50, and the site won't charge any commission on your earnings.
One of the things that could use improvement is that you can't perform a background check on your potential friends.
3) Rent A Cyber Friend
Rent A Cyber Friend works in a similar way as the previous two companies on my list.
After you create an account, you'll need to describe yourself and share a bit about your interests.
It goes without saying that you have to upload a photo and choose how you wish to be paid.
Plus, you'll decide how you would like to do the online chat – through Facebook Messenger, Skype, or WhatsApp.
This site gives the opportunity to its members to meet in person.  But you can decline and keep working only as a virtual friend.
To get paid to be an online friend with it, you'll have to complete Gigs posted by the Cyber Friend Buyer.
Once your earnings reach $75, you can receive them via PayPal or a check.  The company will cut 10% of everything you earn as a commission fee.
A word about the safety of Rent A Cyber Friend:According to the site, you should be careful with sharing too much personal information.
In case someone tries to make you feel uncomfortable, you can report that person, and their account will be suspended.
4) Fiverr
As you probably already know, Fiverr is an online platform where you can offer pretty much any service, including virtual friendship.
You need to sign up and create a Seller Profile first.
Later on, set up a gig – let the audience know that you're available to work as an online friend.
While Fiverr will take 20% of everything you'll earn as a commission, it will also allow you to set up your own rate.
Another thing I like about the platform is that all the sellers are strongly encouraged to behave in a professional manner.
5) Friends PC
Friends PC is also a great option if you want to get paid to be an online friend.
Basically, what you'll be doing is helping your virtual friends to stay motivated, encourage them to reach their goals, or accompany them.
Some of the options for communication are an online call, phone call, or text.  Anyone who is interested to talk with you will be paying a fee.
Again, you'll choose your pay rates – feel free to ask for anything between $10-$50.
In my opinion, you should register on Friends PC if you're comfortable with meetings in person – a lot of the available gigs will require it.
6) Freelancer
Quite frankly, Freelancer is one of the most popular platforms you can use to find freelance gigs.
With that said, it's not surprising that you can list your virtual friendship offer on it too.
Once you sign up, take the time to build your portfolio.
Using this link will get you $15 for free – this is money you can spend on your first project on the site.
Payments are a no-brainer as long as you have a PayPal, Skrill, bank account, or even just a debit card.
Related Read:
7) College Mentor
To clarify, this is not a website or an online platform!
By college mentor, I mean exactly that – using this position to get paid as an online friend.
It's a known fact that every student ready to go to college is looking for someone to guide them.
Whether you'll introduce people to college activities, or you'll give them ideas about the best clubs in town, your information is worth the pay.
One of the best things about being a college mentor is that your services as a friend can be done completely online.
You should look into the College Pirates website.
There, you can charge as much as $80-$100 per consultation.
Related: 30 Online Jobs For College Students ($200/Hour)
My Closing
Well, this is it – you already know plenty about how to get paid as an online friend.
Always keep in mind – safety first.
So, keep a reasonable distance, check the reviews of the sites you'll be working with, and choose your friends carefully.
Do you have any experience as a virtual friend?
Is there something about this job that you don't quite understand?
Tell me in the comments section, and we'll discuss it further.