30 Best Online Jobs For Students To Make Money From Home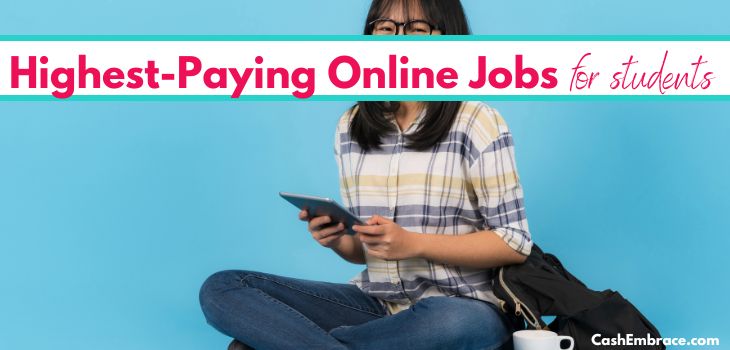 Taking advantage of the best online jobs for students is an opportunity you shouldn't take for granted:
After all, young people nowadays can find tons of ways to make money online their parents didn't have.
The side hustling options for those growing up in the pre-Internet era were quite limited, to say the least:
Sure, they could earn extra money doing handy work or washing the neighbor's car, but that's about it.
These days, high school and college students live in a different world that allows them to get any high-paying online job they want.
Today, I'll cover the top online money-earning jobs for students available and hiring right now.
This post contains affiliate links – visit my affiliate disclosure page.
Recommended Read:
Online Paid Work For Students – What Online Jobs Can I Do As A Student?
Whether you're still in high school or college already, your studies need to be your number one priority.
Isn't getting an online job going to affect the quality of your education?
While juggling school and a job can be challenging, you can manage it if you learn to manage your time.
What about all the hours you usually devote to hanging out with your friends?
Don't get me wrong – I'm not saying that you'll need to abandon your social life and replace it with a one-on-one with your laptop screen.
However, prioritizing a paying work-at-home job over gossiping for hours may not be the worst thing in the world.
That rings even more true if money is tight right now and you need to find a source of extra income before you graduate.
But what if your school schedule is insane, and there is no way for you to spare 6-8 hours each day?
Well, you won't have to since most of the online jobs for students you'll find on my list will allow you to work on your own schedule.  
Top Online Jobs For Students To Earn Money At Home
1) Freelance Writing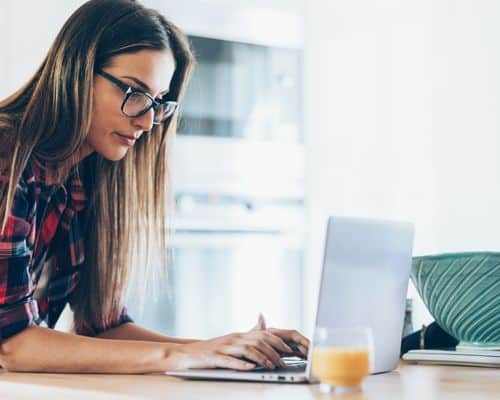 By all means, freelance writing is probably the best work-from-home for students to earn money:
Getting paid to write will not disrupt your studying sessions and won't drastically affect your daily routine.
Becoming a freelance writer is a great idea for a couple of reasons:
Firstly, you don't have to be a famous author to begin making money writing – many online platforms will pay you to write even if you don't have tons of experience.
Secondly, some online magazines will pay you over $1,000 per article, and that money can make a lot of difference in your life as a student.
Assuming that some of you might want to write for a living, I suggest getting an online course to enhance your skills before you commit to a full-time writing career.
My Freelance Paycheck will teach you how to reach at least $3,000 a month in writing income in months – read all about this course here.
2) Affiliate Marketer
Affiliate marketing is a billion-dollar industry.
Working as an affiliate marketer is an activity you can look into and start doing during your study breaks.
The way I see it, there shouldn't be an issue if you decide to be an affiliate marketer while you're still at school:
Speaking from personal experience, I got into the affiliate marketing field while still working my previous ordinary 9-5 job.
If you don't have the first clue about this business model, you can go through this free affiliate marketing training – it's where I learned how to make affiliate sales fast.
There are many ways to earn money by promoting products, so affiliate marketing is one of the best-earning jobs for students.
3) Start A Blog
Nowadays, launching a blog is easier than ever, and you can do it for barely any investment:
Getting a top-notch hosting service like BigScoots will cost you a few dollars a month.
Once you build and develop your site, you can monetize it in so many ways, such as affiliate marketing, sponsored posts, ad placement, etc.
Don't hesitate to start a website if you know nothing about the field:
Most of everything you need to know about making money blogging is information available online for free.
It's worth mentioning that owning a successful blog will help you establish a source of passive income.
And earning money while you sleep is the best-case scenario when you're still a student, isn't it?
4) Social Media Manager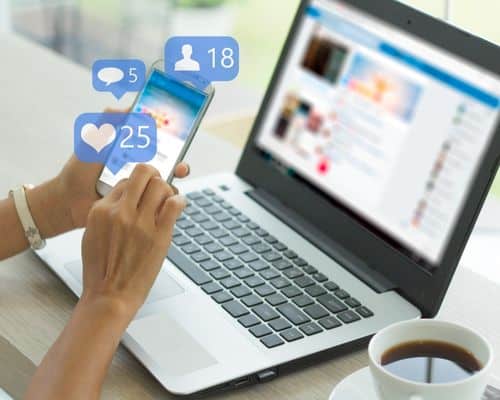 How many of you spend more time on Social Media than you probably should?
We're all guilty of that – at least, in some capacity:
Say what you will, but Social Media is addictive.
Now, how would you feel if you were able to monetize your Social Media activities in a sufficient manner?
I'm talking about the opportunity to become a Social Media Manager.
Professional Social Media Managers earn between $50,000-$90,000 a year.
Related Read:
5) Virtual Assistant
Despite popular belief, virtual assistance and Social Media Management are different online jobs for students:
Virtual assistants have other responsibilities than growing someone's Social Media presence.
For example, you can work as a VA in blogging, finance, e-commerce, and many other niches.
Currently, VA is the kind of online work for students to earn money that pays a lot:
Experienced VAs make up to $100 an hour.
Feel free to start your journey to VA excellence by taking the Horkey Handy Book course – it's the best one in the industry.
6) Voice-Over Artist
Creating voice-overs is no longer work only celebrities get hired to do.
These days, male, female, and children's voices are in demand for voice-over projects.
Anyone can become a professional voice actor as long as they have a pleasant voice and take the time to train themselves.
This online training will help you develop the skills necessary to start booking voice-over gigs that will pay you around $200 an hour.
Take a minute to learn more about the process of becoming a voice-over artist if the job seems like a good fit for you.
Related: Find A Voice-Over Work At Voices.com
7) Proofreading
Personally, I consider the opportunity to earn cash as a proofreader one of your best options for a couple of reasons.
Firstly, you're still a student.  Reading is a big part of your daily activities.  So, catching mistakes in a written text probably comes naturally for you at this point.
Secondly, proofreading will improve your current grammar skills.  Or if you have decent ones already, it will take them to the next level.
Lastly, proofreading will help those who have already decided on a writing career. Having impeccable grammar and punctuation is more than important for a writer.
Most online proofreading jobs pay more than well – expect to earn over $4,000 a month.
Besides, you can tip your toes into the proofreading waters by signing up for this Free Proofreading Workshop.
8) Online Tutor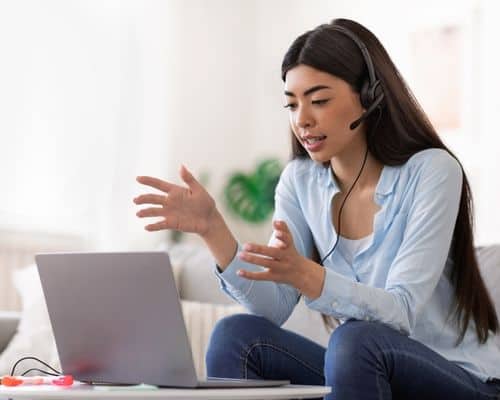 A quick question:
Does the fact that you're still at school mean that you can't teach yourself?
I don't think so:
Install Skype (if you haven't already), buy a nice pair of headsets, and give this extra income idea a try.
Many online platforms will let you teach English to kids and adults even if you have no Bachelor's Degree.
Assuming that you can spare three hours a day to work as an online tutor, you'll earn up to $25 an hour.
9) Transcriber
Working as a transcriber is about converting audio or video files into text.
Being a transcriber will not deliver as much money as most of the previous online jobs for students on my list.
Be that as it may, I see it as more than a decent option for you:
Transcription is one of the online earning jobs for students that will let you work at your own time and pace.
GoTranscript is an excellent company to join if you want to give transcription a try – it will help you make over $1,000 a month as a first-time transcriber.
10) Data Entry Online Jobs
These companies hiring data entry clerks will welcome you on board even if you don't have any experience in the field.
A data entry is a job that requires typing in data from one source to another.
Maybe data entry is not one of the most exciting paying online jobs for students, but it's still worth the try:
Even first-time data entry clerks can earn around $15-$17 an hour.
11) Captioning (Online Typing Jobs)
Since we're already talking about typing, let me show you one more way to earn from your typing skills.
In short, captioning is about generating subtitles for movies and TV shows.
You'll have to listen carefully to the characters and type what they say to make money from captioning.
Make no mistakes – precision is essential here, so don't underestimate it.
With that said, captioning will earn you $0,45-$0,75 per video minute – apply for the job on Rev and wait for approval.
12) Offer Services On Fiverr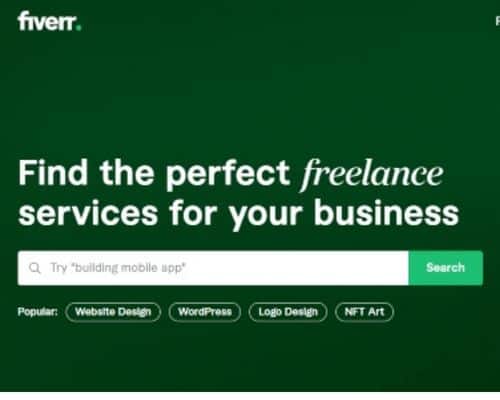 For those who are not so much into Fiverr or barely know how to use it, this online platform is a large marketplace where you can sell your services, such as building websites, providing SEO audits, writing, proofreading, and translation.
I'm sure that you can think of many more, depending on what you're good at.
Actually, what makes freelancing on Fiverr one of the best online jobs from home is that you're the one who decides on the delivery time for your services.
While three days is somewhat the norm on Fiverr, you can give yourself more time.
13) Graphic Designer
By the way, graphic design is one of the most popular services you can offer on Fiverr.
But I would like to talk about the job separately for a minute.
Nowadays, you don't need a degree to be able to work as a graphic designer and make money.
No, you just need to develop graphic design skills and gain some practice in the field.
There are tons of tutorials online you can go through to learn how to create professional-looking banners, brochures, logos, etc.
Once you feel confident about the quality of your designs, you can start searching for high-paying graphic design gigs.
14) Search Engine Evaluator
A search engine evaluator position is just one of the many Google jobs you can do to earn online as a student.
What the job entails is researching and analyzing how relevant the Google search results are when a person types a word or a phrase, looking for answers.
Regardless of how sophisticated Google's algorithm may be, a human touch is still necessary to make sure that the results are accurate.
Now, why this job has a spot on my list of online earning jobs for students?
Well, the hours are more than flexible, and each will bring you around $12.
15) Participate In Research Studies
Believe it or not, participating in certain research studies can make you up to $700 a project.
Working for a company like Respondent is one of the best-paying jobs online for students:
On average, answering questions for market research will earn you $140 an hour.
Doing research studies is not the same as taking surveys – let's be clear on that!
16) Online Course Creator
Do you have knowledge of a certain topic or a lot of experience in a specific field?
Sharing it with the world can make you lots of money:
Selling an online course is one of the top online jobs for students, in my opinion.
Once your course is ready to roll, you can list it for sale on platforms like Udemy or Skillshare.
17) Create And Sell eBooks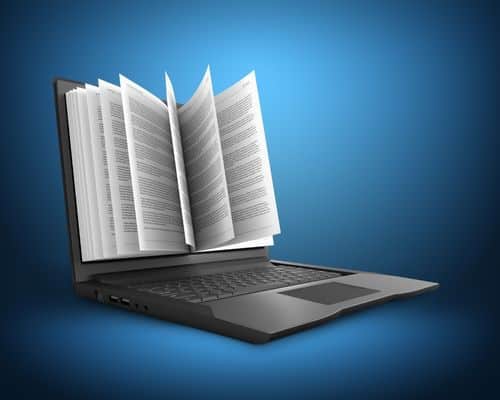 Speaking of product creation, how do you feel about selling eBooks online?
These days, creating a professional eBook is easier than ever with tools like Sqribble.
Sqribble will help you create a stunning eBook in a day – the process will be even faster if you want to use already existing content.
As soon as your eBook is ready, you can offer it for sale on Amazon.
Quite frankly, I can't tell you how much you'll be able to earn by creating and selling eBooks – the income potential of that job has no limits.
Related: What Is Kindle Money Mastery?
18) Video Editor
Video editing is one of the hottest online jobs for young students:
Each of you has at least a slight idea about how many millions of daily visitors platforms like YouTube and Tik Tok attract.
Developing video editing skills (if you don't have any yet) doesn't have to be intimidating – there are plenty of free tutorials online.
Professional video editors can easily charge over $150 an hour for their services.
19) Sell On Amazon
Amazon sellers send their products to Amazon in bulk, and the platform ships them on their behalf.
There is quite a lot of money you can make if you go with this opportunity:
At the time of writing this article about online jobs for students, the FBA sellers are generating over $1,5 billion in sales.
Of course, there are many other ways to earn on Amazon – see the top ways to make money on Amazon when you have a second.
20) Dropshipping
Starting a dropshipping business is something you can do in a day.
Keeping the student's budget in mind, dropshipping is an affordable side hustle that can become your main source of income.
Shopify is the leader in the dropshipping field – the platform will allow you to build your own online store and keep running it for 14 days for free.
Once that trial is over, developing your dropshipping business further will cost you only $29 per month.
10 Best Easy Online Jobs For Students
Best And Easy Online Jobs For Students
As a student, you can get paid to perform many different tasks online.
Such as:
Instant Online Jobs For Students
Related Read:
My Closing
Well, it took me a long time to research these online jobs for students.
While there are more options to make money as a student out there, I've collected the ones I believe will be the most helpful to you.
Then again, I'm constantly updating my content.
So, I'll add other jobs at some point, no doubt about it.
Until then, what do you think about my list?
Did you find an online job you can't wait to start?
Let me know in the section below!
More Money-Making Ideas You Should Know About: