Make Money With TaskRabbit: Earn $2K/M As A TaskRabbit Tasker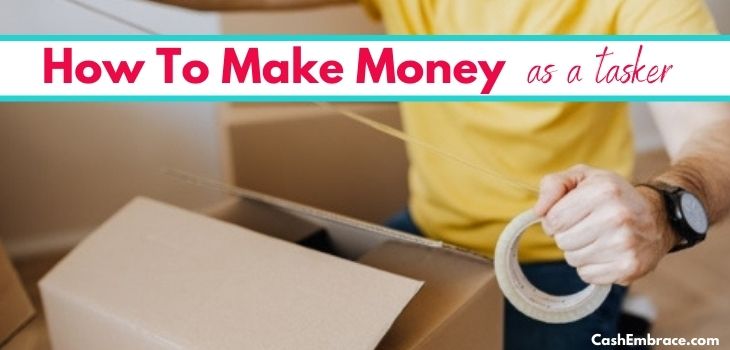 Finding out how to make money with TaskRabbit is worth the time and effort.
There, I said it!
That opinion of mine is not under the influence of the tons of glowing TaskRabbit Reviews you can read while researching the company online:
It comes from the fact that using the TaskRabbit App will allow you to make a decent amount of money if you're currently unemployed.
Even if you hold a nine-to-five job, working for TaskRabbit will help you earn extra cash in your free time.
TaskRabbit allows its workers (Taskers) to set their own schedules and working hours.
Before you begin the process of becoming a TaskRabbit Tasker, spare a minute to read this article and learn what to expect.
Recommended Read:
What Is TaskRabbit?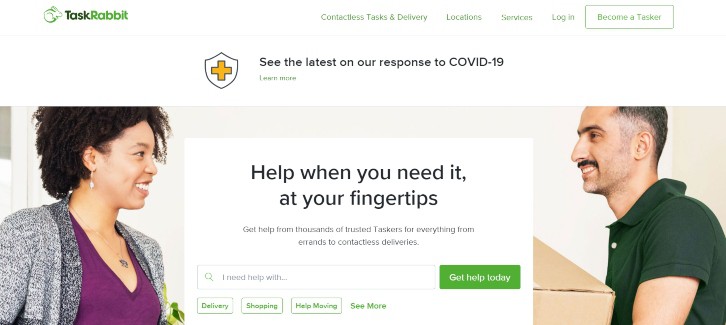 Basically, TaskRabbit is a job service platform that operates in nine countries at the moment, including the USA, UK, Canada, Italy, and Spain.
The company was founded way back in 2008 and had been working steadily ever since.
By all means, the concept behind TaskRabbit is pretty simple:
To sum up, TaskRabbit connects people willing to pay for different practical tasks with workers (taskers) ready to do the job.
Most TaskRabbit jobs range from cleaning and moving to landscape projects.
Believe it or not, you can hire a tasker to put together your brand new IKEA furniture:
It's no wonder that IKEA and TaskRabbit are official partners since too many people find assembling furniture particularly challenging.
Currently, TaskRabbit employs over 150,000 independent contractors, and this TaskRabbit tasker review will show you how to become one of them.
Requirements To Become A Tasker
Before you learn how to make money with TaskRabbit, you should check if you're eligible to work as a tasker.
Have a look at the requirements to join the company:
Be 18 years old or older
Own a smartphone
Have a credit card and checking account
Pass an ID and background checks
Assuming you have everything necessary to be a tasker and pass the checks, you'll be ready to become a part of the company.
As long as you live in any of the countries TaskRabbit operates, you'll have the chance to begin making money on TaskRabbit.
How Does TaskRabbit Work?
These days, TaskRabbit doesn't own any physical offices for its employers:
At the beginning of this year, TaskRabbit is officially a remote-first company.
With that said, you can't become a tasker without downloading the TaskRabbit App.
I suggest not wasting any time and downloading the app as soon as possible:
Over 800,000 people worldwide use TaskRabbit to find help with their everyday tasks.
More Remote Jobs You Can Do:
How To Become A Tasker On TaskRabbit
Without further ado, here is the process you'll need to go through to start working as a tasker:
1) Download The TaskRabbit App
The first thing you'll need to do to secure a spot as a tasker is to download the company's app.
That app is available on both Google Play and App Store.
2) Sign Up To Create A TaskRabbit Account (TaskRabbit Tasker Registration)
Feel free to create an account on TaskRabbit here.
Again, you won't be able to get a tasker account if you don't own a smartphone.
3) Build Your Tasker Profile
Once you sign up for a TaskRabbit account, you'll have to build your profile.
You'll need to provide some basic information about yourself and a profile photo.
Next, you'll choose the services you want to offer, state your level of experience, select your pay rates, and set up a direct deposit.
4) Go Through A Verification Process
Step four in the process of becoming a tasker is verifying your identity.
Nowadays, a tasker must have a social security number and a valid checking account to receive payments.
Also, this is the moment where you'll need to pass the background checks.
5) Pay The TaskRabbit Registration Fee
If TaskRabbit approves your tasker application, you'll have to pay a one-time registration fee.
Right now, the TaskRabbit registration fee will cost you $25, and that fee is non-refundable.
6) Select Your Working Area And Working Schedule As A Tasker
Paying the registration fee will move you a step closer to the stage where you'll be able to make money with TaskRabbit.
Before you score your first TaskRabbit side hustle, you'll have to pick your working area, pay rate, and working hours.
My advice is to be real about your availability as a tasker:
Some pending tasks will need completion right away – make sure that you'll be able to manage that.
7) Start Working For TaskRabbit
Of course, the final stage of your journey to becoming a tasker is to accept the first TaskRabbit job request you'll receive and collect your TaskRabbit earnings once you complete the gig.
How Much Can You Make On TaskRabbit?
Now, how much do TaskRabbits make?
As you already know, taskers choose their pay rates and the services they want to provide.
However, if you're facing issues booking TaskRabbit gigs, you should check the average rate for that specific service.
I mean, if your asking price for a job is $100 and most taskers are willing to complete the same task for $30, you won't get hired.
With that said, your TaskRabbit earnings will depend on the services you offer and on the location where you choose to operate.
Currently, the type of services that tend to earn more money for the taskers is mounting, moving, and furniture assembling.
On average, helping people move will make you around $50, assembling furniture will earn you $40, and waiting in line will bring you $30.
Again, these payouts will vary, and your final earnings depend on many factors.
How Does TaskRabbit Pay?
Heads up – TaskRabbit will not allow you to receive any money directly from the customer.
Instead, you'll receive your earnings as a tasker via direct bank deposit.
How Much Does TaskRabbit Take?
Since all of you are here to see how to make money with TaskRabbit, you'll be glad to find out that the company doesn't charge its taskers a fee.
In other words, everything you'll receive as a TaskRabbit payout will be yours.
Customers who use the services TaskRabbit provides pay a surcharge to the company on your hourly rate.
How To Make Money On TaskRabbit – Tips And Ideas To Maximize Your TaskRabbit Earnings
Be Smart About The Services You'll Provide As A Tasker: Listing all the services you're comfortable doing is one of the best ways to earn more on TaskRabbit. Providing clients with more reasons to hire you will result in more money as a TaskRabbit payout.
Avoid Offering Gigs You Can't Do Well: Doing a sloppy job will most likely bring you a bad review – that will negatively affect your TaskRabbit career.
Take Same-Day Tasks: When possible, make yourself available to complete same-day tasks – doing so will allow you to charge a higher pay rate.
Don't Be Late: Respecting your client's time will boost your chances of booking repeat customers.
Start With A Lower Pay Rate: As a brand new tasker, you won't have any good reviews to increase your chances of landing a gig. Agreeing to complete a job for less money than your competitors might just be the incentive people need to choose you for a specific gig.
Try To Become An Elite Tasker: Elite Taskers are people who constantly maintain the best metrics (Reliability, Acceptance, Response Rate) in the company. Naturally, they make the most money.
Well-Paying TaskRabbit Jobs To Consider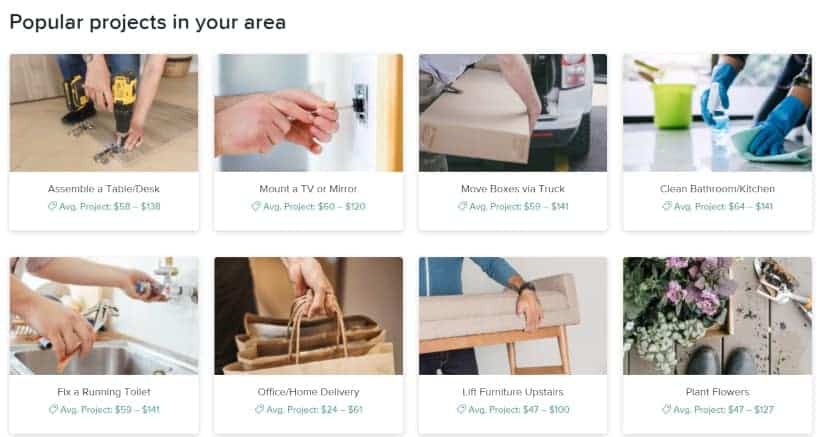 By all means, you'll have to complete different kinds of jobs if you want to make money with TaskRabbit.
Here are the best TaskRabbit jobs you might want to list as services you offer:
Make Deliveries: These days, delivery jobs are some of the most popular tasks you can complete while you work as a tasker. On average, a delivery gig will earn you between $25-$65.
Assemble Furniture: If putting furniture together is something you can manage, don't hesitate to list it on your TaskRabbit profile.
Decorate: Offering a hand with decoration for events such as weddings and parties will make you up to $120.
Yardwork/Cleaning Houses: Those who don't mind getting their hands dirty should be available for cleaning and yardwork TaskRabbit jobs.
Wait In Line: Booking a waiting in line gig will bring you around $30 an hour.
Benefits Of Working For TaskRabbit
Flexible Working hours: It's not an accident that I'm giving the top spot to the flexible schedule.  After all, that's the biggest attraction of TaskRabbit, according to most of the taskers.
An opportunity For A Full-Time Job: If you're not currently employed full-time, you should think about being a tasker for a living.
Setting Up Your Pay Rates: One of the beauties of TaskRabbit is that the company doesn't put a price on your skills – you do.  
Work At Your Local Area: Being a busy tasker doesn't mean you'll have to change your current residence. No, you can always go for the tasks that won't take you too far from home.
Is TaskRabbit Worth It?
Whether working for TaskRabbit is worth it depends on your expectations once you join the company.
In my opinion, becoming a tasker is worth the time and effort.
The working hours are flexible, the tasks are not hard to complete, and you have the opportunity to earn more money if you keep yourself busy.
Nowadays, some taskers earn an extra income of between $100-$200 a month.
However, the Elite Taskers make between $5,000-$7,000 a month.
Feel free to do some initial research on the company – you can do that by reading the TaskRabbit Worker Reviews or the TaskRabbit Tasker Reviews online.
More Simple Ways To Earn Cash:
Is TaskRabbit Safe?
Quite frankly, I shouldn't even be adding such a paragraph, but here it is:
Chance are, some of you might wonder about how safe it would be to work with TaskRabbit.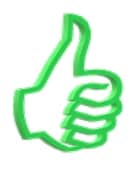 Well, the facts speak for themselves, and they will tell you safety is the last thing you should be worried about once you are a tasker:
TaskRabbit takes the protection of your personal information quite seriously. Moreover, the company is trying hard to create a safe environment that will allow you to have a nice, pleasant, and fun experience while completing TaskRabbit gigs.
TaskRabbit Review: Frequently Asked Questions
Is TaskRabbit Legit?
Yes, TaskRabbit is a legitimate company you can join if you want to work as a tasker.
As you already know, TaskRabbit will allow you to earn money by completing different jobs such as running errands, waiting in line, assembling furniture, etc.
Does It Cost Money To Be A Tasker On TaskRabbit?
At the moment, there is no TaskRabbit Free Registration option.
Everyone who wants to make money with TaskRabbit has to pay a one-time, non-refundable registration fee before submitting their tasker application.
Can You Make Good Money With TaskRabbit?
While many taskers earn around $200 a month, that's not the whole amount of money you can make working for TaskRabbit.
Some taskers earn over $5,000 a month.
Believe it or not, a good number of taskers make more than $12,000 a month.
How Do I Get More Jobs On TaskRabbit?
Here are a couple of tips and ideas that will help you book more gigs as a TaskRabbit tasker:
Extend your working area map
Add more Availability to your profile
List extra skills you can offer
Don't skip on adding more details to your quick pitches
Offer reasonable rates
How To Make Money With TaskRabbit – My Closing
I get it – working as a TaskRabbit tasker might not be the dream job for many of you.
Still, giving TaskRabbit a try is an excellent way to boost your income and earn extra money on the side.
Considering some taskers make over $10,000 a month, you can make your TaskRabbit gig your permanent employment.
Now, what questions do you have on this topic?
Is there something you don't understand about the working process once you become a tasker?
Ask me anything you want in the comments section, and I'll clarify everything you don't get about making money on TaskRabbit.
More Ideas From Cash Embrace You Might Like: