70 Hobbies That Make Money: Turn Your Passion Into Profit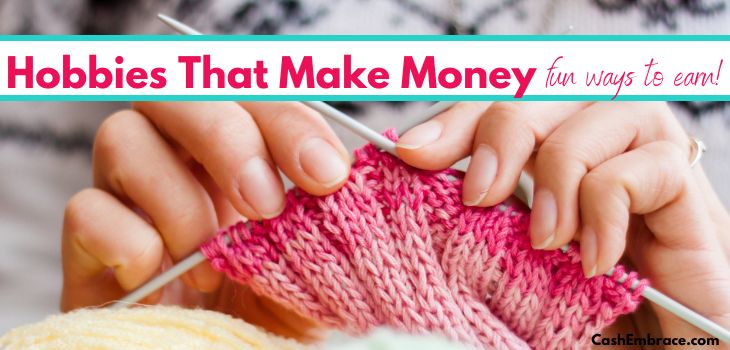 The fun activities you like doing can bring you more than enjoyment – you can turn them into hobbies that make money!
Considering most people are stuck with jobs they hate, what's the harm in earning extra cash while doing something you love?
You might think that you need special skills to turn a hobby into a source of income, but that's not true:
It turns out you can make part-time and even full-time income from the hobbies you are spending time on already.
In this article, I'll tell you about over 70 money-making hobbies you should do for both joy and cash.
This post may contain affiliate links – see my affiliate disclaimer.
Recommended Read:
Top Hobbies That Make Money (Online And Offline)
First and foremost, today's article will cover hobbies that will work for anyone:
Whether you're looking for money-making hobbies for guys or hobbies that make money for stay-at-home moms, you'll find them here.
Let's get started, shall we?
1) Social Media Management
I'm opening this article with an exciting opportunity to make money via Social Media:
After all, who doesn't spend time on Social Media every day?
If you're a Social Media addict, you'll be glad to find out you can monetize your experience and skills:
Instead of scrolling aimlessly on Social Media all day long, you might consider managing it for other people or brands.
Nowadays, professional Social Media Managers earn up to $250 an hour. And you can become a Social Media Manager on your own.
Related: Social Media Online Jobs To Avoid
2) Web Design/Coding
As you can guess, the opportunity to make money as a web designer requires professional skills.
Assuming some of you have such skills, why not use them to create websites for people, companies, and other online businesses?
Not everyone who wants to start a blog is tech-savvy – that's where you'll come in to help them achieve their goals.
There are many ways to earn from web design and coding, including creating and selling WordPress themes and website templates.
3) Graphic Design
Before I cover graphic design as one of the hobbies that make money, allow me to clarify something:
Web design and graphic design are different jobs:
Graphic designers create visual concepts – their job is to give a site a specific look the client requires.
According to statistics, professional graphic designers make around $25 an hour.
Expect an annual salary of over $50,000 from your graphic design hobby.
4) Create Niche Websites
Since we're already talking about money-making hobbies involving the site's work, let's continue the conversation further:
Building niche websites is an excellent side hustle for people who are familiar with the process of developing blogs.
A niche website is a site that focuses on a specific topic.
Do some research on the most profitable niches these days and begin working on creating a niche website you can sell.
Human Proof Designs are doing this quite successfully. They sell pre-made affiliate sites ready for monetization – feel free to use them as a source of inspiration.
5) Blogging
While considering creating niche websites for sale, you might want to think about starting a blog for yourself.
No matter what anyone says, blogging is still one of the most profitable hobbies that make money:
You can monetize a site in many ways, including affiliate marketing, sponsored posts, ad placement, creating products, offering courses, etc.
More importantly, launching a blog doesn't require a huge upfront investment:
BigScoots will provide powerful web hosting that won't cost you a fortune.
6) Freelance Writing
When you have a blog, a lot of time and effort will go into writing high-quality articles your audience will love.
But do you know that you can become a freelance writer and earn money writing for others instead for yourself?
In-demand freelance writers make thousands of dollars a month.
With that said, you might consider investing in an online course to teach you the ropes of freelance writing.
My Freelance Paycheck is a training course that will show you how to start earning at least $3,000 a month as a freelance writer (read the full review here).
Related Read:
7) Create And Sell Slogans
Speaking of writing, I want to direct your attention to the opportunity of making money by inventing slogans.
For those who don't know, a slogan is a phrase a company will use to express the idea behind the product they sell.
Slogans are marketing tools brands rely on to influence the purchasing decision of their target customers.
What you may not know about slogans is that anyone can make money by creating them.
In case you're good with coming up with catchy phrases, see how you can sell them via the Slogan Seller platform.
8) Drawing
Well, now it's a good time to cover a few creative hobbies that make money.
Such a hobby is drawing.
It doesn't matter if you enjoy drawing on canvas or your iPad:
As long as you are good at drawing, you can make money with it.
Think about creating an online drawing course, teaching drawing in person, or partnering with local businesses that need your services.
9) Illustration
Similar to drawing, illustration is a fun activity you can earn from as long as you have the necessary skills.
On average, illustrators earn around $30 an hour.
Of course, your income as a freelance illustrator will depend on many factors.
Do you know that UpWork offers many children's book illustrating jobs?
Feel free to add your own listing on the site and wait for clients to hire you.
10) Music
Are there any aspiring musicians reading this article?
Hopefully, there are, since anyone can record a song and list it for sale online.
Sites like SoundCloud and BeatStars will let you sell both entire songs and raw beats.
Besides, playing an instrument can also become a source of extra income if you don't mind teaching your skills online (Udemy, Teachable, SkillShare).
But if you want to make money just by listening to music, you can do that by working with platforms like Slice The Pie.
11) Voice-Over Acting
Next on my list of hobbies that make money is voice acting.
Nowadays, anyone can get a voice-over gig if they have a pleasant voice and go through the necessary training.
Becoming a voice-over actor won't happen overnight, but completing the process will be worth it:
Doing voice-over work is one of the high-paying online jobs you can start doing from the comfort of your home.
I recommend building your voice acting career by joining companies like Voices.com.
12) Pet Sitting And Dog Walking
Are you an animal lover? Even if you don't own a pet, you can get paid to take care of someone else's dogs.
While you can always ask your neighbors to walk their dogs, you can do much better if you join companies like Rover.
Rover is a site that offers dog walking and pet sitting jobs.
Take advantage of that and start making money in your free time.
Keep in mind that dog walking is a side hustle that doesn't require any other investment than your time.
13) Housesitting
Speaking of taking care of something, how do you feel about housesitting?
Most homeowners prefer to hire someone to watch over their house while away.
Basically, a housesitting gig might go on from a couple of days to a few months.
Housesitting pays between $25-$30 a day.
And if you're a fan of lazy jobs, doing housesitting will fit your needs perfectly.
Related: 50 Weird Jobs That Will Make You $100,000 A Year
14) Interior Design/Decorating
Until we're still on the subject of houses, are you capable of decorating them?
It's no secret that some people have a natural talent for transforming any living space into a cozy home.
Assuming that some of you fit that description, I'm wondering why you're not using it yet to earn some extra income.
Believe it or not, launching an interior design business can happen online – you don't need a physical office to offer decorating services.
Video or phone calls with clients are enough to get you into the interior design field.
15) Gardening
By all means, gardening more than deserves a spot on this list of hobbies that make money:
Being a dedicated gardener will boost your income and also calm you down.
Growing your own succulents and selling them online can become a thriving business:
Platforms like Etsy and Amazon Handmade will let you open an online store and list your succulents for sale.
Such a money-making idea is worth the try, in my opinion.
16) Landscaping & Lawn Care
Similar to gardening, landscaping is a side job that will pay you well while being outdoors.
There are many ways to make money with a landscaping hobby.
For instance, you can remove snow, mow lawns, or clean leaves from someone's backyard.
Mowing is an activity that doesn't require lots of experience.
However, other landscaping activities like deck building do.
17) Art
Show me an artist that doesn't dream of living off their artistic abilities – go on, I dare you!
What's the point of being able to create breathtaking art if you won't make money off it?
Alright, you can keep your full-time job while developing your art business on the side:
Owning a successful art business requires lots of time and effort.
But once your paintings (or other types of art you create) start selling, feel free to quit your job and be an artist for a living.
18) Sell Art Prints/Printables
I suggest the artists reading pay some extra attention to this paragraph:
While you can always sell original paintings to online galleries or on your site, you can also sell them as prints.
An art print is a downloadable product anyone can purchase online and print at home.
Offering art prints is clever for many reasons, such as low upfront investment and time efficiency.
More importantly, selling prints is one of the best passive income streams – you can create a print once and sell it multiple times to different clients.
19) Shopping
Is there anyone who wouldn't prefer to make money while shopping instead of spending it?
Of course, that's a rhetorical question:
Shopaholics can make money off their hobby in many ways.
The most popular way to get paid to shop is by becoming a mystery shopper.
You can also shop for groceries for others and earn money for delivering them by using the Instacart App.
20) Driving
Another way to make money by delivering food is by becoming a dasher.
To clarify, a dasher is a term DoorDash uses for its drivers.
Driving and delivering meals for DoorDash will allow you to earn some extra income in your free time:
Expect to make between $15-$25 an hour working as a dasher.
Learn all about the process of becoming a DoorDash driver here.
21) Photography
Do you love working with the camera? More importantly, are you good at taking high-quality photos?
Hopefully, many of you are gifted photographers:
Nowadays, photography happens to be one of the most popular hobbies that make money.
After all, some photography jobs will pay you $100 an hour to take pictures. And there are lots of places where you can sell your photos online.
Plus, you can always get paid for photos of your feet.
Related Read:
22) Online Tutoring
We all know how in-demand online tutoring has become in the last couple of years.
Why not take advantage of the opportunity and supplement your monthly income?
If there is an area where you have tons of expertise, consider using your knowledge to teach others.
On average, online tutors earn around $58,000 a year.
But many tutors make $70,000 or more annually.
Related: 30 Sites That Will Pay You To Do Homework
23) Teach English Online
First and foremost, don't worry if you don't have a Bachelor's Degree in English:
Believe it or not, there are companies that will hire you to teach English from home even without a degree.
Online English teachers work with both kids and adults.
Expect to earn between $15-$25 per teaching hour (40 minutes). VIPKID will pay you around $22 an hour.
Teaching English online comes with flexible hours and other benefits.
24) Sharing Your Opinion
As you can probably guess, sharing your opinion is another way to talk about taking surveys.
Completing surveys doesn't require any special skills or experience – anyone can do it for free.
In my experience, a survey takes between 5-20 minutes to complete.
Swagbucks is the most popular site you can join to make money by taking surveys.
Each new member receives a $5 bonus just for signing up.
Related: Earn $300 Per Research Study With Respondent
25) Complete Small Tasks Online
While many of you might think that I'll keep talking about surveys, I'll direct your attention to a different money-making opportunity.
Completing small tasks online entails other activities than only doing surveys.
For example, you can look at movie trailers, watch ads, and leave feedback on a specific topic.
Quite frankly, there are hundreds of platforms you can join to get paid to do small tasks.
One of them is PrizeRebel – that site is my favorite of all available options.
26) Get Paid To Pin On Pinterest
Contrary to the popular belief, Pinterest is not a Social Media Network:
It's a visual search engine anyone can use to make money without starting a blog.
Pinterest itself won't pay you for uploading pins.
However, you can create an account, build an audience, and start pinning affiliate pins.
An affiliate pin will bring users to a product or service you promote. When someone buys the product through your affiliate link, you'll receive a commission.
Related: 15 Ways To Make Money On Twitter
27) Proofreading (Correcting Grammar Mistakes)
Nowadays, proofreading is one of the most lucrative work-at-home jobs you can get:
Professional proofreaders earn over $50 an hour.
Proofreaders correct grammar, spelling, and punctuation errors in written documents.
You don't need formal education to become a proofreader. But you need professional training before you are able to book high-paying proofreading jobs.
I recommend signing up for this Free Proofreading Workshop – it comes from Caitlyn Pyle, the creator of Proofread Anywhere (the best course that covers proofreading inside and out).
Related: Make Money Editing Court Documents
28) Play Games
Chances are, I'm not the first person to tell you that you can earn cash playing games online.
There are many games you can play to earn real money!
The way I see it, playing games for cash is one of the best hobbies that make money:
It's an entertaining way to pass the time. And considering you'll enjoy yourself, earning through game playing feels like getting free money.
See the best games that pay real cash when you have a minute.
29) Flying Drones
Generally speaking, flying drones will not be a suitable money-making hobby for everyone.
But if you like dealing with drones, you should seriously consider it:
Flying drones can be more than a source of extra income – you can turn it into a successful business.
One of the ways to earn from your drone is to use it for taking pictures and videos. Such pictures and videos will do more than well on stock photo marketplaces.
Also, you can research fields such as real estate photography and videography.
30) Create A YouTube Channel
Is there at least one topic you're an expert on?
Assuming there is, I suggest creating a YouTube channel where you can upload video content around it.
Creating, developing, and monetizing a YouTube channel will help you make money in many ways.
Some of these ways are affiliate marketing, sponsored videos, and ad placement.
If you're camera-shy, you can use tools like Speechelo to turn your text into speech, so you won't have to show your face or use your own voice on YouTube.
31) Create A Podcast
Hosting a podcast is so popular today:
Many celebrities have successful podcasts these days. But ordinary people can develop a profitable podcast too.
The main difference between a YouTube channel and a podcast is the type of content:
You'll have to create audio format content for your podcast.
Sponsorships and affiliate marketing are two of the obvious ways to monetize a podcast.
32) Make Money Selling On Amazon
By all means, selling on Amazon is one of the most lucrative hobbies that make money these days.
However, the money-making process on Amazon is not as easy as many people might think:
Don't start selling anything on Amazon until you devote enough time to research.
After all, you can sell many different things on Amazon, such as Private Label products or wholesale goods.
Plus, you can always make money on Amazon FBA.
33) Crafts And Handmade Products
How many of you consider yourself crafty people?
Hopefully, at least some of you are capable of creating handmade products because the market for such is enormous.
Nowadays, crafts like wedding items, accessories, and jewelry are selling quite well online.
Open an Etsy shop and list your handmade products for sale – you won't regret doing that!
Here is a list of 50 popular crafts you can make and sell for profit.
34) Sell Craft Supplies
What about selling craft supplies?
Even if you're not a crafty person yourself, what's the harm in making money by helping others who are?
Everyone would prefer an easy way to get the necessary supplies for their art projects.
Naturally, that's where you'll come in:
Launch a Shopify store and start selling craft supplies to art lovers worldwide.
35) Watch Videos
Watching videos is a hobby for millions of people.
But not all of them are using it to make money.
You should, though:
Have a look at 30 simple ways to earn money by watching videos.
Once you see these ways, you might want to learn how to get paid to watch Netflix.
36) Become A Virtual Assistant
Working as a virtual assistant (VA) might not have a place among the top hobbies that make money:
Virtual assistance is such a lucrative field that it's more of a whole online business than a side hustle.
As a VA, you'll complete tasks from remote locations. Some of these tasks will be answering emails, processing orders, making appointments, and even offering data entry services.
Content creation, finance, and eCommerce are the most lucrative niches you can work within as a VA.
VAs earn as much as $100 an hour – see how to become a VA even if you have no experience.
37) Cooking & Baking
I doubt you don't know that a cooking or baking hobby can make you money in several ways, such as selling wedding cakes.
With that said, you can monetize your cooking skills in many other ways.
For example, you can write a recipe book, create a food blog, start a cooking YouTube channel, and offer cooking classes.
Furthermore, you can create an online course that teaches others the art behind cooking or baking.
Once you create your course, consider uploading it on Udemy or SkillShare.
38) Fashion And Beauty
Fashion and beauty are such broad terms. Shall we narrow them down a little bit?
As you can guess, there are many ways to make money in the beauty and fashion markets.
Working as a make-up artist comes to mind first.
Being a fashion consultant is a close second.
Regardless of how you'll choose to monetize your sense of style, you'll be able to do it part-time or full-time.
39) Health And Fitness
Helping people to get in shape is another great way to boost your monthly income.
How do you feel about creating fitness-related product internet users would gladly pay for to use?
Of course, you can always work as a fitness instructor.
But why should you limit yourself to that when you could do so much more?
Providing nutrition consulting and creating a fitness eBook (or video course) is worth the try.
40) Walking/Losing Weight
While there is no harm in helping others look good, you should do that for yourself first (if there is a need for that).
Walking is an activity everyone does daily to some extent.
Doing more of it comes with monetary perks:
Plenty of apps will pay you for walking and exercising.
Believe it or not, some apps will pay you $1,000 once you take enough steps!
41) Travel
Can you think of a better way to make money than traveling?
Personally, I can tell you at least 30 ways to earn cash while you're on the road.
Working as a tour guide is the most obvious choice to get paid to travel.
However, it's not the only one:
Selling travel photography, writing hotel reviews, and starting a tour company business will work too.
42) Designing T-Shirts
Alright, I have to mention the opportunity of making money by designing T-Shirts before it slips my mind:
Print-On-Demand (POD) platforms will do most of the work once you start your designing hobby.
They will print and ship the product to the customer once an order comes in.
All you need to do is create stunning and irresistible designs people would love on a shirt.
Such a hobby is cost-effective since you don't need to invest lots of money to launch it.
43) Planning & Organizing
Being a proud owner of impressive organizing skills will put you in an excellent position to make extra money:
After all, you can use these skills to start a new money-making hobby or a whole business.
You can offer event planning services or become an organizing consultant.
Plus, there is always the option of creating an online course that will teach others the necessary organizing skills.
Also, consider launching a wedding planning business – the wedding industry is one of the most lucrative ones.
44) Comedy
Are you an accomplished comedian?
Even if you're not, you can still make money with comedy as long as you have the talent to make people laugh.
Doing comedy routines locally and being a comedy writer are some of the ways to monetize such talent.
Instagram is a great platform to showcase your comedic timing.
You never know when your reel might go viral!
45) Editing
My list of hobbies that make money won't be complete without editing:
Nowadays, editing is one of the most in-demand skills you can have.
Not everyone can edit their video content – some people just hate doing that, myself included.
Offering editing services will never leave you without a source of income.
Gain the necessary editing skills or improve your existing ones by watching YouTube tutorials – it's how I learned!
Crafting Hobbies That Make Money
46) Sewing
Sewing happens to be one of those talents not many people have these days.
That's why offering sewing services is a great money-making idea.
List them on platforms like Craigslist and watch the clients coming.
47) Knitting
Does any of you knit hat or scarves?
Great, but are you doing it only for yourself?
Hopefully, you wouldn't mind selling your knitted items to others.
48) Caligraphy
Anyone who can manage to create handwritten notes, letters, and handmade cards should give the calligraphy field a chance.
Caligraphy might be a disappearing art, but you can still make money with it:
Those wedding invitations won't write themselves!
49) Woodworking/Carpentry
Woodworking is a hobby millions of people worldwide share.
Making money from woodworking comes in many forms.
For instance, you can build custom furniture, repair someone else's furniture, or teach others how to do both.
50) Fixing Things
Are you capable of fixing things for others?
Handyman jobs are always in-demand.
That's why companies like TaskRabbit exist – taskers earn money by assembling furniture, moving boxes, and even fixing running toilets.
Frugal Hobbies That Make Money
51) Restoring Furniture
Restoring furniture for money will barely cost you a thing:
Yard sales, thrift shops, and flea markets are the places where you can find cheap or even free old furniture.
Once you restore the old furniture, you can sell it for profit online (Facebook Marketplace is a good place to find clients).
52) Yard Sales And Flea Market Flipping
Speaking of yard sales, you can use them for much more than finding furniture:
Many people earn thousands of dollars by flipping items they discover at yard sales.
Make no mistake – flipping items online is one of the best ways to begin making money fast.
53) Make Money Selling Your Used Stuff
Selling stuff you no longer need is probably one of the easiest hobbies that make money.
Decluttering is good for you – it will empty your living space and earn you extra cash when you need it.
See 13 things you can sell when you need money immediately.
54) Selling Plants
Are you open to the idea of selling some of the plants you already have?
Plants are selling quite well online – most Social Media channels will bring clients willing to buy your beautiful plants.
Chances are, neighbors might pay for a couple of your plants as well!
55) Clothes Alternations
If you can do clothes alternations for yourself, I can't imagine why you wouldn't do it for others:
Some people just can't fix their clothes on their own!
That's why they choose to pay others to do it for them – that could be you.
Surprising Hobbies That Can Actually Make You Money
My Closing
Well, that's all I have for you today:
My list of hobbies that make money has to end at a certain point.
What are your favorite money-making hobbies?
Which of the hobbies you see above are you going to try?
Let me know in the comments section, please!
More Ideas From Cash Embrace You Might Like: