Paid Social Media Jobs Review: Scam Or Instant $700/Week?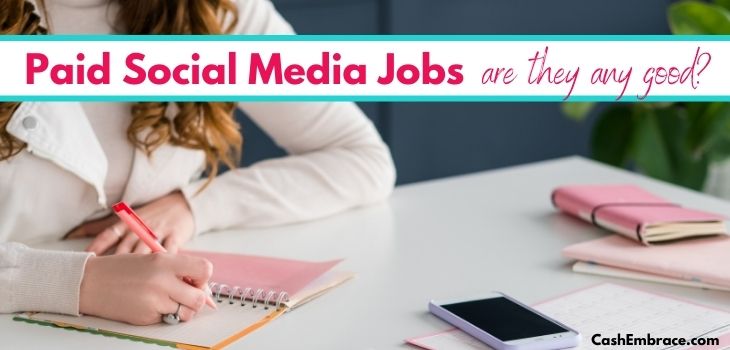 For starters, this Paid Social Media Jobs Review is not going to be just about high-paying online jobs you can do from home.
No, it's more focused on a hugely-advertised online platform that allegedly will make you lots of money on Social Media.
These days, thousands of people are earning their living as social media managers.
But is that what you'll become thanks to Paid Social Media Jobs?
Spare a few minutes of your busy day because this is not the only question I'll answer.
Can you get these paid social media jobs for free?
Will you find legit social media jobs on the platform?
How much money can you make if you do?
Finally, is Paid Social Media Jobs a scam?
Let's find out, shall we?
Paid Social Media Jobs Review – The Basics
Product:  Paid Social Media Jobs
Website: www.paidsocialmediajobs.com
Owner:  Annie Jones
Price:  $27, Upsells
Cash Embrace Says:
It Doesn't Deliver On The Original Promise
Unless you're not that interested in Social Media, you've probably heard about this product before.
As I've said earlier, it's more than heavily-advertised online, but that's not the only reason why you may already saw it somewhere:
The platform was launched way back in 2012.
That's 8 years and counting being in the business.
So, what makes the Paid Social Media Jobs that popular even today?
In my opinion, the interest people are still showing in this platform is based on the lucrative opportunity it allegedly provides.
I mean, $700 per week earned from completing simple tasks on Social Media can be seen as lucrative, right?
Especially considering such an income can be made as early as 24 hours after joining the website.
Sure, all that sounds hard to resist.
With that said, how much of it is actually true?
There is only one way to find out – keep reading my Paid Social Media Jobs review, I'll give you all the details!
What Is Paid Social Media Jobs?
Basically, this is an online platform people can join if they're interested in making money on social media.
Paid Social Media Jobs is the kind of website that functions as a job portal.
Meaning, you can find plenty of social media jobs collected in one place for your convenience and better user experience.
According to Annie (the creator), anyone can take advantage of the available jobs:
You don't need to have any previous experience with social media and no special skills are required.
Hold on, that doesn't make a lot of sense, does it?
How are you supposed to start earning $700/week as a social media manager in case you don't know the first thing about doing the job?
Well, it turns out that is possible.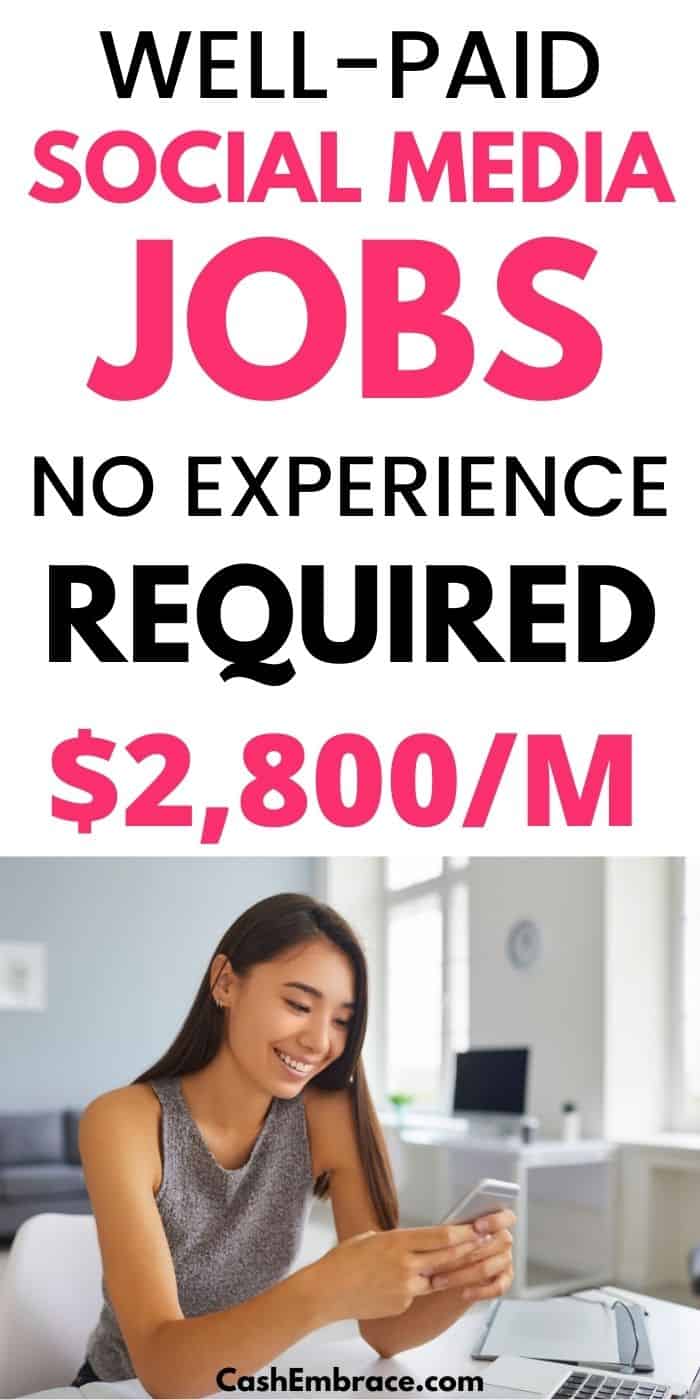 Because Annie will provide you with step-by-step training that will teach you everything you need to know.
So, the product is not just a site offering social media jobs, but a teaching platform that will train you how to do them as well.
Paid Social Media Jobs Review – What's Inside The Training?
According to the sales page, the owner has extensive knowledge of social media marketing and making money as a manager.
Apparently, she has years of experience doing the job herself.
And now she is ready to share it with you so you can start earning a full-time income on social media just like she does.
All you need to do to repeat her success is following the training she has put together.
Here is what that training includes:
1) Module 1 – Understanding The Term Social Media Manager
Since the platform is advertised as the perfect resource for complete beginners, it makes sense that Annie starts with the fundamentals.
That's why the first section of the training will introduce you to the basics.
Quite frankly, this part of the course is not so bad.
On the contrary, you'll have the chance to learn a lot.
For instance, you'll find out what exactly a social media manager is and what you'll have to do once you become one.
Next, you'll see what kind of person is best suited for the job and who should go for a different career.
Also, Annie is sharing some very useful tips about how to conduct yourself as soon as you start working.
Acting professionally from day one will help you land clients even if you're still a newbie, so this is a great skill to develop early on.
2) Module 2 – How To Get Started As A Social Media Manager
Moving on to really getting into the job, the second module goes deeper into the world of social media managers.
It's not a secret that being capable of managing social media accounts is a skill that can make you serious money these days.
So many businesses simply don't have the time to do that.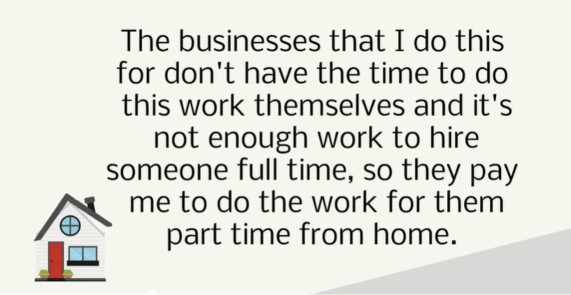 Meanwhile, they would still very much enjoy growing their online presence and brand awareness.
As a result, they're willing to pay really well to professional social media managers that will deliver satisfying results.
With that said, Annie has devoted the second module to explaining what role social media managers play in the world of online business.
During the second part of the training, you'll officially start working and you'll be setting up your social media accounts.
Recommended: Learn How To Become Social Media Manager For Free
3) Module 3 – Finding Clients
Up until now, you've learned what to do as a social media manager and you have your accounts all done and ready to go.
What happens next?
Well, the third module will give you a detailed overview and a better understanding of your future clients.
There is a long discussion about the type of companies looking to hire social media managers.
You'll learn strategies that will help you land the right business to work with.
Annie will teach you how to calculate the payment you should receive for the services you're going to provide.
4) Module 4 – Advanced Training
Honestly, the last section of the training is disappointing in my opinion.
I mean, there isn't much training happening here.
Instead, Annie goes on and on about the value every professional social media manager provides.
Correct me if I'm wrong, but you already know that, don't you?
There is a bit of useful information when the creator is sharing a couple of Facebook marketing strategies when hunting the right clients.
But other than that, don't expect much!
How Does The Product Work?
At this point in my Paid Social Media Jobs review, we should take a look at how you'll be using the platform.
Once you join it, you'll receive access to a board where you'll be able to see all the jobs available at the moment.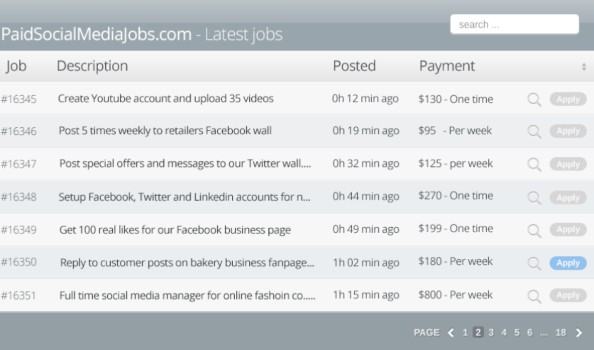 It's pretty simple to work with that board – I doubt that a lot of explanation is necessary here.
Still, a quick overview wouldn't hurt, right?
Browse the board and look through the jobs being offered.
Choose a job that you like and you want to do.
Apply for the job.
When you complete it, you'll be paid your commission.
Yeah, nothing much left to say, the way this job portal works is more than simple.
How Much Does Paid Social Media Jobs Cost?
This is as good a time as any to talk about the price of the product, isn't it?
Earlier, I mentioned that joining the platform will cost you $27.
But I also mentioned that there are upsells, remember?
So, here is what happens when you land at the product's sales page:
You'll be asked to pay the original price of Paid Social Media Jobs ($27).
If you try to leave the page without clicking the "Buy Now" button, you'll be offered a discount – that's a downsell and it will reduce the cost to $17.
Paying the $17 comes with the chance for an upgrade – that's an upsell and it costs $37 extra.
Long story short, if you manage to get the discount and you skip the upsell, you can have the product for $17.
Personally, I hate systems with prices all over the place, but that's just me.
Probably you feel the same way, am I right?
What I Like About The Product
Making money on Social Media is a legit way to earn online – thousands of people are doing it nowadays.
There is training provided – not the most valuable, you'll learn a bit about working on Social Media.
There is a 60-day money-back guarantee – sort of (see the details below).
What I Don't Like About The Product
Unsurprisingly, I have much more to say in this section of my Paid Social Media Jobs review.
For starters, have a look at this:
Wow, the platform has been featured on the news – how cool is that?
Actually, not cool at all, because this news coverage is completely fake.
And that brings me to everything that's wrong with the platform:
Over-hyped and misleading sales pitch – big parts of the sales presentation are being fabricated, including the screenshot above. 
Fake income claims – nobody will pay you $700 per week for just "playing on Facebook and Twitter".  The real social media managers do much more than that.
A redundant product that doesn't offer a lot of value – you'll be asked to pay for something you can get on your own free of charge.  Meaning, you can find legitimate paid social media jobs for free online.
Problems with the money-back guarantee – many people who have purchased the product faced troubles trying to get their money back.
No information about the owner – it turns out that "Annie Jones" is not who she says she is.  Speaking of her:
Who Is Annie Jones?
By all means, this is going to be an interesting moment of my Paid Social Media Jobs review.
Annie Jones is the name of the creator, that much we already know.
However, we don't really know who that person is – and if such a person even exists.
During the sales presentation, she doesn't show her face – unless you count a photo you can see on the screen for a second.
Now, bad news alert:
This is not Annie Jones – the photo is available for purchase on Deposit Photos.
And that's a huge red flag about the product, right?
Why would the creator hide their true identity?
Using a fake photo is not the way to gain your audience's trust, so what's the deal here?
No worries, you'll find out soon enough.
The Problem With Paid Social Media Jobs
There are a couple of them actually.
Currently, it would be extremely hard for you to purchase the product.
While it's still available on the marketplace of ClickBank, the website is unreachable most of the time.
Just type paidsocialmediajobs login in your search bar and you'll arrive at pretty much nothing.
Or you can try with paidsocialmediajobs payment proof – you won't find anything either.
What's going on and why could that be?
Firstly, there have been hundreds of complaints about the product online:
People who have bought it were outrageous because the jobs listed were unusable and definitely not for beginners.
Secondly, there was nothing valuable about those jobs – anyone could find them online for free.
Personally, I believe that Paid Social Media Jobs won't exist for much longer.
Nothing is working with this platform – except maybe the paidsocialmediajobs.com refund query.
I even tried to visit the official Paid Social Media Jobs BBB page – again, not working!
Is Paid Social Media Jobs A Scam?
Feel free to think of the product as a scam.
Trust me, I wish I could say the same out loud.
Unfortunately, if there is a money-back guarantee that goes with buying the system, I'm not allowed to.
But that doesn't change the fact that there is nothing you'll be missing out on if you choose to ignore Paid Social Media Jobs.

Right now, there are so many, much better ways to make money online.
Yes, even if you're complete beginners!
Instead of going after low-quality systems that are unable to deliver, maybe you should think about doing something for yourself.
To clarify, I'm talking about starting a business of your own.
Before you freak out, let me ask you:
Do you have some free time and something you just love to do (and talk about)?
If the answer is yes, read how to do the rest here.
Where To Find Paid Social Media Jobs For Free?
Maybe I have to change the question to where you are not going to find paid social media jobs from home.
Because they are everywhere!
After all, we're talking about freelance jobs, so jump on Google and let the search begin.
With that said, if you want my opinion, a good way to find such a job is registering on websites like UpWork and Fiverr.
You can find all sorts of jobs on both of these sites, especially on Fiverr.
And they're free to join, so you don't have to pay anything at all.
High-Paying Online Jobs You May Like:
My Closing
Needless to say, I'm not affiliated with this product.
This much is clear after reading my Paid Social Media Jobs review, isn't it?
As a matter of fact, I want nothing to do with this system.
Except letting you know exactly how bad it actually is.
What do you think about it?
Tell me in the comments below and we can discuss it further.