35 Best Online Jobs For Housewives And Work-At-Home Moms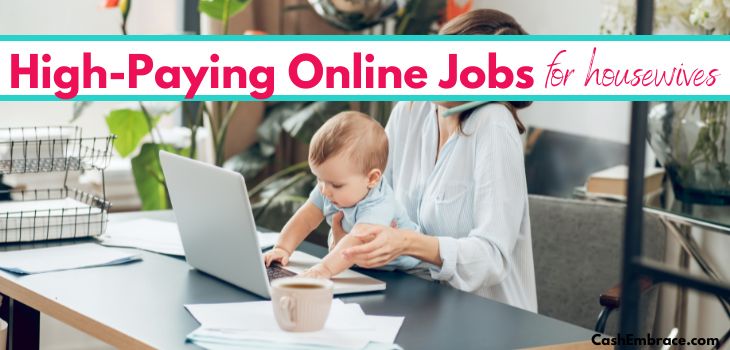 In my opinion, we need more articles about available online jobs for housewives:
While there is nothing wrong with being a housewife, most women in such a position want more from their lives.
After all, doing chores and caring for the house is not the most fulfilling way to spend your time. Even more, the housework doesn't exactly pay in most cases.
Why shouldn't housewives take advantage of the opportunities the internet provides and earn extra money?
If you're wondering about that too, you're probably ready to learn more about the best-paying housewife jobs.
How about we all do that today?
This post contains affiliate links – here is my affiliate disclosure.
Recommended Read:
Best Online Jobs For Housewives
Before we get into this article, I want to clarify a couple of things:
I won't be covering any work for housewives to earn money from home that has to do with taking surveys, using cash-back deals, or investing.
By all means, housewives can do so much more than answering survey questions that might earn them a dollar or two.
This list of online jobs for housewives will only contain well-paying jobs housewives will be able to do while drinking coffee at home (or elsewhere).
Now that I have this out of the way, let's look at the top online housewife jobs:
1) Data Entry Jobs For Housewives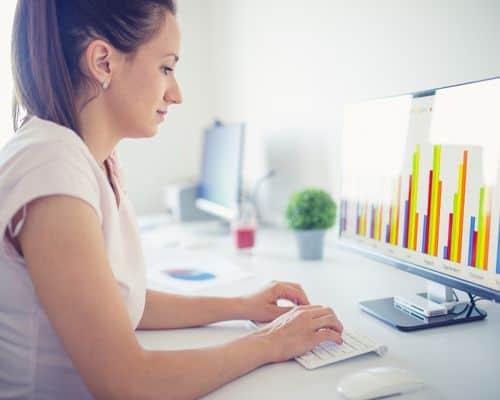 Working as a data entry clerk is a suitable online job not only for housewives but for anyone else as well:
A data entry job requires typing in data from one source to another (an easy job by all counts).
Lots of data entry jobs will hire you without paying any registration fees.
Assuming some of you will give data entry a try, let me cover the pay rate real quick:
These days, most data entry jobs will pay you up to $17 an hour.
With that said, feel free to look for a data entry job on these online platforms:
2) Freelance Writing
Quite frankly, I'm wondering why freelance writing is not number one on my list of best online jobs for housewives:
Getting paid to write is one of the most popular ways to make money online (even if you're a newbie).
Many online platforms hire freelance writers who don't have tons of experience.
Of course, the better writer you are, the more money you'll be able to earn.
If you want to enhance your writing skills or develop ones, I suggest going through the My Freelance Paycheck training.
That course will show you how to start earning at least $3,000 a month as a professional freelance writer (read all about it here).
Related Read:
3) Start A Blog
Speaking of writing, what better way to make money for creating content than developing a profitable blog?
Blogging is probably the best work for a housewife to earn money from home:
Maintaining an online blogging business is an incredible opportunity to work for yourself and be your own boss.
More importantly, you can start a blog and turn it into a successful business in every place in the world.
There are many ways to make money blogging these days, including affiliate marketing, ad placement, sponsored content, etc.
Once you choose a niche and pick a blog topic, you'll be able to launch a WordPress website in no time.
I recommend getting BigScoots as a web hosting provider – the company has cheap plans and a more than helpful customer support team.
Keep in mind that once you establish your blog, that site will become a reliable source of passive income.
4) Digital Marketing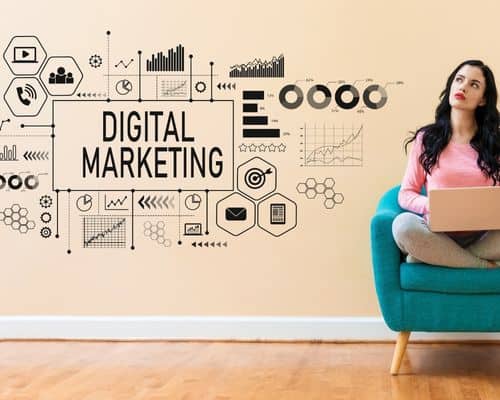 To clarify, digital marketing is not a suitable work-from-home for uneducated housewives, no offense:
While you can make lots of money as a digital marketer, you won't be able to achieve that without the necessary knowledge and expertise.
Nowadays, digital marketing jobs are some of the highest-paying work-at-home jobs:
On average, digital marketers earn at least $60,000 a year.
However, experienced and in-demand digital marketing specialists make much more than that.
With that said, if you want to get into the digital marketing industry, I suggest checking the Digital Marketing Career Blueprint course.
Seth Hymes is the creator of that training – he is one of the most prominent digital marketers teaching the craft behind the field nowadays.
5) Affiliate Marketing
Without a doubt, affiliate marketing is one of the easiest online jobs for housewives.
Affiliate marketing is a process of recommending products or services to an audience.
Someone purchases a product through your affiliate link, and you'll receive an affiliate commission.
These days, you can be an affiliate marketer with or without a blog:
As long as you have a large enough audience (readers, viewers, followers on social media), you can promote products to earn money online.
Now, affiliate marketing might be a job you can easily begin, but mastering it is not that simple:
You'll most likely need professional training to help you become a successful affiliate marketer.
Take advantage of everything this online platform offers, such as creating a free account, getting top-notch marketing training, free web hosting for your blog, and many other perks.
6) Participate In Marketing Research
Until we're still on the topic of marketing, how do you feel about market research studies?
Housewives who need an urgent boost in their monthly income should seriously consider this money-making idea:
It might be hard to believe, but being a market research participant pays very well:
Nowadays, you can make around $300 per research study.
Respondent is a well-known company that connects brands with people who want to get paid for taking part in marketing studies.
Most Respondent members earn between $100-$300 an hour.
On some occasions, you can even find tasks to complete that will pay you $700.
Learn more about this opportunity in my Respondent Review.
7) Start A YouTube Channel
I'm sure I don't have to be the one to tell you how profitable owning a YouTube channel can be:
We all know that there are YouTubers making thousands of dollars each month (some even more than that).
In many ways, vlogging is similar to blogging – they are both about uploading valuable content that helps the audience.
With YouTube, though, your content has to be in video format.
Are you camera shy? Don't worry if you are:
Tools like Speechelo will help you create professional YouTube videos without showing your face or using your own voice:
Speechelo is text-to-speech software that will add a naturally-sounding voice to any video you want.
It's a simple-to-use solution you can use to copy-paste any text to generate a voice-over for your video.
Related: Get Paid To Watch Videos
8) Offer Virtual Assistant Services
Next on my list of suitable online jobs for housewives is virtual assistance.
Becoming a virtual assistant is one of the best career moves you can do these days:
Thousands of small and large companies need help with running and maintaining their online businesses.
They hire virtual assistants to perform different tasks, such as answering emails, scheduling appointments, editing documents, etc.
You don't need a college degree to start working as a VA, but your communication skills must be better than average.
Gina Horkey is a household name in the virtual assistance industry. Her online training course will help you launch and develop a profitable VA career from home in a month.
Virtual assistants earn as much as $100 an hour, so the job is worth your time and consideration.
9) Online Coaching Or Consulting
Consulting and coaching people online is quite popular nowadays:
It doesn't matter what area your expertise and knowledge can cover:
There is a large enough online audience wanting to master any field imaginable.
The first thing you'll need to do to start earning from online coaching is to choose a subject.
For example, you can begin offering life, business, financial, career, spiritual, or wellness coaching.
Once you pick a topic, you'll have to establish yourself as an expert in the relevant field.
Start a website and publish articles around that topic. Or ghostwrite for another site – that's also an option.
Also, you can create and sell an online course that teaches the subject in-depth.
10) Online Tutoring
Speaking of using your coaching skills to the fullest, let's cover online tutoring:
Depending on the company you choose to work with, you may or may not need a Bachelor's Degree to become a professional online tutor.
Do some research and take notes on the requirements of each platform offering tutoring positions.
Getting an online tutoring job comes with flexible working hours.
And that's one of the reasons housewives should think about offering tutoring services online.
Helpful Resources For Online Tutors:
Related: Earn $2,000 Per Month Doing Homework For Others
11) Teach English To Kids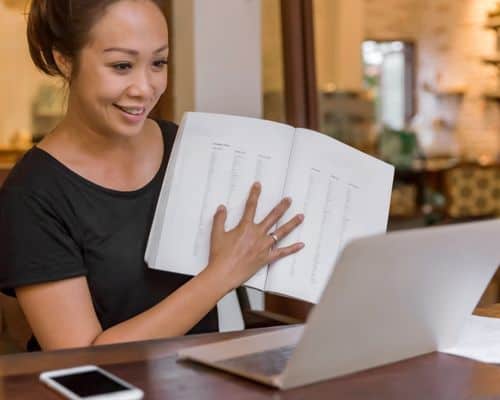 Alright, let's talk about a specific type of online tutoring – teaching English to kids from home.
More often than not, you'll need a Bachelor's Degree to start teaching English online – that degree might not be in English.
Being an online English teacher is a well-paid and fun way to earn an income:
You'll interact with your students via live classrooms and make around $22 per hour.
VIPKID is probably the most popular online platform you can join to get a job as an online English teacher.
See my list of 35 top companies that will pay you to teach English from home if you want more options.
12) Freelance Editing And Proofreading
Generally, each piece of content that makes its way to the web goes through editing and proofreading.
Do you easily spot mistakes when you read something?
Great, then proofreading will be a great fit for you.
Proofreading is the process of finding and correcting spelling, grammar, and punctuation errors.
Now, you should know that some companies hiring editors and proofreaders require a Bachelor's Degree but not all of them.
Always read a company's requirements before applying for a proofreading or editing position.
If you want to test the waters of the proofreading field, I recommend signing up for Caitlin Pyle's Free Proofreading Workshop.
Currently, Caitlin earns six figures from her proofreading business, so she is the best person to teach you everything about becoming a professional proofreader.
Related: 40 Proofreading Jobs That Will Pay You $50/Hour
13) Copywriting
Many people think that freelance writing and copywriting are the same things.
Well, there are not:
While copywriting requires working with words, the job is about much more than typing random phrases or stories.
Copywriters create content that aims to sell products or services. Such content might be a sales letter or a whole ad campaign.
Think of copywriters are professionals who build concepts for marketing and advertisement campaigns.
Anyone can become a copywriter these days if they want to work in the field.
Free Copywriting Courses:
Effective Copywriting Basics For Entrepreneurs (Udemy)
Selling Your Words: Copywriting Foundations (Udemy)
Learn Copywriting For Free: Copywriting For Beginners (Udemy)
14) Work As An Online Transcriptionist
Chances are, many of you will see transcription as one of the top online jobs for housewives:
After all, transcription is the process of converting audio or video files into written documents.
Every housewife can manage such a working position:
You can do the job on your own time.
Another plus of working as a transcriber is that you don't need a degree to manage the job.
However, you'll most likely need to go through training that will polish your typing skills.
Expect to earn up to $30 an hour as a transcriber.
I suggest starting your transcription career on GoTranscript – one of the best companies hiring transcribers these days.
Take a minute to learn more about the company from my GoTranscript Review.
15) Moderating Forums And Social Media Groups
Next on my list of online jobs for housewives is a forum/social media group moderator.
As you can guess, such a job will be a good fit for women who can easily manage large groups of people online.
You'll have to approve new members, remove others, do general admin tasks, and ensure the group or forum is running smoothly.
Being a moderator of forums and social media groups will earn you between $15-$25 an hour.
Upwork and FlexJobs offer online moderator positions – search through them if the job seems enticing to you.
16) Travel Agent/Planner
It won't come as a surprise to anyone that most people nowadays don't have the time to plan their trips and holidays.
But that is a good thing if you're a housewife looking for a job from home:
Why not start making money as a travel agent (planner)?
Doing such a job will require finding cheap flights, planning affordable trips, and discovering the best travel deals for your customers.
Whether you'll be a self-employed travel agent or choose to work for a company is up to you.
On average, travel agents earn between $14-$22 an hour.
17) Chat With People Online
Do you consider yourself a good communicator? Moreover, do you know more than one language?
If you do, think about getting an online chat support job.
Chatting with people and helping them with whatever issue they might have is one of the easiest online jobs for housewives.
Anyone can secure a chat work-at-home job even with no previous experience.
While the job comes with flexible hours, don't expect to earn a fortune:
Chat agents make up to $15 an hour.
Related: 20 Ways To Make Money Texting And Chatting Online
18) Manage Social Media
Alright, it's time to talk about the opportunity to earn an income as a social media manager:
These days, social media managers are some of the best-paid workers online.
Beginner social media managers earn around $25 an hour, but experienced ones can charge as much as $250 an hour.
Social media managers complete different tasks.
For instance, they plan content, do graphic design, answer questions, run ad campaigns, manage communities, etc.
There is no need to have a degree to start working as a social media manager.
I believe Fiverr is the online platform where you have the best chance to find your first social media management job.
Related: Paid Social Media Jobs To Avoid
19) Content Management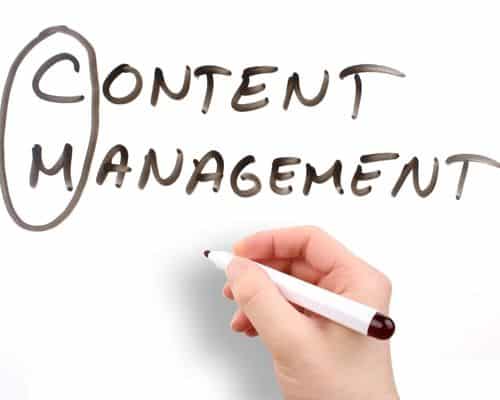 First and foremost, what does content management entail?
Well, offering content managing services means that you'll help bloggers or larger companies with different tasks.
Some of these tasks might be managing editorial calendars, working on email campaigns, and handling social media posts.
Overall, content managers work to increase brand awareness and increase online revenues for their employers.
Long story short, this job requires managing a site's content.
Expect to earn up to $90,000 a year if you have experience in the content management field.
20) Work As A Translator Online
Are you bilingual?
Speaking multiple languages will work in your favor once you decide to make money from home:
Basically, you can get paid to translate audio or video content from one language to another.
Do you speak, read, and write Korean, Asian, or Arabic languages?
I'm asking because translating them pays the most these days.
You can earn between $35-$50 an hour.
21) Sell Products Online
Nowadays, selling products online is not a job housewives won't be able to handle.
It doesn't matter what type of products you're planning to sell:
There is a large enough pool of potential clients for all kinds of products people list for sale online.
With that said, you can sell both physical products and digital ones.
Launching an online store that will accommodate the products you'll sell worldwide is simple, and you can complete it in an hour.
Shopify offers a free trial and cheap monthly plans.
So, do some research, choose products to sell, and build your online shop on Shopify to earn money as an online seller.
Related: 13 Items To Sell If You Need Money Fast
22) Make And Sell Handmade Products
Millions of people enjoy creating handmade products and crafts.
Assuming that you're one of these people, I suggest taking full advantage of your hobby.
While there is nothing wrong with making crafts for your own enjoyment, earning from them sounds better!
Platforms like Etsy and Amazon will allow you to start selling your handmade products fast.
But what if you have no idea what products you should create and sell for profit?
Here is a list of the top 50 best-selling crafts to make and sell from home.
23) Sell Photos Online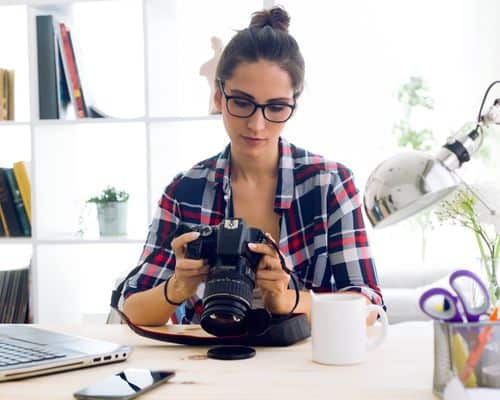 Are you a good photographer?
And do you love taking high-quality photos?
Hopefully, you do because online photography jobs pay well:
Freelance photographers can earn up to $100 an hour.
Does such a pay rate look good to you?
I think it should – selling photos online is an excellent side hustle you can do in your free time.
Related Read:
24) Search Engine Evaluation Online Jobs For Housewives
How do you feel about working as a search engine evaluator?
We all know how complex the algorithms of search engines like Google and Bing are.
They need real people to help them display the most relevant results for any search query.
On average, search engine evaluators make around $35,000 a year.
Feel free to look for search engines evaluating jobs on these platforms:
25) Provide Tech Support
I get it:
Doing tech support work is not the most exciting job in the world.
Some people like it, though.
If you do as well, you can get a tech support online job even if you don't have a degree.
Besides, many companies offering tech support jobs provide the necessary training to help you do the work efficiently.
I suggest doing some research before applying for an online tech support job.
Other Work For A Housewife To Earn Money From Home: Extra Housewife Jobs
Test Websites Or Products: Testing websites and products is another way housewives can earn an extra income.
Editing Videos: Spending time editing videos has the potential to earn you thousands of dollars a month.
Sell Home-Cooked Food: Start making money by selling delicious home-cooked meals.
Become A Lifestyle Consultant: Who knows more about managing life than busy housewives?
Get A Job As A HR Manager: Hundreds of companies hire people to help them find the best candidates for available jobs.
Do Virtual Recruitment: Such a job requires talking on the phone and interviewing candidates for different positions.
Email Managing Jobs: Believe it or not, email managing jobs are some of the highest-paying online jobs for housewives.
Work As A Paid Expert: Companies like JustAnswer and StudyPool will pay for your expert opinion.
Online Typing Jobs For Housewives: Look for these jobs at SigTruck and Amazon Mechanical Turk. See the best ways to earn on Amazon here.
Be A Fiverr Seller: Join Fiverr and start offering any type of freelance service you can do for money.
Choose Your Work-At-Home Job
At this point, you already know that earning a full-time income online is possible.
Choosing to work from your house will let you enjoy flexible hours and reach financial independence.
Most importantly, building an online career in your chosen field will allow you to spend more time with your loved ones.
Don't just sit around and wait for the perfect work-at-home job to fall into your lap:
Get online and find it yourself!
More Job Opportunities You Might Like:
Best Online Jobs For Housewives – Frequently Asked Questions
How Do Housewives Make Money?
Nowadays, housewives can make money doing different work-at-home jobs.
For example, you can earn cash by starting a blog, doing freelance writing, and offering tutoring or translation services.
The job you'll do as a housewife depends on your needs and interests.
What Is The Best Part-Time Job For Housewives?
Top 5 part-time jobs for housewives:
Freelance Writing
Online Tutoring
Digital Marketing
Transcription Services
Start Your Own Business
Which Online Work Is Best For A Housewife?
Generally, the best online work for any housewife is launching a blog.
Starting a website is very easy these days. Plus, there are many ways to make money blogging.
My Closing
Quite frankly, the list of best online jobs for housewives can go on for much longer:
New jobs often appear online that will suit the needs of most housewives.
I'll make sure to update this article with more relevant opportunities for housewives in the future.
Until then, feel free to ask questions or leave your opinion on this topic in the comments section.
More Ideas From Cash Embrace You Might Like: