PrizeRebel Review: Legit Survey Site Or A Scam?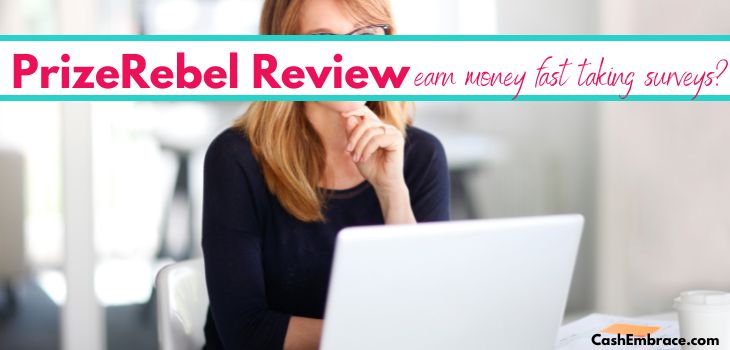 These days, PrizeRebel is one of the most overlooked surveys and get-paid-to sites. My PrizeRebel Review will explain why that should change:
As a rule of thumb, taking surveys and completing small tasks online doesn't make people rich. Joining platforms like PrizeRebel doesn't have the same income potential as starting a money-making hobby or a side hustle.
Be that as it may, PrizeRebel is still worth a look if you need a new source of extra income:
PrizeRebel will not only allow you to earn a couple of dollars for doing surveys but also provide plenty of ways to make money online.
In this article, I'll introduce you to PrizeRebel's features, the benefits and disadvantages of using the site, and other key facts about the platform.
This post contains affiliate links – visit my affiliate disclosure for more information.
Recommended Read:
PrizeRebel Review: The Basics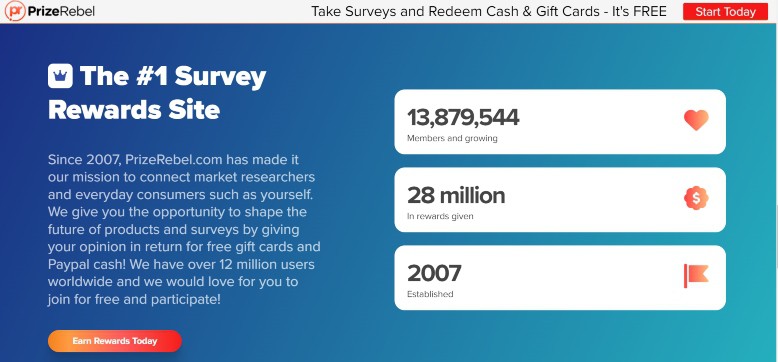 First and foremost, PrizeRebel is not your average survey site:
Instead, PrizeRebel is a survey aggregator.
And that means the platform will give you access to hundreds of surveys from market research companies without doing market research on its own.
On that note, PrizeRebel doesn't operate like market research brands like Respondent, even though it might seem that way at first.
Since its establishment in 2007, PrizeRebel has paid nearly 30 million dollars to its members.
At the time of writing, PrizeRebel has over 13 million active users.
Is PrizeRebel Legit?
Before this PrizeRebel review goes any further, let me put your worries about the platform's legitimacy to rest:
Many of you might wonder whether PrizeRebel is a legit company or a scam. So, how about I address that early on?
PrizeRebel is a legitimate platform that provides safe ways to earn extra money. As such, you can join it and use it as often as you like:
Creating an account on PrizeRebel is free of charge.
I suggest adjusting your expectations before becoming a PrizeRebel member:
While the platform won't replace your full-time job, it will add an entertaining source of income.
It's worth mentioning that PrizeRebel comes with one of the lowest withdrawal thresholds, and that makes your work on the platform an online job that pays weekly.
Well-Paying Online Jobs You Might Like:
What Is PrizeRebel?
To sum up, PrizeRebel is one of the most established GPT (Get-Paid-To) sites and survey aggregator platforms.
The site is a free membership reward platform that allows its members to earn money in many ways, which I'll cover later in this PrizeRebel review.
PrizeRebel accepts members from all over the world.
However, the site doesn't work in every country on the globe.
PrizeRebel Available Countries
Currently, PrizeRebel accepts users from over 180 countries.
Some of these countries are:
USA
United Kingdom
Australia
Canada
Mexico
Germany
India
What if you live somewhere else?
Well, even though PrizeRebel can't provide surveys for members from all geographical locations, you can still earn money by gaining referrals and completing offer walls.
Again, check if your country of residence will allow you to make money with PrizeRebel before you join the platform.
Who Can Join PrizeRebel?
Generally, you have to be at least 16 years old to become a PrizeRebel member.
With that said, if you want to use the site before you turn 18, you'll need parental permission to do it.
Overall, PrizeRebel is a suitable money-making opportunity for teens, students, stay-at-home moms, and housewives.
How Does PrizeRebel Work?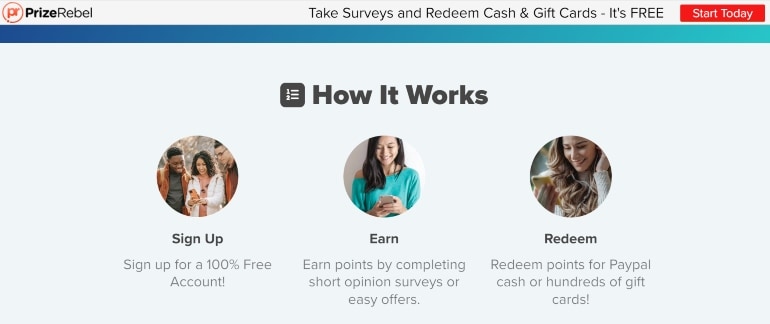 As mentioned earlier in this PrizeRebel review, joining the site is free.
Sign up for PrizeRebel by submitting your name and email address – you can also use your Facebook profile.
The sign-up process will only take seconds of your time. Verify your account by clicking the confirmation link you'll receive via email.
Once you gain access to the PrizeRebel login, answer the profile questionnaire, and the platform will match you with relevant surveys and offers.
Next, you're free to start making money with PrizeRebel. Have a look at the ways to do that:
Ways To Earn Money On PrizeRebel
1) Take Online Paid Surveys
Basically, the most popular way to make money on PrizeRebel is by taking surveys.
Each PrizeRebel member can participate in multiple surveys a day. Considering PrizeRebel acts as a survey aggregator, you can take surveys provided by the company's partners.
Right now, PrizeRebek has around ten partners that need people for market research – some of them are Opinion World and Toluna.
Users must complete a screener before they attempt to take each survey. Unfortunately, you might not qualify for every survey available.
Members from certain countries can access more surveys than others – it's just the way it is.
I suggest choosing surveys that will get you maximum points and take the least amount of your time possible.
Pay attention to the number of points and completion time of each survey you plan to take.
Completing a survey will credit the reward to your profile in less than a day.
2) Complete Free And Paid Offers Via The Offer Wall
The second way to make money with PrizeRebel is by using their Offer Walls.
More often than not, the PrizeRebel Offer Wall will ask you to do some type of activity to receive a reward.
For instance, you might have to read an article, watch a video, sign up for a newsletter, browse the internet, download an app, and do other similar activities.
Keep in mind that some offers will bring you points or rewards if you pay for something – I recommend paying for a product only if you plan to purchase it anyway.
Even though most paid offers will get you more money than the amount you have to spend, it's still a pay-to-play situation that comes with expenses.
Check carefully if the opportunity is worth it – many of them are since you'll have the chance to earn up to $150 in gift cards.
3) Perform Microtasks
Performing microtasks is another way to earn points on PrizeRebel.
At the time of this writing, the platform provides around ten tasks you can complete for rewards. Each task pays between one to six points.
And what kind of microtasks you'll have to do?
Well, some of the tasks available require doing things like finding earning release dates of a company or drawing boxes on products.
PrizeRebel gives away bonuses to the users who manage to complete the most tasks. Winning the grand prize will bring 200 PrizeRebel points into your account.
4) Play Games
One of the most popular ways to earn on PrizeRebel is by playing games.
Read the requirements before you start playing a game on the platform:
Some games will reward you for playing them until a certain level, while others will require you to download them to receive your points.
So, make sure you're familiar with the rules of each paying game – that will save you lots of time.
5) Watch Videos
Watching videos is another money-making opportunity PrizeRebel provides.
While watching videos on the platform doesn't pay much, I think you should do it anyway:
You can always let the video run in the background while you're doing something else.
Members who choose to earn by watching videos must see at least three of them to receive credit.
There is no limit to the number of videos you can watch daily. However, you'll only earn from videos that contain ads, and not all of them do.
Related: Get Paid To Click Ads
6) Daily Challenges
Assuming that many of you plan to use PrizeRebel actively, you'll be glad to find out that you can increase your points by participating in daily challenges.
These challenges are time-sensitive – you'll have to complete them before the clock runs out.
Still, there are nice ways to get more PrizeRebel points and even receive extra bonuses.
7) Refer Friends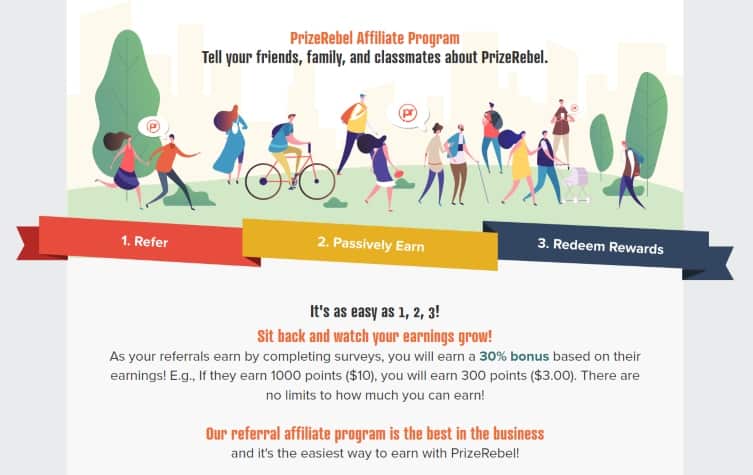 A smart way to increase your PrizeRebel earnings is by utilizing the platform's referring program.
Inviting friends to join PrizeRebel is an excellent way to create a passive income stream:
Each new PrizeRebel member who joins the site through your affiliate link will increase your bonus points by 30%.
In other words, if your referral earns 200 points, you'll receive 60 bonus points.
Additional Ways To Earn PrizeRebel Points
Contests: You'll become a contest winner if you turn into one of the top 15 PrizeRebel users. The top 15 users are the people who complete the most surveys or offers from the Offer Walls.
Raffles: Purchasing tickets for 10 points each will give you the chance to win raffles and receive rewards like points, gift cards, and prepaid credit cards.
Lucky Numbers: If you buy a lottery ticket that costs 20 points, you can win the lottery once the numbers you pick match the ones after the draw.
Account Levels: Your PrizeRebel account level will increase as you keep earning more points. Each new account level will bring you more benefits.
PrizeRebel Browser Extension: Installing the PrizeRebel browser extension means that you'll never have to miss survey or promo code opportunities.
Get Free Points With PrizeRebel Promo Codes
I doubt anyone reading this PrizeRebel review would be surprised by the fact that the platform has a large following on Social Media.
Why should you care about that?
Well, PrizeRebel often publishes promo codes on its Twitter and Facebook accounts.
Take advantage of that opportunity and redeem these promo codes for bonus points.
PrizeRebel Points To Money: How To Redeem Your PrizeRebel Points?
At the time of writing this PrizeRebel review, the platform offers two payment methods – gift cards and money.
Gift Cards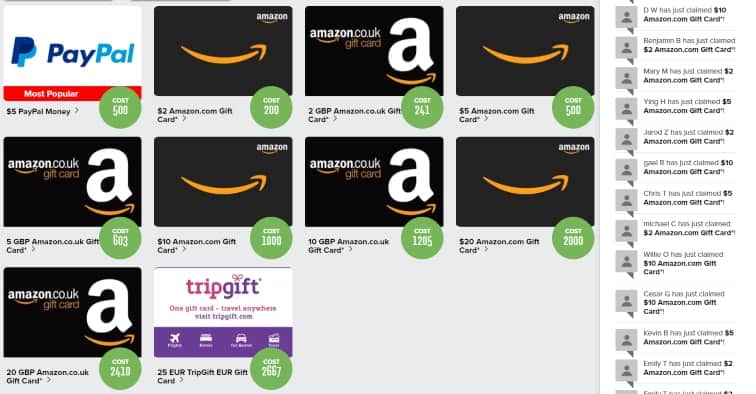 As soon as your PrizeRebel balance reaches 500 points, you can request to exchange them for $5 gift cards.
100 PrizeRebel points are equivalent to $1.
With that said, you can receive certain gift cards once you earn $2 on PrizeRebel.
Cash
Cash payments are available on PrizeRebel via the following options:
PayPal (minimum withdrawal amount is $5)
Visa Prepaid Gift Card
Dwolla
PrizeRebel Pros And Cons
Pros:
Free to join
Lots of earning opportunities
Both cash and gift cards payments are available
Excellent support
Low payout threshold
Works in over 180 countries
Legit platform to make money online
Cons:
Not available worldwide
You won't qualify for all surveys available
PrizeRebel Alternatives
Survey Junkie: Survey Junkie offers gift card and PayPal payments for taking surveys ($10 minimum threshold).
Swagbucks: Swagbucks provides other ways to earn online than surveys ($3 minimum threshold + $5 welcome bonus).
Rakuten: Rakuten is the most popular platform to receive cash back on your purchases and take surveys for money ($5 minimum threshold)
Is PrizeRebel Real Or Fake?
PrizeRebel is a 100% real platform to make money online legitimately.
As you already know from all the info above, the platform will provide you with plenty of ways to earn in your spare time.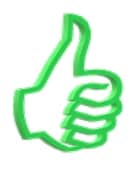 Anyone can create a PrizeRebel account free of charge.
Use your PrizeRebel points to receive gift cards, PayPal cash, and many other rewards.
My Closing
I have nothing left to say in this PrizeRebel review, so it's time to leave you for today.
No matter what I say, the only way to test PrizeRebel is to join the platform and give it a try on your own terms.
Some of you might like it, others – not so much, and that's OK:
By all means, PrizeRebel won't be a perfect fit for each of its members.
What questions do you have about PrizeRebel?
Write them down in the comments section, and I'll get you an answer as soon as I can.
More Money-Making Ideas From Cash Embrace You Might Like: