Get Paid To Chat: 20 Best Ways To Make Money Texting Online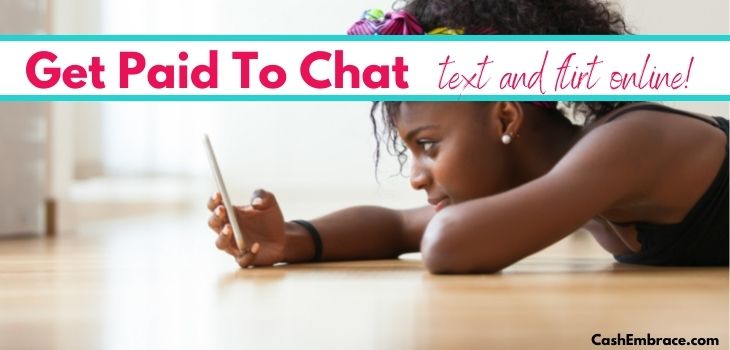 These days, opportunities to get paid to chat don't just exist.
They're working better than ever for the people who are willing to take advantage of them.
Yes, it's a fascinating world we live in!
Think about it:
You can make extra money from something that combines the power of technology and the desire for human connection.
But there is nothing exclusive about that – at least, not anymore:
Social Media is a part of most people's lives and the idea behind it is exactly the same.
Today, I'll cover plenty of topics about earning cash by chatting:
How to get paid to chat with strangers?
Is there such thing as the best app that will pay you to chat?
Can you get paid to talk to lonely guys?
And how much can you get paid to text chat?
This post may contain affiliate links. See my affiliate disclaimer.
Can I Get Paid To Chat Online?
Naturally, this must be the first question that demands an answer.
After all, there is no point in reading this article unless the money-making idea at its center is a legit one.
I guess you'll be glad to find out that it is:
Getting paid to text, flirt, or chat online is a legitimate way to earn cash on the side.
Besides, the opportunity is becoming more and more popular around the world with every day that goes by.
In my opinion, that's anything but a surprise:
Millions of people worldwide are leaving their nine-to-five occupations in favor of work-at-home jobs.
Who in their right mind will pass on the chance to earn a full-time income from home nowadays?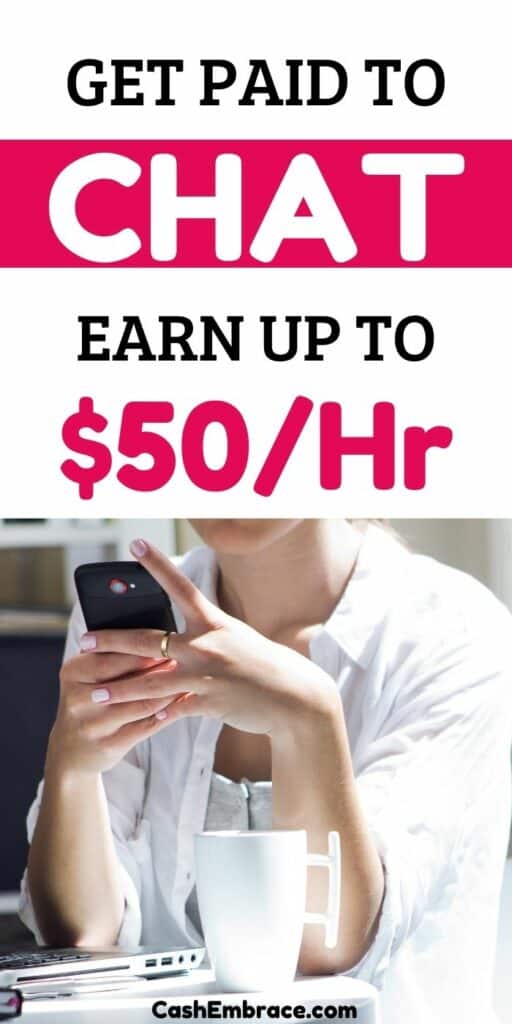 Some online jobs can bring $100,000 in yearly income!
It doesn't make any sense, does it?
If you agree with that, let's move on to discussing today's topic further, shall we?
Related Read:
What Are The Best Ways To Get Paid To Chat?
Currently, there are many ways to make money chatting.
To make this article easier to consume, I'll direct your attention to the main ones that will give you the best chance to earn as much as possible.
Here they are:
Customer Support/Service Chat Jobs
Get Paid To Chat In English
Make Money Flirting Online
Earn By Talking To Lonely People
Psychic Chat Services
The last one may seem unbelievable to you, I know.
It's still a valid option, though!
Before we get to it, let's take a closer look at the rest of the opportunities one by one:
Customer Support/Service Chat Jobs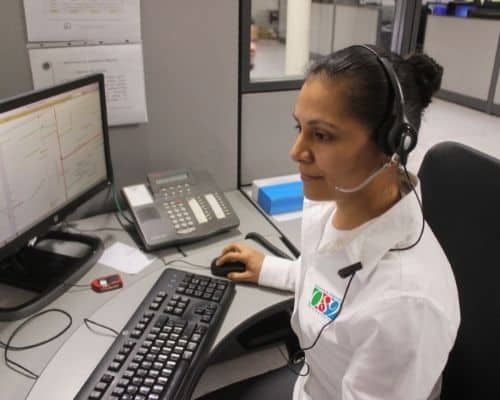 Since I have a whole article about online chat jobs hiring now, I won't dwell on every single detail about them here.
However, many of you may not have the time to read that blog post.
That's why I'll include a summary of the best companies offering chat service jobs online right now:
Again, I would strongly encourage you to read the whole article and see the rest of the companies hiring online chat agents right now.
This way, you won't miss any opportunity!
Get Paid To Chat In English
Yes, you don't have to research the topic of how to get paid to chat online UK:
That paragraph will pretty much cover the same thing.
Let's talk about the companies that will allow you to earn by talking and chatting in English:
1) Cambly
These days, many see Cambly as the best get paid to chat app to teach English and make money from home.
There are certain things I believe you'll appreciate about Cambly:
Planning a class schedule is not necessary – No, you can just log in and wait for a student to connect with you.
The opportunity is safe – If you don't like where the conversation is going, you can always end the chat.
No one will ask you to see a Bachelor's Degree in English – having one is not mandatory to start working for Cambly.
English doesn't have to be your native language – Therefore, people from all over the world will be able to do the job.
2) NiceTalk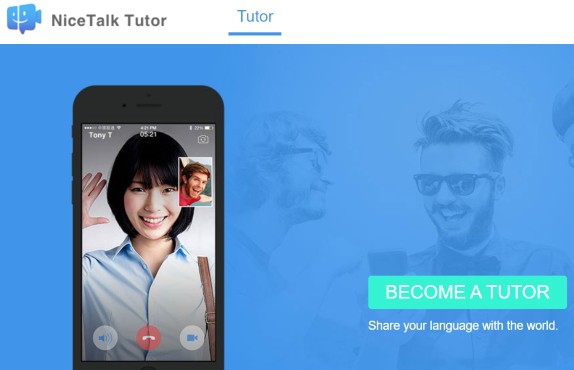 NiceTalk operates similarly to Cambly:
Becoming a tutor for the company will help you earn by chatting in English and video chatting with foreign students.
More often than not, you'll work with Chinese residents.
While you don't need a Bachelor's degree to secure a gig, NiceTalk prefers to hire native English speakers.
The application process is simple:
To join the company, you'll need to handle an interview on Skype.
3) Palfish
Palfish is one of those get paid to chat apps that serve as a connection between English speakers and individuals who want to learn the language.
Currently, the company has two programs you can use to make money – Course For Kids and Free Talk.
However, you won't be able to get the job unless you have a Bachelor's Degree in English.
Don't expect much from the pay rate – it's between $10-$30.
More Similar Ideas:
Get Paid To Text Chat – Make Money Flirting Online
In other words, we'll discuss adult sites that will pay you to chat.
I don't think you should dismiss the idea before you learn more about it:
After all, doing this kind of job will put you in the driver's seat constantly.
Meaning, you'll be able to control the essential aspects of the communication.
For example, you're the one to choose whether you want to use a phone, webcam, or live chat while you're working.
But let me make a few facts crystal clear:
By all means, we're talking about an opportunity to get paid to chat with strangers.
Therefore, always protect your personal information to stay safe online.
With that said, the companies I'm about to introduce you to have your privacy as their biggest priority:
1) Phrendly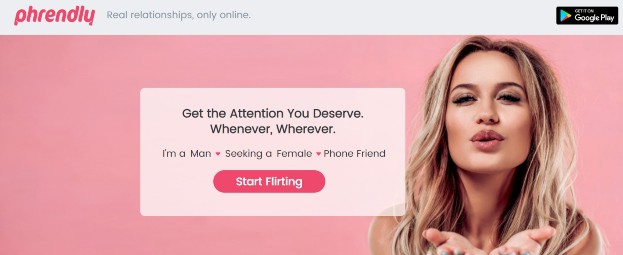 Quite frankly, the way you'll earn through Phrendly is interesting, to say the least:
You'll make money every time a user decides to "share a drink" with you.
Each of the drinks will bring you $10 and will last for about 8 minutes.
Another way to earn is through texting – you'll get $0.35 per chat if you reply in less than a day.
While Phrendly prohibits explicit content, you'll be able to talk with users at an adult level.
Remember, members have to text you first to earn!
At this time, Phredly will take a $30 commission on everything you make through the platform.
2) FlirtBucks
Next on my list of ways to get paid to chat is FlirtBucks.
As evident from its name, this company will pay you to flirt online.
On the upside, FlirtBucks won't push you to promote your profile externally.
But on the downside, you should know that the pay is not that high:
How do 5 cents per texting minute and 30 cents per video call sound to you?
Sure, the amount will increase if you stay an active member for over three months.
Still, the increase will not be that much!
3) Chat Recruit
Chat Recruit is probably the most popular website you can join to get paid to talk to lonely guys.
In a nutshell, this is a company that will benefit financially only women.
If you're comfortable with webcams, Chat Recruit might be a great fit for you.
The company will pay you up to $2 per chat minute.
4) MyGirlFund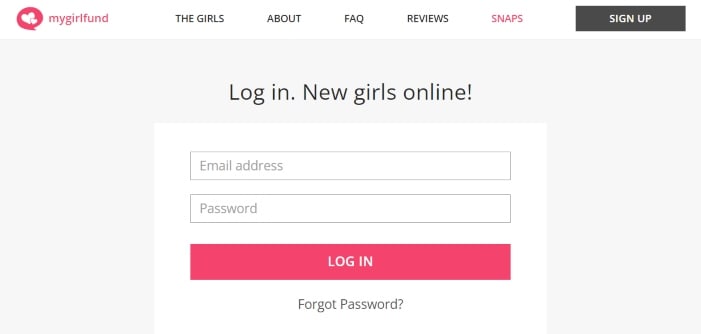 MyGirlFund will let you set up your own pay rate per message.
Some of the ways to earn on the site are through texting, calling, and going live.
Sharing more explicit photos of you is fine with the company as long as you're fine with it as well.
Your privacy will be safe since MyGirlFund doesn't allow revealing personal information on its platform.
5) Dream Lover
Both men and women can become members and earn on the platform of Dream Lover.
However, the company encourages people to share photos through its text messaging service.
In case you're not comfortable with that, then Dream Lover will not be the best place to get paid to chat for you.
Related Content:
Get Paid To Talk To Lonely People
Basically, I already covered many of the ways to earn by talking to lonely people in my article about becoming an online friend.
I'll share some of the highlights if you don't have the time to read that post.
These are the best companies that will pay you to chat with lonely people:
Rent A Friend – Thousands of people see this website as the best one in the industry of virtual friendship. Joining it will give you the chance to earn between $20-$50, and the platform won't take a cut from your money!
Friend PC – That website allows its members to encourage and motivate each other. Also, it will let you set your own pay rate for such services.
Papa – Papa exists to allow senior citizens to deal with isolation. It's all about members providing companionship online.
Freelancer – Surprisingly enough, Freelancer is also a platform where you can list virtual friendship services.
Get Paid To Chat On Psychic/Medium Sites
I'm sure such an opportunity will not be everyone's cup of tea.
But if you enjoy the idea, here are a few sites that will turn it into a reality:
Chat Recruit – Believe it or not, this adult chat site has a psychic section as well!
Psychic Live TV – This company is always looking for tarot card readers, mediums, and psychics.
Instantgo – You can always download the free Instantgo app and start offering your services.
Get Paid To Chat – Frequently Asked Questions
Where Can I Chat And Get Paid? – Currently, there are many companies that will pay you to chat. Whether you would like to chat through a text, call, or webcam, the possibilities are literally countless.
How Do I Get Paid To Chat With A Guy? – You can earn money for chatting with men on any of the websites that will allow you to make cash for flirting with guys.
Is FlirtBucks Legit? – Yes, FlirtBucks is legit. Moreover, the website offers many ways to earn money for chatting with its members.
Can I Make Money For Talking To Strangers? – These days, you can! Depending on what you're comfortable doing, there are many sites you can choose from.
My Closing
OK, it's time to wrap this article about ways to get paid to chat.
With that said, I don't consider the subject done and done.
On the contrary, I'll keep presenting you with more options to make money chatting every time I update this content.
Until then, I would like to pick your mind about the topic:
What are your thoughts on this subject? Do you see the opportunity as something you would like to try?
Let me know in the comments section, and the conversation will keep going on its own!
More Ideas From Cash Embrace You May Like: