40 Best Apps That Pay You To Play Games In 2023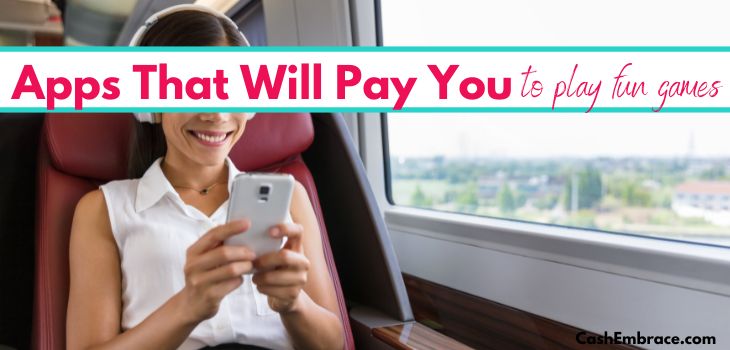 Many apps that pay you to play games are available for download to people worldwide.
You might think relying on money-making apps may not be the best way to boost your income. Even if that's true, who cares?
The truth is using apps to play games is one of the easiest and most entertaining ways to earn. And when you get paid to play, you're making money without working.
In this article, I'll show you 40 mobile apps that will pay you to download, test, and play games. Each will allow you to withdraw your earnings via PayPal or receive gift cards you can exchange for cash.
Shall we get moving?
This article contains affiliate links – spare a minute to read my affiliate disclaimer.
Recommended Read:
Apps That Pay You To Play Games
1) Mistplay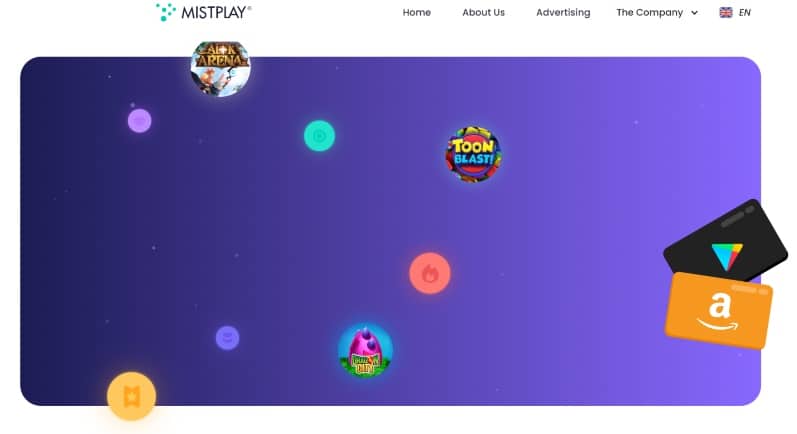 Mistplay is one of the most popular apps you can download to earn while playing games. Android users will fall in love with this app:
Known as a loyalty program for gamers, Mistplay will let you make money by downloading and playing fun games. The app will track your playtime and boost your earnings the longer you play.
Once you reach 1,500 Mistplay points, you'll earn $5. Redeem your points for PayPal cash or gift cards.
2) Bingo Cash
Do you want to treat yourself to the ultimate bingo-playing experience on mobile? Assuming many of you do, Bingo Cash is the app to get:
Bingo Cash is a free-to-download real-time bingo app. Users play against each other, and the winners take home cash rewards.
Unfortunately, Bingo Cash is not available everywhere. Depending on your location, you might not be able to use the app.
3) Solitaire Cash
Solitaire Cash is an app suitable for people with the necessary skills. Of course, anyone can download it, but not everyone will make money:
Earning with Solitaire Cash is for players with extensive solitaire experience. Considering you'll play against other users, you shouldn't rely on luck alone.
Your earnings will arrive via PayPal. It's worth mentioning that Solitaire Cash offers bonuses and daily gifts.
4) Skillz Games
If you choose to think of Skillz Games as an umbrella app, you won't be wrong:
Skillz Games users earn money by participating in games like Solitaire Cube, Blackout Bingo, and Bingo Win Cash.
So far, Skillz Games has paid over $100 million to its users.
5) Blackout Bingo
Speaking of Blackout Bingo, let's take a look at it as a separate entry in this list of apps that pay you to play games:
Blackout Bingo has a free and paid version. As you can probably guess, the free version will let you play the game for as long as you want, while the paid one will allow you to earn.
However, you'll have to deposit money before you have the chance to earn some with the paid Blackout Bingo version.
6) Blitz – Win Cash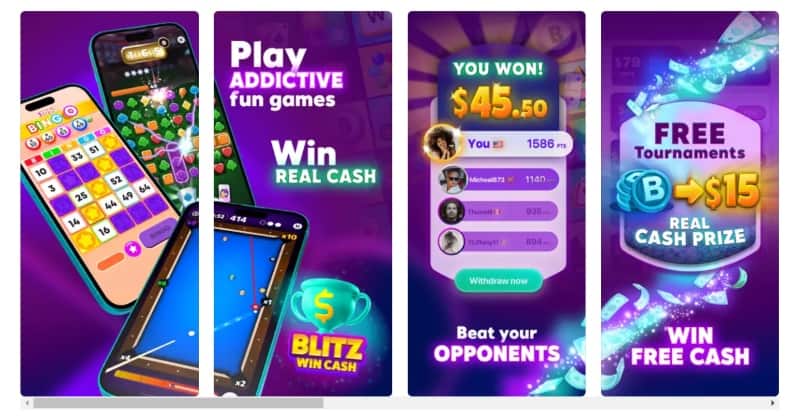 How do you feel about visiting the Apple Store? Doing so will give you access to the Blitz-Win Cash app:
Blitz-Win Cash allows users to earn money while playing over ten different games.
Similarly to Blackout Bingo, Blitz-Win Cash has two versions – free and paid. Only the paid Blitz version will give you the opportunity to make money playing games.
7) Cashyy
Cashyy is another example of the top apps that pay you to play games. Anyone can create a free account and use the app to make money.
These days, Cashyy will let you earn by completing missions and completing different small tasks. The games available on Cashyy are from categories like arcade, puzzle, action, and adventure.
Players earn points, which they can later redeem for PayPal cash.
8) Solitaire Cube
Solitaire Cube is a game app you can download to play for either fun or money (or both).
Currently, the entry fee of Solitaire Cube is $10. Paying that amount will open the door to participating in tournaments – winning one will bring you cash rewards.
Tournament winners can make thousands of dollars via Solitaire Cube – the app rewards its biggest winners with prizes of over $100,000.
9) Long Game
Both Android and iOS users can take advantage of the Long Game. And that app can benefit you big time:
Members can earn money while playing their favorite games and save cash through an online savings account.
Long Game has a free trial that lasts a month. After the free trial is over, you'll have to pay a monthly fee to keep using the app.
10) Cash Giraffe
A nice change of pace in this article about apps that pay you to play games will be introducing you to an app that lets you win money without any cost.
Such an app is Cash Giraffe. Cash Giraffe is free to download, and anyone can get it to earn while playing entertaining games.
Cash out your earnings as soon as you reach $0.20. Payments are available via PayPal and gift cards.
11) Rewarded Play

In the interest of full disclosure, Rewarded Play won't pay you with cash but with gift cards instead. Be that as it may, I still think the app deserves a spot on this list:
Rewarded Play contains many different games you can play in your free time. Furthermore, the app will let you participate in strategy and adventure games.
On the downside, Rewarded Play is available only in the USA and Canada.
12) Money Well
Quite frankly, Money Well reminds me a lot of Cash Giraffe. After all, both apps will help you earn after downloading them and completing missions.
Arcade, bingo, strategy, and adventure games are available to players. Users earn points, which they can redeem for PayPal money or gift cards.
Hopefully, you have an Android device – Money Well is not an option for iOS users.
13) Bubble Cash
Bubble Cash is one of the most popular and well-known apps that pay you to play games.
iOS users can enjoy Bubble Cash as much as they want.
While the free version of Bubble Cash is only for fun, the paid one will give you access to tournaments – winning one can bring you thousands of dollars.
14) Toluna
Most people know Toluna as a platform anyone can join to make money by completing surveys and doing short tasks. But Toluna is much more than that:
Toluna is also a game app where users can spin a wheel daily and have the chance to win a lottery.
Get Toluna, earn points by playing, and redeem them for money that will arrive in your bank account via PayPal.
15) Dominoes Gold
Do you enjoy playing dominoes on your phone? Download Dominoes Gold and play a variety of games for money.
For example, some playing formats you can use inside Dominoes Gold are matches (in real-time), tournaments, and competitions.
Available prizes for Dominoes Gold winners are free Amazon gift cards, watches, and even cars.
16) Cash'em All

Kind of a cool name, isn't it? Well, Cash'em All is better than cool:
Cash'em All is free to download, and you don't have to pay to play. The app offers crossroad puzzle and card-matching games.
Payments are available as soon as you earn your first $0.50. At the time of writing, Cash'em All is an option only for Android users.
17) Swagbucks
Generally speaking, Swagbucks is one of the most popular platforms anyone can use to make extra money. As a Swagbucks user, I can vouch for its value during the whole week and twice on Sunday!
Putting my excitement aside, let's focus on Swagbucks as one of the apps that pay you to play games. Swagbucks will pay you for other activities, such as taking surveys, watching videos, clicking ads, shopping online, etc.
Users earn SB points they can redeem for PayPal money or Amazon gift cards. Each new member receives a sign-up bonus upon registration. Find out more about the app by reading my in-depth Swagbucks review.
Related: PrizeRebel Review
18) MyPoints
Similarly to Swagbucks, MyPoints will pay you for doing many things – playing games, watching videos, participating in deals, etc.
You'll need to earn at least 700 points before you are able to exchange them for cash or gift cards.
Enjoy your sign-up bonus as soon as you create a free account on MyPoints.
19) InboxDollars
Next on my list of apps that pay you to play games, we find InboxDollars. Contrary to popular belief, InboxDollars have other functions than allowing users to earn by taking surveys.
InboxDollars will offer you different opportunities to make money, such as playing games, watching videos, and surfing the web.
Every new member receives $5 as a bonus after creating an account.
Related: 25 Places To Sign Up And Receive A Bonus
20) 21 Blitz
21 Blitz is an app for people who enjoy playing Blackjack. Another game you can play through the app is Solitaire.
The app will let you play for free until you decide you're ready to compete professionally.
Then, you'll have to invest a bit to be able to play 21 Blitz for real money.
21) Drop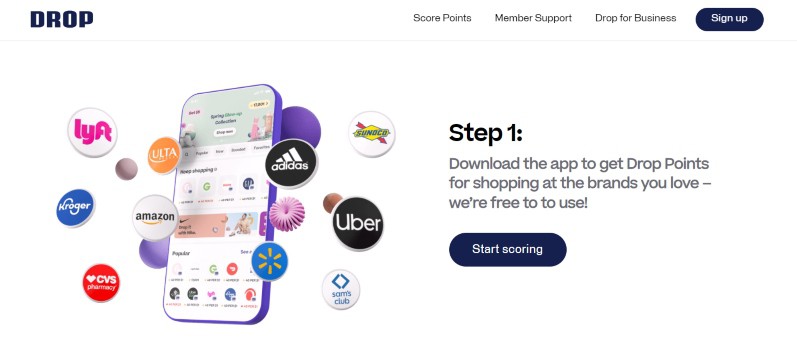 Drop is a popular app that will pay you for different activities. Feel free to use the app to get paid to shop, answer questions, and play games.
So, create a Drop account, link your card, and get your $5 sign-up bonus.
Once you accumulate enough points (25,000), redeem them for gift cards.
22) Gamehag
Gamehag is an online platform where gamers can complete tasks and play games to earn money.
Of course, you can download the app to play the games from your mobile device.
Currently, Gamehag is available only in the USA.
23) Coin Pop App
Android users should take advantage of everything the Coin Pop app has to offer:
Basically, the app will pay you for downloading and playing many different games.
Around 5,000 points will bring you $50 – you can withdraw your earnings via PayPal.
24) Boddle
Boddle is probably the least known among all apps that pay you to play games. I don't know why that is, considering the app provides many earning opportunities.
For instance, Boddle will let you earn for playing games, answering questions, taking daily polls, etc.
Members can exchange their Boddle points for gift cards.
25) iRazoo
People who want to make extra money by taking surveys and playing games can take a look at iRazoo.
iRazoo offers daily tasks you should complete to accumulate points.
You'll earn $20 each time your account reaches 12,000 points.
26) Pool Payday
Pool Payday is a mobile app that will pit you against other players to win money.
Whether you play pool or solitaire, scoring more points will increase your earnings.
Users can win cash and other prizes.
27) AppStation

AppStation is among the most popular GPT apps that pay you to play games. More specifically, the app will you earn for trying out many free games.
Millions of people use AppStation already:
The more games you play, the more money you'll be able to earn with the app.
28) Ready Games
Ready Games is one of the apps both Android and iOS users can download to enjoy.
That app will let you compete against other players. A new game appears inside the app multiple times each week.
Do you know that winners split cash prizes that can go up to $1,000?
29) Fanduel Fantasy Sports
Fanduel Fantasy Sports is one of the most entertaining apps that pay you to play games, in my opinion:
After all, the app allows players to participate in baseball, golf, and other tournaments.
A small fee is necessary to enter these tournaments, though.
30) DraftKings Fantasy Football
Fantasy football is an experience beyond this world for many. DraftKings will let you live through it from your mobile.
Assuming you can't wait to participate in fantasy football, downloading the app is the first step.
Then, choose how you want to play the game – you can play against your friends or compete with strangers to win cash prizes worth millions of dollars.
Additional Apps That Pay You To Play Games
31) Lucky Level
Available only in the USA, Lucky Level is an app where you can scratch cards to win money or gift cards. Only Android users will be able to download the app.
On the downside, you'll have to play a lot before you can withdraw your earnings – you have to accumulate 10 million coins before you can redeem them.
32) Spades Cash
Spades Cash is an app you should download if you prefer playing games alone. Still, you can play against other people if you prefer using the app that way.
Players earn points, which they can redeem later for money.
33) PCH+Games

PCH+Games is one of these apps that pay you to play games that contain many mini-games.
Unlike the rest of the apps you see above, this one will give you the chance to win prizes like vacations and cars.
34) Kashkick
Chances are, most of you are already familiar with Kashkick:
Kashkick is an app you can download to earn money by playing games and taking surveys. At the time of writing, the app is available only in the USA.
35) JustPlay
JustPlay is an Android gaming app that works similarly to Mistplay and Rewarded Play.
I like the app because there is no minimum withdrawal amount, and you can cash out your earnings every couple of hours.
36) 8 Ball Strike
8 Ball Strike is an app every pool enthusiast will appreciate:
The app will allow you to compete for diamonds, which you can use to pay the entry fees for higher levels that offer cash prizes.
37) Fruit Frenzy
Playing Fruit Frenzy on your mobile will put you in a position to compete for prizes that can bring you between $1-$1,000.
As you can probably guess, the app will ask you to keep matching fruit pieces until your board is clear.
38) Swagbucks Live
Swagbucks Live is a trivia game that comes from Swagbucks. Feel free to play it daily.
Of course, you have to create a Swagbucks account before using the app.
39) Bananatic

Bananatic is an app you can use to earn money by playing and testing games.
Each banana you manage to score will bring you $0.002. Once you have 2,5000 bananas, you can redeem them for $5 worth of gift cards and other games.
40) Wealth Words
The last on my list of apps that pay you to play games is Wealth Words.
Anyone can download Wealth Words and use it to earn money by solving word puzzles.
Other Fast Money-Making Ideas:
Apps That Pay You To Play Games FAQs
Is There An App That Pays You To Play Games?
Many apps will pay you to play games, including Mistplay, Bingo Cash, Solitaire Cube, and the Long Game.
Depending on the app you choose to download, the games you'll have to play to earn will differ.
Can I Really Earn Money By Playing Games On My Phone?
Yes, you can really earn money by playing games on your phone.
For instance, Swagbucks will let you earn points (SBs), which you can later redeem for gift cards, PayPal money, and other cash prizes.
How Can I Get Paid While Playing Games?
Ways To Get Paid To Play Video Games:
My Closing
What do you think about this list of apps that pay you to play games?
Do you think there should be more entries?
I know I could add other apps you can use to earn money playing games – I'll do that each time I update this article.
Until then, I wouldn't mind reading your opinion on the topic:
Which app do you plan to download and use to earn cash playing games?
Let me know in the comments section below!
More Money-Making Ideas From Cash Embrace You Might Like: