Social Sale Rep Review – Another Scam?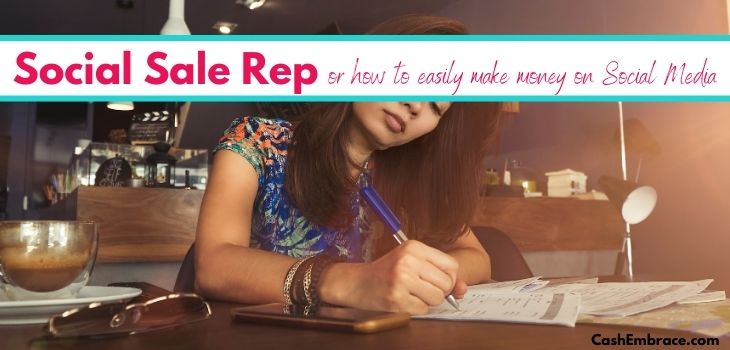 Just so we're clear from the start, this Social Sale Rep review will be all about building a brand new income stream in a previously unexplored way.
While there is nothing exclusive about combining social media and affiliate marketing to make money, Social Sale Rep is adding a unique twist to it.
A bit too cryptic for your taste?
That's OK, I'll get right on it:
Today, we'll discuss a couple of topics you might want to pay attention to if you're ready to start earning online.
Such as what is Social Sale Rep and how does it work?
Is Social Sale Rep legit?
Most importantly, will this product allow you to generate a real income online by simply using your social media skills?
This post contains affiliate links, you can find my affiliate disclosure here.
Social Sale Rep At A First Glance
As soon as you visit the official site of Social Sale Rep, you'll instantly understand the concept behind its existence:
Basically, the platform is giving a chance to ordinary people to monetize their social media accounts.
Providing top-notch technology, plenty of tools, and the necessary training, you can start earning affiliate commissions faster than expected.
To clarify, you don't have to build a blog and drive tons of traffic to its pages to make the product work.
In case this is the first time you're hearing about it – yes, you can be a successful affiliate marketer without being a blogger at all.
12 Minute Affiliate is a bright example of a program that will show you how to generate $500 per day in affiliate sales without even seeing what WordPress looks like on the inside.
With that being said, just looking at the name of the product will tell you that you need to be on a first-name basis with social media.
Meaning, Social Sale Rep will not be a good fit for you if you've been avoiding social media up until now.
Unless you have a decent presence or following on at least one social media network, you should skip the rest of this Social Sale Rep review.
Assuming that you see no reason to leave this page, let's get really into what this product is about, shall we?
What Is Social Sale Rep?
Quite frankly, Social Sale Rep is much more than a website that will simply show you a smart way to make money on social media.
While that's half of the equation, you need to be aware of the other half as well:
This is an online platform that connects businesses with individuals who would like to earn by promoting their products.
It's common knowledge that most vendors are increasing their brand awareness and sales thanks to affiliates who draw attention to their products.
Having access to a huge platform that attracts people willing to promote brands is how Social Sale Rep works for the business owners.
But since you're not one of them, I won't dwell further on that.
Instead, let's focus on the affiliate marketers (you) and how they can benefit from joining the site:
Firstly, all of the products available for promotion are of high-quality and with a proven conversion rate.  Therefore, earning affiliate commissions will be much easier even if you don't have any marketing experience.
Secondly, you'll have to deal only with social media.  No website creation and no product creation, remember?
Lastly, anything you may need to do the job well will be provided for you.
And that includes training, business tools, viral multiplier technology, and plenty of support.
Inside Social Sale Rep
Alright, tools and support sound great, but what's the deal with the software and this latest technology the platform is so proud of?
In other words, let's talk about one of the reasons why Social Sale Rep stands out of the crowd.
First and foremost, the program is not going to reveal an exclusive secret or a break-trough method to make affiliate sales on social media.
On the contrary, the whole promotional concept of socialsalerep.com is fairly common – reach as bigger an audience as possible and earn once a purchase has been made.
However, this basic concept relies heavily on the VMT (Viral Multiplier Technology) and that's the tool that makes all the difference.
The VMT contains 2 essential parts – Promotional Tool Re-Brander and Social Share Multiplier.
Needless to say, the first part deals with rebranding an already existing product. Furthermore, it will help you install tracking links and it will allow your visitors to read the free promotional report.
And the SSM will encourage them to share your link with their contact list.
If you have a large audience, putting the SSM to work will most likely have an avalanche effect.
That's a smart way to do marketing on social media and it will increase the odds of earning affiliate commissions in your favor.
Related Read:
How Does The Product Work?
Before I continue with this Social Sale Rep review, I would like to point out something that seems to be causing misunderstandings:
By all means, the platform is not a freelance job portal that will hire you to do a certain online job as soon as you sign up.
It looks like the word "rep" is where the confusion mostly comes from.
Probably it shouldn't be a part of the product's name but it is, so let's just be clear about that:
Don't expect from Social Sale Rep to operate the way Fiverr does, for example.
With that being said, here are the steps you need to follow to work with the platform:
Join Social Sale Rep here.
Create an account on ClickBank.
Visit the market place of Social Sale Rep and choose products to promote.  I would recommend focusing your marketing efforts on just one niche when you're just starting.
Once you decide on a product, you'll receive your eBook.  That eBook will be rebranded and it will contain your own affiliate link.
Promote the eBook on your social media accounts.
Social Sale Rep Review – What Kind Of Products Are Available For Promotion?
Truth be told, the most important piece of information you need to know about the platform is how exactly to make money on it.
I'll get to that in a minute.
How would you like to discuss the products listed for promotion first?
At the time of writing this article, Social Sale Rep will give you access to some of the most successful and profitable products that are currently selling online.
Its portfolio contains over 100 products that have been constantly bringing impressive numbers in sales.
Have a look at some of the niches these products belong to:
Currently, business, health/fitness, and gardening are 3 of the most lucrative niches for online marketing and promotion.
You don't have to take my word for it:
A quick research on Google will confirm it!
Related Read:
How To Make Money With Social Sale Rep?
As promised, the most essential paragraph of my Social Sale Rep review is finally here.
Earning online with the platform is quite simple actually and it all comes down to your working process:
You'll be giving away free eBooks.
Nowadays, eBooks are a central promotional tool for marketers and business owners.
There are so many ways eBooks can be used to advance any type of online business.
For instance, bloggers are giving them away as freebies – that helps with building an email list fast.
Since you won't be a blogger, let's focus on how these giveaways will work for your benefit:
Well, it will benefit you because it will benefit your audience.
Think about your readers and what was your approach to free eBooks when you used to be one.
Will you say no to a free product that will answer your question or solve a problem for you?
Or maybe it will bring you a certain amount of value you need at this moment?
Remember, you're not paying anything here.
Personally, I have no idea how many free eBooks, PDFs, and similar products I've gotten over the years.  If they're satisfying my needs right now, why should I pass on them?
And here comes the interesting part:
More often than not, there are products or services that will resolve a reader's problem completely.  
Once the free eBooks you're giving present this solution to your readers, the possibilities for affiliate sales are countless.
Each of the eBooks you'll receive from Social Sale Rep will have your affiliate link to a relevant product inside – and that's how you'll make money thanks to the platform.
Related: How To Create A Professional eBook In 5 Minutes
What I Like About The Product
Completely Legit And Real Way To Make Money Online – as I already said, affiliate marketing is a common way to earn online.  Moreover, it doesn't require you to come up with your own product to sell.
Steady And Trust-Worthy Product – Social Sale Rep has been selling for years, its website is regularly supported and updated.
There Is A Training Available – it will help you gain the skills required to use Social Media as a source of income.  Meanwhile, Viral Multiplier Technology will push those skills even further.
Quality Products To Work With – the products you'll be promoting are a having high-conversion rate and are proven to sell well worldwide.
High Commissions – to be exact, the amount of your commissions is 75%.
Technical Support – you can get assistance 24/7.
Affordable Price – Social Sale Rep comes at more than a reasonable price, I'll tell you all about that in a minute.
60-Day, No Questions Asked Money-Back Guarantee – in case you're not satisfied with the product, you'll receive your cash back.
What I Don't Like About The Product
It Costs Money – unfortunately, you can't have the product for free.  However, given the training and tools you'll be provided with, the fee is justified in my opinion.
You Need A Huge Following On Social Media – this product won't really work for you if your Social Media accounts are almost non-existent.  In order to earn decent affiliate income, your offers need to be seen by as many people as possible. 
You Might Need To Pay Extra For Traffic – if you want to reach a bigger audience and see more affiliate commissions, investing in paid ads seems like a natural step to take.  They won't empty your bank account, but I have to mention that using them is not without a cost.
Different Well-Paying Online Jobs You May Prefer:
Social Sale Rep Review – How Much Does The Platform Cost?
OK, let's talk about money and how much you'll need to pay to join the website.
Usually, starting a brand new online job is an activity all the legit programs will allow you to do for free.  Especially if affiliate marketing plays a huge role in the earning process.
So, does the fact that Social Sale Rep comes with a price raise concerns about the site's legitimacy?
I can see why your mind may go in that direction.  After all, asking for money just to be given the opportunity to earn is one of the biggest signs of a scam.
In the case of Social Sale Rep, though, the situation is not that black and white.
By all means, what you're paying for is much more than a chance to make money on social media.  You're receiving training, support, tools, software, and smart technology as well.
May I remind you, none of them will be given to you by someone else online for free.  And we should keep in mind that maintaining them is not for free either.
With that said, I think you'll be pleasantly surprised to find out that the price of Social Sale Rep is only $27.
This is a one-time fee – once you purchase the program, you won't have to keep paying recurring fees month after month.
There is an upgrade available ($37) – you can go for it if you want to get more out of the system.
But I think that the core product is good enough to stand on its own.
Is Social Sale Rep Legit Or A Scam?
Since we've just talked about scams, I believe moving my Social Sale Rep review further within this conversation fits the bill.
To sum up, Social Sale Rep is a legitimate product, and not just for the reasons I've mentioned in the previous paragraph.
Currently, the program is selling on the marketplace of ClickBank.  Just to be clear, it has been for sale there for years.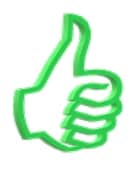 Many other money-making systems have been removed due to low quality, but Social Sale Rep is not one of them.
It has nothing to do with get-rich-quick schemes like Paid Social Media Jobs, for example.
More importantly, the product comes with a 60-day money-back guarantee.
If you're not satisfied with it, you'll receive your investment back, no questions asked.
Who Will Benefit The Most From Social Sale Rep?
In my opinion, you should definitely go for this program if you:
My Closing
Well, it looks that there isn't much left to say in this Social Sale Rep review.
Hopefully, you enjoyed my insights on the product.
Again, Social Sale Rep will allow you to earn affiliate income without going through all the hassle of starting a blog from scratch.
It's an affordable system and its benefits are way more than its disadvantages.
At least that's how I feel about it.
Maybe you feel differently, though?
You can tell me all about it in the comments section below!