Photography Jobs Online: 30 Best Places To Find Remote Gigs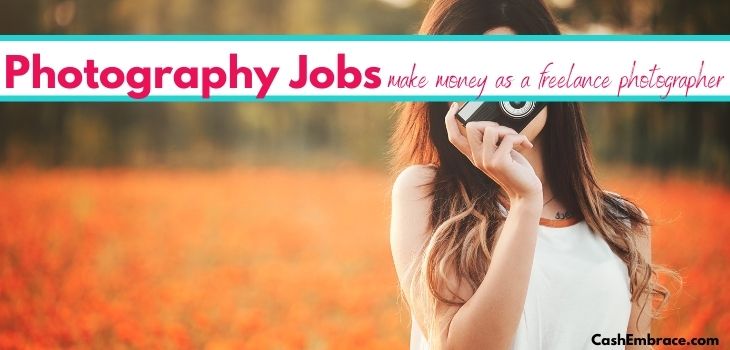 If working as a freelance photographer is your dream job, finding high-paying photography jobs online must be on your to-do list.
These days, most freelance photographers earn around $30 an hour, but that's the average pay rate in the photography business. Fashion, weddings, book covers, and real estate photography jobs will pay you much more.
Talented photographers can build a successful photography business online. Assuming you're one of them, you have to pick a niche, get the necessary equipment, choose your pay rate, and build a portfolio to market your business.
Of course, developing a profitable photography business will require more than that – you'll need a business plan and strategies to build an online presence. We'll talk more about that later in this article.
Today, I'll cover many topics for people who want to become self-employed photographers. You'll learn where to find remote photography jobs, how to get hired, how much money to charge for your services, etc.
In addition, I'll show you the best job boards to join as a freelance photographer, which social media platforms to be on to find potential clients, and the top websites that pay well for high-quality images.
This post may contain affiliate links – feel free to read my affiliate disclosure.
Recommended Read:
What Is Freelance Photographer?
A freelance photographer is a person who makes money taking photographs as an independent contractor or self-employed professional. Freelance photography requires meeting contract demands, respecting deadlines, and working with shot lists set by your clients.
Nowadays, freelance photographers work at weddings, high school graduations, individual/family photoshoots, and many other events.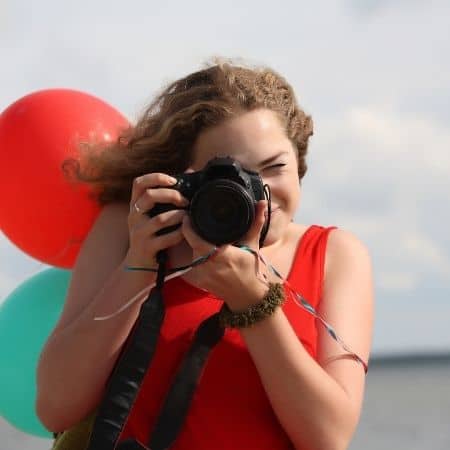 Overall, freelance photographers can attract new potential clients by showcasing a professional photography portfolio and using social media to build a brand and online presence.
What Do Self-Employed Photographers Do?
Generally speaking, freelance photographers provide services that include taking and editing pictures. However, photographers might have other responsibilities, such as:
Hold discussions with clients about a specific project the customer has in mind
Schedule photography sessions
Come up with ideas and suggest locations for photo shoots
Create a shot list of different angles for clients
Adjust camera settings and arrange the equipment at the shooting location
Design and negotiate contracts for professional photography services
What Is The Difference Between In-House And Freelance Photography Jobs Online?
By all means, the difference between in-house and freelance photography jobs is in their respective categories and payment structures. Let me explain:
If you think of in-house photographers as employees, you'll be right. They receive employee benefits, pay taxes on their earnings, and usually work for one company for a long time.
Choosing to do freelance photography jobs means that you'll work as an independent contractor. As such, you won't receive any employee benefits and pay taxes with your money.
On the bright side, freelance photographers can take as many assignments as they wish and charge a pay rate of their choice. But these are far from the only advantages of doing online photography jobs from home:
Why Freelance Photography Is The Right Fit For Creative Professionals?
Before we jump into the topic of remote photography jobs, let's take a minute to go over this field of freelance work.
It's no secret that the freelance photography industry is a saturated place. Finding success in it is not as easy these days as it used to be:
While there is a huge market for high-quality images, you won't be the only one selling there – you'll have to tackle tons of competition to book a well-paying online photography job.
Does this mean you shouldn't even try to make it as a full-time freelance photographer? No, not at all:
If you're serious about earning a living thanks to your photography skills, forget about the competition. Believe in your talent, polish it as much as you can, and go from there!
With that said, here are the advantages of booking freelance gigs as a full-time photographer:
Flexible Hours: Freelance professional photographers have the freedom to pick their schedules and choose their working hours.
Work From Anywhere: As you can guess, freelance photographers don't have to deal with the limitations of working in a traditional office. Instead, their office can be any place under the sun.
Do What You Love: Can you think of a better way to earn a living than making money through your biggest passion? Securing high-paying photography jobs is a great way to achieve financial freedom while doing what you love.
More Time For Friends And Family: One of the biggest perks of being a high-demand freelance photographer is that you won't have to wait for the weekends to spend more time with your loved ones.
Be Your Own Boss: I doubt you need me to explain why being your own boss is the best way to live your professional life!
Most Profitable Photography Niches: Type Of Photography You Can Specialize In
Getting one of the high-paying photography jobs online will bring you a decent income – there is no argument about that. However, launching a photography business will put you on the path of financial abundance.
If you prefer to keep booking freelance photography jobs online from home, I'll show you where you can find them later in this article. But if you dream of having a photography business, learn the fundamentals before you begin.
First and foremost, the monetary opportunities your business provides largely depend on the photography niche you pick. Choosing a lucrative photography niche is one of the key factors to the success of your photography business.
Some photography niches are more profitable than others. Shall we see them?
Event Photography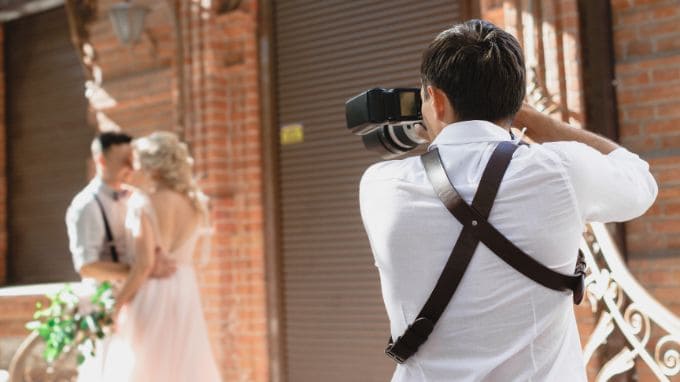 What does the event photography category include? As you can guess, specializing in event photography entails taking pictures at a variety of events, such as concerts, parties, and other social gatherings.
For instance, a holiday party is an event. Many families want a professional photographer to shoot them together at Christmas. On average, the pay rate you can charge for taking family portraits is $100-$250.
With that said, the most profitable event photography sub-niche is wedding photography. Wedding photographers are some of the best-paid professionals in the field:
Wedding photography prices range between $1,000-$50,000 (and even higher) in the United States. On average, most wedding photographers charge between $2,500-$4,000 (the exact price of your wedding photography services depends on many factors).
Product Photography
A picture is worth thousands of words. And when that picture is a product image, the thousands of words might as well become thousands of sales.
Nowadays, many businesses rely on eCommerce and social media platforms to help them sell their products. Companies don't mind paying lots of money to a commercial photographer who can deliver the perfect product image.
Product photography jobs are some of the most profitable gigs you can get. Professionals typically charge anywhere from $100-$300 per hour of commercial work (the pay rate depends on how long the photo shoots are and other factors).
Food photography is an excellent product photography sub-niche to specialize in – food photographers can ask for an hourly pay rate of $75-$150, though the numbers differ in different states.
Fashion Photography
First and foremost, fashion photography can become a full-time income source if you put a lot of time and effort into marketing your abilities in the field.
Chances are, you won't make much money when you're starting – the fashion photography field is one of the most competitive markets. Nevertheless, if you do tons of networking and manage to establish a loyal client base, you can earn quite a lot:
Professional fashion photographers charge more than $700 for an hour-long photoshoot. A four-hour photoshoot will bring you over $2,000 in the United States.
Real Estate Photographer Jobs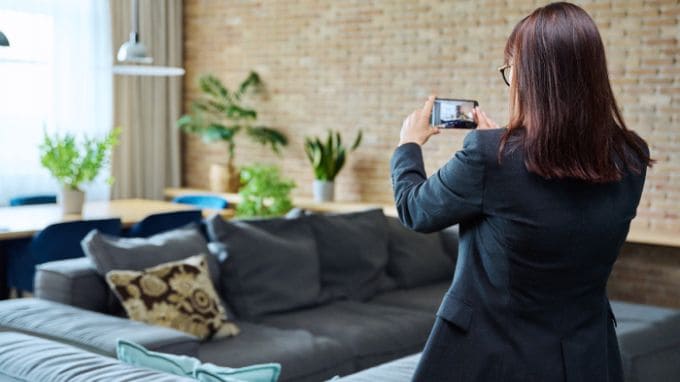 Someone somewhere is always trying to sell a house – that someone understands the need for a photographer to help them make it happen. Subsequently, real estate is at the top of the list of most profitable photography niches.
Real estate photography includes interior design photography and exterior (or architecture) elements. If you believe that your best work as a photographer will be in the real estate niche, don't hesitate to do it:
The pay rate you'll receive as a real estate photographer depends on your level of experience. Still, expect to earn $170-$230 an hour.
Where To Find Freelance Photography Jobs Online
Nowadays, many websites, social media sites, and online platforms offer freelance gigs for photographers. These places constantly provide new opportunities for anyone who is a talented photographer or skilled photo editor.
Regardless of your work experience, the need of a photographer who can do a fantastic job with the camera will never cease to exist.
Now, the best way to find high-paying photographer jobs is to work at places where professional photography skills are in high demand. Where might those places be?
Industry-Specific Job Boards Offering Photography Jobs That Pay Well
If you know where to look, you can find many job boards that will help you book a remote job as a photographer. More often than not, such places will send you job alerts each time a new photography gig is available.
It's worth mentioning that some of these job portals employ hiring managers who will assist you in securing a photography job.
With that said, start looking for your next photography gig by creating a free account on these job boards:
Use General Job Boards To Find Online Photography Job
To clarify, a general job board is a platform where you can find another type of job other than photography, including freelance writing, proofreading, transcription, graphic design, and other positions.
Considering you're here to find suitable online photography jobs, ignore irrelevant job listings and focus on the photography ones.
While checking the general job portals to find a photography position, add freelance to your search query – that will save you time.
Visit these platforms to find legitimate photo jobs hiring good photographers for contract work or as freelancers:
Freelance Photography Jobs For Magazine
Best Freelance Photography Jobs For Beginners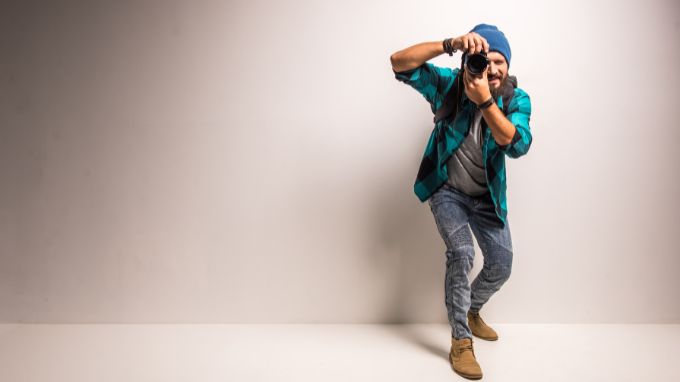 In the interest of full disclosure, some of the gigs you're about to see might not be entry-level photography jobs online. Still, you might be able to secure them if you put tons of hard work into your images.
A job portal is a great place to monetize your photography skills, but working with one is not the only way to make money as a photographer.
I suggest looking for your dream photography job in any of these places:
Best Stock Photography Sites To Sell Your Stock Photos
By all means, one of the easiest ways to start making good money as a remote photographer is by selling your stock images.
Each website accepting stock photos offers different amounts and forms of compensation to freelance photographers. You should check the legal pages (privacy policy, terms of use) of the photography websites you decide to join.
Selling stock images online is a good idea for many reasons. The best part of listing stock images for sale is the opportunity to create a passive income source:
After all, you can sell an image once and keep profiting from it each time a person pays to download it. It doesn't get any better than that, so drop the job search site you're using at the moment and check these platforms:
Related Read:
Find Top-Paying Photography Jobs Online On Social Media Sites
Any social network you use will give you free access to thousands of potential clients looking to buy high-quality images. Social Media is an excellent tool to do networking for your photography business.
You can use your Social Media accounts to search for photographer jobs, post promotional material for your business, and connect with potential buyers.
Start looking for photography jobs online on these Social Media platforms:
Instagram: No other social network is as visually-centered as Instagram. Create an Instagram account, showcase your best work, attract attention to your photo editing skills, and secure well-paying photography gigs.
TikTok: TikTok is one of the fastest-growing social media platforms in the world. Use that to your advantage and start uploading short videos of photo shoots to gain exposure.
Facebook: Many Facebook Groups can advance your photography business. After all, Facebook is still one of the most popular websites in the world.
Pinterest: Similar to Instagram, Pinterest is all about visually appealing content. Start pinning your high-quality images to prove you're the ideal candidate for any photography job.
LinkedIn: LinkedIn is more than a good place to meet potential buyers – the network will connect you with many like-minded people who can advance your photography career further.
Social Media-Related Articles You May Love:
Freelance Photography Jobs Near Me
Are you looking for a freelance photography job near you?
Then, I suggest starting your search by visiting LinkedIn, Indeed, and Upwork – these sites will use your geographical location to provide you with available photography jobs close to you.
Tips And Ideas To Build A Build A Successful Photography Business
Each of the photography jobs online is a good option for creative people who know how to work a digital camera. Giving any of them a try will be a valuable experience that will make you a better professional.
However, you might decide to take your photography work to the next level at some point and build your own photography business. Here are some tips to keep in mind while doing that:
Design A Professional Photography Brand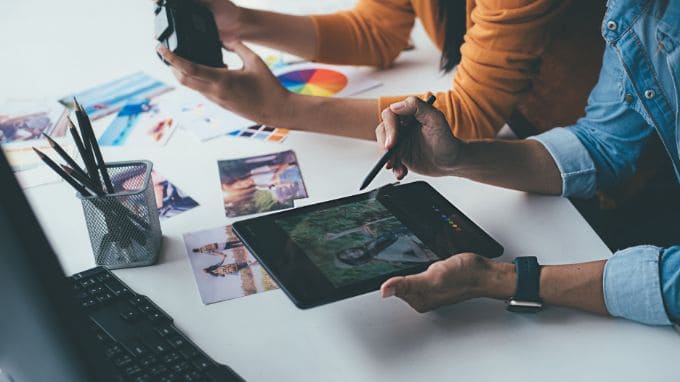 Your brand must represent your identity as a photographer. As such, make sure it becomes memorable as soon as possible. Elements like a logo and a business card will help you achieve that.
Create a logo that will leave a lasting impression on potential buyers – it should include your business name and slogan (if you have one).
Have A Business Plan
Above all, any type of business needs an in-depth plan, and your photography venture is no different. A business plan will help you launch, structure, and grow your business.
Also, a business plan will allow you to set realistic goals, reduce potential risks, develop marketing strategies, and manage your team members if you plan to include such.
Learn Cold Pitching
Cold pitching is one of the best and easiest ways to develop a profitable photography business. For those who don't know, cold pitching is connecting directly with a person or company you want to work with.
Mastering the art of cold pitching will help you secure plenty of high-paying photography jobs online. All you need to start with cold pitching is to look for a person's contact information, prepare your pitch, and get in touch.
Don't underestimate the benefits of cold pitching – it will present you as a proactive professional who takes the necessary steps to secure new potential buyers.
Showcase The Right Photography Samples In Your Online Portfolio
Generally speaking, your photography portfolio is one of the best places where your skills can shine. More importantly, a professional portfolio can attract the right clients for your photography business.
Making the right first impression is essential here. So, be careful with the samples you're preparing to show in front of potential clients.
Impress Future Clients With Your Cover Letters
By all means, your cover letters have to be attention-seeking, click-worthy, and impossible to ignore. How do you write a captivating cover letter?
First, address the client by their first name so they would feel like talking to a real person. Next, get straight to the point – describe your experience and why you're the right person for the job. Lastly, do a follow-up if you don't hear anything back for a week.
Provide Client Testimonials
Nowadays, social proof is everything when selling online. Since you have photography skills for sale, client testimonials will help you boost your business.
Think of client testimonials as the best marketing materials to sell your business – nothing will convince a potential client to hire you like a statement from a happy one will do.
Other Remote Jobs You May Enjoy Doing:
Photography Jobs Online FAQs
Can You Work Remotely As A Photographer?
Anyone can start working remotely as a photographer:
Most companies hiring people for photography gigs offer remote photography jobs, work-from-home, or hybrid work.
How To Become An Online Photographer?
The qualifications you need for an online photographer position are a high school diploma and a few years of experience taking pictures.
Is A Photographer In High Demand?
According to recent data, employment in the photography industry grows by nearly 10% every couple of years.
Can You Make A Living Selling Photos Online?
The web is one of the best places to offer images for sale – selling photos online is one of the easiest ways to make money from home.
Thousands of businesses and advertising agencies constantly purchase high-quality images to use in their marketing materials.
Who Hires Freelance Photographers?
Individuals and companies are looking to hire professional photographers. As a freelance photographer, you can work for a company, web magazine, online platform, etc.
My Closing
Overall, the best part of doing photography jobs online is the opportunity to reach financial independence while doing what you love.
If you are good with the camera, don't wait any longer – get your first freelance photography gig today. Assuming you have a minute, use it to visit Pixpa – it's a great resource about the different types of photography jobs you can do.
Now, what's your opinion on today's topic? Is there something you would like to share?
Please do so in the comments section, and it would be my pleasure to reply.
Other Money-Making Ideas You Might Like: