40+ Real Ways To Make Money From Home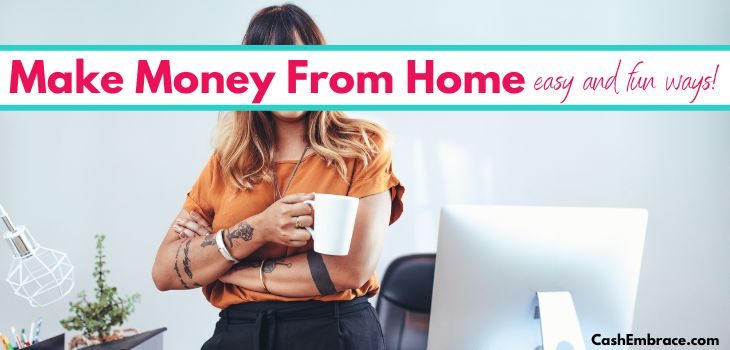 Are you ready to see the most lucrative ways to make money from home? I'm sure you are – otherwise, you wouldn't be on this page now.
Nowadays, there are hundreds of ways to earn cash without leaving your home – all you need is access to the internet, a laptop, and enthusiasm to work.
Some money-making ideas you can get into from your house will bring you side income, while others can replace your nine-to-five job.
Overall, making money from home can serve three purposes – getting extra income fast, replacing your career with a new one, or doubling your annual income by developing an online business.
Today, I'll introduce you to over 40 ways to earn cash from home.
This article contains affiliate links – visit my affiliate disclosure for more info.
Recommended Read:
How To Make Money From Home
1) Earn Money Shopping Online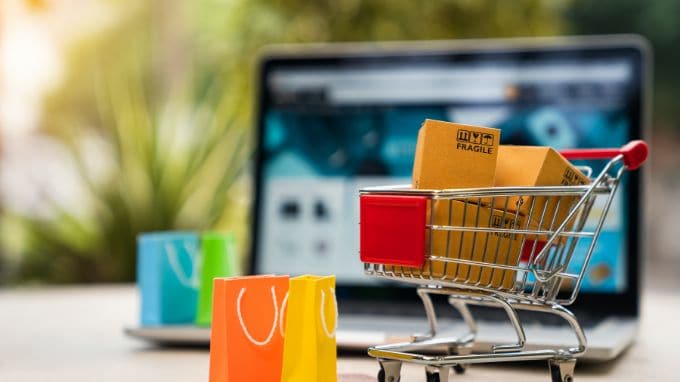 Millions of people save time and money while doing most of their shopping online. Nowadays, you can get paid to shop online in many ways, such as becoming a personal/mystery shopper or doing grocery shopper jobs.
The most popular way to make money shopping from home is using apps that will pay you to shop. These apps will give you cashback or gift cards for the shopping you do anyway.
Some of the best apps that will pay you to shop are Rakuten, Ibotta, and Swagbucks (read my Swagbucks Review if you have a second).
See Also: Gift Card Exchange Kiosks Near Me
2) Get An Online Side Job
As you can guess, the idea behind getting a side job is to earn extra money without leaving your current nine-to-five job. Remote jobs on the side offer flexible hours that won't disrupt your daily routine.
Popular work-at-home side jobs are:
Tech support representative ($45,000/year)
Computer programmer ($34/hour)
Human resources remote coordinator ($50,000/year)
Test scoring jobs ($20/hour)
Ticket broker ($3,000/month)
Of course, many other side job options exist – check another 30+ side jobs that will earn you extra cash from home.
3) Proofreading
Proofreading is a job that requires correcting grammar, punctuation, and spelling errors in documents. Proofreaders should have an eye for detail and excellent time-managing skills.
On average, proofreaders earn $45,000 annually but experienced proofreading professionals make more than that. Many remote proofreading jobs pay up to $50 an hour.
If you want to become a professional proofreader fast, I recommend signing up for Caitlin Pyle's Free Proofreading Workshop. Her Proofread Anywhere Free Training contains invaluable information that will help you become a working proofreader in no time.
Sign Up For The Proofread Anywhere Free Workshop
4) Become A Virtual Assistant
Virtual assistants are independent contractors that provide services from a remote location. Such services might be in the technical, administrative, or marketing field.
Companies, online businesses, and bloggers need VAs to help them run their operations. VAs are some of the most in-demand online workers, earning between $25-$100 an hour.
Do you want to work as a virtual assistant? Read this step-by-step guide to becoming a VA with no experience.
5) Freelance Writing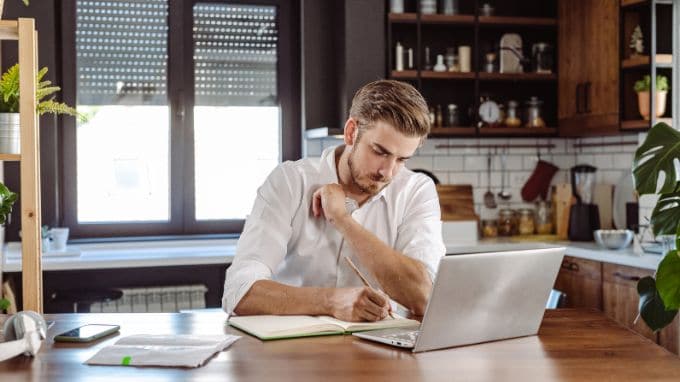 You may not believe it right now, but anyone can become a professional freelance writer – all it takes is a laptop, internet access, and enthusiasm to write.
Going through an online course to enhance your writing abilities won't hurt – My Freelance Paycheck is probably my favorite writing course. That course turns ordinary people into in-demand content creators in no time (check its review).
Once you're confident in your writing skills, you can start looking for your first writing gig – some writing jobs pay over $1,000 per article.
Related Read:
6) Become A Transcriptionist
Transcription is a job that requires converting video or audio files into written documents. In other words, transcribers listen to audio and write down the text they hear.
Fast typing skills and accuracy are necessary abilities for transcribers. Most companies hiring transcribers offer support and training. GoTranscript is such a company – spare a minute to read how GoTranscript can make you an extra $1,000 a month.
Beginner transcriptionists earn around $45,000 annually. However, experienced transcribers make over $60,000 a year.
7) Make Money From Home Typing
Many different typing jobs exist, such as:
Writing typing jobs
Marketing typing jobs
Administrative typing jobs
Marketing typing jobs
People that want to get paid to type must have excellent spelling and grammar skills. As you can guess, fast typing skills are necessary as well.
See 17 online typing jobs you can start to increase your monthly income.
8) Work As A Graphic Designer
Graphic design is a well-paying work-at-home job for individuals with creative skills. While you don't need much experience to become a graphic designer, expertise in Adobe Photoshop or other design tools is necessary.
Most people think graphic designers work predominantly on websites, but that's not true – they also create logos, business cards, promotional materials, etc.
According to recent data, graphic designers earn $50,000 annually, but the top 10% of graphic professionals make nearly $100,000.
9) Tutor Online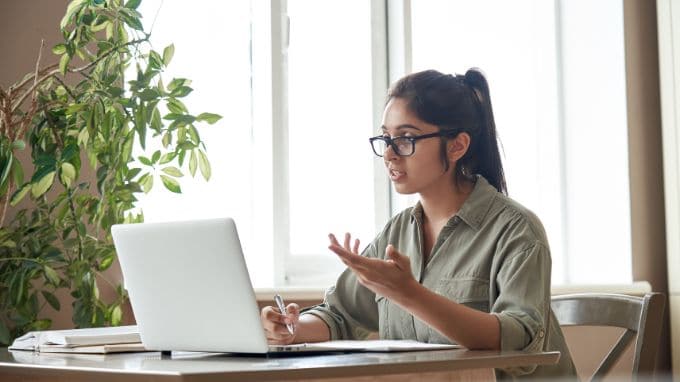 How do you feel about offering tutoring services online? Those of you who are native English speakers and have Bachelor's Degrees can teach English to adults and kids:
Over 30 companies hire people to teach English from home – expect to earn around $25 an hour.
Of course, English is not the only subject you can teach online – topics like math and physics will make you a decent amount of money once you start tutoring them.
Related: 30 Websites You Can Join To Earn Doing Homework For Others
10) Offer Services On Fiverr
Fiverr is a global platform that connects freelancers with individuals and businesses looking for people to perform different services.
Anyone can join Fiverr to become a seller and offer many services, such as mobile app development, transcription, and voice-over work.
As a Fiverr seller, you can set your prices and packages.
11) Work As A Virtual Travel Agent
Being a travel agent is a job with responsibilities not that different than organizing a family trip:
Travel agents search for the best vacation packages for their clients. Subsequently, they work with different companies to secure these deals.
More often than not, travel agents don't get paid by the client, but they receive money from the travel companies and hotels they work with instead.
Related: 30 Ways To Get Paid To Travel
12) Offer Tech Support To Make Money From Home
Tech support representatives help clients with resolving the problems they have with the products of a company.
Most tech support workers investigate and resolve issues that happen after software or hardware malfunctions.
Some tech experience and knowledge are necessary to get a tech support job.
13) Become A Virtual Bookkeeper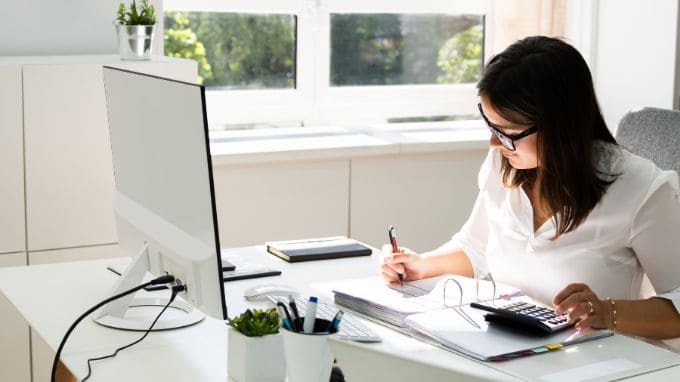 Virtual bookkeeping is one of the highest-paying non-phone jobs you can get nowadays. Not all companies that hire bookkeepers will ask to see a degree in business, finance, or accounting.
Bookkeepers perform many tasks that are all about financial record-keeping.
For example, a bookkeeper might have to track payments, manage accounts, record financial transactions, create and send invoices, etc.
14) Do Chat Jobs From Home
Are you wondering what a chat agent does? Considering chat jobs are some of the most popular well-paying online jobs you can start, it's safe to guess that most of you are familiar with the job's description.
Still, I'll say that chat agents provide customer support via text discussion – the majority of online chat jobs don't require using the phone.
Other ways to get paid to chat are working as an online friend, talking to lonely people, and sexting.
15) Earn As A Data Entry Clerk
In short, data entry is about entering information and updating records in a database or computer system. Feel free to see data entry as typing in data from one source to another.
Data entry is a remote job you can do as a side hustle or full-time employment.
Mind that becoming a data entry clerk doesn't require a degree, so anyone can start making money doing online data entry jobs.
16) Social Media Manager
Social media managers build and develop a presence on social media for individuals, businesses, and brands.
Handling social media accounts on platforms like Tik Tok, Twitter, and Instagram is an exciting way to make money from home for anyone who likes spending time on social media.
Experienced social media managers can earn up to $100,000 annually, so you might want to learn how to become a professional social media manager fast.
17) Monetize Social Media And Streaming Accounts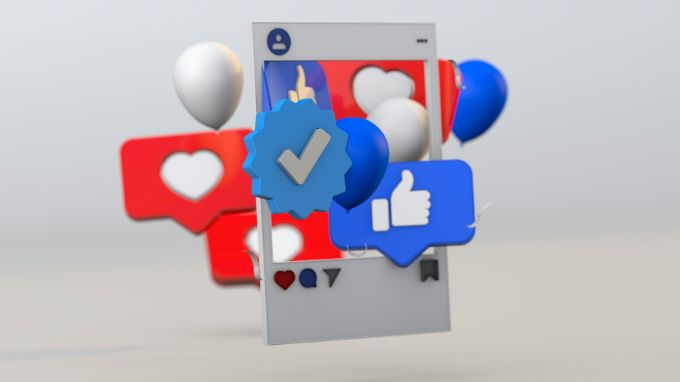 Is anyone a superstar on a social media network like Twitch?
Hopefully, there is, since you can monetize social media accounts on platforms like YouTube and Tik Tok in many ways.
Even if you don't have a large following yet, it's never too late to start building it to monetize it later.
Related Read:
18) Sell Your Photos Online
Anyone who is a decent photographer can earn money online selling their photos – I can think of over 30 places that buy stock images from freelance photographers.
Another way to monetize your photography skills is by selling feet pics online – platforms like FeetFinder and Feetify will let you earn up to $50 per image.
Before downloading apps to sell foot pics, check if selling such images doesn't contradict any law in your country.
Related: High-Paying Online Photography Jobs
Highest-Paying Ways To Make Money From Home
19) Sell Handmade Goods/Crafts
Are you a creative person who likes to create things for fun? Here is an idea – why not turn your creative activities into a money-making hobby?
Creating and selling custom products is one of the most profitable ways to make money online. More importantly, you can start selling your products without any investment:
Platforms like RedBubble, Etsy, and Shopify will allow you to create an online store free of charge. So, research your niche, evaluate the market, check the trends, and decide which handmade creations to list for sale online.
Spare a minute to see 50 handmade crafts that make the most money.
20) Start A Print-On-Demand Business
Print-On-Demand is one of the best business models for beginners. With POD, your printing partner will take care of the printing, packaging, and shipping of your products to the customers:
All you need to do is create stunning designs to place on different products, such as T-shirts, pillows, coffee mugs, etc.
You'll be glad to find out that you don't have to pay anything to your printing company until you make a sale – once an order is complete, the company will receive a share of your profits.
Printify and Printful are two of the best printing services you can get when starting a POD business – you can't go wrong with either.
21) Start A Dropshipping Business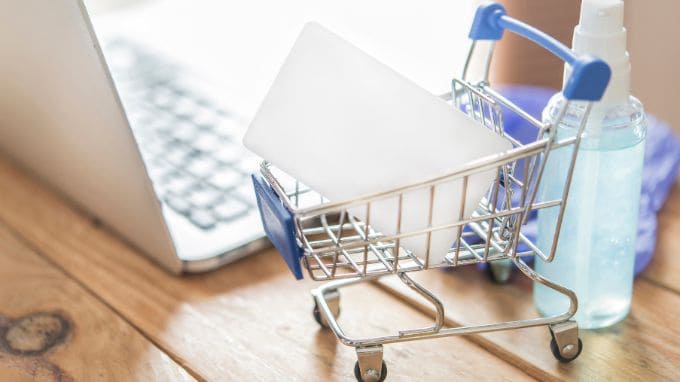 Dropshipping provides millions of people with one of the best ways to make money from home. Basically, dropshipping is a business that lets you sell products without keeping them in inventory.
Shopify is a platform you can use to create an online store. Using Shopify to launch your online shop will cost you nothing – the site offers a free trial to all its members.
Choosing a trusted supplier is crucial for the success of your dropshipping business. With drop shipping, you only pay after you sell a product and receive the payment from the customer.
22) Make Money From Home With Amazon FBA
Amazon FBA is an exciting business model. Let me elaborate further on that:
To sum up, Amazon FBA is a business where sellers send their products to Amazon warehouses for order fulfillment. Naturally, Amazon will store your products until an order comes in. Once a client places that order, Amazon will pack and ship the product on your behalf.
The downside of doing Amazon FBA is that you need start-up funds to purchase the products you'll send to the warehouses.
Related: How To Make Money On Amazon (20+ Ways)
23) Sell Digital Downloads On Etsy
A digital product is an asset the client can't get in a physical form. For example, digital products are PDFs, prints, templates, calendars, planners, etc.
Etsy is probably the most popular platform and the best place to list digital products to sell. Digital downloads that sell well on Etsy are:
Art prints
Stickers
Coloring pages
Thank you cards
Wedding invitations
Logos
Website templates
24) Create And Sell Digital Products
Selling your digital products should be at the top of your list of ways to make money from home, and here is why:
If you create a digital product, you can sell it hundreds, even thousands of times – that's how you'll earn passive income.
Considering how popular e-learning is nowadays, you should think about creating an online course as your first digital product to sell to a global audience.
25) Start A Subscription Box Business
Nowadays, a popular opinion among clients is that subscription boxes are one of the best ways to shop. That shouldn't surprise anyone considering a subscription box provides a unique customer experience.
Subscription eCommerce is a market worth billions of dollars. Subsequently, starting a subscription box business seems like an excellent way to earn money from home:
Over 15% of American consumers use subscriptions to receive products regularly, so your client base is there!
26) Write And Sell eBooks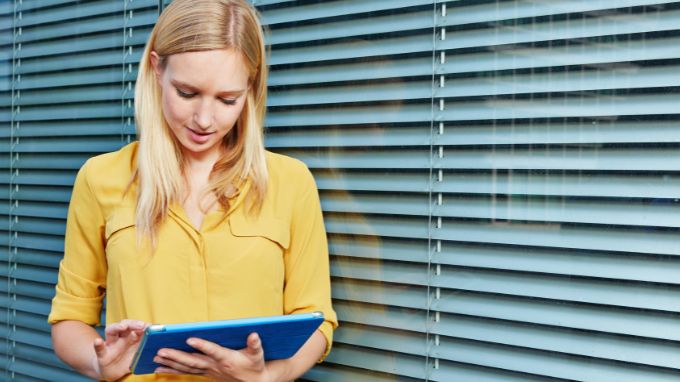 An eBook is one of the best digital products to list for sale nowadays:
eBooks are easy to create, and you don't have to be a professional writer to make them professional and appealing to your target audience.
Assuming you need help with the creation process, feel free to look into Sqribble. Sqribble is a tool that will allow you to create a gorgeous eBook from existing content in minutes.
27) Start A Blog
In my opinion, one of the best ways to make money from home is to start a blog and monetize it. Bloggers earn different amounts of money depending on the experience, knowledge, time, and effort they put into their business.
Launching a blog will not leave you broke – a domain name costs around $15 a year, and web hosting comes at affordable prices, especially if you choose BigScoots as your hosting provider.
Monetizing your website is possible in many ways, such as affiliate marketing, sponsored posts, selling your products, and displaying ads to the readers.
28) Flip Items For Profit
Do I have to explain what flipping items entails? OK, here is a quick summary of flipping for those unfamiliar with the term:
To sum up, flipping is a business process where you buy things at lower prices and resell them for profit on platforms like eBay.
Some of the most profitable items to flip are furniture, vintage clothing, collectibles, antiques, and home appliance.
29) Become A Reseller
First and foremost, there is a slight difference between flipping and reselling:
Flipping is about buying something cheap and selling it for more money. Meanwhile, reselling is about purchasing products from manufacturers and selling them to your customers.
Your reselling business will have the best chance for success if it has a niche you're an expert on.
30) Sell Your Art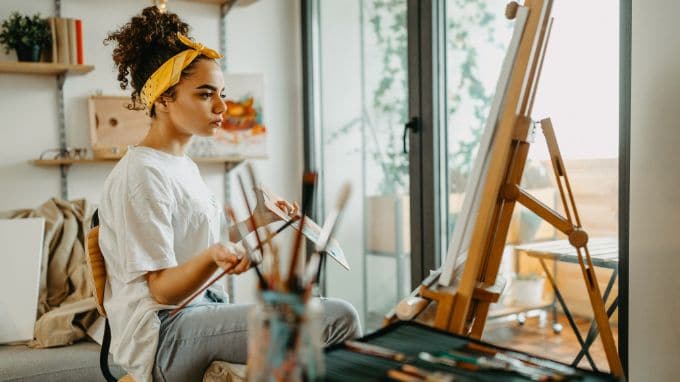 Recent statistics show that the online art market is worth over $10 billion nowadays – it's safe to say that artists can earn thousands of dollars selling their art from home.
There are two main ways to sell your artwork online – list it for sale on platforms like Amazon and eBay or in your online store.
Ultimately, the second option is preferable since it will give you total control over your business. Shopify will allow you to launch an online store for free and pay $1 for the first three months after the free trial.
31) Start A Food Business
Let's see who can argue that starting a food business is one of the best ways to make money from home:
Can you deny the fact that people will always need to eat? Since no one can do that convincingly, we can all agree that building a food business has an incredible income potential.
Profitable food businesses with high-profit margins are cookie/chocolate, candy stores, food trucks, bakeries, and ice cream shops.
Real Ways To Make Money From Home For Free
32) Pet Sitting
Is there anyone reading who is not an animal lover? Hopefully, most of you are:
Pet sitting is a great way to earn extra money while caring for someone's pet. You can offer pet-sitting services from your home or the pet's owner.
How much does pet sitting pay? Well, most pet sitters charge $20-$30 a day, while others require the same amount for a 30-minute visit.
33) Get Paid To Walk Dogs
What's the difference between pet sitting and dog walking? Aren't they the same?
One can argue that these are two slightly different types of jobs. After all, pet sitting doesn't require leaving your house, but dog walking does.
So, how can you become a dog walker? Companies like Rover will allow you to list your dog walking services and market them to clients in your area.
34) Offer Child Care And Babysitting Services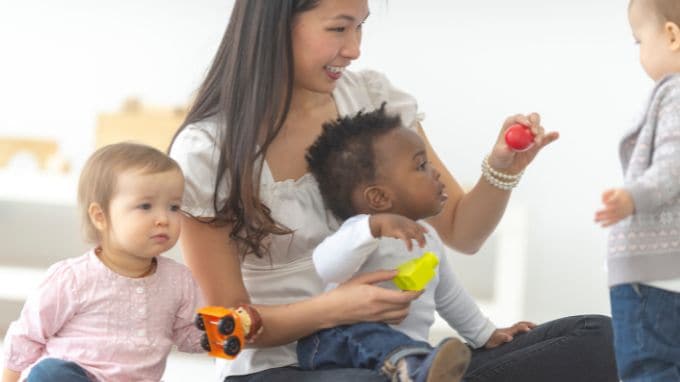 Do you enjoy taking care of kids? Assuming some of you don't mind babysitting, consider offering such services in your spare time.
Care.com is a website that connects families with people providing child care services. If you live in the USA, Care.com is probably the best platform to list your babysitting services to find clients.
On average, babysitting one kid will bring you $17 an hour – that's how much most babysitters charge on Care.com.
35) Be A Housesitter
I don't have to be the one to tell you that people often leave their homes for extensive periods – they might go on a long vacation or have work obligations that send them away for months.
Many of these people prefer not to leave their homes unattended, so they're willing to pay housesitters.
Housesitters have different responsibilities that depend on the needs of the person that hires them. Overall, housesitting will make you $25-$30 a day.
36) Rent Out Unused Space
How many of you own a space without using it? Let me ask – is there a reason why you're not monetizing such a space?
Renting out a room via Airbnb is one thing – most people know about the possibility of earning extra money. But are you aware that you can also rent out your parking space?
Hopefully, your parking space area is large enough to accommodate multiple cars – that will triple your rental income.
37) Rent Out Your Car
Listing your vehicle for rent on platforms like Turo will put you in touch with potential clients who need a car for temporary transportation.
Keep in mind that Turo accepts cars that have insurance and are in good condition.
While Turo will take 30% of your rental earnings, working with the company is worth it – Turo offers car protection for any damages to your vehicle that may occur.
By the way, do you know you can earn money by wrapping your car in advertisements?
38) Sell Old Belongings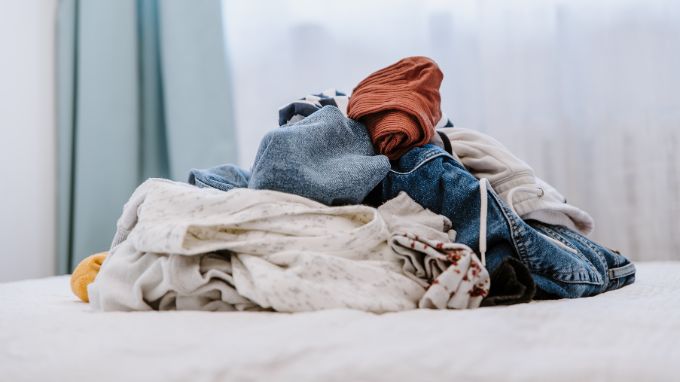 When do you plan to get rid of items you no longer use? I'll say there is no better time to sell the things you don't need than now:
Believe it or not, you can find clients willing to buy all kinds of items you deem unnecessary, such as old sneakers, legos, holiday decorations, and even a wedding dress.
See the top 50 things you can sell to make money as soon as possible.
39) Trade In Old Electronics
Do you still keep old phones and other types of electronics? Why should such items collect dust when you can trade them for money?
There are many platforms that will allow you to list your old electronics for sale.
Such platforms are Decluttr, Gazelle, and MusicMagpie.
40) Take Surveys Online
Quite frankly, I don't get why many people consider taking surveys as a boring way to earn extra money – some surveys are fun to do, and you can complete them in no time.
Completing surveys for money will not make you rich but will boost your monthly income. The pay rate of surveys often varies from cents to a couple of dollars per survey.
Swagbucks is one of the best sites you can join to earn by taking surveys – the platform offers a sign-up bonus and plenty of ways to make money, such as surveys, watching videos, playing games, etc.
Related: 20+ Places Where You Can Get Money For Signing Up
41) Complete Short Tasks For Cash
Completing short tasks in your spare time is one of the easiest ways to make money from home. And do you know that many online platforms will allow you to do that?
Examples of short tasks you can do for money are clicking ads, reading emails, watching TV trailers, listening to music, etc.
PrizeRebel is my favorite short-task site, as it is for millions of other people. Find out how to make money on PrizeRebel when you have a minute.
42) Test Websites And Apps
Thousands of brands pay ordinary people to test their products and offer feedback that will help improve them.
UserTesting is a popular platform you can join to get paid to test products.
So, apply to become a tester, and you can begin earning money as soon as UserTesting approves your application.
Related Read:
Additional Ways To Make Money From Home
Create Sales Funnels: First-time online business owners have little to no knowledge of sales funnel creation. Use that to your advantage to turn these people into paying customers by providing sales funnel-creation services.
Get Into Podcasting: Podcasts are easy to start and can make you a decent amount of money once you build an audience.
Offer Caligraphy Services: Use your calligraphy skills to make and sell digital products like wedding invitations.
Watch Netflix: There are over ten ways to make money watching Netflix – check them out if you want to start earning on the platform.
Sell Web Domain Names: Flipping domain names is another way to earn money on the side.
Make Money From Home FAQs
How Can I Make Real Money From Home?
You can make real money from home in many ways, including:
Doing dropshipping
Offering freelance services
Getting a part-time remote job
Becoming a social media manager
Transcribing files
How Can I Make $100 A Day?
Anyone can make $100 a day using any of the following methods:
Work as a virtual assistant
Teach subjects online
Sell items on Amazon
Launch an Etsy shop
How Can I Make Money Right Now?
Take surveys
Complete microtasks
Sell stuff you don't need
Become a rideshare driver
Deliver groceries
My Closing
The truth is there are many other ways to make money from home that will probably fit your lifestyle and satisfy your needs.
But the options you see above will have to do for now:
Of course, I'll add more opportunities to earn from home each time I update this article.
Until then, feel free to ask me any questions you have on this topic, and I'll make sure to answer them.
More Money-Making Ideas From Cash Embrace You May Like: