35 Best Places To Sell Photos Online And Make Money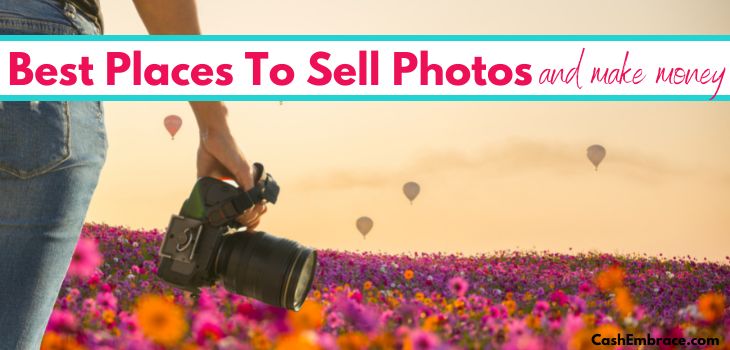 Being aware of the best places to sell photos online is a must if you want to make money on the web while using your photography skills.
Selling photos online will allow you to turn your passion for visuals into an exciting and thriving career.
Even beginner photographers can earn extra cash by marketing their content online:
As long as you know which the best platforms that buy stock photography are, your work with the camera will bring you solid income.
Today, you'll learn tons about selling photos from home:
How to sell photos online and make money?
What are the top places to sell photos online?
Is it worth selling photos online?
This post contains affiliate links – see my affiliate disclosure.
Related Read:
How To Sell Photos Online – Selling Photos Online For Beginners
First and foremost, anyone with a good quality camera and decent photography skills can begin to sell photos online.
These days, even aspiring photographers have the opportunity to upload their pictures on stock photography websites.
Thousands of companies and large sites need high-quality photographs that will suit the needs of their businesses. They're the customers who are willing to pay a reasonable price for stock images.
Each time a client buys a photo from a stock photography site, the image owner will earn a commission.
In short, that's the business of buying and selling photos online works.
Now, if you're just starting to test your abilities as a photographer, offering your content to platforms that will pay you for it is a great way to begin your career.
With that said, let's take a look at all the platforms you can use to sell photos online, shall we?
The Best Places To Sell Photos Online And Earn Money
1) Getty Images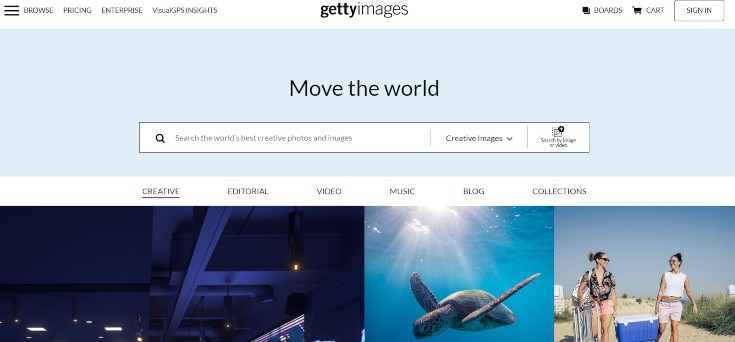 Chances are, you'll agree that Getty Images is the most popular platform on this list.
After all, the company has a long history of operating in the world of stock photography.
Unfortunately, working at such a professional level makes Getty Images a difficult place to break through as a photographer and make money:
You'll need to submit at least six high-quality images on the site. The company will look through your content to determine whether it will accommodate the needs of the buyers.
Assuming that you manage to get in, you'll be able to earn up to 20% commission from your photos. More often than not, the images on the site tend to sell for hundreds of dollars, so you can make pretty good money.
2) iStock Photo
To clarify, iStock Photo is not an independent platform on its own but a microstock branch of Getty Images.
In my opinion, iStock Photo is the most suitable place to sell photos if you're a beginner:
Currently, the site has many resources and forums you can use to learn how to make the best of photo-selling activities online.
It's worth mentioning that iStock will let you sell not only photos, but video, audio, and illustrations as well.
Basically, the royal payment you can expect from the site is between 15%-45% per download, depending on how popular your content is among users.
However, if you're all about exclusivity, your commission rate will go up to 22%-45%.
3) Adobe Stock Sell Photos
By all means, Adobe Stock is not only one of the best places to sell photos online but one of the first platforms in the industry as well.
Unsurprisingly, the site has tons of advantages you'll most likely not find on other similar platforms.
For example, you can receive your royalties immediately instead of waiting to meet a certain threshold.
Also, Adobe pays some of the highest commissions in the photography field:
As a contributor, you'll earn up to 60% commission without giving away the exclusive rights to your images.
4) BigStock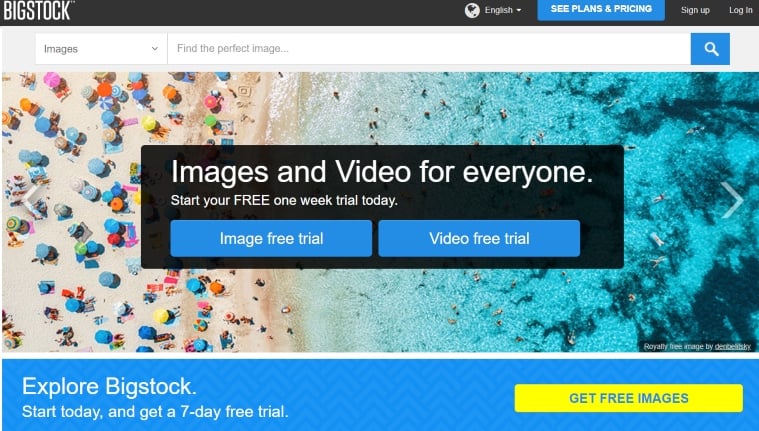 Prepare yourself for something different because BigStock doesn't work like most of the other entries on this list:
Nowadays, BigStock provides not one but two ways for photographers to make money on the site. Allow me to explain:
When a person buys a stock image from BigStock, that person gets credits that will allow him to purchase more and more photographs.
Let's imagine that a buyer pays for your image with such credit. That purchase will bring you up to $3 (for a large version of the image), plus the 30% commission the site pays to photo sellers.
On top of all that, the more downloads your content gets, the more your commissions will keep increasing.
5) Shutterstock Sell Photos
Usually, Shutterstock takes the top position on most lists of best places to sell photos online. And that's not by accident:
Up until now, the site has paid over $500 million to photographers worldwide.
Users can choose from over 200 million images and videos.
If you decide to sell your photos on Shutterstock, you'll have the option to keep the rights to your content. Additionally, the site gives credit to the owners of the images.
Expect to receive around 30% commission on the selling price of your photos.
6) Alamy
Next on my list of best places to sell photos online is Alamy.
While Alamy is not the largest marketplace for stock photography, it's one of the most competitive in the industry:
Photographers earn between 20-50% commission on every sale, depending on how popular their work is.
Showcasing your images on the site is possible without licensing or copywriting issues.
7) Dreamstime
To say that Dreamstime operates differently than most platforms for selling photos online would be the understatement of the year:
Working with Dreamstime will allow you to create and curate your galleries. Subsequently, you'll have much more creative control as an artist selling work online.
All submissions to the site go through a screening process. That's necessary because Dreamstime prohibits uploading violent or copyrighted content.
Commissions vary between 25-45% per sale.
8) SmugMug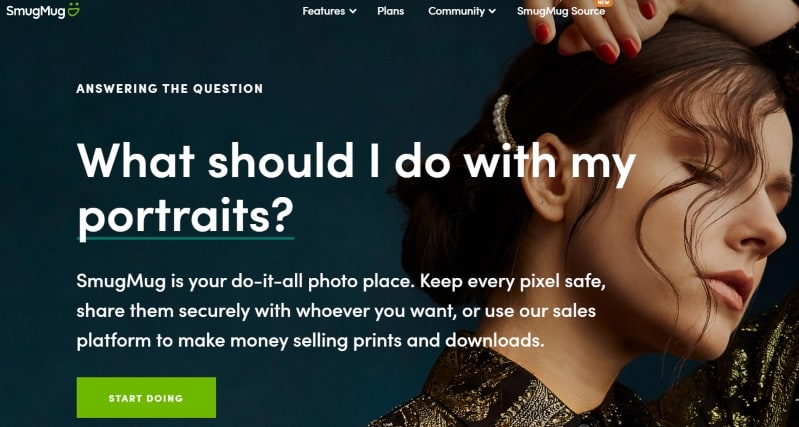 SmugMug is another photo-selling platform that works out of the ordinary:
You'll have to introduce your brand portfolio digitally and allow users to share your work on Social Media.
Choosing SmugMug to sell your photos guarantees commissions of up to 85%.
However, joining the site comes at a price – there is a monthly subscription fee all photographers have to pay.
Going through the 14-day free trial will help you decide if SmugMug is the most suitable platform for your business of selling images.
9) CanStock Photo
Currently, CanStock Photo works via Speed Submit System.
That system helps photographers instantly attach releases to plenty of photos.
Believe it or not, the website will let you upload a text file that contains all your images.
Can you imagine how much time that will save you?
One-time purchases will bring you between $1-$2.50.
10) 123RF
Unless you're at least 18 years old, you won't be able to become a contributor to 123RF.
But if you're, selling photos on the site will bring you commissions of up to 60%.
Also, 123RF welcomes not just photos, but illustrations and video content as well.
Larger resolutions tend to go at a higher price.
11) Photocase
If we talk about size, Photocase is probably the smallest site of all the best places to sell photos online.
Be that as it may, Photocase is still worth the effort:
Due to its point system, the website offers different opportunities for commissions:
Contributors earn between 20-50% commission on every sale.
12) Snapped4U

Do you love creating landscapes and still-life artworks?
Great, but you should try to sell them elsewhere – Snapped4U has an interest only in event and portrait photography.
In case that's the type of photos you love taking, consider offering them for sale on Snapped4U:
They'll charge you only a 10% fee on image sales of over $5 and $0.50 for sales of photos that cost less than $5.
13) Crestock
By all means, Grestock is one of the best places to sell photos online that will help you make money passively.
The easiest way to build your portfolio faster on Grestock is to upload tons of images at the same time.
Once the editorial team approves them, clients will be able to begin purchasing them.
Creating an account on Crestock is free.
14) PhotoShelter
First and foremost, PhotoShelter is not exactly a platform where you can exchange your images for cash.
No, the site is an online store you can use to sell prints to customers.
Working with PhotoShelter comes at a price:
Currently, you have to pay for space on the platform before you have the chance to upload a single image.
15) TourPhotos
Unless you're a photographer who specializes in taking travel images, TourPhotos is not for you.
But if you're, I suggest seriously considering the platform:
These days, many travel agencies use the site to upload images of exciting trips.
As a travel photographer, you should do the same!
16) Best Places To Sell Photos Online – Twenty20
Not that long ago, Twenty20 was primarily a professional tool many photographers were using to sell their images to brands on Instagram.
Well, not anymore:
Today, Twenty20 is a stock photography website anyone can join to sell images online.
Expect to earn $2 per image licensed, cash prizes from challenges, and 100% commissions from brands that will hire you for shoots.
17) CrowdPhoto
Prepare to work on assignments if you want to take advantage of CrowdPhoto:
More often than not, companies post requirements for specific images on CrowdPhoto.
All you need to do is pick an assignment, complete it, upload the image, and wait for the approval.
In case you get it, you'll receive 20 Euros via PayPal.
18) Animals Animals
Basically, the name of the next platform I'll discuss gives it all away:
Animals Animals is a stock photography agency that pays for all kinds of animal images.
Photographers who are able to submit high-quality content will see their work on the platform.
They'll receive a 50% commission on every sale
19) Stockfresh

Stockfresh is one of the smallest marketplaces among all the best places to sell photos online.
Be that as it may, working with it is not a bad idea:
Contributors get their earnings via PayPal or Skrill.
Both images and vector illustrations will find a place on the website.
20) Sell Photos Online On Your Own Website
Say what you will, but a custom website will always be on the top of all lists of best places to sell photos online.
Launching a blog that is all about selling stock images has tons of advantages.
For example, you don't have to pay any fees every time you sell an image. Furthermore, you have all the creative control you might need as an owner.
Get top-notch hosting with SiteGround and build your website today.
More Best Places To Sell Photos Online
Stocksy: Stocksy will pay you up to 75% commission. However, it won't allow you to sell your images elsewhere.
Instaproofs: Unless you pay to become a member, Instaproofs will charge you a 12% fee on all your sales.
Fotomoto: Generally, Fotomoto is not a platform where you can sell photos. Instead, the site will let you sell images through its own widget.
Pexels: Unfortunately, there is no guarantee you'll earn from uploading photos on Pexels – you only make money if the customer donates some for you.
Pixabay: Pixabay works similarly to Pexels.
CafePress: Actually, CafePress will suit you better if you decide to sell graphic designs instead of images.
MorePhotos: Feel free to sell both photos and prints on MorePhotos – you can do that after you start paying the monthly subscription fee ($30).
EyeEm: EyeEm will market your photos to online galleries – you get to earn a 50% commission on each sale.
Zenfolio: Many people use Zenfolio to build an online shop to sell videos and photos online.
Etsy: Etsy will let you sell your photos via digital download and print.
Foap: Foap is a mobile app that will let you upload and sell photos.
500PX: Start uploading smartphone photos on 500PX to earn commissions of up to 60%.
Deposit Photos: Deposit Photos buys stock images, videos, illustrations, and even backgrounds.
GuruShots: Here, photographers compete for prizes of up to $300.
Fine Art America: FAA will make you money if you sell images as prints.
Best Places To Sell Photos Online – My Closing
Nowadays, the opportunities to make money by selling images online are countless.
Once you pick a platform to work with, the earning process will begin.
If you ask me, you should do that sooner rather than later.
With that said, I'm open to any questions you might have on this topic.
Share with me anything you want, and I'll get back to you the first chance I get.
More Money-Making Ideas From Cash Embrace: