Best Passive Income Ideas: 20 Streams To Earn Money Passively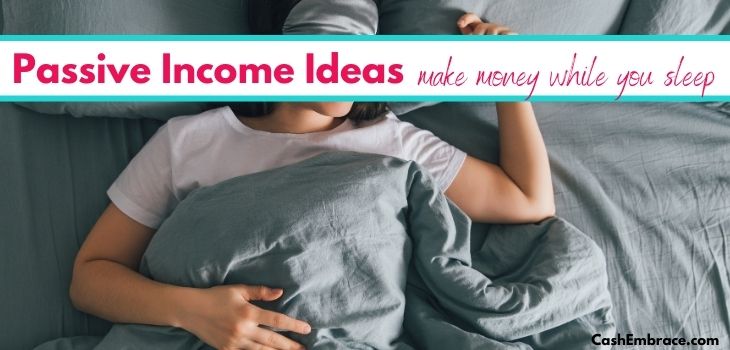 Before you start looking into the best passive incomeideas, you need to know what passive income is first.
Apparently, most people still misunderstand the term.
They focus on the last part of the equation, and that's the making money while you sleep piece.
Yes, that's a part of it. Without a doubt, the most important one.
But there is an ongoing process until you get there.
Any income stream requires an upfront investment until it becomes completely passive.
Whether that's money, time, or both, you have to put in the effort. And keep putting it for quite some time.
When you work hard on building and maintaining a cash source, it will become a source of passive income eventually.
It all comes down to doing the work now and keep getting money out of it over and over again.
Currently, there are hundreds of best passive income ideas2021 types of articles available online.
What I plan to do today is show you the passive income streams that really work.
This post contains affiliate links. Here is my affiliate disclosure.
Best Passive Income Ideas:
What Is Passive Income?
It's easy to see why the term fascinates so many people, and they are eager to learn more about it.
With everything that's going on worldwide nowadays, having a passive income stream will give you much-needed financial security.
So, what is passive income explained in the most simple terms?
Like I said earlier, passive income is when you invest time/money into an idea, and later on, that idea starts bringing you cash repeatedly.
If you do everything right, your new passive income source won't require a lot of effort from you to maintain it.
While some additional work may take place from time to time, you'll earn pretty much on autopilot.
Does this shed enough light on the fascination factor?
It should. After all, having multiple passive income streams is how you'll reach financial independence and stability.
Here is a simple example of how powerful passive income is and how much of a difference it will make in your life:
You'll be able to expand your dream vacation for as long as you feel like it. What could possibly force you to leave when you don't have to?
Not to mention, living a worry-free lifestyle is the ultimate dream.
All that sounds amazing, but how do you make it happen?
Furthermore, do you really need more than one stream of passive income?
Let's talk about that before we move on to the best passive income ideas, shall we?
Why You Need Multiple Passive Income Streams?
Because a clever person would never put all eggs in one basket.
Chances are, you have heard this saying many times before, and it does apply to passive income as well.
Just think about it:
In a time when the world economy is pretty shaken, to say at least, wouldn't money without actively working for it do the trick?
Whether your residual income comes from dividends, renting properties, or any other idea we'll discuss shortly, you don't have to go out to get it.
And that's the whole point of building passive income streams in the first place.
But let's focus back on the question.
You may wonder, why do I need more than one source of passive income? Likewise, if my passive project is as great as it sounds, shouldn't just one stream be enough?
To sum up, no.
Honestly, you should try and build as many passive income streams as you possibly can, in my opinion.
At the end of the way, you never know which section of the economy might go terribly wrong.
Take Airbnb, for example. Its business model worked impressively well for years.
Not so much right now, though.
Don't get me wrong, making money passively by renting is still one of the best ways to build passive income.
However, inviting people into your own home in exchange for money when we all have to keep our distance is just a no-no.
The bottom line is, the more passive income streams you can count on, the better.
Now, how many passive income streams should you have?
Well, that's the one question I can't answer for you.
You'll have to figure it out on your own.
Depending on how much time you have to spare, you'll be able to come up with a manageable number, I believe!
Smart Passive Income Ideas In 2021 – Start Building Wealth Today
OK, let's begin with the passive income streams that will allow you to make money while you sleep.
Again, all of them will take time until you start seeing a real payoff for your efforts.
With that said, here is my list of best passive income ideas to consider:
1) Dividend Stocks
I know – I'm starting this article with an area many of you are probably unfamiliar with.
Be that as it may, investing in dividend stocks is one of the oldest ways to build a passive income stream.
There are a couple of things you need to know before you dive into this field.
Firstly, take plenty of time to do your research. Once you begin asking for advice, you'll hear plenty of opinions. Don't start investing until you feel confident that you know what you're doing.
Secondly, the bigger amount you're able to invest, the larger your dividend checks will be. It's just the way it is.
Lastly, you have to open an account on the best online brokerage you can find.
I'm not going to make a recommendation regarding which stocks you should invest in.
Even though I'm interested in this market, it's somewhat new to me, and I'm still finding my way around it.
Subsequently, I'm not an expert on the topic yet – do your own research!
2) Rental Income
The next of the best passive income ideas is the rental income.
Keep in mind – this strategy requires tons of work and money.
Not to mention – a deeper understanding and knowledge of the topic.
If that's OK with you, here is what you need to figure out before you begin:
What is the total cost and expenses of the property you're interested in?
How big are the risks of owning that property?
Ultimately, what return of your investment you're looking at?
These are not easy questions to deal with.
But you shouldn't move forward with this passive income stream unless you have the answers.
And these answers better be extremely well calculated.
Otherwise, you can lose your entire investment.
3) Fixing And Renting Property
Somewhat similar to the previous idea, fixing and renting properties comes with its own challenges.
Let's discuss what you're facing here, shall we?
Basically, we're talking about house flipping without the selling part.
As you already know, house flipping is when you buy a house in not very good condition, fix it, and sell it for a profit.
By all means, this is a smart approach to building a passive income. At least, it used to be.
Due to the economic situation around the world currently, putting a property for sale is not the most profitable move you can make.
However, renting it most definitely is.
While most people will think twice before buying a house now, renting one is a different game.
There are always people looking for a place to stay, so why not take advantage of that?
Find a property that could use some repair, fix it, and rent it for a decent price.
Making money this way will build you a substantial stream of passive income.
Plus, you can always sell that property when the market recovers if that's your end goal.
4) List Your Home For A Short-Term Rent
Apparently, I still have something to say on the subject of renting!
How do you feel about renting your home?
If you're planning to be out of town for a few months or you're going on a long vacation, I'll say go for it.
After all, you won't be using it for a while.
Then, is there a reason not to earn passive income from somebody else who will?
Nowadays, numerous websites that will assist you with that.
You're in a position to set the rental terms yourself since it's your home.
Yes, not everyone is fond of the idea of strangers living in their house. Also, there is the risk of tenants being careless with your furniture.
But if you're ready to take on that risk, renting your home is a great opportunity to earn money passively.
5) Lending Money To Others (Peer-To-Peer Lending)
In the interest of full disclosure, this money-making idea is not entirely a passive one.
Still, it's too good not to have a place on my list.
Lending money to others will earn you an income in the form of interest.
Using peer-to-peer lending sites will connect you with people who are willing to pay you the interest rate you'll agree upon.
The way it works is pretty straightforward – you lend the cash to a person in need, and the site will collect the payment.
This way, you'll lower the risk of losing your money to people who are late or even trying to escape to pay you back altogether.
Usually, participating in peer-to-peer lending will bring up to a 10% return on your investment.
With that said, there is a risk factor here that you need to consider.
6) Build Passive Income As A Silent Business Partner
Seriously, how many of you have even thought about that?
If I have to guess, not too many.
Even though it's not hugely popular, becoming a silent partner in a business is one of the best passive income ideas ever.
There is no lending money to a business here.
Instead, you'll be buying a share in already an created business.
Is there a part of that you don't like?
You don't have to do any of the work that goes into creating a business from zero.
Meanwhile, you'll receive a percentage of that business's profits.
On top of that, your investment is protected by the assets of the company.
Research the sites that will introduce you to businesses looking for silent partners – there are plenty of those online.
A piece of advice – check the numbers well before getting into this passive income idea.
Everything that will lower the risk and your financial exposure is worth the effort!
7) Start A Blog
I highly doubt that starting a blog doesn't exist in every article about the best passive income ideas.
In case it doesn't – it should.
Blogging works. No matter how hard the naysayers are trying to convince you otherwise.
While it takes a long time to start earning a full-time income, the effort will be worth it in the end.
Some people are making their websites work sooner than others – you shouldn't trouble your mind with that.
Reaching blogging success faster depends on how much time you can commit to your site and how hard you're working on it.
Now, blogging is the perfect online career for anyone who is dreaming of a flexible schedule on their own terms.
But what about the passive side of blogging?
Well, transforming your blog into a passive income machine can happen in many ways.
The most common ones are using affiliate marketing, displaying ads, and selling your own digital products.
If you haven't started a blog yet, I highly recommend BigScoots for your hosting service.
This company will take care of all your hosting needs and then some. Their customer support is outstanding, and it's just one of the many reasons why BigScoots is the number one choice for millions of bloggers.
8) Affiliate Marketing
Finally, the one passive income stream I'm the fondest of!
Affiliate marketing is the best way to make money online, in my opinion. Especially if you're just starting to work from home.
This business model is newbie-friendly, and it's a perfect way for brand new bloggers to monetize their sites.
To sum up, affiliate marketing is a process where you recommend products to your readers.
As soon as a person completes a purchase through your affiliate link, you'll earn a commission.
Getting lots of targeted traffic to your offers will increase your chance of making affiliate sales.
And so will affiliate marketing tools like this one.
Once your traffic is stable and you don't have to work actively on it, you'll see how affiliate marketing is earning you money passively.
I mean, you'll wake up to emails letting you know that you've made affiliate commissions while you were sleeping!
That's what passive income is supposed to be about, remember?
Related Read:
9) Make Money On Pinterest
Until we are still talking about affiliate marketing, let's discuss implementing it on Pinterest.
Pinterest is a search engine – don't let its visual aspect fool you into thinking that it's Social Media.
Uploading pins is how users will discover your content.
With that said, you don't even have to start a blog to earn passive income on Pinterest.
No, you just need to create click-worthy affiliate pins.
An affiliate pin is a graphic that leads the reader to an affiliate offer instead of a blog post.
Choose valuable products, design pins that will get you the click, and you'll start earning affiliate commissions.
Since you already know how affiliate sales become a passive income, I won't repeat that info.
Instead, let me mention that earning an income on Pinterest is a semi-passive idea.
You'll still need to do to some work to keep the commissions coming in – creating new pins, optimizing your boards, etc.
10) Creating And Selling Digital Products
Quite frankly, this is one of the most lucrative passive income ideas.
Selling your own products will put you in the position to get the whole amount of money for yourself.
Ultimately, you won't have to rely on commissions alone.
Creating an informational product doesn't have to be a daunting task.
Keep your blood pressure down – there are plenty of tools you can use to make the process easier.
For example, Canva is a platform that will let you create an eBook in PDF format.
It's not as good as Sqribble, but at least it's free of charge.
If you feel confident that you have enough knowledge for a whole online course, I'll suggest looking into Podia.
Podia is a platform that will help you market and sell multiple digital products – digital downloads, courses, webinars, and even memberships.
It offers marketing tools, support and even has a free trial.
But what if you enjoy the idea of creating digital products, but you don't know how to do that?
Then, I would say to get familiar with ClickBank University.
This is a huge online course itself that will teach you how to become a best-selling vendor.
11) Create An App
OK, this passive income stream is only suitable for people with tech skills.
Are you one of them? Great, you better get to work on your app, starting today.
Coming up with an app requires money and time investment.
However, if you have a good idea and you're excellent with its execution, it's worth the risk.
One of the best things about building an app is that the market is huge. There is plenty of space, and you'll be able to conquer it if your app attracts a large crowd.
On the downside, there a lot of details you'll need to consider.
For example, if your app collects user data, you have to make sure that it's compliant with the privacy laws. And these laws are not the same everywhere.
Also, there is additional work you'll have to do to make sure your app will keep its relevance.
12) Write And Sell eBooks
Relax, no one expects you to write something that will be of better quality than the Harry Potter books!
Even if you're not a best-selling author material, you'll still be able to earn money from your writing.
These days, self-publishing is one of the hottest fields you can get into.
Contrary to the popular belief, publishing a book is not as difficult as you may think.
First thing first, you need to write and edit your eBook. Giving it a professional cover and overall look is a must if you want your product to sell well.
Again, my advice is to get Sqribble. This is a pro tool that will allow you to create amazing eBooks in minutes.
When your book is ready to roll, you can upload it to platforms like Amazon Kindle Direct Publishing.
Don't just sit and wait for the sales to happen – some serious marketing efforts are required to promote your books further.
Once they start moving, you'll understand what passive income from royalties means!
Pro Tip – you might want to invest in K Money Mastery. This course is more than cheap, and it will teach you everything about making money with Kindle Publishing.
13) Sell Stock Photos Online
With all this talk about creating apps, courses, and eBooks, some of you might feel a bit overwhelmed.
What about selling images then?
Here is one passive income idea that is way easier than the rest on my list!
Bloggers, business owners, and online magazines need high-quality images for their content.
Rest assured, there will always be people looking to buy photos.
There are a couple of ways to monetize your photography skills.
One of them is to start a blog and sell photos directly on it. Expanding your reach further by running promotional offers can do wonders for your new business.
And the other option is to sell your stock photos to sites like iStock or Deposit Photos, to name a few.
Before you ask the question, let me answer it – selling photos will take time until it becomes passive source of income.
Still, it's worth the effort – is there a reason not to allow your skills to make you money passively?
14) Rent Your Car
This passive income stream is such a no-brainer.
If you own a car, use it to the best of your abilities.
Driving a car is its most obvious purpose – nothing passive about it, though.
It's a whole different ball game with renting.
Companies like Turo will allow you to list your car for rent.
The process takes minutes, you'll set your daily price, and you'll decide if you'll offer discounts for longer trips.
What I like about Turo is that it protects your car from damages.
Plus, the company takes care of customer support and road assistance.
So, if you have a car that you don't use that much, renting it will be one of the best passive income ideas for you.
You'll earn over 70% of every trip, and you'll get the money directly in your PayPal account.
15) Advertise On Your Car
Since we're already talking about cars, let's take the conversation a bit further.
Maybe renting will not work for you right now, for whatever reasons.
Why not advertise on your vehicle instead?
You get to keep using it, and you'll earn passive income in the process.
To make this happen, you'll need to contact a specialized advertising agency first.
That agency will get familiar with your driving habits, and it will decide if you're a good fit for the job.
Once you get approval, the agency will wrap your car with ads – you're not paying anything for that.
Having a clean driving record and a car in excellent condition is recommended.
16) Dropshipping
Moving back to the big league, it's time to talk about dropshipping.
Dropshipping is a legitimate business model that currently is hotter than ever.
With most shopping happening online these days, not tapping into the industry is a ditsy move.
For those who don't know, dropshipping is a business where you resell products for a higher price.
Just think about it, what's not to love here?
Most of the hard work is not any of your concern – you don't create the products, and you don't ship them either.
No, you'll just have to focus on finding the best products for your audience and increasing that audience as much as possible.
Ultimately, you can start this business with zero investment.
Shopify is the platform I always recommend to my readers.
It's the number one platform for creating an online store, and it offers all the help and support you may need.
There is a free trial – you don't have to pay anything at all to build your kick-ass online shop today!
17) Sell Digital Files On Etsy
As someone who already has one developed online business, one may wonder – do I really need a second one?
While that's a valid question, I didn't lose too much time thinking about it.
No, I just jumped on Etsy and started a second business there.
Why wouldn't I?
Etsy is too good of an option to make money online.
Especially if you plan to sell digital downloads.
Calendars, planners, weight loss challenges – I'll leave the decision to you.
Creating digital files is not as complicated as you may think if you've never done that.
There are plenty of detailed tutorials on YouTube that will teach you.
And considering you'll do the work once and you'll earn money over and over again, it's a passive income stream in its purest form.
18) Start Print-On-Demand Business
How do you feel about creating designs, placing them on items, and selling them online?
Yay or nay?
Hopefully, it's the first one.
Because starting a print-on-demand business is as profitable as ever.
Say what you will, but you can't deny that it's one of the best passive income ideas today.
Considering you'll do the design once and you'll sell it repeatedly, I would say yes – it's a passive income stream.
Some of the best-selling items you should look into are T-shirts, coffee mugs, and magnets.
Actually, there is a market for almost any item you would like to sell.
As long as your designs are professional-looking and attractive, they'll find an audience.
19) Start A YouTube Channel
What can I say about that you don't already know?
Is there someone who is not aware of how lucrative a YouTube channel can be?
I highly doubt that.
Furthermore, do I have to comment on the passive side of this work?
Once your videos manage to gather a huge crowd, you'll able to monetize them with ads.
Your videos are ready, and people will keep watch them over and over. A new audience will discover them in time as well.
Do you want to miss such an opportunity?
If you don't, I wouldn't mind if you skip the rest of this article for the sake of filming your first video!
20) Podcasting
The idea that you have to be famous or have a well-established podcast to make money is plainly wrong.
It might be hard to believe, but even small podcasts can earn money for their creators.
To clarify, a podcast is a digital audio file Internet users can download to listen.
As expected, it takes time to grow a large fanbase of devoted listeners.
However, when you do, you'll be in a position to monetize your voice work.
You'll need thousands of subscribers before you're able to monetize your podcast.
Earning passive income will happen through affiliate marketing, selling your products, and advertising.
My Closing
This is it for today – my list of best passive income ideas is at its natural end.
Of course, there are plenty of other ways to make money without actively working.
Maybe you would like to share with me your favorite ones?
I'll keep an eye on the comments section below.
If you decide to drop a comment, I won't leave it hanging!