20 High Paying Online Jobs That Pay Well: Earn At Least $3K/M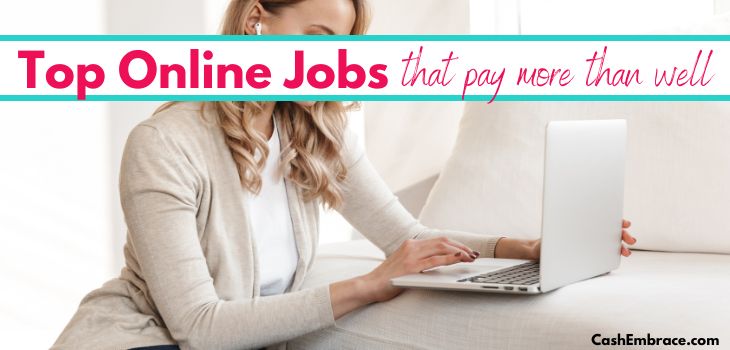 What's the point of reading about the best high paying online jobs these days?
If you have a full-time job that pays enough, why should you research a legit work-at-home job that pays equally well?
Actually, there is more than one point to looking into the highest-paying online jobs available right now:
An online job that can replace your current full-time occupation offers many advantages and perks.
Working from home will allow you to wake up when you want, work for as long as you wish, and do whatever you want to do in the meantime.
Getting a remote job for lazy people will let you earn without feeling guilty that you're not the hardest working individual on the planet.
And going after an odd job that brings in big bucks doesn't have to be something you'll need to justify to anyone – if you like weird, then do weird!
Plus, if your most sacred dream is to work from anywhere in the world imaginable, you can make money while getting paid to travel.
Most importantly, even some available online jobs for beginners will allow you to make money while you sleep – yes, I'm talking about passive income streams.
Is all that persuasive enough to unleash your desire to become an online worker?
Hopefully, it is because I have a whole list of the top-paying online jobs you can start doing from home.
This post contains affiliate links – check my affiliate disclosure.
Recommended Read:
Top Paying Online Jobs For Beginners
Let me clarify something before we go any further:
There is no need to quit your full-time job if you decide to do any of the online jobs you'll see below. At first, you can start the online job you like as a side hustle you do in your spare time.
Also, the high paying online jobs you'll find below are suitable for people of all ages. Whether you're a student, housewife, or stay-at-home mom, the choices I have for you will suit your abilities and needs.
1) Social Media Manager
Assuming most of you spend lots of time on Social Media daily, becoming a professional social media manager doesn't seem too far-fetched.
Nowadays, millions of online business owners, companies, and corporations hire social media managers to increase brand awareness on many networks. Social media managers work to build the online presence of their employers.
You'll have to do different tasks as an SMM. For example, social media managers develop marketing strategies, and graphic design, engage with the audience, and run ad campaigns.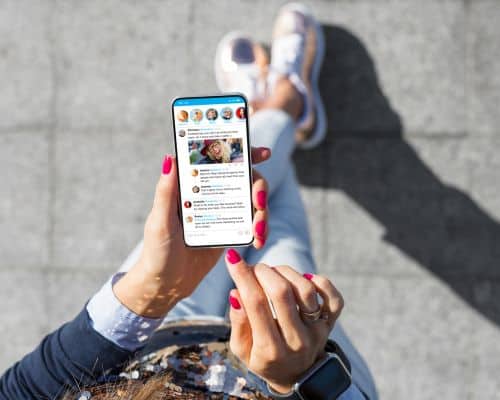 Of course, your responsibilities as a social media manager will differ depending on the specific needs of the business that will hire you.
Overall, think of social media managers as professionals that create a brand's identity and community of loyal fans and followers.
Becoming a social media manager is an excellent idea since the job offers flexible hours and the opportunity to develop a skill set you can use to secure a better-paying working position later.
Social Media-Related Content:
2) Freelance Writer
| | |
| --- | --- |
| Job Description | Freelance writers create content, such as blog posts, magazine articles, press releases, newsletters, etc. |
| Hourly Rate | According to Payscale, the average hourly rate for freelance writers is $25 |
| Where to start | Refresh your writing skills or develop professional ones by taking the My Freelance Paycheck course |
Quite frankly, freelance writing is one of the most popular work-at-home jobs nowadays.
Even if you have no writing experience or background, you can become a professional freelance writer in a short time. The job is for anyone who enjoys writing and wants to earn a living from home.
With that said, the freelance writing field is a saturated market. Considering thousands of people attempt to find a paying writing gig, you should prepare to face stiff competition.
However, that doesn't mean you won't be able to earn a full-time living as a writer. On the contrary – there are more than enough writing opportunities for people who want to get paid to write.
Once you decide to work as a writer, visit the websites that hire content creators. Plus, some online magazines will pay you over $1,000 for a single article.
As I've already mentioned, My Freelance Paycheck course will turn you into a professional writer in weeks. This online training will help you earn at least $3,000 monthly from writing (read the full review).
3) Virtual Assistant 
By all means, virtual assistance should be on the top of your list of high paying online jobs to go after right now:
The virtual assistance field experiences rapid growth all the time. It's a fact that professional virtual assistants are some of the most in-demand workers these days.
Now, a virtual assistant is a person who does a wide variety of tasks from a remote location. These tasks can be different services businesses require from a VA to run their operations smoothly.
A virtual assistant can offer blogging, social media, financial, eCommerce, general admin, and other services. Your responsibilities will depend on the niche you'll choose to work in as a VA.
Popular VA services range from making appointments, scheduling posts, and moderating comments to data entry tasks and tracking orders.
I recommend taking the Horkey Hand Book VA Training – it comes from Gina Horkey, and she is a household name in the VA field. Gina will teach you everything you need to know to book lucrative VA jobs fast.
4) Transcriber
| | |
| --- | --- |
| Job Description | Transcribers convert files from one type to another |
| Hourly Rate | $15-$30 |
| Where To Start | GoTranscript is a company that will give you a transcription job and train you at the same time |
First and foremost, transcription is one of the easiest high paying online jobs you can get today. That's why this remote occupation is perfect for beginners with no experience in the transcription field.
To clarify, transcription is the process of converting files. More specifically, transcribers convert audio or video files into written text.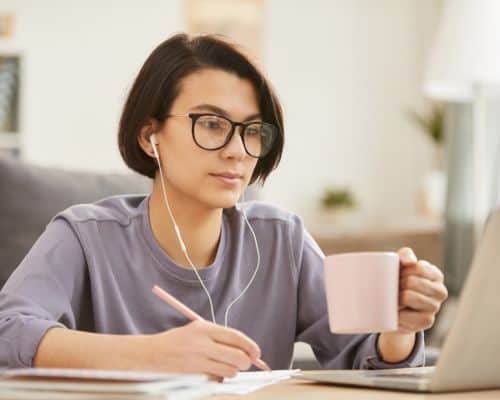 Doing the job requires fast typing speed and attention to detail. Considering transcribers get paid per page, it goes without saying that the faster you type, the more money you can earn.
While a transcription job might not be the most exciting position you can get, it has advantages, such as the ability to earn a full-time income from home and flexible hours.
GoTranscript is one of the most well-known and established platforms that hire first-time transcribers. That company has been hiring transcribers and assisting them with improving their skills for over 20 years (read the full GoTranscript review).
5) Offer Services On Fiverr
| | |
| --- | --- |
| Job Description | A Fiverr freelancer is a person who gets paid to perform specific services |
| Hourly Rate | There is no hourly rate on Fiverr – you can set your own |
| Where To Start | Join Fiverr by creating a free account |
Quite frankly, those of you familiar with Fiverr might wonder why I include it in this article:
After all, most people offer services on Fiverr that cost the client around $5. Earning such an amount of money doesn't qualify as a well-paying job.
Be that as it may, becoming a Fiverr freelancer is still worth the effort. And that's because you can set a pay rate way higher than $5.
Take a good look at the services people offer on Fiverr. Once you do that, you'll see that you can earn more than well on the platform.
For instance, offering website design and development services will bring you between $15-$95. Creating custom logos will earn you around $40 on average.
Since Fiverr is a giant online marketplace where you can offer almost all kinds of services, the income opportunities are endless.
Become a Fiverr seller as soon as you decide what services to offer – creating an account is free of charge.
6) Sell Feet Pics
Generally speaking, selling feet pics online is not for everyone. I'm sure some people won't be comfortable doing such a job.
But if you're not one of them, offering images of your feet for sale is a money-making opportunity that is worth the try:
Many feet pic sellers earn over $2,000 a month. Those who offer videos on top of feet photos make even more money.
You'll need to be at least 18 years old to become a feet pic seller. Also, the country you live in must consider selling foot images as a legal way to make money online.
Designers, advertisers, modeling agencies, stock photo websites, and other brands constantly pay for high-quality feet images. They'll be your customers!
Believe it or not, some feet pic sellers make over $500 for a single image. Get familiar with the best apps to sell feet pics before you join the market.
Related Read:
7) Get Paid To Chat
For starters, chat jobs are on my list of high paying online jobs for a simple reason:
Above all, we all know how to chat. Furthermore, most online chat jobs available don't require extensive experience to earn well.
With that said, whether you'll be able to make money chatting online as a beginner depends on the field you'll choose to work in as a chat operator.
Doing chat service jobs require a certain amount of knowledge and expertise. But companies like Apple will hire you even if you don't have experience with the brand's products.
Platforms like Phrendly and FlirtBucks will let you earn by chatting with strangers. Chat Recruit pays up to $2 per chat minute – you can make $60 for half an hour of work.
Chatting with people and helping them to earn a language is another opportunity to consider. Cambly will hire you to do that even if you don't have a Bachelor's Degree in English.
8) Sexting Online Jobs
| | |
| --- | --- |
| Job Description | Earn money sexting with strangers online |
| Hourly Rate | $50-$200 |
| Where To Start | Read everything there is to know about making money sexting online |
I'm well aware that not everyone wants to earn a living by sexting online. Such a job might be the perfect fit for some personalities but not for others.
Assuming many of you won't mind making money sexting, let me tell you why going in that direction work-wise is worth the effort: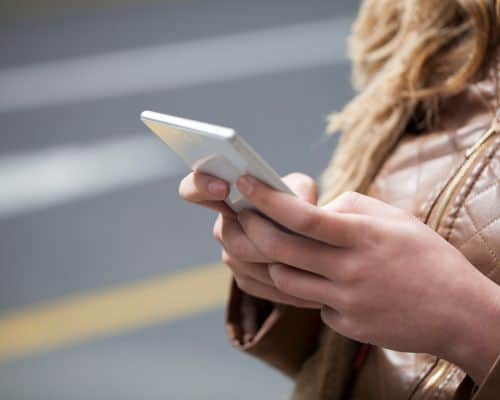 Firstly, your sexting activities will happen in a strictly controlled environment. In other words, you don't have to worry about being pressured to do more than what you're willing to do.
Secondly, you don't have to reveal your identity if you don't want to. Also, sexting for money doesn't entail going on physical dates, so you won't have to meet clients in person.
Lastly, sexting can be a source of extra income or a full-time job – you're the one to choose the number of working hours. On average, you'll earn around $0.50 per sext.
Online Jobs That Pay Well With No Experience
9) Blogger
| | |
| --- | --- |
| Job Description | Write, publish, and monetize blog articles |
| Hourly Rate | There is no hourly rate for blogging |
| Where To Start | Learn all about SEO and blogging for money |
Think what you will, but blogging is still one of the best high paying online jobs you can start today. Contrary to popular opinion, making money blogging is far from dead.
Nearly 2 million blog posts are being published on the web each day. Likewise, it's safe to say that millions of people try to earn money from their sites.
Are you wondering if blogging is the right fit for you? I can tell you that it is if you love writing about things you like and don't mind the learning curve.
Turning a new blog into a profitable business takes time, so don't expect thousands of dollars in income overnight.
Once you learn how to SEO optimize your post, your blog will start getting organic traffic. You can monetize that traffic in many ways, such as affiliate marketing, ad placement, and sponsored posts.
Anyone can start a blog without spending much. BigScoots offers cheap hosting plans, and the company's customer service is outstanding.
10) Affiliate Marketer
| | |
| --- | --- |
| Job Description | Promoting products and services for a commission |
| Hourly Rate | Earnings depend on commission rates |
| Where To Start | Get professional affiliate marketing training (this one is free) |
Speaking of affiliate marketing, becoming an affiliate marketer is a clever career path for many people.
Launching an affiliate marketing business has low start-up costs. Plus, there are plenty of affiliate programs to promote in any niche.
Affiliate marketing is a business that requires promoting products without creating them. You'll earn a commission each time a person buys something through your affiliate link.
These days, many affiliate marketers earn four or even five figures a month from affiliate commissions alone. The affiliate marketing business model is perfect for beginners since you can learn it as you go.
Now, you shouldn't start an affiliate marketing business before you master the basic of the model. You can do that inside Wealthy Affiliate – an online training platform you can join for free.
Related: How To Do Affiliate Marketing On Pinterest
11) An eBook Author
| | |
| --- | --- |
| Job Description | Creating, marketing, and selling eBooks online |
| Hourly Rate: | Income depends on eBooks sales |
| Where To Start | Learn how to create your first eBook (YouTube, Google) |
First and foremost, you don't have to be an accomplished writer to become a well-earning eBook author. Thinking that you need the talent to be the next J.K. Rolling is a common misconception that holds people back.
Do you know you can sell eBooks on Amazon and make thousands of dollars each month? Here is how to do that:
Create your first eBook. If you need any help through the process, consider using tools like Sqribble. Sqribble will assist you with creating stunning and professionally looking eBooks faster than you can imagine.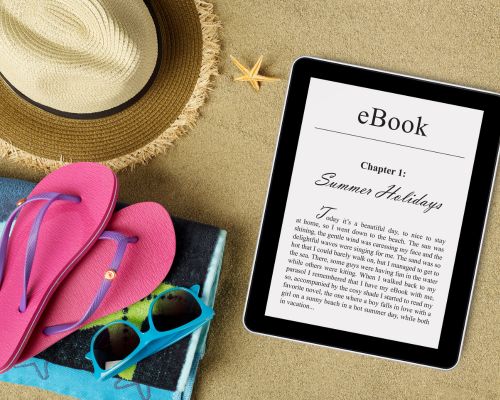 Upload your Ebook on Amazon and try to get people to review it. Getting reviews on your eBook will help your product to appear higher in the platform's search engine.
Your eBook will sell well if it solves a problem people have, so keep that in mind before you begin the writing process.
It's worth mentioning that selling eBooks is an excellent way to create passive income.
Related: 23 Ways To Make Money On Amazon
12) Graphic Designer
| | |
| --- | --- |
| Job Description | Graphic designers create imagery concepts and visual texts |
| Hourly Rate | $25-$150 |
| Where To Start | Become familiar with graphic design software |
Next on my list of high paying online jobs that don't require experience is the graphic designer occupation.
Why am I saying you don't need the experience to work as a graphic designer? Shouldn't you have at least some expertise in the industry?
Well, graphic design is a field you can quickly master if you put in the time and effort to learn its basics. There is no need to have an art degree to start earning money by offering graphic design services.
Google and YouTube will give you access to learning materials about graphic design. Go through them to get familiar with the job, then begin practicing your skills.
Most tools you'll need for graphic design projects will cost you little to no money. Check Canva if you want a free tool for creating professional graphic designs.
13) Voice-Over Artist
We'll continue this list of high paying online jobs with voice-acting positions. And before you skip this paragraph, let me say why you should read it:
Voice acting is not the kind of job only celebrities can do anymore. Ordinary people get paid to do voiceovers as well these days.
Make no mistake – the market for voiceover is bigger than ever. TV shows, trailers, video games, and audiobooks are some of the fields that constantly hire voice actors.
Now, having a nice-sounding voice is not enough to build a long and profitable career as a voice artist. While you don't need a degree to book voice-over jobs, you'll have to display other skills and abilities.
As a voice actor, you have to be able to record scripts and deliver lines with tons and inflections to create a memorable performance.
Doing voiceovers for money is a great career path since the job offers lucrative pay and flexible hours. I recommend giving a chance to the Online School For Voice-Over – the training will polish your skills and prepare you for the demands of the voice-acting market.
14) Online Friend
For starters, anyone can become a virtual friend as soon as today. Online friendship is the kind of job that will work for anybody who wants to do it.
Basically, online friends are people who offer their friendship to strangers for a price. Each of your interactions as such a friend will happen online – you'll never have to meet your new friend in person.
Virtual friendship has nothing to do with online dating. Once you start working as an online friend, your duties will be chatting with people with similar interests.
Are you wondering what kind of people rent friends online? Well, these are usually individuals who look for suitable companionship and don't have it in real life.
Now, who should give online friendship a try? Is the job a perfect fit for anybody?
In my opinion, virtual friendship is a suitable side hustle for people with extroverted personalities who easily create connections in a new environment.
Highest Paying Online Jobs Without A Degree
15) Proofreader
Do you pride yourself as someone who always catches mistakes when reading? If you do, stop researching other high paying online jobs and focus on proofreading.
Proofreaders correct punctuation, grammar, and spelling errors in written content. That content might be website copy, college essays, and even legal transcripts.
Assuming you would like to work as a proofreader, the best way to start building a career in the field is by getting into the general proofreading market. Once you gain enough experience, you can redirect your attention to a specific proofreading niche.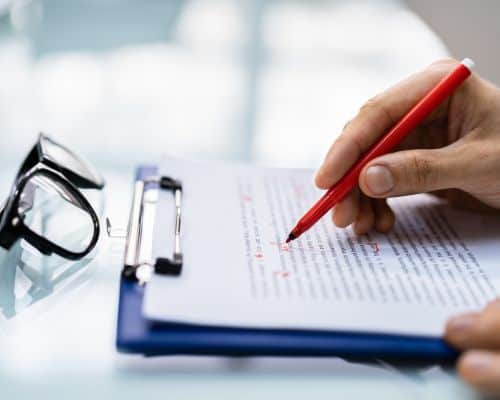 Working as a proofreader in one niche will allow you to become an expert in that field faster. And that is what you need to be to demand a higher hourly rate.
While you can practice proofreading on your own by reading content, getting a lucrative proofreading job entails professional skills. To develop such skills, you should sign up for proofreading training.
Such training is Caitlin Pyle's Proofread Anywhere course. It starts with a Free 76-minute proofreading workshop.
16) Scoping Jobs
Speaking of proofreading documents, it's time to introduce you to scoping. Scoping is an online job that requires editing legal documents for court reporters.
Yes, you read that right – nowadays, you can work for the court system entirely from home. One of the best things about scoping is that you can do the job as a self-employed freelancer.
To sum up, scopists are freelancers court reporters will hire to convert live information into a final script.
After a legal proceeding takes place, the court reporter sends a draft and audio recording to the scopist. Then the scopist will read the draft, listen to the audio file, and correct everything.
So, a scopist's job is to correct spelling and punctuation issues in legal documents. Also, a scopist must rework the formatting and fix mistranslated words.
By all means, you can't master the scoping job on your own. I recommend signing up for the FREE Internet Scoping School Course – that free training will provide you with top-notch scoping education.
17) Create An Online Course
| | |
| --- | --- |
| Job Description | Create and sell an online course online |
| Hourly Rate | Revenue depends on course sales |
| Where To Start | Learn how to create a professional online course |
Is there a specific area where you have tons of knowledge and expertise? Assuming there is, consider selling that knowledge to the online audience.
Creating and selling an online course is one of the best ways to build passive income. You'll do the work once and keep earning from it repeatedly.
Setting up an online course takes time and effort. Plus, marketing that course requires work as well.
But you don't have to go through the course creation process on your own. Look for in-depth tutorials on YouTube that offer assistance.
Before you start working on an online course, take enough time to evaluate the idea behind it. Your course must be helpful, easy to follow, and suitable for non-techie students.
List your online course for sale on platforms like Udemy and SkilShare.
18) Vlogger (YouTube Content Creator)
| | |
| --- | --- |
| Job Description | Upload and monetize video content on YouTube |
| Hourly Rate | Income depends on monetization strategies |
| Where To Start | Start a YouTube channel for free |
Speaking of YouTube tutorials, how do you feel about creating some yourself? Yes, I'm talking about starting a YouTube channel.
As you probably know, anyone can become a YouTube content creator for free – starting a YouTube channel won't cost you anything.
With that said, many people avoid developing a YouTube channel because they don't feel comfortable in front of a camera. However, that should not be a concern any longer: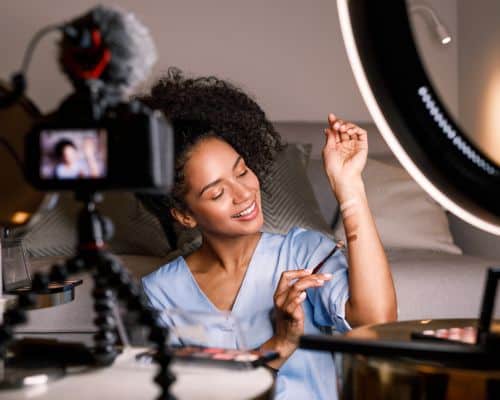 Tools like Speechelo will allow you to create professional videos without showing your face or using your voice. Speechelo lets its users turn text into speech, and the voices available are natural sounding.
YouTube will allow you to monetize your channel once you reach 1,000 subscribers and 4,000 hours of watch time.
Your YouTube channel will bring you income via Google AdSense (ad placement), sponsored content, affiliate marketing, and other monetization methods.
19) Dropshipping
Alright, it's time for my list of high paying online jobs to direct your attention to dropshipping. Dropshipping is a low-risk business model with incredible income potential.
For those who don't know, dropshipping is an order-fulfillment business model for selling products without keeping them in stock. When a customer buys a product from your online shop, a third-party supplier will ship it.
There are many advantages of dropshipping. For example, you don't have to deal with inventory or the shipping process. More importantly, dropshipping offers a high-profit margin with less work involved.
It's worth mentioning that dropshipping is a business you can start without any investment. Shopify will allow you to launch an online store without paying anything:
Take advantage of the Shopify free trial. That trial lasts for weeks, so you can test the waters without worrying about investing too much into your new business.
Research the trending products in your dropshipping niche while building your store. And find a trusted supplier to build a long and fruitful working relationship (I recommend SaleHoo).
High Paying Online Jobs That Require A Degree
20) Tutor
| | |
| --- | --- |
| Job Description | Teach different subjects to people online |
| Hourly Rate | $23-$40 |
| Where To Start | VIPKID (for English tutors) |
Before I go any further, let me clarify that not all tutoring jobs online require a degree. Still, most of them do.
Nowadays, teaching English online is one of the most popular ways to earn from home. You can teach English to both kids and adults at a time that is comfortable for you.
Many companies will pay you well to teach English online in your spare time. VIPKID is the top choice for most tutors searching for a freelance teaching position.
Now, you can teach different subjects than English. Other foreign languages, math, and science are topics thousands of people need to master.
If you decide to do homework for people, you can get paid to do that even if you don't have a degree.
Your hourly pay rate as a first-time tutor might be on the lower end, but it will increase once you gain more experience and establish yourself in your tutoring niche.
My Closing
Each of the high paying online jobs you see above is a great work-at-home option for most people.
Which one do you prefer?
Let me know in the comments section below!
More Ideas From Cash Embrace You Might Like: