95+ Apps That Pay You Real Money Fast (Some Instantly)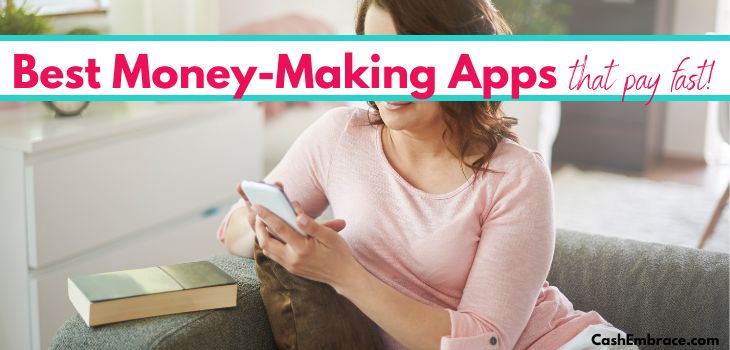 Looking into the best legit apps that pay you real money is a MUST if your mobile device can't catch a break almost 24/7.
Let's face it – we all spend more time on our phones than we're ready to admit aloud.
But that doesn't have to be a bad thing necessarily:
While you can always start a side hustle or find a new money-making hobby to increase your income, getting quick cash using mobile apps is just as good of an earning opportunity.
After all, turning your smartphone into an earning device is one of the best ways to get free money since it will feel like you earn while doing next to nothing.
In this article, I'll outline plenty of money-making apps anyone can download to earn real cash. And I'll place them in categories for your convenience so you can figure out which apps are the right fit for you.
This post may contain affiliate links – read my disclosure (it will only take a minute).
Recommended Read:
Legit Apps That Pay You Real Money Instantly
Hopefully, there is enough room in your day to carefully read the massive list of apps that is coming up.
Whether you're looking for a mobile app to get you a bit of extra cash each month or one that will allow you to invest, you'll find both below.
Choose wisely and watch your phone become the source of income it was meant to be!
Survey Apps: Apps That Pay You To Take Surveys
1) Swagbucks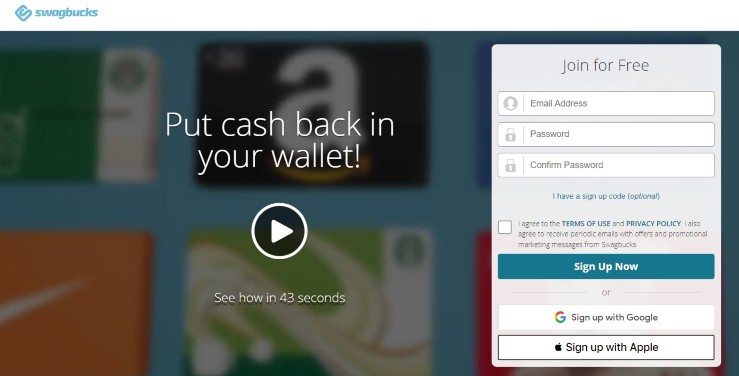 It might be hard to believe, but Swagbucks gives away thousands of free gift cards daily.
Most people think of Swagbucks as a platform that pays people only to take surveys. However, that's not true:
Each Swagbucks user can earn money by watching videos, playing games, searching the web, and completing other small tasks.
You'll receive $5 as a sign-up bonus as soon as you join the platform. While most surveys pay around $0.50, you can find others that pay a couple of dollars.
Payouts are available when you earn enough points to convert into PayPal cash or gift cards,
2) InboxDollars
In many ways, InboxDollars is similar to Swagbucks.
There is one key difference between these platforms, though:
InboxDollars will pay you to read emails on top of everything else – that's an opportunity Swagbucks doesn't provide yet.
Also, InboxDollars is one of the best apps that pay you real money – they don't work with points but with dollars instead.
Get $5 as a sign-up bonus and withdraw your earnings once they reach $30.
3) Survey Junkie
Survey Junkie comes with its own set of rules:
Before the platform allows you to start earning by taking surveys, you'll have to complete an in-depth questionnaire.
That is necessary for a single reason – the site aims to match all its users to the most relevant surveys.
Currently, most surveys on Survey Junkie pay around 200 points – 500 points are equal to $5, which happens to be the minimum withdrawal amount.
Withdrawals are available via PayPal, direct bank transfer, or free gift cards.
4) PrizeRebel
Quite frankly, PrizeRebel might not be one of the most popular apps that pay you real money.
But that doesn't make it any less valuable:
These days, PrizeRebel will pay you for doing many tasks – the site offers other earning opportunities aside from taking surveys.
Accumulating PrizeRebel points will get you gift cards from retailers such as iTunes and Amazon.
Of course, receiving PayPal cash is an option as well.
5) SurveyMonkey
Another survey app that can use some extra popularity is SurveyMonkey:
After all, a platform that will let you earn over $13 an hour deserves more attention from users worldwide.
Most of the time, there aren't that many surveys available on SurveyMonkey. But if you manage to secure completing one, you'll earn more than well for the effort.
Five dollars is the minimum amount you'll need to have in your account to initiate a withdrawal.
Unfortunately, SurveyMonkey is available in the USA only.
6) Google Opinion Rewards
Google Opinion Rewards offer surveys on almost every topic imaginable:
Expect to answer questions about films, TV series, hotels, and many other subjects.
Download the app on your phone and use it each time you can spare a couple of minutes.
Payouts per survey vary – some surveys will earn you $0.10, while others will get you as much as $1.
Payments are possible via PayPal and Google Play Credits.
7) Opinion Outpost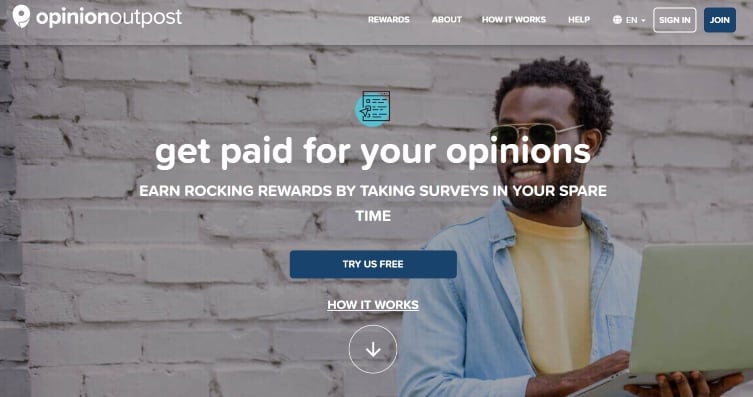 Opinion Outpost doesn't need an introduction:
It's one of the most well-known apps that will pay for your thoughts.
Provide honest feedback on different brands while taking the surveys Opinion Outpost provides.
If you decide to help companies improve their products by working on Opinion Outpost, you'll be able to earn great rewards.
The platform is free to join and will pay you in PayPal cash or Amazon gift cards.
8) KashKick
Next on my list of apps that pay you real money for your thoughts is KashKick.
To clarify, KashKick will pay you not only for taking surveys but for playing games too.
Complete the missions you'll find inside the KashKick app after you install it on your mobile device. No one will limit the number of missions you can take on daily.
KashKick comes with some of the lowest withdrawal thresholds:
Users can get their money once they have $5 in their KashKick accounts.
9) Panda Research
Panda Research is an app that provides many money-making opportunities.
Some of them are taking surveys and completing different offers.
Refer friends to Panda Research, and you'll earn even more money from the app.
On top of all that, the app will allow you to make money by reading emails.
Ask for your Panda Research earnings, and receive them via PayPal twice a month.
10) Toluna Influencers
By all means, Toluna is not one of the highest-paying apps that pay you real money:
Their best-paying surveys will get you $15.
Be that as it may, Toluna Influencers has a place in this article:
It will let you supplement your income by providing feedback and participating in polls.
Toluna Influencers pays its members via PayPal and gift cards.
11) Branded Surveys
Helping companies by providing honest feedback on their products is the way to earn with Branded Surveys.
Once you get the app, create your profile and answer a few questions.
Provide as many details about yourself as possible, so the app will get you more available surveys to complete.
You'll need 500 points before you can withdraw your Branded Surveys earnings.
Redeem your points for PayPal cash or gift cards.
12) LifePoints
LifePoints work on both iOs and Android devices.
There isn't much that separates LifePoints from other similar survey apps:
Users can download the app to complete surveys for money.
Additional ways to earn with LifePoints are testing products and referring people to the app.
Six hundred points on the app will bring you $5 in PayPal cash – that's the minimum withdrawal amount.
13) Harris Poll Online
Harris Poll Online is another option if you're looking for apps that pay you real money.
Sign up for the app to create an account. Then the app will match you with relevant surveys you can complete for cash.
I have to mention that Harris Poll Online rewards its users with points.
These points will become rewards once you decide to redeem them.
Many users sell their rewards, and you can do the same.
14) Mindswarms
Now, Mindswarms operates a bit differently than most survey apps:
You'll have to record video answers to the surveys the app will ask you to complete.
Assuming you'll be comfortable doing that, prepare to spend around 20 minutes on each survey.
Does this sound like sparing too much time on one survey?
Well, each study you complete will bring you $50 to your PayPal account, so working with Mindswarms is worth it.
15) Respondent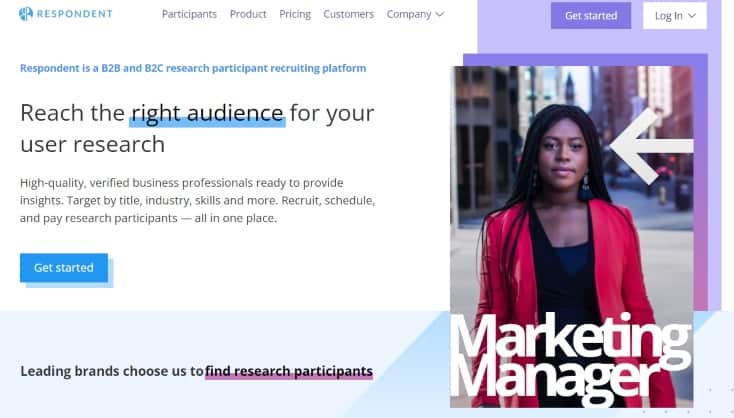 Speaking of high-paying research study opportunities, I should better introduce you to Respondent:
Respondent is a platform that will pay you more than well for different studies.
Sure, a study is a form of a longer survey. But doing such surveys will get you more than just a couple of dollars here and there:
Some Respondent studies will pay you up to $300 an hour – learn more about that money-making opportunity in my Respondent Review.
Withdraw your Respondent earnings via PayPal.
Apps That Pay You To Play Games: Game Apps That Pay You Real Money
16) Mistplay
Playing games on your phone is fun.
But do you know what's even better?
Challenge other players and spend time playing your favorite games for cash!
That's what Mistplay will allow you to do.
Getting to certain levels in a game will let you exchange your units for gift cards and rewards. And you can always sell those for real PayPal cash.
17) Bingo Cash
Bingo Cash is another popular app for game enthusiasts.
Those of you who like to take your time when playing a game should go for Bingo Cash, though:
You'll have to be fast with your thumbs to earn money with this app.
Each Bingo Cash player receives the same cards – everyone will play the same game.
Playing free games and participating in paid tournaments are both options for Bingo Cash users.
18) Solitaire Cash
Generally speaking, Solitaire Cash is for experienced players:
Solitaire Cash is a game where two players go against each other – the one who finishes the round first will get the reward.
Speaking of rewards, Solitaire Cash offers plenty of them.
For example, the most active users receive daily gifts, bonuses, and other prizes.
With that said, you can get your Solitaire Cash earnings via PayPal.
19) Blackout Bingo
Blackout Bingo is the app to use if you want to make money fast:
Players can score their first earnings in two minutes.
Similar to Solitaire Cash, Blackout Bingo will pit you against another player.
And you'll have to come out as the winner if you want to earn cash prizes and rewards.
Unfortunately, Blackout Bingo is not available everywhere – check if your location allows you to download the game.
20) Bubble Cash
Millions of people love to play Bubble Cash daily:
All they have to do is match bubbles with the same color.
Bubble Cash is one of the easiest apps that pay you real money.
However, there is a downside if you choose to use the app:
The only way to get real cash is by entering competitions, and they cost fees.
21) Solitaire Cube
People play Solitaire Cube in two ways – for fun or for money.
Of course, you can choose to play it for both.
I recommend practicing your skills before using the app to earn money – you won't win relying on beginner's luck only!
To clarify, you'll have to enter tournaments to win real money with Solitaire Cube.
As you can probably guess, entering a tournament will cost you a small fee.
22) Rewarded Play

Rewarded Play is one of the apps that pay you real money without investment:
Everyone can get the app free of charge.
In many ways, Rewarded Play operates similarly to most entries you see above:
You'll be able to play games that test your solitaire and other skills.
Feel free to get the gift cards you earn (and sell them afterward) every two days.
Cash-Back Apps That Pay You Real Money
23) Ibotta
Chances are, most of you are already familiar with Ibotta:
That app was created over ten years ago. And millions of people are using it to save money on grocery shopping.
Ibotta works in a simple way – download the app and activate online and in-store rebates to be able to earn cashback. Specify the store you plan to visit and preselect the offers you'll shop for.
Once you finish your shopping, upload the receipt to prove your purchases. Keep in mind that Ibotta will allow you to link loyalty cards to some stores, so you'll earn points automatically.
Nowadays, Ibotta works with many retailers. You can receive cash back almost instantly once your Ibotta balance reaches $20.
24) Drop
Working with the Drop app is a piece of cake but can only happen if you're a Canadian or USA citizen.
After downloading the app, link your credit cards to your Drop account. Then search for cash-back offers through the app at your favorite retailers.
Finally, do your shopping in-store or online and earn Drop points.
Redeeming your Drop points is possible once you have at least 25,000.
Expect to receive gift cards you can use yourself or sell for cash to someone else.
25) Upside
Upside is an app you'll get if you're desperate to reduce your gas bills.
The app will direct you to cheap gas stations in your location and help you save money on certain places.
Claim gas offers inside the app, gas up your car in less than four hours, and upload a photo of your receipt – the cashback will appear in your Upside account.
Repeat the same process to get cashback on your grocery shopping.
PayPal cash, direct bank deposit, and gift cards are the options to withdraw your cashback from the Upside app.
26) Fetch Rewards
Just like the previous entries on the list, Fetch Rewards will pay you money for the shopping you already do.
In my opinion, Fetch Rewards is one of the most beginner-friendly cash-back apps:
Don't expect to preselect offers once you start using Fetch Rewards. Instead, take a photo of your receipt inside the app when you shop in your favorite stores.
You'll be glad to find out that Fetch Rewards works with grocery retailers and baby and personal care brands.
$3 is the minimum Fetch Rewards balance you need to initiate a withdrawal.
27) Dosh
Dosh will track your spending after you link a credit card inside the app. However, you don't have to search and select offers before you go on a shopping spree to get your cash back.
Shopping at stores such as Walmart and Target will automatically accumulate your cash back balance.
Take advantage of everything Dosh has to offer when you travel too – the app can earn you cash back of nearly 50% at certain hotels worldwide.
Get your earnings via Venmo, PayPal, or direct deposit once they reach $25.
28) Rakuten
Without a doubt, Rakuten must be the most popular of all apps that pay you real money:
At the time of writing this article, Rakuten will let you receive as much as 40% cash back on your purchases at over 3,000 shops and retailers.
Even more, Rakuten is so easy to use – open the app and find the retailer you want to shop at. Then click the link to visit the store and enjoy your shopping.
Of course, you'll have to link a credit or debit card to the app and activate each cash-back offer.
Rakuten will let you withdraw money once your balance reaches $5.
29) Capital One Shopping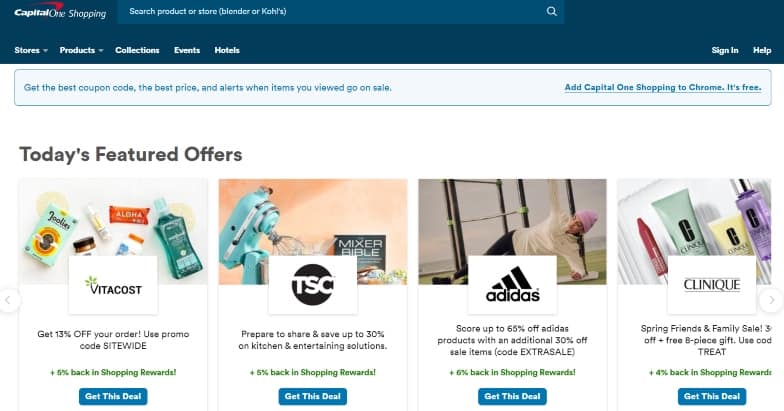 Capital One Shopping is a money-making tool you can use as a browser extension and an app.
With that said, Capital One Shopping works a bit differently than most apps that pay you real money instantly:
Basically, the app will let you apply coupon codes at checkout to save money automatically.
Furthermore, Capital One Shopping is helpful if you want to discover deals at the lowest prices possible.
Now, Capital One Shopping is on this list because it will get you free gift cards aside from helping you save money on shopping.
30) Shopkick
Heads up – Shopkick is an app that will pay you only for stepping into certain shops!
Actually, Shopkick will let you earn for many activities other than visiting your favorite stores.
For example, you'll earn points (kicks) with this app each time you buy certain products and complete different offers.
Plus, you can boost your Shopkick earnings if you refer friends to the app.
Shopkick will reward you with gift cards – keep them for yourself or turn them into cash by selling them.
31) ReceiptPal
Create an account on ReceiptPal to participate in sweepstake opportunities and receive free gift cards.
As you can probably guess, ReceiptPal operates similarly to Ibotta and Fetch Rewards:
Download the app, upload your shopping receipts, and start getting your free cash.
You'll complete a points card once you upload four receipts to ReceiptPal. And you'll get 100 points for every card you manage to complete.
One hundred ReceiptPal points will bring you $0.25.
Investing Apps That Pay You Real Money
32) Digit
First and foremost, the Digit App is not entirely free to use:
While the app offers a 30-day free trial, you'll have to pay to keep using it once that trial is over.
With that said, Digit is a valuable app for anyone who needs assistance with sorting out their finances:
It will help you save money and become debt-free.
Digit will look at your spending habits and move the right amount of money from your bank account to your Digit account to reduce your expenses.
33) SoFi
Believe it or not, SoFi gives away $1,000 in free stocks to some lucky users!
These days, the SoFi app is most popular with its investing services, but the app can offer you so much more than that.
For example, SoFi offers personal, student, and mortgage loans. Plus, the app provides life and auto insurance.
SoFi is a commission-free app allowing you to invest in stocks, cryptocurrencies, and fractional shares.
More importantly, SoFi has a robo-advisor service that automates your investing activities.
34) DiversyFund
Alright, DiversyFund is not a suitable app for those of you who don't have any available funds to invest:
Yes, you can start investing with as little as $500, but you'll still need to have that amount to begin using the app.
To clarify, DiversyFund will invest your money into real estate.
Using the app has many advantages, such as helping you reach your investment goals and increasing your knowledge of the real estate market.
Keep in mind that DiversyFund is a platform you can turn into a reliable source of passive income.
35) Public
In my opinion, Public is one of the best apps that pay you real money for investing in individual shares of stock.
I mean, the app is simple to use, and that makes it a perfect solution for first-time investors.
You won't have to deal with confusion with the Public app:
The app doesn't offer complicated features that will make your job harder than it should be.
Expect to receive free stock of hundreds of dollars as a sign-up bonus once you create your Public account.
36) Webull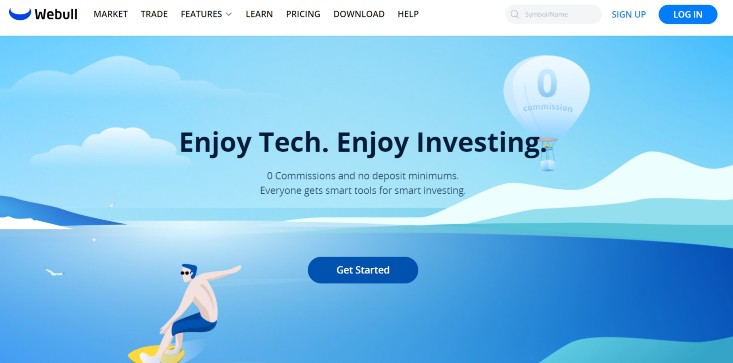 Basically, Webull is a platform that operates as an online stock broker.
It's a commission-free app you can download to invest in stocks, ETFs, and cryptocurrencies.
Opening a cash or margin account is possible with Webull.
Each new member that registers a Webill account receives a sign-up bonus. That bonus will let you receive thousands of dollars in free stocks.
You'll need to deposit at least $5 in your Webull account to get your investing going.
37) Stash
Stash is one of the most popular investing apps for beginners:
Over 6 million people are taking advantage of everything Stash has to offer.
Investing with the Stash app happens almost completely on autopilot, so you won't have to do much to earn with the app.
Generally speaking, Stash will invest in stocks and ETFs for you.
Each new user receives $20 as a sign-up bonus.
38) Acorns
I bet most of you have read about Acorns while researching the best apps that pay you real money:
Acorns is an app that will track your expenses and invest your spare change.
Think of it this way:
Each time you buy something for $3.50 (an example), Acorns will round your purchase to $4. Then the app will take the remaining $0.50 and invest it on your behalf.
With that said, Acorns is not free to use – the cheapest Acorns plans start from $3 a month.
39) HappyNet Invest
HappyNet Invest will also round up your purchase expenses and invest automatically for you.
It's a real estate investment app available for iOs users.
Put at least $10 in your HappyNet Invest account, and you can begin investing.
I have to mention that HappyNet Invest comes with fees you'll have to pay.
On the bright side, the app will connect you with investing professionals you can talk to receive expert investing advice.
40) Robinhood
Another beginner-friendly investing app is the Robinhood app.
Robinhood is popular for many reasons:
Firstly, the app provides a commission-free way to invest in stocks, gold, cryptocurrencies, and ETFs.
Secondly, opening a Robinhood brokerage account might earn you over $200 in free stocks.
Lastly, Robinhood will let you invest in fractional shares too.
41) Fundrise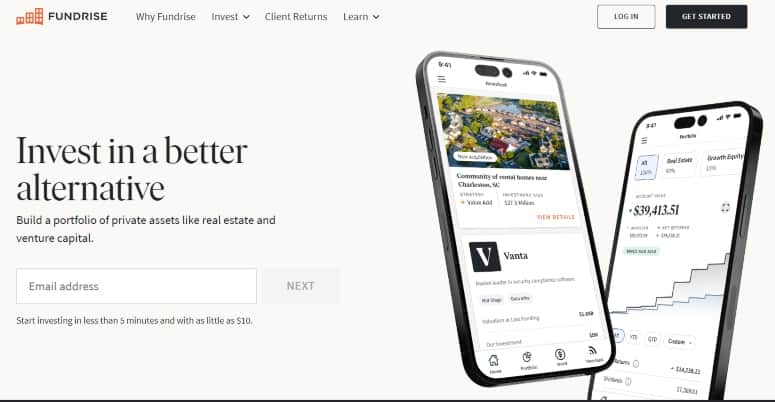 Fundrise is a popular investing app available in the USA only.
Each Fundrise user receives $10 in free shares after they invest at least $10.
The best thing about Fundrise is that the app will allow you to invest in commercial real estate without spending tons of money:
Again, the app will let you invest as little as $10!
Once you invest, you'll earn passive income from dividends and investment revenue after the property sells.
Passive Income Apps
42) Nielsen App
Believe it or not, the Nielsen app will allow you to earn $50 a year passively:
Nielsen is an app that traces your internet usage and lets you make money browsing online.
Do what you always do on your laptop or mobile device and get your $50 at the end of each year.
43) SlideJoy
SlideJoy is an app that will pay you simply for downloading it.
The app will place ads on your mobile device – you'll earn money each time you swipe your phone:
There is nothing else to do to earn money with SlideJoy!
44) MobileXpresssion
MobileXpression will pay anyone who doesn't mind sharing their internet usage habits and activities.
Unfortunately, MobileExpression is available to Android users only.
Install the app, allow it to run in the background, and earn credits – 15 credits will make you $10.
Apps That Pay You To Walk, Exercise, And Lose Weight
45) HealthyWage
HealthyWage is an app that will let you become a member of a fitness group and lose weight by completing challenges.
Opening an account on HealthyWage is free of charge.
Start working to reach your weight loss goals and get your prize once you reach them with the app.
46) Sweatcoin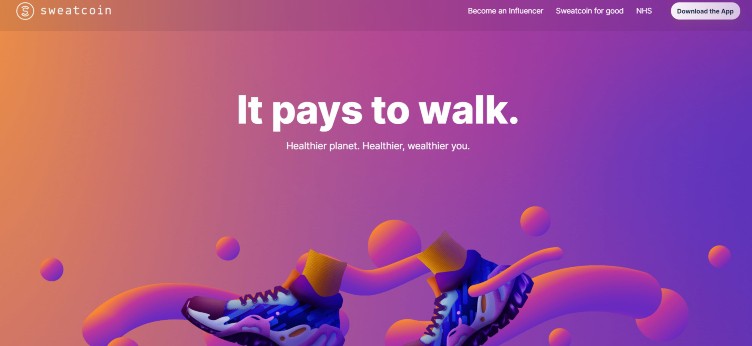 Sweatcoin is probably the most popular among all apps that pay you to walk.
The app will calculate every step you take each day.
You'll receive $1,000 after you take 200 million steps.
47) StepBet
StepBet will allow you to earn extra money after you achieve the fitness goals you choose yourself.
Its six-week challenges are quite popular among the app's users.
Do your best to hit them if you want the app to pay you real money.
48) Evidation
Evidation used to be called Achievement.
Similarly to the previous apps that pay you to walk, Evidation will monitor your daily walking activities and reward you for them.
10,000 Evident points will bring you $10 via PayPal or direct deposit.
Best Apps That Pay You Real Money For Selling Stuff
49) Gazelle
Gazelle is a platform to get rid of your old phone.
Download the app and place your previous mobile device for sale.
Whether your old phone is an iPhone or Android, Gazelle will send you cash for selling it.
50) OfferUp
Do you plan to sell most of your old stuff online?
Hopefully, you do, since OfferUp is an amazing app for repeat sellers.
OfferUp will help you turn your old belongings into a source of income.
51) Decluttr
Decluttr is a platform that will assist you with selling all kinds of old stuff.
For example, you can list for sale old CDs, DVDs, and other types of electronics once you get the app.
These days, Decluttr provides one of the fastest ways to sell old items online.
52) VarageSale
One of the safest apps you can use to sell things online when you need cash is VarageSale:
VarageSale takes the time to verify the identity of sellers and buyers before the deal is complete.
So, you don't have to worry about losing money if you decide to sell through the app.
53) Wallapop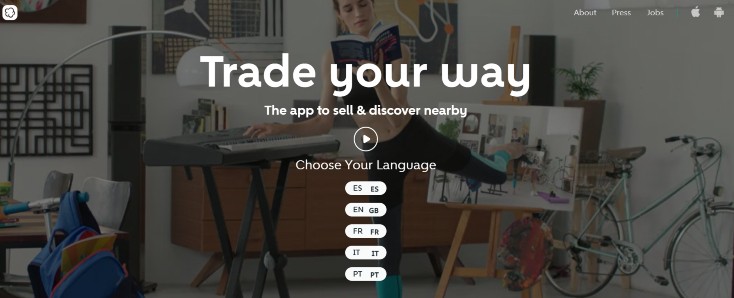 What if you have other things to sell other than electronics?
Well, then you can download and begin using Wallapop:
Wallapop will allow you to sell almost anything through your mobile device.
54) Chairish
As the name suggests, Chairish will help you sell old chairs online.
Actually, the app will let you sell other pieces of furniture as well.
Home decor items make great listings on the app, so consider turning them into a source of cash too.
55) Mercari
Quite frankly, Merkari is much more than a money-making app – it's a whole marketplace you can join to sell anything directly from your phone.
Mercari will charge you a 10% fee on everything you manage to sell through the platform.
Currently, the app is available only in the USA.
56) Poshmark
Anyone can post a listing and sell many things on Poshmark for free.
However, the platform will charge you a fee if the item you sell has a price of less than $15.
Plus, Poshmark will charge you a 20% fee for sales that bring you over $15.
Apps That Pay You For Sharing Space
57) Neighbor
Neighbor is an app that will help you turn unused space into cash.
That space might be a garage spot, attic, side yard, basement, or room in your home.
Once you upload your listing, you'll barely have to do anything else to make money with the app.
58) Airbnb
Is there someone who doesn't know what Airbnb is?
Airbnb is an app you can use to earn money by renting a room in your home.
Many Airbnb users make at least a couple of hundred dollars a month, so the app is worth considering it.
59) Turo
Turo is an app that operates similarly to Airbnb.
However, Turo is a platform you can use to rent your vehicle instead of a room.
List your car for rent, and Turo will let you choose your own prices.
60) Getaround
Getaround is another app you can download to earn by renting your car space.
Prepare to make different amounts of money depending on how actively you use the app.
With that said, most Getaround users earn around $500 a month.
Gig-Based Apps: Apps That Pay You For Doing Tasks
61) Uber

Uber is not one of those apps that will pay you instantly:
You'll have to do the work to receive the cash.
But if you enjoy being behind the wheel, driving people around will bring your extra money.
62) Lyft
Lyft is an alternative to Uber – you probably already know that.
Many people use Lyft because the app comes with plenty of perks.
Some of these perks are setting your hours and working whenever you feel like it.
63) Rover
Rover is a platform most people join to make money by taking care of pets.
Installing the app will provide you with dog-walking and other similar cash-earning opportunities.
Expect to earn around $20 an hour with the Rover app.
64) DoorDash
DoorDash is a company that hires drivers (dashers) to deliver food to clients.
Such a gig is possible even if you don't own a car – you can do the deliveries with your bike.
Dashers earn quite well – read all about it in my DoorDash review.
65) Instacart
Instacart is an app you can use to earn by doing grocery shopping for others.
Of course, you'll have to deliver the groceries as well.
Both iOs and Android users can take advantage of everything Instacart has to offer.
70) Postmates
Another popular app that will make you money is Postmates.
In many ways, Postmates operates similarly to DoorDash – drivers earn once they deliver takeout orders to clients.
Postmates users earn over $20 an hour.
80) Shipt
Becoming a Shipt shopper will earn you around $22 an hour.
Get the app, and begin completing client orders.
Such orders include grocery shopping and delivering them to the client's address.
81) TaskRabbit
TaskRabbit workers do many projects for other people.
For instance, you can paint houses, assemble furniture, and do many other activities that will pay you as a member of the company.
Read all about TaskRabbit when you have a minute.
82) Shopkick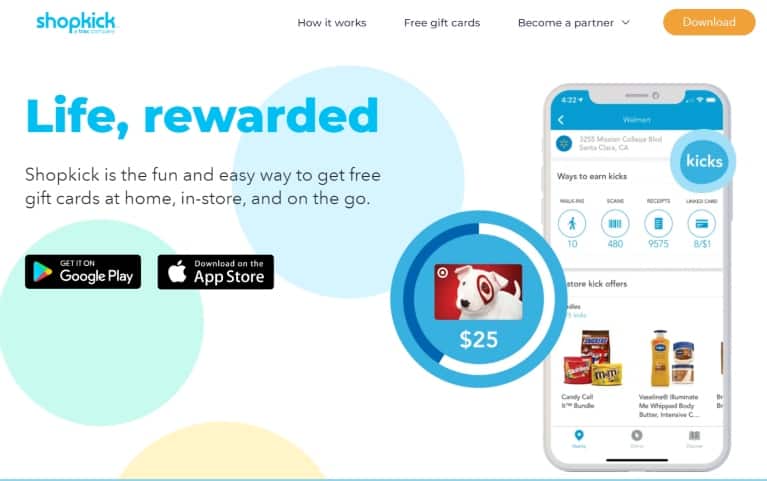 Shopkick is an app that will pay you for different activities.
Viewing products, walking into stores, and mystery shopping are some of the things you'll do to earn money with the app.
PayPal cash or gift rewards are how Shopkick pays its users.
83) Mobee
Mobee is a popular app that will pay you for mystery shopping activities.
Most of the time, you'll have to take photos of stores and answer surveys to rate customer service to make money with Mobee.
The app will let you earn points you can redeem for gift cards and cash.
84) Steady
Steady is an app that will help you monetize your skills and expertise by selling them to clients.
What I like the most about Steady is its active community:
Members help each other by sharing tips and tricks that increase their earnings from the gigs they complete.
Other Apps That Pay You Real Money
Panel App: The Panel App will let you earn money by monitoring your location and the stores you pass by each time you go outside.
Current Rewards: Current Rewards work similarly to Slice The Pie – the app for listening to music.
OnMyWay: OnMyWay will pay you if you're a responsible driver – make money for each mile you drive without texting.
Honeygain: Honeygain will pay you for your unused net traffic – you can earn up to $30 a month with the app.
Pogo: Pogo will become a source of income if you don't mind sharing your location and credit card transaction data with the app.
Foap: Foap is an app that will help you make money by uploading high-quality photos and selling images to an audience.
Fluz: Fluz is a relatively new app you can download to receive up to $30 cash back on certain purchases.
Native: Download the Native app to make money by checking out the prices of different products.
Bookscouter: Anyone using Bookacouter can earn by selling their old textbooks.
RV Share: As you can guess, the RV Share app is for people who want to rent their RVs.
Pinterest: Pinterest is a visual search engine you can use to make money even if you don't have a website.
Twitter: Twitter is an app that will let you make money in many ways – see the best ways to earn on Twitter.
My Closing
What do you think about all these apps that pay you real money?
How many of them do you already use?
And which ones do you plan to get?
Let me know in the comments section below!
Other Money-Making Ideas You Might Like: