20 Best Apps That Pay You To Walk: Make Money Walking!
Yes, it's true – the apps that pay you to walk are a thing now.
Hopefully, there is some space available on your phone to accommodate the best walking apps that pay.
And before you get all mobile-protective on me, I should probably get this one out as fast as possible:
Making money for simply walking is a legitimate opportunity to earn extra cash.
Don't you just love it a side hustle pays you for an activity you do daily anyway?
Being able to boost your income every time to go for a walk or exercise is a chance no one in their right mind would refuse.
It doesn't get any better than that money-wise, does it?
Today, I'll tell you everything you need to know about using a get paid to walk app:
Will you really earn money for walking?
What are the best apps that pay you to walk?
How much money can you make walking?
Is there a must-have app that pays you to walk?
This post may contain affiliate links, so read my affiliate disclosure.
Are There Really Apps That Pay You To Walk?
Unless you're living in some strange land where you have no access to the Internet, you already know:
Currently, there are hundreds of mobile apps that will earn you money.
Some of them will pay you for just a download. Others will require completing small tasks before you receive any cash.
Why should an app that pays for walking operate any differently?
Thankfully, most of them don't.
While none of these walking apps that pay will become a source of full-time income, using them is a pretty good deal.
Can you think of a better way to make free money?
In my opinion, receiving cash, rewards, and other perks is a great way to earn and keep in shape at the same time.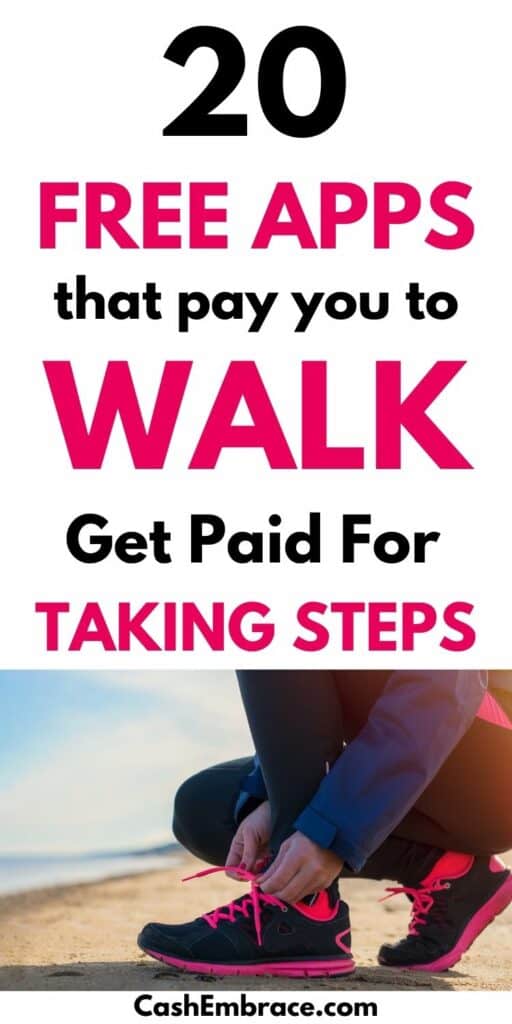 If you agree with that, how about we get this list moving for real?
20 Of The Best Apps That Pay You To Walk
OK, let's get something clear from the start:
The apps you'll read about in this article are not the only ones that help users earn money walking.
Of course, there are many others as well.
With that said, my goal is to introduce you only to the best paying apps.
Here they are:
1) Sweatcoin
Opening with Sweatcoin shouldn't be a surprise to anyone:
This app is probably the most popular application you can use to make money walking.
According to App Store and Google Play, Sweatcoin is the number one fitness app in many countries.
Originally, the app counted and credited to your account only outdoor steps.
Not anymore, though:
Right now, Sweatcoin counts all kinds of steps you're making each day.
Whether you walk inside the house, run on a treadmill, or hike in the mountain, your steps will add up.
Keep in mind – the app's algorithm doesn't count the miles while you're driving. Don't think you'll be able to cheat it, because you won't!
One thousand of your steps equals 0.95 Sweatcoin. As soon as you hit 20,000 Sweatcoins, you can transform them into different rewards.
For example, you can choose from fitness products, Apple watches, music downloads, gift cards, or $1,000 in PayPal cash.
Also, you'll earn 5 Sweatcoins for every friend you refer to the application.
2) Runtopia
Runtopia is the perfect choice for people who consider themselves fitness professionals.
By encouraging you to set exercise goals, you'll have a stronger motivation to walk, run, and cycle as much as you can.
Having an audio coach while you work out is a nice touch, if I may add!
Every time you hit your exercise goals, you'll receive a bonus as a reward.
Personally, I like Runtopia quite a lot:
It comes with training programs to help you warm-up, stretch, and lose weight.
The app offers a premium membership as well. However, most of its essential features are free to use.
Exercising, completing daily tasks, and engaging with Runtopia's community will earn you Sports Coins. You're welcome to redeem them for free memberships, coupons, products, and PayPal cash.
An Important Info:
Sports Coins do expire on March 1st every year. Therefore, you better use all of yours wisely before that.
3) Lympo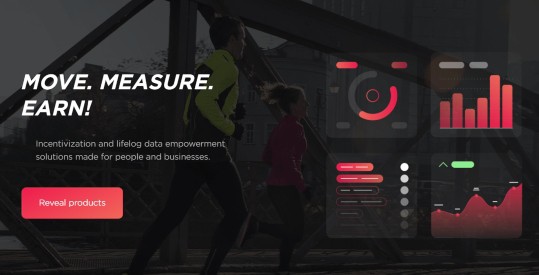 Placing Lympo third on the list of apps that pay you to walk is probably not fair:
Lympo will do wonders if you often struggle on the motivation front.
What helps the app stand out is that it will not pay you for steps.
Instead, you'll have to complete walking or running challenges.
There is no shortness of new daily and weekly challenges. Nailing a challenge will bring you LYM tokens you can redeem for rewards.
These awards might be Amazon gift cards, electronics, clothes, and even shoes.
It's worth mentioning that you can use Lympo with other apps such as iHealth or Google Fit.
That way, you'll have a bigger vies of your indoor and outdoor activities.
4) Optimity (Previously Carrot Rewards)
Alright, under number four, I have the Optimity app for you.
Relatively new, Optimity will give you a few opportunities to benefit from it.
For instance, you'll have to reach your daily goals by taking steps to earn gems. Of course, you'll receive a bonus if you hit a goal multiple times a day.
Also, there is a learn and earn section, offering awards you can grab if you take the time to quiz yourself.
In addition, you can increase your points if you refer other people to the app.
Honestly, there is room for improvement here.
But the app is just starting to gain ground, so let's give it time to prove itself, shall we?
5) Evidation (Previously Achievement)
Chances are, you're already familiar with Evidation.
Nowadays, this app is somewhat of a fan favorite among all the apps that pay you to walk.
Whether you prefer to exercise by walking, cycling, and even swimming, Evidation will pay for these activities.
Earning points when you log your daily movements, diet, sleep, and weight – this is how Evidation operates.
You can't make more than 80 points for exercise and 6 for food logging – that's the limit.
Once you manage to gain 10,000 points, the app will pay you $10. An option to donate your earnings to charities also exists.
6) FitPotato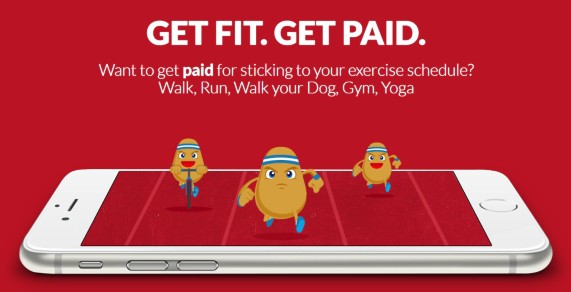 Isn't FitPopato the coolest app name ever?
Just so you know, the application is just as great as its title:
While it works a bit differently than the rest of the walking apps that pay, FitPotato is more than worth the try:
After downloading the app, you'll bet $5 on yourself and challenge other users to weekly walking and exercise sessions.
Usually, the cash prize is $1,000 that winners will share.
To become one of them, you'll have to complete successfully 3 walk/run/jog step sessions. Prepare to take at least 6,000 steps!
If you're the only winner at the end of the week, you'll keep the thousand dollars all for yourself.
7) LifeCoin
Quite frankly, LifeCoin is not my favorite app from this list.
That's probably because the application will count only outdoor steps. Furthermore, free users can earn no more than 5 LifeCoins a day.
It goes without saying that you can always upgrade your membership to a premium one. Paying around $4,30/month will give you access to Azumio Premium and all of their top apps at the moment.
Unfortunately, you won't be able to redeem your LifeCoins for PayPal cash.
Instead, the available rewards are gift cards and physical products (sporting goods, electronics, etc.).
8) StepBet
Similar to FitPotato, StepBet will ask you to bet on yourself if you want to use it.
Here is how the application works:
Firstly, you have to sign up for the app and connect your fitness tracker. Meanwhile, the app will track your current activity and help you set up steps goals to exercise more.
Then you'll make a bet (usually $40) and stay active in order to hit your step goals 6 times a week.
Not meeting your goals means that you'll lose your money.
But if you do reach them, you'll split the prize with the rest of the winners.
9) Higi
If you want an app that will track not only your walking but your overall health as well, Higi should be your first choice.
The company has health tracking stations that will measure your blood pressure, weight, and body fat all over the USA.
Every week or month, you'll have the chance to complete a challenge that will bring you points for one mile of walking.
Don't expect to receive any PayPal cash here – you can get rewards (discounts, sports gear) instead.
Money-Making Options You May Like:
10) MapMyFitness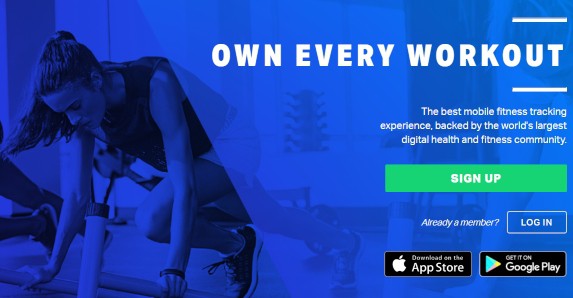 Generally, Under Armor is doing a terrific job with MapMyFitness:
It's hard to find another application that cares as much for your fitness routine.
MapMyFitness will count the calories you burn, your pace, and your heart rate.
Taking advantage of this app will allow you to participate in different challenges and compete in contests.
Again, you won't receive any cash, but you'll have the chance to win some pretty awesome rewards.
11) PK Rewards
By all means, the idea behind PK Rewards is pretty simple:
Open the app before you begin exercising and hit the Start Earning button.
Press the same button once you finish your workout, and it will calculate your time into the Effort Score.
That's how you'll win coins which you can later redeem for rewards from Amazon, Nike, and a few other brands.
12) myWalgreens Health Goals (Previously Walgreens Balance Rewards)
Do you enjoy shopping at Walgreens?
Then you probably already know about myWalgreens Health Goals program.
In case you don't, that's a health program that will pay you for walking.
Every 1,000 points will bring you $1 in Walgreens cash.
Some may argue that the payout is not worth it.
Be that as it may, you'll still reduce your grocery bill for activities you do anyway (the health challenges are about a walking, workout, and staying healthy).
13) Charity Miles
Next on my list of apps that pay you to walk a proud position takes Charity Miles.
However, you won't be earning cash for yourself:
No, your walking and running activities will help raise money for a charity from the company's list.
So, download the app, select a charity, and start moving.
The app will track your activity and will donate your earnings for this honorable cause.
14) Earth Miles

No matter how you want to look at it, you can't deny that Earth Miles has a pretty smart idea as to its foundation:
And that idea is the center of a simple principle – the harder you work, the more you'll earn.
Have a look at what your walking and running will earn you:
1 Earthmile for 1 km of walking
3 Earthmiles for 1 km of cycling
5 Earthmiles for 1 km of running
As soon as you earn enough Earthmiles, feel free to spend them on healthy rewards.
More often than not, there are new rewards every week.
Expect to receive discounts on health products, supplements, and services.
15) Gigwalk
First and foremost, Gigwalk is a company that collects data about different products and services.
What this means is that we'll expand this article beyond apps that pay you to walk:
With Gigwalk, you'll earn not just for walking but for completing a variety of tasks (gigs) as well.
For example, you may have to visit local restaurants, run errands for small businesses, take pictures, and even do mystery shopping.
Some tasks will cost only minutes of your time, others will take longer to manage.
According to the website, you can earn anything between $3-$100 in PayPal cash.
More Apps That Pay You For Walking
Don't go anywhere just yet:
My list of apps that earn money for walking is far from over.
I'll continue it with five more apps that might pick your interest:
16) Winwalk
If you can't see yourself taking 1,000 steps each day for some reason, no worries:
There are apps that will reward you even for 100 steps!
Such an app is Winwalk – a totally free pedometer that will track your steps and reward you with points.
Every 100 steps you take will deliver coins you can use to receive free e-gift cards.
Another thing you should know is that Winwalk will limit the possibilities to earn to 10,000 steps.
17) Fit For Bucks
Clean, neat, and working really well – that's what Fit For Bucks is all about!
Obviously, this app will let you earn for everything that keeps you moving – walking, running, hiking, etc.
Taking more steps means that soon you'll be able to enjoy some of the awesome awards available – free coffee, smoothie, and even massage!
Isn't that great?
18) Wag!
Any dog lovers here?
Hopefully, many of you are:
Wag will pay you to walk dogs every time their owners don't have the time to do that.
Here is what you need to do to start earning with this app:
Sign up to become a Wag walker.
Download the app.
Once you get approval, regularly check your Wag feed. That way, you won't miss any jobs.
 On average, you'll make $12 (possibly more) for a 30-minute walk.
19) Rover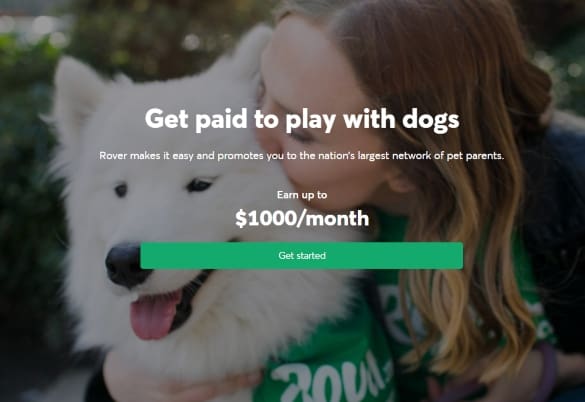 Considering we're still on the topic of walking dogs, let's discuss it a bit further, shall we?
Basically, Rover is a company that will help you secure such a job.
To get a gig, you have to create an account online or through the app. Then, look for dog owners in your area until you find one that needs your service.
It pays well (around $20 for a short walk), and it's a great way to boost your income without spending too much of your time.
Vet assistance, choice of a dog to walk, and flexible schedule are some of the other perks you'll enjoy if you start working with Rover.
Rover is probably the most popular company that offers dog walking jobs, and it has good reviews online.
20) Healthy Wage
Quite frankly, Healthy Wage happens to be my favorite from the apps that pay you to walk.
Actually, the app won't exactly let you earn for walking.
Instead, you can bet on yourself to reach a specific weight loss goal.
If you manage to do that, there is a chance to win a total of $10,000.
I mean, if that amount of money doesn't motivate you to slim down, I'm not sure what will!
It's worth mentioning that you can take part in up to 10 challenges at the same time.
Check how much you can earn with the Healthy Wage Prize Calculator.
Other Awesome Ways To Earn Extra Money:
Other Ways To Make Money Walking
At this point, my list of apps that pay you to walk should come to its end.
However, I would like to provide you with a few additional ways to get paid to walk.
Here is what I have in mind:
Instacart
For those who don't know, Instacart is one of the most popular tasks applications you can benefit from nowadays.
Basically, you can use it to make money for delivering groceries to people who can't do their shopping for some reason.
Opening an account is quite simple. Your work activities will be finding someone who needs your help, buying the necessary groceries, and delivering them to their address.
In other words, Instacart will help you get a job as a personal shopper.
While the pay rate varies, expect to earn around $15 per hour.
Postmates 
By all means, Postmates works very similarly to Instacart.
So, sign up for the app, find a job, and deliver food on foot or a bike.
Driving a car is also an option if you prefer to complete the task that way.
A piece of advice:
When possible, try to use the app during the busiest times (lunch and dinner).
Doing so will help boost your earnings while working for the company.
Doordash
Doordash is another food delivery app that will pay you for bringing meals to people who can't get them on their own.
Just visit the official website and sign up to become a "dasher".
Keep in mind – there is an approval process that will take place before you begin working for the company.
Once you're in, you'll have the freedom to set up your working hours and decide how to complete the job – by bicycle, car, or your feet!
On average, you can earn up to $500 a week.
Feel free to find out more about becoming a dasher when you have a second.
How To Make More Money Walking
Well, what do you think?
The way I see it, signing up for more apps that pay you to walk will give you a better chance to increase your monthly income.
While making money walking is not a full-time work-at-home job, you should not underestimate the opportunity.
After all, everything that will help you earn money on the side is worth at least considering it!
My Closing On The Apps That Pay You To Walk
What can I say, other than I hope my list of apps that pay you to walk will be useful to you?
Personally, I think all of these options offer great possibilities to earn cash while walking.
Now, it's up to you to decide which one is the best fit for your needs.
Why choose just one, though? Maybe you can try at least a couple?
Let me know and share your experience in the comments section below!
More Ideas From Cash Embrace You May Love: