30 Online Chat Jobs You Can Do From Home (Hiring Now)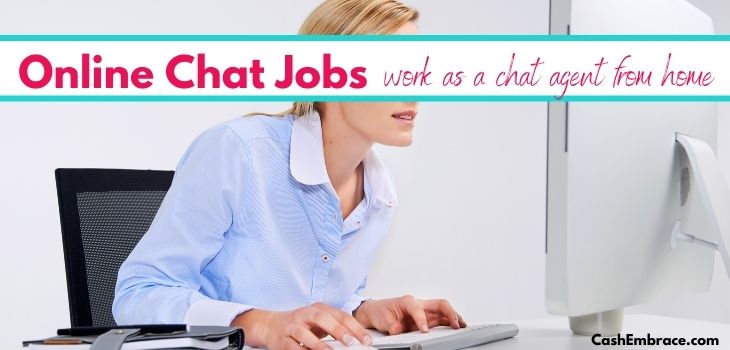 No worries, the online chat jobs we'll be talking about today won't make you stay on the phone.
Not even for a while.
Feel free to think of the remote online chat jobs as non-phone jobs – because that's what they are.
If you have good communication skills and enjoy helping people, paid online chat jobs might be your true career calling.
Today, I'll introduce you to chat jobs you can get even if you have no previous experience.
Are you ready to start working as a chat support agent?
Great, let me show you where you can do that!
This post may contain affiliate links – take a second to read my affiliate disclosure.
What Does An Online Chat Agent Do?
For starters, let's cover the basics, so you would know what to expect from a remote chat job.
An online chat agent is a person who provides customer support without using the phone.
Once you start working as one, you'll assist people via texts (email or chat).
While the job is a great opportunity for beginners, it comes with certain requirements.
Excellent communication skills and better-than-average grammar/spelling are a must if you want to get hired.
Multitasking skills won't hurt either since sometimes you'll be handling a couple of conversations at the same time.
Now, some companies hiring chat agents are looking for people with some knowledge of their business.
When choosing an online chat job, pick a company that provides training and doesn't require previous experience.
What else do you need to start working as an online chat agent?
Well, you need a laptop and constant access to the Internet – that's all.
Is Working As An Online Chat Agent The Right Fit For You?
By all means, I can't answer that for you – you'll need to figure it out on your own.
With that said, here are a couple of pointers that will lead you to a conclusion:
Do you prefer customer service to sales?
Are you a parent looking for flexible working hours?
Is chatting with people who need assistance OK with you?
Does the idea of wearing comfy clothes all the time bring a smile to your face?
Will you appreciate a non-phone job?
If you're silently nodding in agreement to all these questions, then you're already an online chat agent at heart.
Before I show you my list of online chat jobs you can apply for, I need to clarify something else:
Don't mistake the live chat operator jobs from home with virtual assistant jobs.
Sure, there are a few similarities between these two types of online jobs.
However, a virtual assistant might take care of Social Media accounts, making appointments, ordering supplies, and many other tasks.
An online chat agent, though, primarily works to provide customer assistance.
Now that we cleared that out, it's time to discuss companies offering live chat customer service jobs:
The Best Places To Find Online Chat Jobs And Get Paid To Chat
Enough about the general job description of an online chat agent – let's talk about potential employers.
Basically, each of the companies you're about to see is on this list for a reason.
I aim to provide you with the most respected and well-known places looking to hire chat agents.
Since I can't control when they open and close positions, you may stumble upon a company that is not hiring at the moment.
In that case, I suggest you come back to this list later and keep checking for new job openings.
1) Arise
As the first entry on my list of online chat jobs, I choose to place Arise.
Arise is looking to hire online chat agents that will more than satisfy the needs of the company's clients.
If you choose to work for Arise, you'll have to handle troubleshooting for customers and provide them with real-time support.
Chances are, you'll find work as a chat agent with plenty of the companies that rely on Arise to supply them with professionals.
While Arise will connect you with these companies, you'll still work as an independent contractor.
And you'll be able to set your own hours as such!
It's worth mentioning that Arise offers support for its new agents. Take advantage of it via an online video in case you need it.
2) The Chat Shop
Unless English is your native language, you won't be able to start working for The Chat Shop.
Actually, this company will ask much more than that from you.
Excellent grammar and punctuation skills, fast on the keyboard – you're getting the idea.
Also, The Chat Shop provides job openings only to people who live in the USA and UK.
With that said, this company is looking to hire workers who can manage to multitask and are willing to work at least 20 hours each week.
If that's OK with you, you can apply for a job at the company today.
3) Amazon
Yes, the good old Amazon is offering online chat jobs too!
Here is the deal with that:
Amazon is currently hiring people who would like to work as Customer Service Associates.
You'll have to work between 20-30 hours a week on that job.
Although, Amazon would prefer if you're available to chat online for up to 60 hours a week.
To clarify, sometimes you'll have to communicate with the customers via phone and not only by text or email.
Keep in mind – this Amazon job will offer you not just a payment per hour ($15) but benefits as well.
4) Apple
How could any list of high-paying online jobs ever be complete without Apple in it?
Nowadays, the Apple At Home Advisors are providing online chat support and answering the questions of the company's customers.
Apple will make your working experience as pleasant as it can get.
I mean, if you pick this job, the company will let you enjoy product discounts and paid time off.
You don't need to worry about buying an iMac and a headset – Apple provides them for all its workers.
Having experience with the company's products is preferable but not mandatory.
These days, Apple is offering part-time and full-time at-home advisor positions.
You'll get training that will help you with the technical aspect of the job.
5) Concentrix
Previously known as Convergys, Concentrix will offer you a full-time chat job and benefits.
What I like a lot about this company is that it provides online and in-person training, both of which are free.
Expect to work no more than 40 hours a week.
Getting paid happens twice a month.
Since Concentrix is partnering with many companies, specific clients will probably have different requirements for the chat agents.
Generally speaking, you'll take care of the technical support and customer service.
6) Accolade Support
Next on my list of companies offering paid online chat jobs is Accolade Support.
Accolade Support is hiring chat agents to work as independent contractors.
Meaning – there is no health insurance or other job benefits.
However, the company will allow you to set your own working hours.
These are some of the requirements to get hired:
Satisfying tech support skills
Great communication skills
Attention to detail
An American accent
Also, you'll need to have access to a PC (not Mac), Internet connection, and telephone with a headset.
7) OutPLEX
Quite frankly, the work you'll have to do for OutPLEX is a bit different from what you probably expect.
Working here means that you'll be recommending a product's features to customers, and you'll deal with consultant sales.
That kind of customer support will happen via text or live chat.
At the time of writing this article, OutPLEX is accepting job applications from USA residents only.
You need a high-school diploma to apply for the job.
And you also have to be able to type 30-50 words per minute with no errors.
8) Best Buy
Is there someone who didn't see this one coming?
As huge as Best Buy is on all things electronics, hiring chat agents seems unavoidable.
That is one of those online chat jobs that might put you on the phone occasionally.
Best Buy's agents spend their working time troubleshooting customer's issues and answering questions.
In case Best Buy is your choice of a company to work with, they might ask you to be available at night and even on weekends.
9) Asurion
Primarily known as a phone insurance company, Asurion is offering work-from-home opportunities for chat agents as well.
Answering technical questions and helping customers with claims will be some of your responsibilities.
With that said, have a look at what you need to secure a job with Asurion:
A high school diploma
Desire to work on holidays, evenings, and weekends
Willingness to go through a background check
At least six months of experience in customer service
Yes, Asurion takes the job very seriously, and so should you.
The company will provide you with all the necessary equipment an online chat agent needs.
10) Uber
Believe it or not, Uber is also offering chat jobs.
More specifically, the company is hiring people to work as community support representatives.
To get a job as one, you'll have to support both riders and drivers via email, chat, and phone (occasionally).
You'll also need to have above the average communication skills.
Chances are, you'll be working in the evenings and weekends since that's the busiest time for Uber.
While the company prefers to hire workers with a Bachelor's degree in business or communications, you can get a job without a degree.
At this time, Uber is looking for employees who want a full-time office-based position and not an online job.
Related: How To Make Money As A DoorDash Driver
11) LiveWorld
Basically, LiveWorld will be a great fit for people who enjoy working with Social Media.
If you choose to work for this company, you can secure a part-time or a full-time position as a customer service agent.
Being fluent in English is a plus, and understanding marketing engagement is a must.
Most of your time will go to responding to customers on Social Media.
And you won't have to use the phone!
Instead, you'll rely on your writing skills to complete the tasks.
Related Read:
12) ModSquad
Well, this is a company that will allow you to choose your own projects. How cool is that?
Yes, ModSquad will let you decide what kind of tasks you would like to complete.
Depending on your interests, the projects will vary.
From what I can see, they are similar to the ones you can find with LiveWorld.
There is no escaping Social Media once you become an online chat agent with ModSquad!
13) Sutherland Global
Sutherland Global represents plenty of brands always looking to hire online customer service agents.
On the downside, you'll have to use the phone from time to time.
But on the upside, that will rarely happen since most jobs require writing emails and participating in a chat.
You can get both part-time and full-time positions.
14) TeleTech
Just like Sutherland Global, TeleTech will require you to use the phone.
So, get your own headset because TeleTech has quite a lot to offer.
For example, you'll list the hours you're available to work for the company during the application process.
Once you make the cut, TeleTech will find you a project that will work for your schedule.
If you have a high school diploma and you want to work at least 20 hours a week, TeleTech is worth the look.
15) Source Solve
Next, on my list of places providing online chat jobs, I'm placing Source Solve (also known as Televated).
Currently, Source Solve offers plenty of work-from-home opportunities.
Each of them will expect you to complete different tasks.
With that said, you'll mainly manage orders, deal with customer service, and answer questions via chat and email.
16) SiteStaff
Heads up – SiteStaff will ask you to manage a couple of conversations at the same time.
In addition, the company would like to see that you can type up to 75 words per minute without any errors.
It goes without saying that your grammar and spelling skills have to be excellent.
SiteStaff's primary line of work is providing boutique chat services to businesses.
As one of their chat agents, you'll take care of servicing the needs of each customer.
17) Needle
Needle is more than a cool company, in my opinion.
The reason I feel this way about it is that Needle will not only allow you to get a job representing brands.
No, it will also give you the chance to earn rewards and products from those brands.
All available positions are about chat services, so you don't have to worry about using the phone.
Choose your hours, and you'll get paid depending on how long you spend chatting with customers.
18) Square
Formerly known as Weebly, Square is a platform looking to hire people for different positions.
One of those positions is the job as an online chat agent.
Surprisingly enough, you can find a variety of job openings on the official site.
Square is hiring USA-based people and remote workers as well.
You can work as an intern or on a full-time basis.
19) Live Person
Live Person will offer you one of those online chat jobs that require your undivided attention.
How does managing portfolios of enterprise customers sound to you?
If it sounds good, prepare yourself to join forces with the customer's own team while working.
Don't take this job lightly – Live Person won't tolerate workers who don't bother to become experts on the job.
To secure a position, you need a Bachelor's degree and at least seven years of account managing experience.
Related: How To Start A Lucrative Digital Marketing Career
20) Fancy Hands
Fancy Hands will be a joy for everyone who is not solely focused on working as a chat agent.
This company offers positions that are more on the virtual assistance side than on the chat one.
Think of it as a platform that will pay you to complete microtasks.
The number of your earnings will depend on different factors.
Such as your level of experience, how difficult the tasks are, how fast you'll complete them, etc.
21) Paperless Pipeline
OK, Paperless Pipeline doesn't offer online chat jobs all the time.
Be that as it may, it won't hurt you to keep an eye on the company.
Occasionally, you can find a chat gig – you'll assist the company's customers while they're trying to send digital documents to other businesses.
Sometimes, clients will need you to help them complete a specific task. That's where you'll come in, answering their questions.
22) Support.com
My list of paid online chat jobs isn't over yet – more platforms hiring now are coming your way.
One of those platforms is Support.com.
Here, we're talking about a company that focuses on providing tech support services to clients via chat and phone.
If you have good tech skills, don't hesitate to join Support.com.
By doing so, you'll enjoy plenty of benefits:
paid time off
health insurance
training (also paid)
tuition reimbursement
access to a content library to improve your skills
Nowadays, more and more data is moving to the cloud. So, there is a chance for you to join the Support cloud team.
23) Operator
For those who don't know, Operator is an app where shoppers connect with an operator.
That operator does research and provides shopping recommendations.
In case you want this operator position, your job will be guiding online shoppers.
Also, you'll be able to share your own experience with the product.
Since Operator is an app that aims to increase online sales, you can also earn commissions for the sales you'll make.
24) Sedgwick
Non-USA citizens, may I have your attention?
Sedgwick works with clients from nearly 70 countries, so that's the company to check if you live outside the USA.
With that said, Sedgwick deals with compensation and insurance claims.
That's what you'll deal with as well if you become a chat agent for the company.
25) Freshworks
Are you familiar with Freshworks?
Hopefully, you are – the company is hiring customer success managers.
As one, you'll work to support the whole suite of Freshworks solutions.
Unfortunately, Freshworks doesn't provide remote chat jobs.
But if you live in San Mateo, California, I suggest giving it a try.
26) Site5
One more online chat job that requires experience is the position you'll secure if you start working for Site5.
To clarify, you need to know a lot about web hosting to join the company.
As expected, you'll help clients with any technical issues they may have.
This kind of job is strictly about providing support by chat or email – no phone!
Online Chat Jobs Websites To Help You Find More Clients
Up until now, we've talked about specific places that are offering remote online jobs.
But these places are not the only ones that can help you find a position as an online chat agent.
If you don't mind increasing your client base on your own, you should take the time to search through freelance job sites.
I have the biggest and most popular ones below:
Freelancer
In short, Freelancer is an online platform that acts as a bridge between clients and freelancers.
Generally, clients are looking to hire people to complete all sorts of tasks.
The process of getting on Freelancer is straightforward:
Create a profile (and get your gift of 15 euros)
List your skills and experience
Find a job you would like to do
Place a bid for this job
Once your bid is accepted, you'll complete the task and receive your payment.
After you manage to get a few jobs done, you should increase your rates and place more bids.
Now, you need to pay a small fee to be able to access job offerings on Freelancer.
$0.99 per month is how much it will cost you to be allowed to place 15 bids and list 30 skills.
Upgrading your membership will give you access to more features and the possibility to place more bids.
Fiverr
Arguably the most popular on this list of online chat jobs, I doubt Fiverr needs any introduction.
Still, let me cover it quickly in case some of you somehow missed it:
Fiverr is a large online platform where you can sell any skill you have for money.
No matter what service you would like to provide or a job you want to do – Fiverr is the place to visit.
There is nothing complicated about getting yourself on the site:
Just sign up, create your profile, and list the chat agent services you're offering (or any other).
You'll start connecting with potential clients, talk about prices, and receive your earnings.
About the cost of services – you can go with prices anywhere between $5-$995.
It would be smart of you to research similar gigs before you decide how much to charge your customers.
Upwork
Upwork works similarly to the previous two entries on this list.
Visit the site, create your profile, and start searching for online chat jobs.
The platform will try to help you find a job as much as possible:
Expect to see emails in your inbox when new jobs appear.
While you're on Upwork, pitch your services to the client offering a job you would like to get.
I have to mention that creating a profile on this platform is free of charge.
However, Upwork will charge you commission once you begin making money.
See for yourself how much your earnings will get a reduction:
20% of the first $500 you received from a client
10% of lifelong billings with a client ($500-$10,000)
5% on lifetime billings beyond $10,000
On top of all that, you'll pay $0,15 each time you make a connection with a potential customer.
Yeah, maybe Upwork is not the best place to search for remote chat jobs!
Other Online Jobs You Might Want To Avoid:
Presto Experts
And the last entry on my list goes to Presto Experts.
This online platform and Fiverr have a lot in common.
To start using it, sign up, set up your profile, and list the chat services you're providing.
Maybe you would like to list other services while you're on the platform?
Feel free to do so – you can offer tutoring, business, technology, and many other services.
You'll get your earnings once your client pays Presto Experts first.
Online Chat Jobs – FAQ
I feel like you might have questions or you would like to learn more about today's topic.
In case I'm right, look for answers in this FAQ section:
Do The Online Chat Support Jobs Pay Well?
Basically, that depends on what you see as a well-paying online job.
Depending on the company you'll work with, and the hours you'll put, your earnings may vary.
Also, you have to factor in other financial aspects when you're working as a chat agent.
For instance, you'll save lots of cash you would otherwise spend if you work an office-based job.
How Much Can You Earn As An Online Chat Agent?
At the time of writing this article, online chat agents earn between $8-$15 per hour.While the earnings are not that high, the job is a great opportunity to boost your monthly income.Think of it as a side hustle and not a full-time job position.Although some companies will want to hire you on a full-time basis, so expect to earn more.
Do All Remote Chat Jobs Provide Benefits?
Not all, but a lot of them do.
If you go through this article carefully one more time, you'll find plenty of companies that offer job benefits.
Whether you'll get benefits or not, it all comes down to the company you'll choose as an employer.
Do You Need A College Degree To Work As An Online Chat Agent?
Again, it depends on the place you'll choose to work for.
Some clients and companies will ask to see a Bachelor's degree.
But that applies mainly to chat jobs that will ask you to go above and beyond while you're providing tech services.
With that said, most of the entries on this list are jobs hiring people without a college degree.
Can I Find An Online Chat Job If I Don't Live In The USA?
Yes, you can.
Many companies hiring chat agents work with clients from different countries.
To make sure that you'll be able to work no matter where you live, always read the company's policy.
If I were you, I would worry more about my typing speed than about the country I currently live in!
My Closing
What do you have to say about this list of online chat jobs?
Do you love them?
Maybe not so much?
Are you planning to give at least one of them a try?
Let me know in the comments section – I would love to read your opinion on the topic.
High-Paying Work-At-Home Jobs You'll Love: