50 Easy Ways To Make Money Doing Nothing (Or Almost Nothing)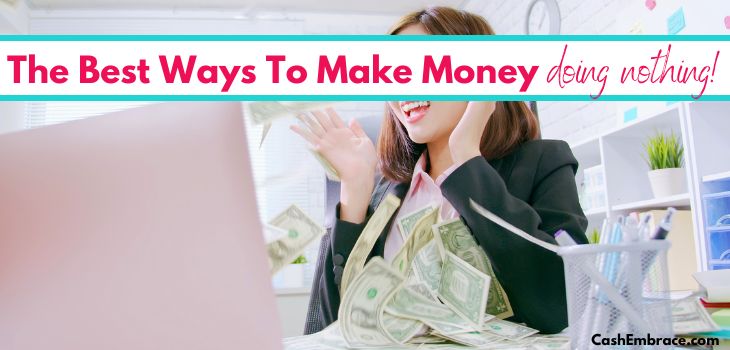 Do you want to make money doing nothing?
I bet you do. To be honest, it would be impossible to find a person who doesn't.
But is there such a thing as free money? Moreover, can you get free money for doing nothing?
It turns out that you can:
All you need to do is learn how to make money online without doing anything. And not just online, but offline too.
Today, I'll show you tons of ways to earn without doing anything or doing the bare minimum.
Relax, you'll witness much more than how to get paid to do weird things!
Are you ready to see the jobs that pay you to do nothing?
This post may contain affiliate links – have a look at my affiliate disclosure.
40 Fun And Easy Ways To Make Money Doing Nothing
1) Earn For Cooking Dinners
Let's begin with the easiest one, shall we?
Everyone needs to eat – I won't justify this statement with any scientific facts!
Chances are, many of you enjoy cooking. Even if you don't, you probably have to do it to feed your loved ones.
How do you feel about having dinner with strangers?
If you're confident in your culinary skills, I guess you'll be comfortable showing them off to people outside of your immediate family.
Is this the first you read about such a money-money idea?
Well, inviting people to share a meal with is a fresh, unique way to earn on the side.
Visit EathWith to give this option a go.
2) Make Money Testing Food
Until I'm still on the yummy note, I want to dwell on it further:
Am I the first to let you know that you can earn cash for testing food?
Hopefully, I'm not. Otherwise, you're missing out on the most delicious way to make extra money.
With that said, let's imagine that you're not aware of this earning opportunity.
Then, you should know that tons of research companies hire food testers to test their products.
Of course, trying the food is not enough – you'll have to provide feedback on the experience as well.
Keep in mind that some testing sessions might last for an hour or even two.
Testing while taking part in a focus group will most likely take you longer.
UK residents need to register to become food testers at Tastingfood.co.uk.
Those who live in another country should do some research and find a food testing company close to their area of residence.
3) Participate In Focus Groups
Speaking of focus groups, what do you say about participating in them?
Sure, you have to be a bit of chatter to make this side hustle work for you.
But if you're, devoting some free time to a focus group is an excellent way to make money for doing nothing but chatting.
Don't hesitate to share an honest opinion about a product or service that is on your mind.
Maybe what's stopping you is the idea that focus groups will require you to leave your home?
Sometimes they don't – you can take advantage of video conference calls.
4) Participate In Market Research
I don't know about you, but I'm not the biggest fan of taking surveys.
Sue me, but I often find them a bit boring.
Also, not all survey sites operate as legitimate platforms to help you earn online.
For example, Survey Money Machines will only waste your time.
That's not the situation you'll face with Respondent.
And that's probably because Respondent is not exactly a survey site.
No, Respondent is a company that will allow you to earn a decent amount of money for participating in research studies.
How decent, you may wonder?
Well, prepare to make $140 per hour as soon as you sign up for Respondent.
More often than not, you can jump on a research study that will pay you up to $300.
Learn more about Respondent and everything this company has to offer to its participants when you have a second.
5) Become A Test Subject Yourself
First and foremost, you don't have to worry:
Being a test subject won't negatively affect your health or wellbeing.
At least, this is not going to happen with the money-making idea I have in mind:
What I'm talking about is the opportunity to work as a test subject for skincare or cosmetic brand.
Some of the largest companies in the industry have programs that will allow you to earn as a tester.
Basically, a company will send you an item, you'll test it, provide feedback, and receive a paycheck.
You can do that for L'Oreal – feel free to look for other companies as well.
6) Get Paid To Surf The Web
Believe it or not, some online platforms will let you earn simply for surfing the web.
To clarify, by surfing the web, I mean exactly that:
Swagbucks is one of the most popular sites that will allow you to make money that doesn't come from your full-time job.
This website will pay you to install an add-on that will track your browsing activity and history.
Once you sign up with Swagbucks, you'll be in a position to earn points.
When you have enough of them, you can redeem them for gift cards you'll be able to use in your favorite online stores.
7) Receive Referral Credit
Don't hate me, but I won't list every single platform or website that will let you earn by referring friends:
They are so many of those!
Depending on your geographical location, some of the best-referring sites might work for you, and some may not.
Most of the time, such websites prefer to welcome members from the USA, UK, Canada, Australia, and some other countries.
What about the rest of the world?
I know – it's not fair, but it is what it is.
So, do your own research and see if sites that will pay you to refer people to their programs work in your location.
8) Use Cashback Sites
Say what you will, but using cashback sites is one of the best ways to make money doing nothing.
Personally, I can't wrap my mind around the fact that not all people take advantage of them.
Just think about it:
How hard could it possibly be to sign up for a cashback site, let it track your purchases while you shop through its portal, and earn for your activity?
TopCashBack is my favorite cashback site.
It's free to join, and I have no doubts that you'll enjoy it almost as much as I do!
9) Get Refunds When Prices Drop
Buying something only to realize that its price is lower later is one of the worst feelings in the world.
Will anyone argue with me on that?
Fortunately, there are apps that will help you avoid going through such an unpleasant experience.
Two of the most popular apps for getting refunds are Capital One Shopping and Earny.
Joining them will deliver up to $300 a year of cashback money into your bank account.
While both will keep some of your earnings as a processing fee, I think they are still worthy of your consideration.
10) Lower Your Bills With Billshark
Downloading an app that acts as a bill negotiator is one of the most clever ways to make money doing nothing.
Billshark will do its best to lower your bills automatically – the application does most of the heavy lifting for you.
With that said, you need to provide some basic information when you sign up to use Billlshark.
Once you do that, the app will go through every single bill you're paying and try to get you a lower rate.
It won't succeed every single time, so manage your expectations.
There is a one-time fee to use Billshark that is around 40% of the amount of money it will manage to save you.
11) Download Apps That Will Make You Money
Chances are, many of you will have a hard time believing that some mobile applications will pay you for simply downloading them.
Don't you just love the time we live in when something like that is possible?
Currently, there are tons of money-earning mobile apps that will pay you for doing little to nothing.
Some will ask you to complete small tasks, others will let you get cashback on your purchases.
To save you tons of time on research and testing, visit my list of top 15 apps that will make you money.
I suggest taking a specific interest in TopCashBack – that's an incredible app, in my opinion.
12) Complete Small Tasks With PrizeRebel
PrizeRebel is one of those platforms I can spend the whole day on, not that I have the time, lol.
According to the majority of its users, PrizeRebel is probably the best get paid to do nothing app.
OK, maybe not exactly nothing, but as close to it as it can get!
Signing up for the app is free of charge.
As soon as you gain access to it, start browsing through the available opportunities to earn cash – you'll see hundreds of those.
You can cash out your earnings and receive PayPal money, gift cards, or other perks.
13) Watch Videos And Make Free Money Fast
Nowadays, plenty of opportunities exist for earning while sitting at home and watching videos.
If I have to guess, this is not a money-making idea you read about for the first time:
Making money while watching videos is quite a popular way to boost your income.
Even more, keeping your eyes on the screen is the perfect answer to the question of how to make money doing nothing as a kid:
Can you think of another possibility to earn more suitable for children and teens?
After reading this article so far, you might have access to Swagbucks already.
Look through it, find Swagbucks TV, and let the binge-watching begin!
Related: Get Paid To Click On Ads
14) Make Money Playing Video Games
Alright, playing video games is another earning idea that my younger audience will appreciate.
Do you often lose track of time while playing your favorite video game?
Then why not use this hobby of yours to make some money in the process?
The way I see it, earning cash while doing what you love is a win-win situation for you.
Right now, there is more than one way to monetize your game-playing skills.
For instance, you can get paid directly for playing (Mistplay), work as a game tester, become a professional gamer, start a game-playing YouTube channel, etc.
Devote some time to research and decide which option is the best fit for you.
15) Stream Video Games
Obviously, I have more to say on the topic of video games, so bear with me for a while longer:
How do you feel about streaming video games?
Does this sound like an activity you'll particularly enjoy?
Enthusiastically nodding will lead you to Twitch.
Twitch is one of the most popular platforms that will allow you to broadcast your games.
Before you get to it, you need to have a couple of things ready – a headset, a webcam, a gaming device – you get the picture.
16) Make Money Doing Nothing Else Than Listening To Music
From video games to music – such a transition looks like the natural thing to do to me.
Slice The Pie is an online platform you can use to make money listening to music.
Create a free account, choose a song, and start listening.
Aside from playing songs, you'll have to write short reviews on the tracks in order to earn.
None of that will take tons of your time. Plus, the activity is a smart way to earn for something you're doing anyway!
Learn everything there is to know about Slice The Pie here.
17) Get Paid To Read Emails
Quite frankly, reading emails might seem more on the boring side for most of you.
Where is the fun in it, right?
Well, not every way to make money doing nothing will be entertaining, I'm afraid.
Still, getting paid to read emails is worth mentioning in this article:
It's one of the jobs that pay you to do nothing or do the bare minimum.
Inbox Dollars is the obvious choice for a platform that will let you earn for reading emails.
Consider joining Fusion Cash as well – you'll grab $5 as a sign-up bonus.
18) Make Money As A Travel Planner
What does a travel planner do?
If you catch yourself wondering that, you're not the only one:
Earning money by helping people with their traveling plans is somewhat of a fresh side hustle:
Not too many individuals are doing it at the moment.
But that's good news for you – you won't have to face tons of completion while you work to build a client base.
Maybe travel planning sounds like a suitable income source for you?
Then I suggest reading everything you can find on the topic before you make a single move.
19) Earn From Your Travel Bookings
At a first glance, travel bookings may seem like the previous entry on my list of ways to make money doing nothing.
However, it isn't:
Here, you have to let the Dosh App assist you.
So, download Dosh, book your travel through it, and earn some extra money.
No matter how you want to look at it, the app makes planning your vacation way more fun, considering the fact you'll also get cash!
20) Sell Your Old Books
Do you think that no one reads books anymore nowadays?
Hopefully, you don't because you'll be wrong:
It turns out the market for old books is huge, to say the least.
Use BookScouter to scan your books, find prices, and sell them.
Yes, it is as easy to make money from selling your old books as it sounds!
21) Sell Items You Don't Need
In my opinion, the smartest way to make money doing nothing is selling stuff you already own but don't need anymore.
Let's be honest about it – there are things in every home that shouldn't be there any longer.
As a rule of thumb, if you haven't used something for years, you'll most likely never use it again.
Think about all your possessions, and you'll agree that it's time for some of them to go.
Amazon, eBay, and Shpock are the most popular online retailers that will let you upload photos of different items and list them for sale.
See over 10 simple things you can sell to earn cash fast.
22) Get Rid Of Your Clutter
Speaking of clearing your living space, let's take the conversation up a notch and discuss completely decluttering your house.
Here, you'll have to do a bit more than lift a finger for a while:
A considerable amount of effort is necessary to clear out your junk and transform it into cash.
Why are you still keeping old CDs, phones, or electronics?
Go to Decluttr and offer them to strangers in exchange for money.
23) Clear Your Wardrobe
While clearing your wardrobe can easily belong to one of the previous two entries, I'm giving it a separate paragraph:
I'm sure the ladies reading understand my decision to do so!
Parting ways with clothes might feel like to most difficult thing to accomplish.
Still, at some point, you'll have to get to it.
Not only will your wardrobe breathe again once all the unnecessary clothing pieces are not there anymore, but you'll earn cash for the effort too.
Pick your prices and list your old clothes on platforms like Poshmark.
24) Sell Photos Online
Are you one of those people for whom snapping stunning photos come naturally?
I bet your friends and loved ones are grateful for your talent when they're the subjects of your images.
All that is sweet and great, but it doesn't pay your bills.
How come you're not looking into the highest-paying jobs for photographers yet?
You have no idea what you're missing:
Many photography jobs will pay you $100 per hour for your services.
Related: How To Make Money Selling Feet Pics
25) Make Money Doing Nothing Through Social Media
These days, most people spend tons of time on Social Media – it's just the way we live currently.
Is Social Media something you can't stay away from for longer than a couple of hours?
Then you probably already have a large following on at least one Social Media network.
With that said, how do you feel about earning a decent amount of money for collaborating with popular brands?
Hopefully, you feel great about it, and signing up as a creator on SocialSpark will be a no-brainer.
Also, you'll benefit from knowing how you can make money directly from your followers on Social Media.
26) Work As An Online Friend
Speaking of Social Media, people often form real friendships while meeting on Facebook or Twitter.
But right now, you can become online friends with individuals outside of your own Social Media network:
One of the hottest online jobs that pay weekly is being an online pal.
This side gig will not make you feel uncomfortable in any way – the conversations will happen only online.
Believe it or not, working as an online friend pays very well – you can earn up to $120 per hour.
27) Earn As A Mystery Shopper
If you don't mind me asking – how often do you go shopping?
In case going out to shop happens more every other day, then becoming a mystery shopper will be the perfect fit for you.
It doesn't take a genius to figure out what a mystery shopper does, so I don't feel the need to explain the nature of this job.
BestMark is one of the companies that hire mystery shoppers.
Maybe it's not the worst idea to give it a try and see how it goes?
28) Get Paid To Wait In A Queue
Until we're still on the subject of outside activities, let's talk about waiting in a queue as a way to make money doing nothing.
After all, staying in one spot without doing anything is the perfect fit for this article, isn't it?
Time is the most precious asset anyone can have. That's why many people prefer not to waste their with waiting in a queue.
They'll pay you to do that instead of them.
Line sitting is especially popular in the USA.
Feel free to advertise your services in that department by creating a Gig on Fiverr.
29) Get Paid To Lose Weight
Finally, getting paid for losing weight is the type of activity that won't work if you stay in one place.
Don't worry, though:
There is no need to do more than what you're doing already.
Download any of the best mobile apps that will pay you for walking.
Having such an app on your phone will allow you to earn for the movements you do every day anyway!
30) Become A Roadie
Are you wondering what a Roadie is?
Well, Roadies is an app that will pay you to deliver stuff every time you're already going somewhere.
May I clarify – you don't have to get up and complete the delivery at any time someone places an order.
Instead, Roadie will pay you to deliver while you're on your way to your own desired destination.
How cool of a way to earn is that?
Related: Earn Money As A Dasher
31) Advertise On Your Car
Another way to make money passively with your vehicle is to advertise on it.
Quite frankly, there is nothing new about this concept:
Many car owners who are aware of it are earning a decent amount of cash already.
Depending on where you live, look for companies that will let you wrap your vehicle in advertisements.
I doubt that you won't be able to find at least one!
32) Rent Out Your Car
Chances are, some of you don't drive your cars every single day.
Mine is sitting in the garage and collecting dust for four days now!
Can you afford to stay without a car for a period of time?
Great, then contact a company like Turo and rent it so someone else will pay you for driving it.
33) Rent Out Your Parking Space
Alright, I understand if you're not willing to part ways with your beloved car, even for a few days.
But what about your parking space?
Letting someone else use it will earn you around $10 a day.
Not that ten bucks are a lot of money, but you'll earn them for doing nothing at all!
34) Rent Out Your Property
Apparently, the topic of renting out stuff as a way to make money doing nothing is not over yet!
Now, let's discuss letting out a property – that's an activity that has the potential to earn you a solid income passively.
Do you own a house you barely use? Or perhaps you have a spare room that may use a guest?
Airbnb will take care of all that:
Listing your properties for rent on the platform is a smart way to boost your income.
35) Make Money House Sitting
A different opportunity to earn with houses is to get paid for sitting one.
Yes, there is a way to make money doing work that doesn't feel like working!
People who own many properties sleep more peacefully if they know that their houses have some protection from burglars.
In some cases, house sitting might go along with pet sitting. Hopefully, you won't mind that.
House sitting will earn you around $10 a day.
36) Become A Bed Tester
Let's leave the idea of sitting in a house for now and concentrate on a specific item every bedroom has – the bed.
Correct me if I'm wrong, but is there a better way to make money doing nothing than sleeping?
Personally, I don't think so and people who work as bed testers will back me up.
As a bed tester, you'll earn money for testing beds and sharing your experience afterward.
Unfortunately, securing a bed testing gig is not the easiest thing in the world to achieve.
Research large companies that operate in industries where hundreds of beds are necessary, like hotels.
37) Invest In Real Estate
Now, it's time to introduce you to an option to earn that requires money up front – investing in real estate.
Heads up – there are ways to start investing in real estate without sacrificing your life savings:
Real estate apps will allow you to begin investing with amounts of money like $500 instead of thousands.
Don't waste your time researching them:
FundRise will not let you down.
38) Flip Old Houses
Again, flipping old houses is not going to happen unless you have a good amount of money you're ready to invest.
Basically, house flipping is a process where you buy an undervalued property, hire people to fix it, and sell it for a profit.
Make no mistake – flipping old houses is quite a lucrative side hustle.
Still, you should take your time to learn a lot about it before you start doing it.
39) Peer-To-Peer Lending
To sum up, peer-to-peer lending is a business model that creates a connection between people who need a loan and people who can provide it.
Yes, you're guessing right – your place is in the second category.
If you decide to take part in peer-to-peer lending, you should carefully examine the information of your potential clients.
Once the exchange happens, you'll earn an interest that goes along with the loan repayment.
By all means, peer-to-peer lending is an incredible way to earn cash fast.
40) Self-Publish A Book/eBook
Last on my list of ways to make money doing nothing is publishing a book.
While becoming an author will require some initial work, it will earn you a passive income once the publishing part is over.
No matter what your area of expertise is, I'm sure you can think of a topic to write about in a book or an eBook.
Tools like Sqribble make the editing process as easy as it can get.
Amazon is a great platform to list your book for sale.
More Ways To Make Money Doing Nothing – Get Paid To Do Weird Things
Earn Money To Spot A Job: Use your phone to take a picture every time you see a Help Wanted sign. Download the Job Spotter App and earn points when you upload such images.
Share Your Shopping Activities On Amazon: Let ShopTracker assist you once you connect your Amazon account and begin shopping online. Also, ShopTracker will give you $3 for signing up and $3 for every month you keep using the app.
Buy An Apartment Building: While this idea requires solid investment, it will allow you to save tons of money in the long run. Keep one of the flats for yourself, live rent-free, and rent out the rest of the units.
Move Your Savings: If you have any savings, consider moving them into a high-yield savings account – you won't regret it.
Invest Your Spare Change: Apps like Acorns will take charge of your spare change and invest it on your behalf.
Consigning Stuff Online: Think of consigning as a process where you take things (clothes, toys) and sell them online. Once they sell, you'll split the money with your consignee.
Sell Digital Planners On Etsy: Planners are one of the hottest products selling on Etsy right now. They are easy to create, so making them will not feel like work.
Earn By Walking Into Stores: ShopKicks will let you make money every time you enter specific stores and scan the products.
Be A Tour Guide: Share your knowledge of your home city and monetize it while you act as a tour guide.
Make Money Waiting For Deliveries: There are people who will pay you to sit in their homes and wait for a delivery, so take advantage of the opportunity.
My Closing
Well, this is for today – my list of ways to make money doing nothing has to end.
Until I update it with more ideas, I would love to see your opinion about it.
What's your favorite way to earn without doing much or nothing at all?
Let me know in the comments section!