50 Online Jobs For Teens (Little To No Experience Required)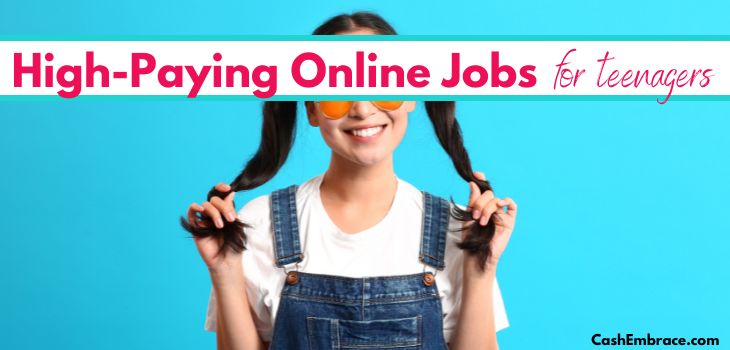 Around ten years ago, looking for the best online jobs for teens was not an option.
Fortunately for teenagers worldwide, we live in a different time now!
These days, teens have far better-earning opportunities than their parents while growing up.
Babysitting and grass-cutting seem outdated ways to earn extra income, don't they?
While adults can take advantage of all the high-paying online jobs available, teens have to find their source of online income in a smaller pool.
Be that as it may, teenagers are still able to get a well-paying online gig if they know where to look.
Today, I'll cover the best remote jobs for teens that require little to no experience.
This post contains affiliate links – you can look at my affiliate disclaimer.
Recommended Read:
Top 50 Online Jobs For Teens
1) Take Online Surveys
I know – doing surveys for money is not the most exciting way to get some extra cash.
However, most survey companies will work with you if you're 13 years old or older. And that's what counts!
Adjust your expectations, though:
Taking surveys will not bring you a significant amount of online income. Instead, surveys will allow you to make extra money on the side.
Swagbucks is the most popular and well-respected survey site you can join today.
2) Complete Small Tasks For Money
Quite frankly, completing tasks for cash is one of the online jobs for teens most of you will prefer above the rest.
Such tasks won't take lots of your time, so don't expect to spend hours on your laptop.
More often than not, you'll have to voice your opinion on specific topics.
Depending on the site you'll join to do small tasks, your monthly earnings will be different from one platform to another.
Platforms like PrizeRebel will let you redeem the points you get into PayPal cash or gift cards.
3) Play Video Games
Now, playing video games and getting paid for the process is a side hustle I'm sure most teens wouldn't refuse to do.
After all, having a smartphone and access to the internet is enough to be able to take advantage of this money-making idea.
Mistplay is the top choice for a video game that will let you earn for playing it.
Feel free to download it when you have a minute.
4) Get Paid To Play Minecraft
You may wonder why I didn't include playing Minecraft in the previous paragraph of this article.
Here is why:
Getting paid to play is a bit more complicated than spending time on another video game.
If you want to earn through Minecraft, you'll have to set up a server, configure a couple of plugins, and then build inside the game.
Those of you who can manage that should go for it.
5) Watch Videos
How do you feel about getting paid to watch videos?
Considering you most likely spend hours doing that anyway, why shouldn't you earn money for the activity?
Nowadays, many online platforms allow you to earn cash by watching videos in your spare time.
Don't expect to earn a fortune, but nice extra income instead.
6) Get Paid To Click Ads
By all means, clicking to watch ads has to be one of the easiest online jobs for teens.
There is nothing complicated about earning money by watching ads:
Generally, you'll create an account on a site that lets you make money by clicking on ads.
Then you'll click on each advertisement, wait for the first one to load, and move to the next one a couple of seconds later.
7) Review Songs For Money
Do you love listening to music?
In case you do, Slice The Pie will pay you for listening and reviewing the latest tracks on the platform.
Reviewing each song for money usually takes around one minute, sometimes even less.
Read my Slice The Pie review to learn all about it.
8) Get Paid To Chat
Believe it or not, you can make money as a teen simply by chatting and texting online.
Right now, the opportunities to earn by chatting on the web are countless.
It's worth mentioning that online chat jobs are some of the highest-paying work-at-home jobs.
Have a look at the top 30 chat jobs you can do from home.
9) Data Entry Jobs
For starters, I need to clarify that data clerk is one of the online jobs for 18-year-olds or older:
Unfortunately, you won't be able to do it if you're younger than that.
Data entry might seem boring to some of you, but the job offers a decent pay rate.
Typing in data from one source to another will earn you up to $17 an hour.
Take a minute to learn more about the best data entry jobs you can start today.
10) Offer Services On Fiverr
Fiverr is one of the largest online platforms that allow people to make money by offering a variety of services.
Teens can create free accounts on Fiverr and go after available high-paying online jobs.
For example, you can find freelance writing, editing, voice-over, web design, and many other job listings.
Heads up – you need to be at least 13 years old to be able to join Fiverr.
11) Graphic Design
Speaking of graphic design, do you have skills in that area?
Even if you don't, you can still begin making money as a graphic designer:
Graphic design is a skill, and teenagers are fast learners, so most of them will master it as soon as they put their minds to it.
Thousands of new online businesses come to life every day, so the demand for graphic designers is constantly high.
12) Review Calls
Quite frankly, reviewing calls is one of the easiest online jobs for teens you can get nowadays.
As you can guess, your work will be to review automatic recordings you'll listen to on the phone.
Expect a work activity that is about judging the quality of the call and providing honest feedback on it.
Once you become a call reviewer, you'll get paid per minute.
13) Transcriber
Until we're still on the subject of listening to audio calls, let's cover a similar working area – transcribing.
Transcribing is a process that requires converting audio or video files into written text.
Most companies that offer transcribing positions provide training as well.
GoTranscript is an excellent company to work with as a transcriber – you can earn over $1,000 a month when you join it.
14) Virtual Assistant
Think what you will, but virtual assistants are some of the most in-demand professionals in the world right now.
The reasons for that are obvious – thousands of online businesses need help with their working activities.
Believe it or not, even teens can become VAs as long as they develop the skills necessary to manage the job.
Such skills are time management, communication, and organizational abilities.
15) Online Tutor
More often than not, people see tutoring as an online job for students.
However, you can make money teaching online before you go to college.
Online tutoring is a thriving industry now, and you should take advantage of that if you love to teach.
While companies like VIPKID hires only English tutors with Bachelor's Degree, you can try your luck elsewhere.
16) Customer Service Jobs For Teens
Are you at least 16 years old?
If you are, there will be no obstacles to getting a job as a customer service representative.
Many companies will allow you to apply for such positions.
Generally speaking, the pay rate for customer service jobs is around $8.50 an hour.
17) Babysitting Jobs For Teenagers
These days, babysitting is a job you can find online.
With that said, you have to be at least 18 years old or older to be able to register at a company like Care.com.
It won't come as a surprise that busy parents are always looking for reliable babysitters they can trust.
On average, finding a babysitting position online offers a pay rate of $15-$20 an hour.
18) Sell Stuff Online
Alright, there are so many things you can sell online if you need some extra cash or a side hustle:
Used school books
Jewelry (on Etsy or your Shopify online store)
Clothes (on Poshmark)
Skincare products
19) Social Media Manager
Managing Social Media is probably one of the best-suited online jobs for teens.
After all, most teenagers spend so much time on Social Media daily, so making money off it should be a no-brainer.
You shouldn't go after this job unless you have the necessary skills to do it professionally.
But if you want to learn how to become a Social Media manager, you can do so by reading this post.
20) Content Creator For TikTok Or Snapchat
Both TikTok and Snapchat will let you use their platforms if you're at least 13 years old.
Can you create interesting and engaging content that will gather millions of views on these platforms?
In case you can, you should go for it – the monetization options of TikTok and Snapchat won't disappoint you.
Do yourself a favor and research the TikTok Creator Fund and the Snapchat Spotlight first.
21) Start A YouTube Channel
Chances are, most of you already know that there are tons of ways to make money on YouTube as a teen.
Becoming a YouTuber doesn't mean you'll automatically earn millions of dollars, but you can do well if you work hard to develop your channel.
Nowadays, tools like Speechelo will help you turn text into speech, so you don't have to talk or show your face on YouTube to make it work.
YouTube pays around $5 per 1,000 views, but that pay rate will depend on many factors.
22) Stream On Twitch
Now, one of the most interesting online jobs for teens is Twitch streamer.
Basically, Twitch is an online platform many people use to stream gaming content.
While you can register on Twitch if you're only 13 years old, you'll need a parent or guardian to agree to the platform's terms of use and service.
It's worth mentioning that building a following on Twitch takes time, so you might want to start doing that as soon as possible.
23) Become An Influencer
Social Media influencers are everywhere these days.
Why wouldn't they be?
Brands and companies are constantly looking for influencers with a significant following to promote their products and services.
The bigger your audience is, the more money you'll be able to make as an influencer on Social Media.
24) Start A Podcast
Currently, teenagers have the fantastic opportunity to reach an incredible amount of people once they launch a podcast.
Investing in a decent mic and having something worth sharing with the world is all you need to get into the podcasting business.
You can monetize such a business in a couple of ways.
Attracting sponsorships is the most popular way to earn money with your podcast.
25) Get Paid To Talk
Speaking of podcasts, let's cover another way to make money talking – Voices.com.
Voices.com is a platform that offers over 6,000 jobs to everyone who wants to earn from home by talking.
Don't worry if English is not your native language:
Nowadays, Voices provide jobs in nearly 100 languages.
26) Voice-Over Jobs
Considering working for Voices.com requires doing voice-overs, I think we should take a look at the voice-acting career as a whole.
After all, you'll have to learn how to become a professional voice actor before you begin pursuing jobs in the field.
Companies need male, female, and kids voices for different projects.
Experienced voice-over artists earn quite well, so I suggest giving this job a lot of consideration.
27) Design And Sell Merchandise Online
Redbubble and Etsy are two of the most popular platforms that will help you make money by designing and selling merchandise.
The beauty of this job is that you'll mainly focus on the design part:
Once you sell a product, the platform you work with will print and ship it to the customer on your behalf.
Designing T-shirts/other products are one of the best online jobs for teens, in my opinion.
28) Start A Website
Without a doubt, launching a website is one of the best decisions you will ever make.
Starting a blog and developing it into a profitable business is something thousands of people do daily.
Right now, you can get hosting with BigScoots for a couple of dollars a month.
Blogging will become a source of full-time income if you put consistent effort into your site.
29) Get Paid To Write
Freelance writing is the next in line of online jobs for teens I highly recommend.
Most freelance writing websites hire both beginners and experienced writers to create content.
If you love writing, you'll be glad to find out that some magazines will pay you over $1,000 per article.
Consider investing in the Freelance Paycheck course – it will show you how to transform yourself into a freelance writer in demand.
30) Proofreader
Proofreading is an online job that requires correcting grammar, spelling, and punctuation mistakes in written content.
To clarify, you have to be at least 16 years old to secure a high-paying proofreading job.
In case proofreading is unfamiliar territory, you should sign up for Caitlin Pyle's Free Proofread Anywhere Workshop.
Once you learn how to become a proofreader, expect to earn around $50 an hour.
31) Test Websites
Teens (3 years old or older) are eligible to join platforms that will pay them to test websites.
Considering the young generation spends so much time online anyway, earning through these hours makes sense.
However, testing websites is not one of the highest-paying online jobs for teens:
Don't expect to earn boatloads of cash as a website tester.
32) Test Apps
Testing apps pay a bit better than testing websites:
On average, you can make around $10-$15 per app test.
While some platforms will let you get paid to test apps if you're 13 years old, others will work with you only if you're at least 18.
33) Get Paid To Walk
Until we're on the subject of using apps to make money, how do you feel about downloading apps that will pay you to walk?
Hopefully, you feel good about this earning opportunity:
The best apps that pay for walking will let you earn for activities you do daily.
Related Read:
34) Market Research
Taking part in market research is a lucrative side hustle you can do in your spare time.
For example, Respondent will allow you to earn up to $300 per research study.
That's an excellent way to make money as a teen, so feel free to learn more about it by reading my Respondent review.
35) Photography Jobs
I'm sure most of you know that you can get paid well to do photography jobs online:
Nowadays, there are so many ways to make money selling photos online.
Have a look at the top places to sell stock photography from home.
36) Create An Online Course
Do you have specific skills or knowledge in a certain area you wouldn't mind sharing with the world?
Great, then why not create an online course?
Having an online course you can sell to thousands of students is a great way to build a passive income stream.
37) Take Notes For Cash
Taking notes and turning them into study guides is another popular online job for teens these days.
StudySoup is a website you can visit to learn more about the opportunity.
38) Write An eBook
An eBook is a product you can create once and resell multiple times.
Tools like Sqribble will help you create a professional-looking and stunning eBook from your existing content.
Using it will cut the process short – there is no doubt about it!
39) Get Paid To Search The Web
Getting paid to search the web is one of the online jobs for teens you can do if you're at least 16 years old.
Such activity will bring you tons of cash rewards, and it won't take lots of your time.
40) Download Mobile Apps
Believe it or not, some mobile apps will make you money simply for downloading them.
See the best mobile applications that will pay you for doing next to nothing.
10 Extra Online Jobs For Teens
Make Money On Amazon: Amazon will provide you with plenty of ways to earn online while you're still a teenager.
Earn On Pinterest: Pinterest is an online platform that allows its users to make money directly on the platform.
Refer People: Join as many referral programs as you like and earn cash when friends and family sign up under you.
Publish On Substack: Substack is an online platform that will make you money for publishing newsletters.
Work As An Online Friend: Becoming an online pal to strangers will earn you around $50 an hour.
Create Slogans: Slogan Seller is a web platform you can use to learn how to make money by coming up with marketing slogans.
Scan Your Receipts: Plenty of cash-back sites will get you free cash for your online shopping.
Sell On Facebook Sales Groups: Anything you can think of will find a buyer if you join the right Facebook groups for sales.
Post In Online Forums: Posting on forums online will earn you money, even if it's not the most popular source of income these days.
Do Caligraphy: Prepare to earn over $2 for doing calligraphy on envelopes for weddings and other events.
Best Online Jobs For Teens – Frequently Asked Questions
What Is The Best Online Job For Teens?
Graphic Designer
Virtual Assistant
Freelance Writer
Online Tutor
Data Entry Clerk
Can A Teenager Make $1,000?
Yes, a teenager can earn $1,000 online.
Some of the best ways to do that are by writing an eBook, designing and selling merchandise, offering photography services, and working as an affiliate marketer.
What Can A 13 Year Old Do On Fiverr?
Nowadays, a 13-year-old can offer writing, editing, proofreading, translation, and voice-over services on Fiverr to make money on the platform.
My Closing
Hopefully, my list of 50 online jobs for teens will be of great use to you.
Remember – there are other remote jobs you can do as a teenager.
Do your research and choose wisely the job you'll do to earn money as a teen.
Now, do you have any questions on this topic?
Tell me what's on your mind in the comments section, and our communication will continue.
More Money-Making Ideas From Cash Embrace: