How To Become A Virtual Assistant – Even With No Experience!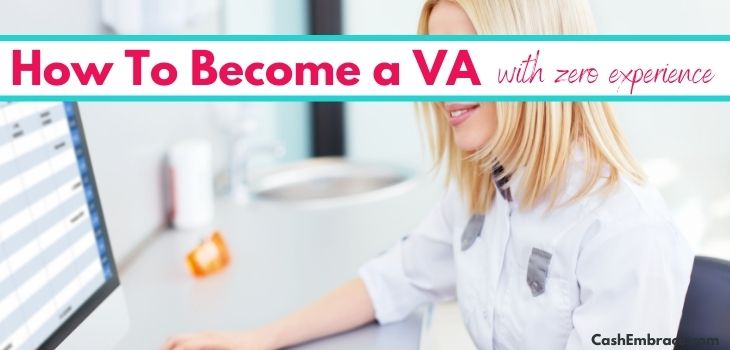 Unless you're ready to learn how to become a virtual assistant, you shouldn't be on this page.
The virtual assistant jobs are rapidly becoming some of the most in-demand online jobs a person can do nowadays.
More and more business owners are looking to hire somebody to help them once their business really takes off.
And they're willing to pay more than well in exchange for professional VA services.
In case you see yourself offering such services in the near future, I'm here to help you get there.
Today, I'll cover in great detail how to become a VA as fast as possible, what a virtual assistant does, how to find high-paying virtual assistant jobs, and so much more.
We have no time to waste – VAs are usually paid per hour, so let's do this!
This post contains affiliate links, you can visit my affiliate disclosure.
Why You Should Consider Working As A Virtual Assistant?
To sum up, because it's a lot of fun.
Diving into a brand new career, one that hasn't been explored to the fullest yet, is always a challenge.
Considering that virtual assistance didn't even exist not that long ago, I would say that this type of work is fresh and exciting.
On a more serious note, a lot of people are starting to research the virtual assistant field for one main reason:
They know that working as a VA will allow them to have control over their schedule and hours.
Not to mention, they'll be able to work from home and finally spend more time with their loved ones.
With that being said, another big reason why should learn virtual assistant skills is money.
Yes, when you work as a freelance virtual assistant, you'll be always able to pay your bills on time.  And then some, and then even some more!
More about the virtual assistant salary later, let's start from the beginning now:
What Is A Virtual Assistant?
As promised, I'm going back to the basics:
Explained in the most simple terms, a virtual assistant is a person who works for a business without being physically present in that business's location.
Meaning, what makes an assistant virtual is the fact that all of its work will be done online.
Nowadays, plenty of tools exist that will allow you to do the job easily and hassle-free, such as document sharing and conference calls.
And that explains why virtual assistance in so high in-demand for both parties involved:
For you, one of the things that make this job so attractive is undoubtfully the flexible hours you'll set-up for yourself while working from home.
On another hand, for businesses VAs are priceless because they eliminate the need of hiring staff that will require a physical location to operate.
Virtual Assistant Duties
Before you even begin researching how to become a virtual assistant, you probably thought about what your duties will look like, right?
There is no one answer to this question.
Depending on the business you'll work for, the type of duties you'll have will most likely vary.
I'll cover the VA services you can perform in a second.
With that being said, let me share with you a couple of facts you need to be aware of:
Working as a virtual assistant basically means that you'll be self-employed (independent contractor).  Not that you don't realize that, but still…
Next, to be able to manage more duties and make more money as a result, you'll need to work on your skills.
Or develop some if necessary!
More Well-Paid Online Jobs You May Be Interested In:
What Makes A Virtual Assistant A Great Hire?
Make no mistake, working as a VA is not just about answering emails.
No, you'll have to do a bit more than that, to say at least!
Maybe you're not convinced that you have what it takes to be able to earn money as a VA?
And you keep wondering:
"What do I need to become a virtual assistant?"
Well, the single most important thing that you need is motivation.
That's right, even if your skills are currently slim to none, having the right mind-set and strong motivation is enough to get you out of the door.
But what else?
Since there is a learning curve involved if you've never done this before, you better also possess these qualities:
Adaptability – you'll need that considering you'll dive into a brand new field that is probably completely different than what you've been doing so far.
A fast learner – that's always a plus if you want to start as a VA as soon as possible.
Flexibility – not all of the people who will hire you will be your cup of tea. Subsequently, you need to be able to work for individuals with a personality that strongly differs from your own.
Organization skills – you'll never be a good virtual assistant if you lack this skill.  Given the fact that organization is the root of the job, you'll need to develop such skills if you don't currently possess them.
Alright, if you see yourself as someone who checks all of these boxes, let's move on:
What Type Of Businesses Are Looking To Hire Virtual Assistants?
Now that you know what kind of qualities will make you the perfect VA, it's time to talk about who will be in a position to appreciate them.
Quite frankly, the list you're about to see is not complete.
Simply because more and more businesses in different fields are starting to look for virtual assistants as we speak.
With that said, I would like to give you a general idea about the kind of business you'll be able to work for:
Blogger/Affiliate Marketer
Business Coach/Life Coach
Freelance Business
Web Designer
Graphic Designer
Photographer
Fitness/Wellness Trainer
Real Estate Agent
And almost any other type of small business that currently exists!
OK, moving on to one of the most important paragraphs when talking about how to become a virtual assistant is being concerned:
Virtual Assistant Jobs – What Services Can You Offer As A Virtual Assistant?
In other words, we'll talk about virtual assistant jobs for beginners – that anyone can do as a fresh out of the oven VA!
The possibilities for virtual assistant jobs part-time and even full-time are plenty.
Feel free to choose from:
1) Blogging
First and foremost, you don't have to start your own website to list blogging among the services you're offering as a VA.
Especially if you've never blogged before.
Here is the thing:
Blogging for other people will not only help you learn the business inside out but will earn you some decent income in the process as well.
Examples of activities you'll have to manage if you're a VA for a blogger:
take care of the email marketing – writing, sending, and answering emails
creating content – writing, updating, and proofreading articles
improve rankings – SEO tasks such as keyword research
moderate blog comments – answering the site's comments and engaging with its audience
Social Media – create graphics (like pins), scheduling them, etc.
check for broken links
Again, these are just examples of blogging services you might be asked to do as a virtual assistant.
They may vary depending on who you will be working for.
2) Finance
In my opinion, the finance niche is one of the best ones to go for as a virtual assistant.
It can be more than lucrative if you know how to be helpful in it.
This will require some experience in the field.
If you have it, then don't hesitate to list any of the following services in your resume:
payroll
payment processing
invoices management
bookkeeping
Maybe I shouldn't say that again, but the finance tasks you'll have to do will vary from employer to employer.
3) Social Media
From what I can see online and after conversations with friends of mine, I can say this much:
Social Media is the one field where you can always get a job as a VA, hands down.
After all, not every business needs a VA to manage its bookkeeping.
However, 100% of the businesses need to have a strong Social Media presence, it's just the way it is.
Especially considering the fact that managing Social Media is time-consuming and most business owners simply don't have the hours to do it.
Keep in mind, Social Media is changing constantly, sometimes literally in a month or even a week.
So, as a Social Media virtual assistant, you'll need to be on the top of your game at all times.
Here is what some of the tasks you'll have to perform look like:
writing click-worthy headlines – think of it as coming up with "clickbait"
pin, tweet, retweet content that will benefit your employer
discover the latest trends – and make suggestions on how to implement them to improve the Social Media presence of the business you're working for
engage with the audience – and that will require more than answering a reader's comment
Honestly, the list here can go on and on.
4) e-Commerce
Mostly an underrated niche for virtual assistants, no idea why!
While helping to develop a dropshipping business is certainly harder than the tasks mentioned above, it's totally worth it money-wise.
If you know how to do any of the following tasks, you should definitely consider the niche:
deal with inventory
manage customer service – take care of the returns and exchanges
track orders
do the marketing
store's maintenance
Not the easiest thing to handle, but being an e-commerce VA is worth the thought.
5) Other Virtual Assistant Services
As I've already said, there is no shortage of services you can do once you walk in a virtual assistant's shoes.
What else can you offer?
Well, here are a couple more ideas:
general admin services
branding services
email marketing services
graphic designer services
CRM services (customer relations management)
Whether you would like to include any of these among the services you're offering as a VA, is entirely up to you.
How To Become A Virtual Assistant – A Few Simple Steps To Follow
For starters, you should get this straight:
Becoming a well-paid VA will put you in the position of owning your own business.
There is no way around that since you'll be basically self-employed.
With that said, here is how to start a virtual assistant business:
1) Polish Your Offer
Let's say that you did the work and now you have most of the skills listed earlier in this article.
Naturally, you must be wondering:
Which ones should I be offering?
While some people like to narrow down their niche from the start, I don't think you should do it as a beginner.
On the contrary, I believe that you should offer as many services as you can.
That will help you get a job at a time where you haven't made a name for yourself yet.
Once you have more experience, you can always niche down if you feel like it's the right thing to do for your VA business.
But not just yet!
2) Set Up Your VA Business
A quick heads-up, this is important information, so don't skip it:
Before you begin to offer any sort of services, a couple of decisions must be made.
And the biggest one will be how to set up your business – as a sole proprietorship or as a limited liability company.
The first option doesn't require any additional set-up and you can get on it almost straight away.  Having said that, you should know that it's a bit risky:
If something goes wrong with your business, your personal assets will be on the line.
Now, the second option is the one that will protect you better if at some point you get sued.
It's not a bad idea to consult with a lawyer before you make a decision.
3) Create A Website
Once again, a step that can not be missed or overlooked.
Selling yourself is a crucial part of the process.
Finding success as a virtual assistant won't be possible without it.
That's why you need to build a website that can show potential customers what you're capable of doing.
Think of it as your virtual office.
I mean, your clients won't feel welcomed if you don't have where to invite them, right?
A place that shows them how your business can help and improve theirs is not just recommended, it's necessary.
4) Master Social Media
Relax, you don't have to become an expert on every Social Media network that currently exists.
However, since the VAs that specialize in Social Media services are most in-demand, you need to know how to handle it.
Quite frankly, you should spend some time on research and find out where your ideal clients like to hang out.
Are they on Pinterest?
Then you'll have to master it if you want to get hired as a Pinterest virtual assistant.
Got the idea, right?
5) Find Virtual Assistant Jobs
Finding profitable VA jobs is the whole point of learning how to become a virtual assistant, isn't that correct?
Nowadays, there are plenty of platforms where you can get a job as a VA.
These are some of the virtual assistant websites you can check out:
Freelancer
Indeed
We Work Remotely
All of these sites are advertised as platforms where you can find virtual assistant jobs for beginners.
Here is the thing, though:
Chances are, they won't pay you that well for your services.
If you want to reach excellent clients that will pay you more than well, you should try a different approach.
Such as networking, establishing personal connections within the business, and selling yourself above anyone else who offers similar services as you do.
No idea how to do that?
Well, that's where the professional virtual assistant training comes in:
Where To Get A Top-Notch Virtual Assistance Training
Ask anyone who knows the first thing about the business and they'll all tell you the same name:
Gina Horkey from the Horkey Hand Book.
It's not just that she offers professional virtual assistant training.
But what she'll teach you to do is something you'll have a hard time learning from anyone else.
With personal finance as her background, Gina was able to achieve in 6 months what too many can't accomplish in a lifetime once she moved to the VA field:
She earned her first $4,000 paycheck from her VA services, working part-time while also managing a full-time job.
This lady looked into everything the VA world has to offer for the first time in 2014.
Within 8 months, she was doing virtual assistance for a living.
If you care to ask Gina what's the average virtual assistant salary, she'll tell you that a VA makes around $15-$20 per hour.
That's not how much her students earn, though:
No, the lucky ones who have taken her course are making $25, $50, even as much as $100 per hour.
If you want to gain the skills so you would be able to earn that much as well, I would recommend that you look into her training.
My Closing
Do you know how to become a virtual assistant already?
Because if you don't, that means that I didn't do a good job with this article.
I like to believe that I did.
Care to share your opinion about that?
Or anything else you would like to know about this topic?
Ask me anything in the comments section below and I'll get back to you the first chance I get.