DoorDash Driver Review: How To Earn Money Driving For DoorDash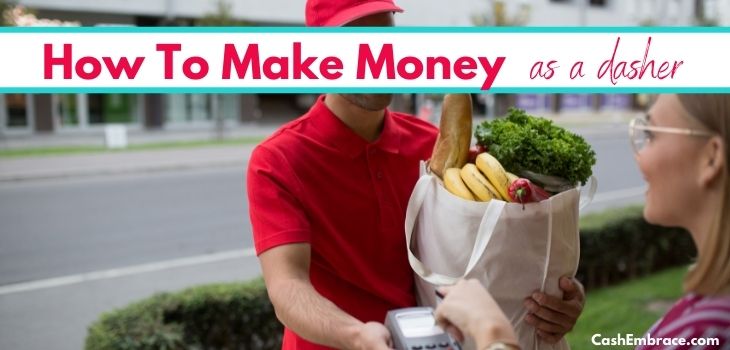 As you can guess, this DoorDash Driver Review will show you how to earn money while driving in your spare time.
Nowadays, DoorDash is the largest company in the USA that offers food delivery services on demand.
If you need to boost your income with extra cash, driving for DoorDash will help you achieve that goal.
Becoming a dasher is an opportunity that will attract you by offering flexible hours and a light working schedule.
Today, I'll walk you through the process of becoming a DoorDash driver, and you'll see what to expect from this side hustle:
Why should you become a dasher?
How to start working as a DoorDash driver?
Can you make $500 a week with DoorDash?
Is DoorDash legit?
This post contains affiliate links – take a look at my affiliate disclosure.
Recommended Read:
What Is DoorDash?

In short, DoorDash is a company that has been offering food delivery services for years (since 2013).
Overall, DoorDash is responsible for over 50% of all meal delivery in the USA daily, making it the most popular corporation in its market.
The DoorDash services are available in nearly 10,000 cities in the USA, Germany, Japan, Canada, and other countries.
Subsequently, it's no surprise that the company triumphs over its biggest competitors in the field, such as Uber Eats and Postmates.
With that said, let's skip the rest of DoorDash's history and focus on more important matters in this DoorDash driver review:
I'm talking about the earning opportunities DoorDash provides to anyone who would like to join it.
Why Should You Become A DoorDash Driver?
Quite frankly, there are plenty of reasons why working as a DoorDash driver (dasher) is a great idea.
Before I tell you what these reasons are, let me shed some light on the way DoorDash operates:
There are two DoorDash apps – a food delivery app for customers and a driver app for workers. Both are free to download.
As you can probably guess, clients are the ones who use the DoorDash delivery app to order whatever they need at the moment. For example, they can ask for delivery of items such as restaurant meals, gourmet cakes, liquor, pet food, and even office supplies.
Once an order comes in, a dasher using the driver app will have the option to accept it. Then the dasher will pick up the order and deliver it to the customer.
Doing such a work is more than a decent side job for people who enjoy driving.
DoorDash offers a generous pay rate to its dashers, and all drivers have flexible working hours:
Each dasher can schedule their driving hours in advance thanks to the option Scheduling A Dash (choosing a day and time to work in the app and placing yourself on the schedule).
Simultaneously, you can decide to make money fast by opening the DoorDash driver app and clicking Dash Now. That works best at the time window when there is a high demand for orders.
Is DoorDash Legit?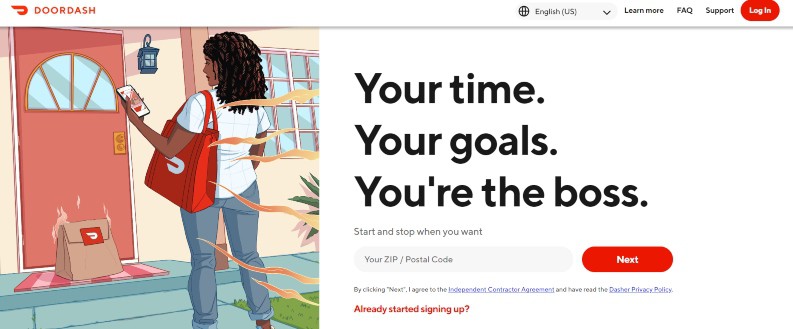 To clarify, I include such a paragraph just because I want my DoorDash driver review to be complete.
Yes, DoorDash is a legitimate food delivery company with a long history and millions of clients from the USA and other countries.
Moreover, the company will provide you with a legit opportunity to earn a decent hourly pay rate and work during comfortable hours for you.
While not every DoorDash honest review is glowing, offering your driving services to this platform is worth the time and effort.
More High-Paying Jobs You Might Like:
How Much Do DoorDash Drivers Make?
At the time of writing this DoorDash driver review, the company doesn't pay any hourly rate to its dashers.
Instead, workers earn per order and receive the whole amount of their tips.
Your monthly earnings will vary depending on how busy you would like to be as a dasher.
Some factors that will affect your daily DoorDash income are the number of hours you'll drive, the times of day you're working, and where you currently live.
On average, dashers make between $15-$25 per hour.
However, I'm here to tell you that you'll be able to earn more than that.
DoorDash Driver Review: About DoorDash Driver Pay
Before we go any further, I want to take a minute to explain the structure of the DoorDash driver pay.
A few years ago, the company made drastic payment changes. Since then, DoorDash drivers can keep 100% of their tips.
That sounds great, but what else should you know about making money with DoorDash?
Well, your total earnings will combine your base pay, promotions, and tips.
Here is how that works:
Base Pay: Each delivery order includes a minimum payment (base pay) between $2-$10. Looking at your DoorDash driver app will let you see the exact base pay of every order before you accept it.
Promotions: Think of promotions as ways to take advantage of Peak Pay. Peak Pay is available during the busiest hours, and it will add up to $5 to your earnings. Your app will cover certain areas in red with a plus sign and a specific amount of extra money.
Tips: Feel free to accept any tips a customer will be willing to give you – that whole amount is yours, as you already know.
Can You Make $500 A Week With DoorDash?
Yes, it turns out that you can earn $500 a week as a DoorDash driver.
Earlier, I mentioned that dashers make up to $25 per hour, but that's just the base pay.
If you add the extra cash you'll earn from Peak Pay and your tips, your income will increase – there is no doubt about it.
How To Make Extra Money With DoorDash?
How about I share a couple of tricks and ideas that will help you earn more with DoorDash?
Always Check The Promos Tab For Available Challenges: A DoorDash challenge is the fastest way to make more money as a dasher. For instance, a typical challenge will prompt you to complete 15 weekly deliveries to earn an extra $20.
Make The Best Of Peak Pay: I'm well aware of the fact that you won't always be available to work during the busiest hours. Still, take advantage of the Peak Pay option every time you have a chance to do it.
Maximize Your Tips: Being efficient with delivery and friendly to the client will often positively impact the tips you'll receive. Another way to boost the amount of the tip is by bringing napkins and adding something extra to the order, like sauce or mints. Also, larger orders usually result in bigger tips.
Accept More Than One Order: More often than not, there will be delivery orders close to each other. Use that opportunity to make two deliveries at a time and earn more money.
DoorDash Driver Requirements
You have to meet certain requirements to become a dasher.
Take a look at everything DoorDash needs from you before it allows you to start working on deliveries:
Must be at least 18 years old or older
Have access to a bicycle (in some cities), scooter, or car (you can do deliveries on foot as well)
In case you deliver via car, you need a driving license, auto insurance, and no major driving violations for the past seven years
Agree to go through a criminal background check
Social Security Number if you'll deliver in the USA
DoorDash Driver Expenses
Once you become a DoorDash driver and begin working for the company, you'll have to cover a couple of expenses.
Prepare to deal with expenditures for gas, vehicle maintenance, cell phone, parking, and items to keep the food hot.
On rare occasions, you might have to pay for roadside assistance if you find yourself in a situation that requires it.
Now, every dasher has the chance to take the standard mileage deduction to decrease the expenses to a certain degree.
To clarify, a DoorDash driver is an independent contractor. As such, you'll have to face a 15% self-employment tax plus the income tax of your other income (if you have any).
With that said, DoorDash will assist you with filing your taxes. If you claim any available deduction and track your miles, you won't have to overpay on these taxes.
How To Become A DoorDash Driver: Steps To Become A Dasher
Alright, it's time for my DoorDash driver review to walk you through the process of becoming a dasher.
Basically, DoorDash connects clients with drivers and restaurants in the area. You'll use your phone and driver's DoorDash app to choose, accept, and deliver orders.
Each payment happens through the app – there will be no exchange of cash between dashers and customers (except for tips).
So, let me show you all the steps you'll need to take to start working for DoorDash:
1) Sign Up To Become A Dasher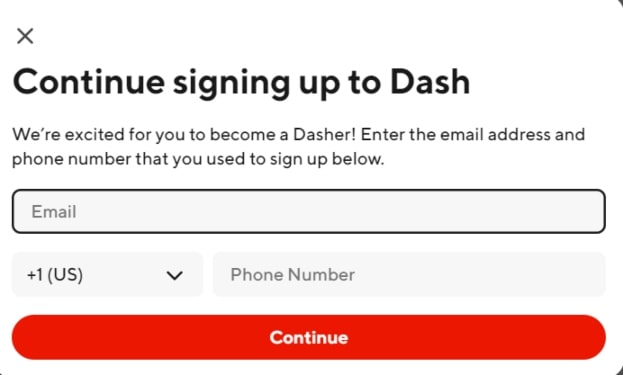 Generally, the sign-up process for DoorDash takes up to five business days.
However, it might take you longer than that if a large number of applications go in at the same time.
In any case, you'll be able to complete your registration in less than two weeks.
To begin the process, download the DoorDash driver app or visit the official website.
Next, click the Become A Dasher button.
2) Fill Out An Application
After choosing the option to become a dasher, you'll need to provide some basic information about yourself.
The data you'll have to share is your name, phone number, and zip code.
Later on, DoorDash will put you through the background check. Be ready to type in your vehicle details and prove that you have an active driving license.
Also, you'll need to provide your license number and social security number so the company would be able to complete the background check.
In addition, make sure to leave your bank information to receive your future DoorDash earnings.
3) Receive Your DoorDash Activation Kit
Assuming that you pass the background check successfully, the next step is getting the DoorDash Activation Kit to the address you provide to the company.
That Activation Kit contains a couple of items you'll need to do the job.
Among the items are a hot bag (to store the food until its delivery), a Red Card (pre-paid company card to handle the tips and the payment), and a DoorDash Getting Started Manual.
4) Start Making Deliveries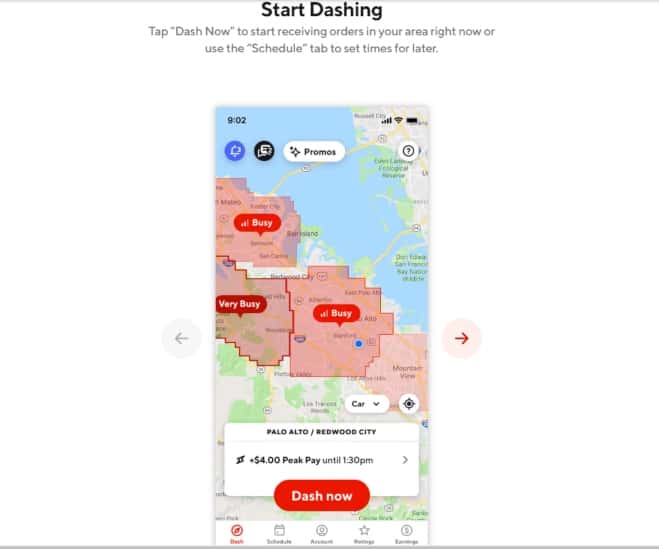 Believe it or not, you can begin completing order deliveries as soon as your background check clears up.
Considering it might take a couple of days for the DoorDash Activation Kit to arrive, waiting for it will only lose your precious time.
Using the DoorDash driving app will make your job for the company as easy as it can get – the app comes with GPS directions to and from different restaurants.
With that said, you already know how to pick, accept, and complete an order delivery, so I'll not repeat that information.
Instead, let's move on to the final step:
5) Getting Paid With DoorDash
As soon as you complete a delivery, you'll be able to see your earnings inside your DoorDash driver app.
Like the online jobs that pay weekly, DoorDash will let you receive your money every few days.
Payments are available via direct deposit to your bank account.
Dashers in the USA can take advantage of the Fast Pay option. Fast Pay will allow you to get your earnings instantly but will also charge you $1.99 to cash out.
Simple Ways To Make Money:
DoorDash Pros And Cons
Pros:
Fun Job For Drivers: Anyone who loves to spend time behind the wheel will appreciate the opportunity to earn while driving.
Flexible Working Hours: Dashers are the ones to choose when to work and for how long.
Simple Payment Options: DoorDash will offer you a couple of ways to easily receive your money.
Weekly Payments: The company will pay you on Monday of every week.
Cash Back On Gas Purchases: Each dasher who the DasherDirect Business Prepaid Visa Card will earn 10% cash back on their gas expenses.
Cons:
No Flat Pay Rate: Working for DoorDash doesn't come with a flat pay rate. However, the company more than makes up for that with the rest of the earning opportunities it provides.
There Will Be Driving Expenses: Being a dasher means you'll have to face certain expenditures while doing this job.
Not For Everybody: In case you hate driving or don't drive at all, DoorDash is not for you.
DoorDash Driver Review: Frequently Asked Questions
What Is The First Step To Become A Dasher?
Your first step to becoming a DoorDash driver will be to sign up to work for the company.
Currently, you can do that on DoorDash's site or by downloading the DoorDash Driver App.
How To Earn Money With DoorDash?
Currently, you can start earning money with DoorDash by accepting and completing food delivery orders. You can do that in your spare time.
Is DoorDash A Stressful Job?
No, working for DoorDash is not a stressful job as long as you enjoy driving and don't mind delivering meals to the customers.
Are There Any DoorDash Driver Complaints?
Most DoorDash reviews you can find online are positive.
Sometimes, dashers might complain about DoorDash Fast Pay not working properly.
But that happens with other payment options from time to time too.
And How Much Money Do Dashers Make A Week?
On average, dashers earn between $10-$25 per hour.
That amount will increase if you work more hours and use the Peak Pay opportunity to deliver orders during the busiest hours.
Plus, dashers keep the total amount of their tips for themselves.
My Closing
It looks like I have nothing else to say in this DoorDash driver review.
I'm always here if you have any questions, though:
Maybe you need some extra info or clarification?
Then use the comments section below, and we'll talk further about DoorDash.
More Money-Making Ideas You May Love: