Websites That Pay You To Write: 100 Sites To Make Money Writing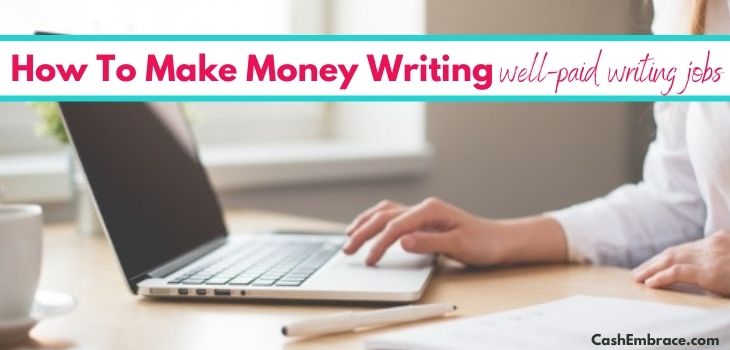 Are you ready to become familiar with the best websites that pay you to write?
If writing is something you enjoy doing quite a lot, there is no reason why you shouldn't earn money as a freelance writer.
These days, you don't have to be a worldwide-known novelist or best-selling author to secure one of the well-paying write online jobs.
It might be hard to believe, but even a first-time freelancer can write for cash and find a website that pays you to write.
With that said, starting a freelance writing career is one of the best ways to make money online for beginners.
Whether you see writing as a lucrative side hustle or a source of full-time income, getting your first writing job online is the way to start making money by writing.
Today, I'll introduce you to the top 50 online writing websites that pay.
So, if you want to see how you can get paid to write for beginners, don't skip any websites that pay for your writing!
This post may contain affiliate links.  Feel free to check my affiliate disclosure.
Not a freelance writer yet? Check this professional writing course you can take at your own pace!
Recommended Read:
Best Websites That Pay You To Write: Top 50 Online Writing Platforms That Pay Well
1) Hire Writers
Quite frankly, it's no accident that I'm starting the list with Hire Writers.
In my opinion, Hire Writers is one of the best freelance writing websites that pay both aspiring and professional writers.
Anyone can find a writing gig on this website – it offers jobs to writers with all levels of experience.
Hire Writers works in a simple way – it uses a star rating.
While junior writers will probably get 1-3 stars at the beginning, once they develop their skills, they'll see a 5-star rating as well.
Once you start working for Hire Writers, you can receive your earnings via PayPal – you can cash them out when they reach $10.
2) Scripted
Scripted is an online writing platform that has a lot to offer:
The site will be a great fit for people who know a thing or two about freelancing and copywriting.
Working with Scripted will require you to write blog posts, Social Media posts, website copy, or email newsletters.
To start using the site, you'll have to register, pass the test, and claim a job.
You'll receive your payment a few days after completing a job.
3) Listverse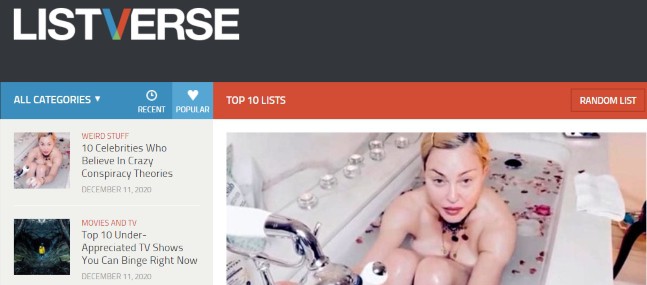 As most of you probably already know, Listverse is a part of every article about websites that pay you to write. And for a very good reason:
Listverse is one of the highest-paying online writing platforms – you can earn $100 per article.
Heads up – Listverse accepts listicle types of articles that contain interesting and uncommon facts.
Your work has to be at least 1,800 words, and you'll need to mention at least ten items on the topic you're covering.
Currently, Listverse works with writers from the USA, UK, Canada, Australia, Ireland, New Zealand, and South Africa.
4) Cracked
Much similar to Listverse, Cracked will ask you to write list-style articles too.
There is a difference between these two websites that pay you to write, though:
Aside from articles, Cracked accepts memes and charts as well.
Are you good at creating such content?
Then you should give Cracked a try – the site wants content on music, sports, news, video games, celebrities, and much more.
Related: 30 Ways To Make Money Watching Videos
5) The Content Authority
Basically, Content Authority is an excellent option for those of you who have some writing experience:
Unless you're able to deliver five articles in a short time, Content Authority won't work for you.
Once you register at the site, you'll have to submit an application.
That application will go through a review process, and you'll find yourself in a period of probation.
Your probation period will last a day – when it's over, you better have five articles ready for an editor.
With that said, if you manage to pass that task, you'll find out that the site is so worth it:
It will give you tons of opportunities to work as a writer, so it's highly unlikely to stay without an assignment for long!
6) Writer
OK, iWriter is a great example of good news, bad news situation:
Under the bad one, I'm placing the fact that the website currently accepts writers only from North America, Europe, and Australia.
Meanwhile, the good news is that iWriter is perfect for first-time writers:
Aspiring freelancers can write an article and get paid on iWriter.
Now, improving your writing skills and achieving better rankings on the site will earn you at least $80 per article.
Withdraws are available via PayPal (the minimum threshold is $20).
7) Crowd Content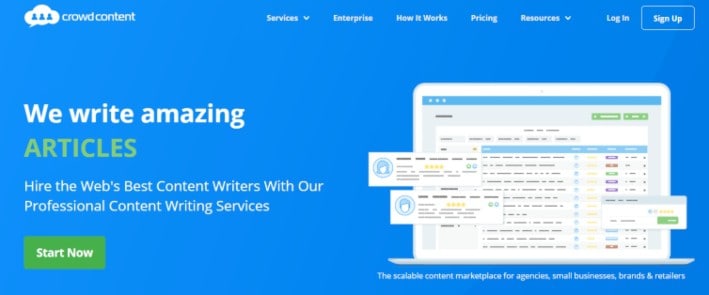 Usually, I'm not fond of the idea of playing favorites, but Crowd Content is definitely one of the best websites that pay you to write.
Here is why:
Crowd Content Jobs:
Nowadays, Crowd Content provides both writing and editing jobs.
Plus, you can use the site to earn extra money by completing small tasks.
Crowd Content Pay:
1 Start Writers – Up to 1.4 cents per word
2 Star Writers – Up to 2.3 cents per word
3 Star Writers – Up to 5.2 cents per word
8) Great Content
Unfortunately, Great Content is one of the websites that pay for writing that only hires native English speakers.
In case English is your first language, Great Content won't disappoint you.
Every writer who wants to work with the site needs to go through a simple process, such as registering and providing a short writing sample.
If the people behind Great Content like what they see, you'll receive an evaluation, and you can start making money writing for the platform.
9) Constant Content
Apparently, there are more websites that pay you to write with the word content in their names!
However, Constant Content is more of a job board portal than a site you can join to write an article and get paid.
So, you'll need to register on the platform and build your profile.
I have to mention that the site will help you find a writing job that will suit your needs and experience.
Considering you'll be writing for brands, the pay will depend on the company that will hire you.
Related Post: Home Job Stop – Side Job Portal To Earn Extra Money
10) Zerys
Next on my list of websites that pay for articles is Zerys.
By all means, Zerys is a huge network for writers – more than 50,000 people are already writing for cash on it.
Do you want to be one of them?
Start the sign-up process by providing your name and email address. Later on, you'll need to submit a writing sample and wait until it goes through a review.
Depending on the quality of your writing sample, you'll receive a star rating as a writer (between 2-5 stars).
11) London Brokers Freelance Writing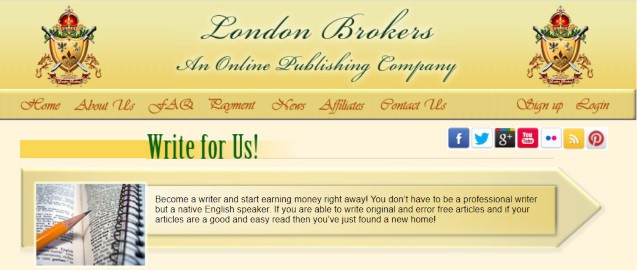 Don't let the name of this site mislead you:
London Brokers is open for writers who live outside of London as well!
As long as your native language is English, you're good to go no matter where you reside at the moment.
While this website is willing to work with beginner writers, you better be on the top of your game:
It will allow you to write articles for money if you can offer an error-free piece of writing.
Payments go out via PayPal and Payoneer twice a week.
12) TextBroker
TextBroker works only with American writers who are at least 18 years old.
The registering process is pretty much what you can expect from the websites that pay you to write:
Sign up, submit a writing sample, and be patient until it receives a rating.
Then, complete your profile and start searching through the projects for a job.
Earn your first $10 as a writer, and you can cash out via PayPal.
Are there any Textbroker typing jobs?
Yes, TextBroker offers more earning opportunities than writing jobs – visit the site for more information.
More High-Paying Online Jobs You Might Like:
13) Green Light Articles
Generally, newbie writers should look for a freelance job elsewhere:
Green Light Articles won't give you a chance unless they witness better-than-average writing skills.
But if you're more than a decent writer, the site deserves serious consideration:
Expect to gain access to tons of available projects that will handsomely reward your writing abilities.
Be careful, though – there are deadlines you'll have to meet them!
14) eZdia
Since we're already talking about sites that hire professional writers, I should keep them coming by introducing you to eZdia.
eZdia fits such a description perfectly:
This network mostly hires eCommerce writers.
In case this field is your strongest suit, you should know that eZdia pays well to its team:
Prepare to earn as much as $150 per single article.
15) Love To Know
Yes, Love To Know is a great name, but the write online jobs that this site offers are even better.
Love To Know is looking to hire professional writers who have a great knowledge of graphic design, computer programming, and product management.
Still, they have a section for beginner content creators too.
Working with this platform offers flexible hours and a pay rate of $25-$100 per article.
Your earnings will get to your bank account via PayPal.
16) Journalism Jobs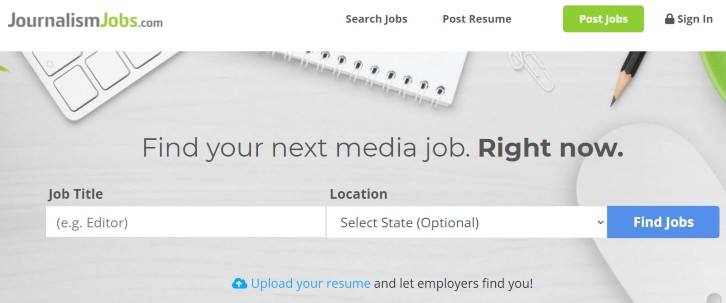 Alright, next on my list of websites that pay you to write happens to be Journalism Jobs.
As you can guess, being a journalist will improve your chances of earning online through the platform.
Journalism Jobs is a job board portal you can use to find a writing gig in the journalism/Social Media field.
To clarify, the site will require you to be good at writing click-worthy headlines.
Related: How To Get Paid To Write Slogans
17) Word Gigs
Word Gigs prefers to collaborate with freelancers with extensive writing experience.
The work here is about writing articles, press releases, online content, and e-books.
One of the advantages of writing for this site is the flexible working hours.
There is an application process – you'll have to go through a 10-minutes long phone call.
Unfortunately, Word Gigs is hiring US citizens only.
Related: Make Money Online With Kindle Publishing
18) Words Of Worth
Allegedly, Words Of Worth is one of the easiest platforms a person can use to make money writing.
All you have to do to start is apply, write a trial article, and begin earning once your work gets approval.
Being a native English speaker is not mandatory to write content for money for this company.
Of course, you'll need to be more than fluent in the language if you want a shot with Words of Worth.
At the moment, the website is hiring writers from the USA, UK, Australia, and Canada.
19) Pure Content
Existing for almost 16 years now, Pure Content will offer you the chance to make money not only as a writer:
Finding an editing job is an option as well.
Pure Content pays via PayPal and direct deposit to your bank.
English needs to be your native language.
Plus, they hire workers from the USA, UK, Canada, and Australia.
20) Copify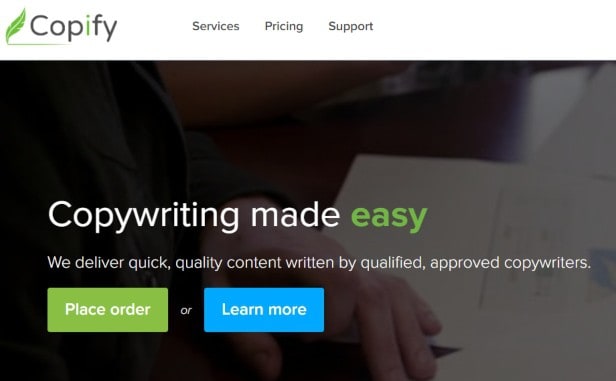 I feel like it's time for a writing job that is suitable for beginners.
And Copify will offer you one.
Keep in mind that you'll have to prepare a Copify writing sample to become a freelance writer for the platform.
Copify Jobs:
Professional Copywriter, Article Writer, Content Writer For Hire, etc.
Copify Pay Rates:
$30 for 500 words
21) Custom Papers
Set your own hours and work any time you feel like it – that's what Custom Papers will allow you to do.
Once again, the website is hiring writers with English as their first language.
Just submit a sample of your work and wait to hear from the site.
The approval process won't take too long.
22) Plum Deluxe
OK, Plum Deluxe is a website that produces content about entertainment and spiritual/mindset well-being.
In case you feel a strong connection to these topics, then the site would love to have you on board.
So, you'll have to show them a previous work of yours.
An editor will assist you while you're submitting your sample.
You're looking at $30 per article once you write an article and get paid from Plum Deluxe.
Payments are available via PayPal.
23) Writer's Weekly
As a website dedicated to writing, publishing, and marketing books, Writer's Weekly won't work with you unless you're willing to write about that.
With that said, if the topic interests you, you should know that the site pays well:
You can earn $60/article, and that article doesn't even have to be a long one:
Around 600, 700 words will do the trick!
24) Get A Copywriter

Get a Copywriter is hiring not only copywriters but writers as well.
However, the platform is one of the writing websites that pay experienced freelancers only:
It will hire you if you're a native English speaker and you have extensive experience as a writer.
Fill out the application, and you'll get answers in 1 to 4 weeks.
25) BlogMutt
We're going back to the websites that pay you to write if you're a newbie:
Being a writer for BlogMutt works differently than what you probably expect.
You'll have to write articles, wait until the clients choose the ones they want, and then you'll receive any money.
The more content you publish, the more bonus points you'll get.
Needless to say, these bonus points will come in handy when you're looking for better-paying opportunities on the platform.
26) The DollarStretcher
Do you have knowledge in the personal finance niche you would like to share with an audience?
Great, then the DollarStretcher is the place for you.
This website publishes content about finance and frugal living – you'll make $0,10 per word once your work is published.
27) Elite Personal Finance
Since we're on the subject of money, Elite Personal Finance will ask you to write about credit cards, credit reports, finance-related reviews, etc.
Yeah, it's all about money – and you'll make a good amount of cash if you decide to work for the site.
I mean, they'll pay you up to $100 per post – if you deliver 1,000-3,000 words.
28) Money Pantry Get Paid To Write
One more website that would like you to write about money is the Money Pantry.
Money Pantry is looking to hire both new and experienced writers.
As long as you can come up with interesting and valuable content about money-making or money-saving, you can work for the site.
And you'll make anywhere between $30-$150 per article – your post should be no less than 750 words.
Heads up – your work will go through an editor, so – do your best.
Visit MoneyPantry.com Get Paid To Write to offer your writing contribution.
29) Money Crashers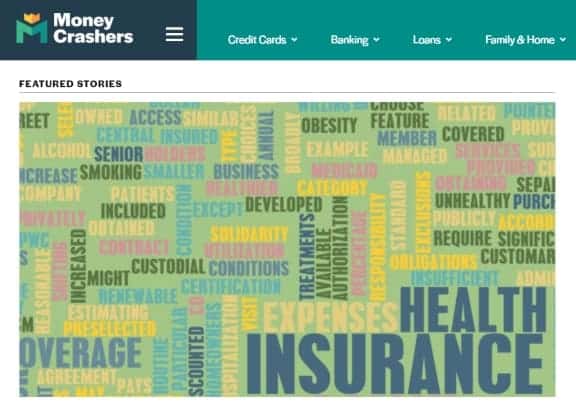 Does any of the following topics interest you?
credit/debt
money management
retirement planning
real estate investing
frugal living
If they do, Money Crashers is the right fit for your writing abilities.
Write an article of 3,000 words (or longer) and check your PayPal account afterward.
30) Income Diary
A favorite one of mine, the Income Diary, is looking for well-written content about SEO, Social Media Marketing, and making money online.
Other topics they would publish are affiliate marketing and increasing blog traffic.
These days, the site is more than generous:
Once the people behind it like what they see, they'll pay you $250 for a single post.
I suggest visiting the Income Diary Write For Us page as soon as you have the chance.
31) Contena
Quite frankly, Contena is an online platform that will help you build a whole freelance writing business:
Nowadays, the Contena Academy provides its members with an extensive video training course and tons of materials that will teach you to write content for money.
While Contena offers paid memberships, you can do a lot if you sign up for a free account.
32) HubPages
Chances are, most of you are already familiar with HubPages:
The website receives tons of traffic daily and it's a great place to write and earn as a beginner freelancer.
Your articles have to be at least 700 words long and of high quality.
33) InstantShift
InstantShift is one of the websites that pay you to write if you're willing to create content about design and programming.
Payments vary:
They depend on your level of experience and the quality of the writing piece you'll offer for publishing.
34) Vibrant Life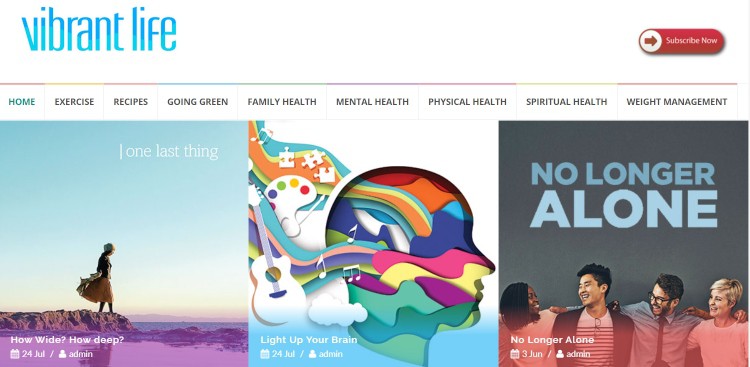 Vibrant Life is a site that will pay you to write about health and wellness.
Topics like family, spirituality, and environment will also pick the interest of the team behind the website.
On average, Vibrant Life pays between $100-$300 to its contributors.
35) Chicken Soup For The Soul
While Chicken Soup For The Soul is a great place to get paid to write, don't expect to receive any earnings fast:
Unfortunately, you'll have to wait months until your content makes it through publication.
When it does, though, you'll get $200 per submission.
36) Barefoot Writer
I'm sure most of you are familiar with the Barefoot Writer:
Typing a search query such as TheBarefootWriter.com Jobs will introduce you to tons of possibilities to get paid to write.
For example, the site hires freelancers to create content about motivation, productivity, being a better writer, etc.
Is The Barefoot Writer legitimate?
Yes, the Barefoot Writer is a legitimate platform that will pay you up to $300 per article.
37) Penny Hoarder
To clarify, Penny Hoarder wants to hire freelancers that will write about personal finance and saving money.
Your article should be at least 700 words long.
Expect to earn $75 per article.
38) Wow Women On Writing
Wow Women On Writing is one of the websites that pay you to write that create content for the female population in the world.
More specifically, the platform offers content that helps women with building a successful business online.
Writing for cash on WWOW is a great idea – it will bring you $75 per article.
39) Great Escape Publishing
If you're ready to write for money online, Great Escape Publishing will let you do that:
Currently, the site wants to hire freelancers that write about travel, photography, and Social Media.
Publishing an article on this platform will earn you up to $150.
40) Longreads
Longreads is one of those paid-for articles websites that publish content in multiple niches.
With that said, the site will pay you to write only if you offer a personal story that will resonate with its audience.
In case you don't mind publishing such an article, you'll make up to $500.
41) A List Apart
A List Apart is an online writing platform that seeks articles about business software development, and design.
Unless you have some fresh perspective to add to any of these topics, don't bother contacting the site.
But if you do, the website will pay you up to $200 for submission.
42) Watch Culture
Do you enjoy writing about entertainment, movies, and sport?
Maybe you do – then consider contacting the Watch Culture to offer your submission.
Watch Culture will pay you up to $500 per article.
43) Copyhackers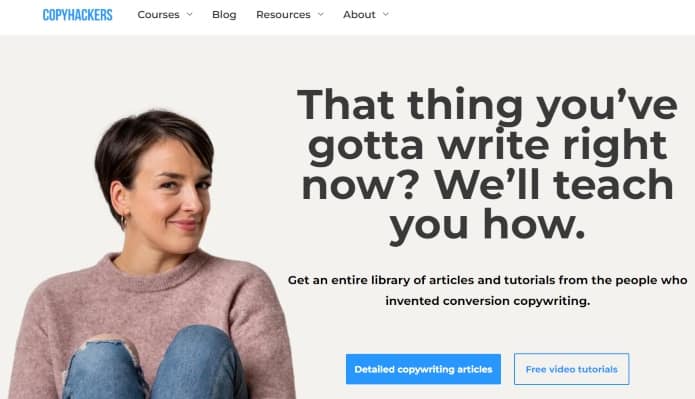 Can you imagine earning $1,000 per single article?
Chances are, most of you can't – Copyhackers does, though.
Prepare an article about online marketing, copywriting, or boosting conversion rate, and collect your money once your post makes its way to the site.
44) International Living
As you can guess, International Living is one of the sites that pay you to write about international travel, real estate, and retirement.
Is that something you would like to cover?
Great, you'll receive up to $400 once the platform accepts your article.
45) Narratively
Narratively is a great example of the websites that pay you to write short stories and personal essays.
Aside from high-quality content, the platform would like you to submit graphics as well.
These days Narratively pays between $200-$300 per submission.
46) The Daily Beast
I doubt any of you is unfamiliar with the Daily Beast:
Above all, Daily Beast is one of the most popular sites that will allow you to write content for money.
Around $250 per article is the Daily Beast pay rate you should expect.
47) Make A Living Writing
Make A Living Writing wants articles about the life of the freelance writer.
Feel free to submit anything you want about writing in general.
Writers for the site earn around $150 per post.
48) The Nation
The Nation publishes content about world news and civil rights.
Would you like to write about such topics?
Those of you who do will earn around $500 per article.
49) Clarkesworld
Right now, Clarkesworld pays around $1,400 per article submission.
You'll need to create a science fiction story to earn by writing for the site.
50) BKA Content Jobs
To clarify, BKA Content is one of the writing sites that pay daily:
Working for the platform will earn you around $18 an hour.
Popular Sites To Get Paid For Writing: Writing Jobs That Pay Well
FreelanceCareers (Up to $31 per page of content)
Metro Parent (Up to $350 per article)
Change Agent ($50 per submission)
Cosmopolitan (Up to $250 per article)
Transition Abroad (Up to $150 per article)
Strong Whispers (Up to $150 per article)
What Culture (Up to $500 per article)
Budget Travel (Up to $150 per article)
Photoshop Tutorials (Up to $350 per submission)
Backpacker (Up to $1 per word)
FreshBooks (Up to $200 per submission)
Metro Parent (Up to $200 per article)
Dame (Up to $400 per post)
Greater Good (Up to $350)
DropZone (Up to $100 per article)
Greatist (Up to $125 per submission)
Real Python (Up to $300 per article)
Source (Up to $500)
Saveur (Up to $150 per submission)
The Sun (Up to $2,000 per article)
Progressive (Up to $1,300 per post)
NutriInspector (Up to $180 per submission)
Wanderlust (Up to $230 per article)
Christian Science Monitor (Up to $225)
High Country News (Up to $300 per article)
American Educator (Up to $300 per article)
LWN (Up to $250 per post)
TutorialsPoint (Up to $500)
Inuit Art (Up to $1,200)
Critical Read (Up to $4,000 per post)
20 More Websites That Pay You To Write: Get Paid Per Article Jobs
Edible Seattle
Websites That Pay You To Write: Frequently Asked Questions
Where Can I Write And Get Paid?
Hire Writers
HubPages
Listverse
Crowd Content
Cracked
Content Authority
Can I Make Money Online By Writing?
Yes, you can make money online writing:
Nowadays, hundreds of sites will pay you to write fiction, non-fiction, short stories, and articles.
Both beginners and experienced writers can find a high-paying writing job from home.
Which Type Of Writing Pays The Most?
Currently, book ghostwriting pays the most of all writing jobs available online.
My Closing
Finally, my take on the websites that pay you to write is almost over.
A lot of research and hard work went into this article.
So, I truly hope that you'll find it helpful in your quest for the perfect freelance writing job.
Do you have any questions on today's topic?
Let me know in the comments section below.
Other High-Paying Careers To Consider: