Websites That Pay You To Write: 50 Jobs To Make Money Writing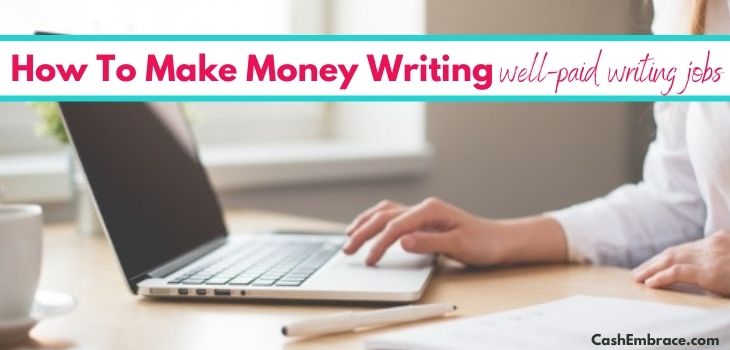 If you enjoy writing, then the best websites that pay you to write is the only search query you should bookmark.
But which writing sites are actually the best?
There are so many of them nowadays.
Starting a freelance writing career online and turning it into a source of full-time income won't happen in a day or two.
Even if you see writing just as a well-paid side hustle, you still need to know which online writing platforms are worth the try.
To save you time and to help you start making money as a writer, I've prepared a list of sites that will pay you to write.
This post may contain affiliate links.  Feel free to check my affiliate disclosure.
The Online Writing Jobs At A First Glance
They might turn quite lucrative, no doubt about it.
Still, the whole idea of people reading your content probably makes you feel unease if you've never done this before.
Going through a well-researched, greatly put-together, and professional piece of writing has the ability to make you give up your writing aspirations sometimes.
It's normal to feel insecure if you compare your current writing abilities to what experienced writers are able to deliver.
With that being said, comparing yourself to others will never do you any favor.
Especially, considering all the writers you admire have been amateurs at the start of their career.
Hopefully, this will give you a new outlook on your future as an online writer.
But if you're still not convinced and you would like to polish your writing skills before you begin selling them, you should look into this online course.
Its creator is making 5-figures every month as a freelance writer, so you're in good hands.
Now, moving on to our main topic today:
A Word About My List Of Websites That Pay You To Write
Before we start, I would like to take a second for a quick clarification:
No entry on my list is exactly the same as the rest.
You'll be able to find a writing job that will suit your needs no matter your level of experience.
From total newbies to professional writers, there is a legitimate website for everyone.
Furthermore, I'm including writing sites looking for content creators in almost every field and category imaginable.
So, if you think that the area of your expertise is not that popular with readers – think again!
Most importantly, I'm doing my best to satisfy my readers no matter where they live:
The websites that pay you to write you're going to discover don't work with the USA or UK-based writers only.
While some of them do, there are plenty of others interested to work with writers worldwide.
Alright, let's start, shall we?
Here are 50 online platforms that will pay for your writing skills:
1) Hire Writers
It's no accident that I'm starting the list with this one.
Hire Writers is a great place to begin your writing career.
Anyone can find a writing gig on this website – it offers jobs to writers with all levels of experience.
So, Hire Writers works in a simple way, using a star rating.
While junior writers will probably get 1-3 stars at the beginning, once they develop their skills, they'll see a 5-star rating as well.
Needless to say, the higher your rating, the more cash you'll be able to make.
This website pays through PayPal, you can cash out as soon as your earnings reach $10.
Related Post: Writing To Wealth – Earn Up To $325/Writing Job
2) Scripted
As a second entry here, Scripted has a lot to offer.
In my opinion, this site will be a great fit for people who know a thing or two about freelancing and copywriting.
Working with Scripted will require you to write blog posts, Social Media posts, website copy, or email newsletters.
To start using the site you'll have to register, pass the test, and claim a job.
You'll receive your payment a few days after completing a job.
3) Listverse
I highly doubt that you haven't seen Listverse on other articles about websites that pay you to write.
And for a very good reason:
Listverse is one of the most popular online writing platforms because it pays really well – $100 per article.
Before you decide that only experienced writers can use it, let me tell you – that's not true.
You can make Listverse work for you even if you're a newbie.
As long as you have a good sense of humor (sarcasm won't hurt as well), you'll be able to get published.
The site accepts only list-based articles that are at least 1,800 words and have no less than 10 items mentioned.
4) Cracked
Much similar to Listverse, Cracked will ask you to write list-style articles too.
There is a difference between these 2 websites that pay you to write, though:
Cracked is interested not just in exciting content, but memes and charts as well.
If you believe that you're good at creating them, you should definitely give Cracked a chance.
In short, you can work in almost any kind of field – the site publishes articles on music, sports, news, video games, celebrities, and much more.
5) The Content Authority
To be honest, I think that the Content Authority is a better option for those of you who have some writing experience.
Simply because not every beginner will be able to deliver 5 articles in a short period of time.
So, here is how it works:
Once you register, you'll be asked to submit an application.
That application will be reviewed and then you'll find yourself in a period of probation.
Your probation period will last a day and once it's over, you better have 5 articles ready for an editor.
With that being said, if you manage to pass that task, you'll find out that the site is so worth it:
It will give you tons of opportunities to work as a writer, so it's highly unlikely to stay without an assignment for long!
6) iWriter
OK, iWriter presents sort of a good-news, bad news situation:
Under the bad one, I'm placing the fact that the website currently accepts writers only from North America, Europe, and Australia.
And the good news?
Well, I'm happy to tell you that iWriter is perfect for beginners.
Even with zero experience, you can make some amount of money per article.
But once you advance your skills and you get better rankings on the site, you can expect to earn as much as $80 per article.
Withdraws are available via PayPal (the minimum threshold is $20).
7) Crowd Content
Not to play favorites, but Crowd Content is one of my top choices from this list.
One of the reasons why I like this site a lot is that it offers not just writing jobs, but editing jobs as well.
Plus, you can make extra money by completing small tasks.
Back to the writing part:
Crowd Content will pay you depending on the level of your experience. 
Payments are made via PayPal (minimum $10 earned before you cash out).
8) Great Content
Until we're on the subject of "content"…
For starters, this website is only interested in writers with English as a native language.
If that applies to you, Great Content won't disappoint you.
To begin working with this platform, you'll have to go through a simple process:
Register, click on the confirmation link you'll find in your email, and write a short sample of what you can do as a content creator.
When they decide that they like you, you'll receive an evaluation and you can start making money writing for the site.
9) Constant Content
Apparently, we're not done with the websites that have "content" as a part of their name.
About Constant Content:
Feel free to think of this site as a job board, because that's what it is.
Simply register on the platform and build your profile.
I have to mention that the site itself will help you find a writing job that will suit your needs and experience.
Considering you'll be writing for brands, the pay will depend on the brand you'll choose to work with.
Related Post: Home Job Stop – Side Job Portal To Earn Extra Money
10) Zerys
Next on my list of websites that pay you to write is Zerys.
Just to be clear, Zerys is a huge network for writers – more than 50,000 people are already earning on it.
In case you want to become one of them, you'll have to provide your name and email address to begin the sign-up process.
Later on, you'll need to submit a writing sample and wait to be reviewed.
After that, you'll receive a star rating (2-5) depending on the level they think you're currently at as a writer.
What's left once all that is done is for you to begin writing and earning.
11) London Brokers
Don't let the name of this site mislead you:
London Brokers is open for writers who live outside of London as well!
As long as your native language is English, you're good to go no matter where you reside at the moment.
While this website is willing to work with beginner writers, you better be on the top of your game:
They'll gladly pay for your work but only if it's polished and grammatically correct.
Payments are made via PayPal or Payoneer twice a week.
12) TextBroker
A similar name, not so similar platform:
TextBroker works only with USA-based writers who are at least 18-years old.
The registering process is pretty much what you can expect from the websites that pay you to write:
Sign up, submit a writing sample, and be patient until your sample receives a rating.
Then, complete your profile and start searching through the projects for a job to work on.
Earn your first $10 as a writer and you can cash out via PayPal.
13) Green Light Articles
Now, this platform is not suitable for beginners in my opinion.
Green Light Articles won't give you a chance unless they witness better than average writing skills.
With that being said, if you consider yourself a pretty decent writer, you may give this website a good portion of your time.
It will shower you with tons of available projects that will reward your efforts in a satisfactory manner.
Be careful, though – there are deadlines involved and you'll have to meet them!
14) eZdia
Since we're already talking about sites that hire professional writers, I should better keep them coming, right?
eZdia fits that description perfectly:
This network is specifically interested in well-polished eCommerce writers.
In case this field is your strongest suit, you should know that eZdia pays well to its team.
Expect to earn as much as $150 per single article.
15) Love To Know
Yeah, the name is cool, and the jobs that this site offers are even cooler!
Love To Know is looking to hire professional writers who have a great knowledge of graphic design, computer programming, and product management.
Still, they have a section for beginner content creators too.
Prepare yourself for flexible hours and a pay rate of $25-$100 per article.
Your earnings will appear in your bank account thanks to PayPal once again.
16) Journalism Jobs
Alright, number 16 on my list of websites that pay you to write happens to be Journalism Jobs.
That platform was mainly created with journalists in mind.
But they're not the only people who will be able to earn on it.
Journalism Jobs is sort of a job board portal you can use to find a job in the journalism/Social Media field.
To clarify, the site will require you to be good at writing click-worthy headlines.
If that's your specialty, then you might want to start with Journalism Jobs ASAP.
Related Post: How To Get Paid To Write Slogans
17) Word Gigs
Word Gigs is one of those writing platforms that prefer to collaborate with a bit more experienced individuals.
The work here is all about writing long articles, press releases, online content, and even e-books.
One of the biggest advantages when writing for this site is extremely flexible hours.
There is an application process – you'll have to go through a 10-minutes long phone call.
Unfortunately, Word Gigs is hiring US citizens only.
Related Post: Make Money Online With Kindle Publishing
18) Words Of Worth
Supposedly, Words Of Worth is one of the easiest platforms a person can use to make money writing.
All you have to do to start is apply, write a trial article, and begin earning once you are approved.
Being a native English speaker is not required by this company.
Of course, you'll need to be more than fluent in the language if you want a shot with Words of Worth.
At the moment, the website is hiring writers from the USA, UK, Australia, and Canada.
19) Pure Content
Existing for almost 16 years now, Pure Content will offer you the chance to make money not only as a writer.
Finding an editing job is an option as well.
Pure Content pays via PayPal and direct deposit to your bank.
English needs to be your native language.
Plus, they hire workers from the USA, UK, Canada, and Australia only.
20) Copify
Suddenly, I feel like it's time for a writing job that is suitable for beginners, isn't it?
And Copify will offer you one.
To clarify, Copify works only with USA, UK, and Australia-based content creators.
On a high note, you don't need a writing background to create articles for this website.
Also, it's worth mentioning that Copify pays every day – they'll reward you with $30 for 500 words.
21) Custom Papers
Set your own hours and work any time you feel like it – that's what Custom Papers will allow you to do.
Once again, the website is hiring writers with English as their first language.
Just submit a sample of your work and wait to be approved.
The approval process won't take too long.
22) Plum Deluxe
OK, Plum Deluxe is a website that produces content about entertainment and spiritual/mindset well-being.
In case you feel a strong connection to these topics, then the site would love to have you on board.
So, you'll have to show them a previous work of yours.
There is help provided – an editor will assist you while you're submitting your sample.
You're looking at $30 per article if approved.
Payments are made via PayPal.
23) Writer's Weekly
A website that is dedicated to writing, publishing, and marketing books.
Writer's Weekly won't work with you unless you're willing to write about that.
With that being said, if the topic interests you, you should know that the site pays well:
You can earn $60/article and that article doesn't even have to be a long one.
Around 600, 700 words will do the trick!
24) Get A Copywriter
Just like one of the previous entries on my list, don't be fooled by the site's name:
Get a Copywriter is hiring not only copywriters but writers as well.
However, they're not that interested in newbies.
Instead, they'll hire you if you're a native English speaker and you have extensive experience as a writer.
Fill out the application and you'll get answers in 1 to 4 weeks.
25) BlogMutt
Going back to the websites that pay you to write if you're a beginner:
BlogMutt happens to be one of them.
Let me explain, BlogMutt works in quite a different way than the rest of the sites on this list.
There is not an application process, not really.
So, you write articles, the clients will choose the ones they want, and then you get paid.
Plus, the more content you publish, the more bonus points you'll get.
Needless to say, these bonus points will come in handy when you're looking for better-paid opportunities on the platform.
26) The DollarStretcher
Do you have knowledge in the personal finance niche you would like to share with an audience?
Great, then the DollarStretcher is the place for you.
This website publishes content about finance and frugal living.
You'll make $0,10 per word once your work is published.
27) Elite Personal Finance
Since we're on the subject of money…
Elite Personal Finance will ask you to write about credit cards, credit reports, finance-related reviews, etc.
Yeah, it's all about money – and you'll make a good amount of cash if you decide to work for the site.
I mean, they'll pay you up to $100 per post – if you deliver 1,000-3,000 words.
28) Money Pantry
One more website that would like you to write about money.
Money Pantry is looking to hire both newbie and experienced writers.
As long as you can come up with interesting and valuable content about money-making or money-saving, you can work for the site.
And you'll make anywhere between $30-$150 per article – your post should be no less than 750 words.
Heads-up, your work will go through an editor, so do your best.
29) Money Crashers
Do any of the following interests you?
credit/debt
money management
retirement planning
real estate investing
frugal living
If they do, then Money Crashers is the right fit for your writing abilities.
Write an article of 3,000 words (or longer) and check your PayPal account soon thereafter.
30) Income Diary
A favorite one of mine – hopefully, you'll feel the same about it too.
The Income Diary is looking for well-written content about SEO, Social Media Marketing, and making money online.
Other topics they would publish are affiliate marketing and increasing blog traffic.
With that said, the site is more than generous:
If the people behind it like what they see, they'll pay you $250 for a single post.
Not bad, is it?
20 More Websites That Pay You To Write – Additional Writing Jobs To Consider
Wondering why I'm separating these 20 writing opportunities from the rest on my list?
Basically, they're all in different fields and niches.
There will be something for everybody, no matter what your current interests or daily activities are.
So, here are the final 20 sites looking for writers:
BKA Content – hiring professional SEO content creators/paying up to $18/hour.
Write The World – they need articles teaching their readers a basic computer knowledge/USA residents only.
Best Pickist – get paid to write reviews on kitchen appliances/earn up to $150 per article.
Eating Well – make as much as $1 per word when you write about recipes/healthy living.
Land And Wave – if you enjoy writing about outdoor activities, this site will pay you up to 100 British pounds for a single post.
Great Escape Publishing – travel, write and earn – up to $75/article.
A Fine Parent – deliver 1,500-3,000 words on parenting and cash in $75/article.
Just Parents – more articles about parenting/pays via PayPal.
Freelance Moms – if you're a Mom and you would like to share some of your experience, you can earn up to $100 for 2,000 words.
Wow!  Women On Writing – ladies, how would you like $75 in your PayPal account for an article that contains around 3,000 words?
Central Coast Journal – the USA-based writers can earn up to $75 per post about lifestyle, entertainment, and other topics.
Wanderlust – one more site that will pay you to write while traveling/up to 220 British pounds per article.
Dropzone – crazy about skydiving?  Awesome, now write about it and let this site pay you for the effort.
The Barefoot Writer – hiring experienced writers only/up to $300 per post.
Transition Abroad – earn up to $150/article about travel, teaching, or working abroad.
Reader's Digest – they will pay you $100 for a true story, but it has to be no more than 100 words.  Or less!
Nutri Inspector – if you know a thing or two about nutrition or weight loss, this site will pay you up to $180 for writing it down.
The Sun Magazine – yeah, they are hiring writers as well!  Fiction, non-fiction, poetry…  Take your pick to write about and earn.
BlogPaws – a pet lover?  Then write about pets and earn up to $75 for 500 words.
Chicken Soup For The Soul – if you write well and you don't mind getting personal, this site will pay you $200 for every story you manage to get published.
Writing Jobs For Experienced Content Creators
I know, my list of websites that pay you to write is getting too long.
Still, I would really like to give you a couple more options to make money writing.
Firstly, if you consider yourself experienced as a writer, you can go straight for well-established platforms that offer writing jobs all the time.
For instance, some of these platforms are Online Writing Jobs, FlexJobs, and Freelancer.
Secondly, the other most popular way to earn a living as a writer is to start a blog.
After all, I'm a blogger and I write every day, most of the time!
The opportunities for monetization of your writing skills are countless.
And there are plenty of online courses that will teach you how to blog if you have no idea what you should be doing.
This one is my favorite – it's where I learn how to do build a profitable blog with zero experience.  It's FREE!
My Closing
Finally, my take on the websites that pay you to write is almost over.
A lot of research and hard work went into this article.
Not to mention, typing!
So, I truly hope that you'll find it helpful in your quest for the perfect freelance writing job.
Any questions on today's topic?
My fingers may be tired, but I'm not really, so ask me anything and I'll answer it!