How To Become A Freelance Writer: Beginner's Guide For Aspiring Writers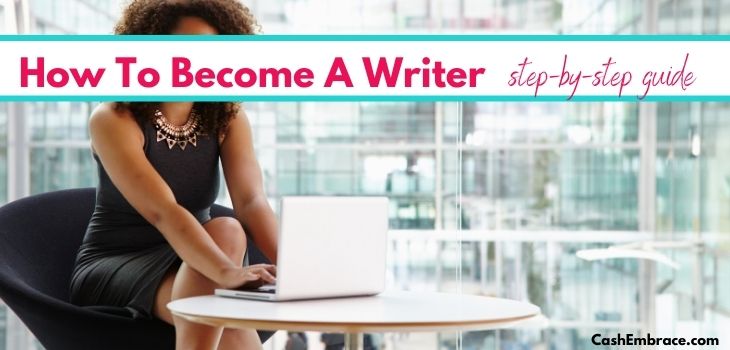 Is it finally time for you to learn how to become a freelance writer?
Considering you're reading an article about getting started with freelance writing, I would say that it is.
What took you so long?
Working as a freelance writer is one of the best ways to earn a living online.
It has tons of perks that are definitely worth the effort you'll have to put into building a writing career.
At the same time, freelance writing is a full-time job. And getting the hang of it requires more hours than you spend on your current nine-to-five employment.
But it's also a trusted vehicle that will drive you to the point where you can work from home, manage your hours as you wish, and never deal with a boss again.
Today, I'll help you start walking on the freelance writing road.
We'll talk about topics such as:
How do I become a freelance writer?
More importantly, how to become a freelance writer with no experience?
Where should freelance writers start?
What do you write in freelance writing?
Plus, much more on the subject of freelance writing!
This post may contain affiliate links. When you have a minute, read my affiliate disclosure.
How To Become A Freelance Writer – My Story
As a person in my 30s, I would love nothing more than to tell you that I and writing go way back.
However, that would be a lie – the writer inside me didn't exist up until a few years ago.
I spent many years working a very demanding physical job. Not that I hated it per se, but it was not what I wanted to do forever.
You may wonder – why would I quit a well-paying job with no compelling reason to do so?
That's the thing, though – I did have a reason:
Spending hours doing something that pays your bills but doesn't feed your soul is not a way to live.
Sure, it's a way to survive, but life should be about more than that.
Anyway, there was no passion for me in my daily job, but I had a big one outside of it – the cinema.
Yes, writing for the screen is the thing that sets my soul on fire.
But screenwriting is a very demanding craft that takes years and hard work to master.
So, I needed a plan – I had to find a way to make money from home as a writer to improve my skills.
And that's how this blog was born in 2018.
These days, I earn my living by writing for this website and monetizing its content.
Now, why did I tell you all that?
No matter what you dream of doing for a living, being a freelance writer is an excellent way to get you there.
What if a freelance writing career is the end of the road for you?
Quite frankly, that's even better!
My Personal Recommendation: if you want to become a professional freelance writer but have zero experience, I suggest taking a writing course. My Freelance Paycheck is an excellent training by Laura Pennington, who teaches how to earn a 5-figure income writing each month.
Getting Started With Freelance Writing – Step-By-Step Guide
First and foremost, I'm aware that there are many articles about freelance writing available online.
I'll encourage you to read them all if you have the time.
Every freelance writer has a unique experience and lessons to share.
Why learn from one person when you can learn from many?
With that said, here is my take on getting started with freelancing that comes from my personal experience as a content creator:
1) Choose A Writing Niche
In other words, the first step to becoming a freelancer is deciding what you want to write about.
Let me get this out as fast as I can:
Being willing to write about any topic imaginable will not make you a successful or in-demand freelancer.
While some content creators might disagree with me, I stand firmly behind that statement.
The reason why is easy to understand, in my opinion:
There is no way you'll be able to offer a high-quality, exciting, and flawless piece of content if you're not passionate about its topic.
Are you passionate about every writing subject that exists?
Yeah, I didn't think you are!
So, be honest with yourself about the areas you want to write about and the ones you don't want to cover.
By all means, the topics that interest you will align with well-paying writing opportunities, and that would be your perfect match.
Why Choosing A Writing Niche Matters?
Well, it matters for a couple of reasons.
For example, let's say you go against my advice and create a couple of writing samples on different topics.
Maybe you have an article on acrylic techniques for beginner painters and another on Kim and Kanye's divorce.
Now, try to see your pieces of content from the perspective of potential clients.
As great a read as your articles might be, I bet one of them would be a much more exciting piece than the other.
If celebrity gossip is your thing, you know which one I'm talking about.
Then, why would the client looking for content on acrylic techniques hire you?
Clearly, painting is not where your heart is, and it's showing in your writing.
Chances are, that client will look elsewhere for a writer that feels about acrylics the way you do about celebrities.
In the end, what's the point of even showing your painting article to potential customers?
Isn't it better to have two outstanding articles on your favorite topic than one great and one mediocre?
Long story short, choose to write about one main topic that excites you.
This way, you'll land not only paying customers but the right ones that will help you establish yourself as an expert in your niche.
Tips And Ideas To Help You Choose A Writing Niche
Quite frankly, there is no universal rule that will assist you with finding the right writing niche for you.
However, some guidelines might help you make a decision.
When trying to narrow down your writing niche, think about what's the main area of your:
Even if you're not an expert on your favorite topic yet, having enough passion and interest in it will sustain you while you become one.
No matter what, don't go for writing niches for the sole reason of their profitability.
Every niche will turn profitable once you write with surpassing quality and you learn how to sell your work.
2) Establish The Current Level Of Your Skills
The fact that you want to learn how to become a freelance writer tells me that you already have some writing skills.
Otherwise, you would be looking into a different side hustle.
But at what level do you think your skills currently are?
Assuming that you're looking at freelance writing as a full-time career, you'll need to develop or improve a whole set of skills.
Such as:
Multitasking Skills
Working as a freelancer is quite like being an SEO of your own business.
Running a business requires completing multiple tasks promptly every day. Getting rid of all distractions is the first step in the right direction.
Formatting Skills
Writing for the web is not the same as writing an essay, for example.
Regardless of your chosen niche, creating high-quality content requires the proper formatting. Take the time to learn about using subheadings to break your text, implementing lists and bullet points, etc.
Content Marketing Skills
Knowing more than enough about content marketing might be the thing to get you hired over another freelancer.
Having insights into how businesses use content to sell their products will enhance your writing abilities. Not to mention, it will reflect in every piece of content you're putting out there.
Organizational Skills
The lack of organization skills will harm your writing career.
As a full-time writer, you'll have to deal with creating pitches, client details, receiving payments, etc. Building a system that will allow you to create a piece of content from start to finish easily is a life savior for writers.
Proofreading Skills
While you don't have to become a professional proofreader, you'll need to make sure your work is always grammar and spelling mistakes-free. Grammarly is an excellent writing tool to help you achieve that.
3) Practice Writing And Work To Improve Your Skills
By all means, you don't have to measure up the writing skill of a best-selling author to be a successful freelancer.
Becoming the next J.K.Rolling is not the goal here!
Be that as it may, you'll need to constantly practice writing and build writing skills in your early freelancing days.
How do you do that?
There are many ways to improve your writing craft.
I would strongly encourage you to spend as much time as possible reading professionally written pieces of content.
Pay attention to them and take notes:
What do those writers do in the copy to get their point across clearly and effortlessly?
Next, how do they construct their sentences?
Do you see paragraphs that seem out of place (I bet you won't)?
I've mentioned it before, and I'll again – starting a blog will come in real handy here.
Regardless of what its main topic might be, developing a website will help you become a better writer.
And that's because it will push you to write every single day.
After all, practice makes perfect, and creating daily content will polish your writing skills big time.
Nowadays, you can start a blog without spending a fortune. Decide on a topic, choose a domain name, and visit BigScoots to secure the best web hosting available online.
4) Create A Writing Portfolio
When researching how to become a freelance writer, many people get confused about the necessary steps they need to take.
They go back and forth, wondering whether they should try to get a job immediately or write a book (an example) in order to get hired.
Forget about all that:
Once you feel confident in your writing skills, the most important step in front of you is creating a writing portfolio.
Why having a portfolio is unavoidable?
More often than not, you'll face trouble getting a well-paid writing gig if you're unable to provide samples of published work.
Unless you already own a blog, you won't have any published content.
That's where the writing portfolio comes in:
It will allow you to showcase your best writing work.
A piece of advice:
Take your time when you're creating your writing samples. Make sure they reflect the best of your writing abilities.
Once they're ready, you can upload them as a Google Doc.
What about the publishing part?
In my opinion, you should publish your work on platforms like Medium or as a guest post for fellow bloggers.
5) Learn How To Pitch For Jobs (And Start Pitching)
Hopefully, your writing portfolio is the best job you've ever done because it's time to start actively using it!
Sooner or later, the hunt for paying clients must take place.
But how do you get your first client (and many more after that)?
You'll achieve that by diving into the art of pitching.
Pitching is the process of contacting potential clients that may hire you for a writing assignment.
Don't get discouraged if your early pitches don't bring you any results – you'll become better at pitching as you gain more experience.
Meanwhile, visit different job boards and try to find a gig that will suit your abilities.
If you ask me, avoid platforms like UpWork – the writing jobs available there are often of poor quality.
Then, where should you search for high-quality writing opportunities?
I can help with that – here is a list of 50 Platforms That Are Hiring Beginner Writers.
More Well-Paying Jobs You Might Enjoy:
6) Do Lots Of Networking
Basically, there is a difference between doing writing jobs on the side and earning a living as a freelance writer.
You care about the latter option, correct?
So, how do you go from getting paid occasionally to being a freelancer that makes a full-time income writing?
The clever way to achieve that is to get clients coming to you instead of chasing them on your own.
Make no mistake – it will take a while until you see that happening. More importantly, it's not going to happen by accident.
No, you'll need to spend a long time doing the heavy lifting yourself. By heavy lifting, I mean networking.
Why is networking essential to find success as a freelance writer?
Because the more potential clients know about the writing services you're offering, the more jobs you'll be able to secure.
What does effective networking entail?
Here are a couple of strategies you can use:
Guest Posting – writing for other bloggers has more advantages than just building your portfolio. Its biggest plus is the opportunity to get your name out there.
Build Presence On Social Media – LinkedIn is one of the best platforms to make yourself known as a professional freelance writer. The platform will allow you to get in touch with clients actively looking to hire writers.
Facebook Groups – not all are particularly useful, but some will still help you with the networking part.
7) Keep Learning
Let's get something straight:
You may become one of the best-paid freelance writers nowadays. I sincerely hope that you would!
However, that doesn't mean the learning curve is over.
Improving and bettering yourself as a writer is a never-ending process.
And you can always produce a better piece of writing today than you did years ago.
With that said, do whatever you need to do to keep learning and improving your writing craft.
Go through a valuable writing course, challenge yourself to a difficult assignment, pitch to clients you've never dreamt of pitching before, etc.
Ultimately, follow the best freelancers you know closely:
You'll learn so much just by reading their work.
Ready to become a professional freelancer? Sign up for My Freelance Paycheck and let a 6-figure content creator show you the way!
How To Become A Freelance Writer – Frequently Asked Questions:
What Is A Freelance Writer? – a freelance writer is an independent contractor who earns their living by writing content. Freelance writers work in any forms and genres they wish, getting paid for providing writing services.
What Qualifications Do You Need To Be A Freelance Writer? – while some writing jobs may look for writers with a Bachelor's Degree in English, most won't. You need a portfolio of writing samples and being consistent with pitching and securing writing gigs.
How Do I Start As A Freelance Writer? – choose a writing niche, start a blog, improve your skills, create writing samples, build a portfolio, and start pitching to potential clients.
How Do Freelance Writers Get Work? – by pitching, networking, and registering at job portals.
How Do Freelancers Get Paid? – depending on the clients you'll choose to work with, the options of payment may vary. Usually, you'll receive your earnings through a bank transfer or into your PayPal account.
Is Freelance Writing A Good Career? – if you enjoy writing, don't mind the hard work, and you're willing to learn and improve, it's one of the best careers you can have.
My Closing
Well, this is my take on how to become a freelance writer and earn money writing.
Such a topic is never finished, in my opinion. Therefore, I'll keep updating this post as often as possible.
Now, how do you feel about becoming a freelance writer?
Do you have any experience in the field or not yet?
Share with me anything that comes to mind about the subject, and we'll discuss it further.
More Extra Income Ideas: