Online Jobs That Pay Weekly (Even Daily): Earn $1,000/Week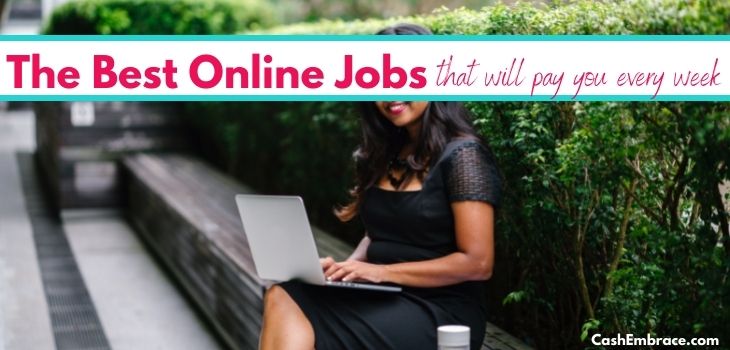 Are you on the lookout for the best online jobs that pay weekly?
Currently, more and more people are looking in that direction.
It's understandable, to say the least:
Securing a source of extra income can get a lot of financial pressure off your shoulders.
If not else, it will help you pay some bills or give you another option to manage your debt.
With that said, you can't trust every opportunity for extra cash that comes your way. Not every work-from-home job you'll hear about deserves your time and effort.
But the ones on this list most certainly do:
Today, I'll introduce you to legitimate online jobs that pay weekly – some of them even daily.
So, grab a cup of coffee, make some room for reading in your day, and let the search for a suitable online job begin!
This post contains affiliate links. Take a second to go through my affiliate disclosure.
How To Choose The Right Online Job For You
Quite frankly, choosing a legit work-from-home job you can do on the side is not as easy as it may seem at first.
After all, what will make one job a preferable choice over another?
Considering every job has certain advantages and disadvantages, it's safe to say that there is no such thing as perfect employment from home.
However, there might just be a working option that may be perfect for you.
Depending on a few factors, everyone is in a position to discover an online working opportunity that will be a great fit.
At the end of the day, you're the only one who can decide which job will satisfy your needs in the best way possible.
To help you make the right decision for you, I'll direct your attention to a couple of factors to keep in mind while you're job hunting:
Flexibility – Does the job you're currently eyeing come with flexible hours? If it will disrupt your daily job or routine, you should keep looking.
Skills Level – Is the job something you can handle? Do you have what it takes experience-wise to complete it?
Potential For Growth – Where will that job lead you? Meaning, is it short-term employment or an opportunity for something more?
Pay Rate – How much you'll be able to earn?
Fun – No job is worth a shot unless you'll enjoy it!
Legit Online Jobs That Pay Weekly Worldwide
Before we begin with the list of jobs that pay weekly, I have to clarify something:
Sometimes, one or more of the opportunities you'll see below may not be available. Meaning, it's possible for any of the companies hiring not to be looking for workers at the moment.
When that happens, you can check for openings later or ask the company to send you a notification when there is a vacancy.
1) Sell Services On Fiverr
Starting the list with Fiverr is no accident.
In my opinion, looking seriously into the platform is the best way to launch your online career, no matter what that might be.
Considering Fiverr is one of the biggest freelance marketplaces, you can get in touch with millions of potential clients.
Make no mistake, customers, businesses, and companies are visiting Fiverr to find any service a person can imagine.
Do you have a skill, any kind of skill?
Then, create an account on Fiverr and start working on monetizing it.
Expected Pay Rate: With Fiverr, the sky is the limit where your expected earning are being concerned. But when you're just starting, charging $15/hour seems like a reasonable price.
2) Sell Service On Upwork
If this is the first time you hear about UpWork, you may think of the platform as you do about Fiverr.
While both sites offer legitimate ways to make money online, they operate a bit differently.
Yes, UpWork is also a freelance marketplace where you can connect with people that will pay you for services.
But on Fiverr, you choose your pay rate, and on UpWork, you don't.
On the latter, you'll browse through available jobs clients are posting. Once you pick a gig you like, you'll submit a proposal and wait for the approval.
When you get it, you might go through an interview process before the client makes a final decision.
With that said, the expected earnings on UpWork are around $15 per hour for complete beginners.
3) Freelance Writing
By all means, freelance writing is one of the best opportunities to work online and get paid instantly.
OK, maybe not instantly, but you'll receive your earnings as soon as you complete your writing assignment in most cases.
There are a few things you should know before you get into freelance writing:
Firstly, you don't have to be a best-selling author to secure well-paying writing jobs. I do recommend going through a freelance writing course if you have absolutely no experience in the field, though.
Secondly, you should take the time to learn insight and out how to become a freelance writer. This way, you'll gain confidence, and you'll feel good about going after the best writing jobs that pay the most.
Lastly, experienced freelance writers earn as much as 25-30 cents per word. A quick math exercise will tell you that a 1,000 words article will earn you $250.
That's a pretty good amount for a single project, isn't it?
4) Sell Feet Pics Online
Chances are, you might be aware of this money-making idea – it's more than popular these days.
Basically, all you need to make it work is to take a photo of your feet and post it for sale online.
Before you start feeling uncomfortable, let me tell you that you have absolutely no reason to do so.
Selling images of your feet is not about revealing yourself in a way you don't want to.
Believe it or not, that's one of those side hustles that pay really well:
Depending on how seriously you take the job, you can make $2,000 a month and even more than that.
If such earning opportunity excites you, I'll suggest reading my step-by-step guide to selling feet pics online.
5) Photography Jobs Online
The next entry on my list of online jobs that pay weekly is freelance photography.
It goes without saying that such a job is suitable only for people who enjoy spending time with their camera.
Again, you don't have to be a professional photographer to make money that way.
Of course, you need to be able to take high-quality images.
Many websites will pay you well for photos that satisfy the needs of their customers.
Once a person buys any of your work, you'll receive your earnings pretty fast afterward.
Have a look at 20 ways to get paid for your images and earn as much as $100 per hour.
6) Make Money As An Online Friend
One of the hottest opportunities to earn lately is working as a pal online.
You may wonder – who would pay for such services?
Actually, it turns out that a lot of people do:
Right now, working as an online friend will earn you as much as $50 per hour.
Don't let the fear of meeting strangers face to face stop you:
Signing to become an online pal doesn't require any psychical meetings.
On the contrary, the connections will be strictly happening online.
7) Make And Sell Things Online
Are you good at creating crafts?
And if you are, do you build them just for your own enjoyment?
There is nothing wrong if you do.
However, there is nothing wrong with letting your DIY hobbies earn you some serious cash either.
Platforms like Etsy will allow you to start an online shop and sell all sorts of homemade things.
Etsy sends out payments once a month.
However, that's too good of an opportunity not to get a spot among the best online jobs that pay weekly.
Related: 13 Things You Can Sell To Make Money Immediately
8) Virtual Assistance
Offering virtual assistance services is one of the most lucrative online jobs you can get nowadays.
VAs earn easily around $20 per hour. That rate is what you can expect to make as a beginner in the industry, though.
Meaning, the more skills you can present to potential clients, the better you'll be able to earn.
If you choose to become a virtual assistant, you'll work as an independent contractor.
Depending on the jobs you'll accept, you'll get paid weekly or monthly.
Some of your duties will include doing admin tasks, managing Social Media accounts, answering questions, handling email marketing, etc.
In my opinion, this is one of the best online jobs that pay weekly – it offers flexible hours and the opportunity to set your own rate.
9) Online Tutoring
Do I even have to emphasize how in-demand online tutors are these days?
Nobody needs me to, I believe.
Teaching online will not leave you without employment right now, that's for sure.
So, how much can you expect to make if you decide to tutor online?
Well, the pay is between $15-$25 per hour. Some companies that will hire you to teach English, for example, will pay you even more.
Don't scratch this option off the list if you don't have a Bachelor's Degree.
Many sites online will hire you even if you don't have tons of experience in the field.
A word about doing tutoring online:
More often than not, teaching English will require you to work with kids in countries like China.
Due to the time difference, you might have to work during the early hours of the morning.
Therefore, you should look at some tutoring jobs as part-time night jobs.
10) Proofreading Jobs
How many of you don't just want an online job, but a really well-paying one?
Personally, I think that description fits all of you – why should you earn less when you can earn more, right?
Then, starting a proofreading job is going to be a perfect fit.
Proofreading is the type of field that allows ordinary people to make as much as $1,000 per week.
Isn't that amazing?
Caitlyn Pyle, the creator of the best proofreading course Proofread Anywhere, earned nearly $50,000 in its first year.
Heads up, you can start her training for free if you use this link.
While some of you may find correcting mistakes in written documents a bit boring, the pay makes it worth it, in my opinion.
Learn how to become a professional proofreader when you have time.
11) Transcription Online Jobs That Pay Weekly
Alright, is there someone who doesn't know what a transcription job entails?
I'll explain just in case there are readers that are not familiar with the job:
Transcription is a process where you listen to an audio file and write down everything you hear.
Yes, it's a simple process of converting audio files into written documents.
Many people see transcription as one of the easiest jobs that will earn you money weekly. And they're totally right.
My favorite company that offers transcription positions for beginners is GoTranscript.
Even working part-time for GoTranscript will allow you to make over $1,000 a month.
12) Translation Jobs
Quite frankly, a translation job wouldn't be my first choice.
While I'm bilingual, as many of you are probably too, it's just not my cup of tea.
But that's just me!
If you enjoy spending time translating, getting such a job will bring you income every week.
Companies like LanguageLine are always hiring freelance translators.
The pay rate is a bit on the lower end – expect to earn around $12 per hour.
13) Data Entry Jobs
Another example of an online job that doesn't pay a lot is the position of a data entry clerk.
Since you'll be able to receive your earnings quickly, the job still deserves a spot among the online jobs that pay weekly.
Doing this job means that you'll be typing in data from one source to another.
The pay rate is around $17 per hour, which is not so bad!
It's not that great either but is an easy job to handle, so you might want to keep that in mind.
Here is a list of data entry jobs you can get without paying any registration fees.
14) Review Websites
Many of you will probably see this opportunity as one of the easiest to handle compared to the other options.
And you'll be correct:
Platforms like UserTesting will allow you to earn money by providing feedback on different websites.
There isn't much effort that will go into completing such a task, is there?
All you have to do is visit a site, do a few simple tasks, and put your thoughts on audio or video.
For 20-minute long feedback, you'll earn $10.
15) Do Research Online
First of all, don't mistake this online job for doing just any research.
It's more of completing a study. You can do that through a video call or by completing a form.
Don't underestimate this money-making idea:
Believe it or not, you'll be able to earn over $300 per single research.
Of course, that depends largely on the available studies at the moment.
To get into this online job, you should learn more about Respondent.
16) Review Music
Chances are, you may already be familiar with Slice The Pie.
But if you're not, let me tell what's the beauty behind this platform:
Slice The Pie will pay you for listening to songs and writing reviews on them.
Currently, the site is free to join and is available worldwide.
While the pay is not that much, it's still worth it considering you can complete the tasks in a couple of minutes.
17) Complete Short Tasks On Amazon MTurk
Heads up – Amazon MTurk is not the most profitable option among the online jobs that pay weekly.
However, it will give you the opportunity to receive your earnings daily.
Plus, the tasks are not that hard to handle.
For example, you'll have to deal with transcription, data entry, tagging on Social Media, and other similar activities.
Another plus is that you're the one to decide which projects to take and which ones to skip.
18) Digital Marketing Jobs
By all means, working as a digital marketer is not for everybody.
If you want to earn well as one, you'll need to develop the necessary skills first.
Training platforms like the Digital Marketing Career Blueprint will help you do that.
Even if the job is not currently on your radar, maybe you should place it there:
These days, digital marketers make around $60,000 per year – that's on the lower end.
19) Affiliate Marketing
Nowadays, affiliate marketing is one of the most popular ways to make money online if you're a beginner.
It's easy to understand why is that:
Becoming an affiliate marketer is something you can do today. Moreover, promoting products and services for a commission guarantees a fast income.
With that said, you should get professional marketing training to gain the necessary skills.
Since the income potential here is unlimited, don't waste too much time contemplating the opportunity.
20) Blogging
Is there anyone surprised that blogging has a place in this article?
If you are, you must have not been paying attention to what's going on online:
Thousands of new websites appear online every single minute of every day.
Their owners are hoping to turn the blogs into a source of full-time income.
Looking at all possibilities to monetize a website right now, their dreams are more than valid.
Launching a blog with BigScoots as a hosting provider will cost you just a few dollars a month.
So, choose a blog topic and give blogging a go – you won't regret it!
Other Profitable Online Jobs That Pay Weekly
How about a few other opportunities to earn online every week?
Have a look at the options:
Weekly Paying Jobs Near Me
DoorDash Driver – Delivering food for that company will earn you around $500/week.
Sell Insurance Policies – Companies like Primerica are always hiring insurance agents on part-time or full-time working schedules.
Work For TaskRabbit – Expect to engage in activities such as moving stuff, painting someone's house, etc.
Pet Sitting – Rover is an excellent choice of a company that will pay you to take care of someone's pet.
Make Appointments – Blue Zebra is almost constantly hiring people to manage calls.
My Closing
While there is always room for moe online jobs that pay weekly, that would be it from this article for now.
I'll keep you updated when new opportunities for online income appear.
Do you have any questions on that topic?
Write them down, and I'll answer them the first chance I get.