40 Online Proofreading Jobs For Beginners And Pros – Earn $50/Hr.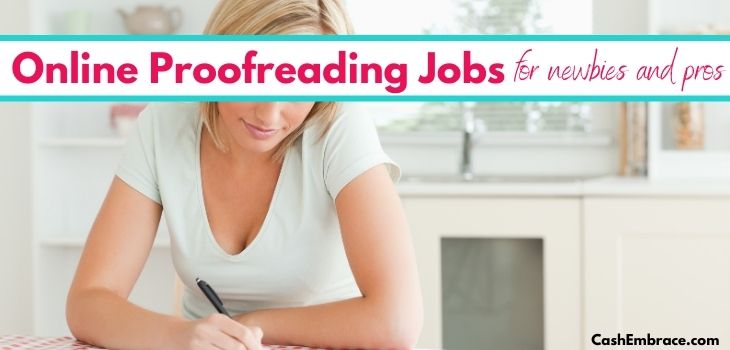 If your grammar skills are being envied often, then doing online proofreading jobs is something you should seriously consider.
And no, you don't have to become a professional freelance writer first.
Contrary to the popular belief, writing is not the only field where impeccable spelling and grammar skills can make you money.
These days, proofreading is huge online – and that shouldn't come as a surprise to anyone.
The number of people searching for a way to earn a living from home is increasing by the minute.
But that's just one of the reasons why remote proofreading jobs are so in-demand.
A lucrative paycheck happens to be the biggest one – working as a proofreader pays really well.
With that said, you don't have to waste your time searching for legitimate proofreading jobs online – there is a whole list waiting for you below.
This post contains affiliate links, take a second to read my disclosure.
What Is Proofreading?
Quite frankly, there are many directions I can go when trying to provide you with the best explanation of what proofreading is.
Most of them will result in a piece of information that is dry and boring on all counts.
So, instead of writing down the best definition of proofreading, how about I give you the simple one?
Proofreading is the process of catching and correcting mistakes on a written document.
When you're working as a proofreader, the mistakes you'll be looking for will be in grammar, spelling, and punctuation. 
Too many people are still thinking about proofreading as editing.
While there are similarities between these two jobs, they're not quite the same:
An editor is responsible for making changes that will improve the overall quality of the content under revision.
And a proofreader is responsible for making sure that the content is grammatically correct.
Since today's article is focused on the best online proofreading jobs, we won't be talking about editing anymore.
If you still feel like you need a bit more info about the differences, feel free to read this article.
What Type Of Content Proofreaders Work On?
Maybe you should be asking yourselves what type of content proofreaders do not work on.
Because these days they work pretty much on everything!
Do you have any idea how much content is being uploaded on the web every second of every day?
Personally, I believe that only Google can give you the exact number of articles that appear online at any given minute.
Make no mistake, we're not talking about thousands, but millions of pieces of content.
And if the people publishing them care about the quality, serious proofreading has been done before the uploading part.
Once you start doing entry-level proofreading jobs online, expect to be working on any of the following:
Resumes
Cover letters
Social media posts
Blogs
Email newsletters
Brochures
Advertisements
Essays
A larger piece of content (novels, short stories, cookbooks, etc.)
These are just a couple of examples.
Being hired to do remote proofreading jobs can translate into correcting pretty much anything you can think of.
Do You Need Proofreading Training To Be Able To Get Freelance Proofreading Jobs?
Yes, you do.
If you want to have a chance of getting lucrative and legitimate proofreading jobs online, you need to be a professional proofreader.
That's not going to happen if all you do is reading and making mental notes every time you see a misspelled word.
Such an exercise may be helpful, but it's nowhere near enough.
With that said, you don't need to go back to school to get a degree in the field.
Moreover, you don't even have to pay anything to start freelance professional training.
No, what you should do is take advantage of everything Caitlin Pyle will give you for free and let her walk you through the process of becoming a proofreader.
For those of you who are hearing her name for the very first time:
Caitlin Pyle is a house-hold name in the proofreading field.
She started offering proofreading services part-time and that resulted in $40,000 before the year was over.
Currently, she's the owner of a multi-million dollar proofreading business.
Her Free Workshop doesn't really need an introduction – thousands of professional proofreaders have started their journey by taking it.
It's 80-minutes long and it will teach you how to make money doing proofreading jobs online for beginners.
How Much Money Can You Make Doing Proofreading Online?
Before you proceed to the list of online proofreading jobs I've prepared for you, let's discuss income possibilities, shall we?
First and foremost, don't expect me to give you the exact amount of your first paycheck and the ones that will come after that.
I can't do that and quite frankly, nobody can.
Because it all depends on you.
Meaning, how much you'll be able to earn doing proofreading jobs online (no experience) is up to you.
Your income will depend on how much effort you'll put in your training, how many hours you're willing to work, how seriously you're taking the job, etc.
Still, if you need to seem some numbers, I can tell you the average ones:
Generally, the majority of proofreading clients are paying per project or per hour.
As a newbie proofreader, you'll earn $10-$15 per hour.  Not bad considering you'll be doing proofreading jobs from home with no experience.
Once you become an experienced proofreader, you'll be able to ask for anywhere between $50-$80 per hour (in some cases, even $100 is doable).
On average, you're looking at an income of at least $35,000/year.
Again, the most hard-working and well-trained proofreaders are earning $60,000/year, so keep that in mind.
The Best Online Proofreading Jobs
Enough of an overall chit-chat, it's time to get some serious work done.
Whether you're looking for Amazon proofreading jobs, online proofreading jobs UK, or online proofreading jobs Canada (examples), there are plenty of jobs to choose from below.
In my opinion, you can't go wrong with either one of them.
I'll start with the remote proofreading jobs for beginners and I'll let you know when the ones for experienced proofreaders are arriving:
1) Fiverr
By all means, Fiverr is the go-to platform for every newbie with slim to none experience who would like to make money online.
You can offer any kind of service.
Whatever you're good at, Fiverr will allow you to get paid for doing it.
Posting on Social Media, freelance writing, e-book cover creation…
The earning possibilities on Fiverr are countless.
But back to the online proofreading jobs – Fiverr will show you plenty of these to start with.
If you ask me, you should get your first proofreading job exactly on Fiverr.
Such a platform is perfect for beginners – it will let you gain experience and it will take a lot of the pressure off.
2) ProofreadingServices.com
Quite frankly, Proofreading Services is one of the best companies offering proofreading jobs in my opinion.
And this statement of mine is totally unbiased – the link I'm providing you with is not an affiliate one.
Why do I feel like that, you may wonder?
Firstly, they have both full-time and part-time proofreading jobs for you to choose from – flexible hours, anyone?
Secondly, you can find another type of online jobs as well – like transcription jobs if you're interested in the field.
Lastly (and most importantly), their team is awesome on so many levels!
That team will go above and beyond to help you with anything you may need – I had such a pleasant experience talking to them!
3) R3ciprocity
In the third position, I'm having a company called R3ciprocity.
A weird name, I know – but it doesn't really matter.
Because they are an excellent choice if what you're looking for is an online proofreading job for beginners.
To clarify, this is not just a proofreading platform, but an editing one as well.
This platform works in a kind of unique way:
When you join it, you'll be asked to proofread someone else's work.  You'll earn credits for the effort.
There are two ways to benefit from these credits – exchange them for cash or use them to get your own work proofread from another person.
Isn't that an awesome opportunity to gain much-needed proofreading experience and earn money in the process?
4) Freelancer
Yes, the good old Freelancer is still a thing.
With the rise in the number of people starting to work online each day, it's more relevant than ever.
Often mistaken as a platform for writers only, Freelancer will give you many other options to make money from home.
One of these options is proofreading.
Simply join the platform (it's free), complete your profile, and start bidding on the jobs available.
5) Craigslist 
Don't roll your eyes, the days when Craigslist was looked down on are long gone.
Currently, the website is going stronger and it's doing better than expected.
Especially where work from home jobs are being concerned.
Craigslist has an extensive writing and editing section you can use to find online proofreading jobs.
Basically, you should consider it for two main reasons:
It will give you the chance to score private proofreading clients you probably wouldn't find elsewhere.
Plus, now it's available in more than 70 countries worldwide.
6) Lionbridge
A giant on the market, I don't feel comfortable calling Lionbridge just a company – it's much bigger than that.
But what should matter the most to you is that Lionbridge is a platform where you can find literally any kind of an online job.
Yeah, the reach of this conglomerate goes way beyond the proofreading field.
With that said, you can find a remote proofreading job on this website even if you have no experience.
As long as you have a high-school diploma, you're welcome to give it a try.
7) ClearVoice
Another valuable platform and another favorite of mine, ClearVoice has a lot to offer.
If you think of it as a site to find only proofreading jobs, you couldn't be further from the truth.
ClearVoice is a huge job portal where you can get paid for doing all sorts of jobs.
While it may take you some time to get noticed, the company is definitely worth the wait.
Do your best to create a detailed resume and list all of your skills.
That's an important part of building your presence on the platform.
Before I forget – ClearVoice is open to people from all over the world and it pays via PayPal.
8) Domainite
Just like most of the companies you'll find on my list of online proofreading jobs, Domainite is a great choice for beginners.
With that being said, the applying process is as simple as it can get:
Provide the platform with an excellent sample of your work where your proofreading and editing skills are shining.
A piece of advice:
To stand out on Domainite, upload a detailed resume as well.
Trust me, that will help you get noticed!
9) Polished Paper
In the interest of full disclosure, I'm not sure if Polished Paper requires a college degree from its users.
No matter how hard I try, I just can't seem to find any piece of information about that.
This is a good thing if you ask me:
The way I see it, it looks like Polished Paper will work for you even if you're a beginner.
So, if you want to get a proofreading job on this site, you'll have to register and provide a resume.
Also, you'll need to pass a test that contains a total of 35 questions.
I would like to believe that you'll eat that test for breakfast!
Maybe you can let me know in the comments once you do?
10) Amazon Proofreading Jobs
But who is surprised, right?
Amazon is not just huge, Amazon is…
Well, I'm not sure which word I should use – none of them will do Amazon enough justice.
Back to the point now:
If becoming a well-paid proofreader is your number one goal, then doing Amazon online jobs must have crossed your mind.
Currently, there are many places where you can find Amazon jobs.
Of course, Fiverr is one of them, FlexJobs is a good option as well.
Online Proofreading Jobs For Advanced Proofreaders
Just a couple of words before I continue with my list:
A lot of the proofreading jobs you're about to see are not a good match for beginners.
That's why I'm separating them from the previous 10 companies.
Some of the next proofreading opportunities require a college degree.
Others will simply expect to see a well-polished and experienced proofreader and are more difficult to get.
Read carefully and you won't miss any important detail:
11) Wordvice
What makes Wordvice an attractive company for anyone interested to work from home is that both editing and proofreading jobs are being offered.
Actually, they are much more about editing than proofreading these days.
Still, you'll be able to get a proofreading job as well.
To make that happen, you must have years of experience in the field.
Wordvice pays well but you need to be more than qualified to make the cut.
Completing an editing sample is the way to try your luck.
You'll be notified by email whether you're accepted or not.
12) Gramlee
Unless you can demonstrate exceptional grammar skills, you should stay away from Gramlee.
And don't think for a second that you'll be able to game the system:
Gramlee won't work with you if you can't proofread 3,000 words in less than a day.
Yes, they're taking the job very seriously and will expect the same from you.
On the bright side, you don't need to have a college degree to join the company.
Plus, they have so many job openings all the time that you'll never find yourself out of work.
13) Kirkus Media
Generally, Kirkus Media is much bigger on book reviewing jobs than proofreading ones.
However, you can bookmark the website and frequently check for new proofreading jobs listed.
Here is an idea – why not try Kirkus Media anyway?
If you have some experience with reviewing books, then you can earn from working with the company.
Submit your review (at least 350 words) and see what happens!
14) Scribbr
Next in line of remote proofreading jobs that deserve your attention is Scribbr.
The thing about this company is that is not the easiest to get in.
Not at all – they'll put you through a language quiz and will look carefully at your resume to decide if they want you or not.
Sounds harsh, I know – you also need to have at least a Bachelor's degree.
So far, more than 400 people are working with Scribbr, and their job is mainly proofreading student papers.
15) Proofread Now
For starters, do you have at least 5 years of experience doing online proofreading jobs?
In case the answer is no, Proofread Now is not for you.
While Proofread Now is one of the biggest companies you can work with as a proofreader, they don't always have jobs available.
But you can always bookmark their page and check for new openings from time to time.
16) Sibia Proofreading
Any experts in the science field reading?
Hopefully, some of you are – and you may want to keep an eye on Sibia Proofreading.
They constantly need experienced proofreaders and editors – no college degree required.
At the time of writing this article, the company is not hiring, but that can change tomorrow.
17) Editor World
Alright, this one is hiring:
Editor World will pay you if you're interested in working remotely as an independent contractor.
To get hired, you need a college degree, some editing experience, and English as your native language.
Completing an editing test is what will get you started with Editor World.
No need to panic, the test is not that complicated!
18) Edit911
Heads up, only these of you with a Ph.D. should keep reading about Edit911.
Believe it or not, a Ph.D. is not the only requirement the company has for anyone who would like to join it:
An extensive experience is the other one.
If you're a teacher or a book editor, Edit911 is worth the look.
They have a way of verifying your experience so you might wanna keep that in mind.
19) Scribendi
Honestly, I can't think of a good enough reason why Scribendi is not up on this list.
After all, the company has been in the business for almost 25 years and it has over 400 freelance editors working with it.
To become one of them, you need to have a degree, 3 years of editing experience (or more), and English as your first language.
On top of that, your editing/proofreading speed must be at least 1,000 words per hour.
Currently hiring, Scribendi pays via PayPal no matter where you love.
20) CACTUS Communications
More online proofreading jobs are coming your way and CACTUS Communications is one of them.
Whether you're looking for part-time or full-time proofreading jobs, the company has both options available.
With that said, most of the time CACTUS is looking to hire people with a medical background.
In case you have that, you can earn $4,000 per month and some extra benefits doing editing jobs for them.
Show them your degree (at least Bachelor), prove your experience in healthcare, and start earning.
21) ProofreadingPal
Now, ProofreadingPal is an excellent choice where online proofreading jobs for college students are being concerned.
As long as you're a current graduate or a post graduate college student with 3.5 GPA or higher, you can work with the company.
It pays really well – you can earn up to $3,000 per month.
Apply, answer a short questionnaire, and you'll know if you're hired within 5-10 business days.
22) EditFast
Writers, editors, and proofreaders are all free to join the platform of EditFast.
This company works differently than most.
Here is what you'll need to do to get started with it:
Complete an editing test and submit it for a review.
When you receive a positive review, that will result in the activation of your own web page.
Create a profile and you'll be notified when new jobs are being listed.
A college degree is required and some experience wouldn't hurt.
Payments are made via PayPal, but EditFast willl get 40% of everything you'll ever earn.
23) Scribe Media
Quite frankly, you should visit Scribe Media only if you're looking at proofreading as a full-time career opportunity.
The company has great reviews and it's an good place to start working seriously.
My recommendation would be to visit their website as often as possible.
Even if there are not available jobs at the moment, keep checking.
Or you can subscribe to their email list and they'll let you know when there is a job opening for you.
24) Cambridge Proofreading
In short, Cambridge Proofreading is looking for remote academic editors.
Expect to find proofreading and editing jobs mainly focused on dissertations.
To get hired, you'll need to have at least a Bachelor's degree.
About the pay rate – it's pretty good:
Depending on your editing speed, you can earn anywhere between $20-$30 per hour.
25) English Trackers
Similar to Cambridge Proofreading, English Trackers is a company interested in academic editors.
With that said, you need to have a Ph.D and no less than two years of professional editing experience to be hired.
It goes without saying that English must be your native language.
PayPal is how you'll receive your earnings once again.
26) Managed Editing
Working with Managed Editing means that you'll be operating as an independant contractor.
Both editing and proofreading jobs are available on the company's website.
Fill an application to get started.
Before you do that, though, you should know that Managed Editing is hiring only people with a college degree and 5 or more years of experience.
27) Writing Jobz
We can't discuss the best online proofreading jobs without mentioning Writing Jobz.
This online platform is not just a website, but a whole marketplace where experienced proofreaders can find a job.
If you can manage book, academic, and blog posts proofreading, Writing Jobz will be an excellent fit for your skills.
Working there will earn you around $11 per page.
28) WordsRU
How do you feel about a proofreading job you can deal with on the weekends?
Probably this sounds like a good option if what you need is extra income made in a couple of days.
WordsRU will allow you to do that.
A Ph.D or Master's Degree are necessary if you want to work with the platform.
Be ready to spend your time editing manuscripts.
29) Kibin
Basically, Kibin is a company that I like a lot and I think that you'll too.
Freelance editors and proofreaders should visit the website for available jobs.
Unfortunately, Kibin is not always hiring.
But you're not loosing anything if you keep an eye on the platform, right?
30) eCorrector
Now, eCorrector is a company that is interested in proofreaders and translaters.
And you can get hired even if you can't provide both of these services – one will do just as nicely.
To get started, you'll need to contact a member of the team.
Send your resume to prove that you're qualified for the job you would like to do.
Still teriffyied to become a professional proofreader?
Get a grip and let all the anxiety go.
Easier said than done, but it's possible once you start learning from the best.
Discover Caitlin Pyle's secrets and strategies of building a lucrative proofreading business for free here.
10 Extra Online Proofreading Jobs You Can Start Today
First thing first, I want to give a separate paragraph to the remaining 10 jobs because they are kind of different from the rest.
Some are large freelance platforms where you can get hired not just as a proofreader.
Others are operating as job portals plenty of people are looking into on a daily basis.
Maybe I should let you see for yourself:
UpWork – a huge platform that won't leave you unempoloyed.  Feel free to visit it now to apply for a beginner editing position.
Guru – maybe you don't even remember Guru, but you should.  Because even a complete newbies with zero proofreading experience can find a job on it.
LinkedIn – currently, a lot of people are going in that direction in their search of a proofreading job.  Why don't you join them?
ClickWorker – you'll need some experience if you want to get hired as a proofreader here.  ClickWorker is all about earning for completed microtasks, so you won't invest too much of your time.
Writer's Relief – a platform that is not just for proofreaders but for writers who want to see their books published as well.
SmartBrief – a digital media publisher that pays $15 per hour for proofreading and editing jobs well done.  It doesn't always hire, though.
American Journal Experts – chances are, you'll find a job quickly in the platform.  Their data base is being updated on a regular basis.
Get Editing Jobs – think of it as a directory where you can search for proofreading, editing, and writing jobs.
FlexJobs – the most awesome job portal ever, but there is a fee you'll have to pay to use it ($15/month).
MediaBistro – all kind of positions available, including writing/editing, graphic design, and digital marketing jobs.
Starting A Proofreading Business Online
Up until now, you saw plenty of online proofreading jobs that will pay for your skills.
And most of them are paying really well, we can't deny that.
But if we are honest, having your own proofreading business will make you much more money than working on a single proofreading job ever will.
Firstly, because you'll be the boss.  Therefore, you'll be working for yourself instead of anyone else.  No middleman will get a cut of your earnings.
Secondly, you'll be building your personal clients list instead of being a name on someone else's list.
Lastly, you'll be working on your terms, spend the hours you want to spend, and set your own rates.  The only person in a position to put a price tag on your skills will be you and no one else.
If that's exactly what you would like to achieve, the best thing you can do is listen to someone who already has.
Join Caitlin's free workshop and start building your proofreading empire as fast as possible.
My Closing
Are you satisfied with my list of 40 online proofreading jobs that will allow you to make money from home?
I sure hope so!
Is there anything you would like to ask me about these work opportunities?
Or maybe you already have some experience with a company from my list?
Tell me in the comments below and we'll discuss the topic further.
More Awesome Work-From Home Jobs You May Like: