40 Online Proofreading Jobs For Beginners And Pros – Earn $50/Hr.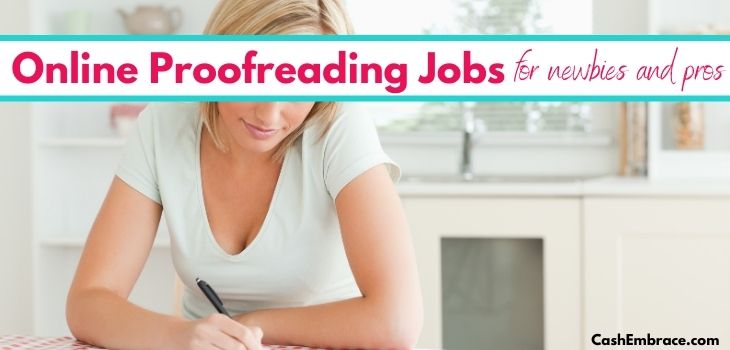 Why should you be researching the best online proofreading jobs?
Well, let me answer the question with another question:
How is the hunt for legitimate work-at-home jobs going?
Unfortunately, many remote work opportunities look legit, but it won't take long to realize that they might be scams.
However, you won't have to worry about that if you decide to provide proofreading services.
Nowadays, proofreading job from home is a legitimate way to make money online.
Whether you're looking for a well-paying side hustle or a new full-time online career, proofreading will satisfy your needs on both counts.
Today, I'll show you how to transform yourself into a professional proofreader and find lucrative proofreading jobs from home.
This post contains affiliate links – read my affiliate disclaimer.
Recommended Read:
What Is Proofreading?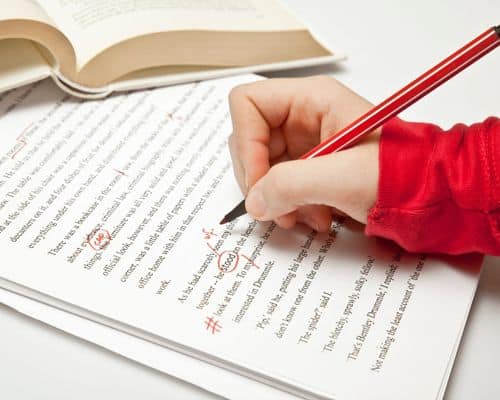 Basically, proofreaders are professionals who are the last people to work on a piece of content before it goes through publishing.
Considering proofreading is a process of finding and correcting mistakes in a document, it's easy to understand what proofreaders do:
They make sure that the content they work on is grammar, punctuation, and spelling mistakes-free.
More often than not, people confuse proofreading with editing.
While the descriptions of these two jobs overlap in certain areas, there are differences you need to be able to recognize.
Proofreading Vs. Copy Editing
An editor is responsible for making changes that will improve the overall quality of the content under revision.
And a proofreader polishes the draft to the point when it's grammatically correct.
What Type Of Content Do Proofreaders Improve?
Quite frankly, an easier question to answer would be what type of content proofreaders do not work on:
After all, proofreaders work on pretty much everything these days.
Do you have the slightest idea about how much content goes online each day?
Even though only Google can tell you the exact number, we're talking about millions here.
Before any of that content finds its place on the web, proofreaders must complete their work on it.
Once you start doing entry-level proofreading jobs online, expect to be working on any of the following:
Resumes
Cover letters
Social media posts
Blogs
Email newsletters
Brochures
Advertisements
Essays
A larger piece of content (novels, short stories, cookbooks, etc.)
 Keep in mind that these are just a few examples.
Getting any high-paying online proofreading jobs available can translate into correcting every piece of content imaginable.
How Much Money Do Proofreaders Make?

Let's pause this article about the top online proofreading jobs and talk about the salary you should expect as a proofreader.
According to Payscale, the average proofreader's hourly pay is $19.50.
Of course, the amount of money you'll make proofreading depends on many factors.
Some of these factors are your proofreading speed and level of experience.
Also, proofreading fields, such as the medical and legal ones, tend to pay more.
You'll earn around $15 an hour as a newbie proofreader. And that's an acceptable pay rate considering you'll be doing online proofreading jobs with no experience.
After you gain enough experience, feel free to ask between $25-$50 an hour for your proofreading services.
Currently, the top earners in the proofreading industry make over $100,000 a year.
Other Well-Paying Careers To Consider:
Do I Need A Degree To Get Proofreading Jobs Online For Beginners?
First and foremost, people who do freelance proofreading jobs don't need a degree.
Most clients hiring freelance proofreaders want to see efficient work results more than to witness proof of higher education.
However, some companies might require a degree in English or journalism before they offer you a proofreading position.
But I wouldn't worry too much about that:
Having a reputation as an excellent proofreader who always delivers the work on time matters the most in the proofreading industry.
Where Can I Get An Online Proofreading Training?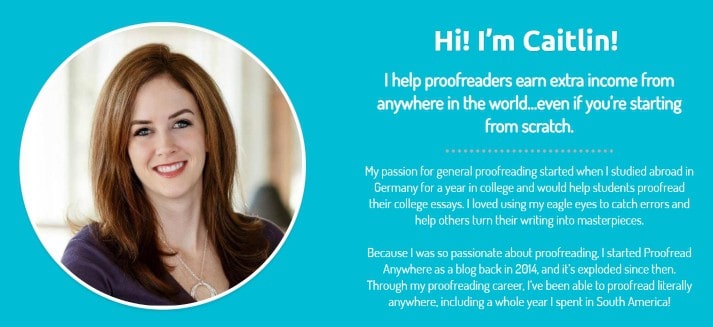 Don't get me wrong:
While you don't need a degree to secure a high-paying proofreading gig, you should definitely go through proofreading training.
Working as an in-demand proofreader requires much more than the ability to spot errors.
If you want to have a chance of getting lucrative online proofreading jobs, you need to become a professional proofreader.
That's not going to happen if all you do is read and make mental notes every time you see a misspelled word:
Such an exercise may be helpful, but it's nowhere near enough.
Take advantage of this Free Proofreading Workshop from Caitlin Pyle.
Caitlin Pyle is a household name in the proofreading field. She started offering proofreading services part-time and earned $40,000 in less than a year.
Currently, Caitlin is the owner of a multi-million dollar proofreading business.
Her 80 minutes long Free Workshop doesn't need an introduction – thousands of professional proofreaders have started their journey by taking it.
The Best Online Proofreading Jobs: 40 Work-From-Home Proofreading Jobs
Whether you're looking for Amazon proofreading jobs, online proofreading jobs UK, or online proofreading jobs in Canada (examples), there are plenty of opportunities to choose from below.
In my opinion, you can't go wrong with either one of them:
1) UpWork Proofreading Jobs
I doubt it will come as a surprise to anyone that the first entry on my list is UpWork.
UpWork is one of the most popular online platforms where people offer different freelance services.
You can find all kinds of remote jobs on UpWork, including proofreading positions.
Register an account on UpWork, build your profile, and start searching for a suitable proofreading or editing gig.
2) Fiverr
By all means, Fiverr is the go-to platform for every newbie with slim to no experience who would like to make extra money online.
Believe it or not, you can offer any kind of service on Fiverr.
Whatever you're good at, the platform will allow you to earn doing it.
Posting on Social Media, freelance writing, and e-book cover creation are a few examples of popular services to list on Fiverr.
Of course, Fiverr is an excellent place to look for proofreading jobs online for beginners.
Create a Fiverr account, pick your pay rate, and begin offering your freelance proofreading services.
3) ProofreadingServices.com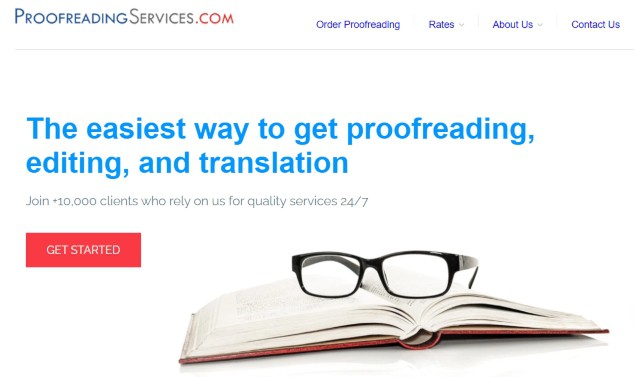 Proofreading Services is one of the best companies offering proofreading jobs nowadays.
There are many reasons why ProofreadingServices.com is worth checking out:
Firstly, they have both full-time and part-time proofreading jobs people can get, and that guarantee flexible working hours.
Secondly, you can find other types of online jobs as well, such as transcription work-at-home positions.
Lastly, the company's team goes above and beyond to help the members each time they need assistance.
4) R3ciprocity
Next on my list of top online proofreading jobs is R3ciprocity.
R3ciprocity will help you find proofreading and editing jobs for beginners.
Once you decide to join the platform, the first thing you'll have to do is proofread someone else's work – that will earn you credits.
Feel free to exchange these credits for money or the opportunity to continue proofreading different projects.
Isn't that the best way to gain much-needed proofreading experience and earn money in the process?
5) Freelancer
Thousands of people like to think of the Freelancer as a thing from the past.
But that couldn't be further from the truth:
With the rise in the number of people starting to work online each day, Freelancer is more relevant than ever.
Often mistaken as a platform for writers only, Freelancer will give you many other options to make money from home.
One of these options is proofreading.
Join the platform for free, complete your profile, and bid on any of the available proofreading jobs.
6) Craigslist 
Craigslist is a popular website you can use to find high-paying online jobs in any field.
The site has an extensive writing and editing section you should browse through to land remote proofreading work.
For example, Craigslist will help you find writing, copywriting, and editing work-at-home positions.
More importantly, the platform will allow you to get private proofreading clients you might not find elsewhere.
Currently, Craigslist is available in over 70 countries.
7) Lionbridge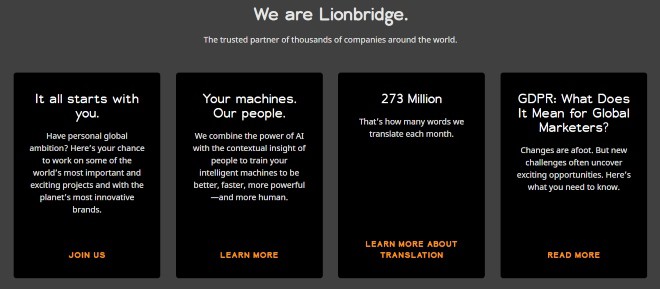 Lionbridge will give you access to plenty of freelance proofreading jobs.
However, you shouldn't join the platform if you have zero experience as a proofreader:
Proofreaders with years of experience tend to secure better-paying proofreading gigs more often than beginners.
Don't let this discourage you, though:
As long as you have a high-school diploma, you can give Lionbridge a try.
8) ClearVoice
Another popular platform for freelance proofreaders is ClearVoice.
Actually, ClearVoice is more than a platform – it's a large job portal anyone can join to find all kinds of remote jobs.
While it might take some time before potential clients notice you on ClearVoice, you won't regret the wait.
Use this time to build an in-depth resume that showcases your proofreading skills.
9) Domainite
Similarly to most entries on my list of online proofreading jobs, Domainite is a great choice for newbie proofreaders.
Domainite will ask you to go through a simple application process:
Provide the platform with an excellent sample of your work where your proofreading and editing skills shine.
If you want the chance to stand out on Domainite, upload a resume too.
10) Amazon Proofreading Jobs
I guess no one is surprised that Amazon has a place on this list:
We all know what Amazon is and how many people worldwide visit the platform daily.
But are you aware of the fact that Amazon offers proofreading jobs as well?
Well, now you know, and you can find them here.
Related: 23 Top Ways To Earn On Amazon
Legitimate Proofreading Jobs Online For Experienced Proofreaders
As you can guess, most of the jobs you'll find below are not a good match for first-time proofreaders.
Some companies will require a college degree, while others will prefer to hire professional proofreaders with years of experience.
11) Wordvice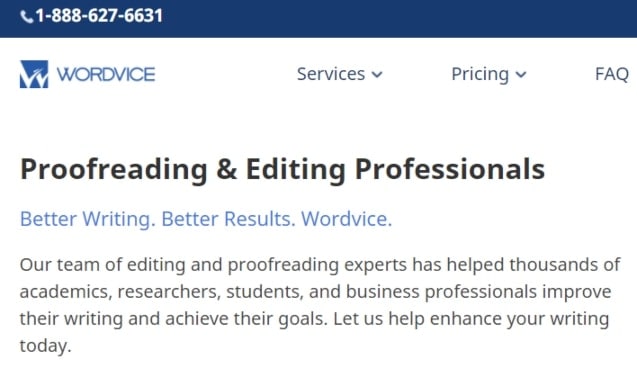 Wordvice hires editors and proofreaders on a freelance basis.
Most of the company's clients are ESL (English as a second language) customers who look for native English-speaking proofreaders.
You'll need to go through an application process to join Wordvice.
That process requires completing an editing sample.
12) Polished Paper
Polished Paper is one of the companies offering online proofreading jobs not everyone will be able to join:
These days, all applicants have to take a test that contains 35 questions.
Assuming that you'll pass the test, prepare to get a job with one of the most well-respected companies in the proofreading field.
It goes without saying that you shouldn't apply at Polished Paper unless you have extensive proofreading experience.
13) Gramlee
Unfortunately, Gramlee won't hire you unless you can proofread 3,000 words in less than a day.
Longer projects available for proofreading usually go into the hands of senior editors.
On average, Gramlee charges its clients $0.03 per word.
You can try to become a Gramlee member even if you don't have a college degree.
14) Kirkus Media
Generally, Kirkus Media has more book-reviewing jobs than proofreading ones.
With that said, you can bookmark the website and frequently check for new proofreading jobs.
Here is an idea – why not try Kirkus Media anyway?
If you have some experience with reviewing books, you can earn from working with the company.
Submit your review (at least 350 words) and see what happens!
15) Scribbr
Next on my list of online proofreading jobs that deserve your attention is Scribbr.
The thing about this company is that it's not the easiest one to get an editing or proofreading position.
They'll put you through a language quiz and look carefully at your resume to decide if they want you.
Also, you'll need a Bachelor's Degree to become a member of Scribbr.
So far, more than 400 people are working with Scribbr, and their job is mainly proofreading student papers.
16) Proofread Now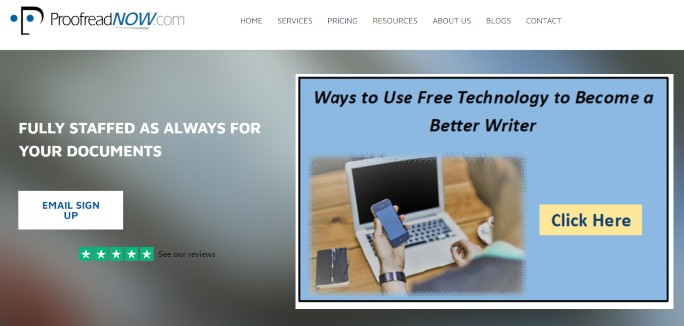 For starters, do you have at least five years of experience doing remote proofreading jobs?
In case the answer is no, Proofread Now is not for you.
While Proofread Now is one of the biggest companies you can work with as a proofreader, they are not always hiring.
But you can bookmark their page and check for new job openings from time to time.
17) Sibia Proofreading
Quite frankly, Sibia Proofreading is a company offering jobs to people with expertise in the science field.
Hopefully, some of you fit that description:
Sibia constantly hires proofreaders and editors, even if they don't have a degree.
Keep an eye on the site for high-paying work-at-home opportunities.
18) Editor World
Editor World will pay you if you want to work remotely as an independent contractor.
A college degree, editing experience, and English as a native language are some of the requirements of the company.
Spare a minute to complete the editing test before the platform considers you for any available position.
The test is not that difficult to handle, in my opinion.
19) Edit911
Heads up, only those with a Ph.D. should keep reading about Edit911.
Believe it or not, a Ph.D. is not the only requirement the company has for anyone who would like to join it:
These days, Edit911 hires only proofreaders and editors with years of experience.
Teachers and book editors are the best fit to work for the platform.
20) Scribendi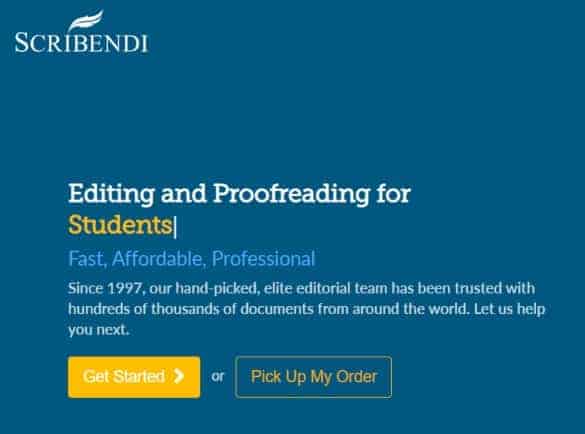 Scribendi employs over 400 freelance editors at the moment.
To become one of them, you need to have a degree, three years of editing experience (or more), and English as your first language.
On top of that, your editing/proofreading speed must be at least 1,000 words per hour.
Expect your earnings via PayPal at the end of the month.
21) CACTUS Communications
More online proofreading jobs are coming your way, and CACTUS Communications is one of them.
Whether you're looking for part-time or full-time proofreading jobs, the company will offer you both.
More often than not, CACTUS prefers to hire people with a medical background.
If you have a degree and experience in healthcare, you can earn up to $4,000 a month working for CACTUS Communications.
22) ProofreadingPal (Proofreading Jobs For Students)
Alright, how many of you are reading this article and hoping to find proofreading jobs for people still studying?
ProofreadingPal hires current graduate or post-graduate college students with a 3.5 GPA or higher.
Is that you?
Great, then expect to earn up to $3,000 a month after you apply and answer a short questionnaire.
Related: 30 High-Paying Remote Jobs For Students
23) EditFast
Writers, editors, and proofreaders are all free to join the platform of EditFast.
This company works differently than most online proofreading jobs you see above.
Here is what you'll need to do to start working for EditFast:
Complete an editing test and submit it for review.
Once you receive positive feedback, the company will activate your own web page.
Create a profile and wait to receive notifications about available proofreading and editing gigs.
Payments are available via PayPal, but EditFast will get 40% off everything you'll ever earn.
24) Scribe Media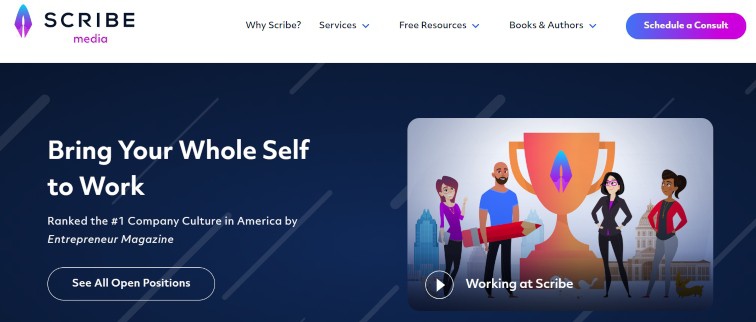 Scribe Media is the perfect working place for freelance and full-time proofreaders.
Unfortunately, the company is not always hiring.
Still, you can subscribe to their email list to get constant updates.
As you can guess, when a proofreading or editing position opens, you'll receive a notification.
25) Cambridge Proofreading
In short, Cambridge Proofreading is looking for remote academic editors.
Expect to find proofreading and editing jobs, mostly on dissertations.
You'll need to have at least a Bachelor's degree to get a job at the company.
Depending on your editing speed, you can earn anywhere between $20-$30 per hour.
Related: Get Paid To Do Homework For Others
26) English Trackers
Similarly to Cambridge Proofreading, English Trackers is a company hiring only academic editors.
With that said, you need a Ph.D. and at least two years of professional editing experience to get a job on the platform.
It goes without saying that English must be your native language.
PayPal is the solution English Trackers uses to pay its members.
27) Managed Editing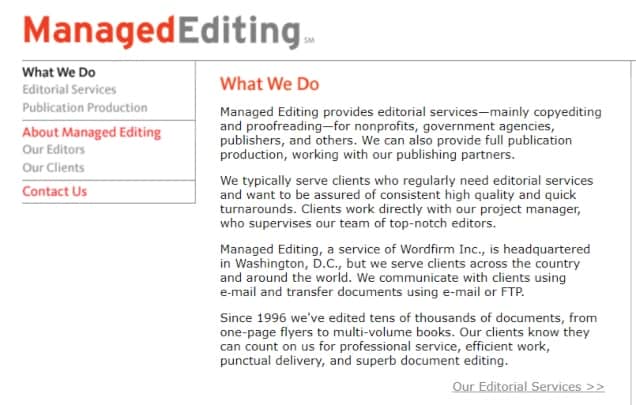 Working with Managed Editing means that you'll be operating as an independent contractor.
Both editing and proofreading jobs are available on the company's website.
Fill out an application to begin the hiring process.
Before you do that, you should know that Managed Editing hires only people with a college degree and five or more years of experience.
28) Writing Jobz
We can't discuss the best online proofreading jobs without mentioning Writing Jobz.
This online platform is not just a website but a whole marketplace where experienced proofreaders can find a job.
If you can manage book, academic, and blog posts proofreading, Writing Jobz will be an excellent fit for your skills.
Writing Jobz will pay you around $11 per page.
Content About Freelance Writing Opportunities:
29) WordsRU
How do you feel about a proofreading job you can do on the weekends?
Probably this sounds like a good option if you need an extra income without working long hours.
WordsRU will allow you to achieve that.
A Ph.D. or Master's Degree is necessary if you want to join the platform and edit manuscripts in your spare time.
30) eCorrector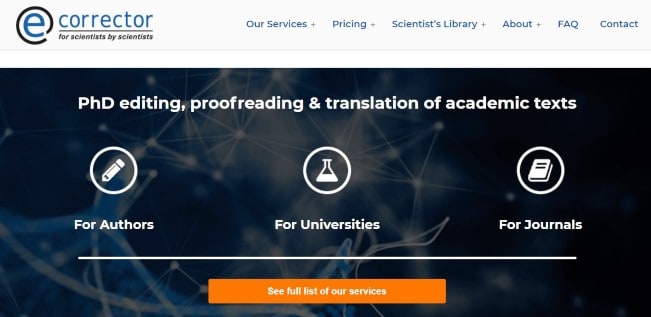 Now, eCorrector is a company providing jobs for both proofreaders and translators.
And you can get a gig even if you offer only one of these services.
Contact the team, send a resume, and wait for feedback.
Are you still on the fence about making a full-time income as a proofreader?
There is no need to be:
Discover Caitlin Pyle's secrets and strategies for building a lucrative proofreading business for free here.
More Freelance Proofreading Jobs To Consider
FlexJobs: FlexJobs is an online job portal that offers many remote positions, including proofreading and editing gigs. Being a member of the site will cost you $14.95 a month.
Contena: Freelance writers, editors, and proofreaders can find a job once they join Contena. However, Contena is not free to join – memberships start at $42 a month.
Writer's Relief: Writer's Relief is a platform that offers jobs for proofreaders and authors who want to publish their books.
LinkedIn: LinkedIn is one of the best platforms to offer freelance proofreading services.
Get Editing Jobs: Get Editing Jobs is an online job portal you can visit to search for editing and proofreading positions.
American Journal Experts: American Journal Experts update their database daily so you can find a proofreading job fast.
SmartBrief: SmartBrief is a digital media publisher that pays around $15 an hour for proofreading and editing services.
MediaBistro: MediaBistro provides different remote positions, including writing, editing, graphic design, and digital marketing jobs.
Guru: Guru works similarly to Fiverr, so you can join the platform to list all kinds of services for sale, such as your proofreading abilities.
People Per Hour: Also working as Fiverr does, People Per Hour will allow you to offer proofreading services on a freelance basis.
Part-Time Proofreading Jobs From Home
Steady: Steady will introduce you to plenty of work-at-home opportunities, including remote proofreading positions.
ClickWorker: ClickWorker provides earning opportunities by completing microtasks.
OneSpace: OneSpace is another platform you can join to complete short proofreading, editing, and writing jobs.
Prompt: Prompt will pay you for proofreading college admission essays if you agree to work around ten hours a week.
Wordy: Wordy offers a fixed fee for editing and proofreading services.
Kibin: Kibin doesn't always hire proofreaders, but the company offers remote positions from time to time.
Related: 30 Well-Paying Part-Time Jobs
How To Get High-Paying Online Proofreading Jobs?
Basically, there is an easy process to prepare and position yourself as a proofreader who will be the perfect candidate for the best proofreading jobs.
Here it is:
Choose A Niche: Trying to prove your abilities by proofreading all kinds of documents will not work in your favor. That's why it's better to focus your energy on a specific niche in the proofreading field.
Build An Outstanding Profile: No matter what platform you apply to for a proofreading position, make sure your profile reflects all your abilities and skills.
Consider Working As A Proofreader For Yourself: I'm talking about starting an online proofreading business. Learn more about this opportunity below:
Start Your Own Proofreading Business Online
There are many reasons why starting your own business is the best way to secure the longevity of your proofreading career.
More importantly, owning a proofreading business comes with many perks.
For example, you'll control your working hours and the amount of time you wish to spend with family and friends.
Next, you'll be building your personal clients list instead of being a name on someone else's list.
Let's not forget that you'll pick your own pay rate and never have to work for a fixed fee again.
Before you launch an online proofreading business, make sure your abilities are up for the challenge.
Go through Caitlin Pyle's Free Proofreading Shop and spend 80 minutes learning the craft behind the business from the best in the industry.
Best Online Proofreading Jobs – Frequently Asked Questions
Where Can I Do Proofreading Online?
Feel free to look for a remote proofreading job on any of the following platforms:
ProofreadingServices.com
Lionbridge
Polished Paper
ClearVoice
Kirkus Media
CACTUS Communications
Is Proofreading Well Paid?
Nowadays, proofreading is one of the highest-paying online jobs you can get.
As a beginner proofreader, you'll most likely earn around $15 an hour.
However, once you have some proofreading experience, you'll make much more than that:
The top proofreaders earn over $100,000 a year.
Can I Proofread From Home?
You can start proofreading from the comfort of your home:
Most proofreading jobs available currently are remote working positions.
My Closing
Are you satisfied with my list of 40 online proofreading jobs that will allow you to make money from home?
I sure hope that you are.
Is there anything you would like to ask me about these work opportunities?
Or maybe you already have some experience with a company from my list?
Tell me in the comments below, and we'll discuss the topic further.
More Money-Making Ideas You Might Like: