30 Best Sites To Get Paid To Do Homework: Earn At Least $2K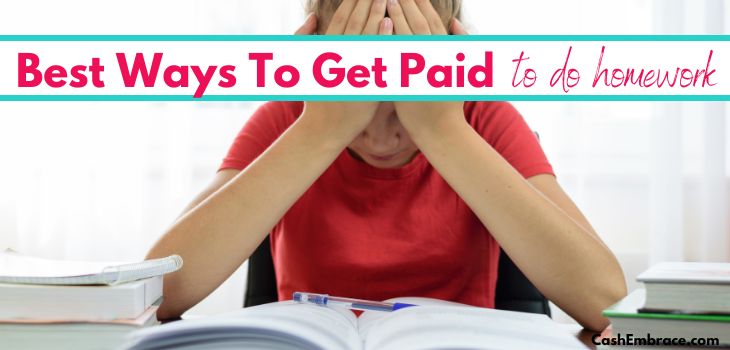 Can you believe that you can get paid to do homework nowadays?
If you hated to do assignments when you had to, you should know that you're not alone:
Thousands of people don't particularly enjoy doing their homework too.
These days, having knowledge and expertise in a specific subject is something you can use to earn extra money.
So, if you don't mind helping students with their school assignments, many platforms will pay you to do that.
And today, I'll tell you all about working with these platforms.
This post may contain affiliate links – read my affiliate disclosure.
Recommended Read:
How Much Money Can You Make Doing Homework?
Now that you know such a side hustle as doing homework for cash exists, let's see how much it pays, shall we?
On average, completing a homework assignment will earn you between $5-$30 per project.
Of course, the amount of money you can make doing homework for others depends on different factors.
For example, you can spare one hour to teach someone a whole concept – that will earn you at least $20 an hour.
Assuming that some of you might decide to assist people with their homework full-time, you can expect to make around $2,000 a month.
With that said, let's take a look at the best sites you can join to do homework for cash:
Best Websites Where You Can Get Paid To Do Homework
1) TutorMe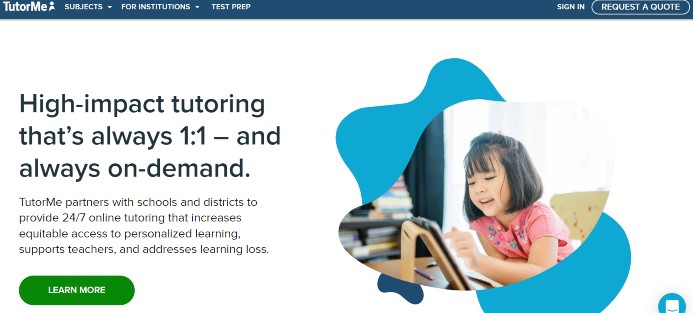 TutorMe is one of the most popular platforms you can join to earn money by doing school assignments:
That's probably because working for TutorMe comes with a guaranteed pay rate of $16-$20 an hour.
Another reason why this site is the go-to place for freelance tutors is because the platform offers around 300 subjects you can teach.
It's worth mentioning that TutorMe is in-touch with nearly 900 universities and colleges worldwide, so I doubt you'll ever stay without paying students to teach.
While TutorMe is probably one of the best sites you can use to make money tutoring, not everyone will manage to secure a position:
Unless you have teaching experience and top-notch education, TutorMe will most likely not hire you.
2) Get Paid To Do Math Homework With My Math Class
My Math Class (and TutorMe) will pay you to help students with their math assignments.
Those of you fond of equations should take up the offer:
Completing a single math project will earn you at least $20.
You can receive your earnings from My Math Class twice a week via PayPal.
Tutors teaching on this site must be familiar with Excel, Minitab, or other mathematics software.
3) Tutor
Next on my list of sites where you can get paid to do homework is Tutor.
The Tutor is by far the most popular platform for online tutors since 1998.
Pretty much all school subjects have a place on Tutor.
Before you apply to teach on Tutor, you should know the facts:
Firstly, you have to live in the USA or Canada to be able to work with Tutor. Secondly, you need a degree from an accredited university to apply for a tutoring position.
Lastly, expect to do a mock teaching session and a few interviews before you get the job.
Related Read:
4) Chegg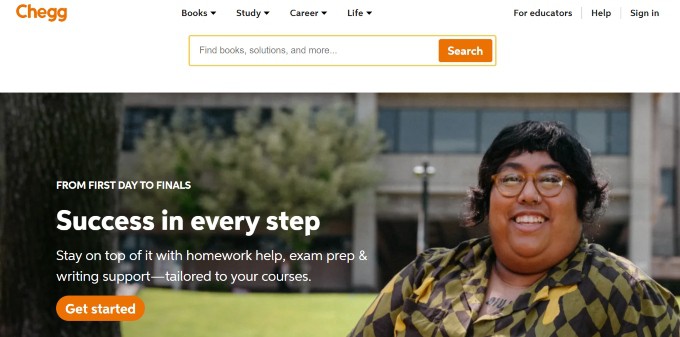 Chegg is a company that assists students with exam preparation and the writing part of their homework.
Believe it or not, Chegg has its own tool you can use to solve Math problems.
On top of that, the site sells and rents out plenty of textbooks – taking advantage of this opportunity will save you tons of money.
Each person teaching at Chegg has at least a Bachelor's Degree. Another requirement the platform has is passing a test on the subject you want to teach.
Everyone who passes that test earns around $20 an hour, but that's just the start-up pay rate for tutors.
5) OneClass
Quite frankly, OneClass is not the average site that will allow you to get paid to do homework:
While the platform will pay for your tutoring services, it will also let you earn for sharing your study notes with other students.
An interesting fact about OneClass is that the platform operates through a credit-based system.
As a tutor for OneClass, you can redeem your points for cash or gift cards.
Elite Note Takers earn 75 credits per document, so you might want to keep that in mind.
6) TutorEye
TutorEye is an online platform where most of the teaching sessions happen one-on-one.
Of course, a lack of academic background will prevent you from working for TutorEye.
However, if you have a degree and top-notch teaching skills, TutorEye might be the right fit for you.
Unfortunately, I can't tell you how much money you can make working with this teaching platform:
Your hourly rate depends on different factors, such as the subject you'll choose to teach.
7) PaperCoach
PaperCoach is one of these tutoring companies that provides more than you can probably imagine:
Currently, the site serves the needs of most categories of students, such as high schoolers, undergraduates, and Ph.D. students.
Any student using PaperCoach can receive help with essays, dissertations, book reviews, and other types of paper-writing services.
More often than not, PaperCoach finds its tutors via LinkedIn.
But you can send your resume directly to the site – the platform will consider you even if you don't live in the USA.
8) Ace My Homework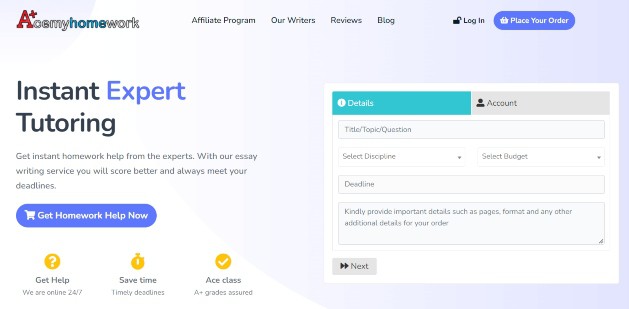 Decent teaching skills and academic background will serve you well if you decide to get paid to do homework with AceMyHomework.
These days, AceMyHomework is busy expanding its student base.
And that's a good thing:
The more students rely on the site, the more opportunities you'll have to make money by teaching.
So, your hourly pay rate on AceMyHomework will depend on the subject you choose to teach and its overall difficulty.
9) Help With Assignment
OK, the first thing you should know about Help With Assignment is that it's not exactly a platform for online tutors.
Instead, you can join the site if you like the idea of earning extra money by helping students with their high school and college presentations.
Even though the website works a bit differently than other similar sites, you'll still need a Ph.D. or another teaching qualification to work with it.
On average, helping people on Help With Assignment will bring you around $9 an hour.
However, assisting with more complicated assignments will earn you much more than that.
10) Just Answer
It's a fact that Just Answer is one of the oldest platforms you can join to get paid to do homework:
Founded way back in 2003, Just Answer managed to gain over 10 million users.
More importantly, you can become one of the 12,000 tutors who have the privilege of working on the site.
Just Answer works in a simple way:
Students ask questions, and experts on the relevant topic provide their knowledge for a price (between $2,000-$5,000 a month).
11) Course Hero
Can you believe that the thousands of working tutors on Course Hero are responsible for the delivery of millions of lesson plans?
Hopefully, you can:
Currently, Course Hero provides over 30 million different teaching resources.
If you decide to join Course Hero as an online tutor, you can expect to make at least $1,500 a month.
Usually, it takes around three days for the team behind the platform to review and approve your application.
12) Eduboard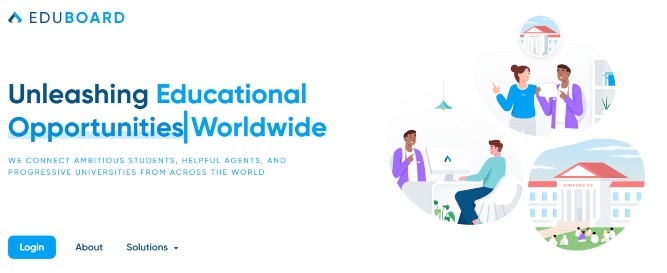 In my opinion, Eduboard is the most unique of all platforms that will let you get paid to do homework:
After all, Eduboard still relies on the whiteboard teaching experience, so the learning process is as easy as it can get.
You'll need to go through a test before the platform accepts you as an online tutor.
Also, you'll have to prove that you have the necessary academic background to teach for the site.
I have to mention that Eduboard will keep 20% of your earnings as a commission.
13) Geeky Lab
Geeky Lab will let you set your own tutoring pay rate.
These days, most teachers working on the platform charge around $20 an hour.
Of course, you can demand more money if you think your teaching expertise deserves a higher pay rate.
Anyone can join the Geeky Lab for free.
These days, the site provides nearly 400 different teaching courses.
14) School Solver
Quite frankly, School Solver is probably the most lucrative option for anyone who wants to get paid to do homework.
And that's due to the unique paying system School Solver has:
Basically, the students are the ones that decide how much they are willing to pay for a particular answer. Tutors will let the students receive their desired answers only after payment takes place.
One of the best things about such a system is that your answer can find many buyers.
Subsequently, your earnings per single teaching task will multiply.
15) Wyzant.com
Wyzant is an online teaching platform that bets on one-on-one lessons:
Students get to learn via whiteboards and video chats.
Besides, they can schedule their lessons at a time that works best for them.
Working with Wyzant will earn you around $30 per teaching lesson.
You'll receive your earnings via direct deposit.
16) Growing Stars

Do you mind teaching students from grades three to twelve?
Assuming that you don't, joining Growing Stars will most likely be a good fit for you.
Feel free to choose the subject you would like to teach.
Signing up for Growing Stars will take a few minutes of your time.
Once you create your account, you'll need to upload your resume and show your qualifications.
17) Study Pool
Believe it or not, Study Pool will let you get paid to do homework easily:
Every time a student submits a question, that student will set a price for the answer.
If you think that the price is worth it, you can place your bid.
Later, the student will choose a tutor to work with based on the answers.
Nowadays, many tutors on Study Pool make as much as $7,000 a month.
18) The Princeton Review
As you can guess, the Princeton Review helps students get into the college they want.
Unless you have teaching experience and the necessary academic background, don't bother applying at the Princeton Review:
That platform requires all tutors to go through a selection process and special training.
With that said, working for the site will allow you to set your own hours and pay rate.
19) 24houranswers
A Master's Degree and excellent knowledge of the English language are necessary if you want to work with 24houranswers.
You can offer both tutoring and homework services on this site.
Work on your own time and earn up to $45 per tutoring session.
24houranswers is one of the most respected platforms you can join to get paid to do homework.
20) AllHomework
Right now, AllHomework hires English, Biology, Geography, and even Accounting teachers.
Tutors working with the platform must be familiar with Google Docs and PowerPoint.
You'll receive your earnings via PayPal:
Their amount will depend on the length and difficulty of the assignments you'll choose to do.
10 More Platforms You Can Join To Write Assignments And Earn Money
Toppr: Toppr is an Indian-based mobile app that connects tutors with students who need help with school projects on many subjects.
HashLearn: Another tutoring app that connects experts with learners is HashLearn.
Upwork: Upwork is a popular online platform that will allow you to offer your teaching services and set your own pay rate.
Freelancer: Freelancer is a well-known platform where you can offer many freelance services, including tutoring assistance.
Preply: Choosing to tutor with Preply will bring you as much as $40 an hour.
Sweet Study: Expect to earn around $10 per tutoring task if you decide to work with Sweet Study.
Smart Thinking: Both online tutoring and answering specific questions are possible once you start working with Smart Thinking.
Pay Me To Do Your Homework: Prepare to write papers for high school students when you begin teaching on Pay Me To Do Your Homework.
MyTutor: MyTutor is a UK-based website that will pay around $23 an hour for your tutoring services.
Spires: Spires hires online teachers that can assist students of all ages.
Get Paid To Do Homework – Frequently Asked Questions
What Are The Best Legit Ways To Get Paid To Do Homework?
Tutor
AceMyHomework
School Solver
Geeky Lab
Study Pool
Just Answer
Can I Do Homework For Money?
Yes, you can do homework for money:
Nowadays, plenty of online platforms will pay you to write papers and assist students with their high school and college assignments.
Is Doing Homework For Money Illegal?
As long as you join a legitimate platform where you can get paid to do homework, you won't be doing any illegal activity.
My Closing
Alright, this is all I have for you today!
Again, doing homework for money and providing tutoring services are one of the best ways to make money online.
Give it a try and see how you like it yourself!
Is there anything you would like to ask me on this topic?
Leave your thoughts and questions in the comments section – I'll write you back at my earliest convenience.
Other Well-Paying Online Activities: