How To Become A Voice Actor: Earn A Living As A Voice Artist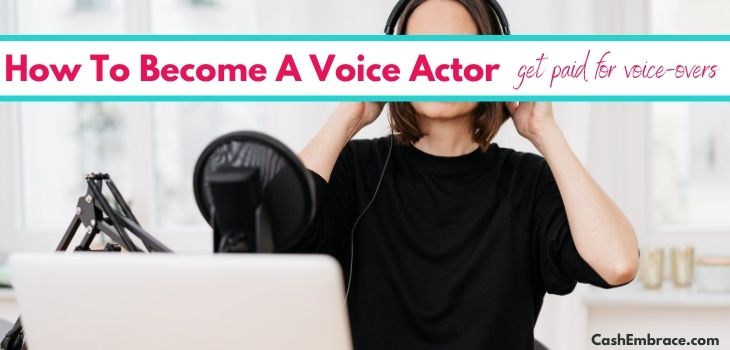 Thinking that how to become a voice actor is worth the research?
I couldn't agree more.
Are people often gushing over the sound of your voice?
Do they enjoy what's coming out of your mouth every time you speak?
Then monetizing this underrated skill is definitely something you should consider.
It's one thing that working as a voice-over artist is a legitimate way to make money.
What matters more is that the voice acting jobs nowadays are perfectly capable of replacing your current 9-5 situation.
And then some.
Today, you'll find out how to start voice acting, the best voice over jobs for beginners, what the voice actor salary look like, and much more.
Plus, you'll gain access to free voice over training, so don't go anywhere for the next 10 minutes.
This post may contain affiliate links.  Disclosure.
What Is A Voice Over Actor?
Quite frankly, I'm pretty sure you all know the answer to this question, but still…
In short, a voice actor (or artist) is someone who lends its voice to narrate a story.
The story can be almost any kind of production you can think of.
For instance, radio, television, theatre, filmmaking are some of the most popular fields where voice over is used.
These days, the reach of voice actors is spreading much further than that:
Audiobooks, podcasts, video games, web content, animation are other areas where voice artists can demonstrate their skills.
Basically, once you learn how to become a voice actor, it's highly unlikely to ever find yourself unemployed.
Now, for those of you who find the whole "acting" idea intimidating:
Being camera-shy is something you'll never have to worry about as a voice artist.
Your new job can be easily described as reading scripts offscreen, so all the acting will be done only with your voice.
Are The Voice Acting Jobs In-Demand?
If that question is currently occupying your mind, it's understandable.
Why would you be researching how to become a voice actor if you're not planning to make money as such, right?
With that being said, let's talk about how busy you'll be once you are a voice artist:
Considering the time we're living in and how dynamic life has become, I would say that you won't have a problem landing a voice gig.
And I'm basing this opinion on much more than a hunch.
Basically, everything you hear without being able to see a face is a result of someone's voice job.
We've come a long way since the time you had to be employed by some of the biggest film studios in order to work with your voice.
Today, all you need to do voice acting jobs is internet access, the necessary equipment, and the right education to get you started.
Is this enough to convince you that doing voice over jobs is something you should definitely consider?
Maybe you're wondering if this type of job is suitable for just about everyone?
Allow me to answer that for you below!
More Well-Paying Jobs You Might Like:
Can Anyone Do Voice Acting Jobs?
As I've already mentioned, you don't need to have any previous experience in this field to get hired as a voice actor.
What do you need then?
Who has the best odds to earn a good amount of money as a voice artist?
To sum up, everyone.
There is a market for all kinds of voices – male, female, and even children voices.
Yeah, you can stop your little one from researching "how to become a voice actor as a kid" – she/he can do this job as well!
Furthermore, if you have an accent or you think that your voice sounds too motherly for example, it's all good:
There is room for that on the voice market too.
Most importantly, the voice actor jobs are a perfect fit for anyone who would like to earn a living from home.
Since it's not required to be physically present at a studio or elsewhere, you can do the work in your own room.
What Type Of Voice Over Jobs You'll Be Doing?
Well, there is plenty of them, that's for sure.
While most of the newbies are specifically looking for voice over jobs for beginners (narrating audiobooks), you can take on different ones.
For instance, voice-over is used in all of the following industries:
Audiobooks
Promos (TV and radio)
TV and radio commercials
Films (short movies, animation, etc.)
Documentaries
Trailers
Video games
Online training/e-learning
Phone messages
Podcasts
And many, many other categories.
Does any of them look like something you'll enjoy doing?
Not to mention, getting paid for?
Great, let's talk about how you can start:
How To Become A Voice Actor – Introducing The Online School For Voice-Over
For starters, if you can't afford expensive voice acting classes, that's OK.
You don't have to pay anything to start learning how to do professional voice over jobs.
No, you should just get familiar with the Online School For Voice-Over.
That's where your free step-by-step voice over training is coming from!
1) What's Included In The Free Mini Course For Voice Over?
First of all, the Online School For Voice-Over is one of the most popular and well-respected platforms that provide this type of education.
In my opinion, it doesn't really have any formidable competition at the moment.
It was created by Julie Eickhoff (we'll talk a lot more about her a bit later).
With that being said, the training will let you into the world of voice acting and you'll discover the basics of the job.
Meaning, the course will show you what does it mean to work as a voice actor, what equipment do you need, how much you'll be getting paid, etc.
Want all the details of what you'll learn thanks to this free education?
Here they are:
What is voice over?
What the voice acting job entails?
What a person needs to be successful at this job?
What type of skills do I need to have to be a voice actor?
How much money a professional voice artist makes?
Basically, the whole idea behind it is for you to decide if being a voice actor for a living is the right path for you.
OK, what if it is?
Then, you should continue your training and education with the full course that Julie has created.
It's called Work From Home Doing Voice Overs.
2) What You'll Learn From Work From Home Doing Voice Overs
Quite frankly, the smartest thing you can do is going through the free course at your earliest convenience.
Once you do that, you'll be able to make up your mind whether being a voice actor is your true calling.
But let's say that it is.
As I've already mentioned, then you should consider investing in Julie's full course.
Not only she will walk you through the whole process of becoming a voice artist, but she will provide you with practical steps of how to make it work.
In other words, you'll learn what Julie's personal recommendations for a recording space and equipment are.
Next, she'll show you where to find lucrative voice over jobs and she'll prepare you for your first audition.
Also, when you complete the course, you'll be allowed to submit your work to her and she will give you feedback and tips about how can you improve it.
Long story short, the Work From Home Doing Voice Overs course will help you develop all the necessary skills to run your own successful voice over business.
Again, you can look into it later – first, don't waste any time and take the free course today.
3) Who Is Julie Eickhoff?
While you may have never considered doing voice overs up until now, Julie has been doing them for years.
An Iowa native, she has a BS Degree in English and Secondary Education.
Fresh out of college, Julie spent a year as a middle school English teacher.
After that, her resume includes all kinds of jobs – from bank manager to even chief meteorologist in a TV station.
However, doing all sorts of crazy jobs when you have a husband and a newborn can become quite stressful.
That's why Julie decide to focus on a single field – the voice acting one.
She'll be the first to tell you that it took her years of learning curve and setbacks until she managed to master it.
Now that she has, she is sharing all of her knowledge with everyone who would like to be a voice artist in her course.
What Are The Benefits Of Working As A Voice Actor?
I'm not even sure if this paragraph is that necessary.
At the end of the day, you can see the advantages of doing this job on your own, right?
Personally, I think that being able to work from home is probably this career's biggest appeal.
Add the flexible working hours and the voice-over picture is getting even better.
Let's not forget that being a voice actor is an awesome choice for all the people who consider themselves introverts.
Working with your voice won't require to constantly be around other people.
And that's a big plus if you prefer to work alone.
The Voice Actor Salary – How Much You'll Make As A Voice Artist?
The way I see it, what's left to cover is the money.
On that note, you should know that the voice artist is being paid per project.
Depending on the project, your income will vary.
For example, you can expect quite generous earnings if you land a gig for one of the biggest movie studios.
Considering that will take time, practice, and experience, the best way to start earning ASAP is to begin with audiobooks.
With them, you can get paid in 2 ways (or in both of them combined).
You can choose to have the royalties (you'll be making money for each sold copy).
Or you can go for the amount agreed on per finished hour for narrating and producing the book.
While the rates for audiobooks vary as well, you're looking at $100-$200 per finished hour.
If you do the math, a 10-hour audiobook with a rate of $200 is $2,000 straight in your pocket for a single job.
My Closing
Are all of your questions about how to become a voice actor already answered?
It's an amazing job to have by all counts, isn't it?
In case there is something you don't understand about the topic, don't hesitate to ask.
Replying to my audience's questions is always a pleasure, so ask away!