How To Become A Voice Actor: Earn A Living As A Voice Artist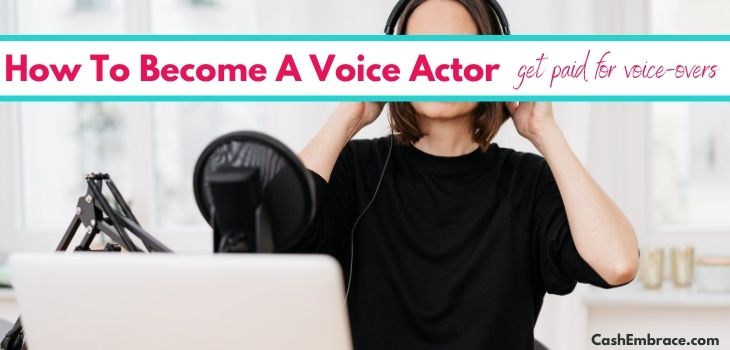 By all means, learning how to become a voice actor is worth the effort and research.
If your voice always leaves an impression on everyone who gets to hear it, starting a high-paying job as a voice artist is probably your true calling.
Becoming a full-time voice actor requires tons of patience and hard work.
Be that as it may, a voice-over career is an exciting job prospect that will bring you lots of possibilities.
Nowadays, a voice acting job doesn't have to be just a side hustle:
Considering how well the gig will pay you, you can leave your full-time job behind with no regrets.
Today, I'll tell you all about working as a voice-over artist:
What does a voice actor do?
How much money can you make as a voice-over artist?
Why should you do voice-overs for a living?
Where can you find voice-over jobs for beginners?
This post contains affiliate links – read my affiliate disclosure.
Recommended Read:
What Is A Voice Over Actor?
Before you see how to become a voice actor, I want to take a second to provide you with a definition of the job.
To sum up, a voice-over artist is a professional performer who uses their voice to narrate a character in a story or market products such as video games, animations, audiobooks, web content, podcasts, etc.
Voice-overs are necessities in radio, television, theatre, and filmmaking.
Most of the time, you won't see the voice-over artist on the screen.
Instead, voice actors rely on their skills to breathe life into a character or emphasize the advantages of a product.
Don't dismiss the voice acting work opportunity if you're camera shy:
The job requires speaking and recording lines from a script via audio recording equipment in your home or an outside studio.
Start A Professional Voice-Over Training For Free
What Does A Voice Actor Do?
Believe it or not, a voice acting job is not just about lending your voice for different purposes:
A voice-over artist has a lot of responsibilities.
For example, a voice actor has to read and record a script, copy, or other written material. While delivering the lines, voice-over artists work on tones and inflections to create the performance necessary for the specific project.
Whether you'll work on animes, cartoons, video games, or commercials, soundproofing your working space will be an excellent idea:
That will allow you to train, practice, and improve your voice acting skills without bothering anyone near to you.
Exciting Jobs To Consider As A Possible Career:
Can Anyone Be A Voice Actor?
Generally speaking, people from all walks of life can become voice-over artists.
It doesn't matter what your background is and whether you have any previous experience working in the field:
As long as you're willing to do the work necessary to become a voice artist, such a career is worth the consideration.
Currently, there is a large market for all kinds of voices (male, female, and even children's voices).
Moreover, the voice market will give you a chance even if you have an accent or your voice sounds too motherly (examples).
Do You Need A Degree To Be A Voice Actor?
Building a lucrative career as a voice-over artist doesn't require any formal education.
After all, voice actors earn money through their talent and voice-over abilities.
Sure, some voice-over artists might choose to pursue a degree in theatre or acting.
However, you don't have to do it if that's not what you want:
Developing impressive voice acting skills is enough to be able to secure well-paying gigs in the field.
Who Should Earn Money Doing Voice Overs?
In my opinion, getting into the voice-over industry will be suitable for people who want to challenge themselves by stepping into a brand new working area.
Of course, having a pleasant voice is the top requirement for voice actors – there is no way around that!
Also, you already know that developing and polishing your voice-over skills will take a considerable amount of time.
Completing a voice acting job doesn't have to happen in an outside studio – you can do it in your own house or apartment.
Subsequently, providing your voice to earn a living will be a perfect fit for everyone who wants to make a full-time income from home.
More Jobs To Make Full-Time Income From Home:
What Are The Benefits Of Doing Voice Acting Jobs? (Pros And Cons Of Becoming A Voice Actor)
Let's make something clear from the get-go:
These days, the voice-over industry is one of the most competitive fields.
Still, the job of the voice-over artist provides tons of benefits, such as:
A Lucrative Pay: It might be hard to believe, but some voice-acting gigs pay hundreds and even thousands of dollars. We'll talk more about the voice-over actor's salary later in this article.
Flexible Hours: Whether you want to do voice-overs part-time or full-time, you'll be the one in control of your working schedule.
Work From Home: As you already know, you can complete a voice-over project without leaving your home.
Be Your Own Boss: Once you become a professional voice actor, you'll be able to select the pace of both your working and personal life.
And what about the disadvantages?
Up-Front Expenses: If you decide to record from home, setting up your studio will become possible at a cost. In addition, you'll have to keep in mind the expenses for quality recording equipment.
Freelance Work: Being a voice actor means that you'll work as a freelancer. Such a job doesn't provide the most stability, especially at the beginning.
Formidable Competition: Landing your first voice-over gig will be challenging since you'll have to compete with professionals offering the same services.
Hard On The Voice: Doing tons of voice-over work might put a strain on your vocal cords.
Can You Make Money Doing Voice-Overs?
First and foremost, it's understandable if you're wondering about the monetization options of lending your voice to projects.
Why would you be researching how to become a voice actor if there is no cash on the table?
So, allow me to answer the question that must be heavy on your mind:
Yes, you can make money providing voice-overs.
Depending on how busy you'll be as a voice actor, the amount of money you'll be able to earn will vary.
How about I press harder on this matter?
Are The Voice-Over Jobs For Beginners In Demand?
By all means, the time we're living in offers a vast array of possibilities:
Replacing your nine-to-five job with an online one that pays handsomely is more popular than ever.
Work-at-home labor is becoming a new reality for thousands of people every day.
Now, how does all that affect the market for voice-over gigs?
Well, think about it:
Every voice without a face you hear on TV (example) is a result of someone's voice-over job.
Long gone are the days when you had to be employed by some of the biggest film studios to work with your voice.
Today, all you need to secure a voice-over job is Internet access, recording equipment, and the ability to act with your voice.
Is this enough to convince you that doing voice-over jobs is something you should definitely consider?
Types Of Voice-Over Jobs
Quite frankly, narrating audiobooks is the most suitable voice-over job if you're a newbie in the field.
However, that's not the only type of voice acting job you can get.
Take a look at the industries that constantly hire voice actors:
Audiobooks
Promos (TV and radio)
TV and radio commercials
Films (short movies, animation, etc.)
Documentaries
Trailers
Video games
Online training/e-learning
Phone messages
Podcasts
Heads up – there are other categories as well – the ones you see above happen to be the most lucrative.
How To Become A Voice Actor – Step-By-Step Guide To Getting Your First Voice-Over Actor Salary
Without further ado, let's jump into the process of becoming a professional voice-over artist.
Here are the steps you'll need to take to start working as a voice actor:
1) Gain Voice-Acting Experience
It doesn't matter what kind of a new skill you're trying to learn:
Your journey will always begin with building experience in the field where that skill is necessary.
Many voice actors launch their careers by learning how to act on stage.
After all, voice acting is not just about saying words – it's about developing the ability to act too.
There are two ways to gain voice-acting skills:
You can take lessons with an acting coach or sign up for online voice-over training (I'll cover the second option in a minute).
2) Hire A Voice-Acting Coach To Take Voice-Acting Lessons
For now, let's talk about the opportunity to learn how to become a voice actor by hiring a voice-acting coach.
Every professional voice-over artist has to go through the process of mastering proper vocal techniques.
Voice-acting requires so much more than making impressions or delivering funny sounds.
Plenty of technical skills go into doing a voice-over, such as breathing, pronunciation, articulation, and delivery.
Working with a voice-acting coach will help with all that.
3) Record A Voice-Over Demo
Eventually, your voice-acting education will get to the point where you'll need to showcase your voice-over abilities.
That's why recording a voice-over demo is an unavoidable step in the process of becoming a voice actor.
A professional voice-over demo is usually a few minutes long and has to contain the best voice-over work you're capable of delivering.
Don't let the idea intimidate you – a couple of various lines and dialogue you perform in different voices are enough for a demo.
Most voice-over artists have two types of demos – one that shows their commercial skills and another that introduces their character work.
Once your demos are ready, feel free to upload them to audition sites or send them to talent agencies that accept such submissions and might take you as their client.
4) Go Through Voice Acting Auditions
Going through voice acting auditions is a crucial moment in the process of becoming a voice artist – it's how you'll land your first job.
With that said, begin looking for open casting calls online or search for voice talent audition websites accepting submissions.
Other ways to secure auditions are to hire agents to discover them for you or network with casting directors if you know any.
Preparation is the key to auditioning successfully for a voice-over job:
Devote enough time to study the character breakdowns and practice the pronunciation the project requires.
5) Keep Improving Your Voice-Over Skills
Speaking of practice, we all know that practice makes perfect.
Building voice-acting skills is not a set-and-forget kind of job:
Honing your voice-over and recording skills is a must if you want to keep securing high-paying jobs.
A good way to practice is by recording a project and listening to that recording back.
Developing a professional-sounding voice most casting directors won't be able to resist will take tons of work, but it will be worth it in the end.
How To Become A Voice Actor – Introducing The Online School For Voice-Over
Let's imagine a scenario where you want to make money by doing voice-overs, but you can't afford to hire a voice-acting coach.
What should you be doing if you find yourself in such a situation?
Should you give up on the dream of becoming a professional voice-over artist?
The answer to that question is no because there is a way to learn all you need to know about voice-over work without paying tons of money.
And that way has a name – the Online School For Voice-Over that will offer to enroll in voice-over training for free.
What You'll Learn From The Free Online School For Voice-Over Course
Nowadays, the Online School For Voice-Over is the most popular platform that provides professional training to people who want to become voice actors.
Actually, the school is one of its kind:
You won't find another platform that teaches the craft behind voice-over work on the level the Online School For Voice-Over does.
Julie Eickhoff is the creator of that training program (I'll tell you more about her in a minute).
Before I do that, let me say a few words about the learning material of the school:
Basically, the Internet School For Voice-Over will introduce you to the world of voice-acting, explain the fundamentals of the work, and help you find employment in the field.
If you decide to take only the Free Mini-Course, you'll still manage to learn a lot about voice-acting.
For example, you'll find out what it means to work as a voice actor, how much you can earn, how to be successful at the job, etc.
Long story short, the Free Mini-Course exists to help you decide whether being a voice actor is a suitable choice of career for you.
Assuming that it is, you can go through the full training course to develop the skills necessary to do voice-over work for a living.
Inside Work From Home Doing Voice-Overs Training
As you can guess, that's the name of the whole online course you can sign up for after completing the free voice-over training.
That course will provide you with a practical blueprint you can follow to begin earning a full-time income as a voice actor as soon as possible.
The creator goes above and beyond to prepare you to beat the competition and make a name for yourself as a voice-over artist in demand.
She will show you the best recording equipment you can get and where to find high-paying voice-over jobs once you complete the training.
On top of all that, Julie will work with you to get you ready for your first audition.
Every student has the opportunity to submit their work to her after taking the last lesson and receive feedback about how to improve it.
In other words, the Work From Home Doing Voice-Overs Course will walk you through the process of building a profitable voice-over business from home.
3) Who Is Julie Eickhoff?
First and foremost, if there is a course creator that knows the market for voice-over talent inside and out, that would be Julie Eickhoff:
After all, she has been doing them for years.
An Iowa native, Julie has a BS Degree in English and Secondary Education.
Fresh out of college, she spent a year as a middle school English teacher.
Currently, her resume includes all kinds of jobs – from bank manager to even chief meteorologist in a TV station.
However, doing all sorts of crazy jobs when you have a husband and a newborn can become quite stressful.
That's why Julie decide to focus on a single field – the voice acting one.
She'll be the first to tell you that it took her years of learning curve and setbacks until she managed to master it.
Now that she has, she is sharing all of her knowledge with everyone who would like to be a voice artist in her course.
Sign-Up For The Free Voice-Over Course Today
Make Money Doing Voice-Overs – How Much Do Voice Actors Get Paid?
Isn't it time to cover the voice-over jobs salary? I believe it is!
Generally, voice artists get paid per project. Depending on the project you'll choose to work on as a voice actor, you can expect to receive different pay rates.
Here is an example:
If you land a voice-over gig for one of the biggest movie studios, the paycheck you'll get when you complete the job will be more than lucrative.
But newbie voice actors rarely secure such jobs from the start of their careers.
Instead, they practice their skills and build expertise while narrating audiobooks at first.
Audiobooks pay voice artists in two ways:
You can choose to get the royalties (money for every sold copy) or agree on a specific amount with the employer.
While the rates for audiobooks vary as well, you're looking at $100-$200 per finished hour.
So, a 10-hour audiobook with a rate of $200 is $2,000 straight in your pocket for a single job.
How To Become A Voice Actor – Frequently Asked Questions
Do Voice Actors Get Paid Well?
Working as a voice-over artist can be more than a lucrative side hustle:
Many people turn voice-acting into a career considering the pay is enough to earn them a full-time income.
How Much Do Voice-Over Artists Get Paid?
On average, entry-level voice actors earn up to $32,000 per year, while experienced voice actors make nearly $200,000 per year.
How Much Do Voice Actors Make Per Hour?
Basically, some voice-acting gigs will let you earn $100 or even $200 per hour.
More often than not, though, the average voice actor earns around $40 per hour.
Can Anyone Get Paid To Do Voice-Overs?
Yes, everyone can start making money providing voice-overs.
Even if you have no experience, you can begin earning as a voice actor once you go through professional training and gain the necessary skills.
How To Become A Voice Actor As A Kid?
Children can become voice actors as long as their parents assist them.
The parents have to test their kids doing character voices, record a demo, and submit it for suitable auditions.
My Closing
Are all of your questions about how to become a voice actor already answered?
It's an amazing job to have by all counts, isn't it?
In case there is something you don't understand about the topic, don't hesitate to ask.
Replying to my audience's questions is always a pleasure, so ask away!
Other Ideas From Cash Embrace You Might Like: