37 Real Jobs That Pay $40 an Hour (Up To $85,000 Per Year)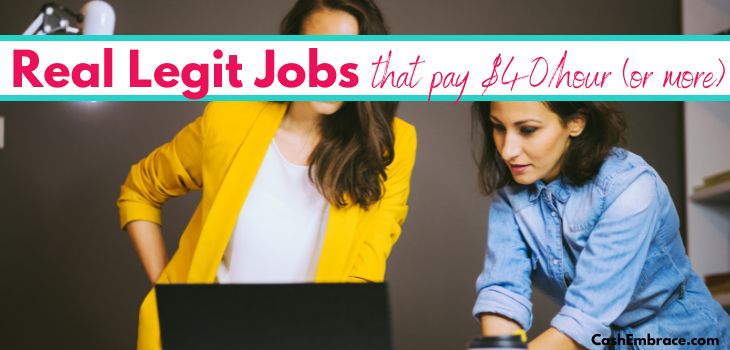 Are you looking for jobs that pay $40 an hour? Considering most legitimate jobs will let you earn around $26 an hour, getting $40 instead is a much better deal.
But how do you go about finding real jobs that pay well without experience? And can you find jobs that pay $40 an hour without a degree?
Even though it's possible to book a well-paying job without having a college degree, such jobs demand experience and expertise in a particular field.
Many factors will influence your ability to find a suitable high-paying occupation. Some of these factors are your geographical location and availability.
In this article, I'll introduce you to plenty of jobs that will pay you at least $40 an hour. Also, I'll explain the skill set and qualifications you'll need to get jobs that will make you $40 an hour or more.
This post contains affiliate links – check my affiliate disclaimer.
Recommended Read:
Advantages Of Jobs That Pay $40 an Hour
Before we go any further, let's spare a minute to discuss the benefits of holding a job that will pay you over $40 an hour.
It goes without saying that earning more than the average hourly rate in the USA is the biggest plus of having a $40-an-hour job. But is that the only benefit?
No, it isn't – there are other advantages as well, such as:
Freedom to pick the number of your working hours
The flexibility of your working schedule
Better lifestyle and higher living standard
More money for your emergency saving or retirement fund
Less stress affecting your mental health
An opportunity to create a source of passive income
Above all, the biggest advantage of jobs that pay $40 an hour is the possibility to spend more time with your family since most of these occupations are work-at-home jobs.
What Jobs Pay $40 an Hour Without A Degree?
For starters, let's take a look at the jobs that will pay you $40 an hour even if you don't have a degree.
Here they are:
1) Virtual Assistant
Average Income: $35-$40/hour
Qualification: Computer literacy
Nowadays, virtual assistance is one of the most in-demand jobs you can start online. Bloggers, companies, and other businesses hire VAs to help them with their work operations.
It might be hard to believe, but anyone can become a virtual assistant with no previous experience. People who make excellent VAs are individuals with great communication and time management skills.
Your responsibilities as a VA will vary – they depend on the needs of the employer. Some virtual assistants earn as much as $100 an hour – see how to become a VA and build a profitable career in the field.
2) Social Media Manager
Social Media Managers are freelance workers that manage social media accounts for other people or businesses. Managing social media is one of the most profitable online jobs currently.
As a social media manager, you can work on one or more networks, such as Instagram, Twitter, Pinterest, Facebook, TikTok, etc. Expect to perform tasks like scheduling pins, implementing hashtags, interacting with followers, and updating content.
Don't hesitate to become a social media manager if you have communication, marketing, and graphic design skills. The job offers flexible hours and income growth opportunities – social media managers with over ten years of experience can demand over $200 an hour.
Related: 15 Ways To Get Paid On Twitter
3) Proofreader
Chances are, you won't make over $70,000 in the first year of working as a proofreader. Beginner proofreaders earn less money, but they can charge more once they gain experience in the field.
Proofreaders correct mistakes in written content, so you'll need grammar, spelling, and punctuation skills. While you don't need a degree to get a high-paying proofreading job, you'll have to go through training to become a professional proofreader.
I recommend Proofread Anywhere by Caitlin Pyle – that course will polish your proofreading skills to excellence. See for yourself by joining the free 76-minute proofreading workshop.
4) Transcriptionist
Average Income: $23/hour (entry-level), over $40/hour (experienced)
Qualification: Over 65 WPM typing speed with 95% accuracy
Transcriptionists (also known as transcribers) convert files from one medium to another. More specifically, a transcriptionist transforms an audio or video file into written text.
Fast typing skills with high accuracy are a must if you want to book and keep a well-paying transcription job. Once you enhance your transcription abilities, you can go after the highest-paying jobs in the market.
GoTranscript is one of the top companies hiring transcriptionists. Joining GoTranscript as a transcriptionist will allow you to train for an editing position that pays more.
5) Freelance Writer
Average Income: $40-$80/hour
Qualification: Linguistic skills
Nowadays, freelance writing is one of the most popular ways to earn online. Working as a freelance writer will allow you to make extra money or even build a whole profitable career.
Hundreds of online platforms hire writers – many of them will give you a chance even if you have no previous experience. Also, some online magazines pay writers up to $1,000 per article.
Consider signing up for an online course if your writing skills need improvement. Check the My Freelance Paycheck training – the course will teach you how to start making $3,000 a month as a newbie freelance writer (full review here).
Related: Get Paid To Write Slogans From Home
6) Scopist
Average Income: $25-$40/hour
Qualification: Certification in scoping
First and foremost, scoping is not a brand-new occupation. Even though you might be unfamiliar with the job, scoping is a position many people currently occupy.
Scopists edit documents for court reporters. As a scopist, you'll correct mistakes in legal transcripts and take care of mistranslated words. Right now, you can work as a scopist from home – you don't have to be physically present in the courtroom.
With that said, you'll need special training to become a professional scopist. Check the Online Scoping School – that course is the best in the field, and you can sign up for it for free.
7) Tutor
Average Income: $19-$40/hour
Qualification: Depends on the subject you teach
Getting a quality education is essential for most high-school and college students worldwide. More often than not, these students need help to achieve academic excellence.
That's one of the reasons tutoring belongs to the category of in-demand jobs that pay $40 an hour. Actually, tutors with impressive academic backgrounds earn as much as $50 an hour.
With that said, teaching English is not the only service you can provide as a tutor – you can offer tutoring help on any topic you're an expert on.
Related: How To Earn Money Doing Homework For Others
8) Blogger
Average Income: It varies from extra income to five and six figures monthly
Qualification: SEO and writing skills
Starting a blog and turning it into a profitable online business is one of the most popular ways to make money online. Believe it or not, anyone can launch a website in minutes.
While becoming a blogger is easy, monetizing a site is not so much. You'll need to learn a lot in a short time. Plus, building a blog requires hard work and consistency.
Some of the ways to make money with a blog are affiliate marketing, sponsored content, and product creation. Get cheap hosting with BigScoots, pick a niche, and start your blog as soon as possible.
9) SEO Expert
Speaking of SEO (Search Engine Optimization), let's see why becoming an SEO expert is an excellent career choice, shall we?
Firstly, SEO experts are always in demand due to the number of blogs that come to life online daily. Secondly, doing SEO for others doesn't require a degree. Lastly, experienced SEO specialists can charge over $70 an hour for their services.
Now, you might not need a degree to start working as an SEO expert, but you'll have to get SEO certification and master SEO tools.
10) YouTuber
Average Income: It varies depending on monetization strategies
Qualification: None (no degree or certification required)
Are you thinking about starting a YouTube channel? Here is why you should:
Making money on YouTube is a legitimate opportunity to earn from home. YouTube will allow you to monetize your channel once you gain 1,000 subscribers and 4,000 hours of watch time.
Anyone can develop a successful YouTube channel if they create valuable content people would like to watch. Sponsored videos and affiliate marketing are the most common ways to monetize your YouTube channel.
Best $40 an-Hour Jobs
11) Web Designer
Quite frankly, web design is not a suitable job for everybody, but people who love computer science and have coding skills should consider it:
Right now, web designers are some of the busiest online workers – millions of sites need help with their design, and their owners don't hesitate to pay for it.
Web designers should demand at least $40 an hour for their services. But if they have over three years of experience, web designers can ask for as much as $75 an hour.
12) Software Developer
Average Income: $50-$55/hour
Qualification: Graduation in Software Engineering (or Computer Science)
Don't kid yourself into thinking you can become a professional software developer without showcasing impressive coding skills – that's not going to happen.
Aside from a Software Engineering Degree, you'll need a few years of experience on the job to demand a high hourly pay rate. These days, experienced software developers earn over $110,000 annually.
It's safe to say that software developer jobs have a place at the top of the list of lucrative jobs that pay $40 an hour (and well over that on many occasions).
13) Software Engineering
Software development and engineering look like the same job.
In short, a software engineer is someone who develops software applications to satisfy the user's needs.
Expect a stable job and lucrative pay as a software engineer – that market constantly grows, and the demand for engineers increases.
14) App Developer
Average Income: $40-$45/hour
Qualification: Graduation in computer science (or software engineering)
Alright, decent coding skills won't be enough to guarantee you a high-paying app developer position – you'll need a degree.
Let's say you have both. Why should you work as an app developer? Here is why:
The app market constantly grows – thousands of new apps appear each year. Likewise, the people developing these apps can always find lucrative employment that will bring them over $40 an hour.
15) Business Analyst
Average Income: $45-$47/hour
Qualification: Degree in business or finance
Every business that cares about its performance must analyze its current operations and improve them to achieve ultimate results. In short, that's the job description of a business analyst.
More specifically, a business analyst analyzes data from multiple sources and provides recommendations for improving a company's operations. As a business consultant, you'll have to pay close attention to market trends.
The job of a business consultant is suitable for people who work well with others since the occupation requires working with other departments.
16) Business Consultant
Average Income: $80,000 annually
Qualification: Bachelor's Degree in business or another finance-related field
Generally speaking, business consultants provide services that help companies achieve their short-term and long-term goals.
For example, a business consultant must organize (and sometimes) execute projects for clients and meet with customers if that's necessary. Also, business consultants often asses a problematic or crisis situation and work on resolving it.
Overall, business consultants offer their expertise to eliminate issues, increase profits, and improve marketing strategies.
17) Financial Manager
Average Income: $131,000 annually
Qualification: Bachelor's Degree in finance or a related field
By all means, financial management is one of the most profitable jobs that pay $40 an hour. After all, the occupation will allow you to earn over $100K a year.
Financial managers are specialists who teach people the subject of monetary literacy. They advise people on how to manage their cash flow to stay out of debt and earn more than a decent profit.
Basically, financial managers create investing plans and paths for their clients. Having a few years of experience in the field will help you make over $40 an hour.
Related Read:
18) Marketing Manager
Average Income: $55-$71/hour
Qualification: Graduation in business or commerce subjects
These days, developing a profitable business is nearly impossible unless the person behind it has impressive marketing skills. Subsequently, marketing managers are some of the most in-demand professionals.
You'll have many responsibilities as a marketing manager. For example, you'll create promotional strategies, oversee sales, and build plans to keep customers and attract new clients.
Remember, you need a finance or commerce Bachelor's Degree to start working as a marketing manager. Most companies prefer hiring marketing managers with at least a couple of years of experience.
19) Sales Manager
Average Income: $52-$72/hour
Qualification: Graduation in finance, business, or sales
For starters, the job description of the sales manager and marketing manager are similar. That's why many people confuse these occupations and think they are the same jobs, but they are not:
While marketing managers work on many aspects of business development, sales managers deal only with sales and nothing else.
You can easily earn up to $70 an hour as a sales manager. With that said, the more years of experience you have as a sales manager, the more money you can make.
20) PR Manager
Generally speaking, every brand or company experiences a crisis at a certain point. PR managers are the people who have to deal with that crisis and help the company to overcome it.
As you can imagine, being a PR manager can be stressful at times. After all, your work is all about doing fast damage control to keep the brand image intact.
Don't go after a PR managing position unless you have the necessary degree and some years of experience in the job. But if you're good at the PR game and don't mind the stress, you can easily earn over $50 an hour.
21) Interpreter/Translator
Average Income: $21-$40/hour
Qualification: High-school diploma and knowledge of languages
Are you bilingual? Do you take pride in speaking several languages?
Hopefully, you can write in another language as well – the job of the interpreter requires that. Many online platforms will hire you to work as an interpreter if you can handle the job well.
While beginner interpreters earn around $21 an hour, experienced workers make over $40 an hour. Make sure your grammar and punctuation skills are up to speed before applying for the job.
22) Pharmacist
Average Income: $57/hour
Qualification: Graduation in pharmacy
More often than not, doctors are the ones on the receiving end of a patient's gratitude. Be that as it may, no one should underestimate the role a pharmacist plays in the healing process:
Pharmacists are the ones responsible for delivering the correct medication to people. That's why no medical facility can properly function without them.
Those of you with a Bachelor's Degree in pharmacy can expect to earn quite well in this profession. After all, a pharmacist is one of the best jobs that pay $40 an hour and higher than that.
23) Nurse Practioner
Average Income: Up to $125,000 annually
Qualification: Graduation in Nursing
Until we're on the subject of health care, let's take a look at the nurse practitioner position. Nurse practitioners are medical professionals with diagnosing and treating illness education.
Such workers provide medical care for people of all ages. And they can work in many different medical surroundings (clinics, facilities, schools, etc.).
Nowadays, nurse practitioners make over $50 an hour. Let me do the math for you and tell you that experienced nurse practitioners bring home over $100,000 annually.
24) Dentist
Average Income: $84/hour
Qualification: Graduation in dentistry
No one likes to visit a dentist, but we all have to do it sometimes. Since dentistry is an industry that is never out of patients, you can see why the occupation belongs to the best jobs that pay $40 an hour category.
Now, dentists do much more than take care of the overall dental hygiene of a person. They often perform dental surgeries and other complicated procedures.
You need graduation in dentistry and a practitioner's license to work as a dentist. If you get a Master's Degree, you'll be able to earn more than the average dentist pay rate.
25) Health Services Manager
Average Income: $88,500 annually
Qualification: Graduation in any health service discipline
Having a background in the healthcare field is a plus when you apply for a health service position, but it's not a requirement.
Health services managers oversee the whole working process of any medical facility, such as a hospital or clinic. Management skills and the ability to communicate well with many people at once are some of the qualities you'll need to secure a health service managing position.
Expect to earn over $40 an hour as a health service manager. Once you have at least a couple of years of experience on the job, you can make $50 an hour or more.
26) Fitness Instructor/Trainer
Average Income: $20-$39/hour
Qualification: Certification in fitness (from an accredited school)
Most people want to look fit and in the best shape possible, but few of them can achieve the goal on their own. That's where the fitness instructors come in.
Assuming you want to work as a fitness instructor, you'll have to get certified to apply for the job. Accredited fitness schools will teach you the topics of anatomy, nutrition, and exercise program design.
First-time fitness trainers earn around $20 an hour. However, experienced fitness instructors can make over $40 an hour.
See also 20 apps that will pay you for walking.
27) Personal Trainer
Average Income: $23-$39/hour
Qualification: Certification from an accredited school
Generally speaking, many people believe fitness instructors and personal trainers do the same job. Well, that's not true:
While fitness instructors train groups of people, personal trainers work with one person at a time.
Your job as a personal trainer will require providing different kinds of training, depending on the needs of the client. Get certified as a personal trainer and begin gaining experience to earn more money on the job.
28) Massage Therapist
Average Income: $40/hour
Qualification: Certification (human anatomy or massage)
Make no mistake – you can't become a massage therapist without a basic education in the field.
Take the time to get your massage certification from an accredited organization – it will be worth it in the end. Massage therapists are always in demand since many people care about their well-being and don't mind paying for extra relaxation.
Providing massage therapy services will earn you $40 an hour at first. Eventually, you can charge your clients up to $100 per sixty minutes of work.
29) Physical Therapist
Unfortunately, thousands of people have to seek the help of a physical therapist at a certain point in time. An accident or an injury will leave you with no choice but to go through physical therapy.
In my opinion, helping people recover and bringing them back to good health is one of the most rewarding jobs that pay $40 an hour.
If you love the idea of working as a physical therapist, don't hesitate to get your degree in the field.
30) Speech Therapist
Average Income: Up to $135,000 annually
Qualification: Bachelor's Degree in communication sciences and disorders
Until we're still on the topic of therapists, let's discuss the position of speech therapy professionals. Schools and hospitals always have speech therapists to help people.
Speech therapists work with individuals with sound pronouncing difficulties. Their job is to help their patients improve their speech and achieve better communication.
As you can see above, experienced speech therapists earn well over $40 an hour, so the career is worth considering.
31) Makeup Artist
Average Income: $45-$48/hour
Qualification: Certification or license
Assuming that many of you live in the USA, you'll be glad to find out that you can become a makeup artist easily. These days, all you need to start doing the job is a license with state mandates which you can obtain from a cosmetology school.
A makeup artist is one of the most lucrative jobs nowadays – some makeup professionals charge as much as $250 an hour for their services.
Helping people look the best they can has many perks – you'll do what you love, and the working hours are flexible.
32) Dog Walker
Average Income: $20-$40/hour
Qualification: None except being a pet lover
How do you feel about walking dogs in your spare time? Hopefully, you feel great about it since dog walking is one of the most entertaining jobs that pay $40 an hour.
Working as a dog walker doesn't require any formal training or education, although bigger breeds might require special attention.
Companies like Rover constantly hire dog walkers – you can create a free account and start searching for available dog walking jobs.
33) Rideshare Driver
Average Income: $30-$40/hour
Qualification: Valid driving license and a car
Do you enjoy spending time behind the wheel? Furthermore, are you OK with the idea of driving people that are not family or friends?
If you are, there is no reason why you shouldn't become a rideshare driver. Rideshare driving is popular because it reduces transportation expenses.
Uber and Lyft hire drivers all the time. Expect to earn around $40 an hour once you start working as a rideshare driver.
Related: Get Paid To Work As A DoorDash Driver
34) Lawyer
Average Income: $62/hour
Qualification: A law degree
Are you dreaming of being a lawyer? Can you see yourself living a life where practicing law is what you do all day long?
In case working as a lawyer is the career you wish to build, going to law school is the first step you need to take. You can't become a lawyer unless you get a degree from law school and pass the bar.
Now, the best lawyers earn hundreds of dollars per hour, so the job is one of the most lucrative occupations you can have nowadays.
35) Bartender
Average Income: $40-$50/hour
Qualification: Certification in bartending
Are you ready to take charge behind the bar? Hopefully, you are, considering bartending is one of the most fun jobs that pay $40 an hour.
Mixing drinks for strangers is an entertaining way to earn a living. But you should prepare yourself to spend hours in a loud environment.
Bartending is an occupation that doesn't require a degree. Still, it's better if you get a certification in mixology.
36) Flight Attendant
Average Income: $100/hour
Qualification: Certification in flight attendance
Is being on a plane for hours your thing? How do you feel about attending to passengers in the air and managing emergency situations?
Assuming you want to work as a flight attendant, you should know the job requires more than serving coffee to travelers. Flight attendants must go through training to prepare for everything that might go wrong during a flight.
On average, flight attendants earn around $100 an hour, so you can expect to make around $60,000 annually.
37) Veterinarian
Average Income: $110,000 annually
Qualification: Veterinarian degree
Those of you who love pets should consider the veterinarian profession. As you probably know, veterinarians take care of animals and work to improve the quality of their lives.
Here is how you can become a veterinarian:
Complete a veterinarian science program (it takes four years to do that)
Get your veterinarian degree
Pass a licensing exam
Is $40 an Hour Good Pay?
It doesn't matter how many jobs that pay $40 an hour I include in this list. Whether $40 an hour is good enough pay is the question I must answer first.
Well, let me answer that question with a practical example:
OK, I'll assume that most of you want to work six days a week and take Sunday off. That means you'll work for approximately 25 days each month.
Add eight working hours a day, and that will measure up to 200 working hours a month. Do the math, and you'll see that these 200 working hours will bring you $8,000 monthly income.
In other words, having a job that pays $40 an hour will result in a $96,000 annual income.
If you ask me, earning nearly $100,000 a year is more than decent pay, especially considering the average annual income in the USA is around $69,000.
More High-Paying Jobs To Consider:
Jobs That Pay $40 an Hour – Frequently Asked Questions
What Jobs Make Most Money With Least Hours?
High-Paying Jobs That Require Less Than 40 Working Hours Per Week:
Artist
Freelance writer
Nutritionist
Personal trainer
Real estate agent
Are There Jobs That Pay $40 an Hour Near Me?
Jobs That Pay $40 an Hour In California:
Preschool teacher
Sales associate
Dental assistant
Massage therapist
Warehouse laborer
For more jobs that pay $40 an hour with no experience near me, visit Indeed, ZipRecruiter, and Glassdoor.
What Are The Part-Time Jobs That Pay $40 an Hour?
Translator/interpreter
Music teacher
Tutor
Makeup artist
Fitness instructor
Related: 30 Jobs You Can Do Part-Time
My Closing
Do you like this list of real jobs that pay $40 an hour?
Which $ 40-an-hour job do you plan to get?
And do you see yourself working a job that pays $40 an hour full-time or part-time?
Let me know in the comments section below, and we can keep talking about the best-paying jobs you want to do!
Other Money-Making Ideas From Cash Embrace You Might Like: