Feetify Review: Scam Or A Legit Platform To Sell Feet Pics?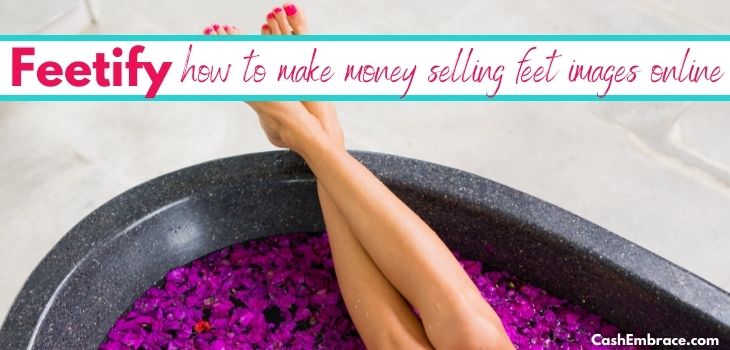 Reading this Feetify review is necessary if you're ready to begin selling images of your feet for cash.
Offering pics in exchange for money is a popular way to make money online.
But is Feetify the right place to showcase your foot pictures?
Today, I'll reveal tons of useful information you should be aware of before you create a seller account on Feetify:
What is Feetify, and how does it work?
Can you make money selling feet pics on Feetify?
How much money can you make on Feetify?
Is Feetify legit or a scam?
Disclaimer: I'm not an affiliate of Feetify. Every fact in this article comes from researching information available in the public domain. Subsequently, all conclusions this post will draw are my own.
Recommended Read:
Is Feetify Legit Or A Scam?
Don't you just hate reading a product review and finding out that the particular product is not that legitimate in the end?
Personally, I do, and that's why I have no intention of putting you in a situation where you'll have to go through a similar experience today.
So, allow me to address the platform's legitimacy before this Feetify review goes any further:
Yes, Feetify is a legitimate website – you can use it without concerns.
Currently, the platform has over 200,000 active members.
Feel free to browse the rest of the Feetify reviews for extra reassurance.
Or you can always check Feetify on Trustpilot – the image above shows you that the site has a rank of 4.6 with nearly 90% excellent reviews.
Feetify Seller Reviews
While you're still on Trustpilot, I suggest taking a minute to read some of the reviews Feetify has.
It won't take you long to notice that the platform has nearly 90% excellent reviews.
More often than not, users share a positive experience with Feetify.
Overall, it looks like most Feetify sellers are happy with the way the platform works and what it provides to the members.
High-Paying Jobs To Consider:
What Is Feetify?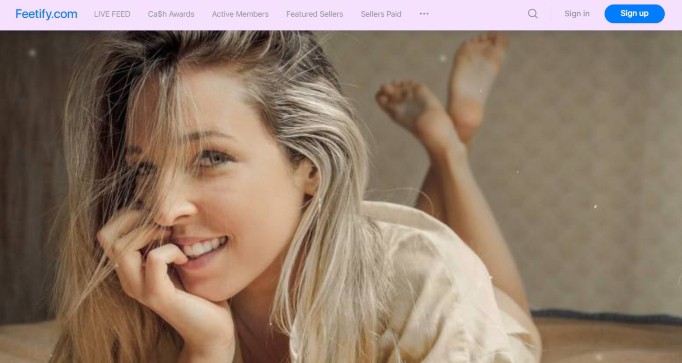 Nowadays, Feetify is the go-to place for both buyers and sellers of stunning feet images.
It connects people/agencies looking to purchase foot pics with ladies who are more than willing to provide them.
Also, Feetify is a platform that allows men and women to meet, chat, and express their fondness for the feet as a body part.
With that said, Feetify is one step ahead of its competitors in the market for feet images:
Signing up for the site is free – there is no monthly fee you'll have to pay as you will if you decide to work with FeetFinder, for example.
More importantly, many feet models earn up to $100 per feet image on Feetify. Such an amount of money makes selling foot pics more of a high-paying online job than a side hustle.
A premium Feetify membership will let you keep 100% of your earnings without paying any fees.
How Does Feetify Work?
First and foremost, Feetify operates globally. Likewise, people from all over the world now have the chance to join the platform.
As you already know, the site is free to join for both buyers and sellers of feet pics.
Up until now, Feetify is probably the only platform that will allow you to use it under a fake name. Including an alias name instead of your real one will let you protect your identity if you feel more comfortable that way.
Registering a seller account on Feetify takes seconds. Once you receive your confirmation email, you can start uploading pictures or short videos of your feet.
Again, the site has its own messaging system that makes the direct chat between buyers and sellers possible.
Feetify Rules For Sellers
While anyone can join Feetify without paying anything at all, that doesn't mean the platform doesn't have a few restrictions.
To keep your account live and working, you'll have to satisfy the following requirements:
Be 18 years old or older
Post only your original feet images or videos without copying content that is already on the web
Avoid posting feet pics or videos of poor quality
Never upload images from minors
Make sure that you behave properly – harassing buyers and sending them messages non-stop is not an option
Keep your payment and personal details private
Feetify Review: Is Feetify Safe To Use?
By all means, using Feetify is completely safe.
Whether a person wants to take advantage of everything the site has to offer as a buyer or a seller, Feetify guarantees their safety.
Assuming that you want to become a Feetify seller, you should know that you have a choice of payment methods.
Being able to decide how to receive your earnings is just one more factor that will put any concerns about working with Feetify to rest.
Direct deposits, PayPal, Cash App, and Venmo are all available payment processors you can use on Feetify.
How To Make Money On Feetify?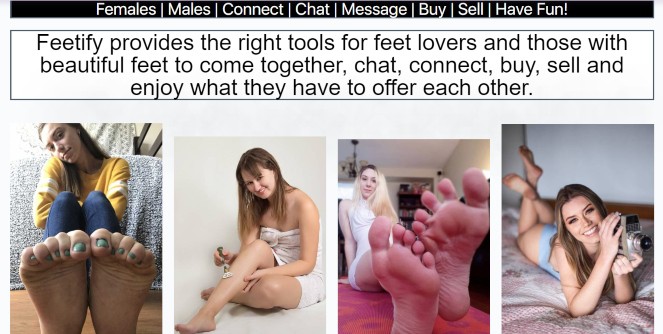 As you already know, you have to sign up for a Feetify account to begin posting images and videos of your feet.
Once your seller account is ready, you can begin uploading your content.
There are three major categories for feet images on the site – general, premium, and celebrity foot images.
If you decide to sell through a free seller account, all your pics will belong to the general category.
Premium users can post premium content, but only celebrities have access to the celebrity category.
Images of your entire legs or just your feet are acceptable on Feetify. Whether you'll post images of your bare feet or your legs in heels depends on you.
With that said, don't upload photos of dirty feet on the site.
Short videos of your feet are welcome as well.
How Much Money Can You Make On Feetify?
Now, allow my Feetify review to cover the money issue of working on the site:
It might be hard to believe, but some feet models earn up to $10,000 per month.
Posting high-quality feet images and being active on the site will give you the chance to earn more cash rewards. To clarify, these cash rewards will be an extra income that will boost the earnings you already get from selling your pics.
However, only models with premium Feetify accounts will have the opportunity to earn cash rewards.
Tips And Ideas To Make More Money On Feetify
Be active on the site every day: Uploading high-quality content daily will increase your chances of making a sale.
Follow the rules of Feetify: By respecting the site's regulations, you'll assure a good standing of your account on the platform.
Stay polite while communicating with potential buyers: Don't harass anyone – pushing too hard to sell your content will not work in your favor.
Feetify Review: Is Feetify Premium Worth It?
In my opinion, upgrading to a Premium Feetify account is worth the investment on your part.
The premium Feetify sellers take advantage of many extra features and benefits.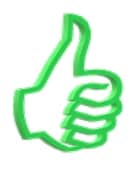 For example, having a premium account on Feetify will allow you to add more details to your profile, such as age, country, and short description.
You can use that description to entice potential customers by telling them why they should buy your feet pics.
Benefits Of Feetify Premium
No limitation on the number of images and videos you post
None of your content will suffer a removal
More exposure (your profile will be accessible to all buyers)
Buyers can send you cash gifts
Feetify might feature your profile on their home page or on advertisements on other huge platforms
Faster customer support
Most importantly, Feetify pays premium sellers who upload content regularly even if they make no sales!
How Much Does Feetify Premium Cost?
According to the site, upgrading your free Feetify account to a premium one will cost you a one-time fee of $49.
Your payment has to be in cryptocurrencies worth $49 – Feetify requires that to keep your data and information private.
Feel free to use Cash App or Coinbase to complete the transaction.
Another way to gain access to Feetify premium is by buying an eBook that costs $49. That eBook contains valuable information that will help you make more money by selling foot pics online.
Taking advantage of the second option will upgrade your Feetify account to premium for six months. But if you stay active on the platform and post consistently, that period will get an extension of six more months.
Feetify Pros And Cons
Pros:
Anyone can join Feetify without paying anything: Creating an account on Feetify is free of charge.
Ladies from all over the world can make money on Feetify: These days, the site operates globally.
All premium sellers on Feetify keep 100% of their earnings: There is no need to pay any fees if you upgrade your account to premium.
Sellers choose the prices of their account: You're the one to decide how much you'll charge buyers for foot images.
Extra income opportunities are available for premium sellers: Being a foot model with a premium account will give you the chance to earn cash rewards of up to $10,000 every month.
Users have access to a fast customer support team: According to many Feetify Seller reviews, the support department of the site does an incredible job.
Cons:
General sellers receive 80% of their earnings: Everyone with a free Feetify account will have to pay 20% fees to the platform.
Foot models with free accounts don't get a lot of exposure: Most people without premium accounts will have access to a smaller pool of potential buyers.
Upgrading your membership is a must if you want to use all features of Feetify: Paying $49 is unavoidable if you want to make more money on the website.
Feetify Review – Frequently Asked Questions
What Is The Best Website To Sell Pictures Of Your Feet?
Nowadays, the best sites to sell feet pictures are Feetify, FeetFinder, and InstaFeet.
Of course, you can sell images of your feet on Only Fans as well.
How Much Do You Make For Feet Pictures?
On average, you can earn between $5-$100 per image of your feet.
Quite frankly, your earnings as a seller of foot pics will vary, depending on where you sell them and how active you are with uploading content.
Can You Anonymously Sell Feet Pictures?
Yes, you can sell feet pictures anonymously.
Many platforms will allow you to hide your identity as a seller of feet images.
Do You Pay Taxes On Feet Pics?
Unfortunately, you'll have to pay taxes once you start earning money by selling images of your feet.
Any earnings of over $600 per year have to be reported and taxed.
Feetify Review – My Closing
Basically, selling foot pictures is one of the easiest ways to make money on the web these days.
Considering such an opportunity is available worldwide, I believe that you should seriously consider it.
After all, you don't have to show your face to profit from offering feet images for sale!
And the online job of feet images seller pays more than well – you can earn thousands of dollars every month.
Now, do you have any questions on this topic?
Is there something my Feetify review still needs to clarify for you?
Tell me in the comments section, and we'll keep the conversation going.
Money-Making Ideas From Cash Embrace: