40 Best Ways To Get Paid To Read Books In 2023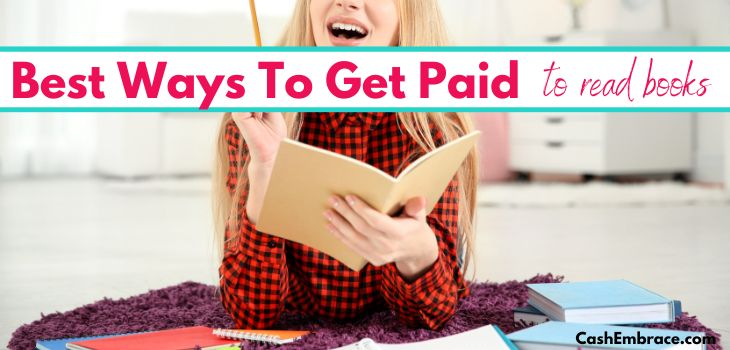 Are you an avid reader who can devour a book in a day? If you are, you'll be the perfect candidate to get paid to read books.
We all know how essential reading books is for our well-being and mental health. But reading and reviewing books can also make you money:
These days, many legitimate websites and companies hire book reviewers to provide feedback on the newest book title releases. And the good news is that you can take advantage of that opportunity, even with no experience:
While some online magazines only hire book reviewers with an English Degree, many others don't have such requirements.
With that said, you can earn by reading books in many different ways. For instance, you can make money by narrating audiobooks, starting a book review blog, launching a book podcast, working as a literary agent, and many others.
Depending on the way you choose to read and review books, you'll earn different amounts of money. Some platforms offer $15-$75 per book review, but there are companies that offer more than that.
In this article, I'll cover the best ways to make money writing book reviews, how to get started, the average pay rate to expect, etc.
This article contains affiliate links – don't waste much time with my affiliate disclosure because we have a lot to discuss today!
Recommended Read:
Best Ways To Get Paid To Read Books
Nowadays, you can make money reading books in many ways. Choose an opportunity that suits you best depending on your interests and experience level.
Here are the best ways to read books for money:
1) Write Book Reviews As A Freelance Writer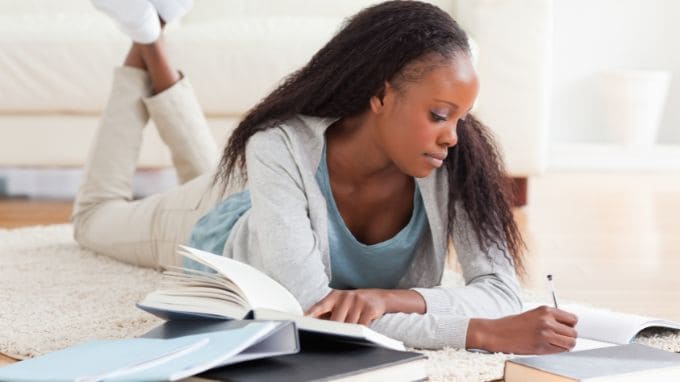 By all means, the easiest way for beginners to earn money reviewing books is to become freelance writers. It might be hard to believe, but anyone can make money creating content for the web as long as they love the written word and keep improving their skills.
As a freelance writer, you can publish book reviews on your website or offer to create a publication for magazines that specialize in books.
Payments will vary depending on the strategies you apply when monetizing your book review content and the employer that will hire you.
Are you ready to start offering genuine reviews of different books and earn money writing? Read the following articles for guidance:
2) Start A Book Review Blog And Monetize It
Speaking of publishing book reviews on your blog, allow me to elaborate further on this money-making opportunity:
Book review sites earn cash for their owners in many ways, including affiliate marketing and sponsored content. Starting a book review website can become more than a side hustle to make extra money. In time, reviewing books on your blog can be your new source of full-time income.
Let's take affiliate marketing, for example – each positive review you give to a book you discuss on your blog might also influence your readers to purchase that book. Assuming you insert affiliate links when mentioning your favorite books, people who click on them and buy will earn you affiliate commissions.
Developing your own blog has many advantages – it will allow you to be your boss, work on your schedule, and earn passive income. Don't hesitate to publish blog posts that discuss the best books for your target audience.
3) Get Paid For Writing Books
Correct me if I'm wrong, but if you enjoy reading books, you might enjoy writing them, too.
Romance novels are popular among readers – the same goes for non-fiction books. Do you have an interest in writing one of those?
Assuming some of you do, you should know that outlining, writing, marketing, and selling a book is easier than ever. Sure, a lot of work will go into creating a good book readers will love, but the process will be worth it in the end:
Writing a book is a great way to create a passive income source. After all, you'll write the book once and sell it multiple times without additional effort.
Writerful Books provides amazing resources and valuable information for first-time writers. I highly recommend visiting Writerfulbooks.com before you begin writing your first book.
Related: How To Create And Sell eBooks
4) Get Paid To Read Books Aloud As An Audiobook Narrator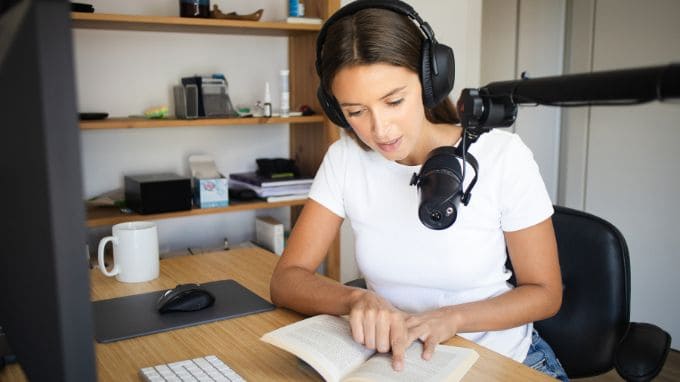 Quite frankly, I doubt I have to tell you how popular audiobooks are right now – shouldn't you take advantage of that to earn extra money?
While everyone can get paid to read books, working as an audiobook narrator might not suit all. But if your friends adore the sound that comes out each time you speak, you have a voice talent you better use.
In other words, we're talking about the opportunity to become a voice actor and make money with your voice. Voice-over artists narrate audio books, iTunes, TV commercials, etc.
A great voice is not enough to transform yourself into a professional voice actor – you'll have to try harder than that. Still, you can build a profitable voice-acting career if narrating audiobooks and other projects is what you want to do in life.
I'll cover voice-over narration in detail later in this article. It won't hurt to do research on the topic and read about getting started with audiobook narration, dealing with audiobook producers, etc.
5) Work As A Book Editor
Can you think of a better way to make money reviewing books than being a book editor?
Professional book editors have many duties. For example, they evaluate a manuscript and decide whether to accept or reject it.
Furthermore, they might have to rewrite the material, correct spelling/grammar errors, research the book's topic, and fact-check it. Book editing is not about providing feedback on your writing style but preparing the book for publication.
More often than not, book editing is a full-time job rather than a side gig on a freelance basis. You don't have to worry about being steadily employed – there is a high demand for book editors. On average, book editors earn a pay rate of $30 an hour in the United States.
Note: Book editors and copy editors don't share the same job and responsibilities – don't mistake one for the other.
6) Start A Book Club
What do people do in book clubs? Well, they get together (online or offline) and discuss books.
While participating in a book club is a great idea for book lovers, running one is even better. Why is that?
If you start your own book club, you can charge all members a small fee. They wouldn't mind paying for it since running a book club takes time and effort.
By all means, starting a book club to earn extra cash can be more than a money-making hobby. However, that side hustle is for people with in-depth knowledge of books and literary criticism.
7) Get Paid To Read Books As A Proofreader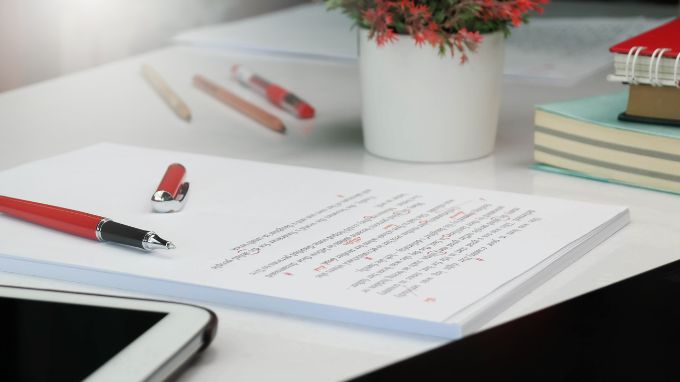 First and foremost, no book can go to publication before a proofreader works on it. Proofreaders correct grammar, punctuation, and spelling mistakes in a written text.
As someone who enjoys reading books, why not make money by proofreading them? Anyone can become a professional proofreader after going through the necessary training. Most online proofreading jobs pay $50 an hour.
Proofreading a book will earn you much more than that. Professional proofreaders are in high demand, and proofreading is one of the highest-paying online jobs you can get.
Those with no proofreading experience can start learning the ins and outs of the job by signing up for this free 80-minute Proofreading Workshop.
8) Translate Books As A Freelancer Or Employee
How many of you are bilingual? Assuming some of you are fluent in another language, translating will be the perfect way to get paid to read books.
Translating a book from one language to another is a great way to make money from home. Besides, you can earn more if you proofread the work you're translating.
Keep in mind that translating a book requires more than understanding the text and converting it to another language. Your translation must stay true to the writing style of the author.
Fiverr is a great place to list your book translation services for sale. Potential clients will find you on the platform and hire you for different projects.
See Also: 35 Companies That Will Pay You To Teach English Online
Best Sites That Pay You For Book Reviews
9) Kirkus Reviews
Kirkus Reviews is one of the most popular websites for reviewing books in almost all genres and formats. As a reviewer, you'll work on self-published books for the site's indie section (Kirkus Indie).
Currently, Kirkus Media hires experienced book reviewers of English and Spanish-language titles from self-published authors. This online magazine is willing to pay for a 350-word review that is due two weeks after assigning the book.
On average, Kirkus Reviews pays up to $75 for a book review – providing a 250-word review on picture books will earn you $40. Overall, Kirkus reviews over 100,000 books annually.
Beware that Kirkus prefers to hire experienced workers – it demands a resume and writing samples before assigning books. Impressive writing samples will give you better chances to get hired.
10) Online Book Club

Online Book Club (OnlineBookClub.org) works differently than most platforms where you can get paid to review books. You won't earn any money for your first review. Instead, you'll receive a free book.
However, your subsequent book reviews will bring you between $5-$60. Each book you get to work on will be free.
Generally speaking, the Online Book Club is perfect for beginner reviewers since they accept everyone who wants to do the job. There is no need to submit an application or provide samples to prove your abilities with the written word.
Reviewers choose the titles they want to work on – you can pick to review the books you want to read the most.
11) Write Book Reviews For Publishers Weekly
Publishers Weekly is one of the most well-known literary magazines and news websites. At the time of writing, Publishers Weekly pays $25 per review.
Reviewing books for the platform is suitable for people who enjoy writing short reviews – your review must be around 200 words.
While the pay is not that high, working for Publishers Weekly has advantages.
One of the perks is reviewing books on your own schedule. Another plus is the opportunity to decline to review a book you don't like.
12) AudioFile Magazine
As you can guess, AudioFile is a magazine that will pay you for reviewing audiobooks. While you won't get paid to read books, you'll earn for listening to them, so I think the entry deserves a spot in this article.
More often than not, AudioFile Magazine assigns a few audiobooks monthly – the site expects a review of at least 100 words. Prepare to earn $10 a review.
Reviewers can pick the genre of the audiobooks they'll review – choose between literary fiction, fantasy, you'd adults, etc. I suggest spending some time on AudioFile and using the content as a style guide for your future reviews.
13) Review Books For Booklist Publications
Chances are, some of you already know that Booklist is a part of the American Library Association. All reviewers working for Booklist aim to assist school and public library workers with choosing books to purchase.
Booklist accepts short book reviews (up to 175 words) that will serve as book summaries. In other words, your review has to cover the book's plot and recommend similar titles.
On the downside, you won't make much money reading books for Booklist – this online magazine will pay you $15 per book review.
14) The US Review Of Books
Unfortunately, not everyone can get paid to read books for the U.S. Review Of Books:
Currently, the US Review Of Books accepts reviewers who can provide at least two professional references. If you have them, contact the editor with your resume and sample work.
US Review Of Books wants honest reviews that contain plot synopsis, compare the book to similar works, and are no longer than 300 words.
15) Reedsy Discovery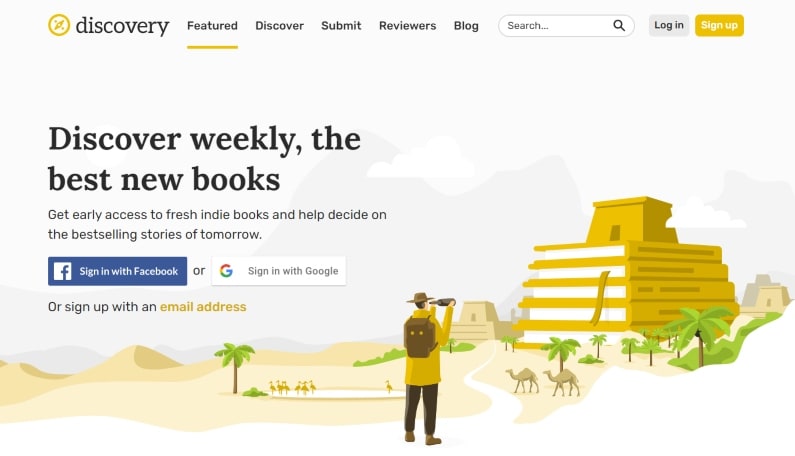 Surprisingly enough, Reedsy won't pay you to read and review books. Instead, readers are the ones who will reward your review with tips of $1,$3, or $5.
Subsequently, you won't make much money online writing reviews for the site. Still, Reedsy Discovery will help you polish your review writing skills.
Don't forget to provide direct links to your best reviews during the application process to improve your chances of getting selected as a reviewer.
16) Women's Review Of Books
A lesser-known way to get paid to read books, Women's Review of Books is a print publication for writers with a feminist outlook on life.
Women's Review Of Books will pay you to review poetry, fiction, and graphic novels.
The money you'll receive depends on the review you'll provide – you can ask questions on the official website.
17) Earn Money Writing Reviews For BookBrowse
BookBrowse will review your application if you can provide excellent writing samples of at least 300 words.
I should mention that you can submit only one review per month on Book Browse.
Reviewers write about books in different genres, such as young adult, fiction, and nonfiction.
18) Upwork
Most known as one of the largest job boards in the world, Upwork will allow you to create a profile and list your services as a book reviewer.
Once potential clients discover you on Upwork, you can start charging them for reading and reviewing books.
Upwork will let you pick your pay rate – most reviewers on the site charge between $15-$70 an hour.
How To Get Paid To Read Books Aloud As A Voice Actor
Voice acting is one of the highest-paying work-at-home jobs you can start today. Despite the popular misconception, anyone can become a voice actor (even with no experience).
Whether you want to monetize your voice and read books aloud part-time or full-time, such a side hustle is perfect for everyone who is an avid reader.
Now, let's take a look at the best companies and online platforms that will pay you to read books aloud:
19) Voices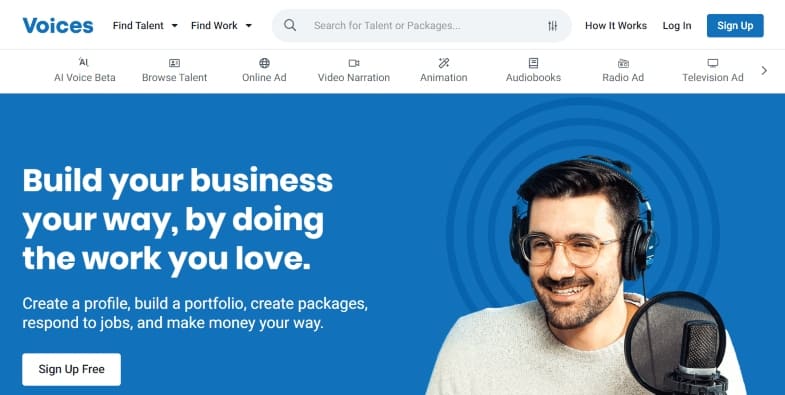 Voices.com provides opportunities for audiobook narrators who want to work with prominent brands like The History Channel. You'll have to record at least a couple of high-quality audio samples. Once your demos are ready, create a Voice.com profile, upload them, and search for available jobs.
Each job you decide to do will require an online audition. Voices offers a pay rate of $200-$300 per audio hour. Learn everything there is to know about it from my Voice.com review.
20) Provide Audiobook Narration For VoiceJungle
Quite frankly, VoiceJungle won't be suitable for anyone who wants to get paid to read books aloud. At the time of writing, VoiceJungle has many requirements for its voice-over artists.
For instance, you must have a home studio, a demo the company can review, and the ability to complete any job in less than 24 hours. Assuming VoiceJungle approves your demo, you'll start getting voice-over jobs. Expect your payments automatically once your clients approve your work.
21) Bunny Studio
Another company that requires fast completion of audiobook narration jobs is Bunny Studio. Create a Bunny Studio account, pick your hourly rate, and make sure you pass the test that will assess your skills.
The best thing about working with Bunny Studio is that you'll earn money for each audio file that passes the control check. In other words, Bunny Studio will pay you regardless of whether the client chooses to use your voice work.
22) Brilliance Audio
Brilliance Audio is probably the best online platform for newbie audiobook narrators – the company will encourage you to practice your voice-over skills for several hours daily to improve them.
If you want to provide voice-over for Brilliance Audio, you must visit its official site and complete the application process before you receive a book reviewing job.
23) ACX (Audiobook Creative Exchange)
ACX is one of the most popular sites you can join to get paid to read books. Use your spare time to visit ACX and carefully go through their guidelines about uploading samples of your work.
Unfortunately, not everyone will be able to secure well-paying audiobook narration jobs through ACX. But if the company appreciates your style, it will offer you the opportunity to narrate one of the available audiobooks, and that will earn you your hourly rate, plus up to 20% of the book's royalties.
24) Mandy Voices
Mandy Voices charges a monthly fee, but you can see what the platform offers to book readers by using your email address to sign up for the 30-day free trial.
Nowadays, you can find many different freelance jobs on Mandy Voices. The platform is perfect for narrators who specialize in character voices for animation, video games, and children's apps.
25) Findaway Voices
Findaway Voices is a website you can join to narrate audiobooks for different authors. That site provides many valuable tools you can use to find success as an audiobook narrator.
Once you create a profile, you'll receive a custom URL so authors can easily find you on the platform. Then, upload a sample work, an audio intro, and your bio to complete your profile.
26) Bodalgo
Bodalgo should be your top choice if you want to get paid to read books but live outside the United States. Book reviewers fluent in multiple languages can visit the site and join the thousands of other voice actors already working there.
Start on Bodalgo by creating a profile, uploading your demos, and auditioning for available jobs. So far, the site has employed narrators in nearly 90 different languages.
27) Voice 123
Next on my list of platforms that hire audiobook narrators worldwide is Voice 123. Voice 123 works with experienced professionals with an interest in narrating audiobooks, cartoons, commercials, and even movies.
There is a questionnaire you have to complete before you apply for a voice-acting side gig at the site. Once the platform approves you, start applying for jobs and keep all your earnings – Voice 123 doesn't come with commission fees.
28) Get Paid To Read Books For Audible
Those of you interested in podcasting have probably heard of Audible. Audible is one of the most popular online platforms that hire narrators for audiobooks and podcasts.
One of the advantages of working with Audible is the opportunity the company offers to anyone who wants to gain experience in the narration field. On the downside, Audible is not free to use.
Alternative Websites For Audiobook Narrators
29) Backstage
Mostly known for its work in the performing art industry, Backstage will allow you to submit an audiobook narration in a couple of genres, including horror, science fiction, and mystery.
While such an opportunity is perfect for niche-specific audiobook readers, you'll have to pay a monthly fee to keep working with the company.
30) VO Planet
Another platform that will charge you a subscription fee ($199 a year) is VO Planet. On the bright side, VO Planet won't take a piece of your audiobook narration earnings.
Book lovers who want to work for VO Planet must have a recording studio, high-quality equipment, and the ability to produce voice-over work quickly. Feel free to visit the website to submit an application and demos for review.
31) Spoken Realms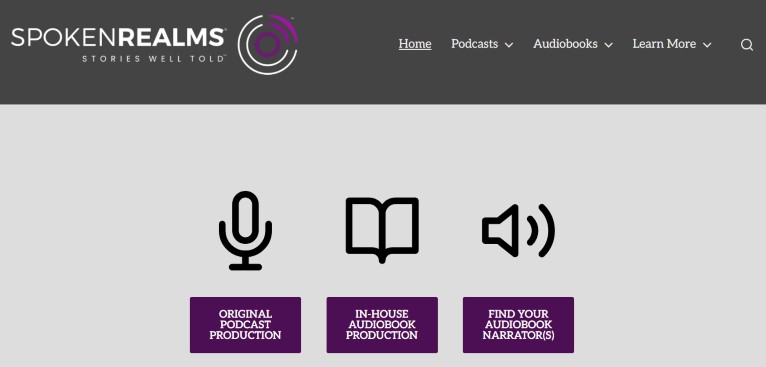 How do you feel about reading graphic novels aloud or staring at your podcast? Hopefully, you like the idea because that's what Spoken Realms will offer you to do:
Acting as an independent producer and distributor of audiobooks, Spoken Realms provides a high pay rate for audiobook narrators. Occasionally, book readers can also receive a percentage of the author's royalties.
32) Voice Crafters
Are you a professional narrator with at least five years of voice-over work experience? Then, you should look into Voice Crafters to find a well-paying side gig.
Voice Crafters operates in many industries, including audiobook/podcast narration and IVR (Interactive Voice Response) phone systems.
Extra Ways To Get Paid To Read Books
33) Launch A Book YouTube Channel
Earlier, we talked about starting a book review blog. Now we'll discuss how that business model works on YouTube:
Instead of publishing book reviews on your site, you'll upload video content that provides honest reviews of books on YouTube. One might argue that reviewing books on YouTube is a better option than blogging:
YouTube attracts millions of daily viewers. You can reach a large enough audience of book lovers through your YouTube channel. Monetization methods include affiliate marketing, sponsored content, and ad placement.
34) Start A Book Podcast
Similar to vlogging, podcasting is about providing audio reviews rather than writing them down. Podcasting is getting more popular among different audiences each day.
Launching and developing a successful podcast requires knowledge of the medium and skills. Assuming you manage to take your podcast off the ground, you can make more than a decent income as a book reviewer:
Sponsored content and affiliate marketing are common ways to monetize a podcast. I recommend researching before getting into podcasting, considering such a career move requires upfront costs for professional equipment.
35) Join BookTok
Are you aware that TikTok is one of the platforms responsible for a massive surge in book sales? Recommending books on TikTok is one of the best book review opportunities right now:
TikTok is a social media platform that attracts millions of users worldwide. Young adults mostly use the app, and you can use that fact to your advantage.
Reviewing Young Adult Fiction (an example) will guarantee millions of views on TikTok. Once you join BookTok and gain a large following, you can make money via brand sponsorships and affiliate marketing.
36) Become A Literary Agent
What does a literary agent do? Literary agents discover promising authors and put tons of effort into helping those authors develop successful careers.
Generally speaking, a literary agent's job is to read and edit manuscripts. Also, they negotiate book deals with publishers.
A degree in English is preferable if you want a full-time job as a literary agent. Expect to earn at least $50,000 annually doing the job.
37) Create Book Covers As A Literary Illustrator
If you have enough spare time and can create stunning illustrations, I suggest creating book covers as a literary illustrator.
Such a job can be a side gig or a full-time work-at-home job.
List your services for sale on platforms like Upwork or Fiverr if you want to be a part-time literary illustrator. But if you want book illustration to become your new full-time career, I recommend looking for graphic design and illustrating jobs at publishing houses.
38) Build A New Career In The Publishing Industry
Speaking of illustrating books, I must mention other well-paying careers you can start in the publishing industry. Some of the careers you're about to see require a degree, while others don't.
For instance, you can get paid to read books as a book marketing assistant, publicist, PR agent, copy editor, sales representative, book contact manager, etc.
Alternative Ways To Get Paid To Read Books
More High-Paying Online Jobs You Might Like:
How To Get Paid To Read Books FAQs
Can I Earn Money By Reading Books?
Many different ways exist to make money reading books.
For instance, you can get paid to read books as a freelance writer, proofreader, book editor, literary agent, audiobook narrator, and many others.
If you choose to work with companies hiring book reviewers, many will send you a free copy of the book. Payments vary on many factors – the most essential one is the level of experience and length of the review.
How Do I Get Paid To Read Books?
Generally speaking, you'll have to do a bit more than reading books to earn money.
Most companies you can join to make money by reading books will require you to write reviews. Some platforms want short book reviews, while others only accept longer feedback on different books.
Additionally, companies that create audiobooks require a recording of you reading the book.
What Company Will Pay You $200 To Read A Book?
WordsRates offers $200 for every book you read. However, you'll have to do more than only reading a book to earn that money:
According to the guidelines, you must take notes while reading the book. Your notes must cover the story's settings, the number of questions asked, and the number of animals and characters in the book.
What Should I Read To Make Money?
A dozen books will teach you everything you need to know about building wealth and creating passive income streams.
One of the best books on financial prosperity is Rich Dad, Poor Dad by Robert Kiyosaki. He teaches the same principles in his Rich Dad Summit Webinar, which currently costs $1 to join.
My Closing
Can you produce good reviews millions of people worldwide would like to read? Assuming you are able to do this, you can get paid to read books.
While there is nothing wrong with reading free books for fun, you should consider doing it for money. That's an excellent way to boost your monthly income by doing what you love.
What questions do you have about today's topic?
Write them down in the comments section, and I'll get you some answers as soon as I can.
More From Cash Embrace: