Get Paid To Travel: 30 Easy Ways To Make Money On The Road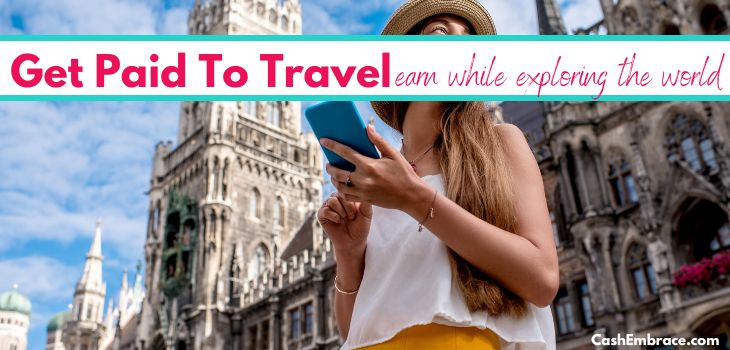 The idea that you can get paid to travel might seems outrageous to most of you.
Are there legit companies that pay you to travel? Furthermore, will you be able to find jobs that pay you to travel with no experience?
It might be impossible to believe, but the answers to these two questions are double yes.
Considering the internet makes finding a remote job easily achievable, you shouldn't be surprised by the opportunity to make money traveling.
Let me ask you:
Would you stay at your current nine-to-five job if you find a suitable way to earn a living while seeing the world?
If you wouldn't, this article is precisely for you.
Today, I'll show you the best ways to make money for travel, so glue your face to the screen, and you won't regret it.
This post contains affiliate links – visit my affiliate disclosure page.
Recommended Read:
How To Get Paid To Travel The World: Best Get Paid To Travel Jobs
Before you start packing, try to gain control over the excitement for a minute:
While you probably want to escape the boredom of the office routine quickly, wait until you find the perfect traveling job.
Here are the top opportunities to earn money traveling:
1) Travel Blogging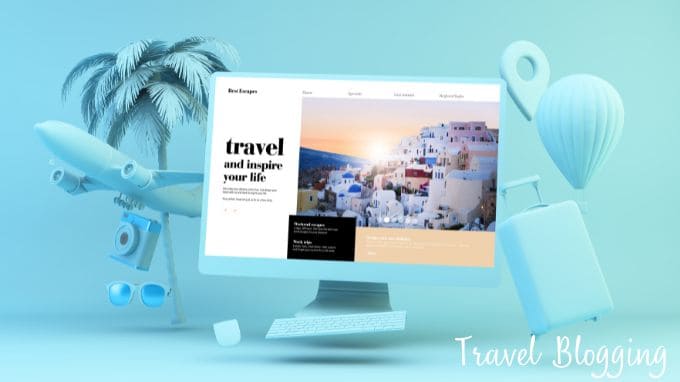 Without a doubt, the best way to get paid to travel is by starting a travel blog.
Launching, building, and developing a travel site is not one of the ways to make money fast:
Chances are, it will take years until your travel blog begins bringing thousands of dollars in revenue each month.
But it's so worth it:
Once you turn your website into a successful business, that venture will become a reliable source of passive income.
And making money passively while traveling the world is the best combination – it doesn't get any better than that!
Nowadays, you can launch a website with barely any upfront investment:
Think of a memorable name, then get a professional web hosting provider – BigScoots would be my choice.
Later, fill your blog pages with articles and stories about your travel experiences and the places you get to visit.
When your blog starts attracting a large audience, monetize it via affiliate marketing, sponsored content, and displaying ads.
2) Get Paid To Travel And Review Hotels
Until we're still on the topic of blogging, here is an excellent idea to double and even triple your site's earnings:
Publishing hotel reviews is one of the most popular ways to make money blogging.
Do you have a hard time believing that's a real money-earning opportunity?
Well, you can deal with the amusement later:
Right now, it's time to pause your travel activities for an hour or two and start typing.
Many hotels seek out travel bloggers and offer them a paycheck in exchange for a review.
Keep in mind the amount of money you'll earn by writing hotel reviews depends on different factors.
More often than not, the hotel you write for will also allow you to stay in it for free.
Imaging what a free stay in a luxurious hotel and a paycheck on the side will feel like once you get to enjoy them!
3) Affiliate Marketing
Affiliate marketing is an online business model where promoters earn commissions by spreading the word about a product or service.
You'll create content around the products of your choice and add affiliate links through the article.
When a reader purchases the product through your referral link, an affiliate commission will arrive in your bank account.
Now, how can you use affiliate marketing to get paid to travel?
Basically, you'll join the best hotel affiliate programs and promote them to your audience.
Have a look at a couple of high-paying accommodation and hotel affiliate programs you can promote:
If you have no clue about doing affiliate marketing as a professional, you'll benefit from signing up for this free marketing training.
4) Become A Social Media Influencer And Earn From Brand Partnerships
Social Media influence the perfect work-at-home job for people who can't live without their social media accounts.
More importantly, being a social media influencer will allow you to earn tons of money while traveling the world.
These days, partnerships between brands and influencers are nothing new:
We all witness them on pretty much all social media networks.
Assuming that you have an Instagram account with a decent number of followers, you're already in a position to start working as a social media influencer.
However, don't think of the job as an easy one:
It takes lots of hard work and consistency to build a loyal following on any social media.
Generally, brands look to partner with someone who truly appreciates their products and has the power to influence their audience into purchasing.
By the way, don't mistake social media influencers for social media managers – the jobs entail different responsibilities.
5) Become A Brand Ambassador
Next on my list of ways to get paid to travel is the brand ambassadorship.
To sum up, a brand ambassador receives money from a company or corporation to travel the world and create content for their employer.
As a brand ambassador, you must use the product (or service) of the company you work for and write content about it.
Often, your employers will send you to a particular destination to create video content around a topic.
Now, how do you become a brand ambassador?
Well, if there is a product you love, reach out to the brand behind it and check if they're looking to hire ambassadors.
I don't have to be the one to tell you that unless you ask, the answer will always be no!
6) Become A Video Content Creator
Speaking of creating videos for brands, why not do it for yourself?
There is no need to have a formal education or go to a movie school to start creating high-quality video content.
I mean, as long as you have the necessary filming equipment and desire to create stunning videos, you're good to go.
Before you get into the video creation business, I suggest taking the time to pick a niche.
Once you do that, you'll be ready to get to work and make money from your filming abilities.
Do you wonder how to monetize such a job?
Starting a YouTube channel and monetizing it with Google AdSense is one of the popular ways to earn money via vlogging.
7) Sell Travel Photography
Taking photos of the places you visit and selling them online is another way to make money as a professional traveler.
Travel photographers earn their income in many ways.
For example, they often receive private commissions from clients, launch virtual exhibits, and sell prints online.
And how much can you make as a travel photographer?
On average, selling prints will earn you around $10,000 a year, while licensing photos and videos between $250-$10,000.
Related: High-Paying Photography Jobs
8) Find A New Remote Job Opportunity
It doesn't matter what type of job you currently do for a living:
By all means, you can always find a new job that will allow you to work remotely.
But what remote job should you get?
Well, that depends on your interests, skills, abilities, and whether you have the desire to conquer new and unfamiliar work fields.
Here are a couple of remote jobs to consider:
9) Start A Side Hustle To Get Paid To Travel
Think what you will, but getting a side hustle is one of the best ways to make the extra money to pay for your trips and vacations.
In short, working on a side gig entails using your existing skills (or developing new ones) to secure an additional income stream.
Having one will allow you to travel to different destinations and earn money at the same time.
Some of the side gigs that will help you do that are:
Caregiver
Personal Assistant
Caterer
Mystery Shopper
Background Actor (or Movie Extra)
10) Work As A Freelancer Full Time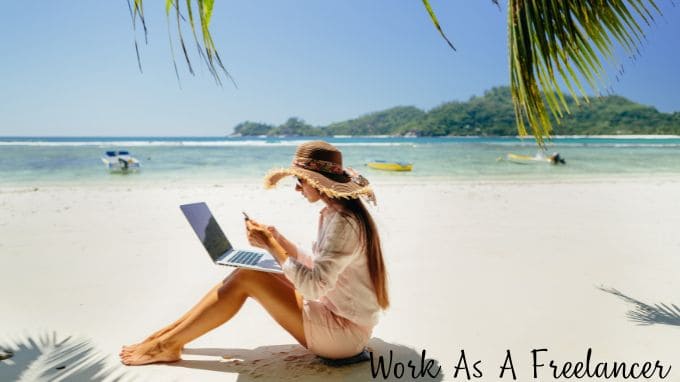 Quite frankly, earning a living while being in control of your working hours is the most sustainable way to get paid to travel anywhere you like.
Nowadays, thousands of freelancers make much more money than what they get from a traditional full-time job. And that shouldn't surprise you:
Many of the high-paying online jobs you can do will make you up to $100,000 a year.
Learn more about the freelance opportunities anyone can manage when you have a minute:
11) Writing/Copywriting
First and foremost, I'm giving freelance writing and copywriting their own paragraph for one simple reason:
Anyone can begin making thousands of dollars as a freelance writer, even without tons of experience in the writing industry.
Hundreds of platforms will pay you to write, and you don't have to be an accomplished author to secure a job with them.
Moreover, a good number of magazines pay over $1,000 per single article.
If you like this money-making idea, spare some time to learn how to become a professional freelance writer.
12) Public Speaking
Next on my list of ways to get paid to travel is the opportunity to earn by being a public speaker.
Public speaking will be a suitable gig if you have lots of knowledge and expertise on a certain topic.
Are you a prominent doctor, lawyer, or scientist?
In case you are, you might want to try your hand as a public speaker.
According to statistics, public speaking is a job that will earn you over $100,000 a year.
13) Create A Digital Product
Speaking of people with expertise on a subject, why not use your knowledge to create a digital product?
Let's imagine you've been traveling for years and know a lot about many places in different destinations.
Take advantage of that knowledge and turn it into a digital product.
You can create a travel guide or even a tutorial.
Once your product is ready, list it for sale on your blog and other online marketplaces (like Amazon or Etsy).
Related: 23 Best Ways To Make Money On Amazon
14) Teach English Online
Basically, getting a tutoring job as an English teacher online is possible even if you don't have a Bachelor's Degree:
Many companies hire people to teach English online to kids and adults.
VIPKID is one of the most popular platforms where you can apply for a teaching position.
However, VIPKID hires only professionals with a degree.
With that said, see the top 35 companies you can join to make money as an English teacher online.
Traditional Ways To Get Paid To Travel
15) Find House-Sitting Jobs
Without a doubt, house-sitting is one of the most popular international jobs you can get these days.
Chances are, you are already familiar with the opportunity homeowners provide to strangers from foreign countries:
That opportunity is house-sitting.
More often than not, house-sitting entails collecting mail, caring for pets, and watering plants.
16) Work As A Travel Tour Guide
Generally, travel tour guides have different responsibilities.
For instance, they might have to organize meals, transportation, and fun activities.
It would be helpful if you are aware of the best restaurants in the area as well!
Overall, think of tour guides as individuals who lead a tour group and handle its whole trip experience.
17) Start A Tour Company Business
What if you're pretty good at being a tour guide and you love the job a lot?
Well, then consider starting an independent tour company and running tours on your own.
Launching such a business doesn't require a large upfront investment.
Plus, you can start a tour company business from the comfort of your home.
18) Become An Instructor
How many of you have the skills to work as a yoga, fitness, or another type of instructor?
Hopefully, many of you can handle such a job:
Having the necessary qualification to teach yoga (an example) will allow you to earn money in other countries.
Consider teaching your skills to others online at first – you can always create an online course or YouTube video tutorials.
19) Teach English Overseas
Earlier, I mentioned the opportunity to make money teaching English online.
But have you considered doing it overseas?
Imagine that you start running low on money while you're traveling the world.
Well, there is no need to panic – you can avoid further financial travels if you take a job as an English teacher overseas.
20) Become A Flight Attendant
Can you think of a better way to get paid to travel full-time than working as a flight attendant?
Flight attendants travel to new destinations all the time.
The best thing about being a flight attendant is the opportunity to explore locations between flights.
Keep in mind that such a job offers benefits as well.
21) Work On A Cruise Ship
Do you have something against spending a considerable amount of time in open waters?
If you don't, working on a cruise ship will be a joy to experience.
Workers on cruise ships (waitresses, bartenders, musicians) receive free accommodation and board.
Plus, the pay on cruise ships is decent too.
22) Work On A Private Yacht
More often than not, yacht owners hire people to do different tasks on their ships.
While securing such a gig might not be that easy, it's worth the try:
After all, private yacht owners are wealthy people.
Subsequently, working for them comes with lucrative pay and plenty of perks.
23) Transport Or Deliver Items
Is there anyone up for a road trip?
Depending on where you plan to travel to, you might be able to earn extra money for transporting items.
Maybe you're planning to drive across the country in a van?
Then you can make money to transport and deliver furniture (an example) for someone.
Related: Make Money Driving For DoorDash
24) Work In International Resort
Anyone with the necessary qualification can work in an international resort or hotel.
Thousands of hotels worldwide hire staff from different countries:
That can be you!
25) Work In A Spa
Similarly to the previous idea, you can get a job in an international spa center.
Can you work as a massage therapist?
If you can, consider doing it in another country.
Other Jobs That Pay You To Travel
Work As An Au Pair: As many of you probably already know, an au pair is a caretaker from a foreign country that helps raise the kids of a host family. Working as an au pair is an excellent way to make money traveling to another country.
Do Work Exchange: Whether you want to travel and live for a while on a beach or snowy mountain, you can do it by working for a host in exchange for money and a place to stay.
Become A Traveling Nurse: Traveling nurses visit destinations and work with different medical teams. Prepare to care for patients in all types of conditions as a travel nurse
Be A Peace Corps Member: Currently, the Peace Corps offers remote working opportunities in over 60 countries.
Join The Navy: If you consider yourself tough enough, enlist in the Navy, and you'll get paid to travel the world!
My Closing
These are the ways to get paid to travel I have for you today.
I'll probably add more ideas you can use to earn money traveling at some point.
Until then, share with me your thoughts on the subject.
Do it in the comments section below, and we'll talk about it.
More Money-Making Ideas You Might Like: