I Need Money Now: 35 Easy Ways To Get Quick Cash Today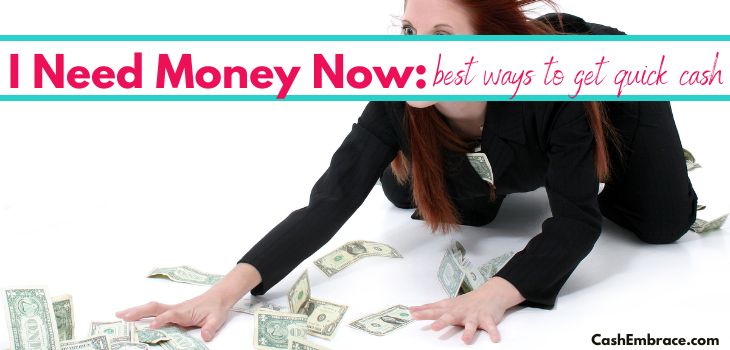 I bet most of you have been in situations where the I need money now thought is on your mind day and night. Being short on cash happens to almost everyone at a certain point.
The good news is there are many things you can do if you're looking for emergency cash immediately. More importantly, you can quickly make money without relying on payday loans with high-interest rates.
After all, increasing your cash flow fast without finding yourself in a never-ending cycle of debt is achievable. Whether you'll monetize your hobby or sell stuff you no longer need, you can manage to unstick yourself from an unfortunate financial situation.
Nowadays, there are plenty of ways to make extra money faster than you can imagine. In this article, I'll provide you with plenty of solutions to instantly boost the contents of your wallet.
This post contains affiliate links – see my affiliate disclosure for more info.
Recommended Read:
I Need Money Now, Please, Help Me! How To Get Money Now?
When facing an impossible financial situation, most people believe there is only one solution to their problem – getting a loan. Borrowing money is not the worst thing you can do if you have to find some cash as soon as today.
With that said, you should NEVER get a payday loan. A payday loan is a short-term loan anyone can get without the lender checking your credit score.
Securing a payday loan is incredibly easy and might look like a great idea, but it's not since such a loan comes with ridiculous fees you'll have to pay.
Instead of resorting to a payday loan, get a different kind that offers better conditions for you. Such loans are:
Personal Loan: Going for a personal loan from a credit union or bank is not a bad idea considering it's a fixed amount of money at a fixed rate.
An Installment Loan: Installment loans are an option for people with poor credit scores. But you should always review the interest rates of these loans before using them.
Retirement Loan: Do you have a retirement account? If you do, consider borrowing money from it – you can pay it back with low interest.
Credit Card Balance Transfer: Choosing to do a credit card balance transfer will save you money and help you avoid high-interest rates.
Now, getting a loan is just one of the things you can do to get money fast. Let's talk about the rest of your options, shall we?
35 Ways To Make Quick Cash
1) Use Cash Back Apps
Using cash-back apps is probably the best way to bag some free money. On top of that, many apps will give you instant money just for signing up!
A cash-back app is a money-making tool that will let you earn with little effort on your part. Basically, cashback apps will pay you money back for the shopping you're already doing anyway.
Two of the most popular cashback apps I recommend are Rakuten and Fetch Rewards.
2) Do Microtasks With Amazon MTurk
Amazon MTurk is an online platform you can join to do small tasks for extra money. The site will give you access to many different tasks you might choose to do to earn extra cash.
Some of the tasks available on MTurk are data entry, video transcription, image tagging, market research studies, and moderation.
While Amazon MTurk won't make you wealthy, the platform is worth considering since it won't take lots of your time.
Related: How To Make Money On Amazon (For Beginners)
3) Join Short Task Sites To Earn Extra Money Fast
Nowadays, plenty of short-task sites will assist you with handling the I need money now situation. Each requires a few minutes of your time to make money on the side.
You'll have to complete different short tasks depending on the site you'll choose to work with. Popular tasks you can do for money are watching videos, shopping online, and referring friends.
Spare a couple of minutes to see 70 short task sites for money-making opportunities.
4) Take Surveys Online
I know – taking surveys is not the most exciting way to make money online. Still, doing surveys is an excellent idea when you have to increase your income sooner rather than later.
Some surveys might only pay you cents. However, you can also find surveys that will make you at least a few dollars.
PrizeRebel is one of the best survey platforms you can join today – read my PrizeRebel review to learn more about the platform.
5) Play Games On Your Phone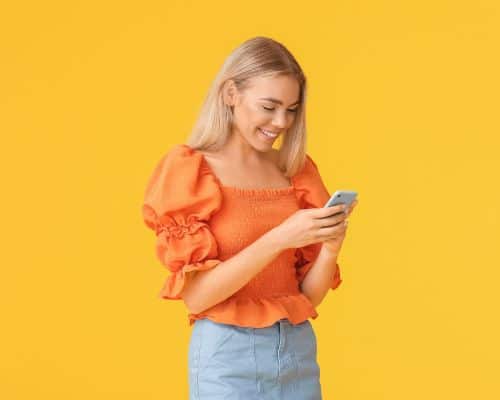 Quite frankly, playing games on your phone is probably the easiest way to supplement your income. I mean, all you'll have to do is play on your phone every time you have a minute to spare.
It might be hard to believe, but there are legitimate games that will pay you money for real. Many of these games offer instant payouts.
As a rule of thumb, the more you play your favorite games, the more money you'll earn.
6) Exchange Gift Cards For Cash
Raise your hand if you have at least half a dozen unused gift cards lying around somewhere in your home – I'm raising my hand as well!
Here is an idea – why not exchange these gift cards for cash? What's the point of keeping them when you can easily turn them into instant cash?
Platforms like CardCash and GiftCash will give you money in exchange for your gift cards, so don't hesitate to take advantage of them.
7) Sell Items Online You No Longer Need
Everyone has things in their home that they no longer use. Selling unnecessary items online is one of the easiest ways to get money now.
Take a look around and create a mental list of all the things in your home you haven't used in years. From old furniture to sports gear, the list can go on and on.
Listing items for sale you don't need anymore is a great way to earn cash fast – it will also free up your living space!
Related: Things You Can Sell To Earn Cash Fast
8) Sell Old Electronics To Earn Over $100
Old electronics deserve their own paragraph since selling such items can make you a couple of hundred dollars. Do you have old electronics you won't mind getting rid of for cash?
Assuming you do, there are a couple of places to list that old electronic for sale. For instance, Gazelle and Swappa are great sites you can join to sell old electronic items.
Examples of electronic stuff that sells well are phones, laptops, cameras, watches, video games, and even power tools.
9) Have A Garage Sale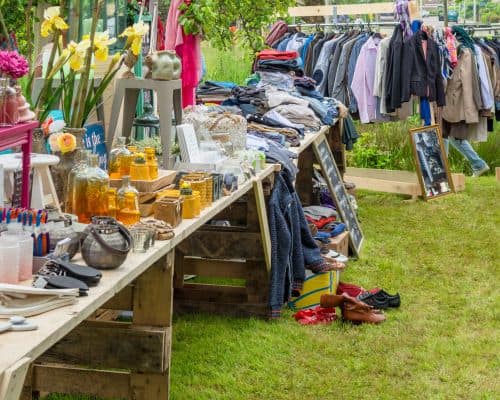 These days, shopping online is a common activity for most people. However, you can find customers outside of the online world as well.
Having a garage sale to transform items into quick cash has certain advantages – you won't have to spend time taking photos of the items and optimizing their descriptions to attract a larger crowd.
On the downside, a garage sale will reach far fewer people than an online one – you're the one to decide whether a garage sale is the best option for you.
10) Babysit
Quite frankly, babysitting is a common method to make some extra money fast. Who hasn't resorted to a babysitting gig at a certain point in time?
Getting a babysitting side job should be easy – spread the word among family, friends, and people you know in your living area.
If that doesn't work, check Care.com – Care is a platform where you can create a profile and list your babysitting services for sale.
11) Dog Sitting
Since we're still talking about care-providing services, let's cover dog sitting, shall we? Taking care of pets is a dream job for anyone who is an animal lover.
Sometimes, dog owners must leave their pets for a prolonged period of time. Subsequently, someone else has to pick up the slack.
Rover is one of the most popular companies that offer dog-sitting positions. Join Rover, create a profile, list your services, and pick your pay rate and working hours.
12) Cut Down Your Bills With Trim ($100)
Are of aware that there are incredible money-making apps that will help you save tons of money on your bills? Those who are not should learn more about Trim ASAP.
Millions of people subscribe to services and end up not using them actively. Paying for a service you don't need is a pure waste of money, don't you think?
Well, Trim can give you a hand with that – the app will go through your bank statements and cancel unused subscriptions. Trim alone can save you over $100.
13) Ask For Overtime At Your Full-Time Job
Nowadays, there are many ways to earn money when you don't have a job. Still, most people prefer having a nine-to-five occupation and the security its paycheck provides.
So, those with full-time jobs can boost their income with a single move. And that move is asking for overtime.
Getting paid for a couple of extra hours each week can go a long way when you're in an unpleasant financial situation.
14) Ask For Paycheck Advance
Aside from doing overtime at your working place, you can also ask to receive a portion of your earnings in advance – that's a paycheck advance.
Being on good terms with your employer is always great – that employer will most likely agree to grant you a paycheck advance.
With that said, I suggest asking for an advance only in emergencies – constantly doing it may negatively affect how your employer sees you.
15) Start A Side Hustle
By all means, starting a side hustle is one of the best things you can do to make sure you'll have a source of extra income when you need it. There is a reason why the gig economy is through the roof these days!
Many side hustles have the ability to earn you over $1,000 a month. Such side hustles are transcription, voice-over, selling on Amazon, and many other money-making ideas.
Choose a side hustle you enjoy doing – that will sustain your excitement to keep developing your side hustle on days when you don't feel like doing extra work.
16) Turn Your Hobby Into A Thriving Business
Chances are, most of you have at least one hobby. Now, are you spending time on this hobby just because it entertains you?
Hopefully, you're thinking about turning your hobby into a source of income – that's the smart thing to do, considering many hobbies can also bring you money if you turn them into a business venture.
Do you enjoy creating crafts? Great, but do you know how well most crafts sell on platforms like Etsy? You get the idea.
17) Get A Freelance Writing Job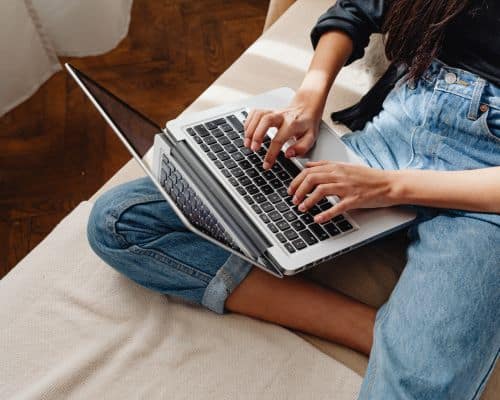 Are you wondering why I didn't include freelance writing in the side hustle or money-making hobbies paragraphs? Here is why:
Freelance writing is an online job that can start making you money as soon as today. Working as a freelance writer comes with the possibility of earning per piece of content.
Hundreds of sites will hire you to write, even if you don't have lots of experience in the field. Also, some magazines pay over $1,000 per article, so writing on a freelance basis is worth the time and effort.
18) Become A Proofreader
Proofreading can be more than a part-time job – professional proofreaders make over $50 an hour.
Your job as a proofreader will be to correct grammar and spelling mistakes in written documents. Anyone can become a proofreader fast with the right training:
Proofread Anywhere by Caitlin Pyle is one of the best teaching courses you can get – sign up for the 78-minute-long Free Proofread Anywhere Workshop.
19) Sell Digital Products
Don't avoid the thought of selling digital products online because you think they're difficult to create – they're not.
Tools like Canva will allow you to create many different digital products. For instance, you can make and sell digital planners, eBooks, calendars, printables, etc.
One of the best things about creating and selling digital products is that such a business can become a source of passive income – yes, you'll make money while you sleep!
20) Affiliate Marketing
Affiliate marketing has many advantages and can start making money relatively fast. But you'll need to learn the basics of the business model to be successful in it.
Take this free training to become familiar with the fundamentals of affiliate marketing and begin promoting products soon.
21) Start An Online Store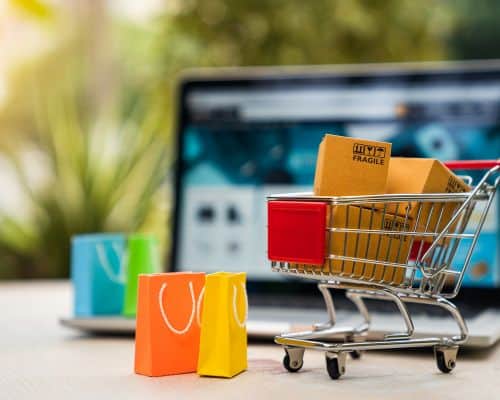 Opening an online shop has the potential to turn into a five and even six-figure business. More importantly, some online store-hosting platforms will let you launch a shop for literally no cost.
Currently, Shopify will allow you to launch an online store free of charge – the site offers a free trial you can take advantage of immediately.
Once the trial is over, choose any of the Shopify plans that make sense for your business needs – most of these plans are pretty affordable.
22) Become A Virtual Assistant
A virtual assistant is a person who helps people and companies to run their businesses from a remote location.
Virtual assistants complete different tasks, such as scheduling phone calls, managing social media, increasing the brand's presence online, etc.
On average, virtual assistants earn over $35 an hour.
Related: 35+ Jobs That Pay $40 an Hour
23) Tutor
Is there a subject you're an expert on, or do you have enough knowledge to teach it to other people? If there is, how do you feel about getting a tutoring gig online?
Tutoring is a high-paying online job – you can earn up to $100 an hour.
Check Preply for available tutoring jobs when you're ready to get into the tutoring business.
Related Read:
24) Freelance On Fiverr Or Upwork
Above all, there are many ways to make money as a freelancer online. And Fiverr and Upwork are two of the best platforms where you can do that.
Creating an account on Fiverr and Upwork is free. You can start with one of these sites or create a presence on both.
Choose a service you want to offer, pick your pay rate, and begin making money working at times that are convenient for you.
25) Sell Photos Online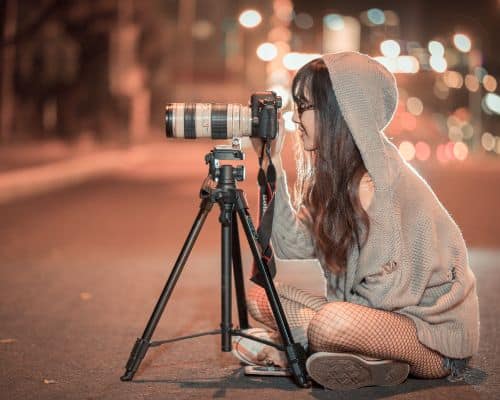 Are your photography skills something most people close to you envy? In case they are, why not take a photography job that pays well?
Or how about selling your high-quality images online since many platforms will allow you to list photos for sale?
Another way to make money with photos is by selling feet pics. Sites like Feetify and FeetFinder will allow you to earn quite well for every foot pic you manage to sell.
Related: 35 Top Apps To Sell Feet Pics
26) Review Products With UserTesting
Sharing your opinion on different products is an extra income idea thousands of people use to earn money fast. UserTesting exists to let you do that.
Companies need honest feedback that will help them improve their products. So, these companies don't mind paying people for such feedback.
Join UserTesting and start reviewing products for cash – you can make up to $50 per test.
27) Monetize Your Social Media Accounts
Are you using your Social Media accounts just for fun? Because if do that, you're leaving money on the table:
Services like SubscribeStar and Buy Me a Coffe will help you monetize your social media following. People who enjoy your content on social media can provide monetary support and help you earn money.
Social Sale Rep is another option to make money on social media – learn all about the opportunity here.
Related Read:
28) Make Fast Money With Netflix
Yes, the opportunity to earn money while watching Netflix is real:
It might be hard to believe, but Netflix will allow you to earn cash in many ways.
To clarify, working as a Netflix tagger is just one of the ways to earn on the platform – check the rest when you have the time.
29) Rent Out A Room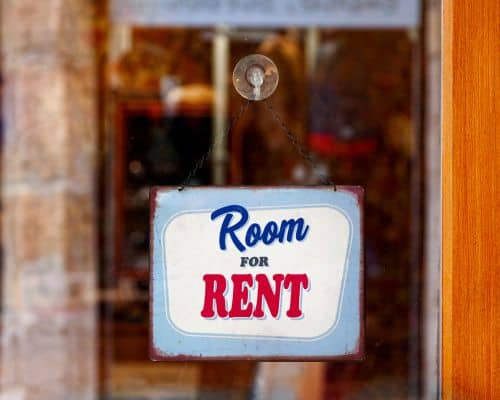 It doesn't make sense money-wise to keep an extra room empty when you can rent it out to earn quick cash.
Renting out a room is tried and true earning method when you need money urgently. Airbnb is one of the most popular platforms to list your room for rent.
Before you offer your extra room for rent, do some research to make sure your asking price is relevant to the condition of the renting market at the moment.
30) Rent Out A Car
How often do you use your car? Those who can live without their vehicles for a while should think about renting them out to other people.
Turo is an excellent company you can use to rent out your car – creating an account is an activity that will only take a minute of your time.
Choose a competitive rent price and make sure your car is in good condition before you offer it for rent.
31) Advertise On Your Car
Renting out your car is not the only way to make money with your vehicle – you can also turn your car into a moving billboard.
Wrapping your car in advertisements is a lucrative side hustle that can earn you up to $1,000 monthly in extra income.
Check 10 legitimate companies you can join to get paid to advertise on your car.
32) Drive For Lyft Or Uber
Do I have to be the one to tell you that driving for a rideshare company is an excellent way to earn cash fast? I don't think so:
Owning a car in good condition is the main requirement to start working for companies like Uber or Lyft.
Taking strangers for a ride will not only improve your financial situation but can also be a fun way to spend your time behind the wheel.
33) Deliver Takeout Or Groceries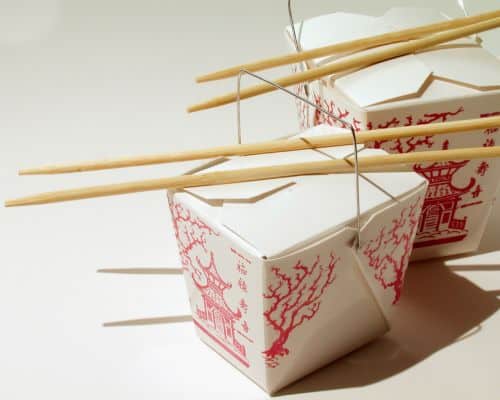 Another way to make money with nothing other than your driving skills is by delivering groceries or takeout.
These days, there are many food delivery apps you can download and use to earn by doing home deliveries. Such apps are Uber Eats, Instacart, and DoorDash.
You'll need to own a car and smartphone to begin working with any of the above-mentioned companies. Also, you'll have to go through a background check.
34) Earn Over $100 With TaskRabbit
TaskRabbit is a company you can join to make money doing mostly handiwork. For example, you'll assemble furniture, help people move, paint houses, and do other similar activities when you work for TaskRabbit.
Start using TaskRabbit by downloading the app on your phone. Once you do that, regularly check the app for available tasks in your area.
There is much more you should know about TaskRabbit – learn everything there is to know about the company from my TaskRabbit review.
35) Ask Friends And Family For A Personal Loan
Say what you will, but getting a personal loan from people close to you is probably the best thing to do when you need money now.
While not everyone might be fond of the idea of borrowing money from loved ones, sometimes that's the smartest thing you can do:
Such a loan usually doesn't come with interest, and you can relax knowing a bank won't be breathing down your neck.
Get Money Now – My Closing
At this point, the I need money now situation is not supposed to be bothering you anymore:
I'm sure at least a few of the ways to get cash fast you see above will work for you if you give it a try.
Which earning-money-fast way is your favorite?
What questions do you have on this topic?
You know how the comments section work, so don't hesitate to use it.
Other Money-Making Ideas You Can Try: