Gift Card Exchange Kiosk Near Me: Fast Money For Gift Cards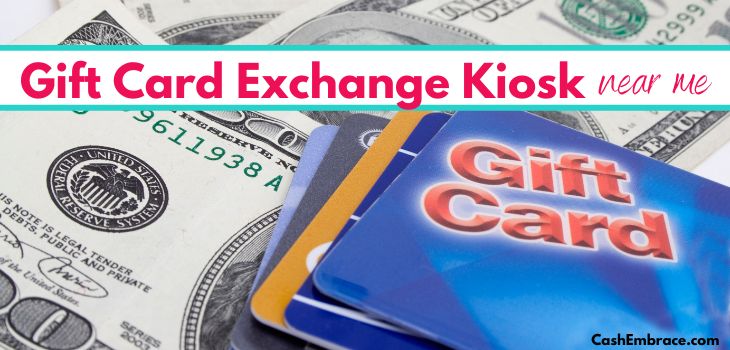 Are you ready to find the best gift card exchange kiosk that will let you sell your unwanted gift cards? Hopefully, you're, because I have plenty of top options for selling gift cards.
As you can probably guess, the best way to convert a gift card into cash is by using the local exchange kiosk that is near you. Regardless of where you live, there must be at least a few such kiosks not too far from your home.
Collecting gift cards and not using them is the perfect definition of leaving money on the table. And selling gift cards you'll never use is a clever way to receive free money ASAP.
In this article, I'll cover the best places to sell gift cards and receive your profits instantly (or almost instantly).
This post contains affiliate links – visit my affiliate disclosure page.
Recommended Read:
What Is A Gift Card Exchange Kiosk?
A gift card exchange kiosk is a physical machine that will allow you to turn unwanted gift cards into cash immediately.
Feel free to think of the gift card exchange kiosks as self-service places:
Usually, these machines are located close to grocery shops or large stores.
With that said, you should know there is a fee you'll need to pay each time you use a gift card exchange kiosk. That fee will be 10-40% (the amount depends on a few factors).
How Do I Use My Gift Card Exchange Kiosk?
Let's take a look at how a GGEK works, shall we?
The process is simple, and it goes like this:
Find a GGEK near you: gift card kiosks look like ATMs or photo booths, so it will be hard for you to miss them. You'll have no problem finding a GGEK in retail stores like Walmart and Target.
Swipe or scan your gift card: the machine's screen will display the balance and the fee you'll have to pay to complete the exchange.
Accept the offer: you have to press Accept Offer to begin the exchange process. The machine will deduct the fee from your gift card's available balance. Of course, you can always decline the offer if the fee is too high and try your luck at another exchange kiosk.
Verify your identity: assuming that you'll accept the offer, the next step you'll have to take is verifying your identity (a driving license will do).
Insert the card and redeem the voucher you'll receive for money at customer service.
Important Info: cash vouchers expire in a few days, so don't waste time using them if you want to get the cash fast.
How Much Money Can I Get For Unused Gift Cards?
As mentioned earlier, the cash you'll receive when using a card exchange kiosk depends on a few factors.
For example, one of these factors is the value of the card, and another is where you plan to exchange that card.
More often than not, GGEK will offer you 60% of the card's value.
However, you can manage to receive up to 90% of the card's value – that's the highest amount you'll be able to get when exchanging a gift card.
Find A Gift Card Exchange Kiosk Near Me
Generally speaking, it's not difficult to find a gift card exchange kiosk near me – or, shall I say, near you?
Click This Link to find the nearest local gift card exchange kiosk.
Anyone who has a gift card to exchange for money can do so at online sites and physical kiosks.
I'll cover the online gift card exchange platforms later in this article. Before I do that, let's look at the most popular options for finding kiosks locally:
Walmart: Walmart has many card exchange kiosks considering they offer plenty of different gift cards for stores, restaurants, gas stations, etc.
Target: Target stores are another popular option for buying or exchanging gift cards. If you plan to visit Target soon, you'll notice a gift card exchange kiosk near the store's front.
CVS: CVS is a pharmacy chain that has gift card exchange kiosks you can use.
Walgreens: More often than not, Walgreens has kiosks where you can exchange gift cards for cash. Also, you might be able to return a Walgreens gift card for cash if you kept the original receipt.
GiftCard Bin: Believe it or not, GiftCard Bin will allow you to exchange a gift card for money via text. Take a photo of your gift card and send it to GiftCard Bin – you'll receive the cash via bank deposit, PayPal, Venmo, or CashApp.
Coinstar: Coinstar requires more than a couple of words of coverage, so let's do that:
Can You Exchange Gift Cards For Cash At Coinstar?
Unfortunately, you can't exchange gift cards for cash at Coinstar anymore.
Previously, Coinstar gift card exchange kiosks allowed people to exchange gift cards for cash. But right now, such a service is no longer an option.
These days, Coinstar exchange kiosks operate differently.
For instance, you can use a Coinstar kiosk as a place to deposit coins and exchange them for an eGift card or a charity donation. Also, a Coinstar exchange kiosk will let you exchange coins for notes or cash for cryptocurrency (bitcoins).
Can I Exchange Gift Cards For Cash Online?
Exchanging gift cards for cash online is how most people get rid of their unwanted gift cards nowadays:
Turning a gift card into cash on the web will save you time since you don't have to waste minutes and sometimes hours visiting local stores. And that's great news for you:
Most online gift card exchange platforms will offer you many more options to turn your cards into money. Also, their fees are lower than the ones you'll have to agree on if you do the exchange locally.
Here are the best places to trade gift cards for cash instantly:
Top Online Gift Card Exchange Kiosks
1) CardCash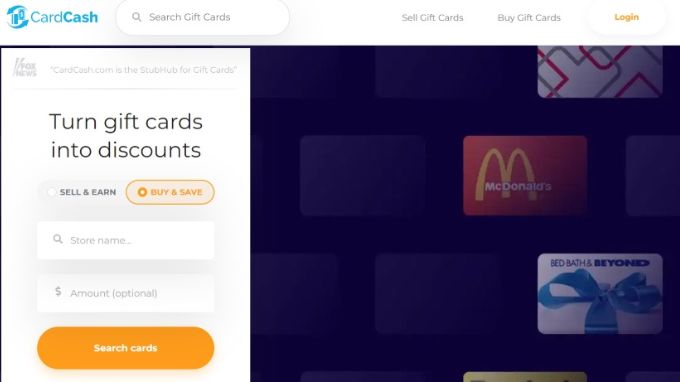 CardCash is a popular site that buys unused gift cards and resells them at a lower price. Currently, CardCash offers discounted gift cards from thousands of brands.
Once you decide to sell your gift card at CardCash, you can exchange your card for a different one or receive PayPal cash, bank deposit, or check.
2) EJ Gift Cards
The process of selling physical or eGift cards on EJ Gift Cards is simple – enter the gift card brand, check the value the site offers, and decide whether you want to accept or decline it.
Assuming you accept the amount of money EJ offers for your gift card, expect to receive it via PayPal within three business days.
3) GiftCash
Similarly to CardCash, GiftCash buys and sells gift cards at discounted prices. Users that accept the money GiftCash offers for their cards will receive them via check or PayPal.
You can mail your card to the site or submit it electronically. It's worth mentioning that if you buy gift cards through the platform regularly, you'll accumulate points you can use to get free gift cards.
4) Raise
Another online gift card exchange kiosk is Raise. What I like about Raise is that the site will allow you to set the price of the gift card you're selling.
Raise will send your profits via PayPal or bank deposit – expect to earn up to 85% cash back on the original price of the card. Also, Raise charges 15% on every sale.
5) Prepaid2Cash
Basically, Prepaid2Cash operates as a mobile app – you can use that app to scan your gift card and upload it in a matter of seconds.
Prepaid2Cash will send your profits instantly – you can receive them in 15 minutes. However, instant delivery will cost you a 15% fee + 1.50, so you can ask for next-day delivery and pay a 7.5% + 1.50 fee.
Related: Best Apps That Pay Real Money
6) GameFlip

GameFlip won't purchase your gift card directly but will connect you with people interested in buying it. Nowadays, GameFlip is one of the most popular sites where users can buy and sell video games, games accessories, collectibles, etc.
Choose your price and list your gift card for sale on GameFlip. You may have to adjust your asking price to attract more potential buyers and ensure your card will sell. Wise, Payoneer, and Skrill are some of the platforms you can use to withdraw your earnings ( there is a withdrawal fee of 1-2%).
7) Gift Card Outlets
Gift Card Outlets is not my favorite among all online gift card exchange kiosks – the site offers only payments via checks that may take up to ten days.
On the bright side, Gift Card Outlets will let you choose the selling price of your gift card.
8) ClipKard
ClipKard is an excellent option if you're ready to sell your gift cards online. As you can guess, ClipKard is a platform that will purchase your card – you'll decide whether you want to accept or decline the offer.
With that said, ClipKard doesn't offer instant payments – you can receive your profits via check or PayPal.
9) CardSell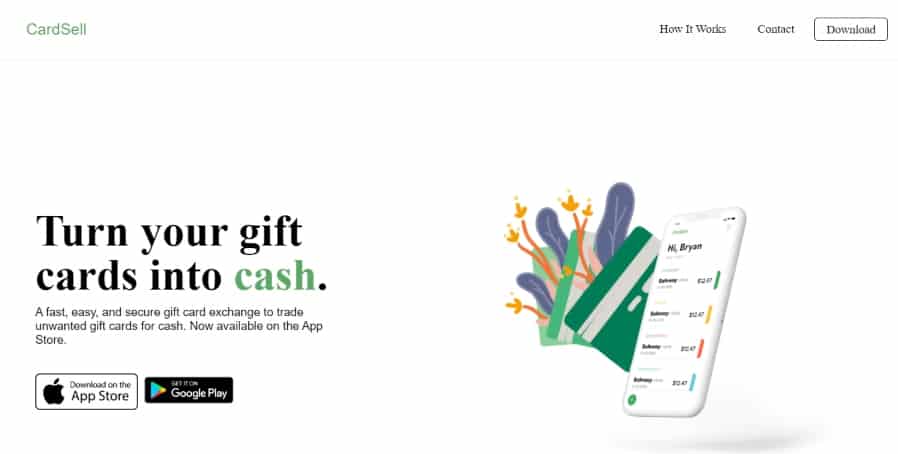 CardSell provides easy options to sell your gift cards:
Visit the site, verify your account, enter your card information, and decide whether to accept or decline the amount the platform will offer you.
If you choose to accept it, you'll receive the cash from the sale via PayPal within two business days.
10) QuickcashMI
Quickcash MI allows members to sell their gift cards and buy cards at discounted prices.
There is a disadvantage to using the site, though:
You can only receive your profits via paper check, and that will take some time.
Other Ways To Sell Your Gift Cards
Whether you'll use a local or online gift card exchange kiosk, you can sell your unwanted gift cards easily.
With that said, you should consider other ways and platforms that will let you list your gift cards for sale.
Such places are:
Facebook Marketplace
Craigslist
eBay
Sell to a friend or family member
Are you out of gift cards to sell? Then you can always earn more once you join Swagbucks (read my Swagbucks Review).
Gift Card Exchange Kiosk FAQs
Where Can I Convert My Gift Card To Cash?
Feel free to convert your gift cards to cash on any of these platforms:
GiftCard Bin
ClipKard
CardCash
GiftCash
Raise
What Is The Fee For Gift Card Exchange?
By all means, the fee for exchanging gift cards for cash depends on a few factors, such as the value of the card and the platform where you'll make the exchange.
On average, most gift card exchange platforms will allow you to receive around 60% of your card's value.
Do Gift Cards Expire?
Most gift cards don't expire, but there are a couple of exceptions. In case your card has an expiration date, the card itself will let you know that.
Can I Sell Gift Cards At A Pawn Shop?
Some pawn shops accept gift cards for sale. Check the policies of your local pawn shop to make sure that store will purchase your unwanted gift cards.
My Closing
How many gift cards do you have to sell? Furthermore, are you ready to start listing them for sale?
Assuming you are, choose a gift card exchange kiosk from the list above and let the selling begin!
Which online platform do you plan to use when getting rid of your unwanted gift cards?
Let me know in the comments section below!
More Money-Making Ideas You Might Like: