30+ Best Ways To Get Paid To Shop And Earn Money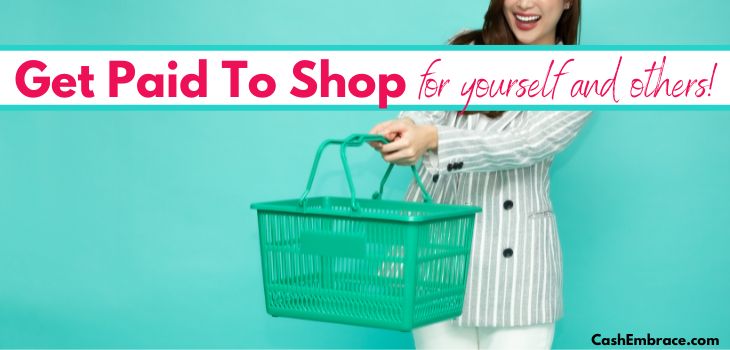 Anyone can get paid to shop, but I guess you already know that considering you're reading this article.
Nowadays, you can make extra money by providing shopping services. On top of that, there is more than one way to earn cash by shopping.
Some of the most popular ways to make money shopping are working as a mystery shopper, becoming a personal shopper, and doing grocery shopper jobs for others.
Of course, we should not forget all the apps that will pay you real money to shop for yourself.
In this article, I'll show you the best ways to get paid for shopping. Let's get through them one by one, shall we?
This post contains affiliate links – visit my affiliate disclosure for more info.
Recommended Read:
Best Ways To Get Paid To Shop And Make Money
You may not know that yet, but there are many ways to get paid for shopping. As you can guess, I'll introduce you to the most popular ways to make money by shopping, and they are:
Grocery Shopper Jobs: Get Paid To Shop For Others
Become A Mystery Shopper
Work As A Personal Shopper
Use Apps To Get Paid To Shop For Yourself
Other ways to earn from shopping activities
Of course, you don't have to limit yourself to only one of the possibilities you see above:
Assuming you have some free time, why not try a couple of options to make money shopping to decide which one you enjoy doing the most?
With that said, let's dissect each category in detail:
Get Paid To Shop For Others: Grocery Shopper Jobs
Before we go any further, here is a quick question for you:
How many hours a week do you devote to shopping? Furthermore, do you do most of your shopping by visiting local stores or online?
According to statistics, over 80% of the people in the USA shop online and have items delivered to their doorsteps.
And the items I'm talking about go far beyond food supplies – millions of households enjoy weekly deliveries of everything from office supplies to drug store products.
Why am I telling you all that? I'm mentioning it because grocery and other types of eCommerce industries are doing better than ever, and you should take advantage of that:
A grocery shopper job is an excellent way to make money fast– you can turn it into a profitable side hustle and even a full-time income source.
1) Instacart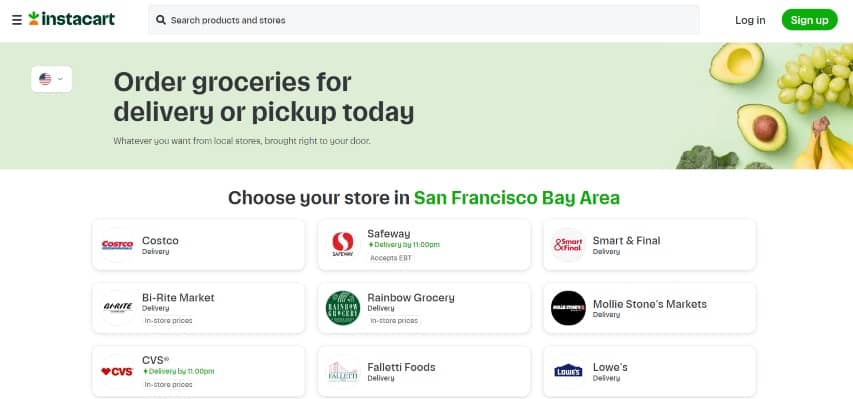 By all means, Instacart is probably your best option to get paid to shop. As the top grocery delivery service in America, Instacart is available in over 5,000 cities and has over 10 million active users in Canada and USA.
More importantly, the company employs over 600,000 Instacart shoppers.
You'll have to go through a simple process to become an Instacart shopper:
Download the Instacart App, enter your zip code, check the available orders in your area, and accept the ones you want to do.
Future Instacart shoppers must be 18 years old (or older), have a vehicle and valid driving license.
On average, working as an Instacart shopper will earn you around $20 an hour. Also, let's not forget the tips you'll make while doing this job!
2) Shipt
Joining Shipt is not the easiest thing to achieve – the interview and approval process are intense.
Be that as it may, Shipt is more than worthy of your consideration:
These days, Shipt is one of the most popular grocery delivery services in the USA. Shipt shoppers earn between $15-$20 an hour and keep 100% of their tips.
What I like the most about Shipt is its Preferred Shopper feature. Preferred Shoppers allow clients to give specific shoppers a 5-star rating and add them to a prioritized list.
Anyone who finds a place on such a list will be able to secure stable clients that prefer to work with them in the future.
3) Uber Eats
Another app you can use to get paid to shop is Uber Eats. Uber Eats is available in many cities in the USA, UK, and Canada.
If you're at least 18 years old, you can start working for Uber Eats. There is no need to own a car – you can do the deliveries via scooter, bicycle, and even on foot!
People working for Uber Eats can see how much a delivery gig pays before they choose to accept it. Shoppers keep 100% of the tips they earn for delivery services.
Joining Uber Eats as a shopper means securing a job that pays weekly – you'll receive your earnings via bank deposit each week.
Become A Mystery Shopper
It might be hard to believe, but mystery shoppers are essential workers for any company that wants to be successful in today's market:
Small and large businesses need access to recent data to help them improve their performances and satisfy the needs of their target audiences. That's where mystery shoppers come in.
Mystery shoppers are freelance workers that earn money by visiting businesses (stores, restaurants, etc.) and offering feedback about their experience.
Once you become a mystery shopper, you'll get paid for the service you provide, and the company you work for will reimburse your expenditures during the working process.
Now, let's see the best places you can join to work as a mystery shopper:
4) Secret Shopper

Secret Shopper has a long history and years of working experience in the mystery shopping field:
The company was founded in 1990. As a founding member of the Mystery Shoppers Providers Association, Secret Shoppers operates worldwide and is free to join.
Those who choose to get paid to shop through Secret Shoppers will have to submit shopping reports. Also, the company expects you to prove your shopping experience at a specific business, so you'll need a scanner or digital camera.
Expect to receive back the money you spend during your mystery shopping gig. Currently, Secret Shoppers pay up to $25 an hour to its independent contractors.
5) Get Paid To Shop With BestMark
Chances are, BestMark may be the oldest and most-respected company in the mystery shopping industry – over half a million people work as shoppers for that brand.
Although BestMark doesn't seek previous experience to hire you, you'll still need to go through an application process to start working for the company.
Assuming BestMark approves your application, you'll gain access to information about available mystery shopping jobs in your area. Each job listing explains your responsibilities and gives detailed instructions to the shoppers.
Of course, you'll have to send BestMark a written report about your shopping experience. Payments are available via gift cards, PayPal, and bank deposit twice a month.
6) Pinnacle
Next on my list of platforms you can join to get paid to shop is Pinnacle. Pinnacle emails all its mystery shoppers with data about currently available jobs.
I should mention that Pinnacle works differently than most mystery shopping companies. Every job assignment depends on experience, rating, and geographical location.
Don't forget to submit your feedback within 12 hours of completing your mystery shopping gig. Jobs pay different amounts – you can get between $5-$75 per mystery shopping assignment.
At the time of writing, Pinnacle is free to join.
7) Market Force
By all means, Market Force is your best option if you want a never-ending supply of mystery shopping jobs:
Market Force works with nearly 400 brands in the USA, Canada, and UK.
Eyes: On is the mobile app of Market Force. That mobile app will make the process of taking pictures and submitting reports as easy as it can get.
If you need any help with your mystery shopping assignments, Market Force has a whole department ready to assist you. Workers receive their payments once a month via direct bank deposit or check.
8) IntelliShop

Each new IntelliShop member becomes a beginner mystery shopper. As you complete more jobs and gain experience, your rating within the company will increase.
Naturally, mystery shoppers with a higher IntelliShop rating will receive the most profitable gigs.
While improving your skills to secure that higher rating, feel free to practice your writing skills – IntelliShop expects well-written reports within 12 hours of completing a job.
IntelliShop is serious about meeting deadlines.
9) Field Agent
Field Agent is a mystery shopping app that offers many ways to get paid to shop.
For example, you can do Scavenger Hunts (getting an item from a shop without knowing where to find it) or Common Job Audits (going to a store, taking a photo of a product, and providing feedback).
Most tasks available on Field Agent pay around $8 per gig, so the app can help you earn $10 a day easily.
Expect to receive your earning from Field Agent via PayPal.
Work As A Personal Shopper
I have a quick question for you:
Do you prefer working as an independent contractor or having a successful company as your employer?
Many people want to get paid to shop as freelancers completing shopping activities in their free time. But many individuals don't mind being a shopping employee of an established brand.
If you connect with the second option way more than you do with the first one, you might want to pay attention to the best ways to work as a personal shopper:
10) Walmart Personal Shopper
Are you aware that Walmart provides jobs for nearly 50,000 personal shoppers?
These days, a personal shopper is one of the most in-demand positions Walmart constantly hires people to do.
Don't dismiss this opportunity just because you have no experience with the job:
Walmart asks each of its shoppers to complete a training program that lasts three weeks.
So, if you live nearby Walmart, I suggest checking with the company and looking into the possibilities of becoming a personal shopper.
11) Amazon Personal Shopper
In my opinion, working as a personal shopper for Amazon is better than doing it for Walmart:
Amazon offers many perks to people who want to become personal shoppers for the company. Take Amazon Prime Now, for example:
Prime Now shoppers earn around $17 an hour and pick their working hours. Also, these workers don't have to submit resumes or go through interviews to secure a job.
As a Prime Now shopper, your responsibilities are to choose items from retail stores to fulfill orders.
Get Paid To Shop Online: Apps That Will Pay You To Shop For Yourself
How does getting paid to shop for yourself work? Is that a legitimate way to earn extra money?
Yes, making money while shopping for yourself is a legit way to increase your income. And it works simply:
Hundreds of apps will pay you for the shopping activities you're already doing. Your earnings will come in the form of cashback rewards.
Here are the best cashback apps that will pay you to go shopping:
12) Rakuten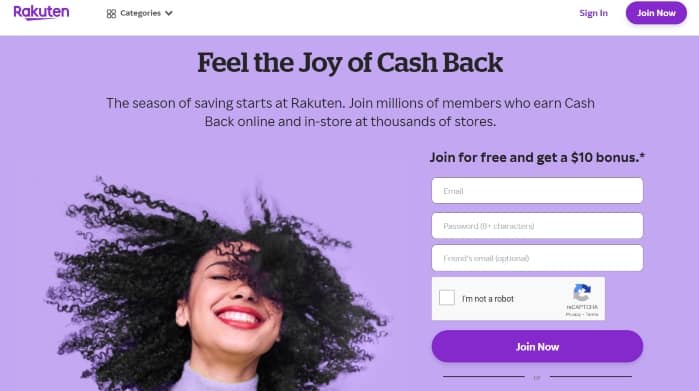 Formerly known as Ebates, Rakuten is one of the most popular cashback apps in the world.
Whether you download the app or install the Rakuten extension, you can start earning cashback through the platform's online portal.
Feel free to use Rakuten and earn cashback while shopping in your favorite stores. I have to mention that Rakuten offers coupons, promo codes, and money-back on restaurants, hotels, and even flights.
13) Use Ibotta To Get Paid To Shop
Generally speaking, Ibotta is one of the best apps that pay you real money:
Download the Ibotta app, check the available offers, and select one. You'll see the tasks you'll have to complete to earn cashback through that specific offer.
Once you complete the tasks, buy the product through the app, take a photo of your receipt to verify the purchase, and get your cashback from Ibotta.
14) Fetch (Previously Fetch Rewards)
Fetch will pay you to shop while buying your favorite products from many popular brands.
Install the Fetch app, purchase products, take a picture of the receipt, and you'll earn points.
Use your Fetch points to get gift cards or PayPal money.
15) Swagbucks
Swagbucks is an incredible money-making app that will help you make money by completing short tasks.
Some of these tasks are taking surveys, watching videos, playing games, clicking ads, etc. More importantly, Swagbucks constantly offers tons of cashback opportunities to its members.
Pause this article for a second and find out all the ways to make money with Swagbucks I outline in my review.
16) Drop
Drop works differently than most cashback apps:
You'll need to download the Drop app, link it to your debit (or credit) card, and pick five brands where you prefer to shop. Each time you shop at these brands through the app, you'll receive discounts and coupons.
Unfortunately, Drop only pays its members with gift cards and not PayPal cash.
17) Shopkick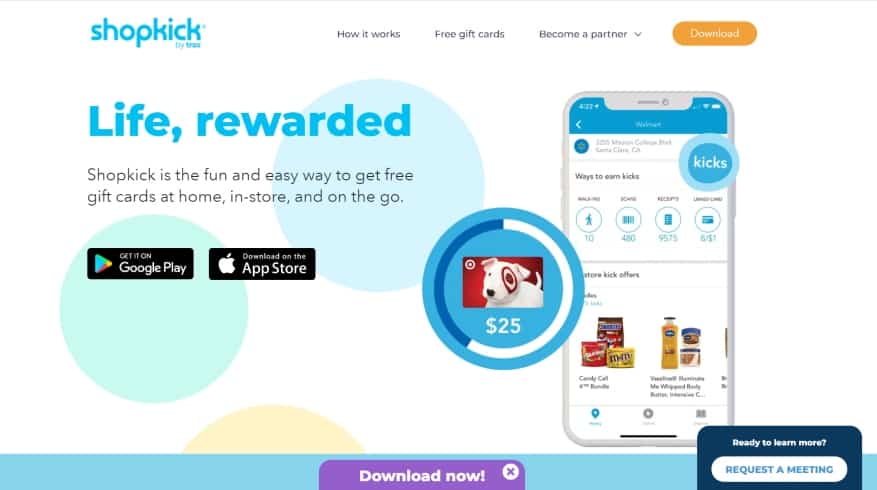 People using Shopkick to get paid to shop will receive points (kicks) for their purchasing activities.
Visiting shops like Target and Walmart regularly will increase your points.
Shopkick will reward you with gift cards and not free money.
18) TopCashBack
Currently, TopCashBack is the number one cashback website for people living in the UK.
According to the site, members earn around 345 pounds annually.
Payments are available via direct bank deposit, PayPal, and gift cards.
Related: Gift Card Exchange Kiosk Near Me
19) Mobee
As you can guess, Mobee is another app you should use to get paid to shop.
Download the app, find a mission in your area, complete it, and earn points.
Later, you can redeem your Mobee points for different rewards.
20) Checkout51
Checkout51 is a cashback app that will reduce your grocery and gas bills.
If you live in the USA, using Checkout51 will help you save money each time you gas up your car at over 5,000 stations.
Whether you plan to purchase groceries or gas through the Checkout51 app, don't forget to scan your receipts to verify your shopping activities.
21) BeFrugal
I'm not gonna lie – BeFrugal is my absolute favorite among all apps that will pay you for shopping. And that's because BeFrugal offers so many ways to earn money.
BeFrugal offers coupons, deals, and even an opportunity to triple your cashback earnings thanks to the 3X Cashback feature.
Long story short, the ways to make money shopping while using BeFrugal are countless!
22) Capital One Shopping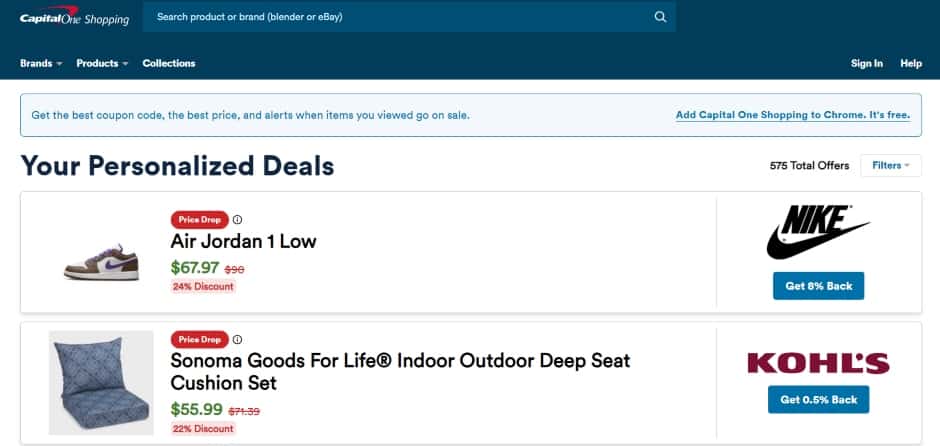 Downloading the app or installing the browser extension are options to earn with Capital One Shopping.
Shop online through Capital One Shopping, and the app will find you discounts and products selling at the lowest prices possible.
Once you accumulate enough Capital One Shopping points, you can exchange them for different rewards.
23) Dosh
Dosh requires you to link your credit or debit card before you're able to earn points.
Essentially, you'll earn cashback each time you complete a purchase using your card.
There is no need to scan the receipts and send them to Dosh – expect to get up to 10% cashback on your purchases thanks to the app.
24) Groupon
Groupon is one of the lesser-known platforms you can join to get paid to shop.
People using Groupon can manage to score fantastic deals, especially on travel.
So, sign up for Groupon, enter your zip code, and search for ways to save money and get cashback on future purchases.
25) ReceiptPal
ReceiptPal will allow you to earn cash back on your purchases when you visit local stores and shop there.
Take photos of your receipts and send them to the app.
Expect to earn ReceiptPal points which you can redeem for gift cards from hundreds of retailers.
26) Honey
Honey is a browser extension you should use to earn cashback and save money while shopping.
At the time of writing, Honey is capable of searching for coupons on over 30,000 sites worldwide.
More than 17 million people are already taking advantage of everything Honey has to offer!
27) Pogo
Pogo is quite an interesting app, in my opinion:
Not only will Pogo allow you to save money and earn cashback, but the whole process will happen passively. In other words, using Pogo will help you make passive income.
Around 3,000 Pogo points are worth $3 – you will accumulate points easily and faster than you think.
28) Gigwalk
Gigwalk is mostly popular as an app that offers odd jobs to people who need to earn money.
But do you know that some of these weird jobs are local mystery shopping gigs?
While most Gigwalk tasks pay around $10, you can find better-paying gigs too.
More Ways To Get Paid To Shop
29) Care.com
Basically, most people associate Care.com with babysitting opportunities. However, that doesn't begin to cover everything Care can offer to its members.
Are you aware that you can join Care.com and list different services than babysitting? Believe it or not, you can create a service profile and offer shopping and other personal errand services.
Considering millions of households use Care.com, finding clients on the platform won't be an issue.
30) DoorDash
Chances are, you might think that becoming a DoorDash driver is not the most obvious way to make money by shopping.
While DoorDash is a food delivery service, working as a dasher will open a few opportunities to earn money doing shopping activities.
The way I see it, if you accept a gig that requires picking up groceries and delivering them, that's a way to earn as a shopper.
31) TaskRabbit
TaskRabbit offers different jobs to people who want to do errands to increase their monthly income.
Usually, TaskRabbit gigs involve painting houses, moving boxes, and assembling furniture.
With that said, many TaskRabbit clients need help with shopping, delivery, and other types of personal assistance, so why not take advantage of that?
32) Premise
Basically, Premise is an app suitable for people who want to make money by completing short tasks in their living areas.
Some of the available gigs on Premise include mystery shopping, checking if a store has a sale, confirming prices of products, etc.
Most opportunities Premise provides will earn you around $10 per task.
Get Paid To Shop FAQs
How Do You Get Paid To Shop?
There are many ways to get paid for shopping, and the best ones include working with these platforms:
Shipt
BestMark
Uber Eats
Instacart
Market Force
How Can I Get Free Money To Shop Online?
Work as a personal shopper
Become a mystery shopper
Run shopping errands for others
Download cashback apps
Use apps that will give you discounts and coupons
Who Pays You To Shop?
Here are the most popular apps that pay you to shop:
Swagbucks
Ibotta
Fetch
Rakuten
Checkout 51
Shopkick
My Closing
Are you ready to get paid to shop?
Hopefully, you're – making money shopping is not a difficult way to earn an income. More importantly, those of you who are shopping addicts will have tons of fun doing this job.
What questions do you have on this topic?
Do you want to share your favorite ways to earn money shopping?
Feel free to do so in the comments section below!
Related Articles: