50+ Ways To Make Extra Money: Simple Ways To Earn Extra Cash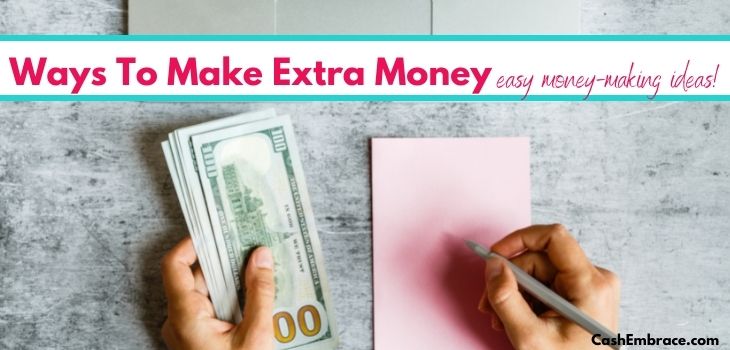 Are you currently researching the best ways to make extra money?
Sure you are!
Why wouldn't you?
Everyone can use a bit of extra cash now and then. Whether the pile of bills is a bit bigger this month or your wardrobe needs emergency refreshment, some extra money will always come in handy.
While most extra income ideas won't turn you into a millionaire, they'll add a much-needed boost to your monthly income.
And who is to say that you can't transform a side hustle into a brand new source of full-time income?
I certainly wouldn't!
But how do you find a money-making idea that would bring the best return for your time investment while steering clear from the scams?
Well, have a look at the list below, and you'll discover over 100 legitimate ways to earn extra cash.
So, pick your poison (coffee, tea, whatever), and let the hunting for a new source of extra income begin!
This post may contain affiliate links. Spare a minute to read my affiliate disclosure.
Fast And Simple Ways To Make Extra Money Fast
Basically, I thought long and hard about how to construct this article. After all, my goal is to deliver a satisfying user experience.
Since tons of money-making ideas are about to come your way, going through the list might become an overwhelming task.
To avoid that, I think I should ease your way in and gradually build up from there.
How about we start with some of the quickest and easiest ways to make extra money?
1) Get Free Money
Without a doubt, the best way to earn extra cash immediately is to get it for free.
How is that going to work? Furthermore, are the ways to make free money reliable and realistic?
You'll be glad to find out that they are!
Whether you'll sign up for something to receive a cash bonus or refer friends, you can grab some free money as soon as today.
It may be hard to believe, but there are plenty of opportunities to score free cash online these days.
Here is an article that will show you tons of ways to get free money now.
Heads up – this blog post will show you plenty of methods to receive a decent amount of free money without getting a job!
2) Sell House And Personal Items You Don't Need
Another way to fatten your wallet sooner rather than later is to turn clutter into cash.
Chances are, you might think that every single item in your home serves an essential purpose.
However, a closer inspection will most likely prove you wrong.
I mean, how long has it been since you rode your bicycle? Do you believe that you'll ever ride it again if you haven't done it in years?
And what about your university textbooks? Is there a reason to keep them if you graduated ages ago?
Read this detailed list of simple things you can sell to make extra money fast.
3) Download Money-Making Apps On Your Phone
One of my all-time favorite ways to make extra money is through mobile applications.
Nowadays, there are hundreds of mobile apps that will pay you for the least amount of work.
For example, some apps will let you earn for scanning shopping receipts, watching movie trailers, or walking to lose weight.
The reason why people are crazy about the best money-making apps is that many of them work passively.
Download them once, go about your life as you normally do, and collect the dollars once you earn enough to cash out.
Ways To Make Extra Money Online
In other words, we'll discuss side activities you can do online to make money from home.
Who knows, you may find an extra income idea you love enough to turn it into your new online career!
4) Freelance Writing
These days many people still believe they have to be professional writers to find a writing gig online.
That's a common misconception that stops them from even trying to write and get paid.
Hopefully, you're not going to fall for it!
Anyone (and I mean anyone) can earn money with their writing skills.
Whether you're a beginner writer or an advanced one, many companies will be willing to hire you.
Before you jump into the writing field, I'll suggest learning how to become a freelance writer first.
Once you do that, check these 50 websites that will pay you to write.
5) Teach English To Kids
Speaking of misconceptions, another popular one is that you need a degree to tutor online.
Sure, some companies require a Bachelor's degree in English from their online teachers. But many will hire you if you don't have one.
If you have decent skills in teaching English to others, this side hustle idea will be the perfect fit for you.
The hours are flexible, and the pay rate is not that bad – you'll earn around $25 per school hour.
VIPKID is one of the most respected platforms that constantly hire English tutors.
With that said, you can check other companies offering teaching jobs as well.
6) Correct Mistakes
How many of you are proud of their eagle eyes?
Do spotting errors come naturally to you?
Then taking advantage of this skill is a no-brainer.
Becoming a professional proofreader is an opportunity you should definitely consider.
You'll make money by correcting grammar, spelling, and punctuation errors in written documents.
I have a list of 40 well-paying proofreading jobs – you might want to give this article a read.
7) Edit Files
Since we're still on the subject of working with documents, let's talk about scoping.
A scopist is a person who does edits on legal documents for court reporters.
This job will earn you a full-time income – you'll make over $4,000 a month.
However, you'll need to go through training to transform yourself into a professional.
When you have a minute, visit this article about starting to work online as a scopist.
8) Chat Online
Working as a chat agent is not going to be one of the most demanding jobs you'll ever do.
On the contrary, you'll spend your working hours providing customer support.
Whether you'll do that via text or chat depends on the company that will hire you.
An excellent communication and grammar skills are necessary if you want to earn well as a chat agent.
Do you have an interest in this money-making idea?
If you do, choose your future employer from these companies offering online chat jobs.
9) Work As An Online Friend
Signing up to become a virtual friend is one of the hottest ways to make extra money currently.
The job is great side employment for a variety of reasons.
Your safety is not an issue – you don't have to meet your online bodies in person.
Furthermore, you can report people trying to misbehave, and their accounts will get a suspension.
More importantly, you can earn as much as $50 per hour!
10) Start A Job As A Social Media Manager
Are you spending tons of time on Social Media?
It's a shame if you do that without monetizing your skills in the process.
Nowadays, social media managers are making nearly $100,000 per year.
Correct me if I'm wrong, but such an amount of income is a full-time one!
So, if your obsession with Social Media has no limits, I think you should learn how to become a professional social media manager.
Related: A Little-Known Way To Make Money On Social Media
11) Become A Virtual Assistant
First and foremost, don't confuse virtual assistants with social media managers.
While the jobs are somewhat similar, VAs do a bit more.
Why should you think about becoming a virtual assistant?
Well, because it's a remote job with convenient hours that pays handsomely – between $50-$100 per hour.
Get familiar with the process of starting to work as a VA when you have a free second.
13) Do Voice-Overs
Let me make something clear as fast as I can:
World-famous musicians and actors are not the only people who can get a job as voice artists.
No, you can do that too.
Right now, ordinary people are securing voice-over gigs every day.
As long as you bother to learn how to become a voice-over artist, you'll have no problem getting hired as one.
The pay is more than worth it – expect to earn as much as $200 per hour.
14) Sell Photos Online
Actually, I'm not sure if selling images belongs to the category of ways to make extra money.
Considering the amount of cash you can earn, feel free to think of it as a source of full-time income.
With that said, using your photography skills will bring you around $100 per hour.
If these skills are on a professional level, you'll be crazy not to share them with the world and make money in the process.
Learn how to earn by selling high-quality images online here.
Related: 30 High-Paying Online Jobs – Earn $100,000/Year
15) Get A Job As A Data Entry Clerk
Quite frankly, the online data entry jobs will not deliver the best return for your time investment.
I mean, they pay around $17 per hour, which is slightly less than what you'll make from the rest of the options.
Still, they deserve a mention in this article.
As a data entry clerk, you'll work from home on tasks that don't require you to try too hard.
In my opinion, this is one of the most suitable remote jobs for students.
Working as a data entry specialist will leave you plenty of time to get your college degree.
16) Provide Transcription Services
Do you like the idea of converting audio or video files into text?
Great, then getting a transcription job will probably be the right option for you.
To clarify, this kind of online job is a good fit for complete beginners.
Most companies hiring transcribers offer the necessary training.
So, you'll be in the position to learn and earn at the same time.
17) Sell Tickets Online
Now, the position of ticket broker is one of these ways to make extra money not too many people are discussing.
Personally, I don't understand why is that:
Selling tickets online will earn you at least $50,000 per year in extra income.
More importantly, not too many individuals are doing this kind of job. Subsequently, you'll face way less competition while building a client base.
See everything you need to know about becoming a ticket broker – you won't regret it!
Related: 20 Best-Paying Work-At-Home Jobs
Real Ways To Make Money From Home
I think it's time to talk about ways to make extra money that will earn you more cash than you expect.
In other words, we'll discuss business ideas you can develop from your living room.
18) Start A Blog
You know every blogger says that you can launch a website for literally a couple of bucks, right?
Well, that's true:
Nowadays, you can start a blog with barely any investment on your part.
Get reliable hosting with Bigscoots, decide on a domain name, and begin building your online business.
Blogging is still an excellent way to earn a full-time income online.
The methods of monetization are plenty, to say at least.
For example, you can use affiliate marketing, offer your own products or services, display ads, etc.
19) Do Affiliate Marketing
Since I've just mentioned affiliate marketing as a method to monetize your blog, let's discuss this business model a bit further:
Basically, affiliate marketing is a process of recommending other people's products or services to an audience.
When a reader buys something through your affiliate link, you'll earn a commission.
No matter how you want to look at it, affiliate marketing is one of the easiest ways to make extra money these days.
After all, you don't have to create products – you only have to promote them.
If you want to become an affiliate marketing and need professional training, I suggest joining this online platform (it's free).
20) Create An Online Course
Until we're on the subject of online courses, how about I explain why they're such a great idea for an income source?
By all means, affiliate marketing is an easy way to earn online. But you'll work for a commission.
With that said, if you create an online course, you'll get to keep all the money once you sell it.
Do a mental inventory and decide what skill you want to teach to the audience.
Then, start working on what would become your very first online training.
Platforms like Podia make the process of creating an online product as easy as it can get.
You'll receive all the help and assistance with creating and marketing the course you may need.
21) Create And Sell eBooks
An eBook is still one of the most profitable digital products a person can create.
More importantly, anyone can do it!
Quick research online will show you what the process of creating an eBook entails.
Once you know how to do that, all you need is Sqribble.
Sqribble is an eBook-creating tool that does most of the work that goes into launching a professional, stunning, and highly converting eBook.
And this tool will help you create your eBook in minutes. That's not a joke!
22) Sell eBooks Without Creating Them
Generally, creating eBooks for sale is a clever way to make a full-time income from home.
Do you know what's even better?
The answer to that question is selling eBooks without creating them.
Yes, that's an option too!
That option will eliminate the time and effort that go into building the product. What is left for you to do is focusing on the selling part.
OK, and how is that going to happen?
You'll take advantage of the earning power of Kindle Publishing.
Spare a minute and learn everything you need to know by reading this article about K Money Mastery.
23) Start A Graphic Design Business
How big of an online space do you think the Internet is?
Guessing that is large enough to accommodate new businesses constantly is a sure bet.
What's the best thing about that if you're a graphic designer?
All those businesses need websites to build a presence online.
And many of them are hiring graphic designers to provide the professional vibe they're looking for.
That's where you come in!
Currently, many free classes will teach you graphic design skills if you don't have any.
I'll say go for it – owning a graphic design business is a secure source of online income.
24) Start A YouTube Channel
Are you spending a shameful amount of time on YouTube?
Relax, you won't get any judgment from me – I spend hours on YouTube as well every day.
Instead of watching content, how do you feel about creating some of your own?
Maybe you should give this idea a lot of thought:
The income potential of having a profitable YouTube channel is limitless.
Plus, there is a large enough audience for every topic, so the subject of your future channel will find its people.
25) Become An Influencer
To be honest, becoming an influencer is not as easy as many of you may believe.
Whether you're thinking about jumping on Instagram or TikTok, the space is already saturated.
Every second person wants to be an influencer these days!
Still, don't get discouraged just because the process is harder now than it used to be before.
You can still leave your mark and monetize your time while doing so.
Start building a presence on your chosen platform ASAP.
Once you have a large enough audience, you'll be ready to reach brands and secure sponsored deals.
26) Sell Gigs On Fiverr
By all means, everyone can create an account on Fiverr and start offering services.
It doesn't matter what type of skills you have – you can sell them for a price.
These days, individuals and businesses visit Fiverr to hire people for different tasks.
Building yourself a name as a freelancer on Fiverr is not a bad way to jumpstart your online career.
27) Create An Online Store
In other words, start a dropshipping business to make money online!
Launching an online shop doesn't require tons of experience or expertise.
On the contrary, you can learn how to do that in minutes just by watching tutorials on YouTube, for example.
Buying and selling products for a higher price is one of the best ways to make extra money in 2021.
Actually, doing dropshipping has a much bigger income potential than an ordinary side gig.
To begin your dropshipping business, visit Shopify and launch your online store.
Shopify offers a free trial, so you don't have to pay anything right off the bat.
Ways To Make Extra Money With Your Car
Chances are, this is going to be the largest section in this article.
There are so many side hustles that are worth the look if you want to increase your monthly income.
And I'll share with you some of my favorite ones:
28) Rent Out Your Car
Do you own a car?
Most people do these days.
How do you feel about renting it to earn extra money?
If you enjoy the idea, I'll suggest connecting with Turo.
On average, you can make up to $700 just for renting your vehicle.
You don't have to worry about possible damages to your car – the company provides liability insurance, theft, and damage coverage.
29) Advertise On Your Car
Alright, I understand if many of you have mixed feelings about the idea of wrapping your car in an advertisement.
I mean, if it bothers you that much, feel free to skip this paragraph!
But if you're OK with it, Wrapify is the partner you're looking for.
Wrapify will allow you to earn for driving your vehicle while there is a business advertisement all around it.
Once the wrapping process is complete, all you need to do is drive.
30) Drive For Lyft Or Uber
Since we're already talking about using your driving skills, here is another way to monetize them:
Start driving for companies like Uber or Lyft.
Both of them will let you earn extra cash by driving people in your spare time.
Keep in mind – you can become a driver for as many companies as you like.
31) Make Money Driving For DoorDash
Are you familiar with the term dasher?
You'll become as soon as you start delivering groceries as an employee of Doordash.
Joining the company will help you make extra money by delivering food on behalf of local restaurants.
The pay is not too shabby – expect to earn around $500 per week.
More Realistic Ways To Make Extra Money
To be honest, I like the idea of providing you with even more ways to earn cash on the side.
Therefore, I'll expand this article with the following activities that will boost your income:
32) Do Landscaping – Not too many people are fond of yard work. So, take advantage of that, and start your own landscaping side business. You never know – it might become your main business if things go smoothly and you build on that!
33) Sit Houses – Housesitting gains more and more popularity with each day that goes by. Do basic research online – you'll find websites that offer housesitting jobs.
34) Train/Groom/Walk Pets – This extra income idea is a great fit for animal lovers. That goes without saying!
35) Shovel Snow – While you can't do this all year round, you should consider it when the time is right. Shoveling snow seems like an excellent addition to your landscaping business to me.
36) Clean Houses – Cleaning is not everyone's favorite way to spend their time. But if you enjoy it, make it work for you and your wallet.
37) Babysit – Again, not everyone likes doing that. Still, if you don't mind taking care of children, babysitting will deliver extra dollars in your pocket.
38) Rent A Room – You can rent your car, and you can rent a room as well. Why not if it will make you a bit richer than you used to be, and you have the extra space?
39) Move Furniture – Companies like Taskrabbit will pay you to do such a job. Actually, the company will let you earn for running other errands as well.
40) Deliver For Amazon – Amazon is bigger than ever, and its drivers are busier than ever. How do you feel about becoming one of them to earn extra money driving?
41) Sell Items on Craigslist – Craigslist is a suitable place to display different items you want to sell.
42) Sell on eBay – In my opinion, eBay is even better of a platform where you can sell unwanted stuff.
43) Start A Shop On Etsy – Etsy is a popular platform where you can sell all kinds of items. Take a minute to read about the most profitable things you can create and sell online.
44) Use Amazon Mechanical Turk – MTurk is an online platform where you'll find plenty of micro-jobs to complete for extra cash.
45) Exchange Old Gift Cards For Money – Why keep them if you're not planning to use them, right? Plenty of websites will allow you to sell old gift cards.
46) Sell Insurance On The Side – You don't have to be a professional insurance agent to make money with this side hustle. Learn more about selling insurance in your spare time here.
47) Make Money Listening To Music – Slice The Pay will pay you for listening to the latest tracks.
48) Get Paid To Participate In Research Studies – Using Respondent will make you $140 per hour for taking part in marketing research.
49) Earn On Pinterest Without Starting A Blog – Do you know that you can make money on Pinterest without being a blogger? Yes, you can!
50) Join Wealthy Affiliate – One of the easiest ways to make extra money is by becoming a member of Wealthy Affiliate. The platform will teach you the fundamentals of affiliate marketing and will let you earn in four simple ways.
51) Sell Slogans Online – Making money by writing slogans is not a popular income idea yet. However, you should look it up – it pays really well!
My Closing
Quite frankly, the list of ways to make extra money can go on forever.
More and more money-making ideas appear online every single day.
With that said, I'll do my best to update this article regularly with more opportunities to earn from home.
Now, what are your favorite ways to make extra cash?
Maybe you would like to share them with me and my audience?
That's what the comments section below is for!