Get Paid To Advertise On Your Car (10 Legit Companies)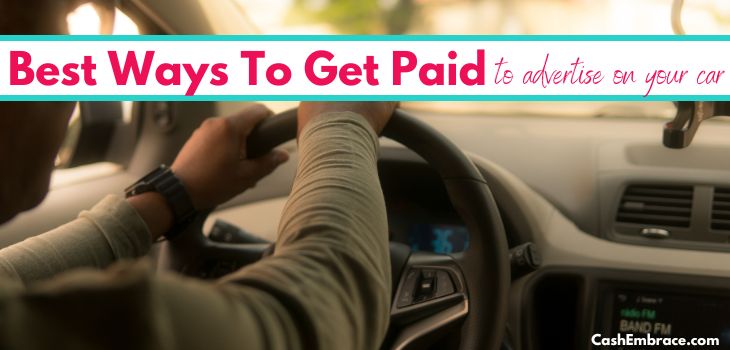 Can you get paid to advertise on your car? Is car wrap advertising a real thing?
If you're wondering the same thing, your confusion comes from a logical place – many people see car sticker advertising as a scam.
While there are scammers in the car advertising industry, there are also ways to avoid them and still earn a decent amount of money.
But why should you even consider placing ads on your vehicle? Furthermore, is joining the car advertising field worth the effort?
I'll say that wrapping your car with advertisements is an excellent money-making idea – it will lower your gas and maintenance bills without pausing your daily driving activities.
Car wrapping advertising works simply and benefits both the car owner and the ad company.
In today's article, I'll show you over ten ways to make money from advertising on your car.
Recommended Read:
What Is Car Wrap Advertising?
Basically, car wrap advertising is an effective strategy many companies use to elevate their advertising campaigns. It's a process of wrapping the exterior of your vehicle with a vinyl material.
Once your car goes through the wrapping process, it will become sort of a moving billboard for the company that pays you to advertise it.
Don't worry about damaging your car – the vinyl material is easy to remove and doesn't leave any marks.
With that said, car wrap advertising comes in different shapes and forms – you can wrap your whole car (including the windows) or cover small parts of your vehicle (side doors).
As a rule of thumb, the bigger your car wrap is, the more money you'll be able to make.
How Much Money Can I Make For Putting Ads On My Car?
First and foremost, the amount of money you can make for placing ads on your car depends on a few factors.
Let's talk about the first one – the type of wrap you'll choose to put on your vehicle. At this point, you already know that you can go for a full or partial wrap.
A full wrap will cover your whole car – the wrap will go from front to back bumper and headlight to taillight. Such a wrap includes all windows except the front windshield.
Now, a partial wrap will cover smaller parts of your vehicle. Usually, partial wraps take place on one side of the car or the other.
Full wraps can earn you significantly more than partial wraps, so that's one thing to keep in mind.
Another factor that will affect your earnings is how often you drive your car. Since many car wrap advertisement companies pay per mile, the more miles you drive, the more cash you can make. Other companies offer a flat pay rate.
Overall, wrapping your car with ads will bring you between $200-$1,000 a month. On average, the length of a car wrap advertising campaign is between two to six months.
It goes without saying that you won't be able to sell your car until the campaign is over.
10 Ways To Get Paid To Advertise On Your Car
By all means, car wrap advertisement scams are real, so you should approach the car ad placement with caution.
In this section, I'll introduce you only to legit and trusted car-wrapping advertisement companies, so you can make extra money working with them.
1) Wrapify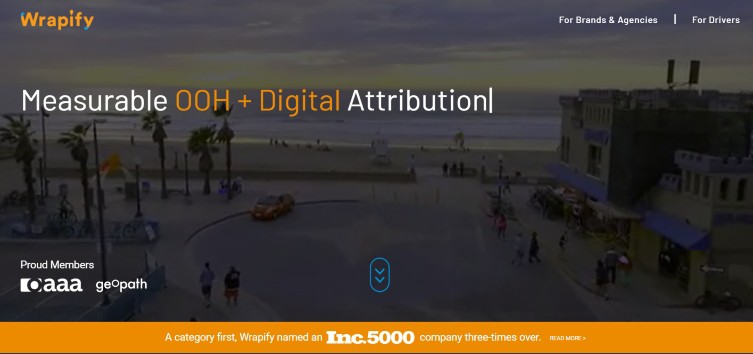 Without a doubt, Wrapify is one of the top agencies for car wrap advertising in the world. The company was founded in 2015.
Wrapify partners with some of the largest brands worldwide and works with over 250,000 drivers.
How Does Wrapify Work?
It's no surprise that Wrapify's goal is reaching the right audience. Subsequently, the company's ads take data tracking and time of the day into consideration in every ad campaign.
If you choose Wrapify, the agency will place ads on your car, and you'll need to drive within a specific zone since Wrapify campaigns target specific areas.
While you're in an active campaign, Wrapify will expect you to drive within 50 miles of the town the advertiser targets at the moment.
Your pay rate as a driver will differ depending on the time of the day. That pay rate also depends on the number of people who will see the ad while you're on the road.
According to Wrapify, you'll earn between $180-$$450 per month – the number of your earnings depends on the wrap body percentage of your vehicle:
Lite Version (Up To 30% Coverage): $180-$280 per month
Partial Version (Up To 50% Coverage): $195-$280 per month
Full Version (Up To 90% Coverage): $260-$450 per month
How To Get Started With Wrapify
Here is everything you'll have to do to join Wrapify:
Download the Wrapify App
Drive at least 50 miles of your everyday route so Wrapify can become familiar with your driving habits
Submit a background check
Review and accept campaign offers
Pick an install shop location, date, and time
Provide your car for wrap ad installment
Start driving to earn money
Wrapify Pros
Flexible payments: Wrapify will pay you weekly via direct deposit
Short commitments: Most Wrapify campaigns run for between 1-3 months, so don't expect long-term commitments
Wrapify Cons
Careful background check: Each potential Wrapify driver must be at least 21 years old and have had fewer than two accidents in the past three years.
Car model requirements: Your car has to be a newer one ( you can't drive a car that is more than 10 years old).
Termination fees: Drivers who break the contract before its final day and take the ad wrapping off will face early termination fees.
2) Nickelytics

Next on my list of places where you can get paid to advertise on your car is Nickelytics. Nickelytics will allow you to earn up to $500 a month – your earnings will depend on wrap type and miles coverages.
Nowadays, Nickelytics offers three car wrapping options – full wrap, lite wrap, or rear windshield wrap.
How Does Nickelytics Work?
The first thing you must know about Nickelytics is that the company operates in Florida. They'll only hire drivers from a couple of markets, including Tampa, Cape Coral, Fort Myers, and a few others.
Another fact about Nickelytics is that the company will track your miles coverage via ride-share applications.
How To Get Started With Nickelytics
Download the Nickelytics app
Sign up to become a driver
Answer a few questions about yourself and your driving habits
Activate the app while you're driving so the company can match you with suitable advertising campaigns
Accept or reject available ad campaign
If you accept a campaign, you'll receive a self-install wrap, or someone will install a custom wrap for you
Nickelytics offers campaigns that can earn you over $500. Most Nickelytics drivers earn between $175-$250.
Nickelytics Pros
An excellent reputation and trust score: Spare a minute to read the Nickelytics reviews, and you'll see that the company has a terrific trust score among users.
A constant increase in opportunities for the drivers: Choosing to work with Nickelytics is a great idea considering the agency is famous for its client-focused approach.
Nickelytics Cons
There is a minimum mileage requirement: You won't be able to earn with Nickelytics unless you agree to drive at least 30 miles each day.
They want a newer car: Don't try to become a Nickelytics driver if your car is over 10 years old.
3) Carvertise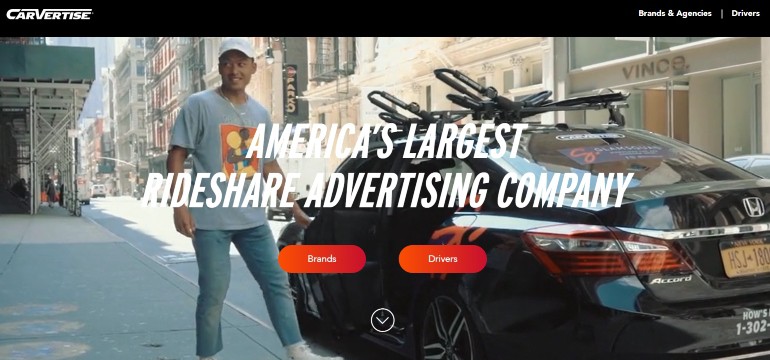 Carvertise will let you make money in two ways – you can get paid to advertise on your car and to park in specific locations suggested by the company.
Currently, Carvertise is a partner with well-known and respected brands.
How Does Carvertise Work
Generally speaking, Carvertise is one of the largest agencies in the car wrap advertising industry – over 1 million drivers work for the company.
Most brands prefer Carvertise because the agency does an excellent job of matching target areas with a driver's daily route.
How To Get Started With Carvertise
Enter your contact details in the form on Carvertise's website
Upon approval, the company will wrap your car with ads
You'll get matched with brands that target the area you normally drive
Download the Carvertise app to track your mileage during advertising campaigns
On average, working with Carvertise will earn you between $100-$200 a month. However, longer campaigns (two-six months) might make you up to $1,500.
Carvertise Pros
Choice of ad wrap: Drivers may choose whether they want a partial or full wrap.
Control over work: You're the one to decide if you want to accept or reject a specific ad campaign.
Extra ways to earn: As you already know, Carvertise will pay you for parking too.
Carvertise Cons
Mileage requirement: If you drive less than 30 miles a day, the company will not hire you.
Car requirement: Your vehicle must be 2008 (or a newer model).
4) ReferralCars

First and foremost, ReferralCars works differently than the rest of the companies where you can get paid to advertise on your car:
One of the main differences is that the car wrap ad will be sent to you, and you'll have to pay the shipping fee.
Let's take a look at the rest of the differences, shall we?
How Do ReferralCars Work?
ReferralCars offer only small car wrap ad options. Therefore, you won't have to wrap your whole car in ads.
Another fact I have to mention is that ReferralCars has both commission and non-commission-based ad campaigns.
Currently, ReferralCars pays its drivers within 90 days of accepting a campaign – they can also choose a payment that will get them a $100 gift card.
How To Get Started With ReferralCars
Install the ReferralCars app on your mobile device
Enter your ZIP code so the company can match you with available ad campaigns in your area
Pay the shipping fee to receive your decal
Attach the decal to your car and show the company a proof
ReferralCars Pros
Only small car wraps are available: Using small decals is perfect for drivers who don't want to wrap their whole cars with ads.
Guaranteed earnings: All drivers receive their money within 90 days of accepting an ad campaign.
ReferralCars Cons
Shipment fee: Unlike the other companies on that list, ReferralCars will ask you to pee a shipment fee to receive the wrap ad.
No assistance with installment: Unfortunately, you'll have to apply the wrap ad yourself.
5) StickerRide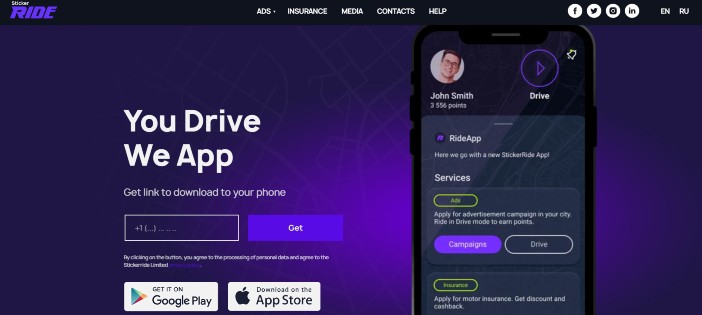 StickerRide has a long history – the company was founded in Europe but not operates in the USA as well. Nowadays, StickerRide employs over 40,000 drivers.
I have to say that StickerRide offers Car Sticker Advertising – it will let you earn money by putting sticker ads on your vehicle.
How Does StickerRide Work?
Basically, StickerRide uses a point system to decide the amount of money you can earn. You can earn more points by using the different services the agency provides, inviting friends, and participating in ad campaigns.
The company uses an algorithm to analyze your driving style to match you with personalized offers and suitable campaigns.
Besides, the more you drive, the more you'll earn with StickerRide – the app will base your earnings on the number of miles you drive and the amount of time spent in each city zone.
How To Get Started With StickerRide?
Download the StickerRide app
Register your car
Choose an active ad campaign
Visit a location StickerRide will point out for you
Wait until the company's staff wash your car and apply the sticker ads
Begin driving to get paid to advertise on your car
Always turn the StickerRide app on when you drive – that will allow the company to calculate all your driving hours and pay you the correct earnings.
StickerRide Pros

Help with ad installment: There is no need to place the sticker ads yourself – other people are responsible for making that happen.
Extra opportunities to earn money: StickerRide offers other ways to earn than sticker ad placement, such as using the referral program.
Save on insurance: Once you drive your first 200 kilometers, StickerRide will give you a personal discount on motor insurance.
StickerRide Cons
Customer service can use improvement: Some StickerRide driver reviews suggest that customer care service is not the finest in the field.
Other Companies To Join And Get Paid To Advertise On Your Car
Chances are, you might wonder why the companies I'm about to show you don't belong to the list above.
Well, I have a couple of reasons to cover these places separately:
Firstly, some of the companies I'll introduce you to in a minute don't offer the same quality of service as the ones you see above. Likewise, you should do your own research and be careful when approaching them as a driver.
Secondly, most of the companies I'm about to cover have received mixed to negative reviews from previous employees. So, keep that in mind before you make the decision to work with them.
6) Free Car Media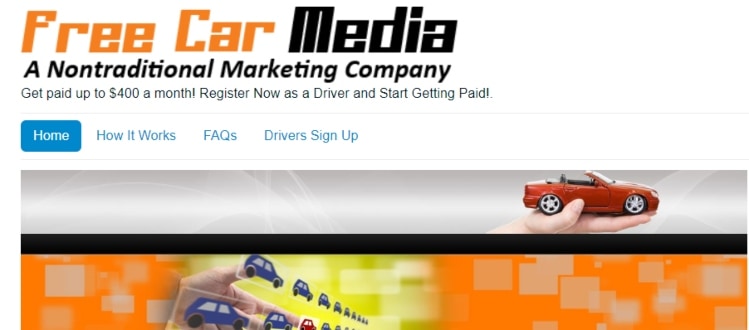 Apparently, Free Car Media constantly hires drivers who want to earn some extra money. If you want to get paid to advertise on your car, Free Car Media is an option to consider.
Getting started with Free Car Media is simple – all you need to do is fill out a form and answer a few questions on their website.
Afterward, the company will send you an email to welcome you to its ad campaign network.
Free Car Media states that you can earn up to $400 a month – the exact amount you'll make depends on the ad partner and type of wrap ad.
Keep in mind that Free Car Media offers mostly rear window advertisement opportunities.
Free Car Media Pros
Easy to join: Anyone can contact Free Car Media and have the chance to become a driver for the company. Once you do that, you'll have the freedom to accept or reject ad campaigns.
Partial and complete ad wrap options: While Free Car Media is known for its rear window ad wraps, you can find an ad partner to pay you for a full wrap advertisement.
Free Car Media Cons
An outdated website: Quite frankly, the official website of Free Car Media looks a bit scammy and doesn't scream trustworthiness.
The driver sign-up link goes to a suspicious page: Click the link to sign up as a driver, and you'll land at MoneyWhileYouDrive.com. Shouldn't you sign up as a driver on Free Car Media instead?
7) Pay Me For Driving
Pay Me For Driving is a company that operates as an affiliate marketing agency – they see their drivers are affiliates since the drivers earn money for promoting the ads of different brands.
There is an application process to go through to start working with Pay Me For Driving. That process entails completing an online application.
Also, you'll need to provide basic details about your vehicle and agree to a background check.
Assuming Pay Me For Driving approves you as a driver, you'll have to sign a driver agreement.
Drivers earn commissions, flat fees, or money based on recurring rates.
An Important Info:
It seems the official site of Pay Me For Driving doesn't work at the moment. I suggest choosing another company from the list above so you can get paid to advertise on your car.
More Car Advertising Companies To Consider
CarWraps: CarWraps provides premium wraps for vehicles – get familiar with the way the company operates when you have a minute.
LorryZone: LorryZone is a company that hires drivers in India.
AdsToGo: AdsToGo will pay you for car wrap advertising and referring people to the company.
What Are The Car Wrap Scams And How Do They Work?
Unfortunately, where there is a legit money-making idea to earn decent cash, there is often a scam to take advantage of you too.
Here are a few situations to avoid when you're looking for ways to get paid to advertise on your car:
A company offering you lots of money with minimum effort: In case a company sends you an email with an offer you can't resist (thousand of dollars for no work), that's most likely a phishing email.
Asking for an application fee: All legitimate car wrap advertising companies will let you apply for a driving position free of charge.
Fake checks: Sometimes, a scammer may send you a check that pays you more than it should. Then they'll ask you to send the money to the car wrap vendor and keep the difference for yourself. Don't do that since these are fake checks, and they'll bounce.
How To Avoid Car Advertising Scams
Never share any personal info other than your name and car details which are basic requirements of legit car wrap companies.
Don't pay anything upfront: no legitimate car advertising company will ask you to pay wrapping or registration fees.
Stick to the list of trusted car wrap companies – Carvertise, Wrapify, and Nickelytics are the best choices for any driver.
Ways To Find Legitimate Car Wrap Advertising Companies
Pay attention to a couple of factors to make sure you'll never become a victim of a scam. These factors are:
Application Process: Any legitimate car wrap company has a strict application process. If a company doesn't ask you for your driving history and car model, take your driving abilities elsewhere.
No Application Fees: Again, no respected car advertising agency will ever ask you to pay an application fee.
Insurance Requirement: One way to relax that the company you want to work with is legit is that the company will require proof of car insurance coverage.
Car Wrap Charges: It goes without saying that the car advertising company should be the one to cover the cost of your car wrap.
Customer Service: Check if the car wrap company of your choice has contact details (an email address or phone number).
Other Legit Jobs You Might Like:
Alternative Ways To Make Money With Your Car
Nowadays, there are many ways to earn with your car. Other than the opportunity to get paid to advertise on your car, you can choose different money-making ideas that require a vehicle.
For instance, you can do deliveries for Amazon Flex or you can become a driver for DoorDash.
Next, you can deliver restaurant meals – Uber Eats is an excellent choice that will let you do that.
Or how about a combination of these methods? Yes, you can pick more than one option to earn money with your car.
Whatever you decide to do, the ways to create passive income with your car are many.
Get Paid To Advertise On Your Car – Frequently Asked Questions
Why Advertise On Your Car?
Quite frankly, there are many reasons why placing ads on your car is a good idea:
Joining a car advertising company will help you earn money for the driving you do anyway.
Let's not forget that wrapping your car with ads will pay you a decent amount of extra money you can use to lower your gas and car maintenance expenses.
How Much Money Can I Get For Putting Ads On My Car?
Each car wrap advertising company has a different application process, requirements, and pay rates.
Still, most car wrap advertising campaigns will pay you between $100-$500 a month.
Will Coca-Cola Pay You To Put A Sticker On Your Car?
Coca-Cola doesn't have a car wrap advertising program. If you see car wrap offers that seem to come from Coca-Cola, avoid them since they're scams.
My Closing
Do you enjoy the idea of being able to get paid to advertise on your car?
Which car advertising company seems the best fit for you?
And what questions do you have on today's topic?
Let me know in the comments, and we'll talk more about making money with your car.
More From Cash Embrace: