40 Games That Pay Real Money (Instant PayPal Cash Out)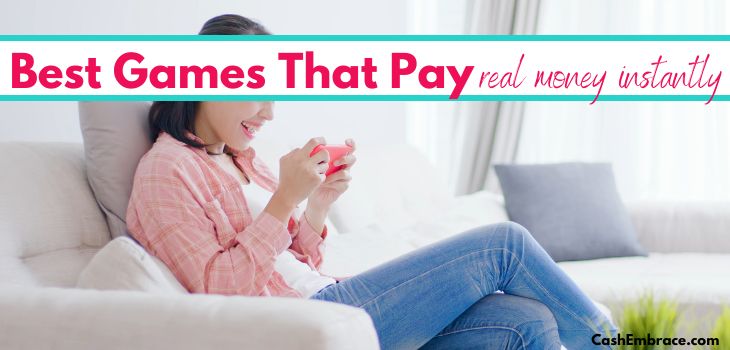 Who wouldn't mind playing games that pay real money?
I know I wouldn't – and I love devoting some of my free time to real money-earning games.
Say what you will, but playing games on your phone is fun – it takes the edge off, and it's an entertaining experience.
Most importantly, playing certain games will let you earn cash for real:
It might be hard to believe, but some games will send you free PayPal money.
And these are the games I'll introduce you to today, so let's get to it, shall we?
This post contains affiliate links – see my affiliate disclosure.
Recommended Read:
Best Games That Pay Real Money
1) Bingo Cash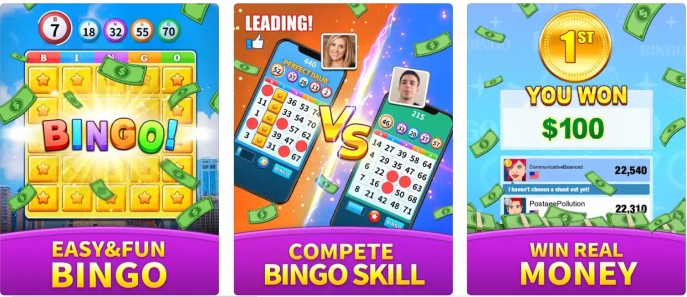 We all know how to play bingo. But what if you can take the whole bingo experience on your mobile and earn money that way?
Hopefully, you feel great about this idea because that's how Bingo Cash works:
Bingo Cash is a real-time bingo app to make money by playing against other players.
Once you start using Bingo Cash, the app will match you with other people with similar levels of skills and experience.
Each player receives the same board and boost during the game. As you can guess, the player who wins the game faster than anyone else wins it.
Currently, you can get the Bingo Cash app from the Apple Store – it will work on both iOs and Android.
2) Solitaire Cash
Next on my list of games that pay real money is Solitaire Cash.
Unlike Bingo Cash, Solitaire Cash is the kind of game you won't win if you rely on luck alone:
You must have impressive solitaire skills if you want to squeeze out real money from that game app.
Solitaire Cash will pit you against another player who exhibits similar skills as yours. By dealing you the same cards the game wants to see who will finish the round with more points.
In my experience, you finish a round of Solitaire Cash in about two to three minutes.
Expect to receive your earnings via PayPal. With that said, Solitaire Cash comes with daily gifts, bonuses, and amazing prizes for the most active players.
3) Blackout Bingo
Quite frankly, many people see Blackout Bingo as the top game to play if you want free money fast.
And I agree to a certain extent – Blackout Bingo will let you win your first piece of the money pie in exactly two minutes.
One can argue that Blackout Bingo is a better game app than Bingo Cash. After all, Blackout Bingo has better features.
Again, you'll compete against other players who will try to win the game with the same cards and balls as you.
Take advantage of everything Blackout Bingo has to offer as soon as you get the game from Apple Store.
4) Solitaire Cube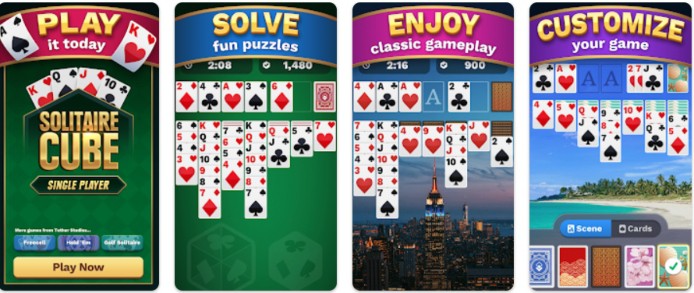 Another game that will let you test your solitaire skills and earn money for your abilities is Solitaire Cube.
To clarify, you can play Solitaire Cube in two ways – for fun or for money. If you ask me, go for the second option – it's no less fun than the first one!
A downside of Solitaire Cube is that you'll have to pay a $10 entry fee if you want to compete in tournaments.
Unfortunately, Solitaire Cube is not available for download everywhere – check if your location will allow you to use the game.
When you have enough points, you can redeem them for rewards.
5) Long Game
Generally, Long Game works a bit differently than the rest of the games that pay real money.
The Long Game will not only help you earn both money and cryptocurrencies while enjoying games:
It will also reward you for saving money through an online savings account.
So, you'll earn coins by saving money in Long Game, and later you'll use them to play fun games.
While you don't have to pay anything to get the Long Game, you'll need to deposit money into your saving account before you begin earning coins.
6) 21 Blitz
Are you familiar with Blackjack?
You better be if you want to get extra cash by playing 21 Blitz:
21 Blitz provides a fun experience for everyone who enjoys both Solitaire and Blackjack.
Currently, the game will let you play for free until you improve your skills.
As soon as your abilities are at a decent level, you can test them by playing for real money.
Assuming that you'll manage to earn cash from 21 Blitz, you can withdraw it via PayPal, Apple Pay, and Visa
7) Pool Payday
Pool Payday is one of the games that pay real money you should get if you love playing both pool and solitaire.
Basically, the trick to winning Pool Payday is to earn more points than your opponent.
Nowadays, Pool Payday will offer you cash and prizes – you can play the game against strangers or your loved ones.
Apple and Android users can download the game.
8) Mistplay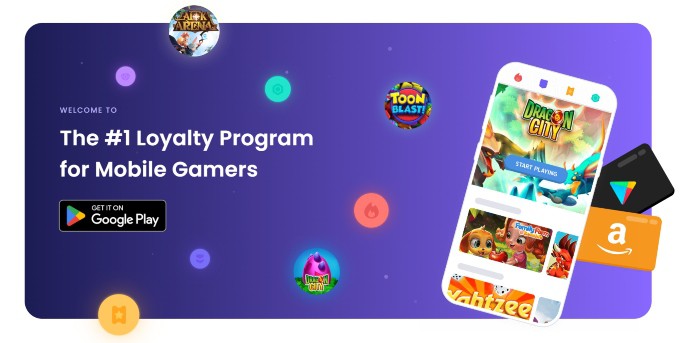 First and foremost, Mistplay has age requirements – you have to be at least 13 years old to be able to play this game.
Right now, Mistplay is available for Android users only, but that might change in the future.
Once you set up a profile in Mistplay, the app will begin recommending different games you may enjoy playing.
Mistplay will reward your gaming effort with units.
These units are redeemable – you can exchange them for Amazon gift cards and PayPal cash.
9) Bubble Cash
Among all games that pay real money, Bubble Cash is probably the most popular one.
Playing Bubble Cash is just as easy as it is fun:
All you'll need to do is match three bubbles with the same color until no bubbles are left.
However, if you want to make money with Bubble Cash, you'll have to enter competitions and they come with an entry fee.
10) Dominoes Gold
Dominoes Gold has nearly a five-star rating on App Store – that's how popular this game is.
Feel free to play Dominoes Gold on your own or against other players.
Some of the prizes you can win by playing the game are cars, watches, and free Amazon gift cards.
Of course, Dominoes Gold offers cash rewards to its players too – you can receive them via PayPal.
11) Swagbucks
Joining Swagbucks will allow you to earn money by doing different things.
For example, creating a Swagbucks account will help you make money by watching videos, completing small tasks, taking surveys, etc.
Anyone at least 13 years old can take advantage of everything Swagbucks has to offer to its members.
Currently, the minimum payout of Swagbucks is $3.
12) Fanduel Fantasy Sports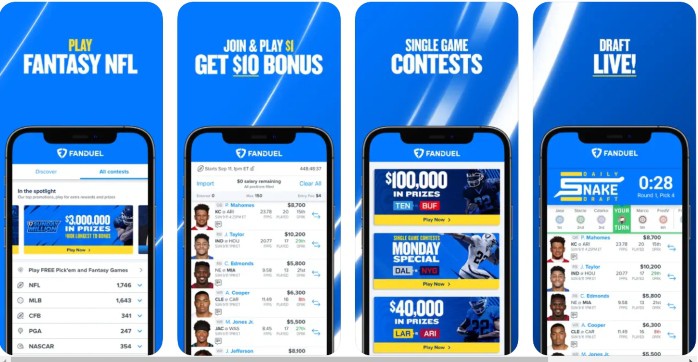 As you can guess, Fanduel Fantasy Sports is an app that will pay you to play sports games.
Both new and experienced players can participate in football, baseball, golf, and other tournaments.
I have to mention that playing in these tournaments will cost you an entry fee.
Millions of users don't mind paying that fee to have the chance to earn cash prizes.
13) West Game
To clarify, West Game is one of the games that pay real money you can use if you have an Inbox Dollars account.
In other words, you'll have to register at Inbox Dollars first if you want to earn by playing the West Game.
Doing so is worth the effort:
Nowadays, West Games users receive $60 once they complete level 17 of the game.
More Easy Ways To Earn:
14) Toluna
Toluna is a game app that is quite entertaining, in my opinion:
Players can win lotteries and spin a wheel daily while testing their luck.
Surveys are also available inside Toluna – the game rewards you with points you can redeem for PayPal cash.
15) Block Blitz
Block Blitz is a Tetris-style game.
Hopefully, you enjoy adjusting blocks for hours because that's what Block Blitz will pay you to do.
You'll have to play the game in the Pro League to have the chance to earn up to $1,000 in cash prizes.
16) Wealth Words
Wealth Words is one of the games that pay real money you can use to earn cash for solving word puzzles.
Available on iOs and Android, Wealth Words rewards the fastest of its users.
These days, the minimum withdrawal amount of the game is $20.
17) AppNana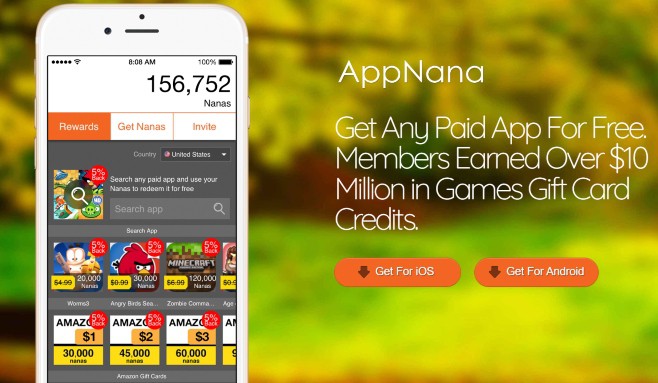 AppNana will pay you to watch videos and spend time playing games on your phone.
Each user earns points while completing different tasks.
Once you reach 30,000 points (nanas), you can redeem them for $1.
18) Kashkick
Kashkick is a platform you can join to earn money for completing other tasks than just playing games.
Unfortunately, only USA citizens can take advantage of everything Kashkick has to offer.
Withdraw your Kashkick earnings once they reach $5 into your PayPal account.
19) Quick Rewards
Quick Rewards pays people for plenty of tasks.
For instance, you can play games, watch videos, take surveys, and shop online to earn as a Quick Rewards user.
Some of the tasks will pay you around $1.
20) Cash Pirate Buzz
Cash Pirate Buzz will let you earn coins after you create an account on the platform.
Completing surveys, watching videos, and playing games are some of the earning activities you can do on the app.
2,500 Cash Pirate Buzz points will bring you around $2.50.
21) Spades Blitz
Spades Blitz is a game where you can't rely on pure luck – you'll need to have specific skills as well.
You can play the game on your own or in pairs.
Winning tournaments inside Spades Blitz will allow you to grab some very exciting cash prizes.
22) MyPoints
Basically, MyPoints is one of the most popular games that pay real money:
My recommendation would be to practice the game for free before you enter any of the tournaments.
With that said, the entry fee for a tournament is only $0.25.
23) Freecash
Freecash will give you the opportunity to earn money, crypto, and gift cards.
Answering surveys and playing games are some of the ways to use Freecash to your advantage.
Anyone can get the Freecash app without paying anything.
24) Bananatic
How do you feel about collecting bananas?
Actually, you won't be going after bananas (the fruit) – bananas are the name of the points Bananatic rewards you with for playing.
These points will become gift cards, Paysafe cards, and other rewards once you redeem them.
25) Big Buck Hunter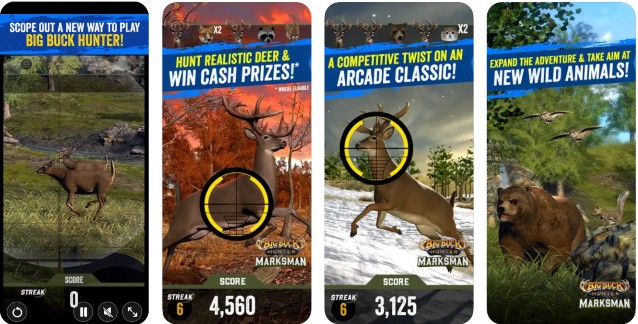 Quite frankly, winning a round of Big Buck Hunter is not that easy:
You'll need real hunting skills to be successful in this game.
With that said, completing a tournament of the Big Buck Hunter will result in getting different prizes.
26) iRazoo
iRazoo is a platform that will let you earn for completing different tasks.
Some of these tasks are taking surveys, watching videos, and playing games.
Each task you manage to complete will get you points you can redeem later in PayPal cash or Amazon gift cards.
27) Boodle
Next on my list of games that pay real money is Boodle.
Boodle is a game app that will allow you to earn gift cards.
At this time, Boodle is only available for Android users.
28) Flash Rewards
Another game app you can use to get gift cards is Flash Rewards.
This game offers many opportunities to earn points.
And you can always sell the gift cards you'll gain for cash online.
29) Yatzy Cash
Yatzy Cash is a game for those who enjoy rolling the dice.
The way to make money with this game app is by playing in tournaments.
Before you download the game, make sure that it's available in your area of residence.
30) Feature Points
Feature Points will pay you for doing surveys and playing games.
In addition, the game offers the possibility to win contests.
Most of the features the app has will work better on Android.
More Games That Pay Real Money Instantly
My Closing
Well, this is all I have for you on the subject of games that pay real money.
Sure, there must be more games that will let you earn cash for playing them.
I'll add new entries to this list in the future.
Until then, what do you think about these real money-earning apps?
Let me know in the comments section when you have a free second.
More Ideas From Cash Embrace You Might Like: