Best Online Data Entry Jobs (Without Registration Fees)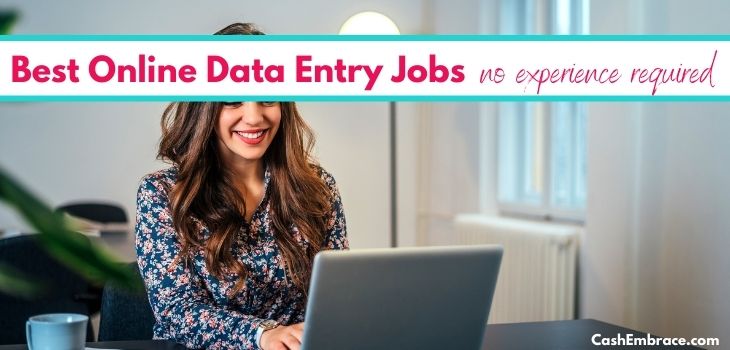 Anyone can manage to earn money doing online data entry jobs.
Absolutely anyone – there is nothing secretive about that.
Which is one of the reasons why remote data entry jobs are usually the first stop for people looking to expand their income.
If you're one of those people, you can put your research to a halt:
Today, I'll provide you with a list of legitimate data entry jobs you can start today.
We'll talk about what is data entry, what skills you need to handle it, and how much you will make doing data entry jobs online.
Plus, a few more details you'll need to know before you become a data entry clerk.
This post contains affiliate links, you can read my affiliate disclosure.
What Makes The Online Data Entry Jobs So Attractive?
In my personal opinion, a lot of things.
Earlier, when I said that anyone could do this kind of job, that's exactly what I meant.
But being open to the bigger part of the world's population is just one thing that makes the job so appealing.
What are the rest?
For starters, the companies that offer data entry jobs really don't care about a person's background.
It doesn't matter who you are or where you are coming from:
As long as you can complete your data entry tasks, they'll hire you.
Next, the remote data entry jobs will suit you if you're a student, stay-at-home mom, or somebody with a full-time job just aiming to increase your income.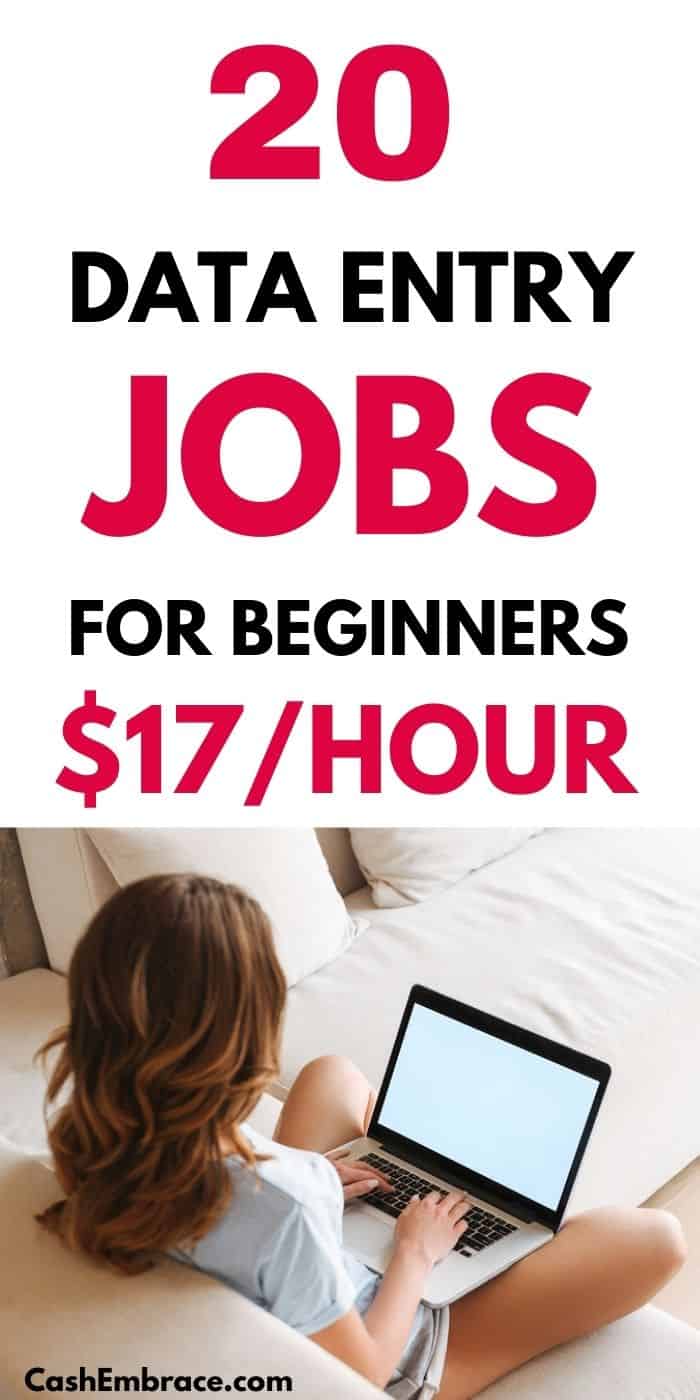 So, no matter what you've been doing up until now, you can always become a data entry worker.
Most importantly, you won't have to pay anything to get such a job.
Yes, we're talking about online data entry jobs – free registration.
By all means, that's a lot of advantages that would make you consider jumping into this new online career, correct?
What Is A Data Entry Job?
Since we've already established that data entry is a legitimate way to make money online, let's dig deeper:
Simply said, what a data entry job looks like is typing in data from one source to another.
The data you'll be working with can be letters, numbers, or both of them.
It all depends on the particular data entry job you're going to accept.
If you think about it, you're already doing data entry in your everyday life – even if you don't realize it at the time.
And that adds to why the online data entry jobs part-time are so popular.
Currently, this type of online job is the first choice for so many people because it doesn't require picking up the phone.
With that being said, not every opportunity that seems like a data entry job will turn out to be that.
Unfortunately, there are a lot of scams associated with the job.
You are not going to find even one of them on this page, though!
What Skills Do You Need To Be Able To Do Data Entry Jobs From Home?
While you don't need any previous experience in the field, there are a couple of qualities that are necessary for anyone interested in the job.
Here they are:
Quick at typing – that goes without saying.  After all, you'll be entering data.  Subsequently, the faster you can type, the better.  Keep in mind, learning how to use a keyboard's number pad will help you a lot.
Accuracy – this one is so important.  None of your efforts will matter a lot if the data you're entering is not accurate.
Fast at reading – it's a no-brainer, isn't it?  Since you'll be pulling data from a document or a spreadsheet, being a fast reader is a big advantage.
An eye for detail – that's the most essential one if you ask me.  We're talking about a data job, remember?
Now, most of the online data entry jobs are paying by a number of keystrokes.
Meaning, the greater your ability to do them correctly, the more money you'll make.
What Equipment Do You Need?
Nothing more than the basics actually.
To be ready to get started at the job, you'll need a PC/laptop, a smartphone (so you'll be reached quickly), and a reliable internet connection.
Plus, a very comfortable chair – especially if you plan to work for many hours.
Other than that, there is nothing else you're supposed to invest in to become a data entry clerk.
As I've already mentioned, I'll introduce you only to online data entry jobs without investment.
Where To Find Online Data Entry Jobs?
Before I go any further, an essential fact you need to be aware of:
Contrary to the popular belief, getting hired to do a data entry job is not as easy as it may seem.
And that's not just because of the popularity of the job.
No, it's because the remote data entry jobs are not always available.
That's why I mentioned earlier that it's a good idea to have your phone nearby, so you'll be the first to know when a job appears.
With that said, my advice is to register at Fiverr and UpWork as soon as possible.
These are the platforms most of the businesses go to first for workers – you don't want to be missing out on an opportunity, do you?
OK, now to the list of other companies that are offering remote data entry jobs:
1) DionData Solutions
There is a reason why I'm starting with DionData Solutions:
The company will train you to do the job more efficiently as soon as you're hired.
Yes, there is training provided and that makes DionData the perfect choice for absolute beginners.
Plus, they offer other work from home opportunities beside online data entry jobs.
2) Axion Data Entry Services
For starters, they are not always hiring.
However, you should submit your information so when there is a job available, you'll have a pretty good chance to grab it.
Axion Data Entry Services is one of the most well-respected companies in the field.
As such, they'll probably not hire you if you have zero data entry experience at the moment.
Also, the company is more about offering long-term projects instead of fast jobs – you may be required to pay a small fee to be considered for that.
3) Working Solutions
Heads up, this platform is open for workers worldwide!
Working Solutions is a great site on so many levels:
Firstly, they'll pay you per completed project.
Secondly, they're constantly looking to hire data entry workers as independent contractors.
Lastly, you can use them to find editing and call center jobs as well.
4) DataPlus+
Quite frankly, DataPlus+ is more than an interesting platform:
Aside from part-time data entry jobs home, you'll be able to find gigs that will require you to scan documents.
Many of the jobs available are from the legal field.
If any of you has experience in it, you'll appreciate DataPlus more than any other entry in this list!
Related: Make $50,000/Year Editing Court Documents Online
5) Xerox
Xerox gives an opportunity to all of its users for so much more than remote data entry jobs.
Not always hiring, though.
Still, if you're checking their official site regularly, you'll be able to get a data entry job from time to time.
In addition, Xerox is big on offering other virtual jobs, so make a mental note to visit the platform often.
6) ClickWorker
Let's see, what can we say about ClickWorker?
A worldwide company where you can find a variety of online jobs to keep you busy, including data entry jobs.
Some of the gigs available are about researching, translating, and writing.
The company pays per completed project – weekly, via PayPal.
7) ClickNwork
Similar to ClickWorker, this company is focused on providing research, writing, and data entry jobs.
To start working with ClickNwork, you'll have to register on their official site.
It's not a complicated process and once accepted, you can start earning as a data entry worker immediately.
8) The Smart Crowd 
Previously known as the Virtual Bee, the Smart Crowd is undoubtfully one of the most popular platforms offering data entry jobs online.
As long as you are 18-years old or older, you can get hired regardless of which country you're currently living in.
A daughter company of the giant Lionbridge, you need to register and go through an evaluation before you get hired.
Don't expect to earn a lot, though – the pay rate here is kind of low.
9) MicroWorkers
One more website that will allow you to get paid for much more than just data entry.
After signing up with MicroWorkers, you'll be able to find jobs in the data, transcription, and even image tagging field.
By all counts, it's a valuable platform to work with.
Payments are made via PayPal.
10) SpeakWrite
Now, SpeakWrite deserves a spot on the list of top 10 online data entry job sites in my opinion.
After all, this is one of the few platforms that can make you more than $3,500 per month.
On the downside, you'll have to pass a test before you're hired.
Unless you can show at least 90% accuracy on that test, they won't work with you.
Another disadvantage is that SpeakWrite is available only to people from the USA and Canada.
11) IndeedJobs
More often than not, IndeedJobs also happen to offer data entry jobs from home.
They work with plenty of businesses you may not expect to see here.
For example, one of them is DoorDash.
The thing about Indeed most people seem to forget is that it's a search engine.
So, use that to the best of your advantage when trying to find a job that will suit your needs.
12) Capital Typing
Capital Typing is much similar to most of the sites you already saw today.
Expect to find more than online data entry jobs:
Such as translation, writing, and customer support jobs.
On top of that, if you have any side business that can use some sort of service, look no further than Capital Typing – they are offering plenty of those.
13) Amazon Mechanical Turk
A hugely popular platform – and for a very good reason:
Amazon Mechanical Turk is rich in microtasks you can do in your spare time.
One of these tasks is data entry – researching, processing, and gathering data are some of the rest.
Don't expect to earn a fortune, though – it's not how it works with completing microtasks.
Related: How To Make $2,000/Month Doing Small Tasks
14) SigTrack
Generally, SigTrack is a pretty good company to work with.
It does offer all kinds of online jobs, not only data entry gigs.
And it pays via PayPal which is convenient.
However, SigTrack is open for USA residents only and that's a downside for sure.
15) Fiverr
Well, I said that earlier, and I'll say it again:
If I was looking for a data entry online job, I would definitely start with Fiverr.
Simply because the platform will allow you to kill many birds with a single stone.
Given the fact that Fiverr is a whole freelance marketplace, you can offer your skills not just in the data entry field, but anywhere else.
I mean, you can list any kind of skills you have under a single Fiverr profile.
Just think about how many different businesses will consider you by simply being on Fiverr!
More Online Data Entry Jobs Without Registration Fee
Honestly, the list I'm trying to provide you with today can go on for a very long time.
There is never a shortage of companies where you can find remote jobs in the data entry category.
Here are a few more to consider:
Virtual Vocations – an online job portal that specializes in offering telecommunication jobs, but you can find data entry gigs occasionally as well.  There is a free and paid registration option – I would stick with the free one!
Quicktate – if you're up to do voicemail messages, memos, and the likes, Quicktate might be the right place for you.  
TDEC– a company that offers data entry among other positions – image processing, seasonal mailroom, mortgage customer service, etc.
SMART Apartment Data – they are good, but they'll ask you for an in-person interview.  Unless you live in Texas, you'll have to travel to do that.
Birch Creek Communication – it wouldn't be my first choice, but you can look it up while deciding on a company to work with.
More Online Jobs You May Love:
Pros And Cons Of Doing Online Data Entry Jobs
Pros:
Beginner-friendly – you don't need any special skills or previous experience in the field to get hired as a data entry worker.
No investment – well, at least most of the companies won't ask you to pay a fee just to be able to register.
Flexible hours – you can decide when to work and how much to work.
Work from home – since this is one of the many online jobs currently available, you can do it in your PJs.
Open for residents from all over the world – the majority of companies on this list will hire you even if you don't live in the USA.
Cons:
Quite repetitive – it's a data entry after all.  How much variety can you expect?
Low pay-rate – doing online data entry jobs will not make you rich.  Think of you as more of a side income than anything else.
How Much Can You Make Doing Online Data Entry Jobs?
Now, to the most important question that I need to answer in today's article:
How well do the remote data entry jobs actually pay?
The exact amount of money you'll be able to earn depends on many factors.
For instance, how hard you're willing to work, how many hours you can afford to spend, how advanced your skills are, etc.
With that said, most of the online data entry jobs will pay you between $10-$17 per hour.
On average, be ready to cash in around $12-$15 per hour.
Want to earn much more than that?  Read my Free Guide to starting a business online!
My Closing
Since my article on the best online data entry jobs is coming to an end, I would like to offer you a final piece of advice:
In case you're serious about doing this kind of job, apply to as many sites as possible.
This way, you'll increase your chances of getting hired above anyone else.
Also, keep your eyes open for scams – always make sure that the company of your choice is a legitimate one.
Do you have any questions on this topic?
Let me know and I'll answer them to the best of my knowledge.