Best Online Data Entry Jobs (Without Registration Fees)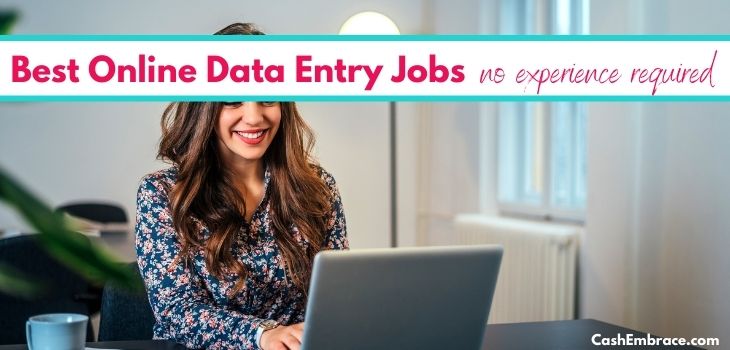 The online data entry jobs available these days have a certain appeal for millions of people worldwide:
Firstly, anyone can get data entry jobs from home without a registration fee – many sites constantly hire data entry workers.
Secondly, doing data entry work doesn't require a degree or previous experience – you can easily become a data entry clerk.
Lastly, data entry is a job that offers flexible working hours, which makes them suitable employment for students, stay-at-home moms, and everyone else who needs to earn extra money.
Today, I'll provide you with a list of legitimate data entry jobs you can start immediately.
This post contains affiliate links – you can read my affiliate disclosure.
Recommended Read:
What Is Data Entry?
Generally, a data entry job requires typing in data from one source to another. That data can be letters or numbers (or both of them).
As a data entry clerk, you'll input hard-copy information (sales receipts or survey responses) into a computer program.
Also, you'll most likely have to transcribe files and scan different documents.
Again, you don't need to go through professional training or have a degree to secure a data entry position:
A high school diploma, good typing skills, and decent knowledge of the English language are enough to get a data entry job.
With that said, some of you probably wonder who hires data entry clerks.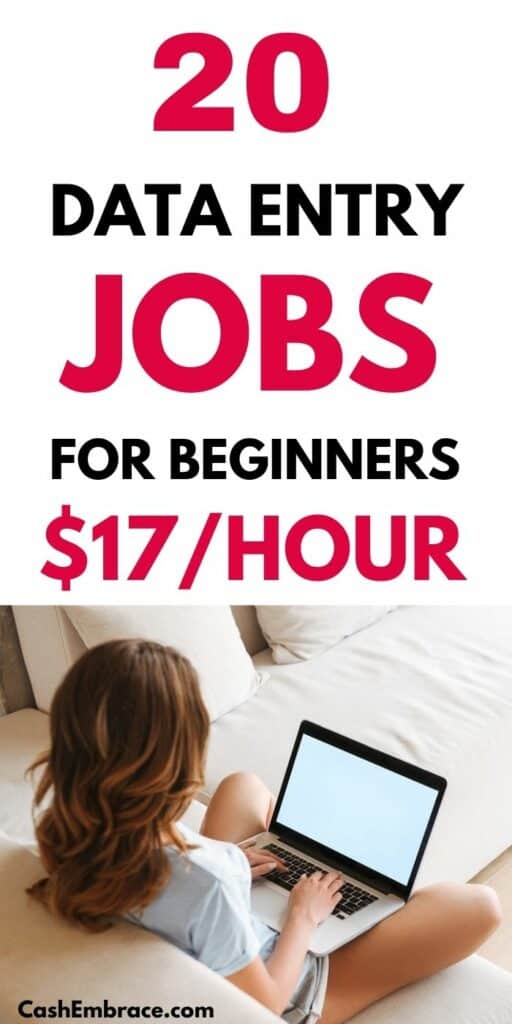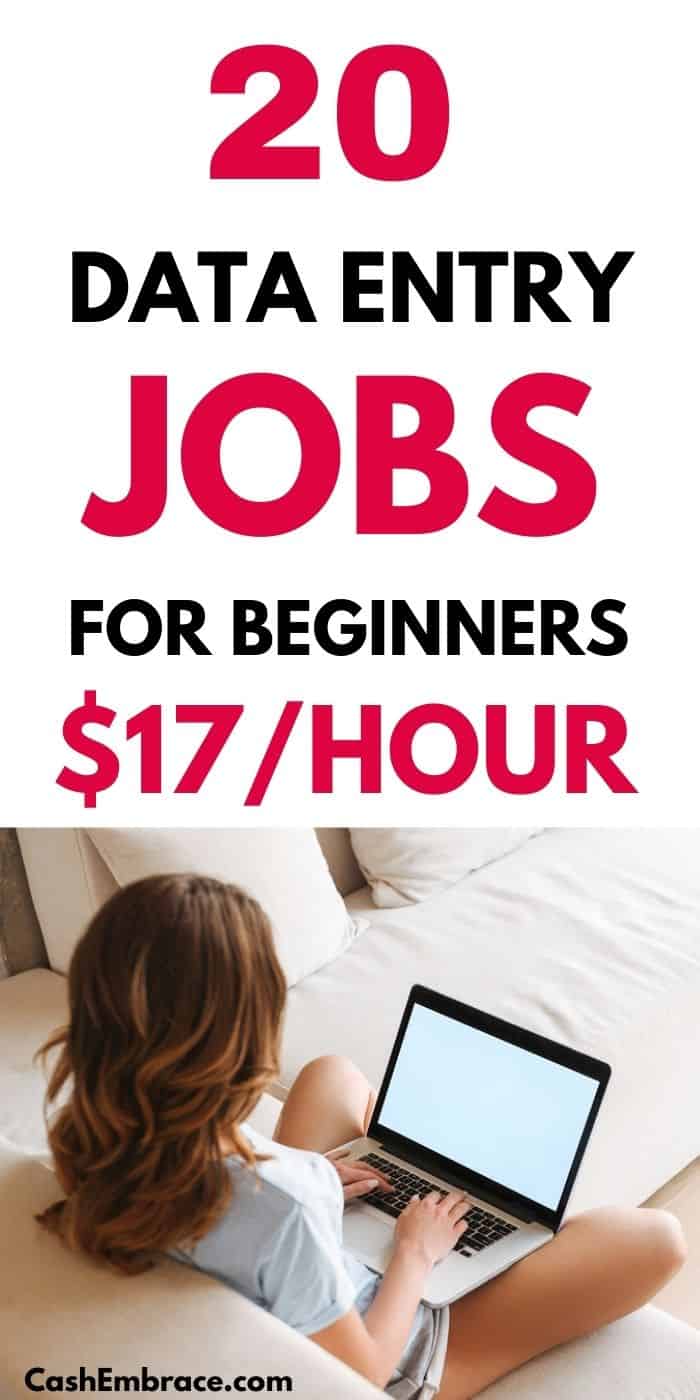 Quite frankly, different types of companies need data entry workers, such as law, medical, and sales organizations.
How Do Online Entry Data Jobs Work?
Even though you already have an idea about what an entry job entails, I want to get into the specifics of such employment.
By all means, entering data for one company might look different than if you're doing it for another.
Be that as it may, all data entry specialists go through a two-step process to complete their work tasks:
Receive raw data from one source (the source may be a stack of papers or in a web form)
Enter the data into a computer system (or another format) to process it
That data can be about audio/video files, images, text, order numbers, and even industry-specific codes.
Why Do Online Data Entry Work From Home?
There are many reasons why data entry is one of the best work-at-home jobs nowadays.
For example, most companies hiring data entry workers don't do background checks.
Next, organizations looking for data entry clerks hire people from all over the world, so the job is location-independent.
Besides, doing a remote data entry job is a good fit for anyone who wants a new side hustle or even a full-time job.
Whether you're still in college or taking care of your kids at home, data entry work will boost your monthly income.
Other Ideas To Make Money Online:
How Can I Do Online Data Entry Jobs With No Experience?
Nowadays, online data entry work is a job you can do from anywhere as long as you have access to the internet.
With that said, you'll need certain skills and equipment to start building a career as a data entry clerk.
Such as:
Fast Typing Skills: When your work is to enter data, the faster you type, the more money you'll make. Keep in mind that transcribing audio files (an example) is a job that pays per minute.
Accurate Typing: Learning to type accurately is essential for every data entry clerk. So, start practicing this skill if you think it can improve.
Quick Reading Skills: Considering you'll do a job that requires pulling data from a document or a spreadsheet, being a fast reader will work to your advantage.
An Eye For Detail: As you already know, data entry is all about accuracy. Having an eye for detail is a must!
Hardware: Assuming you'll do data entry from your home, think about getting a desktop computer with two monitors. Also, don't forget to get a keyboard with a number pad.
Software: Most companies hiring data entry workers use standard programs like Google Docs, Excel, or Microsoft Word.
Best Online Data Entry Jobs: Legitimate Work From Home Data Entry Jobs
Alright, let's not waste any more time:
I'm ready to show you the list of the top places that offer work-at-home data entry jobs.
To make this article an easy read, I'll separate the best online data entry jobs into relevant categories.
Here is what I have in mind:
Platforms That Offer Freelance Entry-Level Data Entry Jobs
Unfortunately, not every data entry job you'll stumble upon is worth your time.
In my opinion, the best way to ensure a data entry job is worth the effort is to look for one on a reputable online platform.
Becoming a member of such a platform requires creating a profile and setting it up to start receiving job alerts.
One of the best things about large platforms offering data entry jobs is that they list other online jobs, such as graphic design, social media management, and freelance writing positions.
These are some of the best online platforms for finding entry-level data entry jobs from home:
1) FlexJobs

By all means, FlexJobs is one of the most popular and well-respected platforms where you can find a variety of freelance jobs, including data entry work.
You don't have to worry about the legitimacy of the data entry jobs available on FlexJobs:
Each data entry position appears on the site after real people research it to ensure the work opportunity is legit.
Honestly, I was wondering whether I should include FlexJobs in my article:
After all, I promised you online data entry work without registration fees, and FlexJobs comes with a monthly subscription fee of $15.
Still, the data entry opportunities FlexJobs provide are too good, so they deserve a mention regardless of the monthly fee.
2) Upwork
Another popular online platform where you can use your data entry skills is Upwork.
Each week, Upwork lists over 50,000 available remote jobs.
However, not all of them include data entry positions.
It doesn't matter, though:
Take a few minutes to join the site, create a profile, and list your data entry skills for sale.
When Upwork posts data entry jobs, you want to have the best chance to score them.
More often than not, Upwork offers data entry jobs that hire workers on a project-by-project basis.
3) Fiverr
As you probably already know, Fiverr is an online marketplace where freelancers can list all kinds of skills for sale.
For example, you can offer article writing, proofreading, scoping, graphic design, voice-over, and data entry services.
To become a Fiverr seller, sign up and create a profile. Then build your Fiverr profile in a way that will do the selling for you.
One of the best ways to achieve that is to showcase multiple skills and your experience as a remote worker.
Typically, most sellers on Fiverr list basic packages that cost $5, and I suggest you do the same when you're starting on the site.
4) Microworkers
Next on my list of best online data entry jobs is Microworkers.
Basically, Microworkers is a website where you can find short tasks to complete for money.
Such tasks might be data entry, transcription, and even image tagging.
Anyone can get a data entry job through Microworkers – most positions available don't require specific skills or training.
Don't expect to earn a fortune doing jobs you find on the site:
Many of the listings are about completing micro-tasks, so they offer a pay rate of less than a dollar.
At the same time, these tasks will only take a couple of minutes of your time.
5) Amazon Mechanical Turk (MTurk)

MTurk is Amazon's marketplace that matches online workers with people who need different jobs completed.
It's a micro-tasks site – most of the jobs you'll find on MTurn take a few minutes and don't require tons of experience.
Expect to discover small jobs such as transcribing audio files or removing duplicate content from a database.
If you spend some time on MTurk, you'll find data entry jobs that will match your skills.
You won't earn a lot of money, though:
Amazon Turn is an online platform that offers low-paying jobs and micro-tasks.
More Micro-Task Jobs You Can Do To Earn Money:
6) SigTrack
First and foremost, SigTrack is a company that employs only USA citizens:
The platform hires individuals who will have to access voter registration data.
SigTrack has many remote positions available for those who live in the USA.
Freelance workers will get paid to check if signatures are from their relevant voters.
Keep in mind that this is a seasonal job – you can get it during the petition season.
Another thing I have to mention about the SigTrack jobs is that your income will increase when your working speed does as well.
You'll have to complete an accuracy test and go through a Skype call to prove your identity as a USA citizen to get a job on SigTrack.
7) Clickworker
Well, how do you feel about another micro-tasks platform that offers jobs, including data entry?
People who join Clickworker work as independent contractors.
They make money by doing different jobs, such as data entry, writing, researching, and translating.
While Clickworker is a suitable platform to earn some extra cash, the site is not the place to be if you're looking for a source of full-time income:
After all, most jobs available on Clickworker are micro-tasks you can complete fast.
8) Virtual Locations
Basically, Virtual Locations is more than a website – it's an online job portal specializing in telecommunication job listing.
Chances are, you might wonder why I'm giving Virtual Locations a spot on my list of best online data entry jobs.
I think this job portal deserves a place in my article because it will allow you to find data entry work as well.
Virtual Locations have two types of memberships – free and paid.
Stick with the free membership until you have the chance to get familiar with everything the platform has to offer.
9) IndeedJobs

IndeedJobs offers plenty of remote work opportunities for freelancers, including data entry.
The company works with many businesses you might not expect to see, such as DoorDash.
Many Indeed users fail to remember that the platform is a search engine.
So, keep that in mind and use it to find a data entry job that will suit your needs, skills, and abilities.
Companies That Offer Online Data Entry Jobs
Unfortunately, there aren't many companies that offer exclusively remote data entry positions.
With that said, here are some of the legitimate companies where you can find data entry work:
10) DionData Solutions
There is a reason why I'm starting with DionData Solutions:
DionData is a data management services company that completes tons of jobs for government agencies and corporations.
As soon as you get a job with DionData, the company will help you receive the training necessary to work on inventories and medical claims.
Each DionData worker has to be a USA citizen and be able to type fast.
11) Axion Data Entry Services
For starters, Axion Data Entry Services are not always hiring.
However, you should submit your information so that when a job is available, you'll have a chance to grab it.
Axion Data Entry Services is one of the most well-respected companies in the data entry field.
You'll need at least two years of experience and typing speed of 50 words per minute to get a job with the company.
12) Working Solutions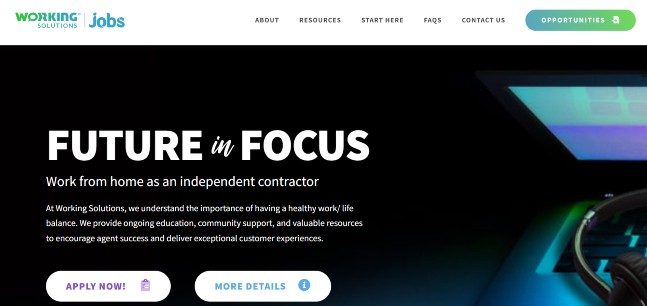 Heads up, this platform accepts workers who live in the USA or Canada.
Working Solutions is a great site for freelancers looking for high-paying online jobs:
Firstly, they'll pay you per project.
Secondly, they're constantly looking to hire data entry workers as independent contractors.
Lastly, you can use them to find editing and call center jobs.
Fill out an application, pass the test, receive approval, and start doing data entry for Working Solutions.
13) DataPlus+ (Part-Time Online Data Entry Jobs)
Quite frankly, DataPlus+ is more than a valuable platform:
Aside from part-time data entry jobs at home, you'll be able to find other working opportunities too:
DataPlus+ hires data entry clerks, administrative workers, MS Access database programmers, and document handling clerks.
Many of the jobs available are in the legal field.
Related: Make $50,000/Year Editing Court Documents Online
14) Xerox
I doubt any of you are unfamiliar with Xerox:
Xerox is one of the most popular companies selling photocopy machines and other print products.
What does Xerox do in an article about the best online data entry jobs?
Well, Xerox offers data entry gigs occasionally – upload your resume on the site's database, and you'll receive an email when a data entry job is available.
15) ClickNwork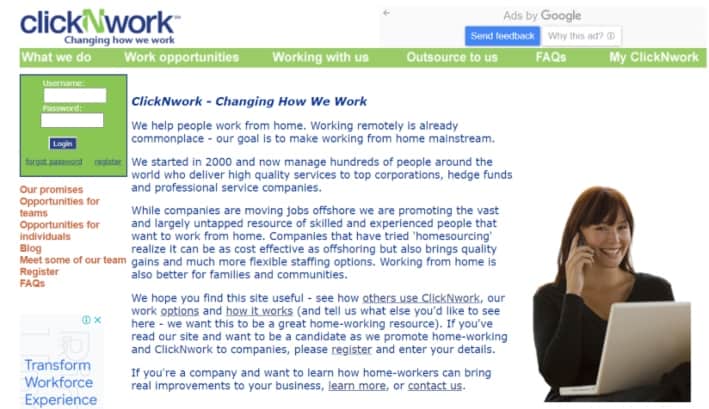 ClickNwork focuses on providing research, writing, and data entry jobs.
To start working with ClickNwork, you'll have to register on their official site.
You can begin earning as a data entry worker once you get approval.
16) The Smart Crowd 
Previously known as the Virtual Bee, the Smart Crowd is undoubtfully one of the most popular platforms offering data entry jobs online.
As long as you are 18 years old or older, you can get hired regardless of your geographical location.
A daughter company of the giant Lionbridge, The Smart Crowd will ask you to register and go through an evaluation process before you get a remote job.
17) TDEC (The Data Entry Company)
Currently, TDEC is the largest provider of business processing outsourcing services in the world.
That's why the company constantly hires remote data entry workers.
Send your application via email and wait for TDEC to contact you when a data entry position is available.
18) SpeakWrite
SpeakWrite is one of the few platforms where you can make more than $3,500 per month as a data entry clerk.
On the downside, you'll have to pass a test to get a data entry job.
They won't work with you unless you can show at least 90% accuracy on that test.
Another disadvantage is that SpeakWrite is available only to people from the USA and Canada.
19) Kendall Creek Communications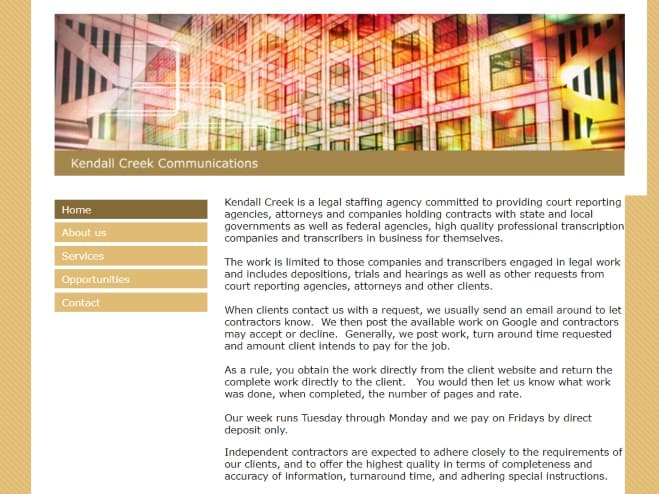 These days, Kendall Creek Communications hire remote workers to fill different positions, including data entry jobs.
If you choose to join the company, you'll work as an independent contractor.
Prepare to do data process, transcription, and market research jobs.
20) Birch Creek Communications
More often than not, Birch Creek Communications hire remote transcription workers.
Occasionally, the company offers data entry jobs too.
So, keep your eyes open and check the site regularly to find data entry listings.
21) Capital Typing
Capital Typing is much similar to most of the sites you see above.
Expect to find data entry jobs and other working opportunities, such as translation, writing, and customer support.
It's worth mentioning that if you have any side business that can use some service, look no further than Capital Typing – they offer plenty of those.
Can You Really Make Money From Data Entry?
According to Salary.com, data entry clerks in the USA earn between $32,500-$41,000 a year.
In other words, doing the best online data entry jobs will make you around $17 an hour.
Of course, most entry-level data entry positions won't make you that much.
Once you start typing fast and gain more experience as a data entry specialist, you'll be able to earn above the minimum hourly wage.
More Online Jobs That Pay Well:
How To Avoid Data Entry Scams?
Stay away from data entry jobs that promise thousands of dollars for barely any work: Basically, if a data entry job seems too good to be true, it most likely is.
Don't pay for any data entry equipment: A legit data entry job will provide you with everything necessary to do the assignments.
Avoid working for free: Some employers may ask you to do data entry for free or for very low wages at first. Even though they might call it a training period, there are no guarantees that you'll earn more after that period is over.
Pros And Cons Of Doing Online Data Entry Jobs
Pros:
Beginner-friendly – you don't need special skills or previous experience in the field to get hired as a data entry worker.
No investment – well, at least most of the companies won't ask you to pay a fee to be able to register.
Flexible hours – you can decide when and how much to work.
Work from home – since this is one of the many online jobs available, you can do it in your PJs.
Open for residents from all over the world – the majority of companies on this list will hire you even if you don't live in the USA.
Cons:
Quite repetitive – it's a data entry, after all.  How much variety can you expect?
Low pay rate – doing online data entry jobs will not make you rich.  Think of you as more of a side income than anything else.
Other Ways To Earn Money You Might Like:
Online Data Entry Jobs – Frequently Asked Questions
Which Are The Best Websites For Data Entry Jobs?
Here are some of the best websites to find a data entry job:
Upwork
Fiverr
Indeed
MTurk
What Data Entry Jobs Pay The Most?
These are the highest-paying data entry clerk jobs:
Data Processing Supervisor
Lead Data Entry Operator
Sales Order Specialist
Word Processor
How To Online Data Entry To Earn Money?
You can do data entry jobs to earn money by joining any of the following platforms:
FlexJobs
Microworkers
SigTrack
Virtual Locations
Working Solutions
Is Data Entry A Difficult Job?
By all means, data entry is not a difficult job.
With that said, doing data entry is a repetitive process that entails a lot of manual activity.
My Closing
Since my article on the best online data entry jobs is coming to an end, I would like to offer you a final piece of advice:
In case you're serious about doing this kind of job, apply to as many sites as possible.
This way, you'll increase your chances of getting data entry work above anyone else.
Also, keep your eyes open for scams – always make sure that the company of your choice is a legitimate one.
Do you have any questions on this topic?
Let me know, and I'll answer them to the best of my knowledge.
More Ideas From Cash Embrace You Might Like: