30 Best Ways To Earn Free PayPal Money Fast (In 2023)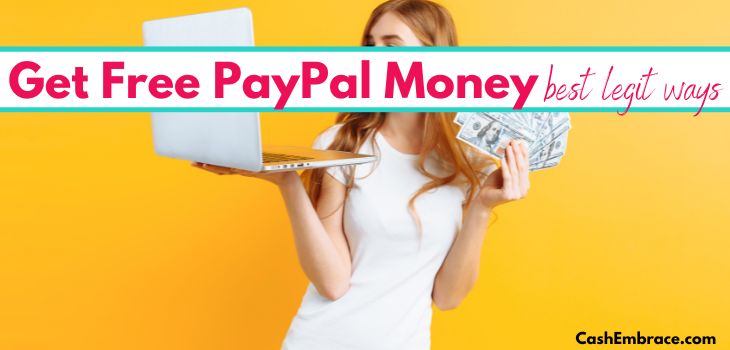 The opportunity to receive free PayPal money seems too good to be true. But it's a valid one:
Nowadays, many ways to get free PayPal cash exist, and the general population can take advantage of each of them.
Some of these ways include receiving cashback on purchases, getting gift cards without trying too hard, winning prize money, getting free cash for healthy activities, and many more.
In this article, I'll show you the best ways to get free money via a PayPal account. Each entry on this list is a legitimate opportunity – there is no need to worry about becoming prey to PayPal scams.
This post contains affiliate links – visit my affiliate disclosure for more info.
Recommended Read:
How To Earn Free PayPal Money
1) Join The PayPal Referral Program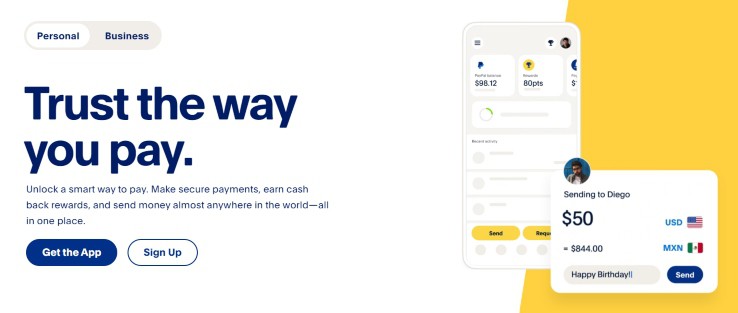 For those who don't know, PayPal has a referral program anyone can join. Referring friends and loved ones to PayPal is one of the easiest ways to get free cash fast.
Each person who becomes a PayPal user after creating a free account through your affiliate link will help you earn $10. So, if you refer 100 people to PayPal, you'll receive $1,000 as a commission.
Such an earning process is a well-known way to make money online (affiliate marketing). The better you become at affiliate marketing, the more money you'll be able to earn. If you don't know how to do affiliate marketing, join this free teaching platform to master the business model.
It's worth mentioning that PayPal has a referral program for its cryptocurrency portal now. You can withdraw your earnings from both affiliate programs anytime you want.
2) PayPal Honey
Aside from its referral program, PayPal provides another opportunity to get free money – I'm talking about PayPal Honey.
PayPal Honey is a shopping extension you can install on your laptop. Once you have PayPal Honey, it will automatically find, clip, and apply coupons on your behalf when you shop online.
You can use PayPal Honey to save money while shopping at over 30,000 sites. Your shopping activities will earn you points, which you can later redeem for free PayPal money.
Don't forget to link your PayPal account to PayPal Honey – you should connect these two to convert your points to cash.
3) Take Surveys To Earn With Survey Junkie
Survey Junkie is one of the highest-paying platforms where you can complete surveys for money. People who join Survey Junkie can earn by doing one activity – sharing their opinions while taking surveys.
Many companies and brands need a customer's feedback on products and services to improve them. That's where the money for taking surveys comes from, in case you're wondering!
Completing surveys will earn you points (each Survey Junkie point is worth $0.01). Once you accumulate 10,000 points, you can exchange them for $10.
Members can receive their earnings via PayPal or direct bank deposit. They can also choose to receive gift cards instead of money.
Related: Find Gift Card Exchange Kiosk Near You
4) Complete Money-Making Offers With Swagbucks
Not to play favorites, but Swagbucks is at the top of my list of ways to get free PayPal money. As far as I can see, it's the favorite earning platform of millions of other people.
Why shouldn't it be? Nowadays, Swagbucks provides tons of fun ways to make extra money. Popular tasks you can do on the site to earn are:
Swagbucks will reward your activities with points (SBs). Users can redeem their Swagbucks points for free money, coupons, gift cards, and promo codes.
Also, Swagbucks will give you money for signing up and creating an account. Get your instant $5 sign-up bonus when you build a Swagbucks account.
Take a couple of minutes to read my in-depth Swagbucks review to learn everything about the platform.
5) Join Branded Surveys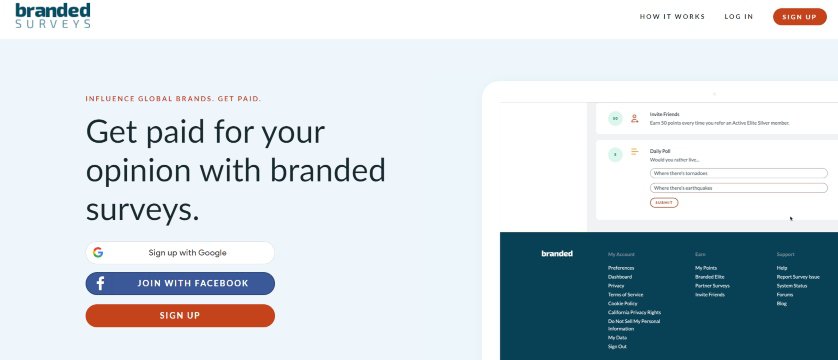 It doesn't take a genius to figure out what Branded Surveys is all about – the name is self-explanatory:
Branded Surveys is a free-to-join platform for worldwide members who want to earn extra money by completing surveys. You'll gain access to different surveys on many topics.
Each new Branded Surveys member receives 100 points as a bonus – you'll get 50 points for creating an account and another 50 once you complete your first survey.
Every 500 points will bring you $5 in free PayPal money.
6) Use InboxDollars To Earn Free Money
Similarly to Swagbucks, InboxDollars will pay you to complete short tasks online in your free time. For instance, the platform will reward you for playing games, taking surveys, watching videos, and shopping online.
The minimum withdrawal amount of InboxDollars is $30. Your earnings will arrive via PayPal once you request them.
InboxDollars gives $5 as a sign-up bonus to all its new members – the money will appear in your InboxDollars account once you create your profile.
While InboxDollars is not a tool you can use to become wealthy, the platform is worth the effort, considering its members can earn free PayPal money without trying hard.
7) MyPoints
I can give you many reasons to visit MyPoints and create an account:
Firstly, you'll receive $5 instantly as a sign-up bonus. Secondly, you can earn your next $5 by completing a few surveys in minutes.
In addition, MyPoints will pay you for watching videos, shopping online, and other activities. Once your balance reaches $25, you can withdraw the money via PayPal.
Each point you'll score on the platform equals $0.06.
8) Ipsos iSay
Ipsos iSay might not be the most popular survey site among users, but that doesn't make it less worthy of consideration.
Most surveys available on Ipsos will bring you 45 points (or more). Occasionally, you can find surveys that will earn you up to 150 points.
One Ipsos point equals $0.01. Considering the minimum withdrawal amount of Ipsos is $15, you'll need over 1,500 points to request your earnings.
Redeeming your Ipsos points for gift cards is the better option.
9) Complete Small Tasks With PrizeRebel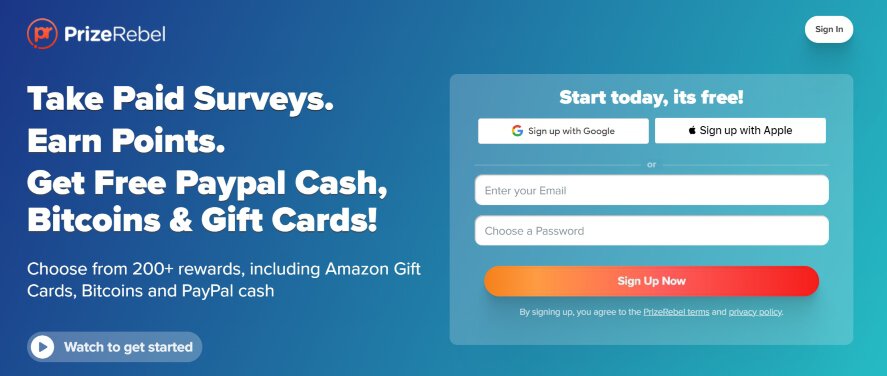 PrizeRebel is a website I use as often as I can. Why wouldn't I when the platform has so much to offer?
While you can read all about making money with PrizeRebel in my review, I'll give you the bullet points here:
Aside from surveys, PrizeRebel will let you earn for other activities like participating in contests and signing up for different offers.
Other advantages of using PrizeRebel are fast withdrawal time (less than 24 hours) and no minimum withdrawal amount. How great is that?
10) SurveyVoices
As the name suggests, SurveyVoices will make you money by taking surveys in your free time. However, SurvetVoices is more than a survey platform:
By all means, SurveyVoices is a market research company that pays its members to provide feedback on brands and products.
Long story short, joining SurveyVoices will allow you to earn by sharing your opinion and experience with different products.
According to the platform, users can earn over $300 a week – that's an excellent amount of side income for everyone who wants to make money from home.
11) Earn Cashback With Rakuten
Chances are, Rakuten is the best-known cashback site in the world. And that's not a coincidence:
Currently, Rakuten will offer you up to 40% cashback on your online shopping at nearly 3,000 retailers. Members can download the app, use the Rakuten website, or install the browser extension.
You'll need at least $5 in your Rakuten account before you're able to withdraw. Payments are available via PayPal or check.
Using Rakuten is the perfect example of making money without doing much. I mean – the site will pay you for online shopping you do anyway!
12) Receive Free PayPal Money With Dosh
Dosh is an app gaining more popularity as we speak, and I'm glad about that. After all, Dosh will allow you to earn and save money simultaneously.
So, once you get the Dosh app, your next step is to link a debit or credit card to the account. Then, use your cards at different stores and restaurants as you would normally do.
The minimum payout threshold of Dosh is $25. Feel free to request your earnings via PayPal or direct bank deposit. Users can donate their Doah balance to good causes if they choose to do so.
One of the downsides of using Dosh is that it takes around ten days for your cashback to appear in the account.
Related: Online Jobs That Will Pay You Daily
13) Install Honey To Earn Cashback On Your Purchases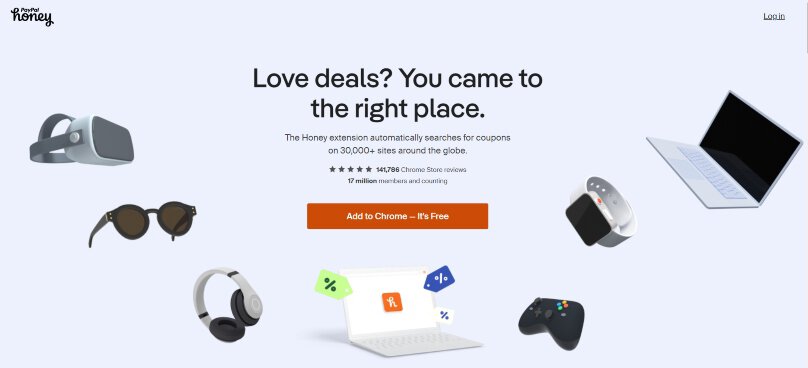 Honey is a free browser extension you can install to earn free PayPal money while shopping online. People using Honey will get cashback on their purchases at many online retailers.
But sending you cashback is not the only function of Honey:
Nowadays, the extension operates as an automatic coupon finder. Every time you arrive at the checkout, Honey will search its database and apply a relevant promo code to save you money.
Remember to do your online shopping through the extension – that's the only way to take advantage of everything Honey has to offer.
14) Ibotta
Ibotta is a cashback app you can rely on to reduce your grocery shopping expenses. Using Ibotta is easy:
Scan your receipts through Ibotta – the app will reward you with cashback where possible. An alternative way to benefit from Ibotta is linking your grocery rewards card to the app.
While Ibotta is available to iOS and Android users, you can only use the app if you live in the USA.
15) Earn Cashback With Shopkick
I'm sure most of you already know what Shopkick is. For those who don't, let me introduce you to the platform:
Shopkick is a popular platform that will reward you with points (kicks) for your online shopping activities at certain stores. The most common way to earn cashback with Shopkick is by scanning receipts.
Another way to make money with the app is by watching videos. Gift cards and PayPal money are the two available payment options.
Fun Ways To Earn Free PayPal Money
16) Participate In Skillz Cash Tournaments
Downloading apps that will pay you to play games is one of the most entertaining ways to increase your income. Such an app is Skillz.
Skillz is an umbrella app that lets you earn by playing games like Blackout Bingo and Solitaire Cube. These days, the app connects millions of players who compete against each other in daily tournaments.
Believe it or not, Skillz offers prizes of over $100 million.
17) Win PayPal Money While Playing Bingo Cash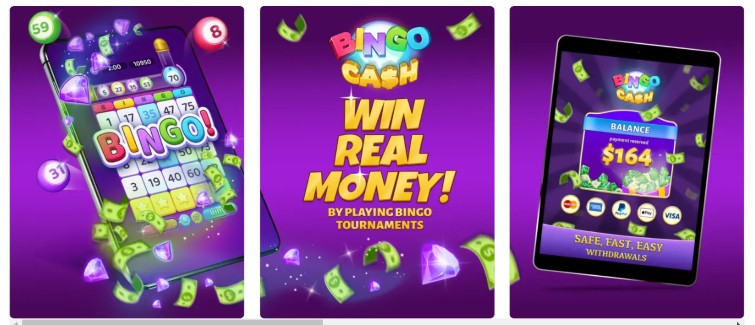 Speaking of legit apps that pay real money, I can't not mention Bingo Cash. Bingo Cash is one of the most popular games you can play to win cash prizes.
Anyone can download Bingo Cash without paying anything. Once you install the app, you can go against other players in the daily bingo games.
There is no need to worry if your bingo skills can improve – Bingo Cash will pair you with players that match your skill level.
18) Get Free PayPal Money From Mistplay
Another excellent game you can play to win free money is Mistplay. Mistplay is available to Android users.
Unlike most games you can play to earn money, Mistplay won't reward you for taking surveys or shopping online. Instead, the app is all about gaming:
Play the game as much as you like and offer feedback to earn points. Then, redeem your points for PayPal money.
19) Get Cashback With Cashyy
Cashyy is a mobile app you should download to get cashback on your purchases. Users earn points they can redeem for PayPal money or gift cards.
You can increase your Cashyy earnings by taking surveys and watching videos.
Create a free Cashhy account and start earning free money today!
20) Participate In Market Research With Prolific
Prolific is an online platform that launches market research every three minutes. At the time of writing, over 120,000 people participated in relevant research studies.
Similarly to Respondent, Prolific will pay you to take part in a specific market research study. Think of Profilic as a place for participation in paid online focus groups.
Participants earn over $6 an hour with Prolific.
See Also: How Respondent Will Earn You $300 Per Research Study
21) Test Apps And Websites With UserTesting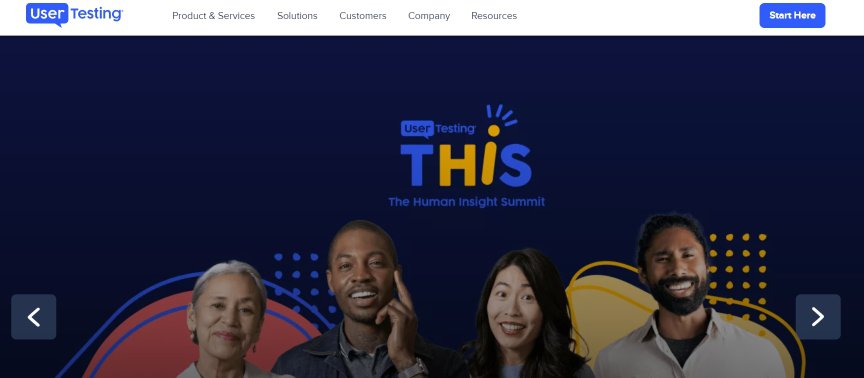 How do you feel about testing sites and apps to earn extra money? Hopefully, you like the idea because that's what UserTesting will allow you to do:
UserTesting is a global platform you can join to get paid to test mobile applications or websites. Each twenty minutes of testing will earn you $10.
Expect to receive your earnings via PayPal a week after you complete the testing process.
22) Complete Short Market Research Studies With 1Q App
First and foremost, the 1Q App offers not only short market research studies but super short questionnaires:
You can complete each study the app offers in less than a minute.
More importantly, the 1Q App doesn't have a minimum withdrawal threshold, so you can get your free PayPal money at any time.
23) Earn Rewards For Walking And Exercising
Do you know you can get free money for healthy activities like walking and exercising?
Nowadays, many apps will pay you to walk, run, etc.
All you need to do to benefit from these apps is download them, and they'll track your movements throughout the day.
24) Use Fetch Rewards
Fetch Rewards is a platform anyone can join to earn cashback on their purchases.
In short, Fetch Rewards will pay you each time you scan your receipts or watch videos on the platform.
Payments are available via PayPal or gift cards.
25) Field Agent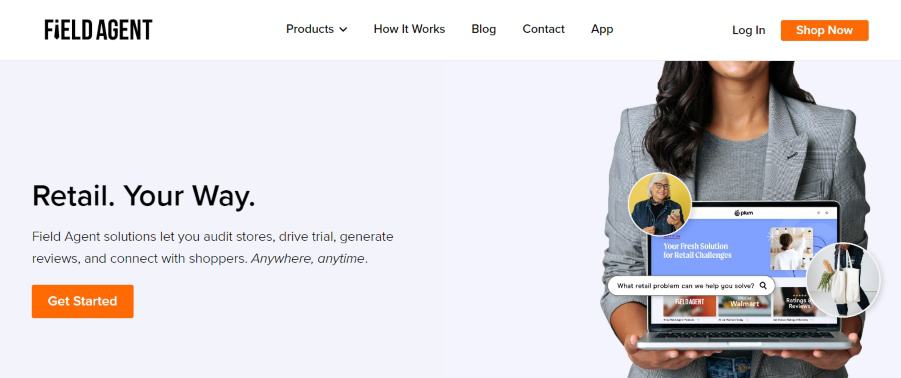 Field Agent is one of the most popular apps to earn money.
Some of the activities you should do through the app are mystery shopping, checking prices in stores, taking pictures of products, etc.
Unfortunately, Field Agent is available only in the USA.
Alternative Ways To Get Free PayPal Money
26) Use Upside To Get Cashback On Your Gas Bills
Upside is an app you can download to receive cashback at stores, restaurants, and many online retailers. But do you know the app will get you cashback on your gas bills?
To clarify, using Upside will bring you around $0.25 per gallon every time you fill up your vehicle. Don't forget to open the app and activate the offers that will allow you to reduce your gas bills.
27) GrabPoints
GrabPoints is a platform you can join to supplement your income by taking surveys and completing small tasks. Your earnings will come in the form of free PayPal money or gift cards.
Unfortunately, GrabPoints doesn't have many available tasks for completion and will only reward you with points equal to $0.01.
28) Download Paribus To Save Money
Paribus is a mobile app you can use to save money while shopping online. The app works simply:
So, Paribus will track your shopping activities and check the retailer's policies. Each time an item you bought has a decreased price, the app will ask for a refund.
29) Grindabuck
Grindabuck is a lesser-known platform where you can earn points for different activities, such as taking surveys and signing up for free trials.
Payments are available via PayPal or gift cards.
30) Drop App
Drop is an app that will help you purchase products at reduced prices.
Download the app, link your credit or debit card, shop online, and receive points. Then, redeem the points for PayPal cash (1,000 points will bring you $1).
More Legit Ways To Earn Money Fast:
Free PayPal Money FAQs
What Is PayPal Money Generator?
Above all, there is no such thing as a PayPal money generator (also known as a PayPal money adder).
If a platform claims to operate as a PayPal money generator, that platform is a scam that will try to steal all the money in your account.
Are There Free PayPal Money Scams?
Nowadays, many free PayPal money scams exist, and you should do your best to avoid all of them.
For instance, if a platform promises you lots of free PayPal cash, but you have to pay a fee to join it, that website is a scam.
What Is The Fastest Ways To Get Free PayPal Money?
The fastest way to receive free PayPal cash is by utilizing PayPal's referral program and PayPal's crypto affiliate program.
My Closing
Do you like this list of ways to get free PayPal money? I'll add other relevant opportunities to the article each time I update it.
Which opportunity to receive free PayPal cash do you enjoy the most?
Will you take advantage of one of the entries you see above, or do you plan to use at least a couple of them?
Let me know in the comments section if you want to keep the conversation going.
Similar Content From Cash Embrace You Might Like: