How To Sell Feet Pics And Make Money (Step-By-Step Guide)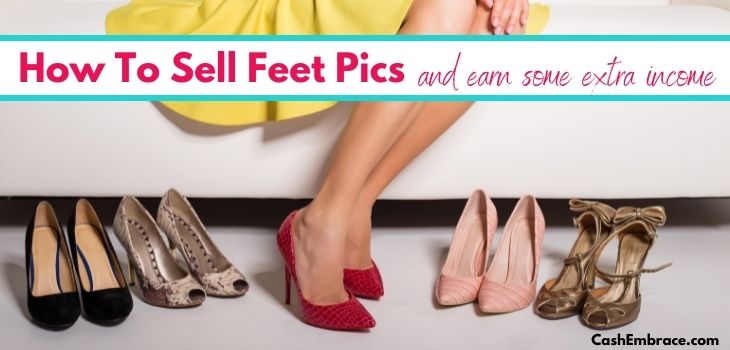 Researching how to sell feet pics online tells me that you're a person with imagination.
And that's a good thing when you're looking for ways to make extra money.
While selling random stuff for extra cash is the most obvious way to boost your income, selling pictures of your feet is a better money-making idea.
It pays much more!
Sure, the idea of offering feet pics for sale might seem a bit weird to you at first.
But is it really?
These days, there is a large market for all kinds of images online. The one that deals with feet photos is gaining more and more traction as we speak.
Today, I'll tell you everything there is to know about selling feet pics from home:
Who buys feet images?
Is selling foot pictures legal?
How to start selling feet pics online?
And how much money can you make from selling photos of your feet?
This post may contain affiliate links, see my affiliate disclosure.
Does Selling Feet Pics Really Work?
You bet it does!
Maybe I'm going a bit too fast, though, so let me answer the question properly:
It's a fact that a market for foot images exists. Many people may wonder – why there is such a market?
Basically, thousands of people are earning their living online by selling products. When buying feet pics to help them sell their goods make sense for their business, they're more than happy to do that.
Many business owners and marketers invest in high-quality foot images. However, they're not doing it from the goodness of their heart.
No, they make such an investment because they know it will help them profit.
The same goes for the people selling foot pictures.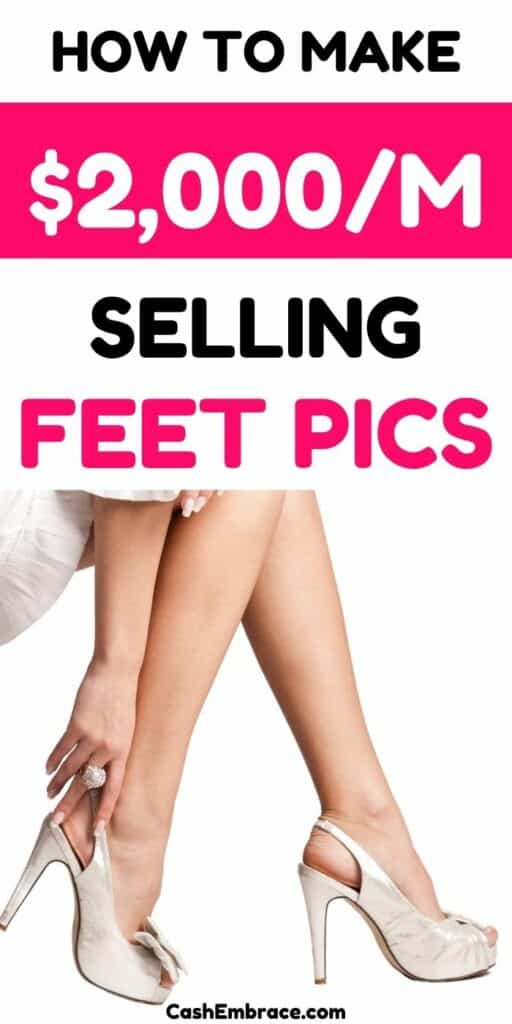 If you're thinking about doing it, you won't go for it just for the kick of it, right?
In other words, you'll sell feet pics to earn money, and the people that will buy them will do so for the same reason.
By all means, that's an easy way to make money online for both parties involved.
However, is it legitimate?
Related Articles:
Is Selling Feet Photos Legal?
Before I start showing you how to sell feet pics, let's find out if such activity will put you in trouble with the law.
To sum up, selling feet images is a legal way to earn money. At least, it is in most cases:
You can sell images of your feet if you're 18-years old or older. Feel free to do that if you own the rights to them.
Keep in mind – if you don't have the full rights to the pics, selling them is prohibited.
With that said, selling foot pictures is a popular legal activity, especially if you live in the USA, UK, Australia, Canada, and other countries.
Unless the country you live in has religious or other believes that makes selling feet phots against the law, you're good to go.
Who Buys Feet Pictures?
Since you'll be the one doing all the selling, let's see who will be doing all the buying, shall we?
As I've mentioned earlier, many business owners are investing in foot pics.
Any item for sale that has something to do with running, walking, or swimming will mostly need a foot pic.
Brands, modeling agencies, designers, advertisers, stock photo websites, and even bloggers will be your future customers.
But these are not the only people constantly looking to buy feet images.
Individuals who simply love looking at a foot photo are worth mentioning as well. Yes, I'm talking about people who have a foot fetish!
How Much Money Can You Make Selling Feet Pics Online?
Considering the only reason why you're thinking of going into this business is money, let's talk about how much you'll be able to earn:
First and foremost, there is no fixed price for a foot image. The pricing of your feet pictures depends on many factors.
Such as:
Picture quality – are your images of a good enough quality?
Are you selling photos or videos? Needless to say, the videos are selling for a higher price.
How creative is your work? Adding a bit of imagination when taking your image will work in your favor.
Is your photo attractive enough? Keeping your feet in perfect condition will allow you to ask for a higher price.
When you're just starting to sell feet pics online, expect to earn on the lower end since you don't have much experience yet.
Once you gain more expertise and attract a large audience, feel free to increase the price tag of your foot images.
With that said, most people selling feet pics online make anywhere between $5-$500 for a single photo.
Money-Making Ideas You May Like:
How To Sell Feet Pics Online And Make Extra Money
A fun fact that may interest you:
Did you know that there is an entire website – wikiFeet – that doesn't post anything other than foot pictures?
That's how popular the feet images are on the web!
With that said, let's take a look at all the ways you can sell feet pics from home.
Starting with selling on Social Media:
How To Sell Feet Pics On Instagram
Is anyone surprised that I'm starting with Instagram?
You shouldn't be – Instagram is the most visual platform, and you're about to start selling images, right?
To assure your sales on Instagram, you need to create a profile and fill it with stunning images.
Posting foot pictures in a variety of professional poses is the way to begin building your Instagram account, in my opinion.
Let your imagination run wild and come up with plenty of ideas that will showcase your feet images.
Here are a couple of tips and strategies that will help you sell foot pics on Instagram:
Write a bio that makes clear what you're offering to your future clients. Don't overdo it – an honest bio will help you build trust with potential customers. And trust is necessary if you want to make sales.
Post consistently – Instagram's algorithm will notice your effort and will boost the exposure of your profile. Uploading photos every day is recommended, especially in your early days.
Use relevant hashtags – leveraging the power of hashtags will help you reach a wider audience.
Connect with people – engaging with the right audience will increase your chances of selling your feet pics.
How To Sell Feet Pics On Facebook
It may be hard to believe, but Facebook is still relevant today. While not everyone is on Instagram, it's almost impossible to stumble upon a person without a Facebook account.
So, use this fact and take advantage of the audience of the largest social media platform that exists.
On Facebook, you can find groups that have an interest in just about everything. Yes, there are groups that focus solely on feet pictures as well.
Joining such groups will expand the reach of your foot images further.
Have a look at what you need to keep in mind before you do that:
Search for groups that will allow you to sell your feet pics – it won't take you a long time to find some.
Ask to join them – usually, you need the apptoval to become a member of a Facebook group. Once you are in, make sure that you don't overstep the rules.
Use safe transaction platforms for your payments – I would suggest going with PayPal since it's the most secure platform, in my opinion.
Pro Tip:
Since selling your feet photos anonymously online is the ideal option, don't use your personal Facebook account. Instead, create a Facebook Business Page where you'll post your images.
Related Read:
How To Sell Feet Pics On Twitter
Not a big fan of Twitter? Me neither, but it's not about you – it's about selling your photos on it!
You may wonder what your chances of success selling feet pics on Twitter are. After all, Twitter is anything but visual.
Be that as it may, the platform still has millions of monthly users. What's the harm of trying to turn them into customers?
Basically, this is what you can do to reach potential clients on Twitter:
Follow people who also sell feet pics – this will give you much-needed data. For example, you'll have access to their followers and the kind of content they're posting.
Send tweets consistently – do that every day if possible. Post hard to resist foot pictures that will get the attention of the users.
Use hashtags – adding hashtags like #feetpics or #sellingfeetpics will get your tweets in front of the eyes of the right people. Not to mention, it will grow your following fast.
Complete your Twitter account – add a link to your website or another business page where customers can buy your feet images.
How To Sell Feet Pics On TikTok
We all know that TikTok is the fastest growing Social Media platform today. It doesn't make sense not to try to sell your foot photos there, does it?
Start by creating short videos – that's the type of content you need to gain exposure on TikTok.
Tips and ideas to help you find customers on TikTok:
Add a link to your TikTok account – make sure the people watching your videos know where they can make a purchase.
Upload a new video every day in the beginning – that will send signals to the algorithm that you're a consistent creator. Do I have to mention how much this matters for reaching more users?
Find out what is already performing well – use the search bar to see what feet videos have the biggest numbers. You never know what will inspire you to create a video that may go viral.
Don't show your face if you're camera shy – keep the focus on your feet since they create the product you're selling.
How To Sell Feet Pics On Snapchat
Similar to TikTok, Snapchat is a platform that allows users to upload short videos. The main difference here is that Snapchat lets people send those videos to each other.
Even more, you can send more than videos on the platform – texts and images are allowed as well.
Things you need to know before you start selling feet photos on Snapchat:
You can send targeted messages on Snapchat – this feature alone will help your photos reach the right audience and increase the number of your followers.
Messages disappear after viewing – that is good news since the feature protects your work from being stolen. Usually, the time limit is 24 hours, but you can set a custom one.
Create a Premium Snapchat account – such an account will allow you to charge monthly fees to users who want to access your content. Feel free to charge potential clients with fees between $5-$50. Having a premium account on Snapchat will give you the opportunity to earn money from your fans.
How To Sell Feet Pics With A Website
Quite frankly, selling pictures of your feet on your own blog is probably the best option.
Launching a blog about overall foot care will give you all the freedom and the right to make any creative decisions as you see fit.
Bear in mind – maintaining a successful blog most likely will turn out to be more than just a side hustle. If you do it right, it will become a source of full-time income.
How do you make money from having a foot care-centered website?
Firstly, you have to write content that covers all the different ways people should take care of their feet.
Secondly, you'll need to drive traffic to your pages.
Ultimately, you'll monetize your blog's content – you can use affiliate marketing, displaying ads, sponsored posts, etc.
To launch such a blog today, you have to start with getting a professional web hosting service. I highly recommend BigScoot – the company's plans are more than affordable, and you'll secure the best customer support available currently.
The Best Websites Where You Can Sell Your Feet Pictures To Earn Money
Now that you know how to sell feet pics on Social Media, let's talk about the online platforms that will pay well for your images.
These days, there are a few websites that exist for one reason only – offering foot pictures to a worldwide audience.
These sites will compensate you nicely, and I suggest going through them one by one:
1) Instafeet
Basically, Instafeet is the most popular website that buys foot images, from what I can see.
The site will allow you to earn money once you provide it with high-quality feet pictures.
How to start using Instafeet:
Sign up to create an account – you'll need to submit an application form and wait for the approval. It may take up to 2-3 weeks until you hear back. Not everyone gets approval, so read the rules to make sure that you're doing everything right from the start.
Build up your profile – once you're in, take some time to create a strong profile. Set up your prices – most users charge $10 per photo, and I think that's a great fee you can begin with.
Start posting content – I suggest you post anything between 5-10 feet pics at first.
Receive your uniques link – once you have a bit of presence on Instafeet, you'll get your own link.
Promote the link to your profile – Social Media is a great place to promote your link and gain more exposure.
To clarify, Instafeet will keep 10% of your earnings as a fee. Payments go out on the 1st and the 15th of every month.
2) Feet Finder
Chances are, you're already familiar with this platform.
One may argue that Feet Finder even beats Instafeet in the popularity contest.
Right now, Feet Finder is one of the safest online places where you can sell your feet pictures – the site enjoys high ratings online.
Those of you who are big on Twitter shouldn't think twice about joining it – Feet Finder has a large following in this social network.
How to start using Feet Finder:
Create an account and verify your identity.
Post feet pictures or videos.
Buyers will request to purchase the photos they like.
The clients will submit their payments, and you'll earn money.
Feet Finder will not allow you to register unless you are 18-years old or older. Expect the site to cut a 20% commission from your earnings as a fee.
3) Foap
Honestly, Foap is not my favorite site to sell feet pics.
While it accepts all kinds of images, Foap will take away 50% of your earnings as a fee.
If that doesn't bother you, register today and start uploading your photos.
Your work will reach thousands of potential buyers, so you might have a chance to get it in front of the right people.
Many brands, agencies, and other companies are using Foap, so you never know!
4) Feetify
Relatively new, Feetify is another online platform where you can sell your feet pics.
Working with it is quite simple:
Sign up to create an account, fill your profile, and start uploading your photos.
On the downside, Feetify will charge you a monthly subscription fee for using its platform.
But on the upside, it will let you interact with potential buyers and build strong relationships with them.
Whether Feetify is worth your time or not, it's a decision you'll have to make for yourself.
5) Etsy
Let me tell you – if you still think of Etsy as a suitable place to only sell handmade jewelry – you got it all wrong!
Etsy is a place where you can start selling pretty much anything.
And that includes pictures of your feet!
As far as I know, there are sellers on Etsy that offer foot images as a package (5-10 photos). Feel free to use the platform to do the same.
Or you can take advantage of it in a slightly different way:
How do you feel about selling not just your feet pics but items that look great on them?
For example, you can begin offering toe rings if that is something you can manage creating.
Furthermore, you can turn your pics into digital products – that's a nice way to expand their income potential, isn't it?
Currently, Etsy charges $0.20 as a fee per listing item.
Related: 50 Crafts You Can Make And Sell Online
6) Zazzle
Zazzle is another online platform where you can sell feet pics to make money.
The way it works is a bit different, though:
Since Zazzle allows creators to make products, you'll use your foot images to place them on items like pillows, T-shirts, mugs, etc.
If you're a creative person, none of that will be a challenge you can't handle.
In my opinion, giving Zazzle a try is worth the time and the effort.
Other Places Where You Can Sell Feet Pics
I know – the list of websites paying for foot images is getting longer and longer.
But that's a good thing since it gives you more opportunities to make money from your photos.
With that said, here are a few more online platforms buying feet pictures:
Stock Photography Websites – plenty of stock photo sites will pay you well for your images. Do your research and start uploading your work.
Craigslist – you'll have to create ads if you want to sell your foot pics on Craigslist. Considering the website has over 50 million users, investing in ads to make more sales is not a bad idea.
Reddit – posting on Reddit will result in either viral content or losing rankings thanks to the downvotes. You never know what might happen unless you try.
Dollar Feet – I like this platform a lot because it lets users buy photos directly from you. Keep in mind – they won't accept you unless you show your face.
Tips And Ideas To Help You Sell More Feet Photos
Now that you know how to sell feet pics, let's talk about strategies you should use to increase your sales.
While there are many things you can do to make more money, I'll direct your attention to tricks that work with no-fail:
Take A Good Care Of Your Feet – that advice should be one of those things that go without saying. Still, I feel like it's important to mention it. The better your feet look, the bigger your chance of selling the images.
Use Only High-Quality Photos – speaking of images, yours will not succeed if they're not of the finest quality. Decent lighting is essential here, so you might want to invest in tools that will help you achieve it.
Practice Different Poses – you won't sell tons of photos if each looks exactly the same as the previous one. Research different poses and add your imagination while you work on your images.
Watermark Your Images – stealing artwork happens more often than you think. So, protect your photos from free downloads by adding a watermark.
How To Sell Feet Pics To Make Money – Frequently Askes Questions
Can You Sell Foot Images Legally? – Yes, you can if you're 18-years old or older. Check if such an activity is legal in the county you currently reside.
Where Can I Sell My Feet Pics In America? – You can sell your foot pictures on online platforms, stock photography websites, and on your own blog.
How Much Money Can You Make Selling Feet Pictures Online? – It depends, but expect to earn up to $100 per photo.
Will My Feet Pics Sell If They're Ugly? – They might, since different people like different products. But offering better-looking foot images will give you a bigger chance for success.
Do You Have To Pay Taxes When Selling Feet Pics? – Considering the income you'll make from selling your artwork is a business income, paying taxes is unavoidable.
My Closing
Well, this is all I have about the topic of how to sell feet pics to earn extra money.
Selling foot images to earn online is such a huge subject that I'll add more information to this article later on.
Now, what do you think about this money-making idea?
Are you planning to start selling foot pics too?
Let me know in the comments section below!
More Blog Posts You Might Love: