70 Short Task Sites To Make Extra Money From Home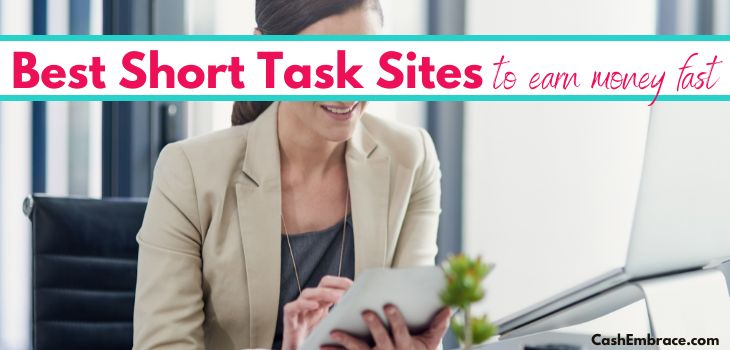 I don't have to be the one to tell you that the gig economy is on the rise these days. As a result, joining short task sites to increase your income is more popular than ever.
A short task site offers a virtual or physical job that requires little time and effort on your part. Such sites (also known as micro job sites) are perfect for people who want to start a well-paying side hustle or money-making hobby.
If you decide to join a short-task site, you'll complete simple online tasks (or offline) without having to quit your nine-to-five job.
In this article, you'll become familiar with over 70 small task websites you can join to make money from home.
This post contains affiliate links – read my affiliate disclosure.
Recommended Read:
Best Small Task Sites To Make Money
1) Fiverr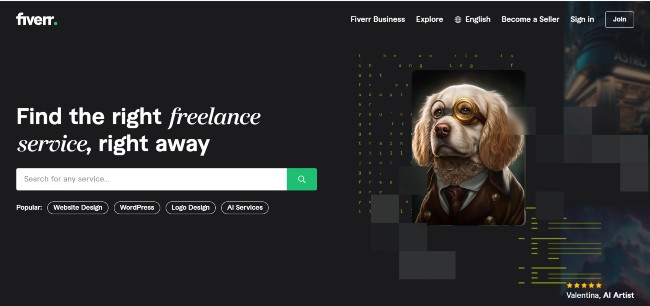 Fiverr is a well-known and reputable online platform where you can offer to complete different tasks for people. In other words, Fiverr is a website to list services for sale.
For instance, you can offer voice-over, proofreading, graphic design, and other services on Fiverr. Creating a Fiverr account is free – you'll receive your earnings via PayPal.
2) Swagbucks
Swagbucks is one of the most popular platforms for finding online task jobs. Once you join Swagbucks, you'll earn points (SBs) for watching videos, playing games, surfing the web, and other activities.
Each new Swagbucks user receives a sign-up bonus of $5. Increase your Swagbucks earnings by referring friends and family to the website.
3) Amazon Mechanical Turk (MTurk)
Generally speaking, Amazon MTurk is one of the best places to do small tasks for money online. MTurk members earn cash by completing HIT (Human Intelligence Tasks).
Data entry, transcription, posting ads, and sorting images out are jobs you can do on MTurk. While MTurk doesn't pay much, the site is a perfect place to find daily tasks and earn money.
Related: How To Make Money On Amazon
4) Just Answer
Just Answer is one of the small task sites that offer cash in exchange for answers. Currently, Just Answer has over 100 categories you can choose from to provide feedback for money.
Get your Just Answer earnings via PayPal. A $50 Amazon Gift Card will be your reward for each person you refer to Just Answer.
5) InboxDollars
Most people know InboxDollars as an online survey platform. But InboxDollars offer other ways to earn, such as playing games and online shopping.
Besides, InboxDollars is a site where you can sign-up and get money immediately – you'll receive $5 just for creating an InboxDollars account. Complete online task jobs on InboxDollars and withdraw your earning as soon as they reach $30.
6) Survey Junkie
As the name suggests, Survey Junkie will pay you for doing surveys on your own time. Nowadays, each survey you complete on the platform will earn you between $0.5-$3.
You'll need at least $5 in your Survey Junkie account before you can withdraw. Survey Junkie pays via PayPal or gift cards.
7) LifePoints
LifePoints is also a platform you can join to make money by taking surveys. Assuming you'll manage to secure high-paying surveys on LifePoints, your hourly pay rate will be between $5-$10.
Twenty-five points on LifePoints will bring you $1 in earnings. Other than surveys, LifePoints offers the opportunity to earn by product testing.
8) MyPoints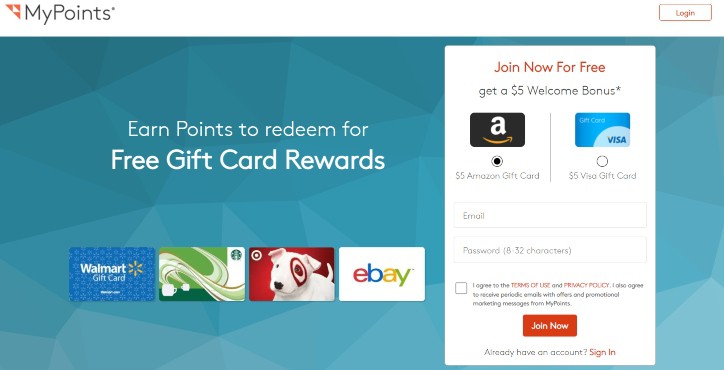 MyPoints is one of the most popular cashback sites in the world. So, you can use the platform to receive cashback on your online purchases.
Register at MyPoints, and receive a $5 welcome bonus. Feel free to take surveys, play games, and shop online to win more points.
9) Panda Research
Panda Research lets its members do different small tasks for money online. Some of them are taking surveys, referring friends, and participating in giveaways.
It might be hard to believe, but Panda Research also offers email reading jobs that will make you up to $25. Payments are available via PayPal on the 1st and 15th of every month.
10) KashKick
Chances are, having KashKick on a list of short task sites to use might surprise some of you. After all, most people know KashKick as an online survey panel.
Be that as it may, KashKick will now offer you the chance to make money by doing different tasks, such as watching videos and answering polls. The platform is relatively new but constantly takes steps toward expansion.
11) ShopKick
I think it's time to cover the first complete task and earn money app on this list. ShopKick happens to be such an app.
Downloading the ShopKick app on your phone will allow you to earn cashback on your shopping. Each new ShopKick user receives 250 kick bonus points upon sign-up.
12) Offer Nation
Offer Nation is an excellent place for people searching for online tasks that pay daily. Up until now, Offer Nation has paid over $1 million to its members.
Aside from taking surveys, Offer Nation will help you earn passive income through its referral program. You can cash out as soon as you earn your first dollar, and you'll get your earnings in less than ten hours.
Fast Money-Making Ideas:
13) Gift Hunter Club
Another online platform that will pay you for completing small daily tasks is Gift Hunter Club. As a Gift Hunter Club member, you'll earn points that you can later redeem for gift cards.
Refer friends, watch videos, take surveys, and even listen to the radio as a Gift Hunter Club user. Check the rest of the ways to earn on the site when you have a second.
14) Survey Club
Survey Club is probably your best option if you want to participate in local research studies. Sure, the site offers online surveys as well, but the local studies are the ones that pay more quite well.
Of course, taking part in a local research study requires going to a physical location. But Survey Club will make it worth your while!
15) GiftHulk
Next on my list of best short-task sites is GiftHulk. GiftHulk will pay you for fun activities – taking polls, watching videos, and surveys.
Another way to earn on GiftHulk is by referring people to the platform. Overall, GiftHulk never ceases to shower you with online money-making opportunities.
16) HireTalents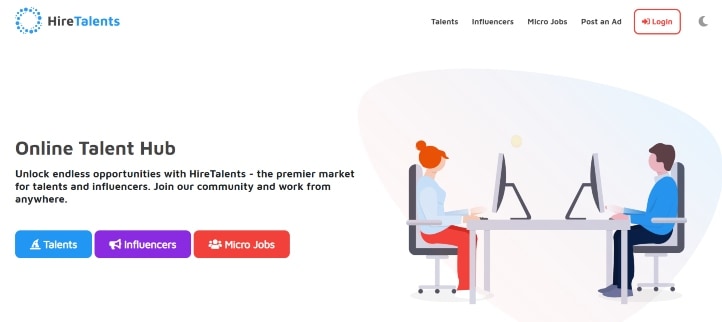 HireTalents reminds me of Amazon MTurk – the site constantly offers tons of micro tasks you can complete for money.
With that said, don't expect to become rich working for HireTalents – most jobs don't pay much. Still, the site is relatively new, so you won't have to fight for available micro-jobs.
17) MySoapBox
MySoapBox is a website that pays its users for different tasks. For example, you'll earn money by taking surveys and referring friends.
Payouts are available via PayPal and gift cards – the minimum withdrawal amount is $25.
18) CashCrate
Believe it or not, some of the online task jobs you'll find on CashCrate will pay you up to $30. Plus, the site will give you $1 just for creating an account.
Many CashCrate microtasks often pay cents, but you can find some lucrative offers too. Shop online, watch videos, take surveys, and do other tasks to earn money on CashCrate.
Related: 13 Ways To Watch Netflix For Money
19) Earnably
Nowadays, Earnably will give you access to over 1,000 instant rewards. Even better, Earnably has some of the highest pay rates among the short task sites.
Earnably will pay you for listening to the radio, watching videos, and completing surveys. Their main focus is getting users to download mobile apps.
20) Get-Paid
As the name suggests, Get-Paid is in the business of paying people. You can make money by clicking on ads, completing free trial offers, and other activities.
Get-Paid has excellent reviews and thousands of other members. Join the site to be able to do small tasks for money online.
21) ClickNwork
ClickNwork is a very popular online platform among users worldwide. Currently, the site provides plenty of work-at-home jobs.
Anyone can find something to do for money on ClickNwork – data entry, translation, writing, and even photography jobs are available on the website.
22) TaskRabbit
I doubt TaskRabbit needs a formal introduction – TaskRabbit is one of the most popular short-task sites. Working with TaskRabbit will help you monetize different skills, such as assembling furniture and painting houses.
Keep in mind that most of the available tasks you can get through TaskRabbit will require you to visit a physical location. Learn all there is to know about TaskRabbit here.
23) Nielsen Computer And Mobile Panel

Do you want to earn passive income? I'm sure you do, and that's what Nielsen Computer and Mobile Panel will allow you to do:
Nielsen will pay you for installing the app and letting it collect data about your daily activities. Expect to earn $50 per year with Nielsen without doing anything at all.
Related: Top Ways To Earn Doing Nothing
24) Ipsos iSay
Ipsos iSay will offer you the opportunity to make extra money by providing feedback on tons of different questions. In other words, the site will pay you to take surveys in your free time.
PayPal cash and gift cards are both options to receive your Ipsos earnings. At the time of this writing, Ipsos is the third-largest research company in the world.
25) Rewardia
Rewardia is the next in line of short task sites I'll introduce you to today. If you want to make money fast, Rewardia will allow you to do that.
Play your favorite games, do surveys, or refer friends to earn cash on Rewardia -you can withdraw your earnings as soon as they reach $5.
26) DailyRewards
DailyRewards comes from Protege, the company running InboxDollars and Swagbucks. So, rest assured that DailyRewards is a legitimate way to make money online.
Users earn money by completing free trials and taking surveys. Withdraw your DailyRewards earnings when they become $30.
27) Clickworker
By all means, Clickworker is the place to visit if you want your pick of many simple online tasks to complete. Clickworker offers typing, editing, proofreading, and even mobile app testing jobs.
The site provides instant payouts via PayPal or SEPA – request your earnings once they reach $5.
28) Appen
In my opinion, Appen is one of the best sites to look for online tasks jobs – the platform will provide you with both corporate and language jobs.
Those of you who are bilingual will benefit from becoming an Appen member – enjoy transcription and translation jobs with flexible working hours.
29) EasyShift
It doesn't take a genius to realize that EasyShift will ask you to take a shift here and there. And that's great since you'll be able to squeeze in a simple work shift when you have some free time in your day.
Create an account on EasyShift and check the site for available earning opportunities daily. EasyShift will send your earnings via PayPal within a few days after completing a task.
30) RapidWorkers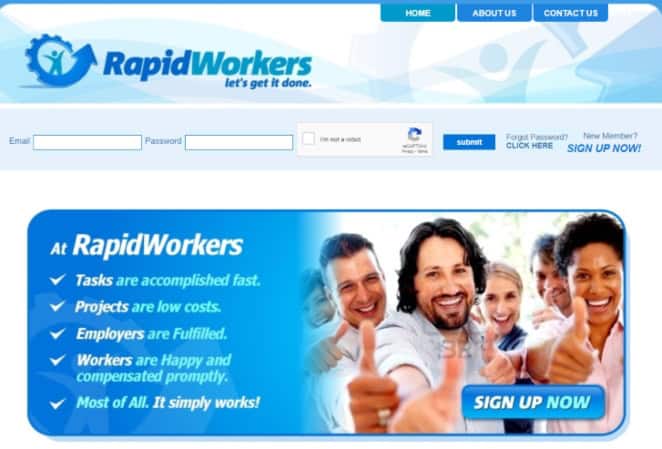 Alright, RapidWorkers hire people who want to complete tasks in the social media field. More specifically, the site will pay you for activities such as tweeting and liking web pages.
Payments are available via PayPal – get your earnings once your RapidWorkers balance reaches $4.
31) Course Hero
Course Hero is an online tutoring service platform high school/college students use to get answers to their questions. Tutors with a Bachelor's Degree in English can join the site to earn money from home.
Each question you answer will bring you $3. As a result, you'll be able to earn between $12-$20 per hour. Native English speakers from the USA, UK, Australia, and Canada can join Course Hero.
Related: How To Get Paid To Do Homework For Other People
32) UserTesting
Basically, UserTesting is one of the most popular sites that allow people to visit, test, and review websites for money. Testing sites is one of these online task jobs that don't require lots of your time.
Prepare to earn around $10 for each site you review. Right now, UserTesting will also pay you for reviewing videos too.
33) Captera
Captera is an online platform you can join to get paid to review software. Once you sign up at the site, you can apply to write reviews for different software programs.
If Captera accepts your review, you'll earn money. These days, Captera pays $45 for video reviews and $10 for written content.
Related Read:
34) Cambly
Generally speaking, Cambly is one of the best task websites for online English tutors looking for flexible hours and decent pay rates. Cambly tutors can teach English to both kids and adults.
Working with Cambly is an online job that pays weekly – you'll receive your earnings every Monday via PayPal.
35) Respondent
Respondent is a platform that hires people to participate in research studies. More often than not, your work activities on Respondent will take around half an hour.
Believe it or not, you can earn around $100 an hour with Respondent – read my Respondent review to learn all about this money-making opportunity.
36) Humanatic
How do you feel about reviewing and sorting out calls for companies? Hopefully, you feel good about it since Humanatic is one of the short task sites that will pay you for reviewing phone calls.
Humanatic reviewers listen to phone calls and provide feedback to help brands improve their customer service. Being a reviewer for Humanatic will earn you up to $4 an hour.
Related: 30 Online Chat Jobs Hiring Now
37) Fusion Cash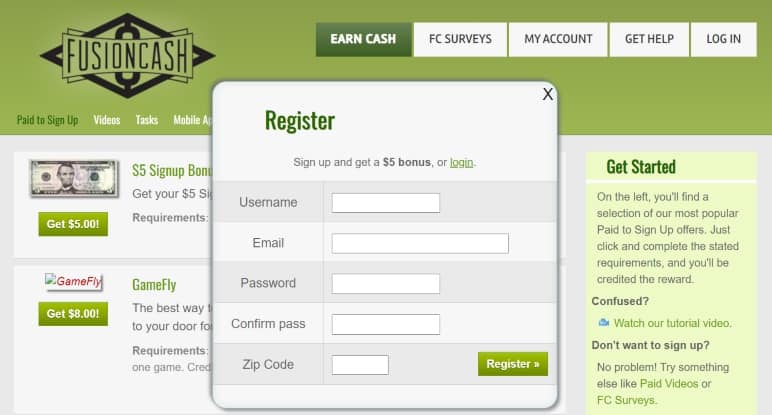 Each new Fusion Cash user receives $5 as a sign-up bonus. But that's not the only reason to join this short-task platform:
Some tasks will pay you up to $15 per offer. Don't expect difficult tasks – earning on Fusion Cash happens by watching videos and taking surveys.
38) PrizeRebel
PrizeRebel is one of my favorite short task sites – I use it a lot, and so do thousands of other members who want to earn money doing simple online tasks.
Refer people, watch videos, and take surveys to make money as a PrizeRebel user – the site won't take lots of your time. Learn more about PrizeRebel here.
39) Points2Shop
As you can probably guess, Points2Shop will pay you for shopping online. Of course, there are other ways to earn on the site than shopping:
Points2Shop will let you earn by watching videos and taking surveys.
40) Field Agent
Field Agent is a complete task and earn money app you can download to find cash-earning tasks in your area. I have to say that Field Agent pays surprisingly well:
On average, you'll make between $3-$12 per task. Feel free to withdraw your Field Agent earnings via PayPal.
41) GigWalk
Generally, GigWalk posts available short tasks that need completion daily. With that said, the jobs you'll find on GigWalk depend on your living area.
Those living in larger towns will have a bigger choice of GigWalk tasks to complete for money – GigWalk pays almost instantly, so using it is worth the effort.
42) ShortTask
I can't keep covering the best short task sites without mentioning ShortTask – the name of the site is self-explanatory!
Still, let me say that ShortTask will pay you for different activities, such as data entry and freelance writing.
43) CouponChief
While CouponChief is more about saving money, the site will allow you to earn cash as well:
Every time you upload a coupon for a store on the site, you can make a 2% commission when a person uses that coupon to buy something.
44) Fancy Hands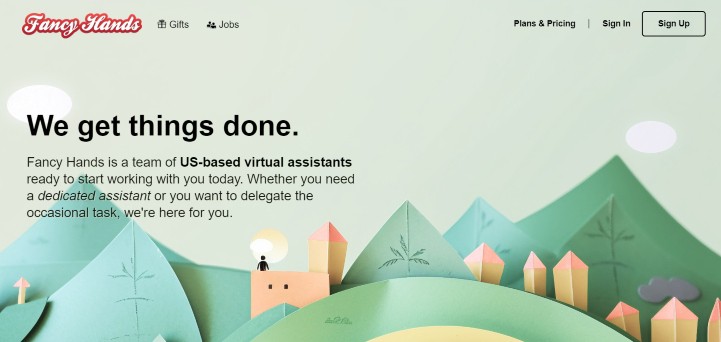 By all means, Fancy Hands is the perfect choice for anyone who wants to work as a virtual assistant:
Joining the site will allow you to earn money for performing VA tasks, such as doing internet research, making phone calls, etc.
45) DoorDash
DoorDash drivers (dashers) earn money by offering food delivery services. Join the website, and you'll start getting notifications for available gigs in your area.
Becoming a DoorDash driver is a simple process – learn all about it in my DoorDash driver review.
46) Pinecone Research
Pinecone Research is a well-known survey platform – users can complete paid and unpaid survey tasks on the site.
Complete a study, earn Pinecone Research points, and redeem them for prizes or cash.
47) Dabbl
According to Dabbl, many companies are willing to pay for your time and opinion. And that is true:
Dabbl partners with brands that will let you earn money by taking online polls, answering trivia questions, and taking surveys.
48) InboxPays
InboxPays is similar to many of the short task sites you see above:
Join InboxPays if you want to make money by taking surveys, reading emails, and referring friends.
49) Survey Savvy
Survey Savvy comes with many monetary perks – new members receive a sign-up bonus and opportunities to earn extra money.
Share your opinions on Survey Savvy to get discounts, products, and cash prizes.
50) Vericant
No list of short task sites would be complete without Vericant in it. Vericant is a website native English speakers can join to teach the language to international students applying for schools in the USA.
A Bachelor's degree in English is a requirement to work with Vericant – having one will allow you to earn up to $24 an hour.
Related: 35 Companies That Will Pay You To Teach English Online
51) Toluna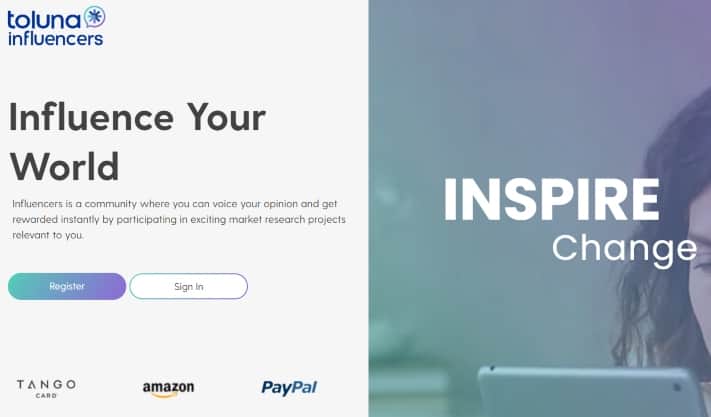 Toluna is a short task website that offers surveys and opinion polls for people who need extra income.
Aside from surveys, Toluna also offers games as an alternative earning activity.
52) TELUS International
TELUS International hires people to complete different online tasks jobs, such as search engine evaluation, translation, transcription, and testing.
Each new TELUS member must pass an evaluation test to work on relevant projects.
53) Rev
Quite frankly, Rev might not belong to the list of short task sites. But I'll include it because the website offers task-based remote positions.
Some of these positions are transcription, translation, and captioning. Payments are available via PayPal.
54) Teamwork.ai
Teamwork.ai hires freelancers in data entry, app testing, and translation areas. The platform is open to users from all over the world.
On occasion, Teamwork.ai provides jobs that pay up to $25 an hour.
Related: Best Jobs That Pay $40 an Hour
55) ACD Agents
ACD Agents is a platform you join to make money by answering phone calls or chat messages. Members can work on the site for as many hours as they want.
Workers earn around $0.25 per talk minute, plus incentives and bonuses.
56) Upwork
Upwork is a website freelancers can join to get paid for doing small task jobs, such as graphic design, writing, and translation.
On Upwork, members bid on gigs and start working on projects once they get approval.
57) OneSpace
OneSpace offers a variety of micro jobs – take your pick between copywriting, transcribing, and taking survey gigs.
Create an account for free, pass the qualification test, and find a job that will suit your needs and abilities.
58) Lionbridge

Lionbridge will hire you to work on testing, transcription, or annotation jobs. All Lionbridge workers are independent contractors.
Keep in mind that Lionbridge prefers to hire individuals that work as efficiently as possible.
59) Slice The Pie
Slice The Pie is a platform that offers short online jobs for music lovers. Sign up for the site to earn money by listening to music and writing song reviews.
While Slice The Pie doesn't pay much, using the platform provides a fun way to earn a bit of extra cash. Read the full Slice The Pie review to learn more about the site.
60) Grab Points
Grab Points rewards its members with points for different activities like downloading apps, watching videos, and taking surveys.
Of course, you can redeem the points you earn for cash.
61) Prolific
Prolific looks for people who want to earn money by participating in research studies online.
There aren't plenty of studies available all the time, but the ones you'll be able to get will pay you quite well.
62) Keep Rewarding
Keep Rewarding is an online platform that accepts users from most countries.
You can earn money for activities like watching videos, clicking on ads, referring friends, and taking surveys.
63) Instant GC
Alright, Instant GC won't make you a wealthy individual – the website doesn't pay as much as the rest of the short task sites on this list.
Be that as it may, you can still make a couple of dollars a day if you watch videos or complete free offers on Instant GC.
64) CrowdTap
CrowdTap will be willing to pay you if you don't mind providing honest feedback about the products and brands the platform partners with.
At the time of this writing, CrowdTap is still relatively new, so you won't compete with many people for the same online task jobs.
65) Microworkers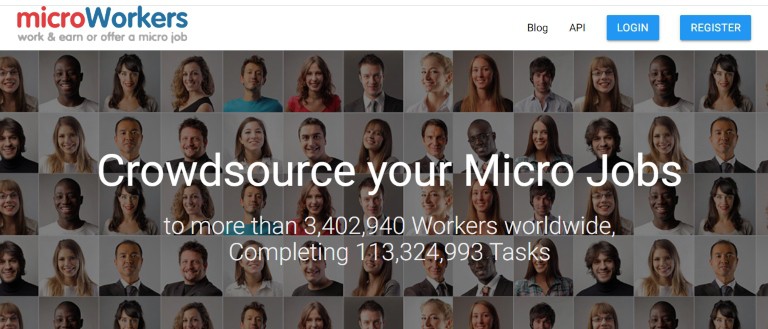 Microworkers is an incredible site to visit if you're looking for a micro job.
Currently, some of the jobs available on the platform are image tagging, translation, and transcription offers.
66) ySense
Formerly known as ClixSense, ySense mostly pays its users for clicking on ads.
However, ySense will let you earn for other activities too, such as watching videos, playing games, and referring people to the platform.
67) CallSource
How do you feel about reviewing phone calls? Those of you who don't mind such a job should visit CallSource.
CallSource offers part-time positions that require you to spend your time on phone calls.
68) Just Park
Do you have an empty parking space someone else can use if you're not currently?
Great, then rent it out on Just Park to earn some extra cash.
Related: 10 Places That Will Pay You To Advertise On Your Car
69) Neobux
Neobux is one of the most popular short task sites that require you to click on ads to make money.
Create a free account on Neobux and let the clicking begin!
70) Scarlet Clicks
Similar to Neobus, Scarlet Clicks will also pay you to watch and click on ads.
The website provides other ways to earn cash as well.
My Closing
This article about the best short task sites is probably one of the biggest I have on this blog!
But that's OK since I want you to have as many options as possible while choosing a daily task to earn money.
What questions do you have about today's topic?
Ask me anything you want about all these platforms that offer simple online tasks you can complete for money, and I'll be happy to answer them.
More Content From Cash Embrace You Might Like: