The Ticket Broker Guide – How To Become A Ticket Broker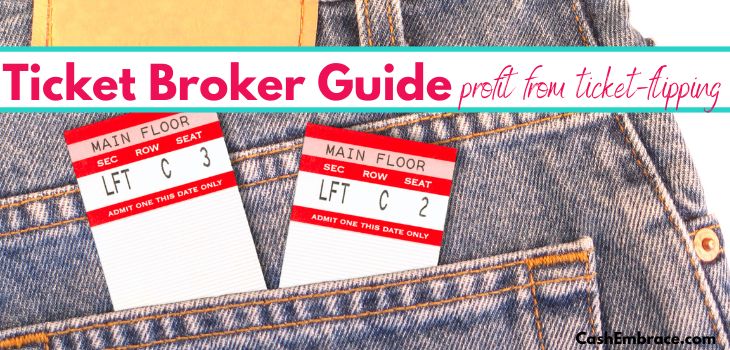 Are you familiar with the Ticket Broker Guide?
Gaining access to an in-depth ticket broker blueprint is crucial if you want to start making money selling and reselling tickets online. And why should you look into ticket brokers as a new potential career?
According to Glassdoor, ticket brokers earn over $95,000 annually. Is the lucrative pay a reason enough to consider becoming a ticket broker?
If not, you'll be glad to learn that starting a ticket broker business has other advantages, such as flexible hours and the opportunity to make a living from home.
Today, you'll learn everything there is to know about working as a ticket broker and ticket flipping as a whole:
What is a ticket broker?
How does a ticket broker earn money?
Can you become a ticket broker with no experience?
Should you sign up for a ticket-flipping course?
Let's get to it, shall we?
This post contains affiliate links – read my affiliate disclosure.
Recommended Read:
What Is A Ticket Broker?
A ticket broker is an individual who purchases tickets for different events to resell them for profit at a higher price.
Nowadays, ticket brokers work in many areas. Subsequently, the tickets they buy to resell later can be to events like sports events, movie premieres, theater performances, and other entertainment occasions.
Individuals and companies can offer ticket broker services.
What Does A Ticket Broker Do?
At this stage of the ticket broker guide, you already know that ticket brokers buy tickets for different events to resell them at a higher price.
But how do ticket brokers get the tickets they want to resell? Generally, ticket brokers acquire the tickets they desire through the following means:
Bulk Purchases: One of the best strategies for gaining access to tickets is buying them in bulk. That strategy guarantees a higher resell price since the ticket holder obtains access to the most desirable seats at the event.
Presale Purchases: Many ticket brokers work hard to gain access to presale codes because that will provide them with tickets before they are available to the general public.
Secondary Market: All professional ticket brokers operate in the secondary market, where they resell tickets. There is always a need for a secondary market that will meet the demand for sold-out tickets and tickets that are no longer available through the primary channels.
Should You Become A Ticket Broker?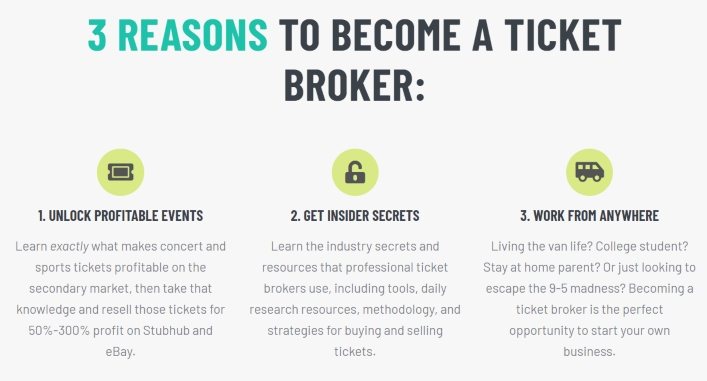 By all means, there are many reasons to become a ticket broker. Shall we look at the essential ones?
Firstly, ticket flipping might be a great side hustle or a full-time income source – that depends on how many hours you can devote to working as a ticket broker.
Secondly, being a ticket broker is a work-at-home job – there is no need to be in an office to resell tickets online.
Lastly, a ticket broker is a career with enormous monetary potential. While some ticket brokers earn between $50,000-$90,000 annually, many professional ticket resellers make much more than that.
See Other High-Paying Remote Opportunities:
How Much Do Ticket Brokers Make?
My ticket broker guide won't be complete unless we discuss the money factor in ticket flipping in depth.
It might be hard to believe, but there is almost no limit to the profit margin you can go after when you have a ticket broker business.
Do you wonder how is that possible? Here is the deal:
Ticket flipping is a process that involves buyers and sellers. Considering this article aims to help people who want to work as ticket brokers, let's focus on the sellers:
Nowadays, ticket reselling is one of the most profitable online jobs you can start. And nothing is surprising about that:
Above all, ticket flipping is a niche where the law of supply and demand has a powerful say.
How Does The Law Of Supply And Demand Affect Ticket Prices?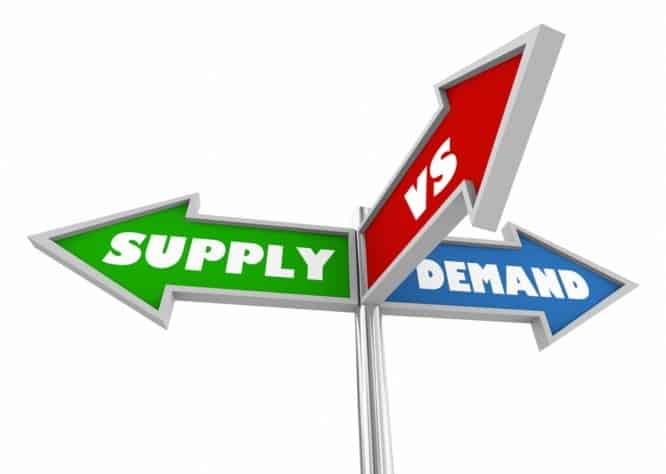 I doubt I have to be the one to tell you that supply and demand are the two sides of the same coin. More importantly, the connection between supply and demand is easy to see:
When the demand for a product or service increases but the supply stays the same, the price of that product can literally go through the roof.
Now, how the law of supply and demand might affect your ticket broker business?
In a situation where there is a huge demand, tickets for any kind of event can and will sell for much more than their original value.
To sum up, there is an enormous profit potential in selling tickets for any event where a person needs to pay for admission. That potential increases further if you resell tickets for events with limited seating.
How To Become A Ticket Broker
First and foremost, anyone can become a ticket broker. Before launching your ticket broker business, you should learn as much as you can about the ticket industry and compliance with local laws and regulations.
Here is a step-by-step ticket broker guide for anyone who wants to build a profitable career in ticket flipping:
1) Gain The Necessary Education
I'll introduce you to an excellent ticket-flipping course later in this article. For now, let's talk about the fundamentals of becoming a ticket broker:
Don't look at universities for a specialty that will result in a ticket reseller degree – there is no such thing. However, certain areas of formal education can provide you with the business background you need to excel as a ticket broker.
For instance, expertise in marketing or sales can help you create a solid business plan once you're ready to launch your ticket-flipping venture. An education in any financial area will boost your chances of success as a ticket broker.
2) Develop The Necessary Skills
Currently, hundreds of individuals and companies flip tickets online. Chances are, the number of ticket resellers on the web might be even higher.
What can you do to overcome the competition? The first thing that comes to mind is building outstanding skills in ticket flipping.
So, what type of skills will help you become a professional ticket broker?
Such skills are handling cash, computer literacy, providing efficient customer service, and dealing with client complaints (if there are any).
3) Check The Local Laws And Get A Ticket Broker License (If Necessary)
Generally, the laws about reselling tickets are different everywhere. That's why you must become familiar with the regulations about being a ticket broker in your location.
You need a license to operate as a ticket broker in some countries. What is the situation in yours?
By all means, you shouldn't start a ticket broker career before securing the proper license, if necessary, according to the local law.
4) Start A Ticket Broker Business Or Get A Job As A Ticket Broker
I can't move on with this ticket broker guide before I mention one of its most essential facts – there is more than one way to make money by ticket flipping:
You can start a ticket broker business and run it or work for a company and resell tickets for someone else.
Of course, launching a ticket broker business is the better option. As a ticket broker business owner, you'll be the boss and have control over your working hours.
But you can resell tickets as an employee, too – the choice is up to you.
Where To Find Ticket Broker Jobs
5) Complete A Ticket Flipping Course
Say what you will, but working as a ticket broker is not the easiest job you can get nowadays. On the contrary – there is a lot going on in the ticket reselling industry, and you must be up to date.
The best way to learn the ins and outs of ticket flipping is by going through in-depth ticket broker training – that's where the Ticket Broker Guide comes in:
The Ticket Broker Guide Review – The Basics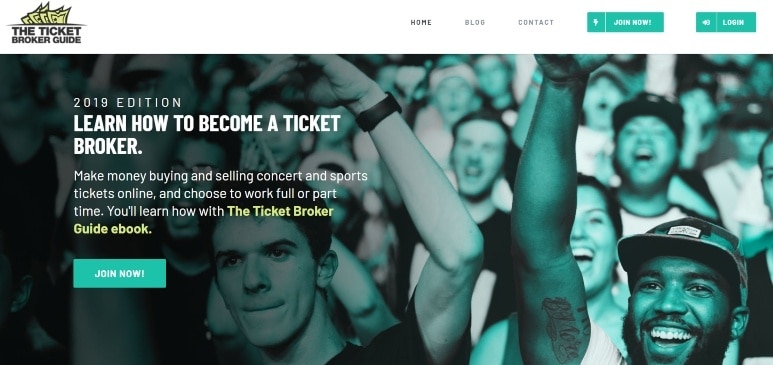 Website: theticketbrokerguide.com
Owner: Brittany Menard
Price: Depends On The Bundle You'll Choose 
As mentioned earlier, working as an online ticket broker is little-known but more than a lucrative way to earn a living. Here is a quick statistic to back up that statement:
Currently, ticket flipping can turn a profit of anywhere between 50-300%.
However, the only way to earn that much monthly is by knowing how to be a ticket broker efficiently. One of the ways to master the craft of ticket flipping is by completing the training of the Ticket Broker Guide.
Ticket Broker Guide Pros And Cons
Pros:
TBG provides extensive training that will teach you to be a successful ticket broker: That eBook goes above and beyond to help you build a profitable business selling tickets online.
The training materials offer exclusive information: No other ticket broker courses provide the exact same education.
All lessons are easy to follow: Students can go through the material at their own pace.
Ticket Broker Guide will help you master a niche with excellent earning potential: Reselling tickets online is not a saturated industry with tons of competition at the time of writing.
Brittany Menard is a real person: Ms.Menard is not a fictional character, and she doesn't hide her identity or the history behind her success with ticket flipping.
There is tech support: Feel free to ask for assistance if you need it at any point during the training.
A money-back guarantee is available: Ask for your investment back if you're not happy with the course, and you'll receive it.
Cons:
Starting a ticket-selling business comes with start-up costs: You'll need between $70-$300 to purchase your first set of tickets.
Flipping tickets online involves some risk: Even the best tickets you'll ever get have an expiration date. Subsequently, you might not be able to profit from reselling every ticket you'll ever buy.
What Is Ticket Broker Guide?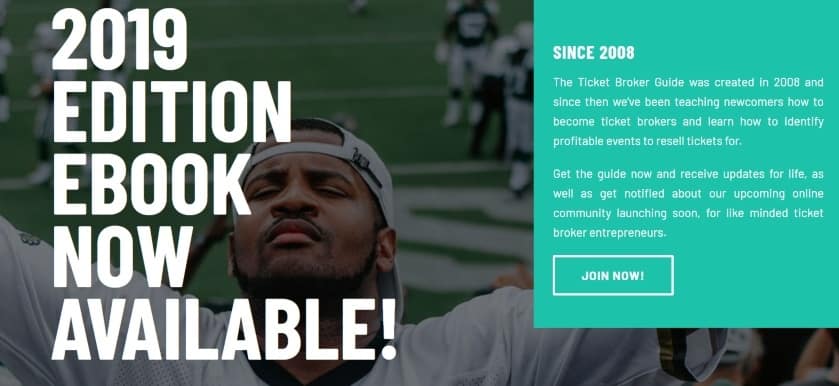 Basically, the Ticket Broker Guide PDF is an e-book that will teach you how to build a profitable business by buying and selling tickets online.
Most strategies in this ticket resale guide will help you develop the skills necessary for the event ticket brokers to become successful.
See a small fraction of the knowledge you'll be able to acquire once you join the training:
What does it take to be a kick-ass ticket broker?
How can you pinpoint the most profitable events?
Ways to unlock the ticket industry resources the pro ticket brokers use.
Nowadays, this how-to-to-be-a-ticket broker PDF is 120+ pages long and goes through regular updates every year.
What Does The Ticket Broker Training Include?
At the time of writing, the Ticket Broker Guide covers the following topics:
Getting Started As A Ticket Broker
Do you have what it takes to be a ticket broker?
Everything you need to start with ticket flipping
Pros and cons of selling concert tickets vs. sports tickets
Financial And Legal Stuff
Taxes
Ticket resale laws by state
How much should you invest at first?
The Business Of Selling Tickets
A look at the future of ticket brokers
How does the economy affect ticket sales?
Reasons why artists can't remove ticket brokers from the market
How To Research Profitable Events
Set up your online workspace for success
Ways to access the sales data of Stubhub without waiting
Unlock presale passwords for any event
Concert/sports ticket research checklists
Using Facebook to pinpoint profitable events
How To Buy Tickets (Prepare For Presale And Onsale)
Types of tickets and shipping methods
Best practices for scoring tickets to heavily searched events
How To Sell Tickets (Pros And Cons Of Every Big Ticket Resale Site)
Price your tickets for maximum profits
When is the best time to sell your tickets?
Ticket Broker Toolkit
Find tickets going on sale soon
Venue capacities
Face value ticket prices
Ticket Broker Guide Additional Resources
Sports ticket resale predictions
Best concert venues
Top markets for resale
How Much Does The Product Cost?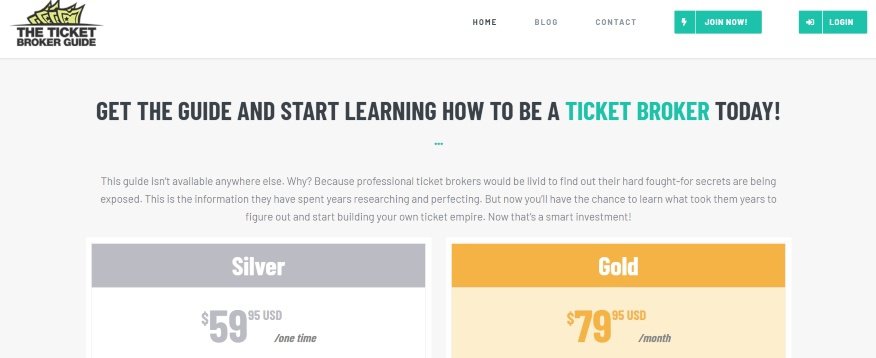 As you can see, two Ticket Broker Guides are available – Silver and Gold Bundle.
Let's look at each of them, shall we?
Silver Bundle ($59,95)
120+ page e-book that will teach you how to make money online by buying and selling tickets for ultimate profit
PDF format (laptop, smartphone, and tablet compatible)
Easy navigation
60-day money-back guarantee
Gold Bundle ($79,95/Month)
Full access to the Silver Bundle
An access to private ticket broker chat
Join a community of like-minded ticket brokers
First access to sports tickets and market predictions
One month free at Boxoffice.com
Who Is The Ticket Broker Guide For?
Above all, the Ticket Broker Guide will serve anyone who wants to start an exciting new career or develop a profitable online business.
Ticket flipping can become a lucrative income source, but you'll have to put in the time and effort to make it work.
With that said, selling tickets online is not for people who don't like the risk.
Is The Ticket Broker Guide a Scam?
Believe it or not, the Ticket Broker Guide has existed since 2008!
You'll have the option to use the money-back guarantee once you decide to invest in the training.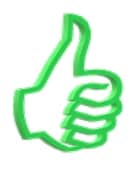 Considering you can always have your investment back, it's easy to see why the TBG is not a scam. On the contrary, the course provides valuable information for anyone ready to become a professional ticket broker.
Other Legit Careers To Consider:
Ticket Broker Guide – Frequently Asked Questions
How To Be A Ticket Broker?
Develop the necessary skills
Learn as much as you can about the ticket-flipping industry
Choose a name for your business
Launch a website that deals with reselling tickets
Promote your ticket broker business
How To Become A Ticket Reseller?
Sign up for high-quality ticket-flipping training
Polish your skills
Check the laws and regulations about reselling tickets in your state
Obtain a ticket broker license if the law requires it
Work as a freelance ticket broker or build a ticket-flipping business
How To Become A Licensed Ticket Broker?
Nowadays, the type of license a ticket broker needs to operate varies by state. A general business license is enough to work as a ticket broker in most states.
How Much Is The Ticket Broker Salary?
On average, ticket brokers earn around $25 an hour in the USA. If you choose to sell tickets as an employee, you can expect an annual income of over $52,000.
With that said, you can make much more than that if you launch a ticket-flipping business instead of being a ticket broker for a company.
Assuming you'll work hard to develop your ticket broker business, your earnings will surpass the average pay rate most brokers receive while working for someone else.
My Closing
Alright, I have nothing else to say about the Ticket Broker Guide. It looks like this article is coming to its natural end.
But the topic is quite interesting, in my opinion. I'll make sure to add more relevant information in the future.
Until then, I would love to read your opinion about ticket flipping.
Do you like the idea of reselling tickets from the comfort of your home? Can you see yourself starting a ticket-flipping business?
Feel free to share anything you want on that subject. Also, the comment section is the perfect place to write down your questions (if you have any).
Related Articles From Cash Embrace You Might Like: