The Ticket Broker Guide – How To Become A Ticket Broker
Ever heard of the Ticket Broker Guide?
I wouldn't be surprised if the whole concept of ticket broker training gives you an unfamiliar vibe.
Even in 2020, ticket flipping still looks like a weird way to make money online.
And that's a shame considering this type of online job has 6-figure income potential.
So, let's open the discussion and start talking about a product that is quite fresh and unique by all counts!
The Ticket Broker Guide Review – The Basics
Website: theticketbrokerguide.com
Owner: Brittany Menard
Price: Depends On The Bundle You'll Choose
Cash Embrace Says:
Not Perfect, But Definitely Valuable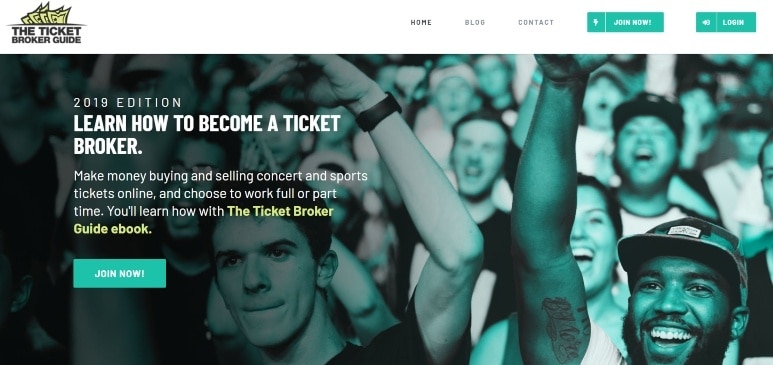 As I've already mentioned, working as an online ticket broker is little-known, but more than a lucrative way to earn a living.
Here is a quick statistic to back up that statement:
Currently, dealing with tickets has the ability to turn a profit of anywhere between 50-300%.
Of course, the only way to cash in that much month after month is by knowing what you're doing.
Simply said, to be able to do this job in the most efficient way, you'll have to get the necessary training and education first.
That's where the Ticket Broker Guide comes into the picture.
How Profitable Is To Be a Ticket Broker In 2022?
For starters, what's the first thing that comes to mind when you think about ticket sales?
Personally, I imagine thousands of people waiting for hours in a desperate attempt to buy a ticket to see their favorite band.
Well, that's how things were done back in the days when Take That, for example, was a huge deal to every teenage girl!
Anyhow, if you're catching your thoughts wandering in the same direction, that shouldn't surprise you.
Because up until now, you've been familiar with just half of the ticket's equation – the buyer's side.
Needless to say, there is another side – the one of the seller.
And you can't afford to overlook it:
Right now, that side is one of the most profitable niches in the online market.
A niche that is ruled by the powerful law of supply and demand.
How Does The Law Of Supply And Demand Affect Prices?
We all know that supply and demand are the two sides of the same coin, don't we?
Just like we know that the relationship between them is pretty easy to understand.
I mean, it doesn't take a genius to realize that when the demand increases, but the supply stays the same, the price of a product/service goes through the roof.
Now, how this can influence a ticket-based online business?
Actually, in a pretty massive way:
In a situation where there is a huge demand, tickets for any kind of event can and will sell for much more than their original value.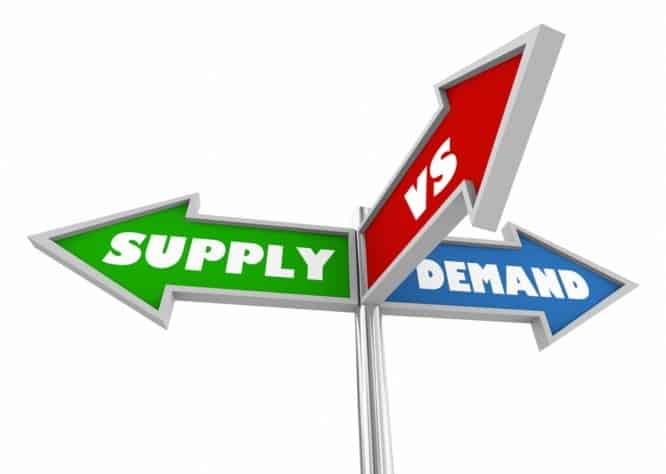 To clarify, by "much more" I mean hundreds and even thousands of dollars per single ticket.
Long story short, there is enormous earning potential in selling tickets for any event where a person needs to pay for admission.
Especially when the number of tickets is limited.
But what's in it for you, right?
Well, you can start an online business that deals with selling tickets today and turn it into a powerful money-making machine before you know it.
OK, maybe not before you know it, but as soon as you learn what/where/when to buy and how to sell it.
Which brings us back to the main topic we're discussing today…
More Awesome Online Jobs You May Love:
What Is Ticket Broker Guide?
Basically, the Ticket Broker Guide PDF is an e-book that will teach you how to build a profitable business by buying and selling tickets online.
The strategies included in this ticket resale guide will help you master the skills all the event ticket brokers need to be successful.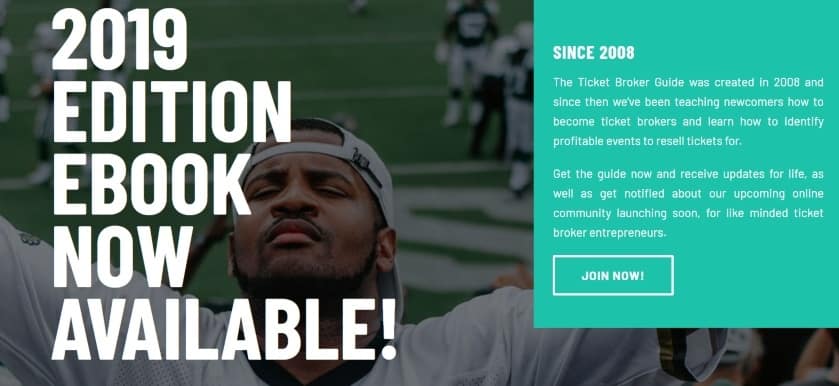 For instance, this is a small fraction of the knowledge you'll be able to acquire:
What does it take to be a kick-ass ticket broker
How to pinpoint profitable events
Learn to unlock the ticket industry resources the pros use
And so much more than I could possibly write down here!
Currently, this how-to become a ticket broker PDF is 120+ pages long and goes through regular updates every year.
Not to mention, the product is the only one of its kind available on the market!
This means, you can try, but you won't be able to find another training on how to profit from selling tickets anywhere on the web.
What Does The Ticket Broker Guide Include?
As I've already said, a lot.
But you're not here for vague answers, so let me give you more specific ones!
Generally speaking, these are the most important topics the training will cover:
Getting Started As A Ticket Broker – do you have what it takes to be one, everything you need to get started, and the pros and cons of selling concert tickets vs. sports tickets?
Financial And Legal Stuff – a talk about taxes, ticket resale laws by state, and how much should you invest at first.
The Business Of Tickets – a look at the future of ticket brokers, how the economy affects ticket sales, and the reasons why artists can't price ticket brokers out of the market.
How To Research Profitable Events – how to set up your online workspace for success, how to access Stubhub's sales data without waiting for real sales, how to unlock presale passwords for any event…  Plus, concerts/sports ticket research checklists and using Facebook to pinpoint profitable events.
How To Buy Tickets (Prepare For Presale And Onsale) – the different types of tickets and shipping methods, best practices for scoring tickets to heavily searched events, etc.
How To Sell Tickets (Pros and Cons Of Every Big Ticket Resale Site) – how to price your tickets for maximum profits, when is the best time to sell your tickets, etc.
Your Ticket Broker Toolkit – where to find tickets going on sale soon, venue capacities, and face value ticket prices.
In addition, there is plenty of extra information and training materials that will advance your education even further.
We're talking about the venue, market, and sports tickets predictions:
Sports Ticket Resale Predictions – every NFL, NHL, MLB, and NBA team is graded for ticket resale value.  This one will present to you important stats and how profitable each regular-season game is expected to be.
Best Concert Venues – identify the best concert venues across North America that sell tickets consistently.
Best Markets For Resale – or which cities are the hottest for reselling concert tickets based on demographics. 
Don't Feel Like Selling Tickets Is Your Thing? See How I Make My Money Online!
How Much Does The Product Cost?
At the beginning of this Ticket Broker Guide review, I told you that the price of the product depends on the bundle you would like to have.
Currently, there are 2 bundles available to choose from – a Silver Bundle and a Gold Bundle.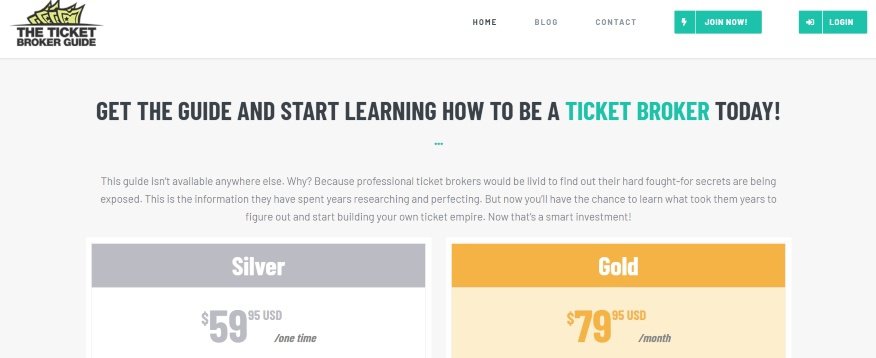 ​
Now, let's have a look at what each of them has to offer, shall we?
Silver Bundle (one-time fee of $59,95)
1) 120+ page e-book that will teach you how to make money online by buying and selling tickets for ultimate profit.
2) PDF format – laptop, smartphone, and tablet compatible.
3) Easy-to-digest material – simple navigation and tons of pictures for further explanation.
4) 60-day, no questions asked money-back guarantee.
Gold Bundle ($79,95/month) – it includes everything the Silver Bundle does, plus:
1) Exclusive access to a private ticket broker chart, powered by Slack.com. You'll be allowed to join the community of ticket brokers of all skill levels and develop your new career further in a like-minded environment.
2) Lock-in pricing and first access – be the first to find out about sports tickets and marketing predictions.
3) 1 month FREE at Boxoffice.com ($59 Value) – a totally free of charge access to the biggest ticket on-sale list, complete with prices, venue capacities, presale passwords, and more!
Ticket Broker Guide Review – Pros And Cons Of The Product
Pros:
1) The complete ticket broker blueprint for everyone who would like to start a profitable business selling tickets online – the e-book goes above and beyond to teach you everything you need to know.
2) A unique and one-of-its-kind training course – currently, no other ticket broker courses are offering similar education online.
3) Easy to follow and well-formatted lessons – you can learn at your own pace.
4) Great earning potential – the niche of selling tickets online is not over-crowded, so you won't have tons of competition. Moreover, the average ticket broker salary is more than $50,000/year!
5) More than affordable price – considering the value provided, the cost of the product is acceptable in my opinion.
6) Brittany Menard is a real person – the owner is not a fictional character, hiding her identity from the world.
7) 60-day, no questions asked money-back policy – in case you're not happy with the e-book, you can request and receive your cashback.
8) Full support provided – if you have any questions along the way, you can ask them via email.
Cons:
1) There is a start-up cost – you'll need some money to buy your first set of tickets to work with, $70-$300 should cover it.
2) Some risk is involved – even the best tickets you can grab have an expiration date. So, you might not be able to sell every single ticket you've ever bought on time.
Can't Afford To Invest In a Business Right Now? Read My Free Guide And Learn How To Start a Successful Online Business For FREE
Who Is This Training Perfect For?
In my opinion, anyone who would like to step out of her/his comfort zone and give a shot to this unique online job.
You need to understand, that this is not a get-rich-quick scheme.
Just like any other type of online business, it will take time and effort on your part to make it profitable.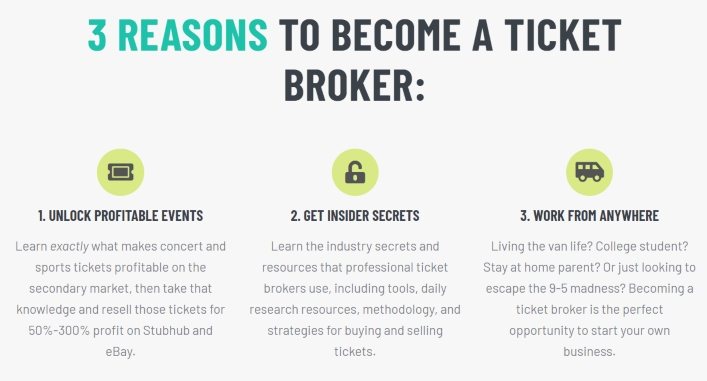 With that being said, I believe that it's not a bad idea for you to consider it.
And to clarify, I'm not affiliated with the Ticket Broker Guide in any shape or form.
Rest assured, everything you got to read today is my honest opinion about it.
Is The Ticket Broker Guide a Scam?
A big fat NO is an answer here.
The product exists since 2008 – that's more than 11 years of history behind it.
Speaking of history…
Correct me if I'm wrong, but I don't think that I properly introduced you to Brittany Menard up until now.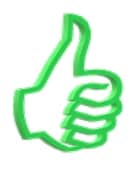 Well, she is one kick-ass lady by all counts.
Starting to buy and sell tickets way back in 2006, Brittany managed to turn on a profit faster than expected.
After doing this business successfully for a few years, she collected all of her knowledge and insights into the Ticket Broker Guide as we know it today.
By the way, Brittany is still working as a ticket broker even today!
My Closing
Alright, not much left to say about the Ticket Broker Guide.
Personally, I enjoy writing a review of a product that delivers on its promises.
Trust me, I don't get to do that very often!
But I would like to see what is your opinion about today's topic.
Love it? Hate it?
Whatever the answer may be, drop it in the comments section and we can chat about it!