20 Legit Ways To Get Paid To Flirt Online (Text And Chat)
How do you feel about the opportunity to get paid to flirt online?
Assuming many of you enjoy the idea of making money by flirting from a remote location, let's jump on the topic and dwell on it further:
The first thing you should know about earning cash flirting from home is that you don't have to cross lines you're uncomfortable with. What this means is that the flirting process will happen entirely online:
There is no need to meet the people you'll flirt with in person. More importantly, you can stick to texting, and you'll still make extra money for the effort:
While some platforms might encourage you to implement audio conversions or video chats, you can keep chatting and receive earnings for your flirting activities.
Today, I'll show you the best ways to make money flirting online. Shall we get started?
This post contains affiliate links – read my affiliate disclosure.
Recommended Read:
Why Do People Pay To Use Text Flirt Apps?
It doesn't take a genius to understand why certain people might be tempted to pay to use flirting platforms:
Everyone needs to connect with another human being on some level. And if getting close to someone via texting will fill an emotional void, many don't mind paying to satisfy that need.
The world is full of lonely people. Some prefer to meet new people in person and talk to them face-to-face, and others don't mind doing the same exchange remotely.
As you can guess, the second category is your potential clients if you decide that you want to get paid to flirt online:
Premium chatting websites require fees from their users. A portion of these fees will go straight into your pocket once you start flirting for money.
Can I Get Paid To Chat Online?
First and foremost, not everyone will be in a position to earn money flirting online:
Most platforms you can join to get paid for flirting have requirements for their workers. Let's take a look at them:
Age Requirements To Get Paid To Flirt Online
At the time of writing, most premium flirting websites will allow you to join them if you're at least 18 years old. That's the legal age in most countries.
However, that's not always the case:
In some countries, the age requirement might be 21 or even 25 years. Before you attempt to join any flirting online platform, check its age requirements.
Don't try to go around a site's policy – you'll have to upload a photo of a legal document to prove your age. An ID, passport, or driving license will do.
Necessary Skills And Qualifications
Fast internet connection
Great communication skills
Patience and ability to listen to others
An excellent knowledge of the English language
Willingness to engage in flirting activities with strangers
Desire to talk to a lonely man
Enough free time you can commit to remote flirting
PayPal account
Best Get Paid To Flirt Online Sites
1) ChatRecruit

As evident by the name, ChatRecruit is all about chatting to make money online.
ChatRecruit is an online platform you can join to earn via text messages (or phone calls, if you're OK with that).
Chatting activities on the site will make you around $2 per minute. The pay rate increases if you participate in webcam exchanges.
You'll pick your working hours – you can chat when it's convenient for you. It's worth mentioning that ChatRecruit provides flirting online jobs that pay weekly – feel free to withdraw your earnings at the end of each week.
Payments are available via bank transfers, direct deposits, and online wallets.
2) Text121 Chat
Text121 Chat is a leader in the online adult entertainment industry. This website is for ladies who are ready to take their adult chat services seriously:
You can't keep your job at Text121 Chat unless you can send 1,000 texts a month (34 texts a day) or provide phone chatting services for 4,800 minutes a month (over 150 minutes a day).
In other words, Text121 Chat is for ladies who see online flirting as a well-paying part-time or full-time job.
Workers should have excellent communication skills – being bilingual is a plus, but it's not a requirement.
On average, Text121 Chat will pay you around $0.07 per text. Currently, the platform is available for members living in the USA, UK, Australia, New Zealand, and a few other countries.
3) ChatOperatorJobs
Unfortunately, not everyone will be able to get paid to flirt via the ChatOperatorJobs platform:
The site hires ladies who are at least 25 years old or older. Women earn $0.2 per text as soon as that text receives an answer.
On the bright side, Chat Operator Jobs do their best to satisfy the needs of both customers and employers. Subsequently, you can pick your working hours and engage in texting activities for as long as you like.
With that said, you must be able to answer at least 75 text messages a week. Assuming you can manage that, you'll receive your earnings via PayPal.
4) FlirtBucks
Next on my list of sites you can join to get paid to flirt online, we find FlirtBucks.
Many regard FlirtBucks as the best platform where you can make money flirting with men. And I agree with that:
Women 18 years old or older can create accounts on the site. They should be fluent in English and be able to engage the clients in conversation.
FlirtBucks has many advantages. For instance, you don't have to market yourself outside the platform – FlirtBucks does this for you internally. Also, there is no minimum working hours requirement, so you can flirt for as long as you wish.
Expect to earn $0.15 per minute for texting and $0.5 for participating in video chat.
5) Dream Lover
Generally speaking, Dream Lover has a whole different take on the flirting process online. What do I mean by that?
Well, Dream Lover hires ladies to work as models. These models have the option to share photos of themselves while texting with men.
Of course, sending images is not mandatory – you can stick to texting if that's what you prefer.
Dream Lover is available to women from all over the world. Once you decide to join it, you can work as much or as little as you want.
Only ladies above 18 years of age can become workers on the platform.
Related Read:
6) My Girl Fund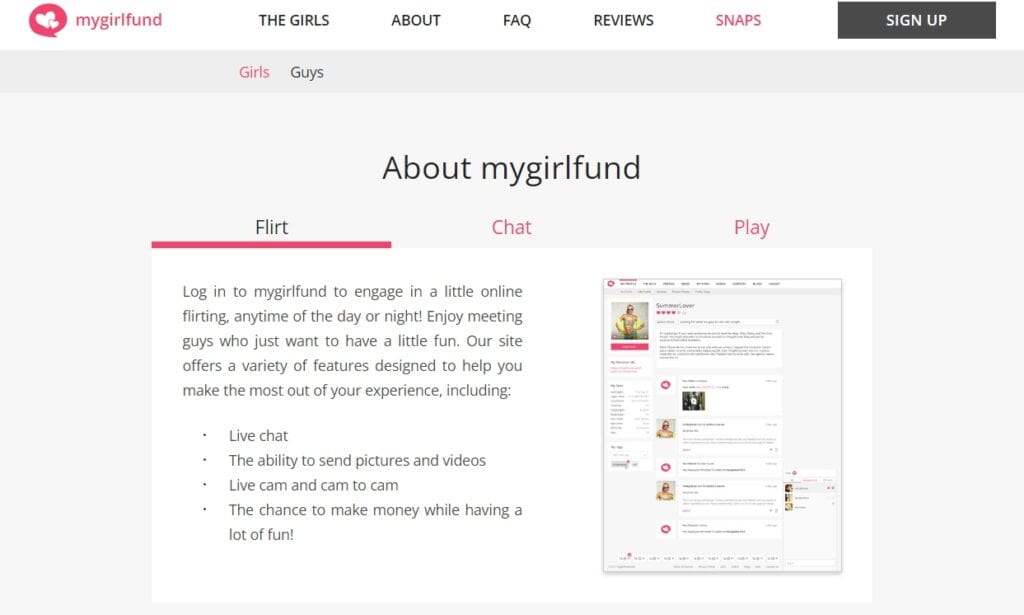 My Girl Fund is an online flirting platform that operates uniquely:
Each girl who joins the site must set her goals and describe her dream on her profile. Men who enjoy that girl's services will donate money to fund those dreams.
There is no set rate to the money guys can donate to help you make your dreams a reality – that's one of the best features of My Girl Fund.
Texting, live shows, and live video chats are the ways to earn on the platform. You're the one to choose which option works best for you.
It might be hard to believe, but some ladies make over $50,000 annually on My Girl Fund. The better you are at the flirting game, the more money guys will donate.
7) Lip Service
Lip Service is an agency you can join to get paid to flirt online. Only girls older than 18 can become workers on the site.
You can either chat with guys via texts or do phone conversations. As you can probably guess, talking on the phone with men pays more, but doing it is up to you.
Quite frankly, the platform gives preference to ladies who choose phone talking as a way to earn. Still, you can stick to text chatting to make money on Lip Service.
At the time of writing, Lip Service is available only in the USA and Canada.
8) Phrendly
Phrendly is more of a website you can use to make money as an online friend. But that doesn't mean the platform won't allow you to get paid to flirt online.
Here is how to use Phrendly to your benefit:
Create an account and upload high-quality images to introduce yourself. Once a client connects with you, feel free to participate in your chat group.
Clients will buy virtual drinks that cost them money – that's how you'll earn on Phrendly. Each time you receive a virtual drink, you get to keep its cost.
On average, a drink will make you $5-$10.
9) Fiverr
Fiverr is a global online platform anyone can join to list services for sale. That includes flirting services, too.
Most people offering flirting services on Fiverr charge $5 for around 5 minutes of chatting. You can choose a different pay rate for your flirting activities.
For example, online flirting that goes for 20 minutes can bring you around $30.
Being a Fiverr seller requires the creation of packages. Think about what you would like to include in your package and how much it's going to cost.
10) TexKings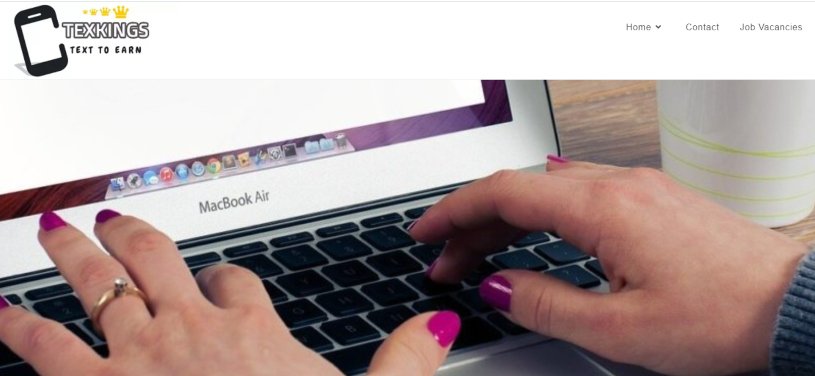 TexKings hires women to work as text chat operators. Your interactions with clients will happen via a social web community that stays private.
Doing phone calls is not out of the question on TexKings – if you want to flirt that way, the choice is entirely up to you.
Consider this option because phone calls pay more than texting – it can bring you over $500 a month. Text messages pay between $0.06-$0.12.
Hopefully, you can type fast, and your English is above average – these skills are necessary to earn well on TexKings.
11) Adult Chat Jobs
Do you consider yourself open-minded? Then, think about getting a gig at Adult Chat Jobs.
Adult Chat Jobs will allow you to earn by answering text messages on multiple chat websites. A fast internet connection and excellent knowledge of the English language are necessary to get a job on the platform.
Only women who are 23 years old or older are eligible to join the site. Also, you should be able to deliver 75 text messages in about three weeks.
Payments may vary – each text message you send will earn you between $0.12-$0.18.
I should mention that Adult Chat Jobs pays on a weekly basis, so it's one of the online jobs that pay weekly.
12) Premium. Chat
Premium. Chat is a platform you can use to make money chatting with clients, followers, and fans (if you have any).
You're the one to choose the pay rates for the texts, videos, or adult calls you participate in.
By all means, Premium. Chat is a place that will allow you to offer one-on-one flirting services and earn money for the effort.
Some workers charge $1 per phone call, while others demand as much as $50.
You'll receive your earnings via PayPal or Demand Deposit.
13) Arousr
As the name suggests, Arousr is an adult website you may choose to work with to earn by flirting with men. Expect to participate in sexting and adult video chat activities through the platform.
All you need to do to join Arousr is to create an account.
Once you set up your profile, men can start messaging you. The first 10 messages you'll receive are free of charge. However, clients will have to pay once they use these ten initial messages.
Ladies working on the site make $0.15 per text message and $0.5 per audio call minute. Video call rates are up to you – you must know that Arousr will keep 40% of them as a commission.
Additionally, Arousr is a place where you can list adult photos or videos for sale.
See Also: 35 Places Where You Can Sell Photos Online
14) FundmySugarBaby
FundmySugarBaby is a website where women can provide different services.
For instance, ladies can join the platform to offer customized services via text and chat messaging services. They can also sell adult images, videos, companionship, and the whole girlfriend experience.
You'll need to be at least 18 years old to start working on the site. Pay rates vary – they depend on your membership plan, flirting abilities, and connection skills.
15) Texting Factory

Texting Factory is one of the most unique platforms to get paid to flirt online. Are you wondering why that is?
Well, Texting Factory hires women to work as chat operators and answer both casual and adult messages on a fantasy-based text network.
So, you'll have to discuss different topics with clients and take on specific roles that depend on the client's needs.
According to the site, you can make $300-$400 per week working as one of its fantasy chat operators.
More Ways To Earn Money Fast:
Get Paid To Flirt Online Alternatives
16) Freelancer
Most people know Freelancer as an online platform for freelance writers. However, Freelancer is a place where you can secure many different work-at-home jobs.
One of these jobs is flirting with men online. Once you create a Freelancer account, research queries like online text jobs or personal chat services to find a flirting gig on the platform.
17) Steemit
Men visiting Steemit tend to look for an entertaining connection with women who want to get paid to flirt online. Are you the type of lady who doesn't mind a flirting activity that can become steamy at any point?
Assuming some of you are, Steemit will be a great place to earn money. According to the website, many ladies make over $40,000 annually from text messages alone.
18) Ginger.io
In all fairness, Ginger.io is not a platform you can join to get paid to flirt online. Instead, the application hires people to provide support via chat to individuals who experience enormous stress.
Ginger.io can help you make over $20 an hour as a health coach, but you need a degree in the health field to secure that position.
19) The Chat Shop
Those familiar with The Chat Shop already know the website is not exactly a place where you can do flirting activities for money. The Chat Shop is a platform where you can provide tech support and direct sales calls.
On average, working on The Chat Shop will earn you $10 an hour, but your pay rate will increase once you gain enough experience.
20) McMoney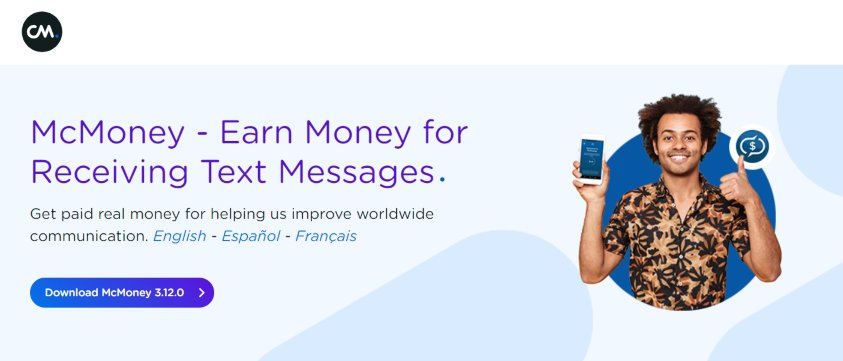 McMoney is a mobile application you can download to earn money by receiving messages, including flirty texts. Register as a McMoney user, and you'll start getting text messages on your phone.
Each message you receive will increase your balance – each SMS will bring you between $0.02-$0.06.
Easy Money-Making Ideas Anyone Can Try:
How To Protect Yourself Once You Decide To Get Paid To Flirt Online
Here is the deal with making money flirting online:
While most platforms you can join to earn by flirting are legit, you might stumble upon a site where the activities are fraudulent.
That's why it's crucial to learn how to protect yourself and stay safe while flirting from home. I suggest following these tips:
Work Only With Secure Sites
What makes a site secure?
When you visit any website, the first thing you should do is look at its URL. Does it have a secure tag?
If it does, you can relax and proceed. Secure websites will protect your personal data and keep your messages encrypted.
Privacy And Protection
Assuming you have no desire to give up on the opportunity to get paid to flirt online, you should learn about privacy and protection before you get your first gig.
After all, you'll be making money by chatting with strangers. Unfortunately, not every stranger will have your best interest at heart.
There is no need to worry, though. Instead, follow these tips to stay safe online:
Avoid video chats if the site you're working on doesn't guarantee your privacy and protection.
Make sure your chat activities stay within the site you use to flirt with clients. In other words, don't agree to send private chat messages that might reveal your phone number.
Never disclose personal information, such as your phone number, address, and even social media handles.
How To Avoid Scam Flirting Websites
Never Pay Anything Upfront
Do you know one of the easiest ways to spot a scam website? Here it is:
When a site asks you to pay upfront before you are able to start a job, that site is most definitely a scam. No legitimate website will require money before you can start working.
A site may let you know that you'll need to make initial investments before you can begin flirting online for money. I mean, you'll need a headset and probably a webcam.
However, if the site demands any amount of money for administrative or maintenance fees, leave that platform and never come back to it.
Always Read The Reviews
Reading the reviews of any online platform you plan to join is the smart thing to do. Members and users often express their opinions and share their experiences by leaving reviews.
What's the harm in getting first-hand information if you want to get paid to flirt online? There is none:
User reviews, ratings, and testimonials will help you filter out scam flirt websites. Furthermore, they will show you if the platform is suitable for you, even if it's legit.
I suggest paying close attention to the negative reviews – they'll show you the unpleasant parts of working on a specific platform and prepare you for what to expect.
Get Paid To Flirt Online Frequently Asked Questions
What Is The App That Gets Paid To Text Flirting?
Many apps will pay you to text flirting, including:
Phrendly
Ginger.io
McMoney
Can I Get Paid Just To Talk To Someone?
Yes, you can get paid only to talk to someone:
Consider joining platforms that will let you earn as an online friend. Such platforms are Rent A Friend and Cyber Friend.
How To Make Money Online By Flirting?
Best Get Paid To Text & Flirt Platforms:
Lip Service
Phrendly
FlirtBucks
Chat Recruit
TexKings
My Closing
Are you ready to join any of the sites you see above? Each of them is a suitable platform to get paid to flirt online.
How do you feel about an online job that requires flirting activities? Do you think you'll enjoy doing it?
Share your thoughts and opinions in the comments section below, and we'll continue the conversation.
Also, feel free to ask me any questions about making money flirting online – I'll answer them to the best of my abilities.
More Content From Cash Embrace You Might Like: