30 Legit Work From Home Jobs That Pay Up To $100,000/Year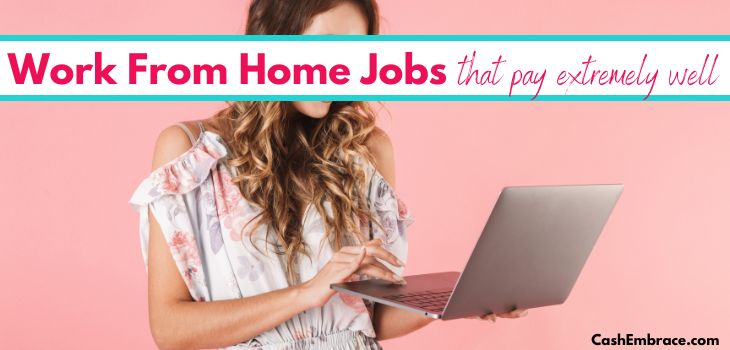 Looking into the best legit work from home jobs is something most people do nowadays:
According to statistics, around 30% of the workforce worldwide earns its living from home.
That's a number you can't easily ignore. And even if you can, the point is that you shouldn't:
Finding a high-paying online job is the new way to make money for millions of people.
Whether you want a part-time job at night or full-time remote employment, learning more about work-at-home opportunities is worth the time and effort.
Today, I'll introduce you to plenty of work from home legit jobs you can start as soon as you like.
This post may contain affiliate links – read my affiliate disclosure.
Recommended Read:
Pros And Cons Of Getting Legit Online Work From Home Jobs
So, I have this idea:
How about I show you the advantages and disadvantages of working from home?
Personally, looking at a list always helps me make a decision.
Maybe it will help you too?
Pros:
Wear casual outfits – you don't have to spend money on work clothes.
Work on your own terms – you can take a break when you feel like it.
No boss and no colleagues – nobody will be breathing down your neck.
Fewer expenditures – no petrol, subway, or car fees.
More time for your loved ones – flexible hours will do that for you.
Cons:
A better discipline – you'll have to work on keeping yourself focused.
There is no socializing – working from home can get pretty lonely sometimes.  
30 Easy Legit Work From Home Jobs That Pay Well
Before we go any further, I want to have a quick word:
By all means, this list of high-paying work-at-home jobs won't contain any surveys.
While taking surveys will allow you to earn some extra cash, such a money-making idea is not good enough for today's article.
As I already mentioned, today we'll discuss only work-at-home working ideas with full-time income potential.
With that said, here is my take on easy legit online jobs anyone would be able to handle:
1) Online Freelance Writer
In case some of you are wondering why I'm starting with freelance writing, the answer is simple:
Anyone (and I mean anyone) can earn money as an online writer – you don't need outstanding skills to get hired as one.
No, you only need the desire to write and improve your abilities.
Now, many people see this job as more of a side hustle than a full-time career.
Sure, beginner writers don't earn as much as professionals do – that goes without saying. However, there are platforms that will pay you more than well, even if you're a first-time writer.
Currently, some of these websites pay as much as $250 per article. Meanwhile, over 100 magazines are looking to hire freelance writers – a couple of them will let you earn over $1,200 per submission.
What if you want to become a professional freelance writer with help and assistance along the way?
Then you can go through My Freelance Paycheck – an online writing course that will show you the path to success by following the creator's outstanding results and achievements in the freelance writing industry.
Many of the students of this course now earn over $100,000 a year writing.
Feel free to learn more about My Freelance Paycheck when you have a minute.
2) Online Typing Jobs
We're still on the topic of writing, so let's expand it further:
Doing online typing jobs is another way of saying that you'll be dealing with captioning.
To clarify, captioning is the process of generating subtitles for movies and TV shows – you earn by listening to the characters speaking and typing what they are saying.
You can do that, right?
As long as you don't lack precision, there is no doubt in my mind that you can manage the job.
Rev is a great place to find an online typing job. On average, you'll make up to $0.75 per video minute.
Related Read:
3) Online Transcription Jobs
Speaking of listening to files, how do you feel about offering transcribing services?
For those who don't know, transcribing is a job where you'll turn audio or a video file into a written text.
Quite frankly, such an occupation might not seem like a suitable way to make money online for beginners, but that's not true.
These days, the process of getting a transcribing job is simple:
More often than not, you'll have to take a quiz, receive feedback that will help you improve your skills, and go after your first transcription project that pays.
One of the best things about transcription is that no previous experience is necessary.
A company like Go Transcript is a great place to find a transcription job – it will give you the chance to become an editor while you're still transcribing files.
Read the full Go Transcript review for more info.
4) Legitimate Data Entry Work From Home Jobs
Another well-paying work from home occupation is the job of the data entry clerk.
This job's description is pretty self-explanatory:
All you'll be doing is typing in data from one source to another.
Anyone who hates working on the phone will appreciate this job – data entry doesn't require picking up your mobile.
While the pay is not as lucrative compared to most of the jobs on this list, it's still worth considering:
Data entry workers can earn up to $17 per hour.
If you find this pay rate satisfactory, see my list of the best data entry jobs to get started.
5) Proofreading Online Jobs
In the interest of full disclosure, proofreading deserves an earlier spot on my list of high-paying legit work from home jobs:
After all, proofreading is one of the most lucrative remote jobs you can do these days.
Proofreaders earn by correcting grammar, spelling, and punctuation errors in written documents.
Proofreading has high-income potential, but it's the kind of job you won't get hired for without the proper training.
Caitlin Pyle is a household name in the proofreading industry – her course Proofread Anywhere is the best one you can sign up for, hands down.
That course starts with a Free Workshop that will guide you to developing a proofreading career to earn at least $50,000 a year.
Caitlin's company is a million-dollar business, and she is happy to share the ways you can turn your proofreading venture into a profitable revenue source as well.
More Content About Proofreading You Might Like:
6) Web Developer
By all means, web development is suitable for people who are good at the technical side.
Web developers build websites and never worry about where their next paycheck is coming from:
Thousands of companies, businesses, and individuals are constantly looking to hire web developers.
You don't need a college degree to secure a web development gig, but you must have impressive coding skills.
Platforms like Udemy offer online courses that will teach you these skills if you don't have them.
Are you wondering if becoming a web developer is worth the trouble?
According to Glassdoor, web developers earn over $82,000 per year.
7) Search Engine Evaluator
We all like to think that Google always knows best.
While that's true most of the time, mistakes tend to happen every now and then.
Chances are, you may wonder how that is possible.
Isn't Google's algorithm supposed to be flawless?
Unfortunately, it isn't.
Sometimes, it won't give you the most relevant answer to your search query.
Basically, that's where the search engine evaluators come in.
They will work hard to check and make sure Google's users receive the best answer to their questions.
Search engine evaluation is one of the legit work from home jobs that pay over $100,000 a year.
8) Graphic Designer
Another work from home job suitable for people who are good around the web is the position of graphic designer.
No previous education or college degree is necessary to start offering graphic design skills.
However, you'll need to build a strong portfolio that showcases the best of your graphic skills and abilities to potential clients.
Here is an idea:
Offering graphic designs at a reduced price or even free will help you attract customers faster than you think.
That will allow you to get your graphic design business out of the part and begin building authority in the field.
Once you establish yourself, expect to earn anywhere between $45,000-$65,000 per year.
Related Read:
9) Digital Marketing Jobs
Let's get something straight:
Doing digital marketing for a living is not for everyone:
Unless you have an extensive list of skills and expertise in the area of digital marketing, you should look for another work-at-home job.
Those of you who know enough about digital marketing, though, don't have to try their look with a different online occupation:
Nowadays, professional digital marketers earn over $100,000 a year.
If you're not a digital marketer yet, but want to become one, I highly recommend looking into the Digital Marketing Career Blueprint.
Seth Hymes's course is the best training on digital marketing you can find online – its results are outstanding, to say the least.
10) Affiliate Marketer
Being an affiliate marketer is not only the most popular of all the legit work from home jobs.
No, it's the first choice for everyone just starting to work online.
Affiliate marketing is the business of promoting someone else's products or services for a commission.
You don't have to create the products – you only need to focus on marketing them.
And that's where people realize that affiliate marketing is much more complicated than it seems.
It all comes down to getting tons of targeted traffic for your offers – and a lot of work goes into that.
My advice would be to get professional affiliate marketing training – you'll have a hard time making it as a marketer without it.
I got mine here – it's a platform anyone can join for free to learn all about affiliate marketing, keyword research, ranking content on Google, etc.
More importantly, it will provide you with free web hosting and two free websites so you can start your affiliate marketing business as fast as possible.
11) Blogger
Regardless of the common opinion that blogging is dead, launching a site and turning it into a profitable business is as popular as ever.
Thousands of new websites are coming to life online every single hour.
Personally, I feel like everyone is trying to become a blogger these days!
It's easy to see why – a successful blog is a great way to reach the financial independence many people crave.
Plus, it's an excellent idea to build a passive income stream.
With that said, is becoming a full-time blogger even possible right now? After all, the blogging world is over-saturated.
Don't feel like you're late to the party – you're not:
Choosing a well-researched niche and working hard on your blogging craft will give you a chance to reach blogging success.
I suggest using BigScoots as a hosting provider – their plans are affordable, and the customer service is stellar.
12) Vlogger
Quite frankly, the reasons why you should choose vlogging as your new job are too many to count.
Video content is everything nowadays – people prefer to watch than to read.
As visual human beings, seeing a well-produced tutorial will always prevail over reading about it for people.
So, is there something you know a lot about?  Do you mind teaching your skills to other people?
The thing about YouTube I appreciate the most is that there is a large enough audience for any topic imaginable.
Also, there is plenty of information about starting and growing a successful channel available online.
Generally, the income potential here is through the roof.
13) Podcaster
Podcasts are gaining more and more popularity – that's not a secret to anyone.
Chances are, some of you might think that podcasting is suitable only for celebrities, but that's not the case:
By all means, you don't have to be an actor or musician to start and build a profitable podcast.
Instead, you need to have a passion for the topic you're planning to discuss and a smartphone.
Yes, there are apps that will allow you to record a podcast on your phone – Anchor comes to mind.
You can go about your podcast any way you like – you can do interviews, open dialogue, etc.
Now, it's hard to say how much you'll earn as a podcaster – some people make $300 per episode while others get thousands of dollars.
14) Voice-Over Legit Work From Home Jobs
Podcasters rely on their voice to do the job, and so do voice artists.
Again, you don't need to have a famous and recognizable voice to book a voice-over gig.
Long gone are the days when voice acting jobs were available just to the stars of the biggest movie studios.
Today, anyone can try their luck at getting a voice-over job.
Male, female, and children's voices are constantly in demand.
How cool would it be if you earn your living sitting at home and doing voice-overs?
Assuming that the prospect of this job excites you, you're welcome to learn how to become a voice-over artist.
Also, feel free to find out everything there is to know about Voices.com.
15) Virtual Assistant
Hands down, a virtual assistant is the most in-demand job right now.
With the enormous rise in the number of people doing online businesses, no one is really wondering why VAs are everywhere.
Both big and small companies are always looking to hire help.
As soon as a business grows, it becomes impossible for one person to manage everything.
That's why a virtual assistant is the hottest high-paying job you can go for right now.
VAs are responsible for different tasks – your work obligations depend on the niche.
Once you become a professional virtual assistant, expect to earn up to $100 per hour.
16) Social Media Manager
More often than not, people think of Social Media managers as virtual assistants, but that's not entirely accurate.
Social Media managers are focusing just on Social Media and nothing else.
Some of their responsibilities are engaging with the audience, increasing the number of followers, and boosting brand awareness.
Of course, you may have to do other tasks as well.
Believe it or not, a Social Media Manager is one of the highest-paying legit work from home jobs – expect to earn between $70,000-$95,000 a year.
Related: How To Make Money On Social Media By Giving Away Free eBooks (Without Creating Them)
17) Online Tutor
Most of the companies hiring people to teach English online require a Bachelor's degree, but not all of them:
It might be hard to believe, but you can start making money tutoring online without a degree.
Nowadays, opportunities to earn cash by teaching English from home are countless.
VIPKID is an excellent company to consider teaching for, but it's not your only option:
Here are 35 companies that will pay you around $25 an hour to teach English to kids and adults (lessons last for about 40 minutes).
18) Translator
One more work from home job that requires knowledge of a foreign language is the job of a translator.
Being bilingual has its perks – you don't need to show a degree to secure a translating position.
Prepare to spend your time translating audio, speech in real-time, and text from one language to another.
The most in-demand translators can earn between $10-$100 per hour.
As a newbie, you probably won't hit the big payouts.
Still, everyone has to start from somewhere – Rev is the place to begin offering translation services.
19) Scoping Jobs
Scoping is one of those legit work-from-home jobs most people will pass on doing.
Considering a scopist edits court documents for a living, many of you will see the job as too hard to handle.
Well, it's not, but you'll need extensive training to be able to do it.
Linda Evenson is the best person to teach you the craft behind scoping. She is a professional scopist with over 35 years of experience behind her back.
Currently, Linda turns thousands of people into in-demand scopist in her Internet Scoping School. And the last time I checked, most of them earn over $5,000 a month as scopists.
Take advantage of the Free Scoping Mini-Course Linda offers to find out if scoping is your dream job.
20) Travel Agent
Basically, I feel like the tone of this article is getting way too serious, so let's talk about a job on the light side!
Travel agents can either work for an agency or be independent.
As one, you'll be offering your professional advice on destinations and accommodations.
You don't need much to start working as a travel agent – a computer, WI-FI, headset, and printer will do.
According to statistics, travel agents earn between $30,000-$60,000 a year.
Be careful, though – there are a lot of scams in this industry.
Don't pay or purchase anything upfront, and you'll be alright.
21) Online Course Creator
Is there something not to love about the job of an online course creator?
I mean, you'll do the work once and keep making money over and over again, which is the definition of passive income.
Usually, bloggers are the ones who offer online courses.
However, you don't have to be a blogger to create, market, and sell a course.
With that said, if you want your course to become profitable, you'll need to know its topic inside out, have a large audience, and possess the necessary skills to promote your training.
Platforms like Udemy market your course for you, so you should check it out.
22) Write And Sell eBooks
If you can make money writing for someone else, you'll make even more money writing for yourself.
While writing to earn by the article is a great idea, it won't help you build passive income.
Do you know what will?
I'll tell you – writing and selling your own eBooks.
These days, writing, editing, and selling an eBook is child's play.
Tools like Sqrrible will help you create a professional eBook in literally minutes.
Now, where do you go to sell your eBook once it's ready?
Well, where everyone is selling eBooks – Amazon KindlePublishing.
But what do you do if you don't want to write the books yourself?
Then you can read about K Money Mastery and learn how to make thousands of dollars selling eBooks without creating them.
Speaking of making money on Amazon, see over 20 ways to earn on Amazon when you have a second.
23) Sell Photos Online
Everyone needs stock photography – that's not just my opinion – it's a fact.
Online businesses, companies, and corporations are always looking for high-quality images.
Do you happen to have impressive skills with the camera?
Those of you who do shouldn't think twice about selling your images online.
Quite frankly, many people underestimate photography – they don't see it as one of the high-paying legit work from home jobs.
They should, though – some photography jobs will pay you as much as $100 an hour.
See more ways to make money selling images online:
24) Fiverr Seller
Basically, Fiverr is one of the largest online marketplaces to connect clients with freelancers.
Whether you want to offer products, services, or skills for sale, Fiverr is one of the best places to do it.
Even more, you can list your abilities to do most of the legit work-from-home jobs, such as data entry, transcription, translation, writing, video editing, etc.
Becoming a Fiverr seller has the potential to be your new full-time occupation.
Sure, when you're just starting, it would probably be more of a side hustle than anything else.
However, if you work hard to expand your brand, you'll have the chance to become one of the people who earn five and six figures a year selling on Fiverr.
Related: Simple Items You Can Sell Online When You Need Cash Fast
25) Dropshipping
First and foremost, dropshipping is hard work – don't kid yourself into thinking that it's not.
Starting and developing your own online store to the point where it brings you profits will take a long time.
With that said, dropshipping is one of the most profitable legit work from home jobs you can have – the income potential is limitless.
Depending on how seriously you're taking the job, you can earn anywhere between a couple of hundred dollars to thousands per month.
And one of the best things about it is that you can launch a whole online business with no start-up cost.
Shopify will allow you to build your store completely for free.
Thanks to its free trial, you'll be able to build a shop without paying anything at all.
Legitimate Work From Home Jobs – Part-Time
Generally, most of the entries above can replace your current nine-to-five job.
There are other legitimate online jobs you can try, though.
I'm giving them a separate paragraph because they are more side jobs than full-time ones, in my opinion.
Here they are:
Legitimate Work From Home Jobs Near Me
To clarify, the jobs you're about to see are for USA citizens, but they might work in a couple of other countries.
You'll need to check if you're eligible by visiting the official websites.
Work As A Tasker: Anyone can find easy jobs once they join TaskRabbit.  The most committed taskers earn up to $7,000 per month.  Learn more about it by reading my TaskRabbit Review.
Dasher: Dashers are people who drive for DoorDash. Delivering groceries in your spare time will make you an extra $500 per week.  Find out more here.
Legit Work From Home Jobs No Experience Required – Frequently Asked Questions
What's The Easiest Job To Get Hired At Home?
Online tutor
Transcriber
Data entry clerk
Proofreader
Freelance writer
What Are The Best Legit Work From Home Jobs?
Virtual Assistant
Social Media Manager
Voice-Over Artist
Web Developer
Graphic Designer
Writer/Editor
How Do I Get Job Online With No Experience?
Decide what skills you'll need to develop to get the online job you want
Improve the skills you want to offer by going through a training or online course
Create a portfolio that showcases the best of your abilities
Apply for the online position you want to get
Is There Any Easy Work From Home Jobs That Pay Well?
Yes, there are easy legit online jobs that will pay you well.
For example, affiliate marketing, blogging, consulting, and selling products and services online are jobs most people can handle.
My Closing
Hopefully, you have a pretty good idea now about the best legit work from home jobs available worldwide.
Of course, the options you sell above are not the only ones you can go for – there are many others as well.
Always do extra research before you decide on a work-at-home job to do full-time.
Do you have any questions for me?
Ask me whatever you want about this topic, and I'll get back to you the first chance I get.
More Ideas From Cash Embrace You Might Like: