21 Ways To Make Money Fast – Earn More Than $100/Day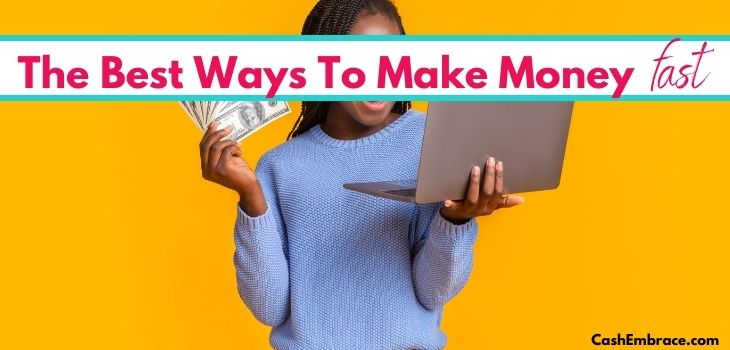 Are you looking for ways to make money fast?
Sure you are – everyone can use a bit of extra cash from time to time.
Beware, though:
Not all ways to make money fast you read about work as well as you would like them to.
Some will only waste your time without giving anything substantial in return.
Welcome to the wild wild web where scams are everywhere!
It's crucial to keep your eyes open and check efficiently each of the real ways to make money from home you may stumble upon during your research.
Or you can skip that research entirely and go through my list of legitimate ways to earn cash fast.
This post may contain affiliate links – read my affiliate disclosure.
Are There Real Ways To Make Money From Home?
Yes, there are many legitimate ways to earn from the comfort of your home.
These days, access to the internet will open hundreds of doors for everyone ready to learn how to make money online as a beginner.
Whether you need money now to help with the bills or pay off your debt, you can find real ways to earn them if you know where to look.
Now, don't rush to exit this page if going online to work intimidates you:
My list of ways to make money fast will present you with both online and offline earning ideas.
With that said, I need to clarify something before we go any further:
While most of the cash-making strategies I'll show you will allow you to make money quickly, some will require a bit of effort but will help you earn more.
Depending on your financial needs at the moment, you'll decide which option will work best for you.
Recommended Read:
The Best Ways To Make Money Fast
Alright, let's start with the quick money-making ideas, shall we?
A word of advice:
Going after all strategies to earn cash quickly might not be the most fruitful approach:
Doing too much at once will surely overwhelm you.
In my opinion, it's better to choose a couple of fast earning ideas and give the rest a try a bit later on.
Again, the choice is yours!
How To Make Money In One Hour
1) Sell Home Items You No Longer Need
By all means, one of the smartest ways to make money fast is to get rid of things you never use in your home.
Grab a piece of paper and a pen, and let the evaluation begin:
Go from room to room and write down everything you don't need but still have for some reason.
Redundant stuff you haven't used in ages can be exchanged for hundreds of dollars.
For example, I made over $200 for an old laptop I forgot I even had.
Nowadays, you can sell all kinds of things online to earn cash in a day.
Consider listing your items on the biggest online retailers, such as Amazon and eBay.
2) Sell Unused Gift Cards
While I can easily place selling gift cards in the previous category, I choose not to do that.
Quite frankly, exchanging gift cards for cash is even better than decluttering your living space for money:
You didn't buy them, remember?
So, selling them is a perfect example of getting free money.
I suggest doing a bit of research that will help you find out the best selling price for your gift cards.
Once you do that, there is no reason you wouldn't be able to sell them before the day is over.
You can list your gift cards for sale on Craigslist, the Facebook Marketplace, and Social Media accounts.
3) Exchange Old Electronics For Cash
What's the situation with your old electronics?
Do you happen to have a few of them you can turn into cash?
Hopefully, you're aware of the fact that buyback services will be more than happy to get your old gadgets off your hands.
Give this fast money-making idea a try by visiting Decluttr and Gazelle.
These are some of the items you'll have no problem selling:
Tablets
iPods
Game consoles
Fitness trackers
The Best Ways To Make Money Fast Online
4) Complete Small Tasks Online
Currently, tons of online platforms will allow you to earn cash quickly if you spare a few minutes to do small tasks.
For example, using my favorite site PrezeRebel will make you money for watching videos, taking surveys, and other fun activities.
Be careful with the rest of the survey platforms – not all of them deserve your trust (see what I'm talking about in my Survey Money Machines review).
Have a look at legitimate opportunities to earn while barely doing a thing:
5) Do Gigs On Fiverr
Basically, Fiverr is the largest online marketplace in the world that connects businesses with people offering their services.
It doesn't matter what you're capable of doing:
Any kind of service you can offer will reach an enormous pool of potential customers.
Being on Fiverr will allow you to enjoy flexible working hours, and you can set up your own pay rate.
Start by creating a free account, then build your profile and post your first gig.
6) Find A Freelance Writing Job
Some of you may wonder – why do I place freelance writing on my list of ways to make money fast?
Well, I do because a freelance writing job can earn you cash as soon as you complete the assignment on many occasions.
Depending on who you'll choose to work with, writing online might become both a fast and lucrative source of side income.
Don't worry if you're not a professional writer yet – even beginners would be able to earn money writing online.
Learn more about getting paid to write online:
7) Get A Part-Time Job
Currently, finding a suitable side hustle is one of the most popular ways to make money fast.
Let's face it – we can all use the extra boost to our monthly income, don't you agree?
Maybe you can spare a few hours at night? Then starting a part-time night job will do the trick for you.
Or probably you need an online job that pays weekly? There are tons of these too!
I suggest checking all available opportunities – some of them will pay you over $200 per hour:
8) Work As An Online Friend
Relatively new, the chance to work as an online pal is gaining more popularity every day.
Why wouldn't it be?
As an online pal, you don't have to meet your web buddies in person. Subsequently, there is no safety or security issue you should worry about.
Also, there is no shortage of lonely people who don't mind paying to have somebody to talk to every now and then.
Most importantly, working as an online friend will pay you around $50 per hour.
Isn't that one of the best ways to make money fast you can think of currently?
9) Sell Photos Online
A quick question – how many of you have a talent with the camera?
Hopefully, the answer is a lot – selling stock photography online is a fast and profitable way to make money.
Plenty of websites will let you monetize your photography skills.
Besides, you can get a photography job online that will earn you $100 per hour.
Another way to make money via photography is to take and sell feet pics online.
10) Sell Crafts On Etsy
While we're still on the subject of selling, let's discuss selling homemade crafts on Etsy as one of the ways to make money fast.
Do you happen to be one of those people who enjoy spending time creating crafts at home?
Great, then you should open an Etsy shop and start selling them.
These days, over 460 million people visit Etsy every month.
So, you can imagine the financial potential of this money-making idea!
11) Publish A Kindle eBook
Anyone (and I mean anyone) can publish a Kindle eBook.
There is no need for tons of education or specific expertise to see your eBook selling on Amazon.
No, spending time on research and knowing what Amazon readers are looking for are the keys to success with Kindle Publishing.
Above all, your eBook has to provide value and be non-fiction to see it selling more than well.
I recommend using Sqribble to give your eBook a highly professional look and feel.
If you don't want to write, see how to make money selling eBooks without creating them.
12) Participate In Market Research Studies
To clarify, by market research studies, I don't mean surveys.
These days, you can earn very well if you use companies like Respondent.
Respondent connect companies with an interest in market research with people who wish to participate in them.
Joining Respondent will allow you to earn up to $14o per hour.
Sometimes, you might even make $300 for a single research study.
13) Download Mobile Apps To Make Money
It may be hard to believe, but using mobile apps is one the easiest ways to make money fast.
Some mobile applications will pay you for simply downloading them. Others will let you earn for doing next to nothing.
On top of that, there are mobile apps that will pay you for exercising and walking.
Yes, you have the option to make cash while putting the effort to lose weight and keep in shape.
See my picks of high-paying mobile apps anyone can use:
14) Listen And Review Music
Slice The Pie is probably the most popular online platform you can use to make money by listening to music.
All you have to do is play a track and provide your honest opinion about it.
Your review doesn't have to be a few pages long.
At the same time, writing down just a few words will not be good enough to earn you money.
This earning idea will not make you hundreds of dollars but will pay you for doing something you most likely do every day anyway!
How To Make Quick Money In One Day – Ways To Make Money Fast Today
15) Become A Pet Sitter Or Dog Walker
Do you enjoy taking long walks?
If you do, chances are you wouldn't mind taking a dog to accompany you during them.
And what about pet sitting? Is this something you like doing as an animal lover?
Nowadays, plenty of companies will let you earn money for taking care of dogs.
Regardless of which one you'll choose to work with, you'll make at least $10 per hour.
16) Get A Babysitting Job
Quite frankly, I doubt that I'll be the first to tell you that babysitters are always in high demand.
According to statistics, babysitting one child will make you around $18 per hour.
That pay rate increases if you agree to care for two kids – expect to earn over $21 per hour.
More importantly, you'll collect your earnings as soon as your babysitting gig is over.
In other words, watching children should be on top of your list of ways to make money fast in a day.
17) Make Money As A Driver
Doing driving jobs in your spare time is the perfect earning solution for people who love being behind the wheel.
Of course, Uber and Lyft are the most popular companies that will hire you as a driver.
With that said, I would like to direct your attention to another possibility – DoorDash.
Working as a dasher is about using a vehicle to deliver food.
DoorDash will pay you more than well – you can earn up to $500 a week.
18) Do Tasks With TaskRabbit
TaskRabbit will connect you with individuals in your area who need help with completing different tasks.
From furniture moving to walls painting, the workers of the company will earn doing a variety of jobs.
Keep in mind that not everything you'll have to do falls in the category of microtasks.
But if that doesn't bother you, working for TaskRabbit should be a no-brainer:
The company will allow you to earn around $2,000 per month – the amount depends on the number of gigs you'll complete.
19) Offer Home Gardening Services
Helping with home gardening is a popular way to earn money quickly when you need it.
Whether you'll mow lawns or plan garden decor, the opportunity is worth the shot.
And where do you start to market such services?
Well, spreading the word to your neighbors is a good place to begin.
You never know what might come out of it!
20) Do Housecleaning Jobs
Let's face it – housecleaning is not the most enjoyable chore for most people.
Subsequently, there is a large pool of potential clients for everyone willing to clean living spaces.
Right now, you can find a house cleaning gig locally or through an online search.
Prepare to earn around $20 per hour, sometimes even more than that.
21) Wash Carpets For Money
By all means, starting a carpets washing gig requires a bit of investment:
After all, you need to have a carpet cleaning machine to complete the job.
Still, many people are willing to pay for the service, and there aren't too many workers who offer it at this time.
Feel free to set a pay rate that will make both you and your clients happy.
Other Real Ways To Make Money From Home For Free
No-Risk Match Betting
Think what you will about match betting, but doing it is one of the most popular ways to make money fast.
More often than not, students are the ones who give match betting a try the most – the activity deserves a spot in the best jobs for students.
I suggest getting familiar with match betting as much as you can before you jump on the opportunity.
Answer Questions On JustAnswer
Basically, an expert opinion is something people will always look for online.
If you're an engineer, lawyer, or doctor, you can use JustAnswer to earn money in exchange for your knowledge.
Sure, you won't make millions on the platform, but you'll still see an increase in your monthly income.
Sell Course Notes
Do you still keep your old notes from your school days?
In case you do, offering them to students will help you earn a bit of cash fast.
Sites like Nexus Notes will allow you to upload your notes, set a price, and make money when someone downloads them.
Collect And Sell Scrap Metal
Quite frankly, collecting scrap metal might not be one of the most exciting ways to make money fast.
Be that as it may, I think you should consider it:
It's an extra income idea that will earn you a decent amount of cash in your spare time.
Wrap Your Car To Advertise Companies
Having a vehicle is not a luxury these days – it's a necessity for most people.
With that said, are you aware of the possibility of earning money by wrapping your car in advertisements?
Doing so will deliver a nice boost to your bank account every month.
Serve As A Mock Juror
Hiring a mock jury is a common practice among lawyers that helps them strengthen their case.
Expect to earn as much as $100 per day – that's quite a lucrative pay rate for the amount of work you'll have to do.
eJury is an online platform that will pay you to participate in pre-trial jury cases without leaving your home.
Work As A Building Inspector
OK, do you have a certain level of expertise in inspecting buildings?
Because if you do, WeGoLook will pay you to do it.
The pay rate varies, but you can find a suitable gig easily.
Organize Offices
Not every business owner with a physical office has impressive organizational skills.
That's where you'll come in – such a gig might earn you around $100, depending on the person who will hire you.
Marketing your office organization services on Craigslist is a good place to start with this side hustle.
Stage Properties For Sale
Staging living spaces for sale is not one of the brand new ways to make money fast.
On the contrary, many people have been doing it for years.
Reach out to the prominent real estate agents in your area if staging homes is something you would like to do for cash.
Event Planning
Planning parties and different events is not an activity every person will be able to manage.
However, if you think you can handle it, going in that direction will be worth the effort.
While event planning will not make you money instantly, you can earn a satisfying extra income once you start booking clients.
Participate In Medical Studies
More often than not, clinics and hospitals are willing to offer a good amount of money to people who don't mind being a part of medical studies.
I get it – not everyone will enjoy this money-making idea.
Those of you who have no problem with it should do online research to learn about ongoing local medical studies.
Sell Blood/Donate Plasma
Again, it's understandable if selling your blood or donating plasma is the last thing you want to do.
Considering this article is about ways to make money fast, I have to mention the opportunity:
Selling blood will make you around $40 while donating plasma twice a week will earn you up to $60 per donation.
Sell Your Vintage Clothes
Let's see – how many of you still keep vintage clothes and do not wear them?
Maybe you should let them go for a price?
How about you take every piece of vintage clothing to the local thrift shop and exchange it for money?
Do Walking Tours
If you happen to live in a tourist area, leading walking tours is not a bad idea to earn some extra cash fast.
Viator is a huge platform that often hires tour operators.
Keep in mind – the company operates all around the world.
Sell Insurance Policies
These days, you can start selling insurance in your spare time:
It won't take ages to learn the basics of this job.
Primerica is a company that constantly hires new agents who want to sell insurance policies.
Sell Tickets Online
To clarify, selling tickets online means that you'll act as a ticket broker.
Everyone can become one as soon as they get the necessary education.
Ticket brokers are in the perfect position to earn over $1,000 a month since the field is not one of the most competitive industries yet.
Related: Is There A Sure Way To Win The Lottery
5 Extra Ways To Make Money Online
Blogging: It's no secret that established bloggers earn 4, 5, and even 6-figure income every month.  While it takes a lot of time to get there, starting a blog is definitely worth the effort. Get hosting with SiteGround and launch a blog today.
Affiliate marketing: Affiliate marketing is a great way to monetize your blog – it's easy to implement and even easier to earn from it.  If you want to become an affiliate marketer, I recommend going through this free training.
Make money on YouTube: The most successful YouTubers are welcoming millions every year.  Sure, it may be hard to believe, but some are earning that much per month.  So, starting your own YouTube channel is something worth considering.
Dropshipping: Dropshipping is an online business model that will allow you to live the laptop lifestyle.  Platforms like Shopify offer a free trial.  Don't hesitate to use that and build a profitable online store today.
Print-On-Demand: Print-on-demand will allow you to make extra money on the side without investment.  Plenty of tutorials about using sites like Teespring are out there, so maybe you should think about it!
My Closing
There you go – you have a whole list of ways to make money fast.
Everyone can use some extra cash from time to time – no argument about that.
Why not take the chance to earn that cash on a daily basis and not just sporadically?
Is there anything you would like to ask me about this topic?
I love engaging with my audience, so I won't leave you waiting for long if you drop a question in the comments below!