Crafts That Make Money: 50 Popular Crafts You Can Make And Sell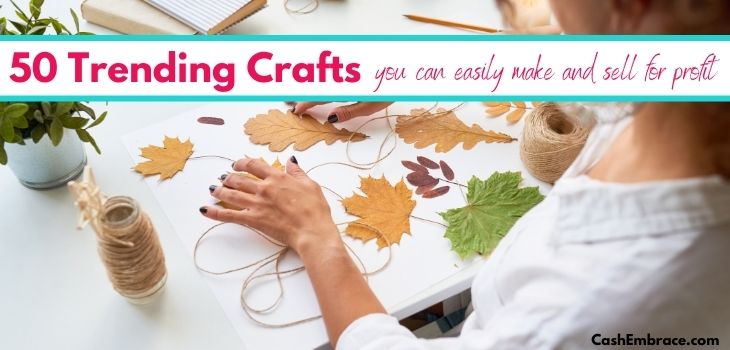 If you like to think of yourself as a creative person, then reading about the best crafts thatmake money is long overdue.
Actually, reading is just the first step of what may become quite a profitable journey:
Taking action on the knowledge you'll acquire today is what will get you through the door.
Make no mistake, devoting time to things to make and sell for profit has huge income potential.
So huge, that looking at it as a whole business rather than just side hustling would be the right approach.
With that said, here is what we'll be discussing today:
What easy things to make and sell online you should start with?  Furthermore, which are the most popular things to make and sell?
Plus, which are the most profitable crafts to sell currently?
This post may contain affiliate links, read my affiliate disclosure.
Why Selling Crafts Is A Great Business Idea?
Quite frankly, for a lot of reasons.
I'll share with you the ones I personally see as the most important:
Firstly, it's an awesome opportunity to earn without having to step out of your home.  You can easily create crafts that make good money in just one room.
Since most people are forced to find a way to earn a living from home these days, starting a craft business looks more attractive than ever.
Secondly, it's an outlet for your creative talents.  Being able to reach financial independence while doing what you love is the ultimate goal for all of us, isn't it?
Lastly, this is a business that doesn't come with unbearable start-up costs.
Platforms like Redbubble and Etsy will allow you to sell your crafts for free.  You don't have to pay anything to build a store and market your products on them.
Can You Make Good Money From Selling Crafts?
Generally, "good" is probably not the most fitting word here.
As I've already mentioned, getting busy with products you can make at home and sell could completely replace your current 9-5 job.
However, there are certain things you need to keep in mind if you want to reach that level of success.
Coming up with a smart business strategy is the most essential one for sure.
But what implementing a clever business strategy even mean?
It's quite simple actually:
You need to put all your energy into creating crafts that are in-demand and you have to learn how to market them to a wide audience.
Before we have a look at which are the crafts that make the most money, let's talk about the marketing aspect first.
In other words, let me show you how to open an online store and where you can do that.
How To Build An Online Store To Sell Crafts That Make Money?
First of all, you need to set up a business PayPal account if you haven't already.
That's how you'll receive payments as soon as you start making sales.
Once that's done, it will be time to decide how and where to start your online shop.
Here are your options and you'll have to pick one:
1) Start A Blog
By all means, starting your own blog to sell crafts on it is the best choice – and the smartest one.  Especially in the long run.
When your store exists on your own site, you'll have all of the control every ambitious business owner needs.
Just think about it:
You can publish blog posts about each of the crafts you're selling.  That alone will drive tons of organic traffic to your pages if you do the proper keyword research and SEO.
Writing tutorials will allow your audience to see how your favorite crafts come to life.  Every reader that is fond of DIY projects will appreciate that.
Meanwhile, you can start a YouTube channel for your blog.  Uploading videos that show and not only tell about craft's creation will boost your views in an enormous way.
Isn't all that much better than building a store on a platform that can shut it down at any given moment?
If you ask me, you shouldn't give that much control over your hard work to somebody else.
With that said, here is what you need to do to start a blog and turn it into a kick-ass store:
Make sure that your blog is self-hosted – the free blogging platforms don't allow monetization, so you'll have to go with a self-hosted plan.
Choose superb hosting service – I would go with BigScoots since they are the best in the hosting field in my opinion.  But feel free to read about other great hosting services as well.
Download WooCommerce – this is a free WordPress plugin that will make selling on your site possible.
Create your first product – and you'll take it from there!
Currently, the craft niche is one of the most profitable blog niches – it will give you the chance to earn a steady income for years to come.
2) Start Etsy Shop
OK, no one will blame you if you choose to open an Etsy shop instead of having one on your own blog.
While you won't have the same creative control, it's definitely the easier solution.
For those of you with no marketing experience, it might be the only solution that makes sense.
Etsy is more than beginner-friendly and it will show your work to millions of people.
After all, that's the thing that should matter the most when you're creating crafts that make money, right?
Personally, I don't entirely agree with that since you know where I stand on the issue of controlling your business:
Yes, Etsy is easy to work with and almost free to use – publishing a listing will cost you $0,20.
At the same time, Etsy can close your shop without any warning if they decide that you're not following their guidelines and terms of use.
In case that happens, you'll have to kiss your whole business goodbye.
Still, if you feel like it's the right fit for you currently, just build your store and start selling!
3) Start A Shop On Shopify
Honestly, that would be the option I would pick if I was interested in crafts to make and sell from home.
The way I see it, Shopify is combining the best of the previous two worlds:
It's a platform that is specifically designed to help you build a successful e-commerce business and you can publish blog posts on it.
Shopify is the industry leader and you couldn't ask for a better partner to assist you.
While it's a bit more expensive than Etsy, it's still quite affordable:
You will launch your store for free since Shopify offers a 14-day free trial.
Once the trial is over, you can pick the Basic Shopify plan that will cost you $29/month.
Related Read:
Crafts That Make Money – Trending Crafts To Make And Sell
Enough about starting a crafting business and enough about the process of building your store!
I believe it's time for me to start talking about the reason why you're on this page, isn't it?
Considering today's article is the longest piece of content I've ever written, I'll separate the crafts into a few categories.
That will make the reading process easier – at least I hope so!
Easy Things To Make And Sell For Money (Home)
1) Decorative Pillows
There is always room for a new cute pillow.
A throw pillow is one of those things that could instantly make a new house or apartment feel cozier.
Not to mention, they sell really well, especially on Etsy.
Creating them is just as cheap as it is fast – you can get all the necessary items from Dollar Tree.
And the best part is that there is no sewing involved – watch the full tutorial here.
2) Welcome Mats
Another item that belongs to the category of easy things to make and sell for money is the welcome math.
Is there a home that couldn't use one of those?
Etsy is not the only platform where you can easily sell welcome mats – they do really well on Redbubble as well.
Watch the full tutorial if you're not familiar with the creation process.
3) Table Cloths
Believe it or not, you can create your own table cloth from items you probably already have at your home.
If you don't, you won't have to invest more than a couple of dollars.
As expected, there is sewing involved – nothing too complicated, but still!
See more about it here.
4) Quilts
OK, creating quilts is a bit more difficult than table cloths or welcome mats.
With that said, you can always use a pattern to simplify the work involved as much as possible.
To be honest, the quilts are definitely more time-consuming than the previous entries on my list.
But what I can see online, you'll have less competition to market them, so they are worth the effort.
5) Door Hangers
Personally, I just love it when I see door hangers, especially if they reflect someone's rich imagination!
Not too many around me, though…
Door hangers should be one of your top choices of crafts that make money if you're planning to open a shop on Etsy.
Here is one of my favorite tutorials that will teach you how to do them.
6) Plant Pots
In case you're a plant lover, you're not alone:
There are thousands of people who share your passion.
You know what that means, right?
Tons of possibilities to make money by creating plant pots.
I'm just obsessed with this tutorial – chances are, you'll be too!
7) Wood Pallet Ideas
Alright, some serious DIY skills are required if you're planning to monetize your wood pallet ideas.
With that said, there is no shortage of items you can create and sell:
bookshelves – the most popular from the wood crafts that make money, no doubt about it!
family wood signs – a lot of households don't mind having one of those, so there is cash to be made here.
name signs – much similar item to the previous one – it's quite profitable as well.
wedding signs – every bride-to-be that has at least a bit of originality would like one.
Basically, there are a lot more options where wood is concerned you should look into before you start a project.
Pinterest is a great place to get inspired, so do your research first.
Crafts That Make You Money (Wall Decor)
1) Paintings
Any artists reading this post right now?
If you're, that's awesome – original paintings happen to be one of the most profitable crafts to sell in 2021.
One of my closest friends opened a Shopify store where she sells all of her work.
With a bit of help from Pinterest for traffic, you'll be in a position to earn a full-time income while you stay at home and do what you love to do.
2) Frames
Since we're already talking about paintings…  What about frames?
Even if you've never created a single frame in your life, you can learn how to do so here.
I watched that tutorial at least a dozen times – I'm fascinated with all things DIY.
And let me tell you, it turns out that making frames is not that hard.
As long as you have a passion for it, there is no reason why you shouldn't sell frames for profit.
3) Wall Letters
We all have seen them, right?
I'm talking about these super cute walls that have your baby's name on it written in hand-made letters.
Have you ever considered making those letters yourself?
Now is the time to do so if you haven't:
The wall letter's niche is currently kicking ass on Etsy.
To clarify, the letters you'll be creating don't have to be centered just around baby names.
With that said, I'm not going to leave a link to a tutorial – there are tons of different ones on YouTube that will teach you a variety of ways to create wall letters.
4) Personalized Name Banner
Yes, those ones are selling quite well too.
Who wouldn't enjoy seeing their name on a banner at a surprise birthday party or when they're coming home from a long journey?
Keep in mind, though:
Considering you'll be creating personalized items, you'll have to put in a lot of hours until you cover all the names.
Not that you'll ever be able to cover each name that exists, but you're getting the idea.
Spare a couple of minutes and watch my favorite tutorial on this topic.
Related Read:
Crafts That Make The Most Money (Kitchen)
1) Mugs
Basically, I highly doubt that you didn't see this one coming.
After all, turning an ordinary mug into a piece of art after your designing skills have taken place is one of the most popular craft businesses.
However, you'll need to have a budget to build a successful mug-decorating business.
It won't leave you homeless, but you have to consider it before you begin.
Watch the tutorial now or leave it for later – it's up to you.
2) Mason Jars
Quite frankly, if I have to pick a favorite one from all the crafts that make money, a mason jar would be it.
Can't speak for you, but I can look at mason jars all day long.
Aside from looking gorgeous, they're also selling like crazy.
You may think that you'll have to overcome tons of competition in this niche to really earn some decent income.
But as long as you bring your A-game creativity-wise, your mason jars business will do just fine.
Staring at the YouTube results for "mason jars", I don't feel comfortable providing you with just one link – there are literally thousands of them.
Depending on what exactly you would like to do with mason jars, you can decide for yourselves which tutorial to watch.
3) Clay Tray Bowls
This craft idea may sound like a project that is not for just anybody.
Creating clay tray bowls sure require a bit of skill, I won't argue with that.
Still, it's not as hard as you probably imagine if you've never done it before.
I found a tutorial that will break the whole process into a couple of manageable steps.
4) Decorated Serving Trays
Now, being served breakfast in bed is not a thing from the past – many people are still doing it apparently.
That's where the decorated serving trays are playing a part.
Nobody likes spilled food or beverage in their bedsheets, right?
So, it looks like there will always be a market for personalized serving trays!
5) Custom Dry Erase Board
How useful are they exactly?
Well, more than useful, especially if you're a busy mom with a newborn that is extremely sleep-deprived (just an example).
And that's not just my opinion:
The custom dry erase boards are generating thousands of sales on Etsy the last time I checked – which would be a few minutes ago.
See how to create them on a budget here.
6) More Kitchen-Related Easy Things To Sell Online
fridge magnets
mason jar handwash dispenser
glitter tumblers
decorated wine glasses
vases
Popular Things To Make And Sell (Bathroom)
1) Scented Candles
Is there a lady who doesn't appreciate them?
Taking a long, relaxing bath is just not the same experience unless you're surrounded by scented candles.
Currently, they are one of the most well-selling crafts that make money – and not just on Etsy.
Plenty of tutorials exist right now to teach you how to make scented candles, here is one.
2) Soap
It doesn't matter how many articles about crafts that make money you'll have the chance to read:
Making and selling soap can be found in pretty much all of them.
Why wouldn't it be?
Contrary to what many people may believe, making soap is actually easy.
Have a look for yourself – here you'll find 4 easy ways to create it.
Fashion-Related Most Profitable Crafts To Sell
1) T-Shirts
Generally speaking, T-shirts are not the only piece of clothing that sells pretty well.
No, the rest of them will earn you good profits too.
For now, though, let's focus on the T-shirts.
There are a couple of ways to make money from selling them:
You can start a print-on-demand business or you can decorate plain t-shirts yourself and sell them in your own shop.
Depending on which option you'll go for, there is tons of information online that will get you started on the right foot.
2) Scarves
Whether you enjoy knitting or sewing scarves, you should know:
Your skills will earn you really good money as soon as you put them into action.
At the time of writing this article, handmade scarves are one of the most popular crafts you can create and sell online.
With that said, there is not going to be a link to a tutorial in this paragraph.
Simply because there are hundreds of ways to make this craft – you'll have to choose a tutorial for yourself.
3) Head Wraps
Unleash every bit of creativity and imagination you have and release it into a nice-looking head wrap!
This item is not just cool and useful – it's more than profitable as well.
I was wondering which tutorial to direct your attention to – there are so many of them.
Maybe you'll like this one?
4) Headbands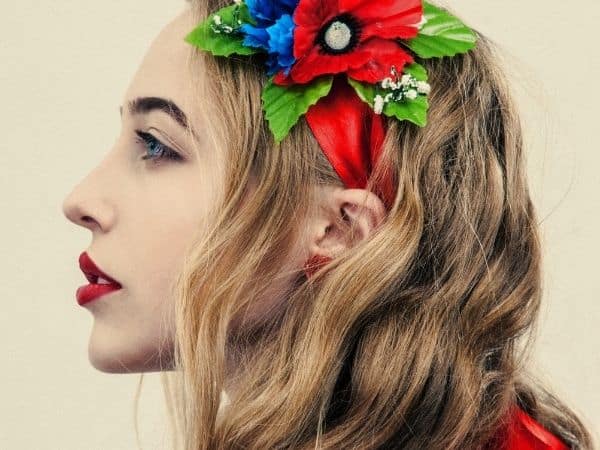 Much similar to the head wraps, but not exactly.
A headband is even easier to make in my opinion.
But if you're determined to sell head wraps in your shop, why not add some headbands as well?
It makes sense, doesn't it?
5) Hats
Personally, wearing hats on a daily basis is not my thing, but it's a thing for thousands of women.
Firstly, hats are useful if you don't feel like doing your hair today.
Secondly, they add a final touch to your outfit.
Lastly, creating hats could potentially replace your current source of a full-time income – that's how profitable this craft is.
Again, too many teaching sources – choose yourself, depending on the type of hats you would like to make and sell online.
6) Masks
No need to comment about how crucial they are right now, is there?
Naturally, that's what makes them one of the most in-demand items you can easily make and sell online.
From what I can see, masks are very cost-efficient, and creating them is nothing you couldn't possibly manage.
Feel free to watch this tutorial to learn how to make masks at home.
7) Bags/Handbags/Purses
Alright, one may argue that bags are one of the crafts that make money not everyone can make easily.
While I somewhat agree with that statement, those of you who are artists at heart won't have to struggle that much.
Both Etsy and Pinterest will provide you with enough knowledge and ideas to get you started.
8) Jewelry
To sum up, starting a jewelry-based craft business is one of the most lucrative paths you can walk on in 2021.
The niche is more than profitable:
Handmade pieces of jewelry are the perfect example of crafts that make money on Etsy.
You'll earn a great amount of money if you create and sell:
necklaces
rings
bracelets
earrings
Crafts That Make Good Money (Baby)
baby bows
baby onesies
knitted mittens and beanies
scrunchies
ribbon toys
plush toys
worry pets
baby blankets
Printables
Printables are huge right now and they're selling quite well, especially on Etsy.
More importantly, they're easy to create and are not at all time-consuming.
For instance, you can create and sell all of the following:
to-do lists
planners
book covers
calendars
motivational quotes
My Closing
Truth be told, there is always more and more trending crafts that can be included in this article.
Nothing stays the same and neither are the crafts that make money.
I'll do my best to update this list and include more items in the future.
Until then, what's your take on today's topic?
What crafts you like the most and which ones do you see yourselves creating in the near future?
Share with me in the comments below, I would love that!