30 High-Paying Part-Time Night Jobs You Can Do From Home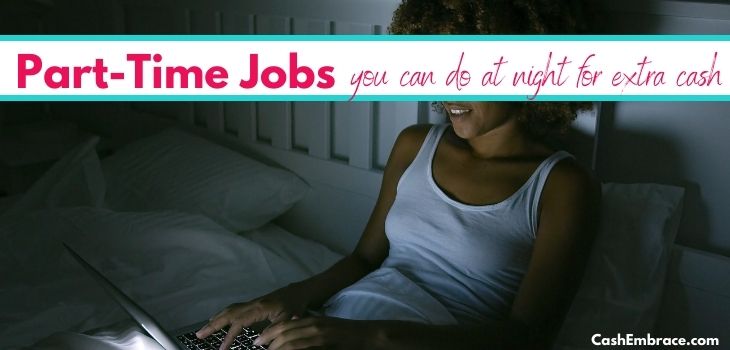 If you're not fond of the idea of doing part-time night jobs, this article will get you on board sooner than you can imagine.
Whether your day job leaves something to desire on the money front or your monthly income needs a boost constantly, getting a side hustle seems like a good solution.
While there are many ways to make extra money these days, getting busy with online night jobs is the best fit for certain people.
For example, earning extra cash at night is suitable employment for stay-at-home moms, college students, and everyone who doesn't have time during the day.
Today, I'll introduce you to a good number of part-time work from home night jobs you can get, even if you have no experience.
Keep in mind – I'll cover only legitimate work-at-home opportunities you can do at night.
This post may contain affiliate links. Read my affiliate disclosure.
What Makes A Part-Time Work From Home Job A Suitable Option For You?
Before I lay my list of part-time night jobs in front of you, let's discuss for a minute what would make such an employment a good choice.
We already established the fact that you'll be looking for a job to complete at night time.
This way, your daily occupation will not suffer in any way. Plus, your social life will mostly stay intact.
So, what does an online night job has to offer to satisfy such needs?
Well, the part-time evening job you're aiming for has to:
Come with flexible hours
Be available all year round
Allow you to work on a nearby location (when it's not online)
Not require a big investment (no investment at all is the ideal case)
Make it worth your while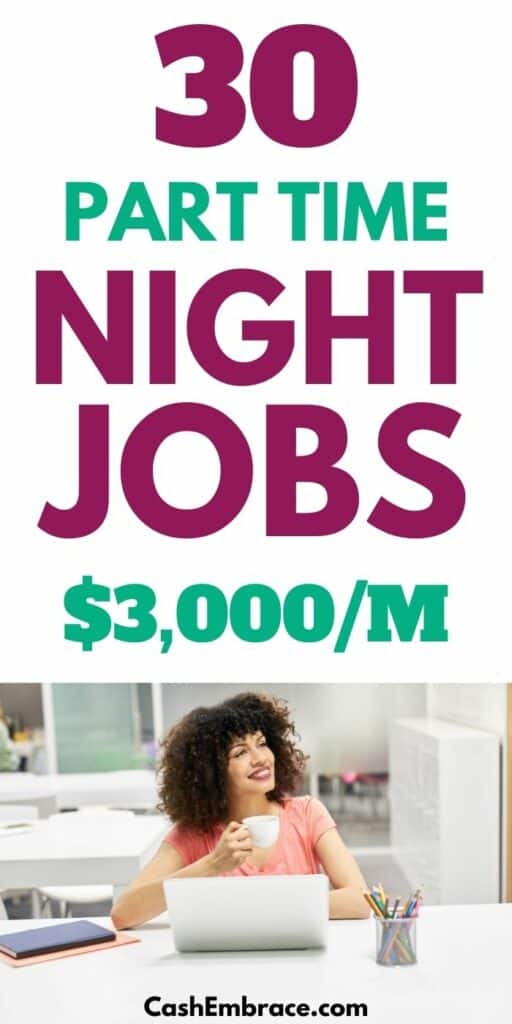 With that said, not every job that comes to mind would make the cut. And that's a good thing:
By all means, the goal here is to choose a part-time opportunity you can handle in the evening without major consequences to your everyday life.
Of course, earning a delicious paycheck is the other part of the equation!
Alright, let's start going through the options, shall we?
High-Paying Work-At-Home Jobs You May Like:
Part-Time Night Jobs From Home
A quick word about the evening work-from-home jobs you're about to see:
The choice about how you want to do them is up to you.
Meaning, each online job on my list is employment you can do on a freelance basis, as a side hustle, or as a whole online business.
Yes, most night jobs you'll discover today has full-time income potential. Therefore, they can replace your current nine-to-five job if you want them to.
Also, if you find a money-making idea you like a lot, it can become a small business you will do on the side at first.
Who knows, many side businesses tend to turn into online empires later on!
Now, have a look at the well-paying part-time night jobs you can start today:
1) Evening Work From Home Data Entry Jobs
Quite frankly, I'm sure many of you don't like the idea of starting with the position of data entry clerk.
After all, dealing with that after a long day of work is probably the last thing you wish to do.
Hear me out, though:
Taking on a data entry job to do at night might not be such a bad idea.
Firstly, the data entry jobs I'll direct your attention to have no registration fees. Likewise, you can start earning from them without paying anything at all.
Secondly, you don't need any special skills to become a data entry clerk. As long as you can type quickly and pay attention to details, you're good to go.
Lastly, you only need a laptop and a decent WiFi connection to complete a data entry job.
How much can you make doing data entry jobs?
Currently, the pay rate for data entry agents is between $15-$17 an hour.
Depending on the company you'll choose to work for, your earnings will vary.
Still, making over $30 for two hours of work at night seems more than reasonable use of your time, in my opinion.
Where can you find data entry jobs?
Once you know data entry is what you would like to do at night, your first step is finding suitable employment in the field.
Nowadays, many online platforms will offer you a legitimate data entry job.
See all of them in my article about the best data entry jobs hiring now.
2) Online Chat Jobs
Next on my list of part-time night jobs with flexible hours is the work of a chat agent.
Contrary to the popular belief, chat agents don't stay on the phone all the time.
Who wants to do that late at night, right?
Don't worry – you won't have to:
More often than not, chat agents assist people via texts (chat or email).
Does this sound like an extra income idea you don't mind doing?
If the answer is yes, you better make sure you have excellent grammar and communication skills.
These are some of the requirements you'll have to face to secure an online chat agent position.
What other skills do you need?
Multitasking comes to mind!
To put your brain at ease, I'll tell you that most companies hiring chat agents provide training and education.
How much can you earn as a chat agent?
Again, it depends on the company you'll choose as an employer. Expect to earn around $15 per hour when you're just starting.
Which companies are hiring online chat agents right now?
I'm glad that you asked!
Besides Apple and Amazon, there are so many companies always on the lookout for capable chat agents.
Take a moment to get familiar with the platforms offering online chat positions today.
3) Proofreading Jobs
Since I've just mentioned excellent grammar skills, let's see in what other way you can put them to use.
By all means, becoming a proofreader is one of the best ways to profit from them.
But what does a proofreader do?
It's easy to explain:
A proofreader improves the quality of a written document.
By finding and correcting grammar, spelling, and punctuation errors, proofreaders turn a draft into a polished copy of the content.
In other words, you'll be correcting mistakes from the comfort of your home!
How much do proofreaders make?
Basically, proofreading jobs are some of the most lucrative part-time night jobs available currently.
Even beginner proofreaders will be able to earn over $40,000 a year.
Where can you find high-paying proofreading jobs?
You can find 40 proofreading opportunities that will pay you $50 per hour here.
Before you visit this article, though, a word of advice:
Proofreading is a competitive field due to the high pay rate professional workers receive.
The formative word here is professional:
To make sure that you'll become an in-demand proofreading specialist, I suggest going through a proofreading course.
Caitlin Pyle is a household name in the world of proofreading, earning over $43,000 in her first year on the job.
Luckily for you, her Proofread Anywhere Workshop is available for free.
Sign up for Proofread Anywhere free of charge, and Caitlin will teach you so much about the ins and outs of the proofreading business.
4) Editing Jobs
First and foremost, editing jobs and proofreading jobs are not the same things.
Especially the editing jobs I would like to talk about:
Are you familiar with scoping jobs?
These are jobs that require editing legal documents for court reporters.
Such a job will not ask you to go back to the university – you can learn how to do that from home.
Yes, scoping is employment that is happening online these days.
As long as you can correct mistranslated words and rework formation, you'll be able to do a good job as a scopist.
How much do scoping jobs pay?
You'll be satisfied – editing court documents pay more than well.
Professionals doing it earn over $4,000 a month.
What do you have to do to get scoping jobs?
Well, first, you'll need to learn how to do the job professionally.
It takes certain knowledge and expertise to secure the best-paying scoping jobs available.
Linda Evenson has made teaching scoping her life mission. Her Internet Scoping School is the most valuable course you can take if you're serious about scoping.
Here is her Free Mini Scoping Course you can start today.
5) Transcription Jobs
OK, you may argue that converting audio or video file into text is not a great late-night activity.
And this article has to cover part-time night jobs, right?
It does – many people are more productive at night rather than during the day.
So, working as a transcriber seems like a good idea if you happen to be a night owl as well.
With that said, a transcription job is something you can start today, and I'm not overreacting.
Most platforms providing transcription jobs also take care of the training.
How much can you earn doing transcription?
Honestly, it depends on a couple of factors, such as the company you'll partner with and how much time you have to spend.
The more hours you can devote to the job, the more money you'll make.
Where should you start?
In my opinion, you need to visit GoTranscript. That company is more than welcoming to beginners and will pay you over $1,200 a month.
6) Teaching Online Jobs
For some reason, transcribing always reminds me of tutoring – I have no idea why that is!
But it doesn't matter because it's time to discuss teaching jobs anyway.
Let me clarify – the ones I have for you will put you in a position to teach English to kids online.
Does this sound like an activity you would like to engage in to earn money?
Hopefully, it does – English tutors make around $25 per teaching hour.
At least, the ones working for VIPKID do!
A word about the job:
Not all companies hiring teachers online will ask you for a Bachelor's Degree in English. Sure, some of them will, but you can get a teaching job even if you don't have a degree.
Which companies should you scout first?
I have an article on this topic that will help you decide on a company to join.
When you're sure that you want to teach English on the web, check my favorite platforms hiring people to teach online.
7) Writing Jobs
Personally, freelance writing jobs are my top pick from all part-time night jobs out there.
Are they yours too? And if they are not, why is that?
I mean, what's not to like?
Firstly, you can find a writing job and earn money from it even on your first try. That may sound like a crazy fact, but it's true.
Secondly, there is a place for you regardless of your favorite writing topic. With so many websites hiring freelance writers, you'll find a platform that shares your interests.
Ultimately, you can squeeze an hour or two to write and earn before you go to bed, isn't that right?
Let's say you would like to try your hand in freelance writing.
How much can you expect to earn?
Again, it depends on the level of your writing skills and the platform that will hire you.
Some writing assignments have payouts of $20 – others will send $250 per written article.
With that said, how do you start working online as a writer?
It goes without saying that you'll need to become a freelance writer first. Take your time doing that because the process is not as simple as you may think!
Related: Earn Money Writing Slogans For The Web
8) Social Media Jobs
Chances are, you spend lots of time on Social Media anyway, so why not make it worth your while?
These days, who is not on Instagram or TikTok for at least a few hours a day?
Or should I say at night?
To be fair, some of the people reading might be an exception.
But if you're not, you might want to start thinking about becoming a Social Media Manager.
What does a Social Media Manager do?
You know, all the things you do just for fun and no money up until now!
For example, networking with people, posting regularly, replying to comments, and other similar activities.
Alright, and how much money can you expect to make if you turn your Social Media obsession into a career?
Believe it or not, professional, in-demand, and experienced Social Media Managers earn over $90,000 a year.
Of course, you won't be making that much when you're starting.
Still, as your skills increase, so will the zeros on your paycheck eventually!
Related Read:
9) Virtual Assistance Jobs
Truth be told, working as a VA was something I heavily considered before starting this blog.
I like the idea of assisting someone without being in the same location:
VAs find employers from every place in the world.
Have you thought about becoming a virtual assistant?
If you haven't, now might be the perfect time to look into this online job:
As of 2020, a VAs is in the top 3 of the most in-demand online careers. Not to mention, the pay is more than lucrative.
Allow me to answer the one question that must be on your mind right now:
Pro virtual assistants earn between $50-$100 an hour.
So, what do you have to do to become one of the highest-earning VAs?
Start your journey to VA success by learning from the best – Gina Horkey's training Horkey Hand Book.
This online course will jump-start your virtual assistance career in few simple steps.
10) Graphic Design Jobs
No one can argue that doing graphic design assignments for money is one of the best part-time night jobs.
At least, I think so, and here is why:
Generally, completing graphic design work has to happen in a previously agreed period of time. Likewise, you can use the free hours you have at night in case it's enough to deliver on a project.
Besides, developing graphic design skills is not as difficult as it used to be. There is a ton of teaching materials and free tutorials to learn from online.
Now, what about the paycheck?
According to Talent, the average part-time graphic designer salary in the USA is over $33,000 a year.
May I remind you – you'll be earning that much for part-time employment.
Is that a good enough return on your graphic design skills?
I'll let you decide that on your own.
Part-Time Night Jobs You Can Turn Into Profitable Online Business
Up until now, you see many opportunities that will bring you an extra income if you work on them for a few hours each day.
These are all good part-time jobs you won't regret getting.
But what if you see your night job as a stepping stone to something more?
Likewise, what if you want a part-time job you can transform into a source of a full-time income?
Great, have a look at ten side jobs that have a large income potential:
1) Affiliate Marketing
Doing affiliate marketing is always my recommendation for beginners who are just starting to work online.
Why wouldn't it be?
It's a common and popular way to make money online – one that doesn't require creating products or services to sell.
As an affiliate marketer, you'll recommend another person's products to your audience.
When someone buys a product through your link, you'll receive a commission.
I'm sure all that sounds like an easy process anyone would be able to handle.
In reality, though, earning thousands of dollars from affiliate sales won't happen for you until you develop the necessary skills and expertise.
Here is an online training you can start for free that will teach you a lot about the business.
Nowadays, you can do affiliate marketing with or without a website.
Speaking of websites:
2) Make Money Blogging
Believe it or not, most people start their blogs as side projects they're passionate about.
You know, like one of those part-time night jobs a person engages with when they have troubles sleeping!
With that said, monetizing a blog is definitely worth the effort if you need something more than an extra income.
I mean, your site will bring you money through:
Affiliate marketing
Sponsored posts
Displaying ads
Offering services
Make no mistake – these are just a few examples of all the ways you can earn when having a blog.
But how do you come to the monetization part? What's the road leading to that moment?
Basically, you have to create content around one main topic (and maybe a couple of related subtopics), drive traffic to that content, and monetize it.
So, decide on a domain name, get a kick-ass hosting with BigScoots (the best hosting service, in my opinion), and launch your blog as soon as possible.
3) Course Creator
Since I've just mentioned offering services on your blog, talking about an online course is the natural progression of the conversation.
By the way, you don't have to own a blog to create and sell a course on the web.
While it's preferable, it's not mandatory.
To make sure that your educational product will be popular, you need a large pool of potential customers.
And that doesn't have to be a website – any other online platform where you have an influence will do.
OK, and what type of an online course should you create?
That depends on the topic you're an expert on, or you want to become one.
When you feel ready to get serious about building a course, I suggest visiting Podia.
Podia is a platform that will help you on every level imaginable with the creation of your online course. It has so much to offer at more than a reasonable price, so I'm sure you'll find it valuable.
4) Digital Marketing Jobs
Taking the talk about digital products a bit further, let's discuss the jobs you'll find in the digital marketing field.
By all means, these jobs are not for everybody.
Sure, many people are doing the best they can to get a digital marketing job.
It's understandable – it's one of the highest-paying types of jobs you can have.
However, a job in the digital marketing industry will also require a lot out of you.
I'm talking about the skill set you currently have and what you might be doing to improve it.
Actually, you'll learn much more about getting a position in digital marketing or launching a business in the niche from this article.
5) Dropshipping
How do you feel about creating your own online store?
In case you're a bit conflicted and you're not sure if dropshipping would be a good fit for you, let me show you the advantages:
No need to store physical products
You won't deal with inventory, refunds, shipping details, and the most unpleasant parts of holding a business
Your profit comes from the difference between the product's price when you buy it and its price when you sell you
It's one of the most lucrative businesses to launch these days, thanks to the increased number of online shoppers
Ultimately, dropshipping is a business with low start-up costs.
If you build your online store with Shopify (the industry leader), the cost of launching your business would be zero.
Shopify offers a free trial – you can build your shop for free and run it without paying anything for half a month.
Once the trial is over, you can get the Basic Shopify plan – paying $29 per month is more than a reasonable price to develop an online store, correct?
6) Make And Sell Crafts
Speaking of selling, is your DIY skill dying to be monetized?
I mean, if you're handy and love building crafts, why not selling your passion-driven production for a profit?
The DIY projects are doing better than ever on the online market.
Sure, dealing with them might have been one of the part-time night jobs for you, but it doesn't have to stay that way.
Is there any reason you don't want to build a business from the crafts you already have?
Because if there isn't, you know what to do!
Before you start a craft business, you might want to steal a glance at the most popular crafts to make and sell these days.
Related: 13 Things You Can Sell To Get Money Today
7) Sell eBooks
Yes, selling books online is a thing again!
Apparently, it's more than profitable, especially if the books you're offering come in the eBook format.
What's even better, there is a way to earn from eBooks without going through the hassle of creating them.
How do you do that?
Well, one of the ways that come to mind is the K Money Mastery. Take your time reading and learning about the art of selling eBooks with no input in the creation process.
OK, and what if you want to write and sell your own eBooks?
You can do that too, no argument about it!
Get a copy of Sqribble – a tool that will create an eBook based on your content in a matter of minutes.
Once the product is ready, start selling on any channel you wish.
8) Work As A Ticket Broker
Quite frankly, selling tickets online is one of the first part-time night jobs I wanted to discuss in this article.
Since the job has a full-time income potential, I couldn't mention it earlier:
It belongs to the category of side hustles you can turn into an online business.
With that said, what does a ticket broker do?
Needless to say, such professionals sell tickets for different events online instead of in a physical location.
I wouldn't be surprised if this is the first time you hear about ticket brokers.
For some reason, the job they do is not as widely known as it should be.
Anyway, if you want to learn how to make money selling tickets on the web, read my post about being a ticket broker.
9) Start YouTube Channel
For starters, this is going to be one of the shortest paragraphs:
Who doesn't know how profitable vlogging is in 2021?
Nobody, right?
After all, YouTube is visual search engine millions of people visit every day to enjoy video content.
If you're up for the challenge of becoming a YouTube creator, I think you can't go wrong following that direction.
Keep in mind – you need 1,000 subscribers and 4,000 hours of watched time in the last year before you can apply to get ads on your videos.
10) Podcasting
Podcasting is hot, in my opinion.
And it will get hotter in the next few years (also my opinion).
But why should you care about that?
Well, because the world is constantly changing – the way people consume content is evolving rapidly too.
The interest in podcasting is on the rise. Likewise, the smart thing to do would be to monetize on that, isn't it?
Podcast hosts earn through a variety of ways.
Personally, I'm a huge fan of Joe Rogan, and I believe his success in podcasting is well-deserved.
Extra Income Ideas That Might Become The Perfect Part-Time Night Jobs For You
As you can guess, the list of side jobs you can do at night is not over yet.
So far, we have discussed side hustles and potential business ideas.
Now, let me show you another ten sources of extra income you can take advantage of at night:
Offer Services On Fiverr – Fiverr is an online platform you can use to start offering different servivces to an audience. It doesn't matter what kind of skills you have – you'll find people willing to pay for them on Fiverr.
Sell Insurance – Believe it on not, you can do that online as well as in-person nowadays. While you won't make a fortune if you sell insurance policies part-time, you'll boost your monthly income for sure. Read more about this money-making idea.
Be An Online Friend – And earn up to $50 per hour! Yes, working as a body online is a thing these days. You might want to read more about becoming an online pal.
Do Photography Jobs – Hey, you can take the photos during the day in your spare time and sell them at night. Having decent photography skills pays well – find out more about it here.
Deliver Food With DoorDash – If you own a car, love driving it, and need extra cash fast, becoming a dasher is something worth considering.
Start Selling Pictures Of Your Feet – That's one of the hottest side activities currently. Check why selling feet pics is one of the best part-time night jobs you can do here.
Participate In Research Studies – Companies like Respondent will pay you around $140 per hour. Don't miss out on this – read my take on Respondent to see what the deal is!
Listen To Music – This will not earn a lot, but it's money for an activity you're doing anyway. Therefore, why shouldn't you use Slice The Pie a bit more frequently?
Make Money On Pinterest – No, you don't need a blog to do that – you just need to learn how to earn on Pinterest without creating a website.
Join Amazon MTurk – And earn some extra cash for completing small tasks when you have time at night.
My Closing
Well, my list of part-time night jobs from home is coming to an end.
At least, it is for now:
I'll do my best to update it with more work-from-home opportunities in the future.
With that said, which part-time night job do you like the most?
Tell me in the comments section – I would love to know!
More Ideas From Cash Embrace You May Like: