30 Best Part-Time Night Jobs From Home: Earn $3,000/Month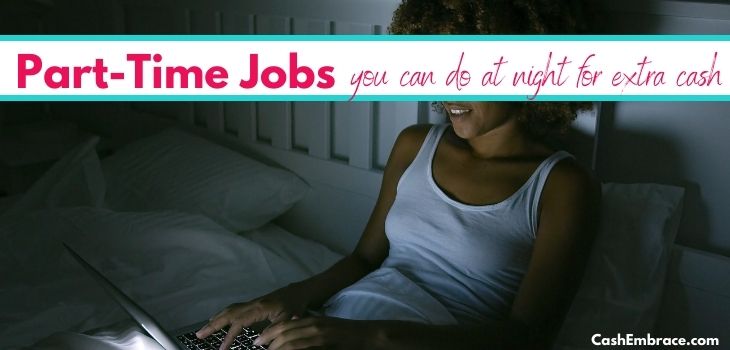 If you're not fond of doing part-time night jobs, this article will get you on board sooner than you can imagine.
Whether your day job leaves something to desire on the money front or your monthly income needs a boost constantly, getting a part-time position seems like a good solution.
While there are many ways to make extra money, getting busy with online night jobs is the best fit for certain people like college students and stay-at-home parents.
Today, I'll introduce you to part-time work-from-home night jobs you can get, even if you have no experience. My list will cover only legitimate work-at-home opportunities you can do at night, so don't worry about scams.
This post may contain affiliate links – read my affiliate disclosure for more info.
What Makes A Good Part-Time Job?
Before I lay out my list of part-time night jobs, let's discuss what would make such employment a good choice.
We have already established that you'll be looking for a job to complete at night time.
This way, your daily occupation will not suffer in any way. Plus, your social life will mostly stay intact.
So, what does an online night job have to offer to satisfy such needs?
Well, the part-time evening job you're aiming for has to:
Come with flexible work hours
Be available all year round
Allow you to work on a nearby location (when it's not online)
Not require a big investment (no investment at all is the ideal case)
Make it worth your while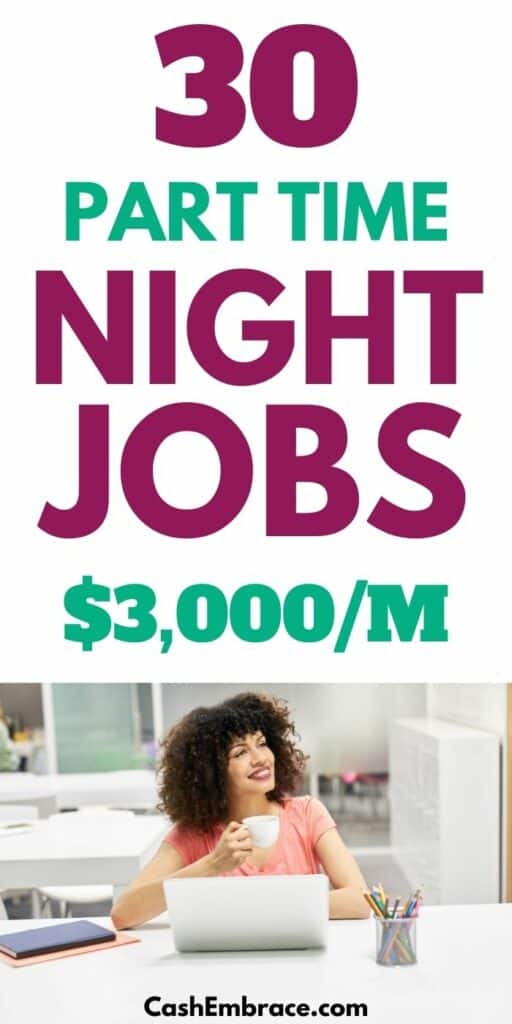 With that said, not every job that comes to mind would make the cut. And that's a good thing:
By all means, the goal is to choose a part-time opportunity you can handle in the evening without consequences to your everyday life.
Of course, earning a delicious paycheck is the other part of the equation!
Note: I'll do my best to exclude any company or a job that doesn't act as an affirmative action employer – we shouldn't care about businesses that don't offer equal opportunities to all team members, users, and employees.
High-Paying Work-At-Home Jobs You May Like:
Benefits Of Part-Time Night Jobs
Extra time to spend with family, friends, and loved ones
Control over your schedule and working hours
Work from a comfortable environment
Taking breaks when you feel like it is a possibility
Increase your income
More money will reduce your stress levels coming from bills and other expenditures
Legit Part-Time Late Night & Evening Jobs
A quick word about the evening work-from-home jobs you're about to see:
You're the one to decide whether you want to do any of these jobs as a side hustle or as a business owner.
Most jobs for night owls on this list have full-time income potential. They can replace your current nine-to-five job.
Any money-making idea below can become a small business you can do as a side online job at the start.
Here are well-paying part-time night jobs you can start today:
1) Make Money Blogging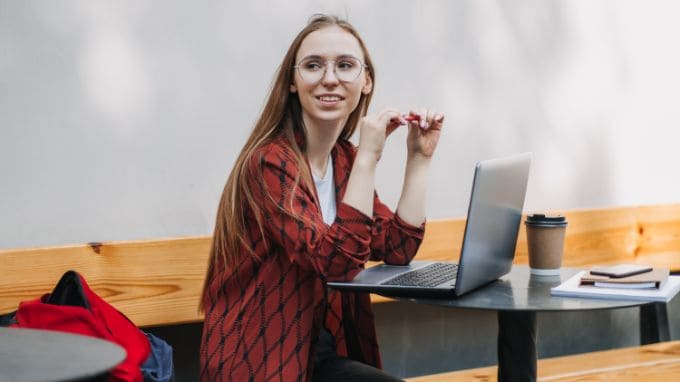 There is a reason why blogging has a place on every list of high-paying online jobs. Starting a blog is the perfect fit for most people regardless of their age group, gender identity, or marital status:
Blogging provides equal opportunity to everybody as long as you publish high-quality content that helps the reader.
Despite the tune that blogging is dead, starting a website and monetizing it is as profitable as ever (maybe even more so). Millions of people go online to look for information daily. If you manage to give them what they're searching for, there is no reason why your blog won't become a successful business.
Owning a blog that makes money has many perks, such as flexible hours, the opportunity to develop new skills, and enough free time to pay extra attention to your loved ones.
How To Get Started?
First thing first, don't launch a website before you spend enough time on research. Most first-time bloggers overlook the planning stage of starting a blog. In my opinion, that's a mistake:
The blog niche matters a lot. Even though almost every blogging niche can bring profit, it's no secret that some topics are much more profitable than others. Likewise, choose one you'll enjoy writing about with many possibilities for monetization.
Once you pick a niche, your next step is choosing a domain name. A perfect domain name should reflect the main topic of your blog, and it wouldn't hurt if you made it memorable. I suggest buying your domain name as soon as you make your decision – the good ones disappear quickly!
What happens after you sort out your blog niche and own a domain name? Then, get the best web hosting service you can afford. Big Scoots has outstanding customer and tech support. Plus, the company's hosting plans won't destroy your bank balance.
How To Make Money Blogging?
Above all, the more organic traffic your website attracts, the more money your site will be able to make. When your blog starts bringing thousands of pageviews, you can monetize it in many ways:
Displaying ads
Affiliate marketing
Sponsored posts
Offer services
Sell your products (like online courses)
Now, how much money can you make blogging? That's the one question nobody can answer for you – your blog income depends on many factors.
Still, let's look at displaying ads as a monetization method. The pay range for ad placement is $1,500-$3,000 monthly for 50,000 pageviews (if you partner with ad networks like Mediavine).
More importantly, earning money from display ads is a passive income – you won't have to work for that source of blogging revenue.
2) Freelance Writer
Freelance writing is one of the most common ways to make money online. Writers working on a freelance basis create content for companies, brands, magazines, and even bloggers.
Writing for money comes with a flexible work schedule and the luxury of working on your own schedule. Anyone with writing skills and a desire to keep improving can become a freelance writer and earn a full-time income from home.
Besides, freelance writing is one of the best part-time night jobs, considering you can start late at night.
How Much Money Can I Make As A Freelance Writer?
Nowadays, freelance writers earn around $30 an hour. Of course, the pay range for writers will vary depending on skill level, content type, etc.
It might be hard to believe, but some magazines will pay you over $1,000 per article. Most websites hiring freelance writers pay per word, so longer content will earn you more. Typing slogans for marketing purposes will add up to $3,000 monthly to your writing income.
See Also:
How To Start As A Freelance Writer?
Laura Pennington is the mastermind behind My Freelance Paycheck. Her writing career has earned her over 300,000 so far.
In her online course, Laura teaches complete beginners with no experience how to become successful freelance writers. At the time of writing, most of her students make over $3,000 a month from creating content.
My Freelance Paycheck is an online writing course you can take at your own pace. It will teach the ins and outs of making a full-time income writing and the art of booking the best-paying clients looking for writers.
Read this in-depth My Freelance Paycheck review when you can spare a minute.
3) Transcriptionist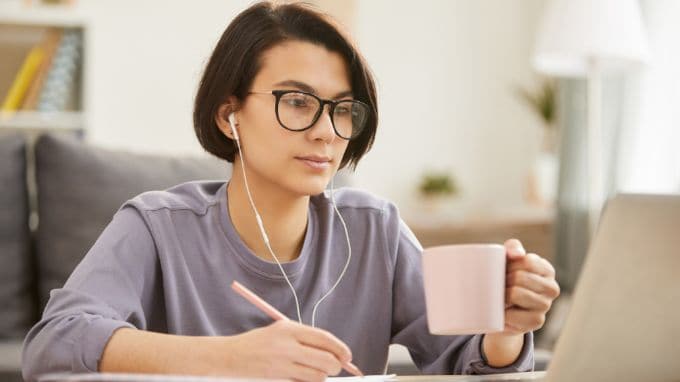 Transcription offers a great way to make money from home. Such a part-time job is perfect for people who can keep being productive working a night shift.
A transcriptionist is an independent contractor who listens to audio files and converts them into written text. These workers are getting paid per page, and they can set their schedules.
Do you want to put in full-time hours transcribing files? You can do that if fast typing speed and accuracy are skills you have to showcase.
Types Of Transcription Jobs
General Transcription Jobs
Medical Transcription Jobs
Legal Transcription Jobs
As you can guess, General Transcription is the most suitable field for beginners – the Medical and Legal transcription niches require specialized training, especially if you want to work as a legal transcriptionist.
How To Start As A Transcriptionist?
In my opinion, GoTranscript is one of the best places to get your first transcription job. That company hires beginner transcribers and offers extra training and assistance.
Assuming making money transcribing files is your top priority at the moment, take the next step and read my GoTranscript review for more info.
4) Freelance Proofreader
By all means, proofreading is one of the most profitable part-time night jobs you can start these days. Professional proofreaders make over $50 an hour.
Proofreading is a job that requires correcting grammar, spelling, and punctuation errors in written documents. Generally speaking, proofreading is the perfect fit for night owls with attention to detail skills.
Thousands of companies and businesses hire proofreaders to work on their documents. Presenting correct papers to potential clients is a must for any company that takes its business seriously.
Those who want to become professional proofreaders don't have to worry about finding well-paying home jobs. Most online proofreading jobs offer lucrative pay even to part time candidates.
How To Get Started With Freelance Proofreading?
Nowadays, proofreaders correct errors in many content forms, such as essays, books, reports, presentations, and blog articles. But how can you learn to proofread any of these documents professionally?
The fastest way to become an in-demand proofreader is by taking Caitlin Pyle's Proofread Anywhere course. Caitlin is a household name in the proofreading industry, and she helps thousands of people get into the field for free:
Proofread Anywhere Workshop is an 80-minute training you can go through for free to learn how proofreading works and secure the best-paying clients in your niche.
Related: Edit Court Documents To Earn $50,000/Year
5) Start A Dropshipping Business And Open An Online Store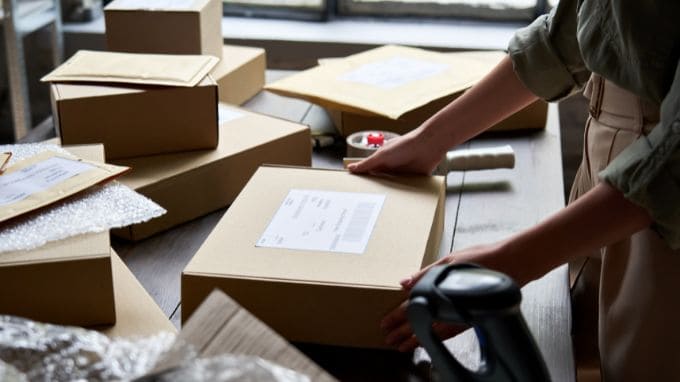 Dropshipping is a business where you sell products online without packing or shipping them to the customer. You don't have to keep an inventory.
Your tasks are selecting the best products and bringing visitors to your online shop. An online store can be a part-time job or a business that demands full-time hours.
It doesn't matter if your clients live in Las Vegas, New York, or anywhere else in the world – you won't be the one sending the products they'll purchase. Instead, your manufacturer will package and ship products to customers on your behalf.
Using the dropshipping business model can make you different amounts of money. Assuming you work hard to build and develop your online store, you can earn hundreds to thousands of dollars monthly.
How To Start A Dropshipping Business?
Shopify is the industry leader in the dropshipping field. That platform has millions of users and powers most online stores in the world.
Anyone can start an online store on Shopify for free – Shopify offers a free trial. Once that trial is over, get one of the affordable plans Shopify provides for its members.
6) Sell On Amazon FBA
For starters, what is Amazon FBA? Amazon FBA is an online platform that will offer you an alternative way to make money from an eCommerce business.
Let's say that you'll decide to build a business through Amazon FBA. The first thing you'll need to do is sign up on the platform to send products to Amazon's network of fulfillment centers. Amazon will package and ship the product when your business makes its first sale.
Another advantage of Amazon FBA is that the platform will deal with product returns and customer support – you don't have to worry about that.
How To Start An Amazon FBA Business?
Like any other online business, Amazon FBA requires extensive research before launching a store. Product research is unavoidable here:
Above all, the success of your Amazon FBA business depends on finding out what your target customers want and offering them the best products. Also, working with a reliable supplier will help you avoid delays with product shipping.
See Also: How To Make Money On Amazon
7) Sell Handmade Crafts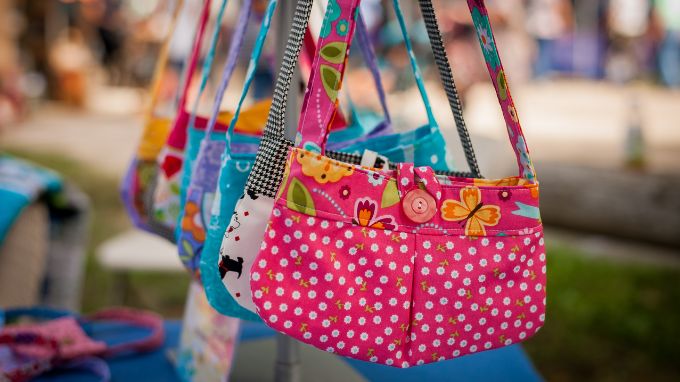 Are you someone who enjoys making crafts in your free time? Chances are, many of you find creating handmade products a relaxing and joyful experience.
Spending time making crafts is a great way to put your creative skills to use. But isn't it better if handmade creations become a source of extra income?
Creating and selling crafts is one of the most profitable part-time night jobs you can start. Moreover, listing handmade products for sale can be more than a money-making hobby – shouldn't you turn it into a whole online business?
How To Start Selling Handmade Crafts Online
Etsy is probably the best place to open a store and sell handmade products. Millions of potential clients will have the chance to sell your crafts and purchase them.
Launching an Etsy shop is free – you can sign up to become an Etsy seller using only your name and email address. Each product listing will cost you $0.20.
Related: 50 Popular Crafts You Create And Sell Online
8) Create And Sell Online Courses
Is there a field or area where you have more than enough knowledge to share? Why shouldn't you use that knowledge to make money on a daily basis?
Selling an online course is one of the most common ways to earn online. More importantly, online courses are excellent passive income sources:
After all, you'll create your online course once and sell it hundreds (maybe even thousands) of times to different people. Almost any subject can become a topic for a lucrative online course.
How To Get Started With Creating And Selling An Online Course?
Firstly, you'll have to pick a topic for your course. As you can probably guess, I'll once again recommend doing a lengthy research to make sure there is a large enough audience for your course.
Secondly, you'll create the course – feel free to watch many YouTube tutorials that will walk you through the process. Don't rush this step – your online course must provide as much value as possible.
Lastly, you'll decide where to sell your online course. You can do that on your website or third-party platforms like Udemy or SkillShare.
9) Write And Sell eBooks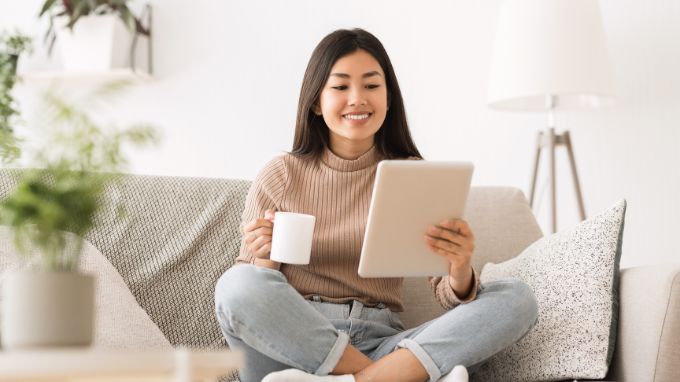 An eBook is an information product anyone can create and sell for money online. And when I say anyone, I mean anyone:
There is no need to be a famous author to write a professional and valuable eBook people would like to buy. Instead, you need knowledge, discipline, and expertise to help you market your eBook to the right audience.
Tools like Sqribble will make the job easier – Sqribble can create a professional eBook in minutes and assist you through the creation process from start to finish.
How To Start Selling eBooks?
Creating an eBook is a process with multiple stages, such as choosing a topic, outlining the main content, writing, editing, formatting, and marketing the final product.
Most authors sell their eBooks on more than one platform to reach different audiences and increase their chances for sales. Some of the places where you can list eBooks for sale are your website, online store, and third-party platforms like Amazon.
See how to create and sell your first eBook in five simple steps.
10) Become A Fiverr Seller
Fiverr is one of the largest online marketplaces for people offering freelance services. You can become a Fiverr seller and list almost any service for sale.
People call the Fiverr services gigs. At the time of writing, most Fiverr gigs have a starting price of $5. Of course, you can pick a different pay range for your services – feel free to ask for any price that justifies the time and skill you'll put into your service.
Popular services on Fiverr are logo creation, freelance writing, digital marketing, content promotion, store creation, video editing, and programming.
How To Start Offering Services On Fiverr
Sign up to become a Fiverr seller (creating a Fiverr account is free)
Choose a service to offer (that service should be in an area where you have more than enough knowledge and expertise)
Pick a price for your services (spare a few minutes and check what other Fiverr sellers offering similar services charge their clients)
Make sure you offer professional and valuable services (the secret behind making money as a Fiverr seller is in leaving your customers satisfied)
Pro Tip: Do your best to be as long as possible online when you're starting on Fiverr – the platform gives preferences to sellers who are available constantly.
11) Offer Digital Services
Speaking of offering services, how do you feel about doing digital part-time night jobs? When it comes down to offering digital services, you can do it as an independent contractor or as a part of a team in a company.
Nowadays, many digital services exist, including financial, marketing, banking, and even government services.
The digital services field offers many lucrative opportunities to make money from home. After all, the digital service market is worth billions of dollars – the numbers keep increasing year after year.
How To Start Offering Digital Services?
First thing first, do you want a part-time job in the digital service field? Or do you plan to launch your own digital service online business? These questions must have answers before you proceed any further.
Chances are, many people will choose to get a part-time position (or maybe a full-time one) in a company that specializes in digital services. That's a great way to earn an income since you can secure full benefits and other perks.
But if you want to create a profitable digital service online business, I suggest learning the process first. Digital Marketing Career Blueprint is an excellent teaching platform that will prepare you.
12) Start A YouTube Channel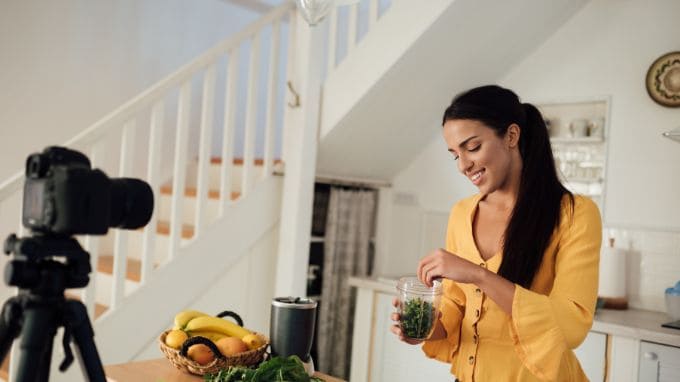 Next on the list of part-time night jobs, we find making money on YouTube. In other words, we'll be talking about uploading and monetizing videos.
YouTube has over 30 million daily users – that's a lot of traffic you can monetize and benefit from as a vlogger. So, how do you start on YouTube?
Learn as much as you can about filming and editing videos before launching a YouTube channel. You want to upload content that is interesting, valuable, and of high quality.
Choose to vlog about something you're passionate about – when a video's topic excites you, your viewers will feel that and appreciate it. Stay consistent until your YouTube channel is eligible for monetization:
Currently, you need 1,000 subscribers and at least 4,000 public watch hours in the last year to be able to place ads on your videos. Google AdSense is not the only strategy to make money on YouTube:
Affiliate marketing and sponsored videos are the other popular ways to monetize a YouTube channel. Considering you can film at night, a YouTube channel is perfect for night owls who enjoy creating video content.
13) Affiliate Marketing
Speaking of affiliate marketing, that business model is one of the easiest ways to earn extra money from home. Doing affiliate marketing can be a part-time job or a full-time online business, depending on how much free time you have after your day shifts.
Affiliate marketing is recommending products or services to an audience. Marketers earn affiliate commissions each time a person buys something through their affiliate links.
Overall, affiliate marketing has many advantages. For instance, you don't have to create any products – you should focus your effort on increasing your audience and improving the conversion rate of your campaigns.
How To Get Started With Affiliate Marketing?
While affiliate marketing is one of the most common ways to make money online, you won't succeed unless you master the fundamentals.
Earning thousands of dollars from affiliate commissions each month requires much more than placing your affiliate link and waiting for someone to use it.
If you have no idea how to start an affiliate marketing business, I recommend joining Wealthy Affiliate to begin learning the craft behind making affiliate sales without paying anything.
14) Online Teaching Work-From-Home Jobs
Chances are, I don't even have to tell you how prominent learning from home has become for kids worldwide. As a result, doing remote teaching jobs is a great way to secure a stable income.
One of the most popular subjects you can teach from home is English. Many companies hire English tutors who can pick their schedules and working hours.
With that said, you can teach other subjects, such as math, science, etc.
How To Find Home Jobs For Online Tutors And Teachers?
Well, finding a suitable tutoring gig depends on the subject you want to teach. Some tutoring gigs don't require a Bachelor's Degree – the hiring process is different and depends on the employer.
For instance, the application process with VIPKID will go smoothly if you have an English Degree, work with children experience, and your national origin is the USA or Canada (there are some exceptions).
What if you want something easier? Then, you can look into other teaching opportunities, such as online test-scoring jobs or making money doing homework for others.
15) Social Media Manager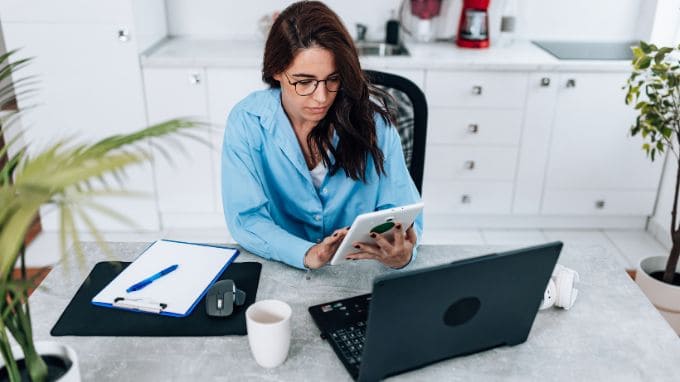 So many companies find dealing with social media time-consuming and exhausting on plenty of levels. Social media managers can take that workload off.
Considering social media channels are great options for reaching new audiences and boosting brand awareness, the demand for social media managers is growing every year. Generally, social media managers develop content strategies, moderate groups, engage with followers, and offer branding services.
Now, what skillset do you need to become a professional social media manager? Great writing skills, graphic design abilities, and marketing know-how will turn you into a perfect candidate for a social media managing position.
How To Get Started As A Social Media Manager?
Gain/refresh your knowledge of social media
Improve your skills
Get some experience working with social media
Create a business plan
Build your portfolio
Update your resume
Do lots of networking to find a suitable social media managing position
Read this step-by-step guide to becoming a social media manager for more info.
16) Social Media Evaluator
Do you think of managing and evaluating social media as the same part-time night job? Well, they're not:
People doing social media evaluating jobs spend their working hours providing feedback on social media results and feeds. Getting a part-time position as a social media evaluator offers many perks.
Flexible hours and a convenient work schedule are some of the benefits that come with the job. Also, let's not forget that you can do the gig late at night in your free time.
How To Get Started As A Social Media Evaluator?
In my opinion, the best place to look for a social media evaluating position is Appen. Appen will hire you if you have the necessary qualifications and experience.
And what about the pay? How much money can you make as a part-time social media evaluator?
On average, social media evaluation pays $19 an hour.
17) Virtual Assistant
A virtual assistant (VA) is a self-employed worker who provides services to the business owner who hires them. These services may be technical, administrative, marketing, or other assistance.
Virtual assistance is not the right fit for people looking for non-phone jobs – VAs make phone calls on a daily basis. Prepare to participate in conference calls as well.
Typically, a VA makes appointments, edits documents, handles social media interactions, manages spreadsheets, etc. Your responsibilities as a VA depend on the needs of your employer.
How To Get Started As A Virtual Assistant
Identify your skills
Choose a type of service to offer
Pick your pay rate
Establish online presence
Apply for virtual assistance jobs
If VA services are the perfect part-time night jobs for you, read this step-by-step guide to becoming a professional VA.
18) Graphic Designer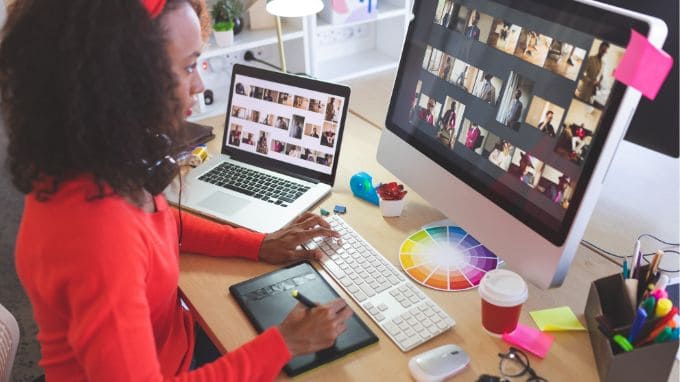 Do you have graphic design skills you can use to earn money from home? Assuming some of you don't, developing such skills won't take long once you put your mind to it.
Generally, completing graphic design work has to happen in a previously agreed period of time. Likewise, you can use your free hours at night to deliver on a project.
Doing graphic design assignments for money is one of the best part-time night jobs. Currently, the part-time graphic designer's salary in the USA is over $33,000 a year.
Of course, doing the job full-time will earn you more than that. A graphic designer position will be a great fit if you're a stay-at-home parent who devotes most of their time to taking care of the children.
See Also: 25 Best Jobs For Stay-At-Home Moms
19) Web Developer
What does a web developer do? Web developers create and maintain websites, but they have other responsibilities as well:
Companies, businesses, and even first-time bloggers hire web developers to work on a website's technical aspects in terms of capacity and performance.
More often than not, the top priority of a web developer will be increasing a website's speed, reducing its loading time, and measuring how much traffic that blog can handle.
Additionally, web developers might have to create content for a website or help its owner with other aspects (provide advice about legal pages like terms of use or privacy policy).
According to Indeed, the average annual web developer salary in the USA is $81,000.
20) Evening Work-From-Home Data Entry Job
Don't confuse a data entry worker with someone who handles data rates daily – data entry specialists have slightly different responsibilities.
By all means, data entry is the working activity of typing in data (letters, numbers, or both) from one source to another. Data entry professionals input hard-copy information into the computer program they use.
You don't need a degree to become a data entry clerk. Many online data entry jobs will hire you to do entry-level data work.
Expect to earn around $17 an hour doing data entry jobs. In-demand data entry workers can make more than that (it depends on the employer that will hire you).
21) Online Chat Jobs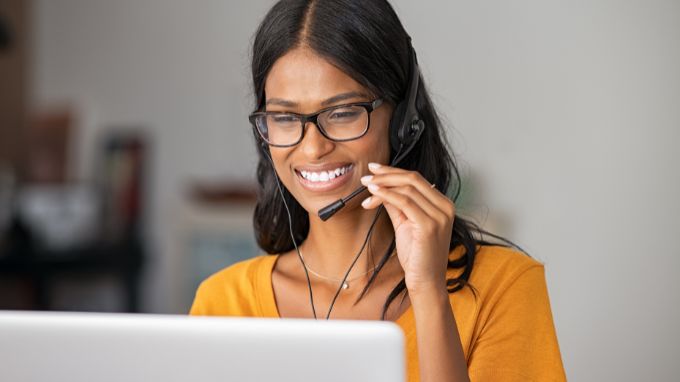 Online chat operators can work in different fields, such as customer service and tech support. However, companies hire remote chat agents to work in many different departments.
Contrary to popular belief, chat agents don't spend all their time on the phone – they assist people via text or email as well. I can give you a list of over 30 online chat jobs hiring right now.
Aside from these remote chat jobs, you can use other ways to get paid to chat, including sexting, flirting, and dating online. The latter options offer different forms of compensation, including money, tips, and virtual drinks.
I should warn you to be careful while using these ways to make money chatting online. Always protect yourself, and don't reveal personal information like your address or phone number. Using an anonymous proxy service is something to consider.
By all means, if you're uncomfortable dealing with people with a different sexual orientation or gender identity via phone or text, part-time night jobs that entail sexting or flirting online might not be for you.
See Also: Get Paid To Work As An Online Friend
22) Sell Photos Online
First and foremost, it's no secret that you can find many high-paying remote photography jobs if you're good with the camera. Still, having a part-time or full-time online photography job is not the only way to monetize your photography skills:
Many websites and online platforms will allow you to list high-quality images for sale. At this moment, I can think of over 30 places where you can sell photos online.
The beauty of uploading stock photos to websites is that you can earn passive income – you'll get paid multiple times for the same image.
Another way to profit by uploading images on the web is by selling foot pics. Here is a list of the top apps to sell feet pics in your free time.
Selling foot images on the web is not a legitimate earning opportunity everywhere – some countries don't allow it. Check the local law before you start selling foot pics online.
23) Take Online Surveys
Taking surveys online is probably one of the easiest part-time night jobs anyone can do. Platforms like Swagbucks and PrizeRebel will allow you to start completing surveys for money immediately.
Even the best survey sites will not make you reach – most surveys pay a couple of dollars. However, you can find available surveys that will offer you more than that:
24) Interaction Data Jobs
Interaction data is a field that offers many different positions, such as business analyst, data analyst, database administrator, statistician, etc.
You'll need an education and qualifications to secure an interaction data gig, whether that will be a part-time or full-time position.
25) Night Auditor
What does an auditor mean? Furthermore, what does working as a night auditor entail? Let me explain real quick:
An auditor is a professional who does audits – that goes without saying. Auditors review transaction records and financial statements to assess their accuracy. In other words, auditors work with financial information to help a company improve its reporting process.
A top priority of most companies hiring auditors is candidate experience. Such a job offers lucrative pay and full benefits if you do it full-time.
26) Rev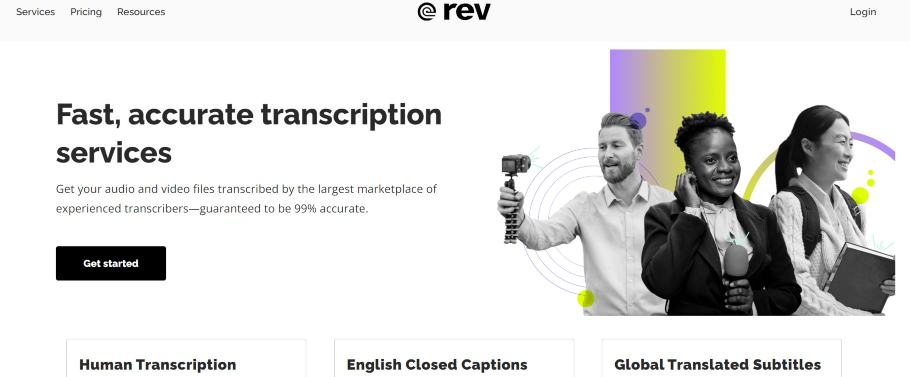 Rev.com hires freelancers for different positions, such as transcribers, captioners, and translators. The company has been operating steadily for years and offers online jobs that pay weekly.
People who decide to join Rev can do day shifts or pick a night shift (whatever works better for them). Most Rev remote jobs pay around $20 an hour.
See Also: Best Jobs That Pay $40 an Hour
27) Scribendi
Scribendi is a popular online platform for editors and proofreaders. Part-time candidates must have an experience in the field where they apply for a job.
Expect to go through an application process that requires submitting a resume and filling out a form. The hiring process will continue with taking a test – you'll have to pass it to prove your abilities.
28) Freelancer
Freelancer is one of the oldest and most well-known online platforms for freelance writers. Anyone can create a Freelancer account and get paid to write from home.
Content creators working on Freelancers bid on available jobs. Naturally, it's an employment decision whether you'll get a specific job – another writer might be a better fit.
29) Search For Part-Time Night Jobs On ZipRecruiter
ZipRecruiter is another website for freelancers. Spare a minute to create a ZipRecruiter account and start looking for a job.
Whether you want a remote position or you're searching for part-time jobs near you, ZipRecruiter can help you with both.
30) Visit SimplyHired
SimplyHired.com is a job portal you can take advantage of if you're looking for a part-time gig. Use your free time to join SimplyHired and see everything the site has to offer.
At the time of writing, the platform has many different job listings in almost any category you can think of – there is a job for everyone!
Part-Time Night Jobs Near Me
Night Shift Medical Jobs
Do you have the experience and qualifications to secure health systems jobs and provide patient care? Assuming some of you don't mind spending time around emergency rooms, I suggest looking for night-shift medical jobs.
Check for available positions at Indeed.com – the platform constantly updates its listings in the medical field, so you'll probably find a suitable part-time gig.
Academic Medical Center Jobs
Until we're still on the subject of part-time night jobs in the medical field, let me say a couple of words about Academic Medical Center jobs:
These jobs will open many opportunities in Academic Medicine for you. Check for available positions here.
Tesco Night Shift Jobs
How do you feel about doing Tesco night shift jobs? Hopefully, you like the idea:
If you visit Indeed, you'll find different Tesco night shift positions, such as warehouse operative, new market extra, and other part-time night jobs that come with physical demands.
Morrisons Jobs
Morrisons Jobs (also known as Morrisons Careers) offers hourly paid opportunities for everyone who needs to make extra money.
At the time of writing, Morrisons Jobs has over $1,000 part-time positions available.
Weekend Part-Time Night Jobs
Where do you look for weekend part-time night jobs? Well, there are many places where you can find such gigs.
Indeed is a good place to start – the site constantly updates the weekend part-time job listings, so you'll most likely stumble upon a suitable work opportunity.
Deliver Food And Groceries In Your Free Time
Apps like DoorDash and Instacart are the perfect solution for anyone who wants to earn money doing deliveries. Assuming you enjoy being behind the wheel, delivering meals or groceries is an extra income idea to consider.
Such a part-time job will earn different amounts of money, depending on your availability, the hours you choose to work, the company you'll join, etc.
See Also: How To Get Paid To Advertise On Your Car
Part-Time Night Jobs FAQs
How Can I Work Online At Night
These days, working from home at night is common among people who need to boost their income. Completing work activities in the evening offers certain flexibility.
All you need to start working at night is a laptop and access to the internet. Depending on the job you choose to do, you might also need a web camera and a microphone.
What Jobs Can I Do At Night?
Quite frankly, you can do any job at night that doesn't disturb your evening schedule or negatively affect your activities early the next morning.
Take your interests, available hours, and income goals under consideration when picking suitable part-time night jobs.
What Is The Best Part-Time Night Job?
There is no common ground when talking about the best part-time work-from-home night job. Different people have specific needs and availability – what might be the best night job for one person may not work for another.
If money is the biggest motivator when choosing a night job, blogging, dropshipping, and selling digital products is the best way to go.
However, if you're looking for a part-time night job that won't take lots of time, doing surveys, participating in market research, and completing short tasks for money should be your top choices.
My Closing
Well, my list of part-time night jobs from home is coming to an end. Don't worry, though:
Each time I update this article, I'll add more well-paying jobs you can do at night.
Before that happens, the word is yours:
What night jobs do you want to do part-time? Which gig from the options above seems like the perfect fit for you?
Let me know in the comments section. I'll answer any questions you may have.
More Job Ideas You May Like: